Madame Jennifer distillery
Madame Jennifer distillery is a quirky small-batch distillery located in Poets Corner, Hove. Founded by Inger Smith and Ian Curtis who originally trained as a biologist and a chemist. The pair were inspired to apply their scientific know-how to the furtherment of gin production during a trip to the oldest distillery in Amsterdam.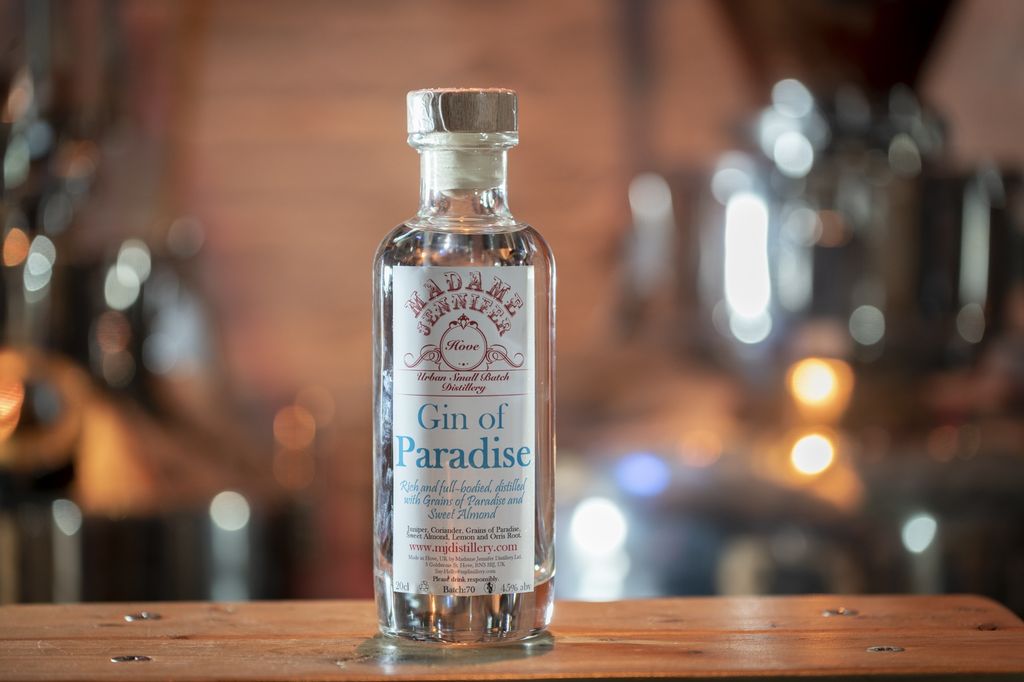 Torsten tries Madame Jennifers Homemade Truffles
Make Love Day Indulgent with Homemade Truffles
The name Madame Jennifer might sound like a fabulously camp cabaret artiste but it is, in fact, a quirky small-batch distillery in Hove. The team produces fine, premium spirits with a focus on gin, but vodkas and flavoured liqueurs are also available.
To add some indulgence to Valentine's Day this year, they're offering make-at-home truffle kits and we can confirm it's love-makingly jolly (but be prepared for some finger-licking fun).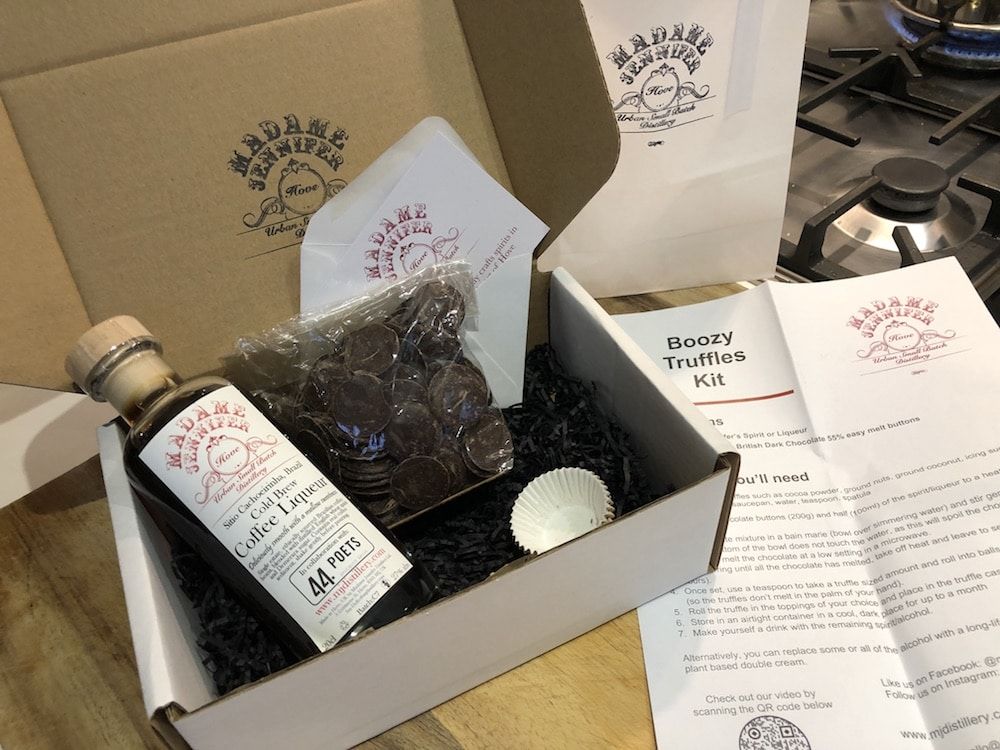 Each £20 kit comes with vegan chocolate buttons, approximately 20 truffle cases and, crucially, your choice of gins or a coffee liqueur to add into the mix and make it your own. We tried the coffee version: once the buttons are melted over warm water in a bain-marie, slosh in half of the beautifully designed bottle of booze and stir to absorb.
Leave for around four hours to cool and then form into tasty balls befitting some Valentine's Day loving.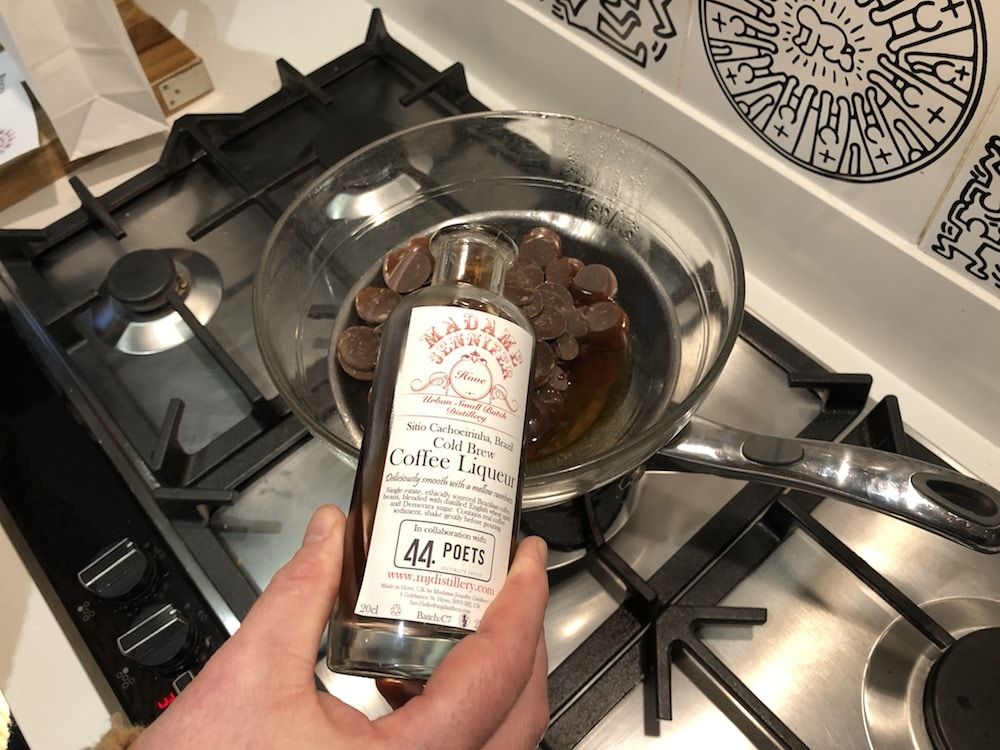 You'll need your own dip treats to roll the truffles in once they're formed – we used desiccated coconut, crushed almonds, and white chocolate powder – and hey presto! Soft, melt-in-the-mouth, proper chocolatey indulgence that says, 'I love you, I love you, I love you'. (Whether that's aimed at the boozy chocolates or your partner can remain in the comfort of your own consciousness.)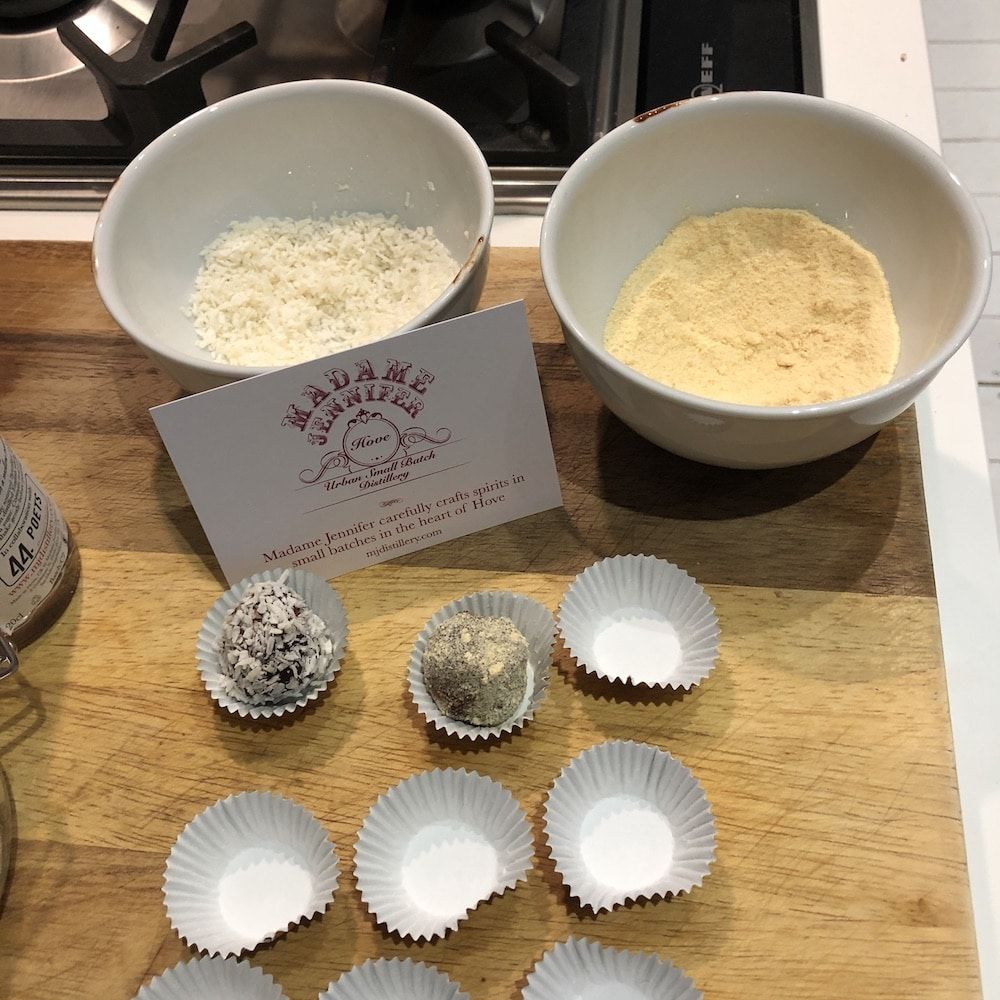 To add to the gratification, the leftover half bottle of gin or liqueur is available to be sipped alongside each truffle, to smother the palette in more of Madame Jennifer's homemade goodness.
Each kit comes with a small greetings card, which can be personalised as you order. And with free local delivery, the love can come to you this Valentine's Day and put you firmly in the good books with your loved one.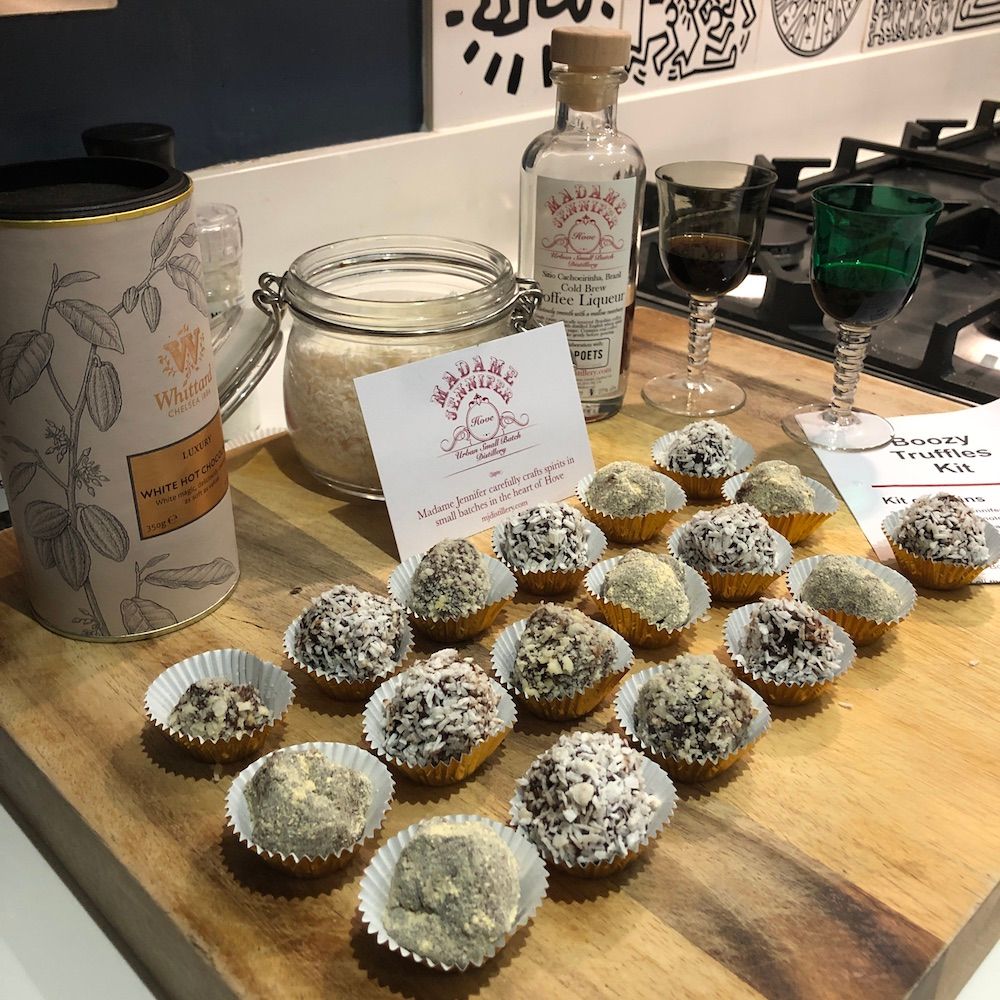 These boozy truffle kits are available to purchase here.
The name Madame Jennifer is something of a double nod, in part as an Anglicisation of Jenever, or Dutch Gin. And also in part to the mock mourning processions for "Madame Geneva" which took place in 1736 when the Gin Act in Great Britain made selling gin prohibitively expensive.
The Gins
The distillery produces three main gins, The Biologist, The Chemist and Gin of Paradise. The first two being references to the previous careers of the Madame Jennifer founders; you get the sense there might be some friendly rivalry between them – who can make the best gin?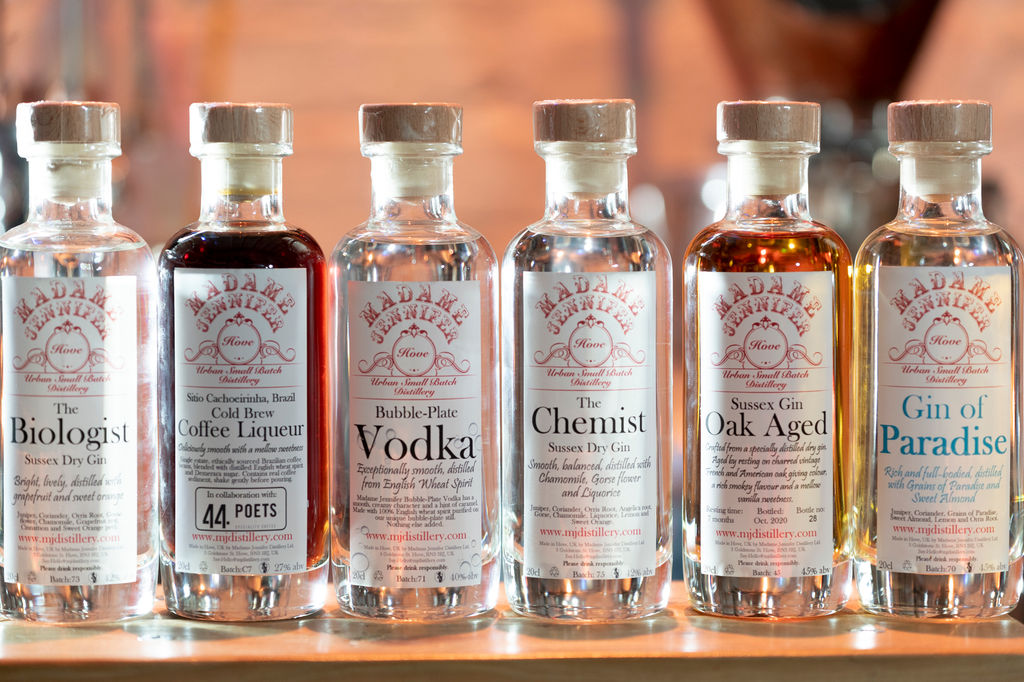 The Biologist is flavoured with grapefruit peel vapour, chamomile and gorse flowers combine with juniper and coriander and a hint of cinnamon is ideal for mixing with a light or Mediterranean tonic and garnished with pink grapefruit.
The Chemist is an earthier gin, with natural liquorice root balancing top notes of sweet orange and lemon zest. The Chemist is distilled in a series of batches for a complex warm flavour, ideal for Martinis as well as a great G and T.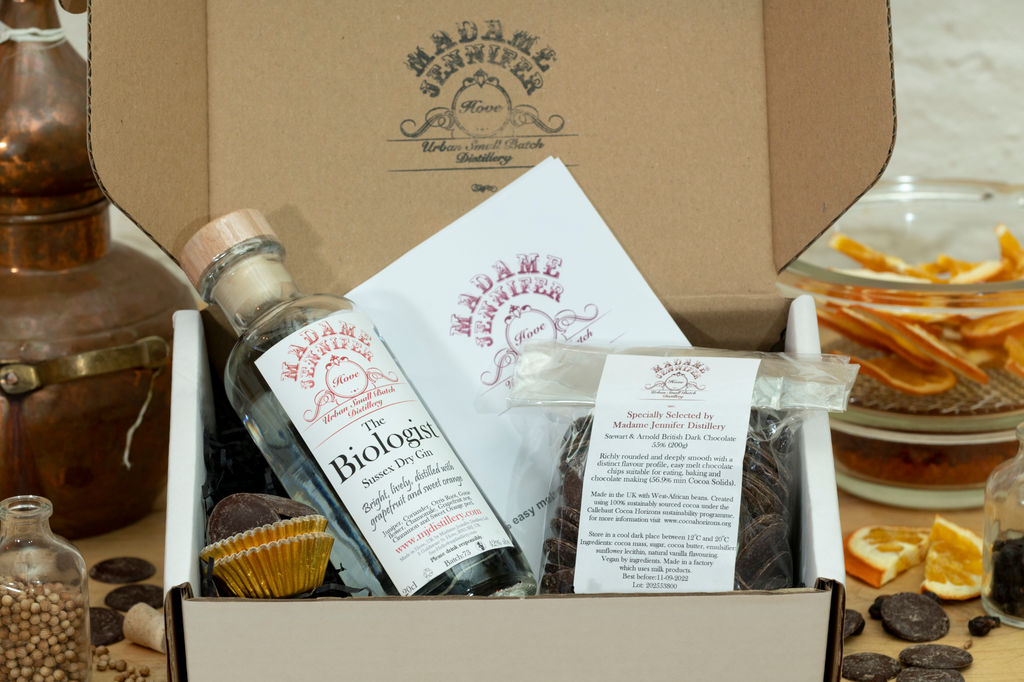 Leaving the realm of science for the mythical origins of the Garden of Eden, Gin of Paradise celebrates the distinct spice of the West African Coast, "grains of paradise". These have a citrusy, peppery flavour, the gin is distilled with sweet almonds for a rich opulent gin. As the strongest of the three gins at 45%, it gets you to paradise that little bit quicker.
Not Just Gin
Madame Jennifer also produces an exceptionally smooth Bubble-Plate Vodka, which has a creamy character and a hint of caramel. Passing through six copper bubble plates, only the purest spirit makes it to the top, making for an exceptional quality premium spirit. Bubble-Plate Vodka makes an excellent Espresso Martini when mixed with their Cold Pressed Coffee Liqueur; made with beans from Sussex speciality small-batch coffee roaster, Craft House Coffee.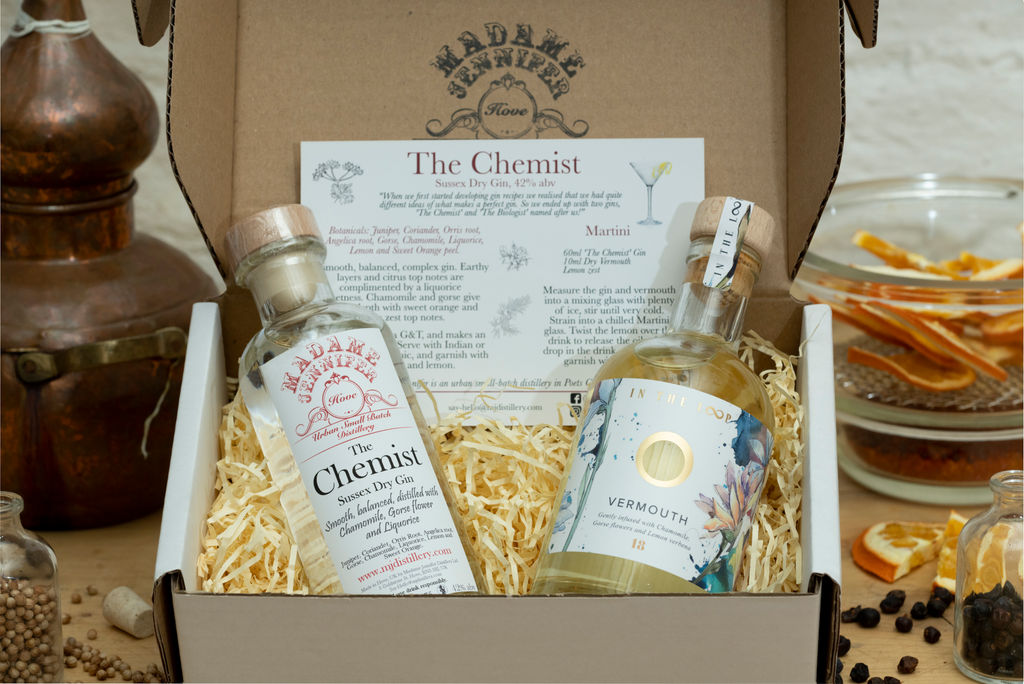 For a delicious digestif, try the Madame Jennifer Limoncello. Made with their Copper Plate Vodka they hand-zest organic lemons meaning no bitter pit makes it into the steeping process, which in turn means less sugar is necessary to get the perfect bittersweet balance.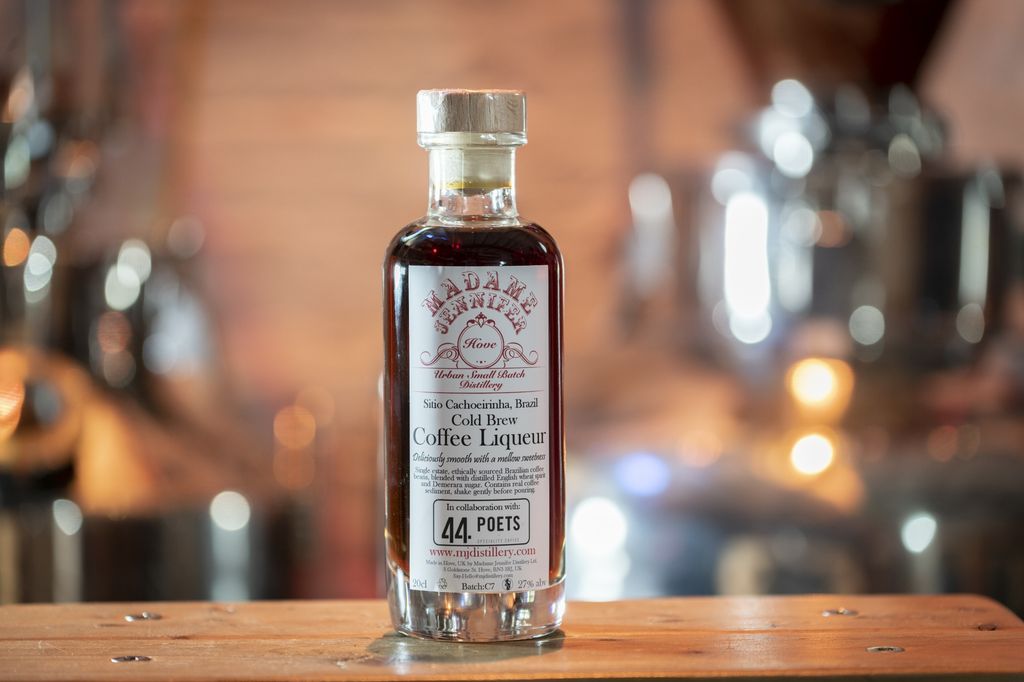 They also produce an Amaro (meaning 'bitter"), which is a family of spirits harking from Italy. Familiar Amaro brands include Aperol and Campari and are an ingredient in many cocktails such as negronis. Madame Jennifer's Amaro is made with 14 botanicals and is less sweet than many mainstream brands, making a fascinating botanical mix for the home mixologist.
Madame Jennifer also produces seasonal spirits, such as sloe gin and a special Christmas gin.
The Distillery.
The Madame Jennifer distillery has two stills. A 50 litre still which has a glass column filled with six copper bubble plates used to make their Bubble-Plate Vodka. The second, a 100 litre still includes a gin basket which allows vapour distillation where alcohol vapour passes through botanicals to gently extract flavours from the more delicate ingredients.
The Madame Jenifer distillery produces less than 100 bottles in each batch, ensuring excellent quality control at all times. Every bottle is hand-labelled and numbered making each one unique, perfect as a gift, or as something special for yourself.
Tasting tours of the Hove distillery are available and can be booked online. All spirits, kits and gift sets can be ordered through their website with UK wide free delivery of over £25.  Local deliveries are undertaken with zero emissions by Zedify electric bikes.