A Perfect Foodie Sunday!
Brighton Food Reviewer, Brittany Hart, March 2016
Happy Spring everyone! I absolutely love to watch the seasons turn, and as Brighton shakes off its cosy winter layers it's time to get out and enjoy the sunny days again.
On a particularly bright spring day I was lucky enough to be invited to visit Market Restaurant to taste their Sunday Roast Menu, and Hubby and I were thrilled to accept.With an excellent reputation for exemplary food and service I couldn't think of a better way to spend my Sunday than sampling The Market's stunning menu.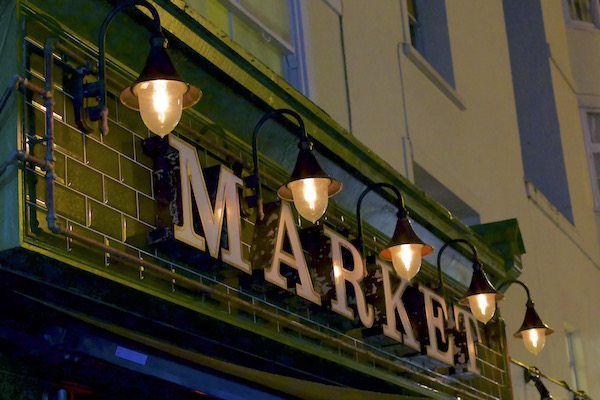 Friendly And Welcoming
When we arrived I immediately felt relaxed and comfortable. For a restaurant with such a fabulous reputation I was expecting a fine dining feel, but I was pleasantly surprised by how friendly and welcoming everyone was. The dining room is bright and open and I love the tapas style **sit down** bar, which allows you to watch the chefs as they prepare your bites.
The first thing I thought when we sat down was that this is the perfect date restaurant for a foodie. Not only is it unpretentious and informal, but the layout allows you to engage with the staff and your date, whilst also having a great talking point – the food!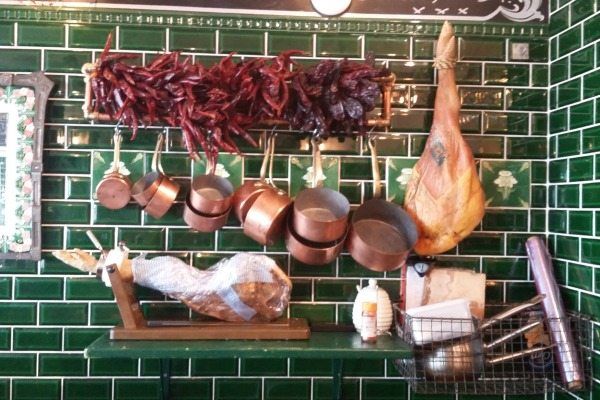 Engaging Experience
From the bar you get the joy of watching the chef's prepare your small plates and desserts. I loved that you can even window shop a bit while looking at the menu as dishes are being prepared for other diners. The menu is varied and exciting and the food is designed for sharing and discussing, and what better way to engage your customers in the dining experience?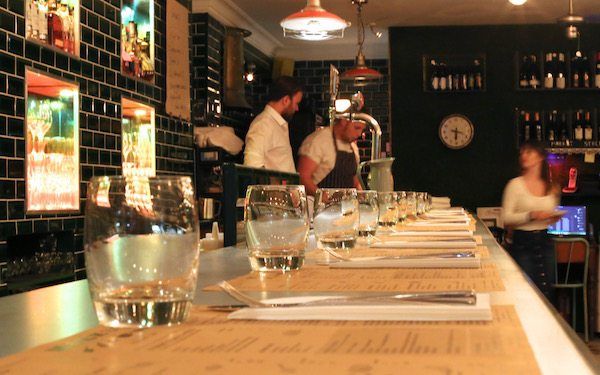 The Chef's Stage
Market's ethos of bringing the diner closer to their dining experience is something that not many places in Brighton do, and even fewer do well. From our seats at the bar we peered over our menus and watched a smiling chef create stunning plates right in front of us. It felt more like a stage than a kitchen as we watched him thinly slicing jamon and drizzling it with honey, popping open fresh oysters and plating with shots of bloody mary bisque, and we mentally ordered dessert right from the start after watch the banana parfait being created, what in incredible spectacle!
The effort and joy that the head chef personally put into making it, is something every diner should have the experience of seeing; whipped, crumbled, smeared, and torched this dish is a must see event in the Brighton foodie world.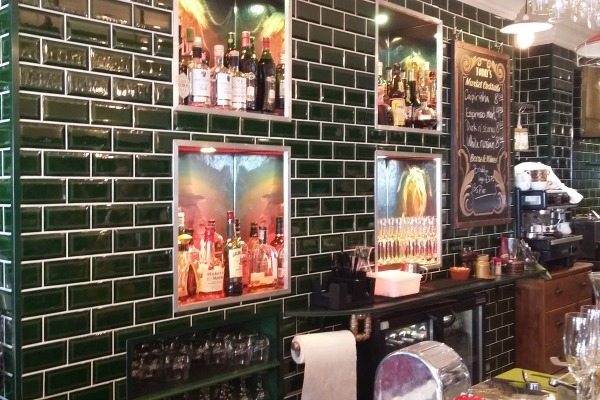 Staff Recommendations
Although we were there for the roast after watching the sexy small dishes being created there there was no way I was going to miss out. Rich and I are very easy eaters, we will try just about anything, so I asked the waitress to recommend her favorites.
She immediately chose the Padron Peppers, the Goat Cheese Churros with Truffle Honey (oh yes!) and the Scallops with Wild Boar Bacon, I was thrilled and a little concerned that she was using telepathy as that was exactly what I wanted…eerie?!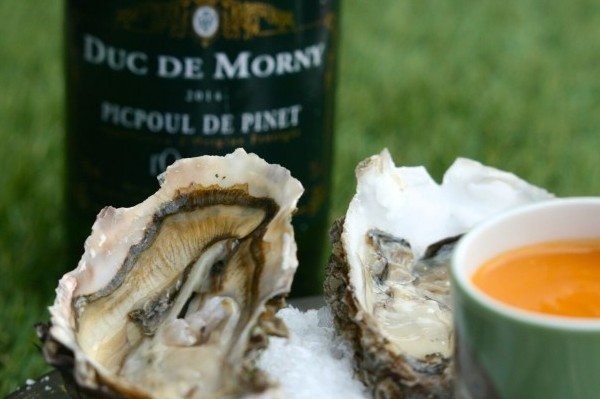 £1 Oyster's On A Sunday
Before I get started on my meal I would like to say that if you only learn one thing by reading this review it is that on Sunday's the Market does £1 oyster on the half shell with a shot of bloody mary bisque. I would normally order a dozen to myself (with a bottle of champagne of course), but at the moment I am with child so learning of this was a particular kind of torture.
Bloody Mary Bisque
Seeing my deep yearning for the oysters that were being popped right in front of me the lovely chef offered me the bisque on its own to try, what a sweetheart. The bisque was everything you would want, creamy and rich crab flavour with just a touch of bloody mary kick. I know it would be the perfect compliment to the salty slurp of a fresh oyster, that and a ice cold bottle of bubbles, see you in six months Market!
(Can I also just say that the worst bit is my hubby isn't a fan of oysters so I couldn't even live vicariously! Can you believe the selfishness, and here I am making a whole person, sheesh! To be fair I probably would have just glared at him angrily anyway….perhaps it was for the best).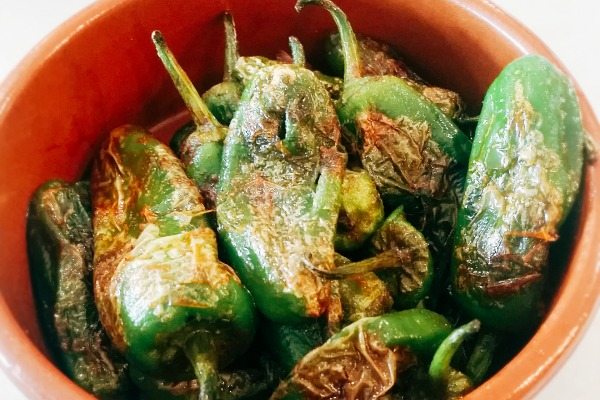 Small Plates To Share
The Padron Peppers were the first up and they got our tastebuds going. They were slightly charred and generously seasoned with smoky paprika and seasoned salts, full of flavour and very more-ish.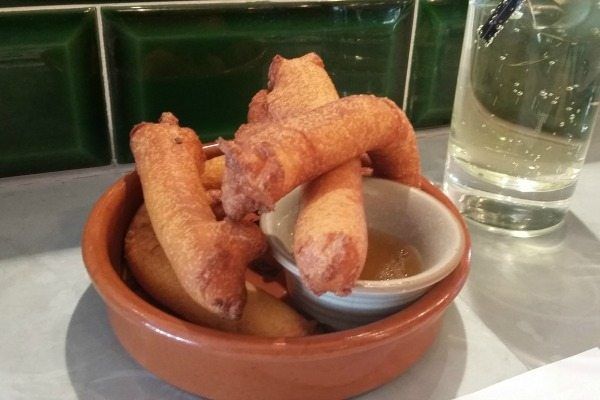 Finger In The Honey Pot
Next was the Goats Cheese Churros with truffle oil honey, what more can I say they are every bit as delicious as they promise. Creamy goats cheese folded into fluffy batter, deep fried right in front of us to a golden brown and then dipped in sweet local honey that is infused with earthy truffle oil, what isn't there to like?! They were so tasty that I was literally caught with my finger in the honey pot.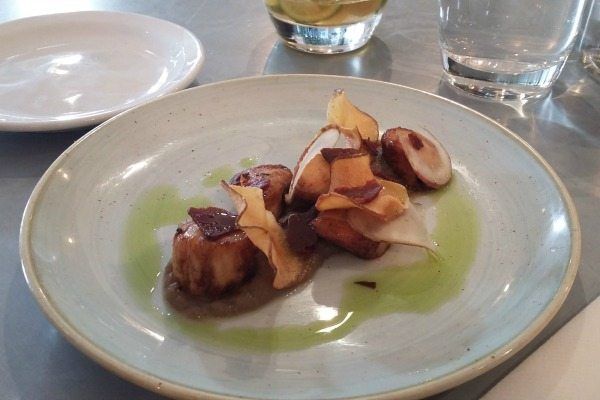 Traditional Pairing With A Twist
The scallops were the last of the small dishes to arrive and they were hands down my favourite. Succulent scallops seared with a caramelized crust and set atop a rich and earthy artichoke puree, with crumbled wild boar bacon on top. What a sexy twist to the traditional pairing. The scallops were delicate and sweet, the artichoke grounded the dish and the salty and gamey boar lifted it up, absolutely divine.
When they cleared my freshly licked plate I told them I could have happily eaten ten more portions. I can say wholeheartedly that this is one of my favourite seafood dishes in Brighton. I will definitely be back for more!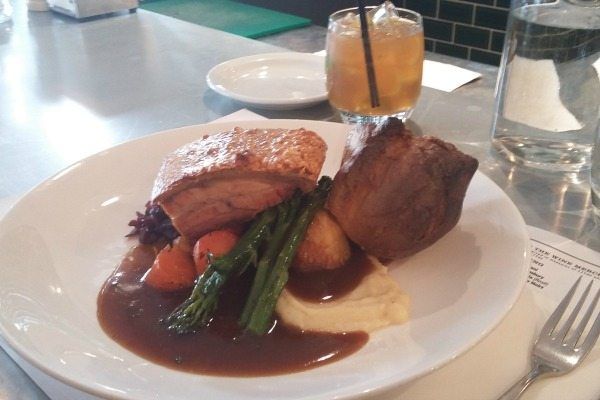 The Main Event
For the main course we ordered the Pork Belly and the Topside of Beef, two classic and fabulous choices. Both were served with a generous serving of perfectly cooked seasonal vegetables, crunchy carrots, balsamic cabbage, golden roasties, long stem broccori, and a creamy parsnip puree, all topped with a fluffy yorkshire the size of a fist and served with rich flavoursome gravy.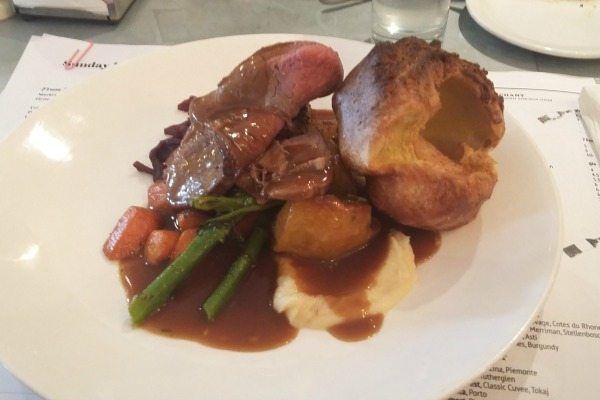 Cooked To Perfection
The beef was cooked to a pink perfection, tender and juicy folded in thick layers. The pork belly was a crackling masterpiece, a generous portion of tender belly with a thin layer of tasty fat making the meat succulent and moist, then topped with a golden piece of crackling that looked and tasted like it came out of a foodie magazine.
The portions were the perfect size to allow us to indulge in a few shared starters and still have a tiny bit of room for dessert, absolutely ideal!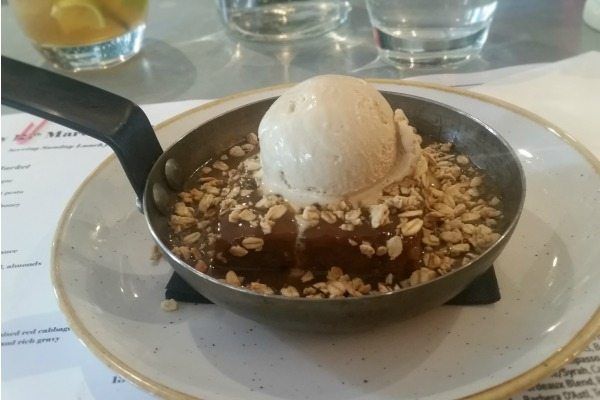 Total Care And Detail To Dessert
After seeing the spectacle that was the banana parfait it was an absolute must, and Rich can never resist a sticky toffee pudding, so we had to order both. Once the order went in the chefs got into position and started sculpting the dishes right in front of us. Each element of each dish was carefully executed and given total care and detail.
Pistachios lightly sprinkled in a perfect line, dots of fruit compote smeared precisely, butter and sugar swirled over just enough heat, and passion fruit whip lightly torched, it was a joy to watch and an even greater joy to taste.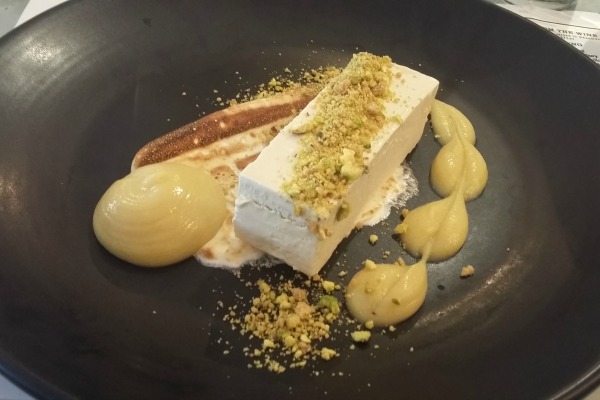 Our visit to the Market was an all around exceptional dining experience, from sexy small plates to decadent desserts artfully plated in front of you, and a hearty rich roast, I couldn't fault a thing, and would highly recommend adding a visit to Market Restaurant to your Sunday Lunch wish list.
What Next?
Let us know how you got on @eatbrighton
Make a reservation on 01273823707