The lunch to dinner, retro-psychedelic and uber cool dining destination MEATliquor Brighton has taken the concept of an American diner and pumped it with quality, fun and infinite imagination. Specialising in burgers and cocktails but also offering sides and extras that'll keep the party alive. MEATliquor Brighton is your one stop shop for guaranteed good times, great food and fun!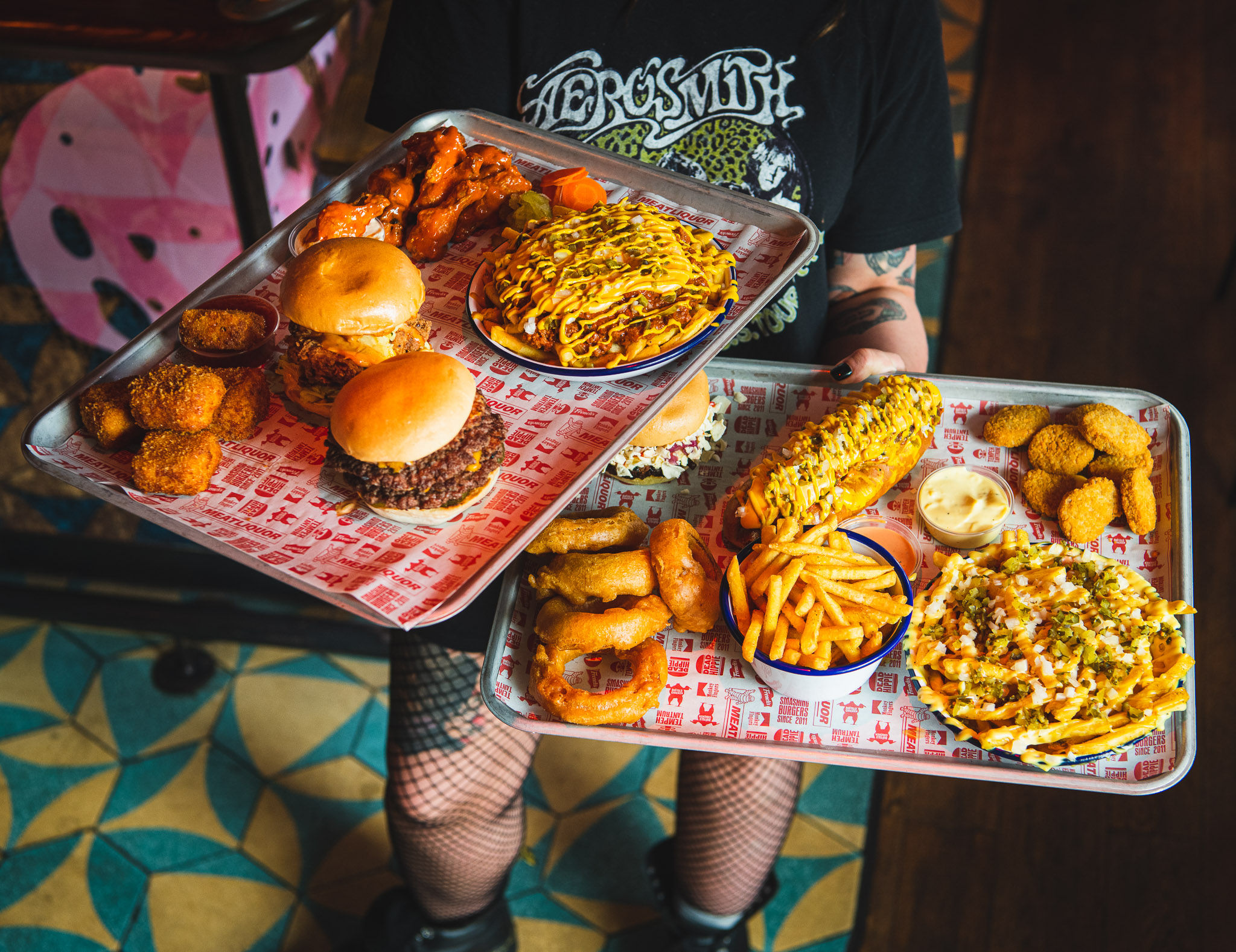 The MEATliquor story
The cult burger diner was born on an unassuming industrial estate in Peckham in 2008 and started life as a food truck dubbed the MEATwagon. That's where the two founders Yanni and Scott first met and it's been quoted that it was "love at first bite". From there, together with a shared passion for fuelling fun with great hedonistic food and drink they set up the MEATliquor empire.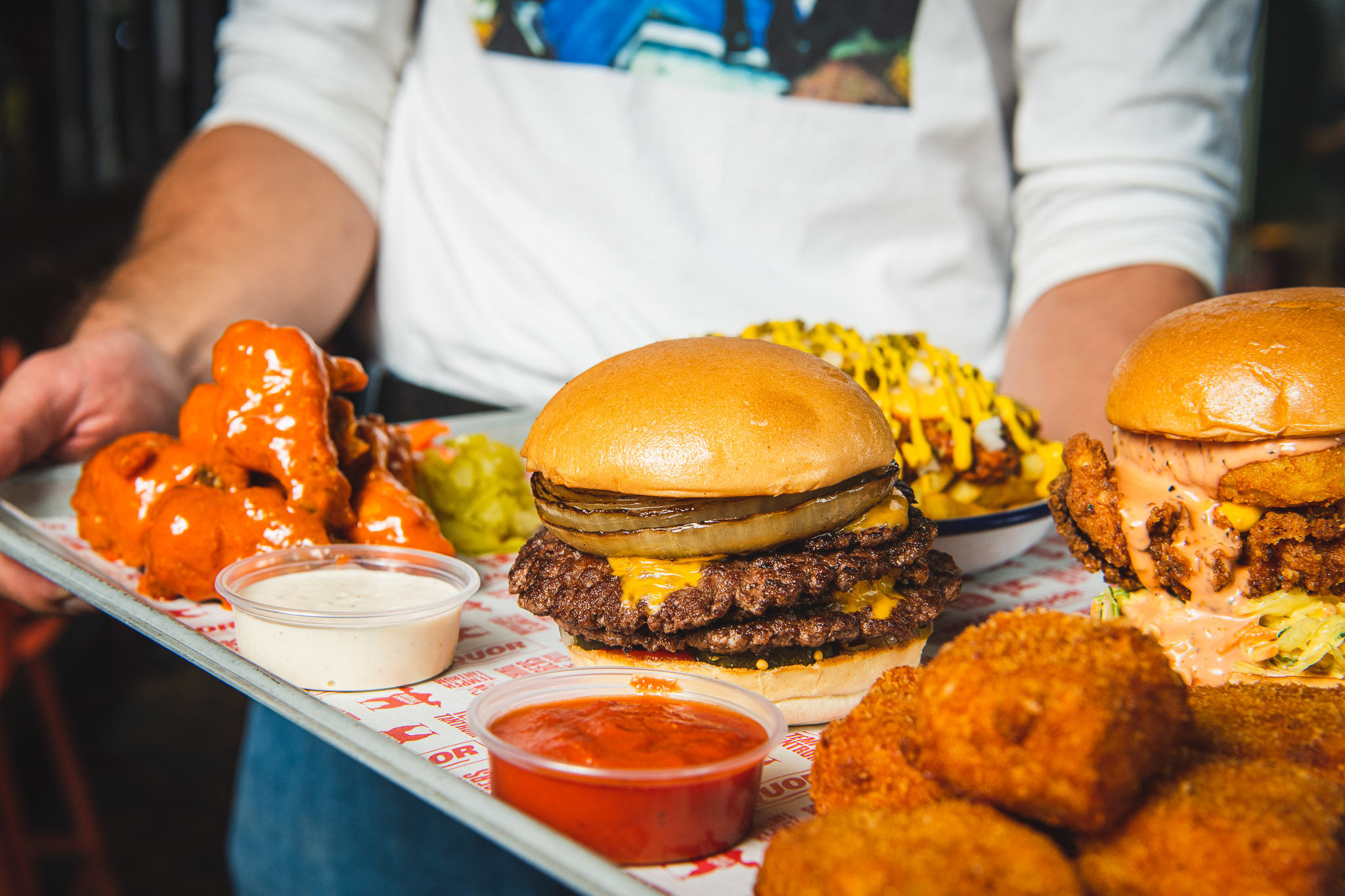 Finding Meatliquor Brighton
The Brighton restaurant was the first MEATliquor outside of London, they opened their doors to our hungry public in 2013. You can find it on York Place, on the outskirts of the popular North Laine not far from the Brighton Open Market. Their bold pink fronted exterior and large neon lit signage make it unmissable and alluring.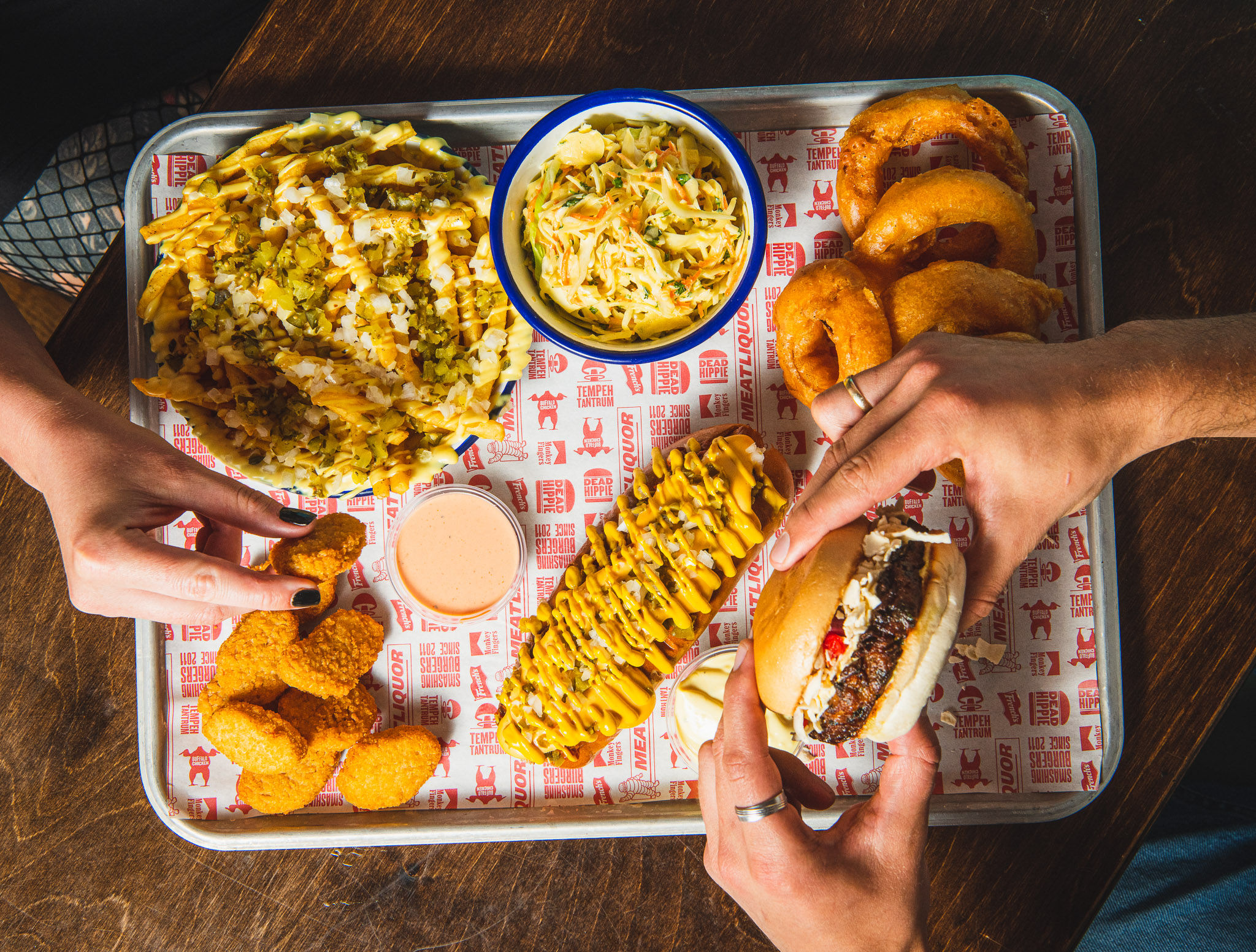 Step inside MeatLiquor Brighton
The provocative decor is continued inside the restaurant. Gothic meets psychedelic-rock inspired interiors, with statement art pieces from I Love Dust that makes the restaurants pop with colour against the black. Several seating options are available, from street side benches, bar seats and themed booths. The further back in the restaurant you go, the further from this world you feel. MEATliquor Brighton is set on ground level and is listed as an accessible venue.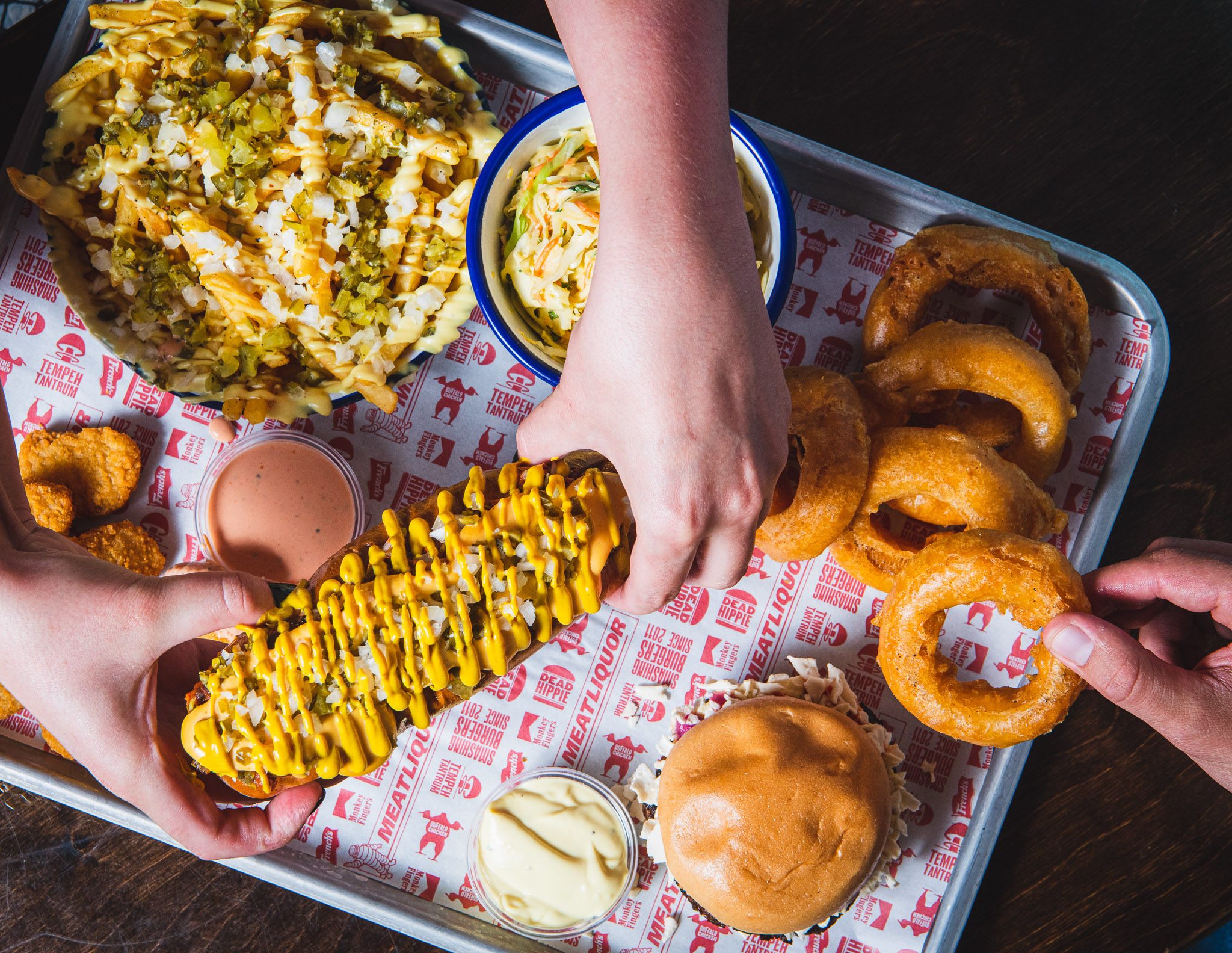 Taste it
The cult burger brand MEATliquor is at the top of its game when it comes to providing us with gastronomically tasty burgers. Their signature beef burgers are made using sustainable beef and are dubbed with names that are imaginative and fun.'The Dead Hippie', for example, is the OG burger that kicked off the empire. For cheese enthusiasts, the '1924' is a must-try. It's their classic beef patty topped with a gooey blend of a blend of ewes and cow's milk at the Fromagerie de Laqueuille, Puy de Dome. 1924 recreates what would've been the traditional Roquefort recipe before it achieved its AOC regulation in 1925.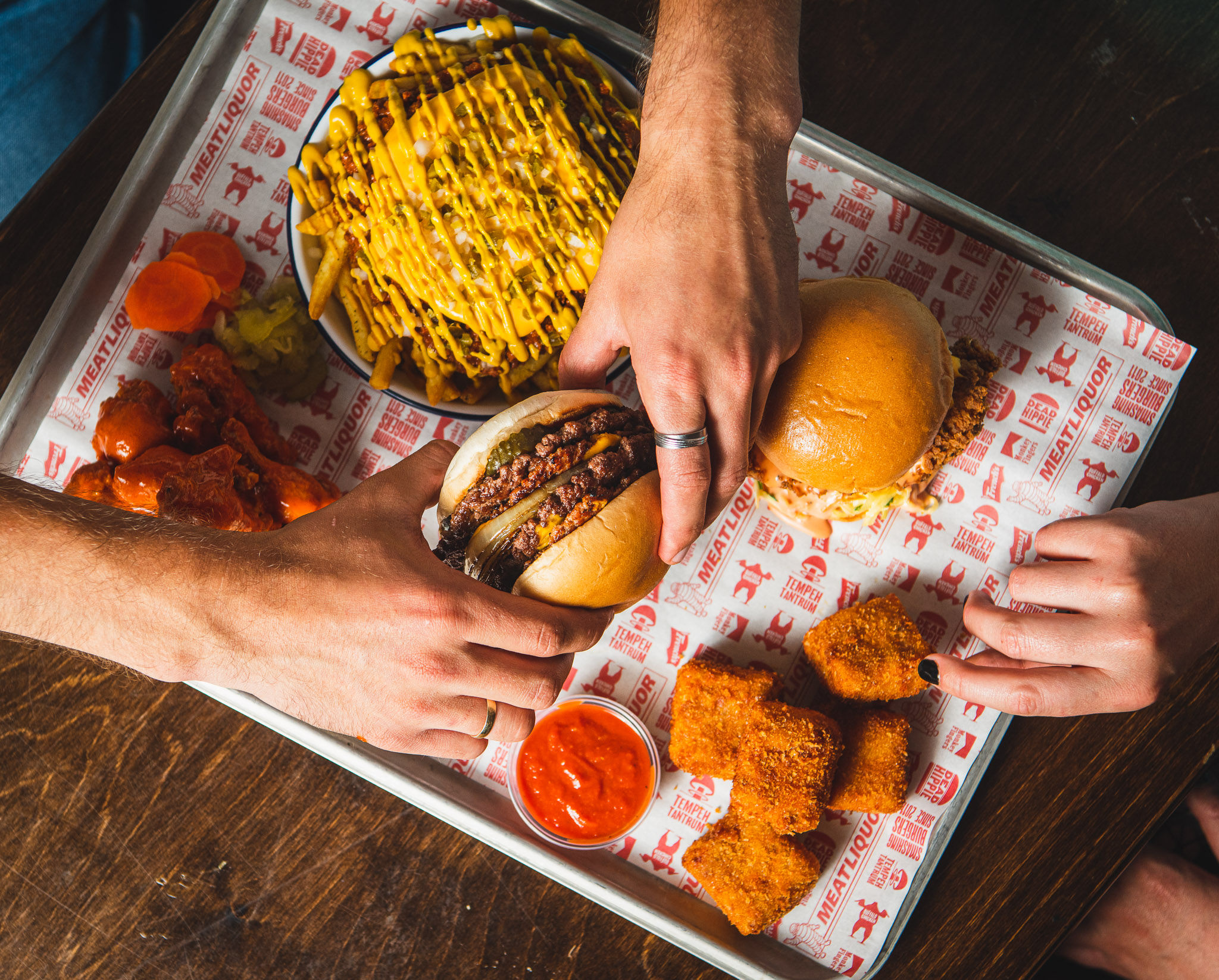 A large selection of chicken burgers are also available at MEATliquor Brighton, and in keeping with the diner's tongue-in-cheek theme, have equally quirky names, 'Clustercluck' being one of our favourites. You'll also be spoiled for choice with the tantalising selection of sides, fries and homemade sauces. All food at Meatliquor in Brighton is certified halal. 
Green and Serene
The meatless offering at MEATliquor Brighton is notable. With a vegan friendly burger called 'Tempeh Tantrum' and several other very tasty veggie and plant-based options. 
Drink it
Let's not forget that half of MEATliquor's name is dedicated to drinks. They knock the ball out of the park with their indulgent hard shake offering. For those of you that don't know what a hard shake is, it's a milkshake with added shots of spirits, and here they go from strong to seriously strong. Alongside these, you'll find bespoke shooters, cocktail classics and a binge-worthy (always drink responsibly) selection of signature cocktails that showcase the venue's flare and creativity.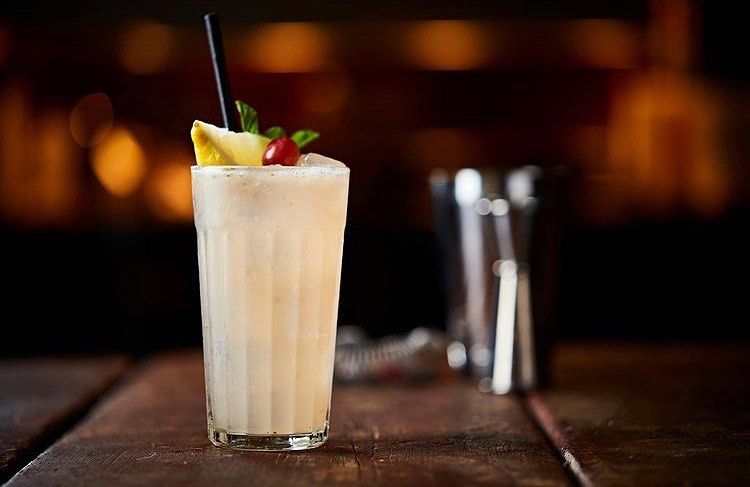 Cocktails not your thing? No fear, there is also a strong selection of craft beers, ciders and soft drinks for you to enjoy.
Deals by the day at MEATliquor Brighton
Being a huge advocate of keeping things fun, MEATliquor has four days of drink deals for you to choose from. Visit on a Monday and you can take advantage of their Marti Monday offer, which is of course a nod to their martini specials, Tequila Tuesday sees their tequila heavy cocktails take the stage, Whiskey Wednesday you'll have the choice of three whiskey based drinks to enjoy and Sundays are for Sunday Rumday. All for £6.50 each!