Ethical sushi? Sounds fishy
Sustainability is an important issue, one that we all need to play our part in if environmental disaster is to be averted. So can a fish restaurant really champion sustainability in our oceans, or is it just lip service?
Moshimo co-owners Karl Jones and Nicolas Röhl argue that, on the contrary, a fish restaurant is the very thing that can create that change; and they've done rather a lot more than just talk about it.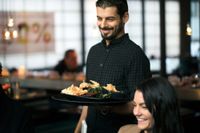 Want to know more about Moshimo Brighton, Japanese & Sushi?
Find Out More