Brighton People | Nicholas Rohl
Through the Fishlove campaign, Nicholas Rohl and Karl from Moshimo Brighton have done more to help transform the fishing industry than any other restaurant, anywhere.
We speak to Nicky about which positive practices this Asian restaurant have made and are making to save the planet; including Fishlove, Vegan Wednesdays and The Great Moshimo Vegan Challenge.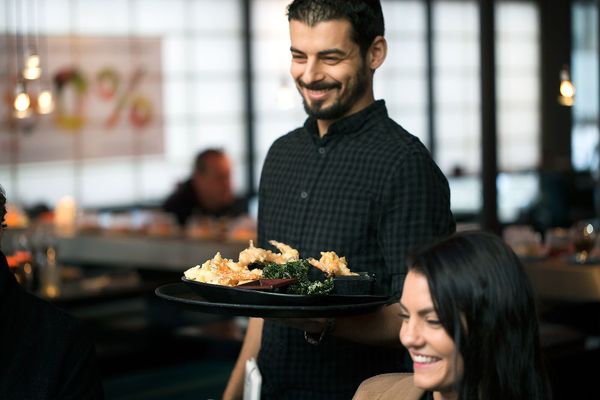 In 2019 Moshimo is recognised by the Brighton public as Brighton's most sustainable restaurant, how does this feel?
It felt great to be recognised for all the work we've done over the years to make our business as sustainable as it possibly can be, although there's still much to do – and we've never done what we've done to win awards: it's simply who we are. We built our restaurant on an absolute conviction that we are all responsible for protecting our environment; it's what drives us first and foremost. We think we won the award because of our commitment to, and promotion of, fish sustainability, of plant-based eating (via our popular 50% Vegan VVendesdays and The Great MOSHIMO Vegan Challenge events), and our work to reduce plastics use and food waste.
Which current practices at Moshimo are having a positive impact on the planet?
We're best known for our work in fish sustainability, and we've had the biggest impact through our Fishlove campaign to end overfishing.
As far as we know, MOSHIMO has done more to help transform the fishing industry than any other restaurant, anywhere.
We were the first Japanese restaurant in the UK to take endangered eel and Bluefin tuna off our menu.
That was nearly twenty years ago, and it is quite shocking to us that there are restaurants, some in Brighton even, that still have these on the menu.
When you know that eel numbers have crashed to a mere 2% of 1980s levels and are on the verge of extinction, why would you choose to put eel on your menu – and why are their customers eating it? Our commitment to fish sustainability led us to introduce plant-based food in our restaurant long, long before this became mainstream. We were one of the first non-vegan restaurants to serve VBites vegan duck (which has become one of our best selling items on the menu), and have increased plant-based food on our menu each year for the last ten years.
To promote plant-based eating in other restaurants, we've been running The Great MOSHIMO Vegan Challenge for a decade. For this, we won the prestigious PETA "Proggy" Award.
We've also been tackling food waste head-on. We've had a twofold approach here. Part one of this solution has been to reduce ingredients waste – a task our chefs took on with gusto.
We implemented 'nose-to-tail' eating, essentially meaning that if you can cook and eat a part of an animal or plant we're already sourcing, we'll find a way to use it in the restaurant.
This has led to all sorts of interesting and innovative dishes coming out of our kitchens using unusual ingredients. Part two of our food waste plan has been to ensure we don't end up throwing away any food at the end of the day. We carefully estimate how much food we need to prepare each day, and any leftovers are distributed through our partnership with Too Good To Go, meaning our food waste is now almost zero.
There's probably a thread running through all of this, and that is we see the restaurant as a way of campaigning for things we believe in. For instance, MOSHIMO led a successful campaign for the Brighton Half-Marathon to stop using single-use plastic bottles which became national news.
Which other positive practices would you like to work towards in the future?
We've always made the majority of our food from scratch (thereby avoiding the use of packaging), and a few years ago we started making our own juices and soft drinks to stop our reliance on plastic and glass bottles. We're going to continue this process by making more and more things in house (like pickles and condiments, for instance), and looking at the way we produce and source our food so as to avoid packaging and food miles.
We want to introduce reusable chopsticks by the end of this year.
We're also leaning on our suppliers to stop using single-use plastic, and we've pressure on Deliveroo to use its enormous financial resources to find a solution to the waste associated with food delivery. The rise in food delivery has also led to a huge increase in plastic packaging – and there's as yet no genuine alternative to this. So-called bio-degradable and compostable plastics, unless treated in specialist facilities that are often not available, have been shown to be just as bad for the environment as PET plastics. Until a solution to this problem is found, we tell our customers that the only sustainable way of having food delivered to your home… is not to have your food delivered to your home and come and dine in our restaurant instead!
What is the Moshimo policy when it comes to sourcing products and services?
The word sustainability is bandied about very loosely, and often falsely. We often see restaurants advertising "locally caught and sustainable" fish, which is totally misleading: just because fish is locally caught doesn't make it sustainable. You'll often see restaurants claim their seabass is local and sustainable, even though the seabass fishery on the South Coast is banned because of overfishing. Rather than using the word "sustainability", we take our cue from the Marine Conservation Society and do not use any "fish to avoid" on our menus. This is a far better, more meaningful, and more scientific way of assessing "sustainability."
For the fish we do use, we're careful with where we source it, ensuring our suppliers meet a rigorous standard of ethics. Our salmon, for example, is Loch Duart – by far the best fish farm in the UK, using low-density rearing and high-quality feed. It means dealing with higher costs than many of our competitors, but we think it's worth it, and we also believe that you can truly taste the difference in quality
It goes without saying that our chicken and eggs are all free-range.
What 3 things do you think every restaurant should do, so they can make a positive impact on the planet?
– Avoid serving any fish that is listed as "fish to avoid" by the Marine Conservation Society.
– Serve more plant-based food, and put more time and energy into making it innovative and exciting.
– Keep the pressure up – both on yourselves and those who supply you – to make your business less dependent on plastics.
Fishlove is one of the most successful global campaigns to end overfishing ever seen, what was Moshimo's involvement?
We started it and continue to produce it, partly financing it through our MOSHIMO Membership scheme. Fishlove came about when we realised that there was a limit to what we could achieve by adapting our menus to stop serving "fish to avoid" as listed by the MCS: real change can only happen from the top, on the political level.
Fishlove has managed to get the issue of overfishing into the world's media time and time again. It's a central role in helping to change EU policy was acknowledged by Fisheries Commissioner Maria Damanaki when she put on an exhibition of our portraits inside the EU buildings in Brussels.
Vegan Wednesdays and The Great Moshimo Vegan Challenge have been Brighton success stories. What have these campaigns helped to achieve?
We developed 50% Vegan VVednesdays and The Great MOSHIMO Vegan Challenge as a corollary to our Fishlove campaign: eating more sustainably means eating less animal protein and more plants. We're particularly proud of the success of the Vegan Challenge because when we started it (in 2009) this issue was still relatively little known.
The Vegan Challenge involves us hosting the best chefs from Brighton and beyond to compete by creating plant-based food, which is then put to the vote of our customers.
It's great fun, hugely over-subscribed, and has helped spread interest amongst the city's chefs to think more creatively about plant-based food.
(The 2019 finals are being held on Thursday 26th September, by the way!)
What is the Moshimo mindset or philosophy and how has this seen your business develop?
Independence, and the freedom to be different so we can pursue the things we believe in… Karl and I both made a decision some time back that we didn't want to compromise on these things, which is why we rejected the idea of doing what so many successful restaurants do (or at least did!) and expand into a chain.
 What's next for Moshimo and Nicholas Rohl?
We've only just completed the rollout of our latest menu, so we're currently promoting that. It's packed with some delicious new dishes that we're really excited about, such as an expanded range of gyoza. It also contains a few Moshimo innovations in the areas of sustainability that we're really proud of.
For example, we've introduced some classic Japanese dishes that typically use eel, except that we use tilapia instead.
Whilst eel is heavily endangered, tilapia is one of the most sustainable fish that you can eat. We reckon it tastes even better too.
Finally, we're gearing up for the end of the 2019 Great Moshimo Vegan Challenge. Unfortunately for readers, the final is now sold out. However, we are running Heat 1 of the 2020 Challenge in November this year, so you can grab tickets for that if you're interested in experiencing creative plant-based dishes from the very best chefs in Brighton & Hove.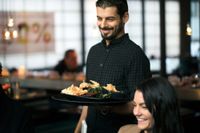 Want to know more about Moshimo Brighton, Japanese & Sushi?
Find Out More