Shelter Hall on Brighton Seafront
Shelter Hall Brighton is a must-visit place to eat in Brighton for foodies and those seeking a vibrant culinary experience in Brighton.
This unique seaside pop-up food market brings together a diverse selection of the finest independent food and drinks brands from local Brighton restaurants and beyond. With its exciting calendar of live entertainment, stunning sea views, and a wide variety of delicious offerings, Shelter Hall offers an all-encompassing experience for visitors. From unbeatable prices to the availability of domes during the winter months, this destination truly has something for everyone. Explore the diverse culinary scene of Brighton all under one roof at Shelter Hall Brighton.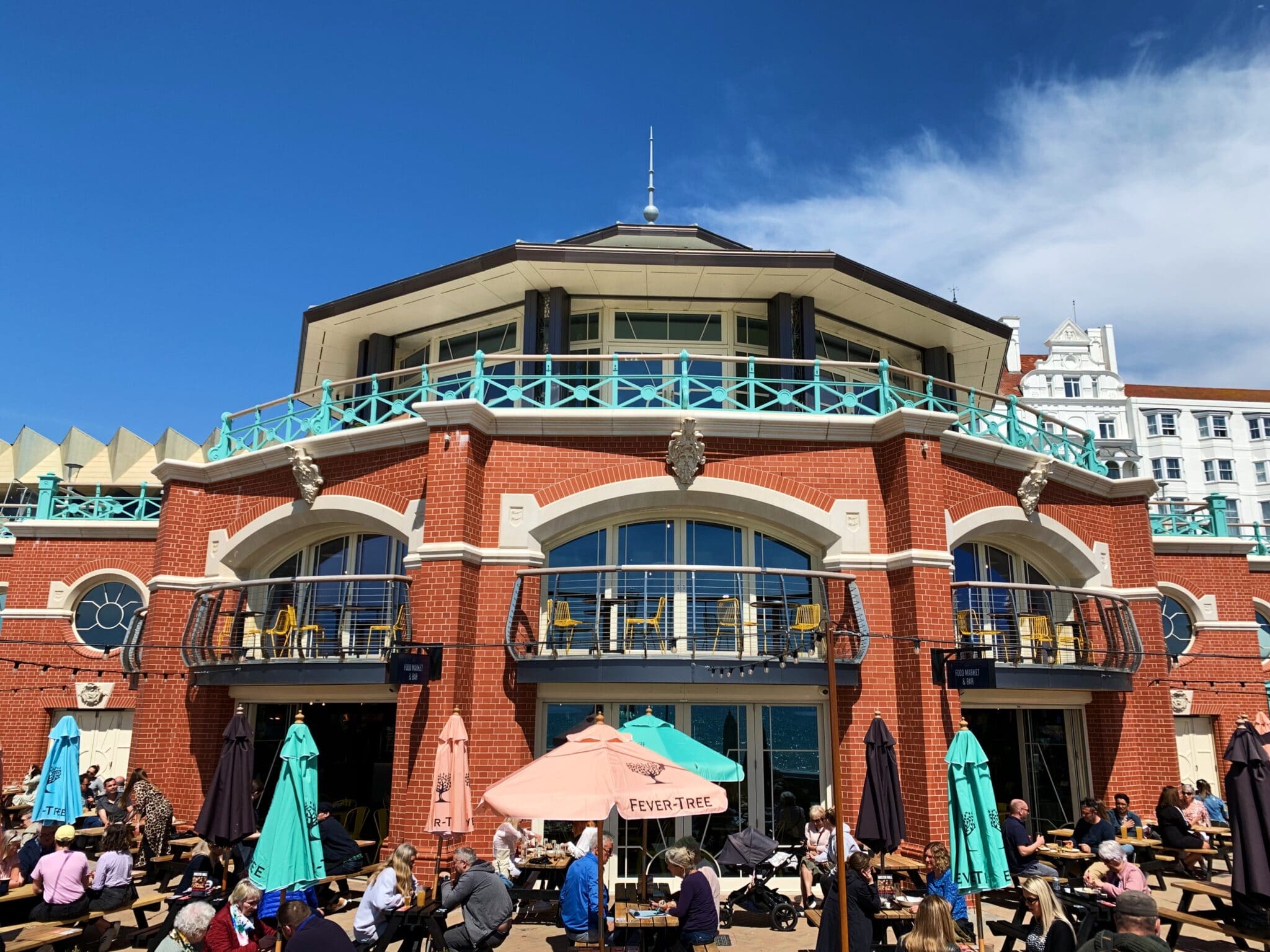 At Shelter Hall Brighton there is emphasis on seasonality, fresh artisan produce and supporting local businesses and the local community. Each season sees a new collection of food and drink suppliers as well as some old favourites making an appearance. It is conveniently located between each of the the city's piers among the plethora of Brighton seafront restaurants. 
The Shelter Hall Food Market
This unique venue brings together a diverse array of independent eateries under one roof, offering an exciting culinary experience for all. From mouthwatering burgers and pizzas to tantalising gelato and delectable seafood, Shelter Hall Brighton showcases a variety of cuisines, flavours and drinks including plenty of local suppliers. Whether you're craving comfort food, international delicacies, or indulgent desserts, you'll find a wide range of options to satisfy your taste buds.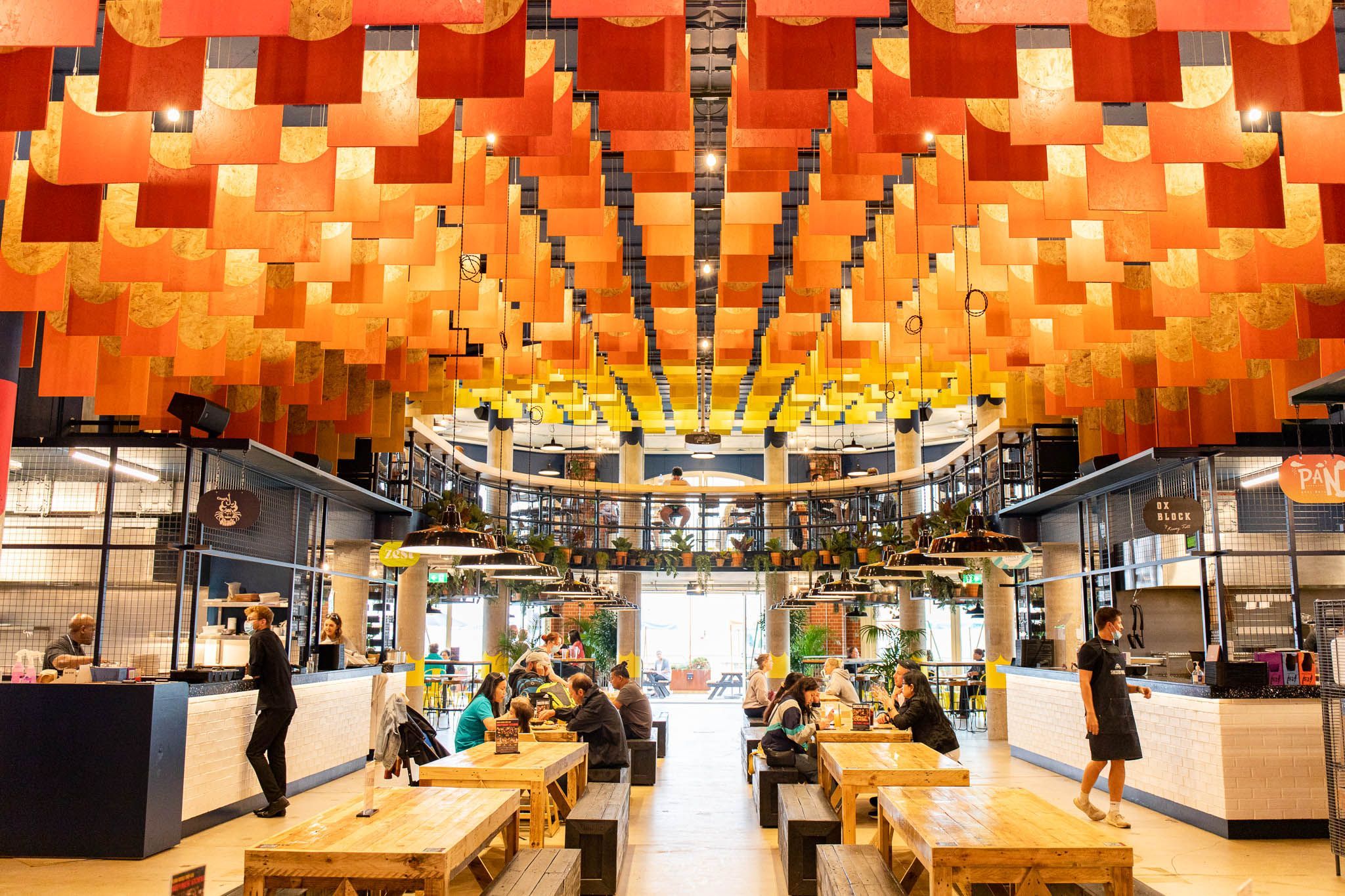 Patty Guy by Kenny Tutt
The Patty Guy by Kenny Tutt at Shelter Hall Brighton is a burger lover's paradise crafted by the Masterchef winner himself. Kenny Tutt brings his culinary expertise and passion for bold flavours to create mouthwatering burgers. Sink your teeth into their signature "The Guvnor" burger, featuring a beef patty topped with melted cheese, crispy bacon, and a tangy homemade sauce.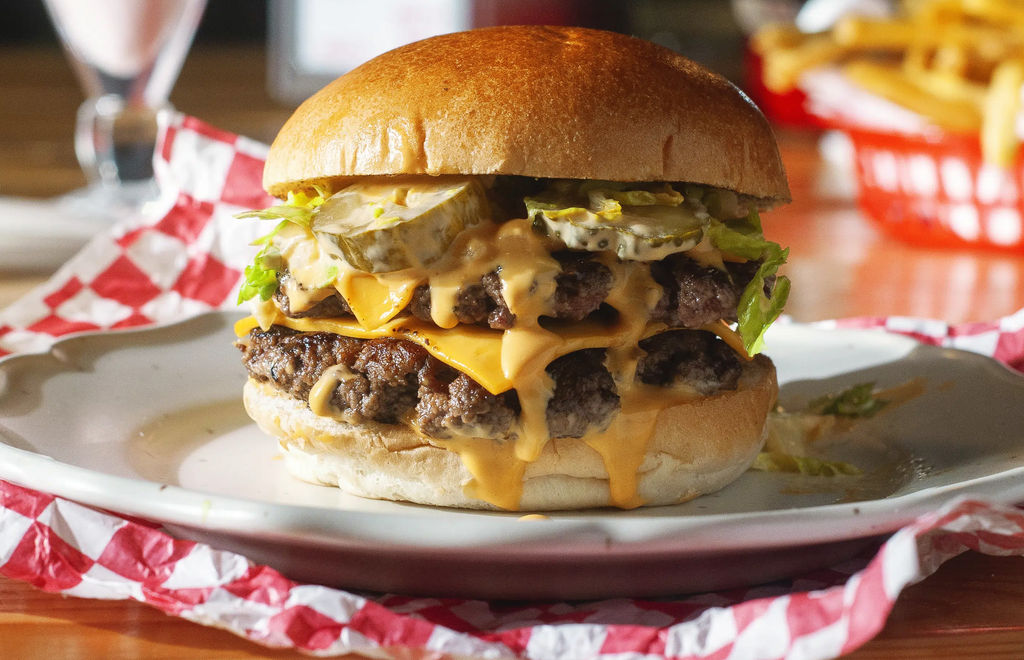 For a spicy kick, try "The Firecracker" burger with jalapenos and sriracha mayo. Vegetarians can savour the delicious "The Herbivore" burger made with a plant-based patty and a medley of toppings. Don't miss out on this burger sensation from Kenny Tutt's. Kenny also runs Pitch restaurant which is a restaurant in Worthing.
Conchita's Mexican Kitchen
Conchita's Mexican Kitchen at Shelter Hall is your gateway to the vibrant and bold flavours of Mexico. Discover a deliciousl menu of mouth watering tortas, bowls, nachos, and signature salsas. From traditional Mexican sandwiches, tortas served on freshly baked telera bread rolls, to tempting choices like La Mediterrania, El Rey Del Chelsea, La Yucateca, and La Milanesa, the taste of Mexico is right here.
Conchita's story is one of passion and heritage. Javier, the visionary behind this venture, draws inspiration from his Mexican grandmother, crafting recipes passed down for over a century. Hailing from lower Manhattan, Javier's love for food culture and storytelling brought him to the world of gastronomy, where he now shares these beloved flavours with Brighton's food scene.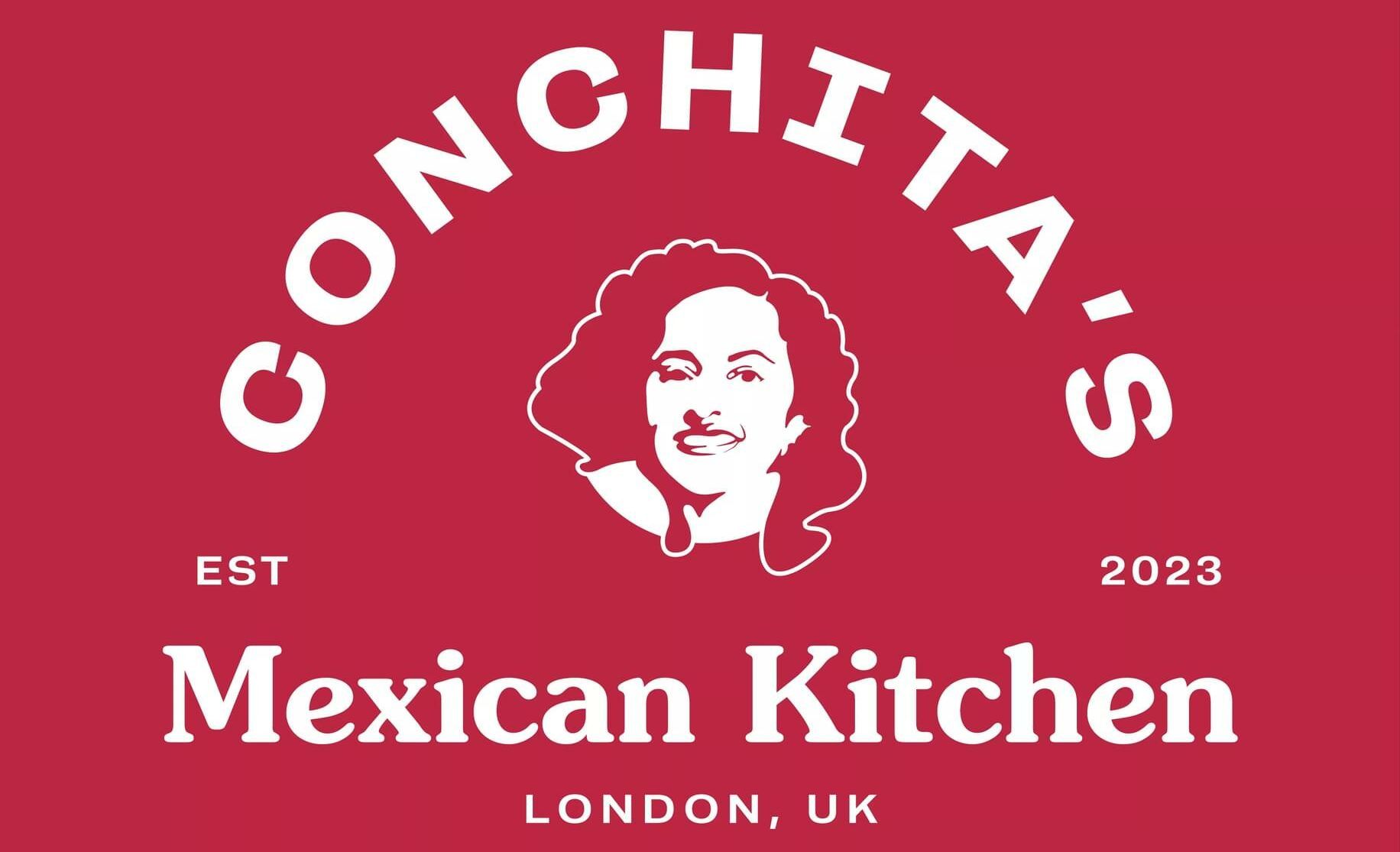 Little Bao Boy
Little Bao Boy is another exciting addition to Shelter Hall. Originating from Leeds, Little Bao Boy is an independent street food trader, celebrated for their brilliant Bao Buns and Bowls.
The menu features enticing options such as Crispy Cauliflower, Chilli Salted Tofu Bites, Gyozas, Slaws, and Cucumber and Crispy Chilli Oil Salad. Founder James, inspired by his parents' Noodle Shop, started a journey to infuse traditional Asian food with a contemporary Western twist. Little Bao Boy's innovative approach has quickly made it a beloved addition to Shelter Hall, offering a unique foodie experience.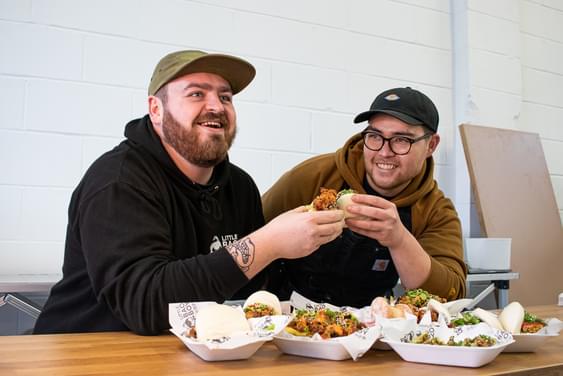 Coffee, Cakes and Shakes
Coffee, Cakes, and Shakes at Shelter Hall Brighton is a haven for caffeine lovers and dessert enthusiasts. Their menu features seasonal macarons and cakes from Julien Plumart, as well as Redroaster coffee. Start your day with a smooth and aromatic Flat White, or indulge in the rich and velvety Chocolate Mocha. Pair your coffee with a slice of their decadent Chocolate Fudge Cake, or savour the flavours of their moist and flavourful Carrot Cake. For a lighter option, their Lemon Drizzle Cake offers a zesty and refreshing treat. Treat yourself to a delightful coffee and cake experience at Shelter Hall Brighton.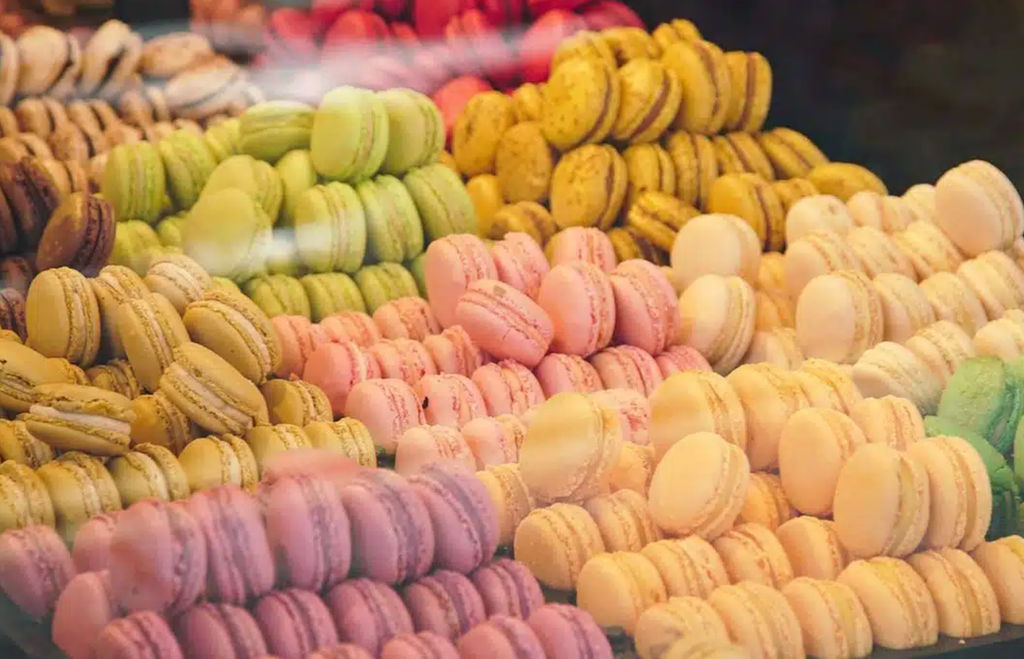 Very Italian Pizza
Very Italian Pizza at Shelter Hall Brighton is a slice of Italian heaven for pizza enthusiasts. Their menu features a variety of authentic Neapolitan-style pizzas made with hand-stretched dough and fresh, high-quality ingredients. Try their classic Margherita pizza topped with San Marzano tomatoes, mozzarella, and basil. For a meaty option, indulge in the flavourful Diavola pizza with spicy salami and chilli oil. Vegetarians will love the Vegana pizza with vegan cheese, mixed vegetables, and tomato sauce. Very Italian Pizza delivers a taste of Italy in every bite, making it a must-visit spot at Shelter Hall Brighton.
Sear by Salt Shed
Sear by The Salt Shed at Shelter Hall Brighton is a haven for meat lovers, offering a tantalising selection of grilled and seared dishes. Indulge in their succulent "Dry-Aged Ribeye Steak" cooked to perfection, or try the mouthwatering "Lamb Chops" seasoned with aromatic herbs. Seafood enthusiasts can savor the flavors of the ocean with the "Grilled Lobster" served with garlic butter. With a focus on quality ingredients and expert grilling techniques, Sear promises a dining experience that showcases the best of flame-kissed flavours. Prepare your taste buds for a sensational meat and seafood journey at Sear by The Salt Shed.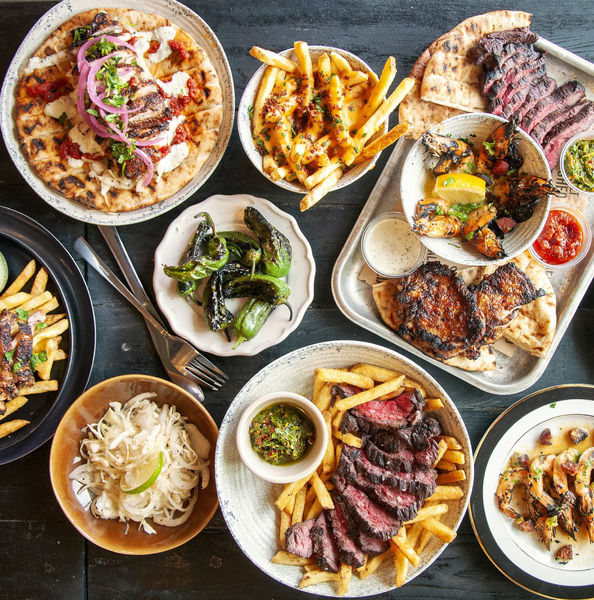 Chick n Bun
Chick n Bun at Shelter Hall Brighton is a standout eatery that specialises in mouthwatering chicken-based dishes. Their menu features a variety of delectable options, including their signature Buttermilk Fried Chicken Burger, served with pickles, slaw, and their secret sauce. For a spicy kick, the Nashville Hot Chicken Sandwich is a must-try, featuring fiery seasoning and a tangy mayo. Vegetarians can indulge in the tasty Halloumi Burger, a delightful combination of grilled halloumi, roasted red pepper, and basil mayo. Chick n Bun offers a delightful fusion of flavours and textures that will leave you craving more.
Skylark Cocktail Bar at Shelter Hall Brighton
Skylark Bar at Shelter Hall Brighton offers a stylish and vibrant setting to enjoy a variety of beverages. With their extensive opening times, guests can indulge in their expertly crafted cocktails such as the "Passionfruit Martini" and "Espresso Martini." Craft beer enthusiasts will appreciate their selection of local and international brews, while wine lovers can savour the flavours of Sussex with their range of regional wines. The bar's prime location also provides stunning sea-facing views, adding to the overall ambiance and making it a perfect spot to relax and enjoy the coastal atmosphere.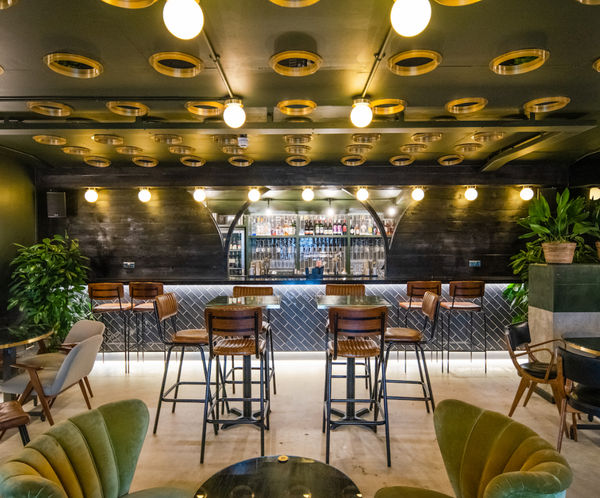 The Shelter Hall Bar
Shelter Hall Bar at Shelter Hall on Brighton seafront is a vibrant destination for drinks and socialising. The bar offers an extensive selection of beverages, including craft beers, creative cocktails, fine wines, and spirits. Whether you're in the mood for a refreshing craft beer, a classic cocktail, or a glass of Sussex wine, Shelter Hall Bar has something to satisfy every palate. The service is attentive and friendly, with knowledgeable staff ready to guide you through the drink options and provide recommendations. Sit back, relax, and enjoy the lively atmosphere while sipping on your favourite drink at Shelter Hall Bar.
Live music and events at Shelter Hall Brighton
Shelter Hall on Brighton seafront is not just a place to enjoy delicious food and drinks; it also hosts a range of exciting live events. From live music performances to DJ sets, comedy nights, and themed parties, there's always something happening at Shelter Hall to entertain visitors. With a diverse lineup of talented artists and performers, the live events create a vibrant and energetic atmosphere, adding an extra dimension to the dining experience. Whether you're looking to dance the night away or simply enjoy some live entertainment, Shelter Hall has you covered with their dynamic and engaging events program.