A quaint, country hamlet
Once a hive of industrial activity, Dial Post is a small settlement in Horsham, West Sussex. The impressive Knepp Castle Estate is just two miles down the road from The Crown Inn, with its mill pond, roaming deer and multitude of other grazing animals; proving a great spot to wander and sustain a hungry stomach before entering the pub.
The award-winning gastropub is the central hub for the community here with landlords, Penny and James, knowing guests on a first name basis (despite having a very hospitable team to manage daily service on the pub floor), as well as getting stuck into local events such as Vintage Car Day on the third Friday of every month.
Penny is a country girl through and through. Born into a local farming family, she understands the impact of supporting local and this explains why almost all of their ingredients are from local suppliers.
The Crown Inn is also a boutique-style B&B with two double rooms in the old stable block. A visit is made complete with a continental breakfast if you're wanting an overnight escape to the country.
Your quintessential British pub with a youthful setting
Here there are no frightful locals turning as a new face walks through the door, no syrupy pint glass rings stuck to the surface of the bar, no dreadful food arriving at your table just several minutes after it's been pulled out of the freezer and shoved in the oven. It's not to say that many pubs are this way any more, but The Crown Inn does separate itself from others with its refurbished interiors, contemporary menu and super-Covid safe operation.
Even better, as a dog-friendly pub, there is plenty of canines company (all sat at their owners feet like good boys, of course!). Choose your dining spot from the cosy snug by the fire, the restaurant, bar, or the light and airy garden room overlooking the village green. There's also the front patio and beer garden to enjoy in warmer months.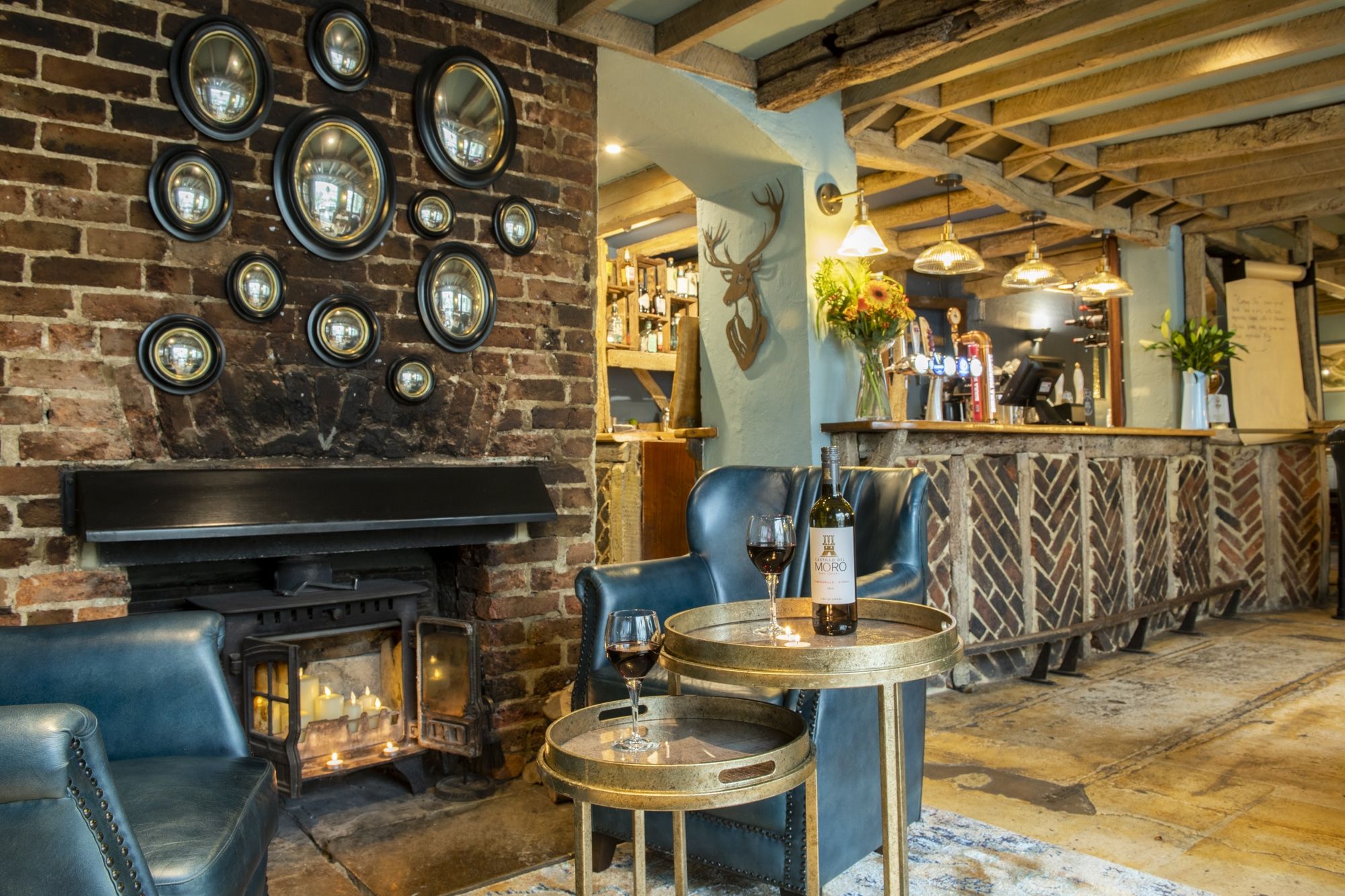 And finally, for the food. The regular menu provides a hybrid of your well-loved pub classics as well as international, seasonally picked flavours such as Persian-style lamb, Spanish tapas and pork and apricot terrine. Although we were here for the roast, we shared a couple of starters just to taste some of the plates offered across the full week.
Starters
The hand-potted Portland crab came with warm seeded granary and a dish of salted butter. This was a great dish to share while we could each have a slice of the bread to mop up the creamy crab meat. Our second starter, the Crown Inn panko breadcrumb halloumi bites, was served with a grand tomato chilli jam. As expected, the jam was made entirely in house – not poured from a bottle of that 'Blue Dragon Thai Sweet Chilli' as you would find in your pantry at home!
Roasts
The Crown Inn provide a humble and succinct Sunday offering with a choice of the following:
Roast sirloin of beef, served slightly pink with a Yorkshire pudding 

British roast chicken breast, complete with bread sauce

Royal Sussex pork belly with crispy crackling 

Vegan nut roast, roast sweet potato and fresh seasonal vegetables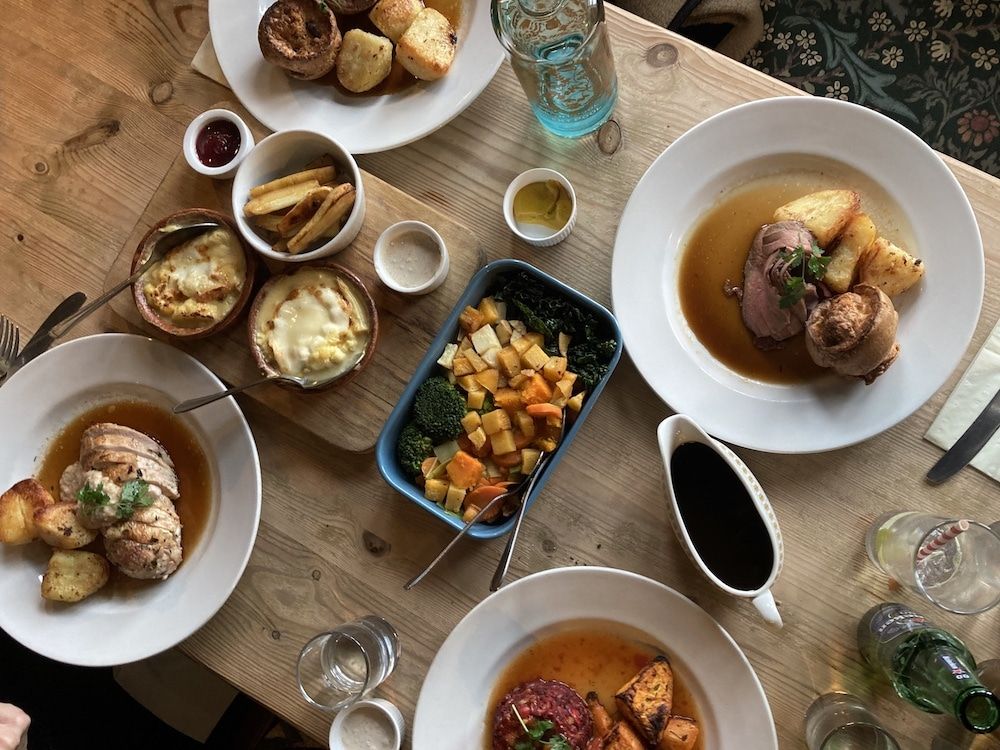 Plentiful portions
I opted for the sirloin of beef which was presented neatly alongside those lavish potatoes and a crunchy Yorkshire pud. The beef was rosy in colour, finely sliced and easy to chew while retaining the depth of flavour expected with a lightly cooked meat. It's safe to say they aren't shy on portions, particularly proven by the roast chicken!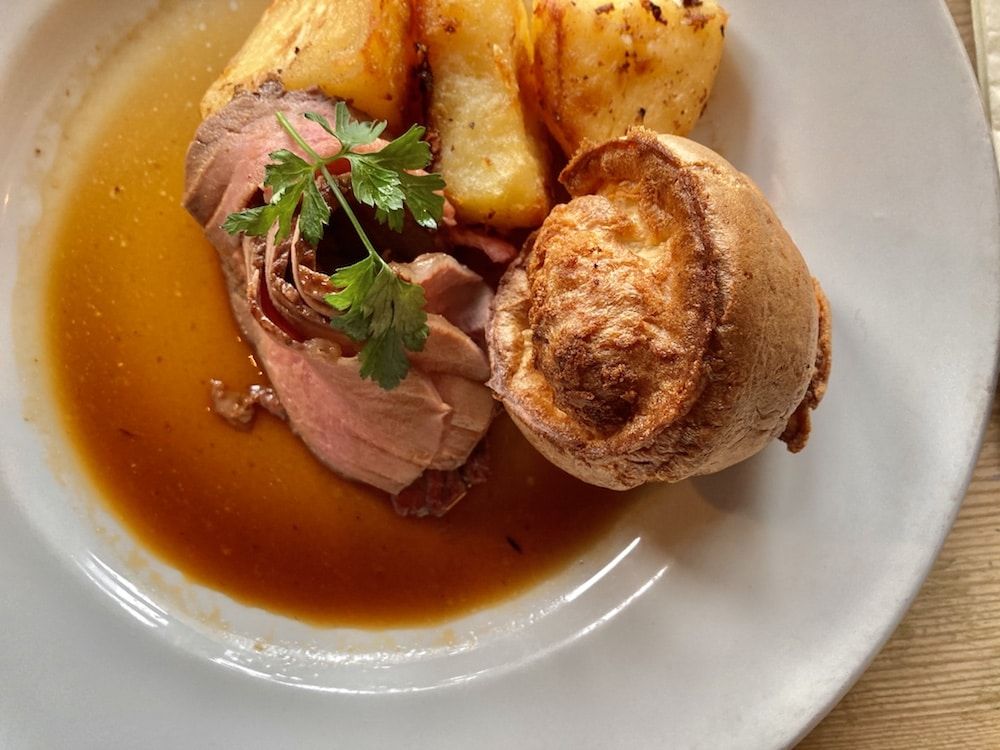 All roasts come with unlimited, freshly sourced vegetables and roasties, which frankly was a game changer for me.
Sides
Of course, being the centrepiece of the plate, the meat must be well prepared in order for a restaurant to obtain the title of a reliable roast dinner. But give me a mountain of vegetables, crispy spuds and a hearty gravy made from scrapings of the roasting pan – I'm sold. These guys have really hit the nail on the head in offering unlimited veggies on request. This way bellies are full and wastage is kept to a minimum.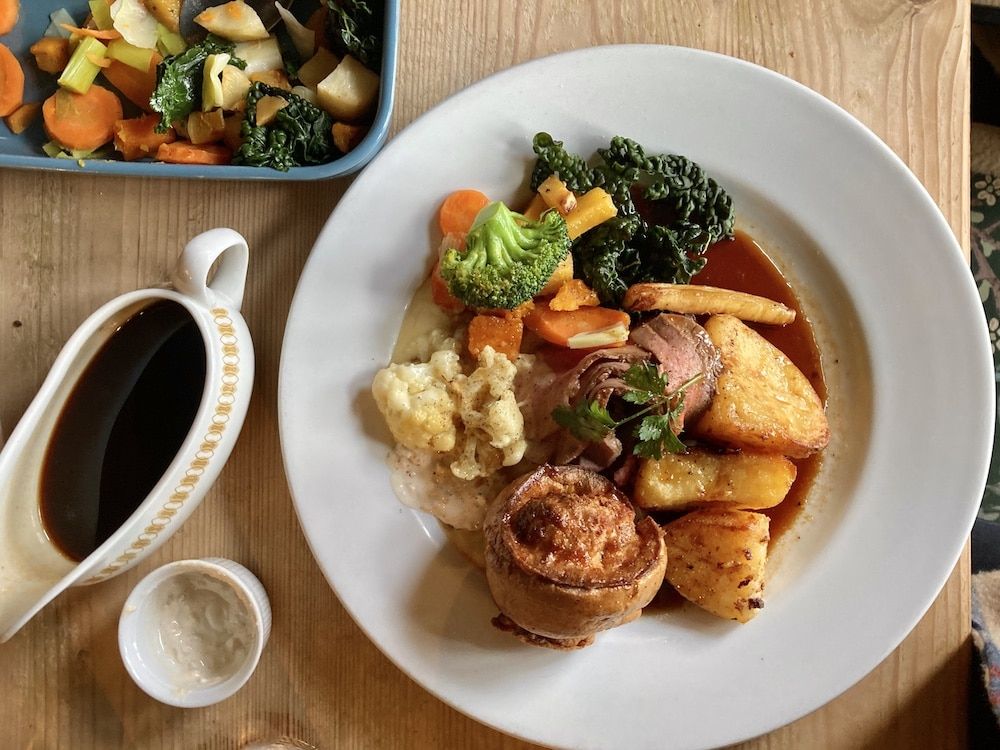 What's more, the gravy is more than just a condiment; it's a liquid hug in a jug as you pour the hot, salty contents over your plate. It's got to be 'proper' gravy, which is exactly how The Crown Inn name it on their menu. We also ordered braised red cabbage, maple-glazed parsnips and two individual portions of the oozing, Tellegio cauliflower cheese (because who can resist the urge against that sumptuous, stringy goodness!).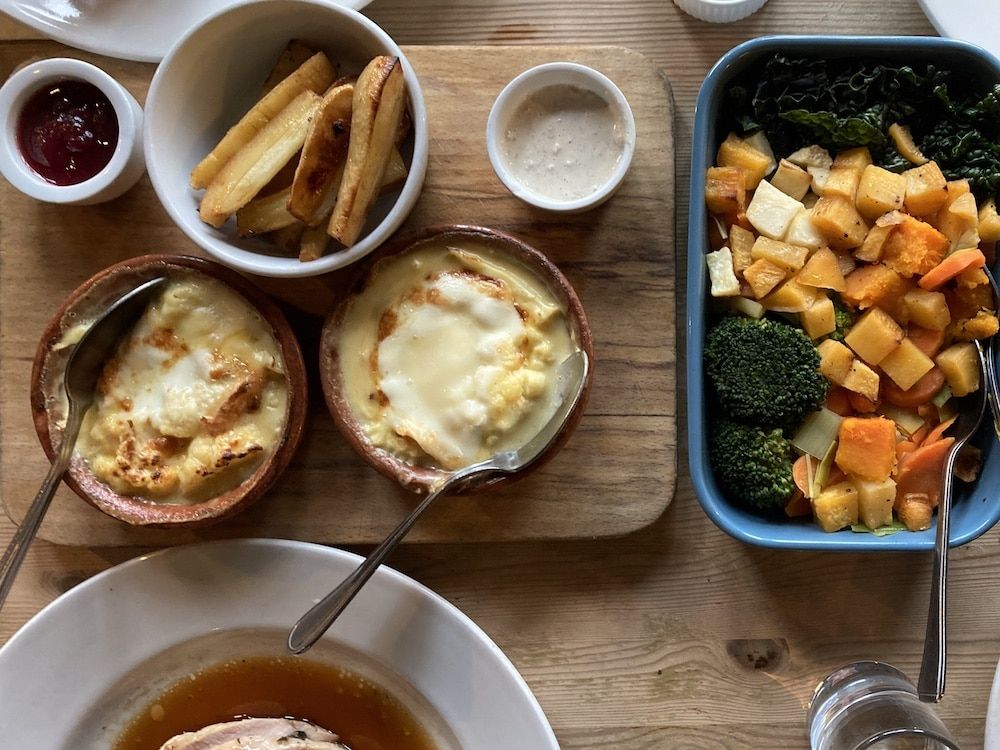 Desserts
After a short interval to give our stomachs a break, we dived into desserts. These were:
Homemade sticky toffee pudding, toffee sauce and homemade vanilla ice cream (who can complain against that dark, dense sponge cake?)

Homemade rhubarb, orange and ginger crumble (again, a simple yet irresistible English classic, complete with thick vanilla custard)

Vegan chocolate and passion fruit tart with vegan cream and berry coulis.
Might you have slightly less of a sweet tooth or want to resist the temptation of something sweet to finish your meal? There's also a cheeseboard with exclusively local cheeses, quince jelly, biscuits, celery and grapes on the menu.
Concluding thoughts
The Crown Inn really have replicated the best of our British traditions under one roof from the informal, chipper service, uncomplicated but reliable good food, and last but not least that wholesome countryside feel. Being only 35-minutes drive away, it makes for a lovely trip out of the city. Parking was alarmingly easy, giving all the more reason to explore the setting beyond Brighton.