Vios ('βίος' = 'life' in Greek)
If you're in Brighton and craving a taste of the Mediterranean, look no further than Vios Cafe. This charming cafe, founded by the Greek brothers Constantine and Philippos, is a true gem for food and drink enthusiasts. Their shared passion for quality cuisine shines through in every aspect of the café. Step inside Vios Brighton and you'll be greeted by a warm and welcoming atmosphere, making it the perfect place to gather with friends and socialise.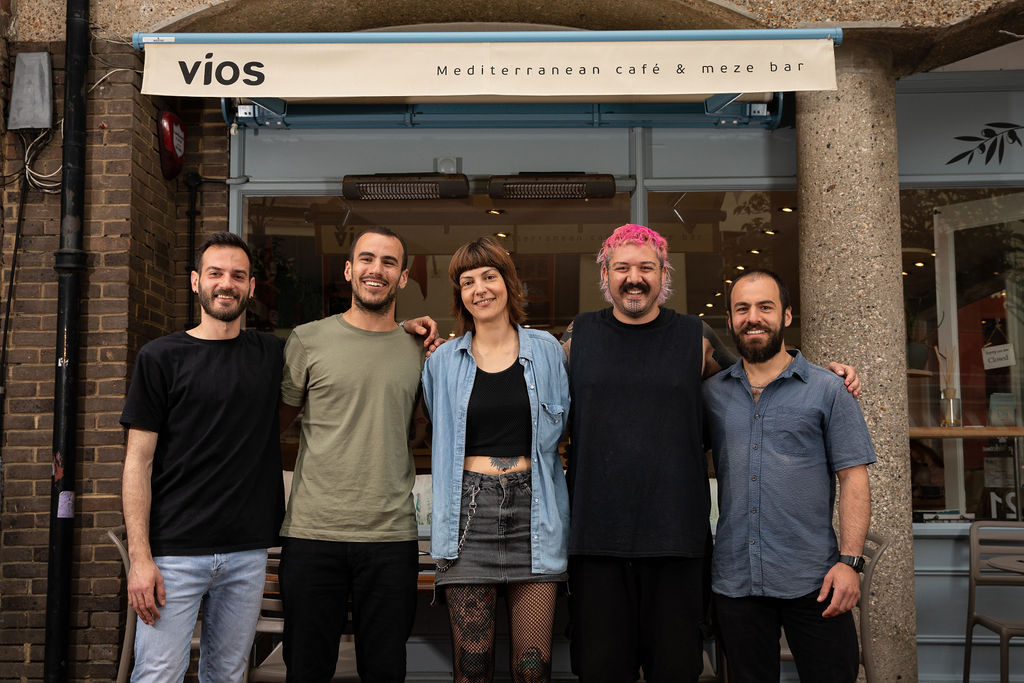 Vios is a haven for those seeking a delightful culinary experience. Start your day with a scrumptious breakfast accompanied by a silky coffee that will kick-start your morning just right. If you're in the mood to mingle and share delicious bites, indulge in their freshly made meze while sipping on traditional Greek ouzo or tsipouro. At Vios Brighton, you're guaranteed an enjoyable time filled with delectable Mediterranean flavours and the company of good friends.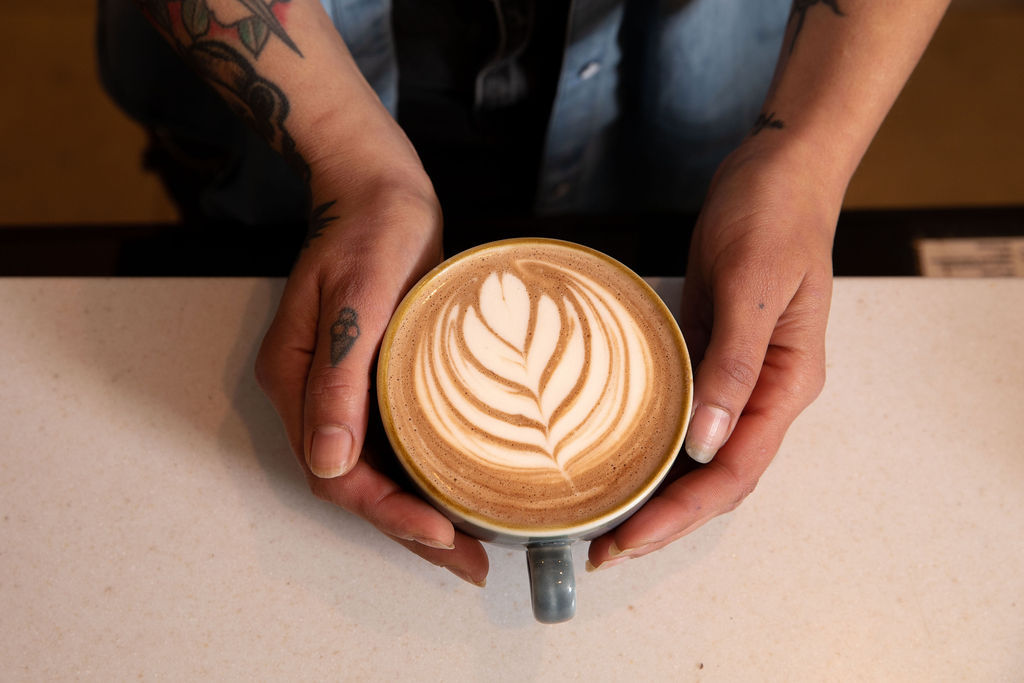 Location
Vios sits right in the heart of Brighton's vibrant historic Lanes, nestled in a bustling pedestrianised area, which allows you to enjoy the outdoor seating peacefully. Whether you're exploring the shops or simply strolling around, Vios cafe in Brighton is the ideal pit-stop to refuel and recharge. Indulge in their wide selection of options, from a rejuvenating smoothie made with fresh fruits and wholesome ingredients to a satisfying caffeinated pick-me-up, or a glass of Greek wine to unwind.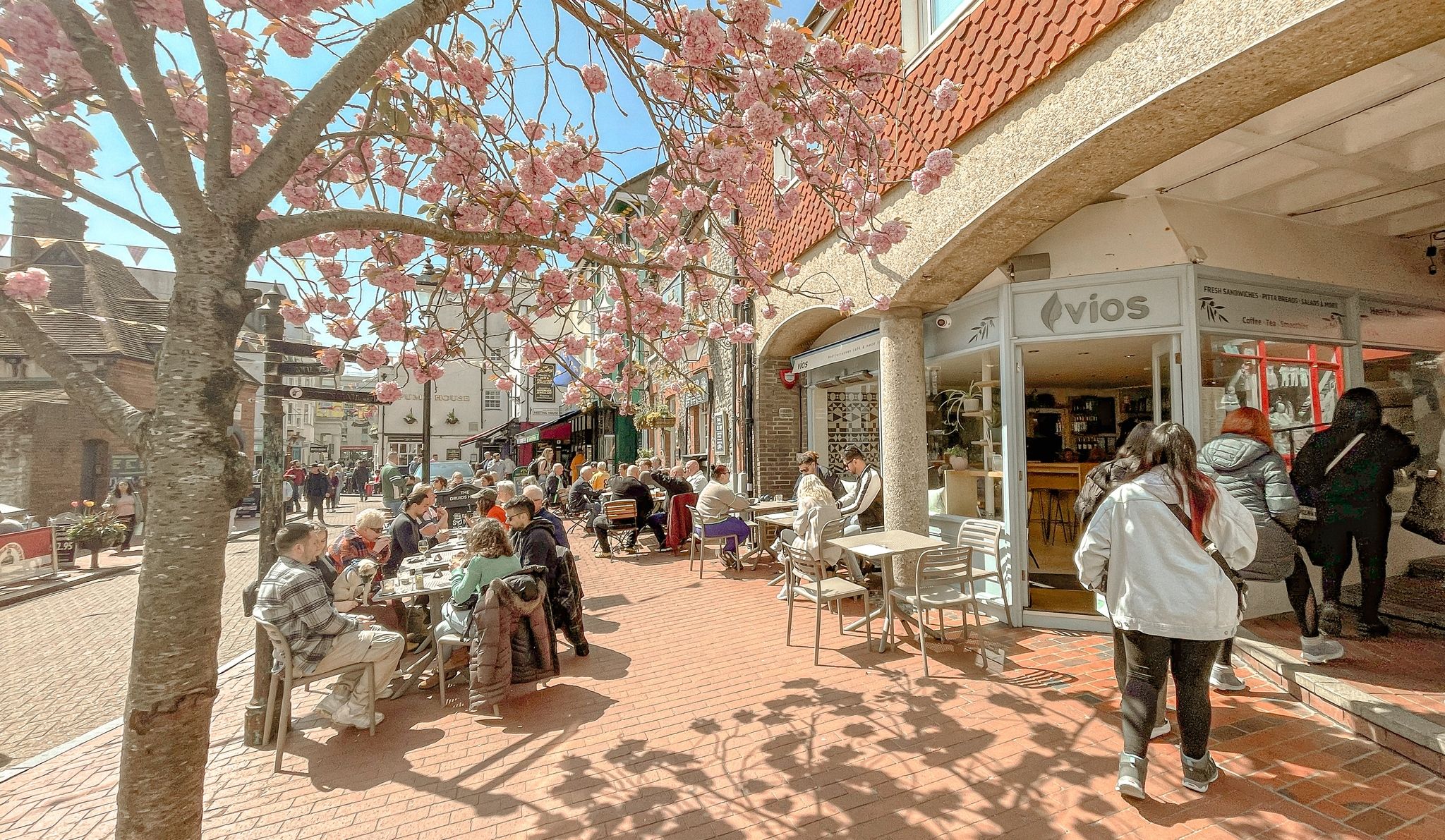 Atmosphere
Step into Vios and you'll be greeted by an atmosphere that exudes warmth and tranquillity. Every detail has been carefully considered, from the earthy tones that evoke the Mediterranean to the abundance of lush plants that create a serene oasis within the vibrant Lanes area. The Brighton cafe's interior design invites you to unwind and relax, making it the perfect spot to escape the hustle and bustle of the day. As you take a seat and savour a glass of wine or a steaming cup of coffee, you'll find yourself transported to a place of calm and contentment.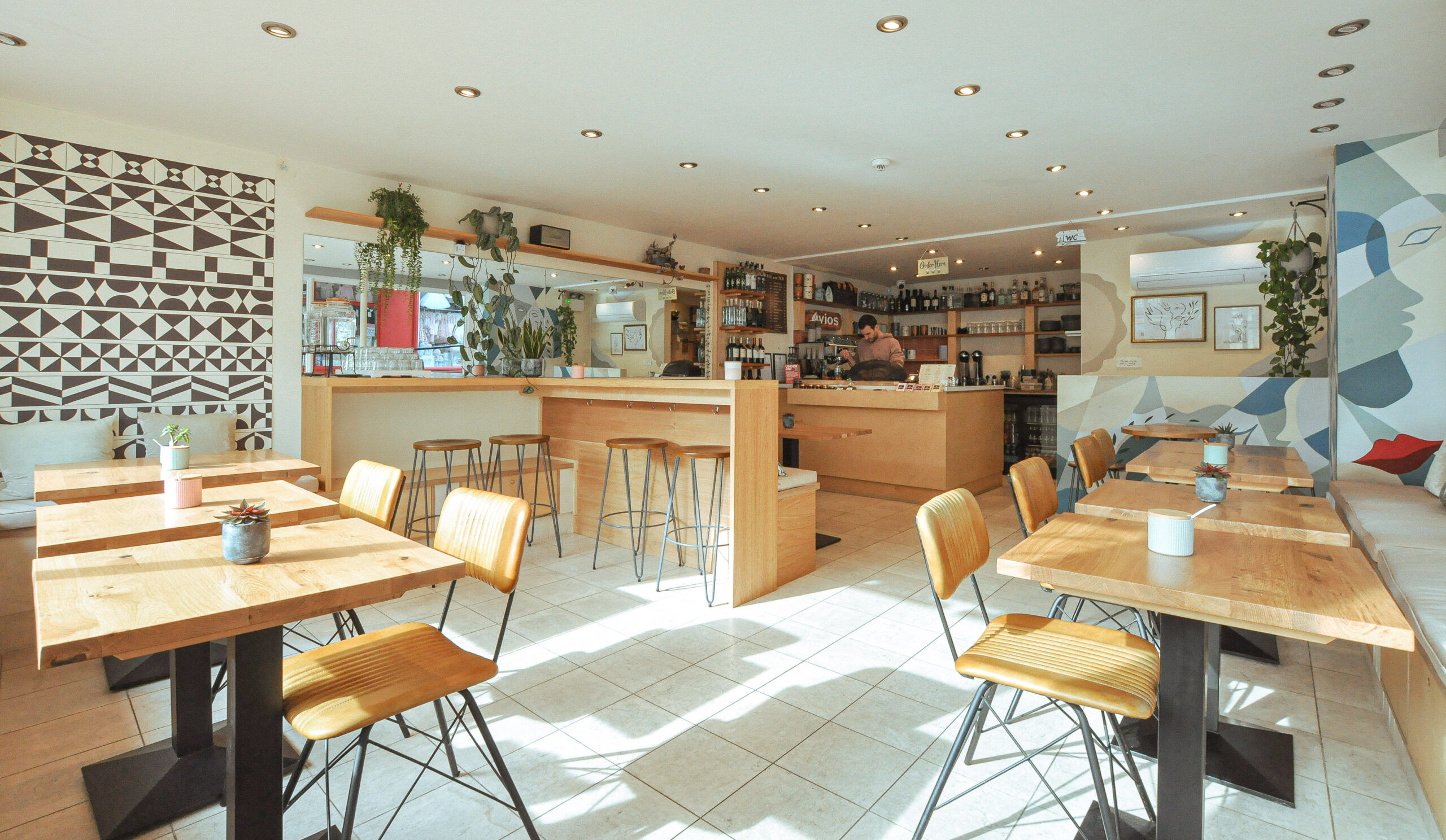 To further enhance the sense of connection, a hand-painted graphic design adorns one of the walls, depicting a mural from their hometown in Greece. Vios offers not only delicious food and drink but also a serene ambience that invites you to slow down and embrace the moment.
Eating and drinking at Vios Brighton
At Vios, food is a delightful affair that is served fresh and made to order until 4pm every day. The menu is carefully curated, focusing on simplicity, quality, and the use of local ingredients whenever possible. From breakfast to lunch, you can expect a range of enticing options. Start your day with a healthy yoghurt bowl topped with authentic Greek honey, which can be customised to suit vegan preferences. Indulge in a selection of delectable pastries and baked goods from the renowned Brighton and Sussex supplier, Real Patisserie.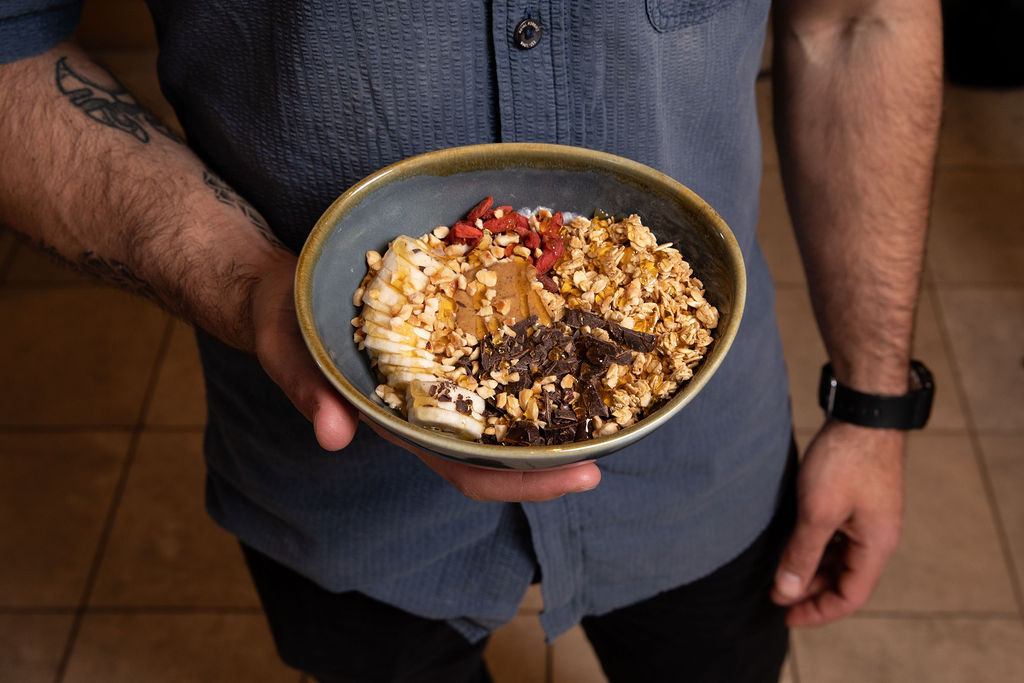 For something more substantial, try their loaded sourdough creations or their beloved toasties – which feature the perfect cheese thoughtfully selected from a Sussex dairy farm and tested to ensure the best flavour. And who can resist their fluffy and scrumptious pancakes? The menu doesn't stop there – Vios cafe in Brighton also proudly serves falafel and houmous from the famous Smorl's in Brighton. And let's not forget about the fantastic meze plates and traditional Greek beverages.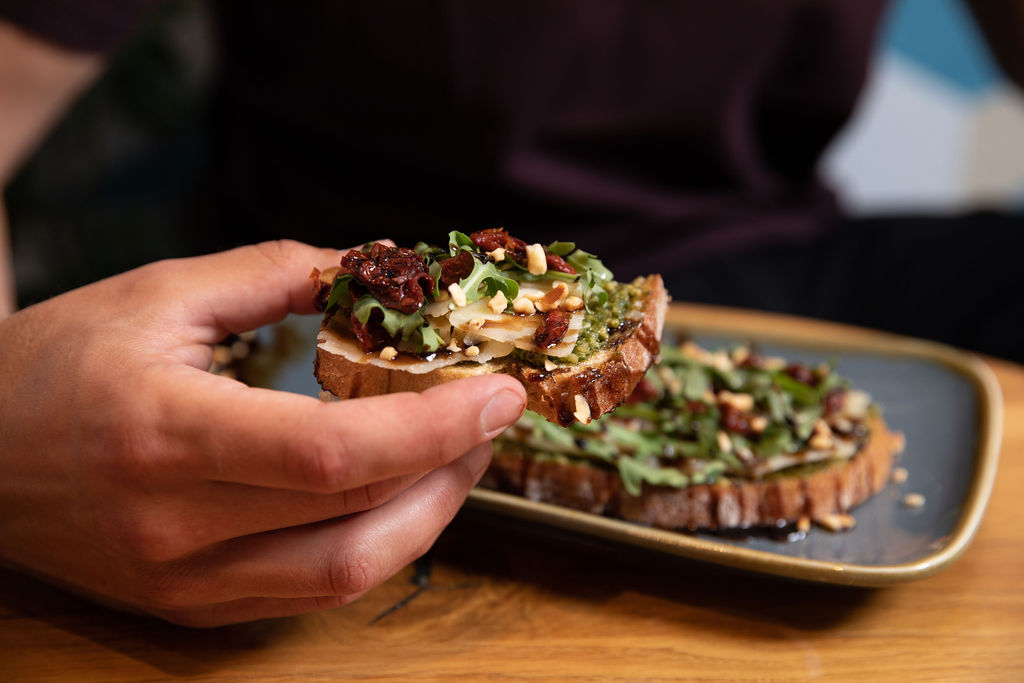 Greek Meze at Vios Brighton
The meze menu at Vios is a true celebration of the vibrant flavours of Greece and the Mediterranean. It's the perfect way to enjoy a communal dining experience with friends. Choose a selection of dishes to share, and savour them alongside their Greek wines or traditional speciality spirits such as ouzo and tsipouro, which are highly recommended to enhance the flavours of the meze.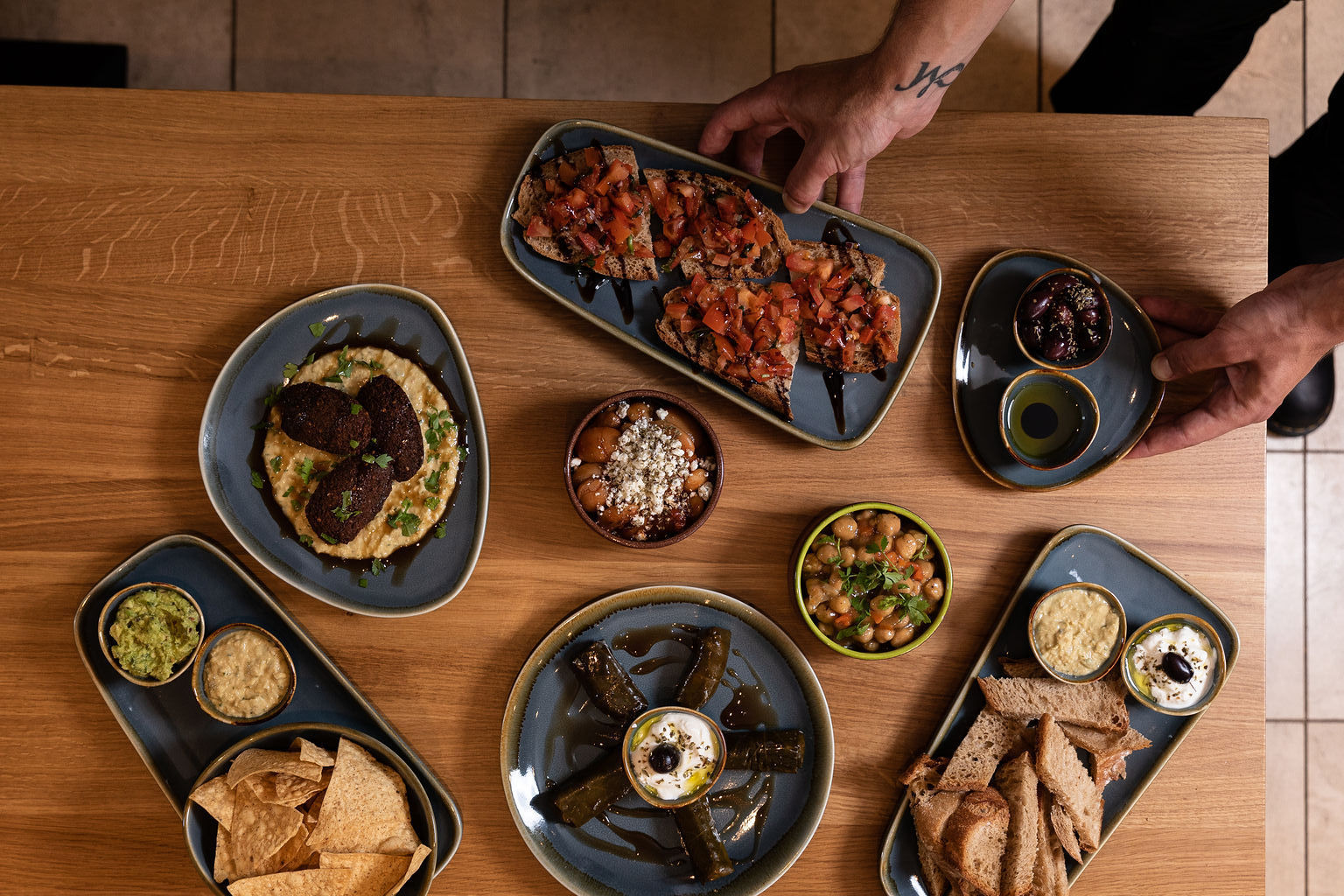 The meze options cater to various dietary preferences, with many dishes being gluten-free and vegan-friendly. To create a satisfying meal for two people, three to four plates from the meze menu would be sufficient. The knowledgeable staff at Vios are always ready to offer recommendations for drink pairings, ensuring a harmonious culinary experience. Among the popular meze options, their dolma stands out, and it pairs perfectly with a glass of their fine Greek wines. 
Buy a bottle
At Vios, the dedication to quality and homage to Greek flavours extends beyond their food menu. They also offer a selection of carefully curated Greek wines, speciality spirits, and Greek honey, each chosen to showcase the richness and authenticity of Mediterranean tastes. Whether you're sipping on a glass of wine or enjoying a traditional spirit like ouzo or tsipouro, you can experience the true essence of Greece.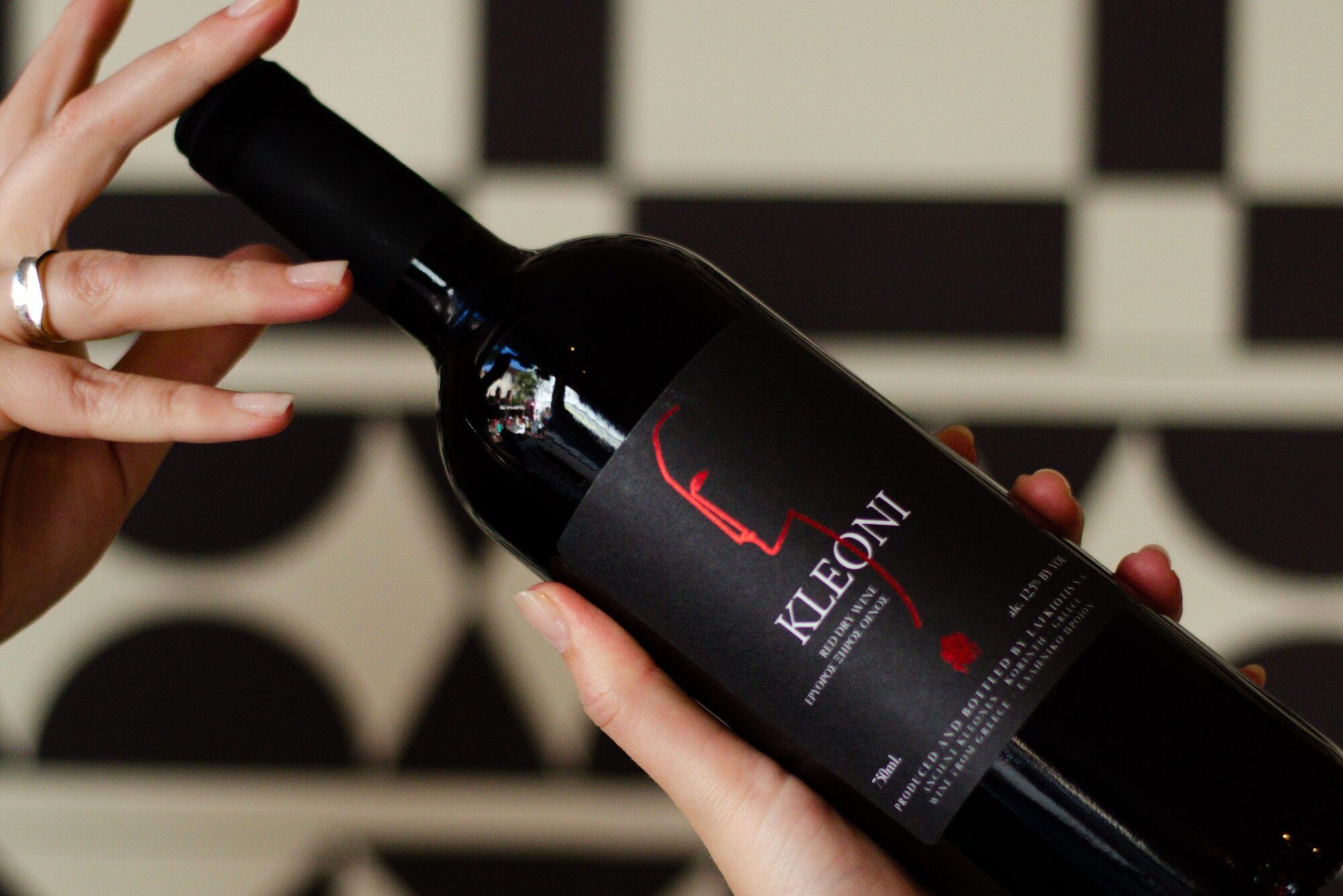 If you find yourself falling in love with the flavours, why not take a bottle of your favourite Greek wine or spirit home with you? It's the perfect way to continue the enjoyment or share the gift of the Mediterranean with someone special. Vios Brighton goes the extra mile to ensure that every aspect of your visit, from the food to the drinks and artisan offerings, leaves a lasting impression of the Mediterranean's delectable delights.