I recently had the immense pleasure of experiencing a night of genuine foodie joy. An evening filled with exceptional company, delicious food and, in my humble opinion, the best gastro-camping experience in the UK. Welcome to Woodfire Camping's Feast Night!
Let's begin….
After a short 40 minute drive through picturesque countryside, we arrived at a small car park where giant complimentary wheelbarrows were available to help gather our camping gear. Once filled, we set out to find just the right spot for our tent and popped along to the camp kitchen for check-in where we were warmly greeted by Stella, co-owner of Woodfire.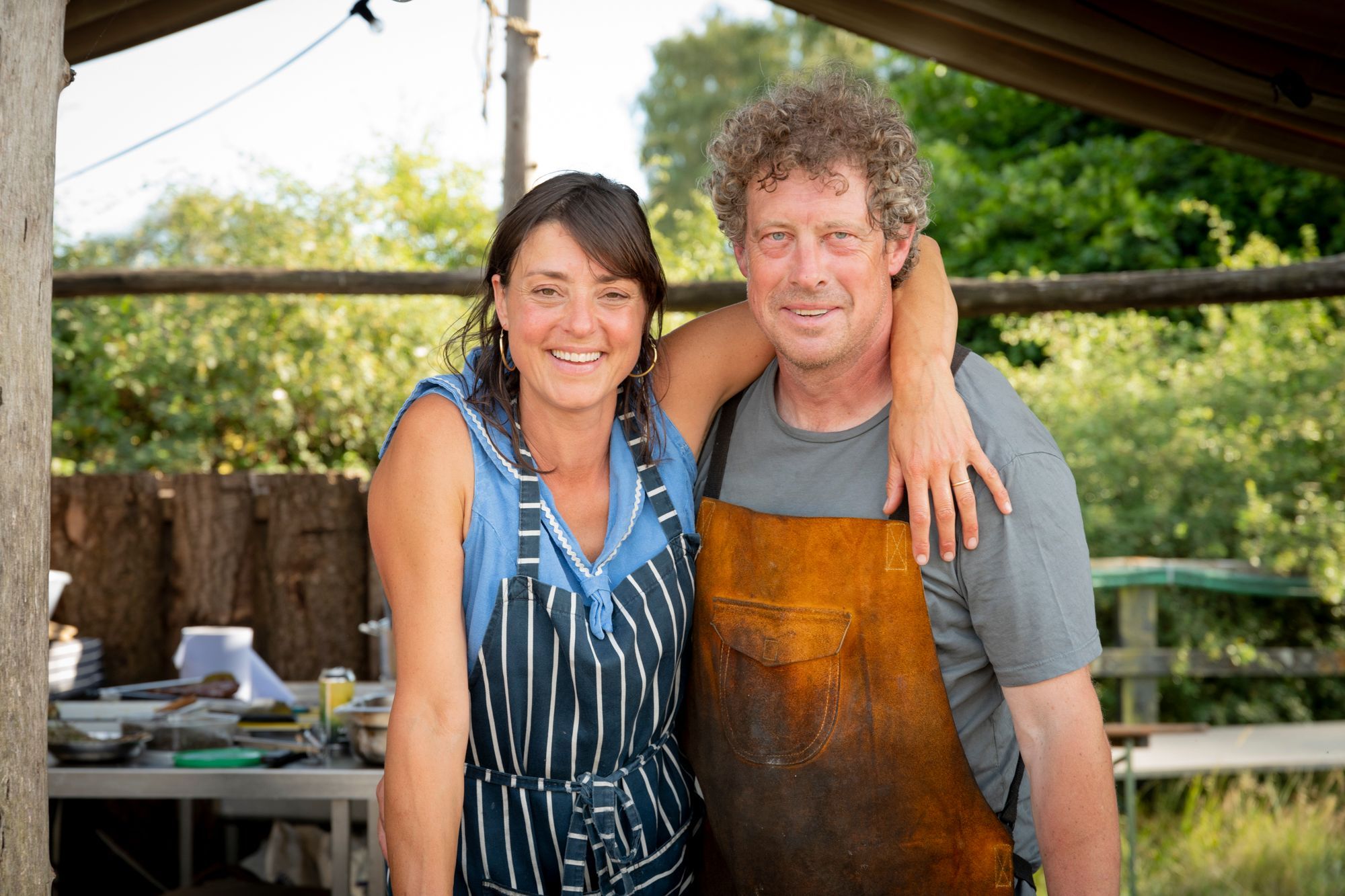 It must be said that Stella is the type of human that makes your soul feel hugged. Her entire energy is kind, sweet and genuinely happy to have you there, and her love of this beautiful place is absolutely palpable. Stella introduced us to her wonderful partner Griff who, donning his leather apron and dusted with soot, is very clearly the pit master. Stella continued to enthusiastically show us their compost toilets(!), campers' kitchen and hot showers (which were divine and as hot as you like!). She explained that all water is drinkable too.  
A glass of Sussex fizz? Yes please!
Stella also informed us that the Feast would begin around 7:30, but to come a bit early for a complimentary glass of Ridgeview Sparkling Wine around the communal campfire. After a short tour of their quaint country cafe/bar and wood-fired kitchen area, we headed back to our belongings to get settled in.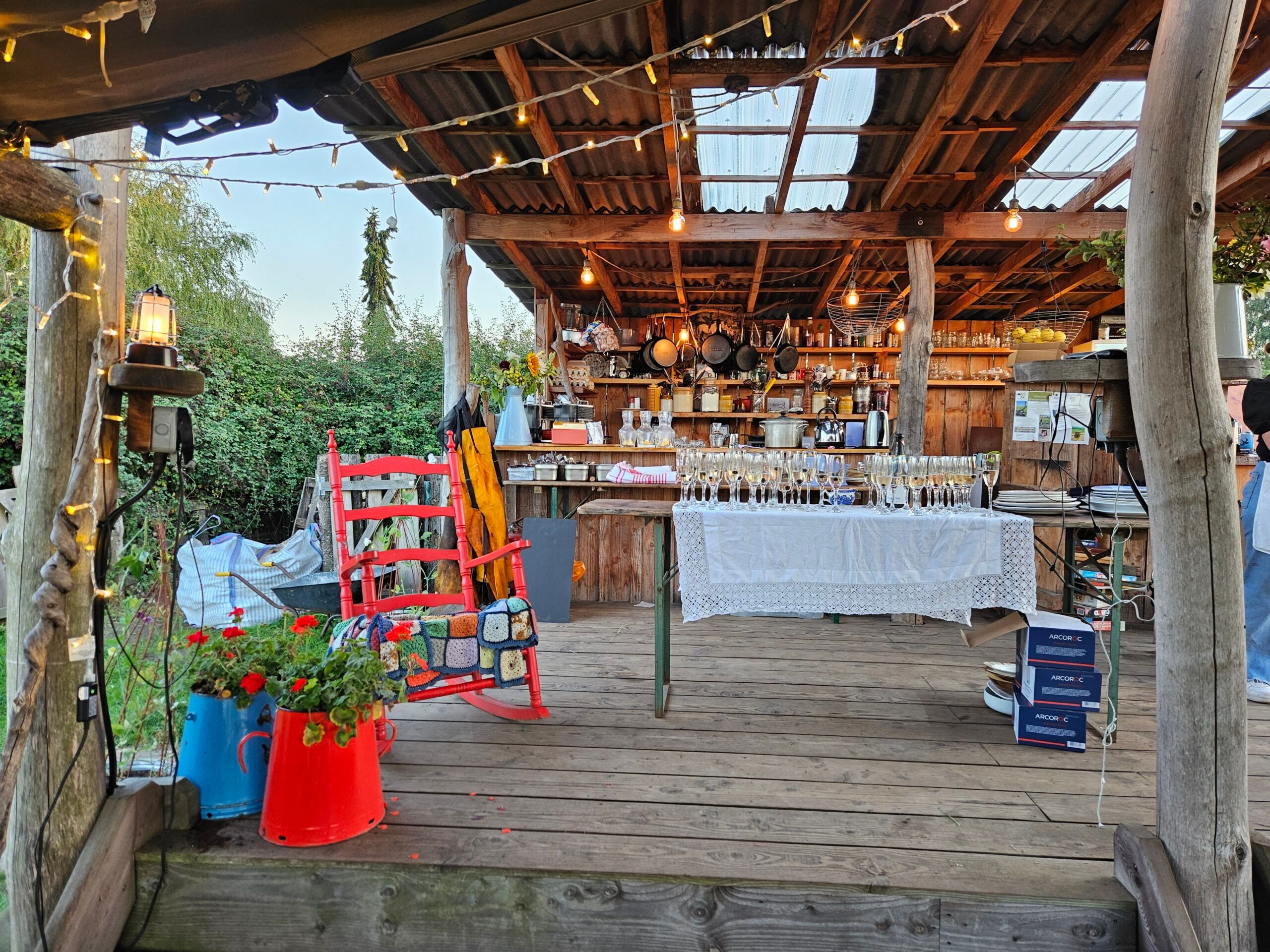 The campsite itself is gorgeous! Stunning views overlook rolling hills, with trails through farmland and rustic woods should you wish to explore. Woodfire offers both traditional camping, pre-pitched tent camping, and camper vans, and each pitch is allowed a fire-pit too. Apart from on Feast Nights – which are a special event – regular campers are also invited to join them for a hearty dinner, and breakfast should they wish, each week on Friday and Saturday.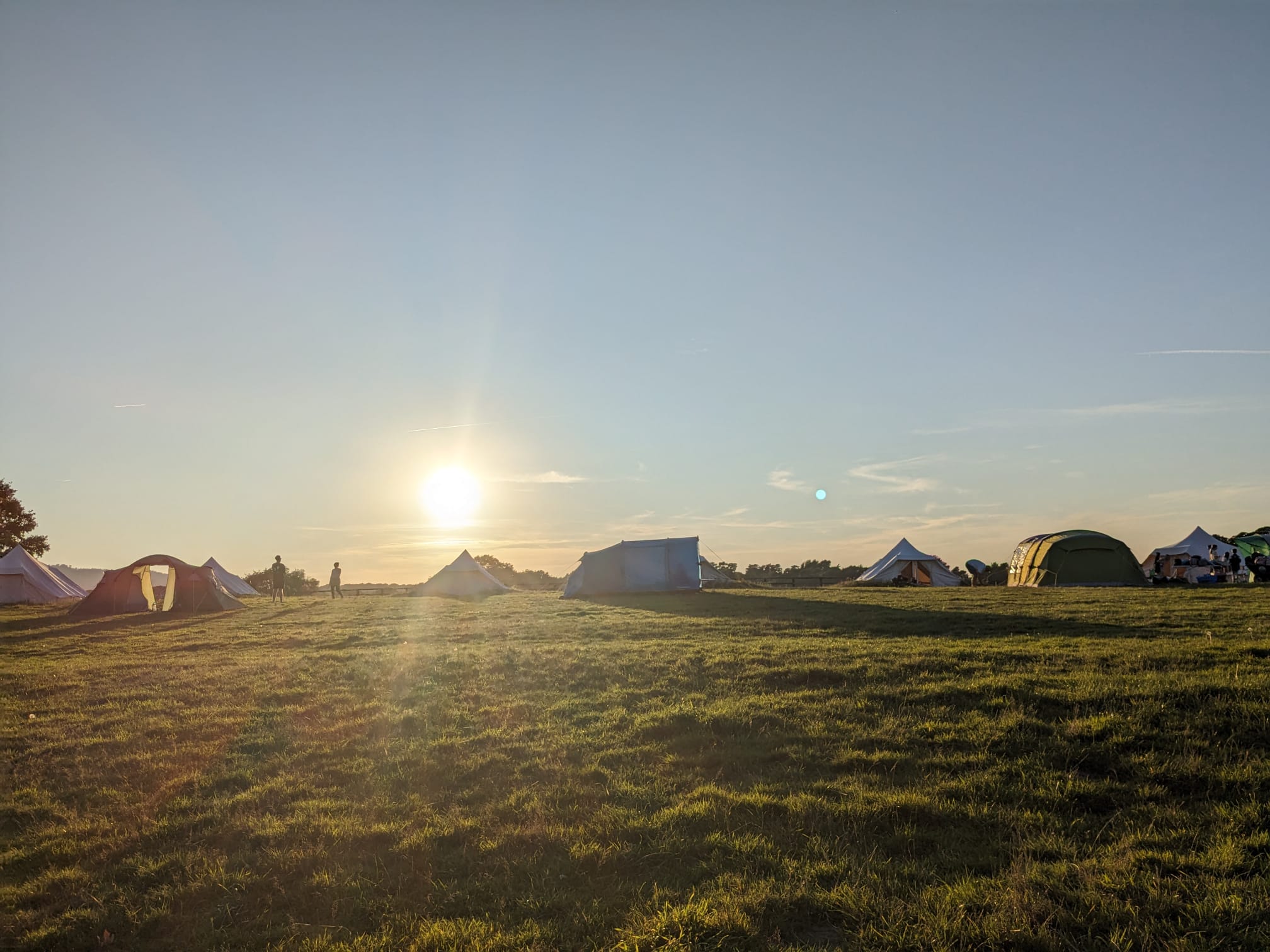 Now what makes a Feast Night so special you ask? In a word, everything. 
I know, I know, it doesn't sound plausible, but for me and my friend, it really was nothing short of perfection. We love to camp, we love open fires, we love exceptional food cooked by passionate people, we love sustainability and foraging, and we love meeting new and interesting people – tick tick tick! Now of course also having the most beautiful night of the entire summer definitely helped with the ambiance, but short of a biblical downpour of doom, Woodfire's stunning new dining tents would have been more than ample had the weather been less accommodating, (in fact, knowing Stella and Griff, a storm may even have even added to the experience).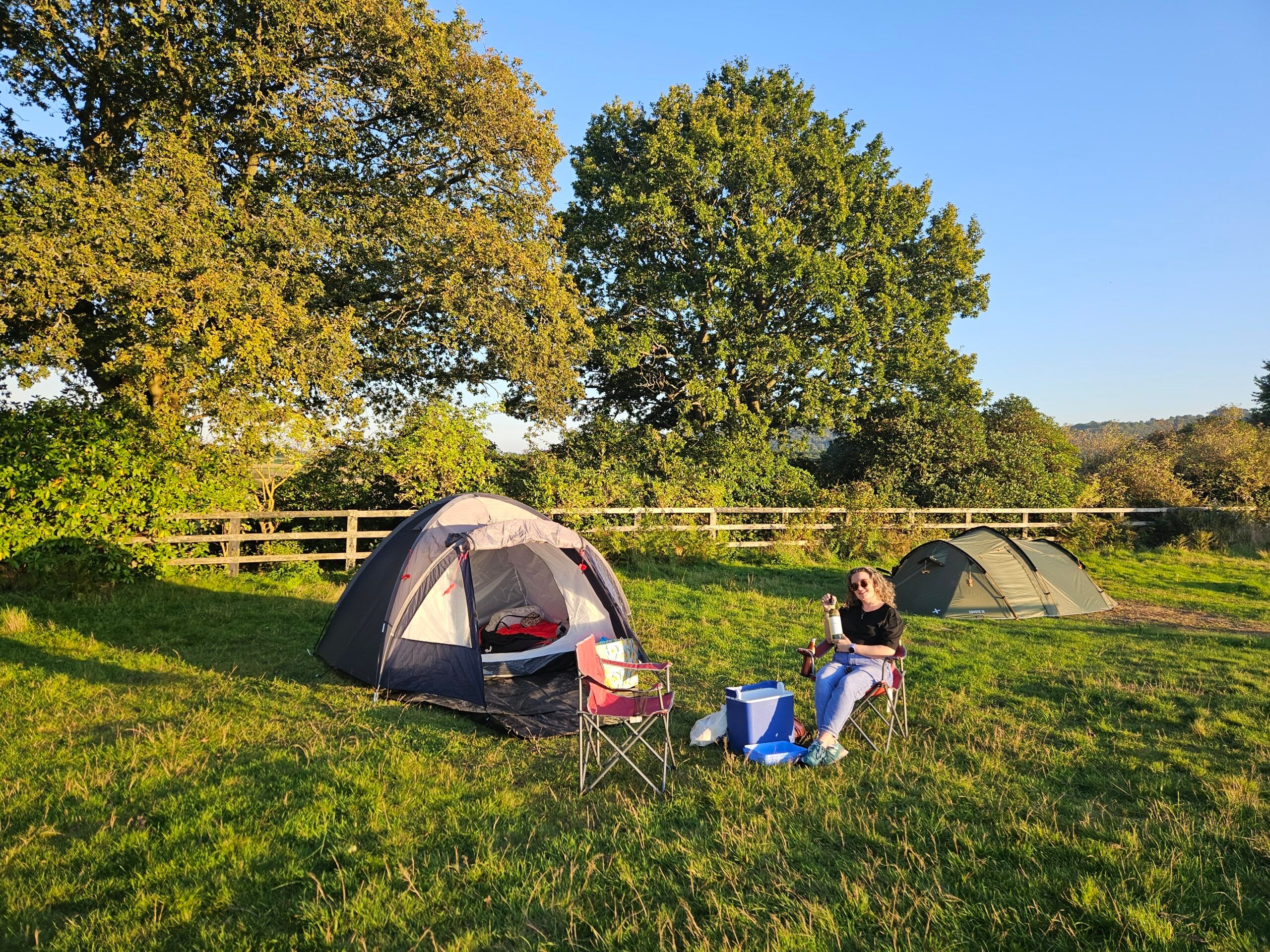 Once our tent was up, we sat and enjoyed the golden hour light with a glass of wine, relaxing in the tranquillity of the early evening at our campsite. At 7pm we tottered over to get our glass of bubbles and, with fizz in hand, I snuck off to get a proper peek at the open-air kitchen. 
Woodfire Camping is not just a name, it is the ethos behind their passion for woodfired cooking, and Griff knows his way around an open flame. Griff and guest chef Julian Brown were easing around the kitchen, stoking the fire and prepping for the first course, as the dinner bell began to ring.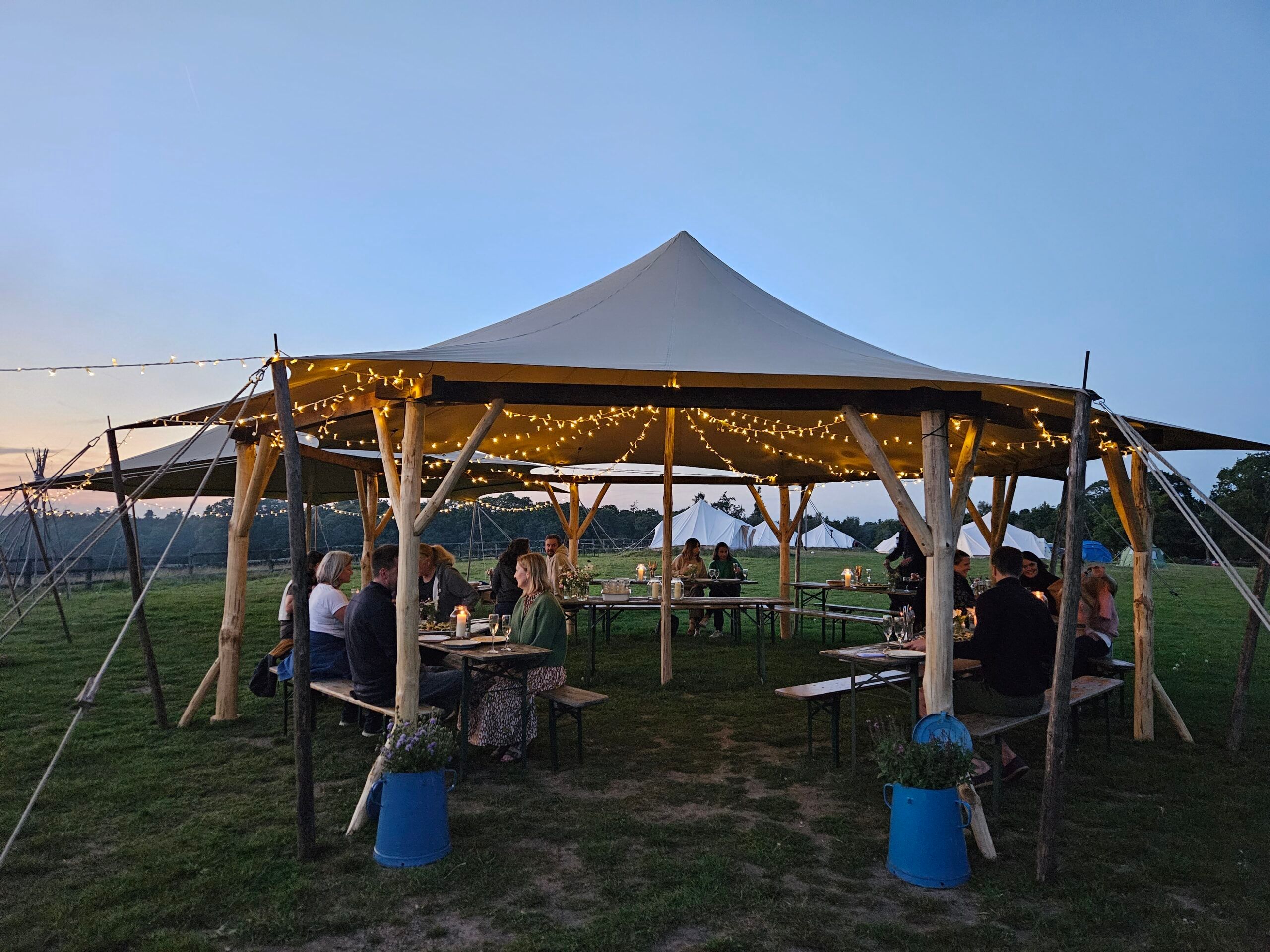 As the sun set the guests joined together in the dining tent, encouraged to meet new friends at this family-style feast. Now, I don't mean to brag, but Alanna and I had hands down the best company of the night. Our table mates Cilla (73) and Nick (78) were the most interesting and charming couple, who have been married and camping together for 50 years, and have camped with Woodfire six times. From the first clink of our glasses, we giggled and chatted through the entire feast, and were the last ones standing at the end!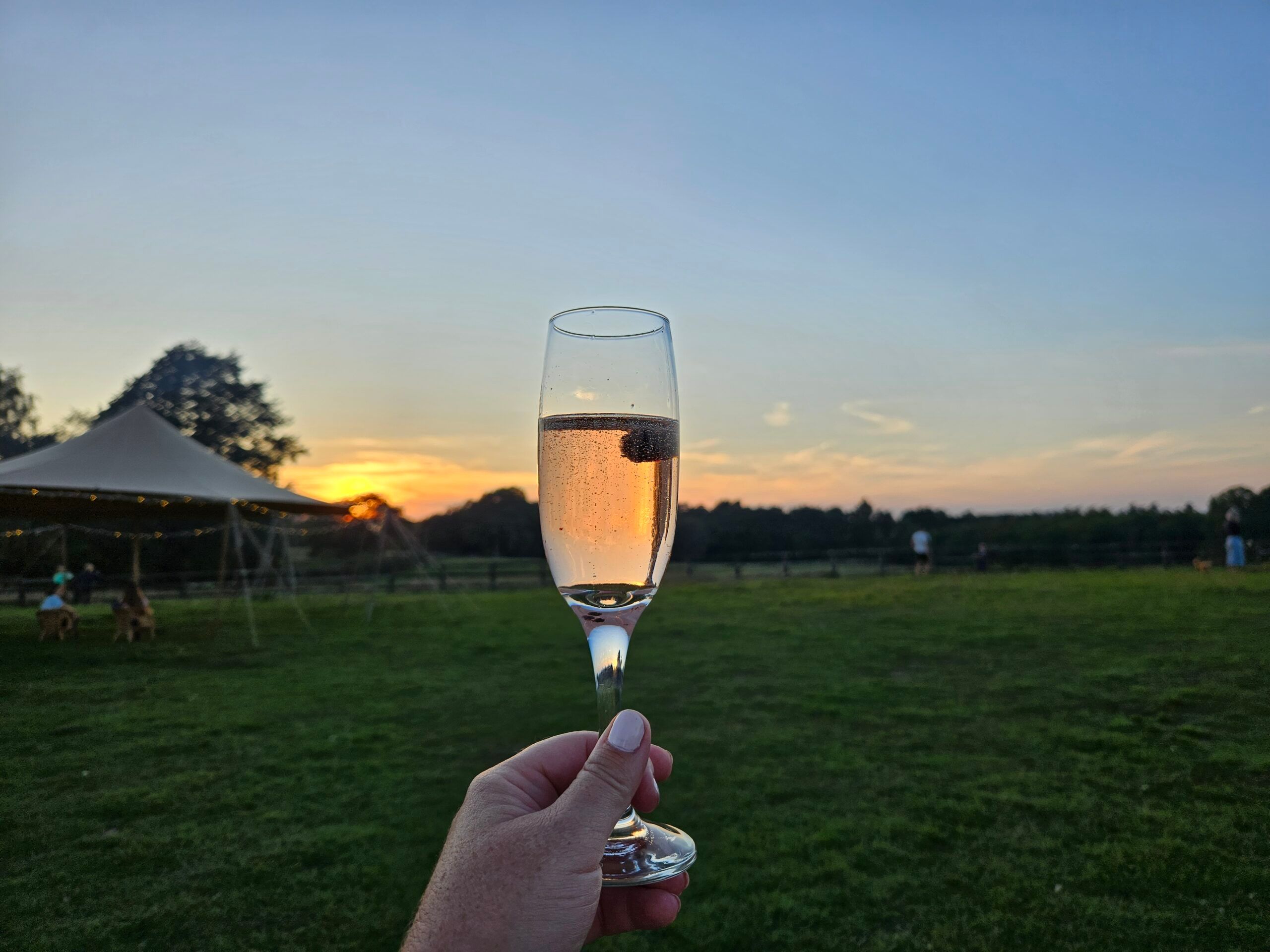 Now for the food!
Our first course was the Charred Runner Bean Bruscetta, with home-made broad bean miso ricotta, a locally baked sourdough from Danish bakery Soot in Petworth, pickled fennel, mustard seed caviar, and topped with freshly foraged herbs that had been picked that day.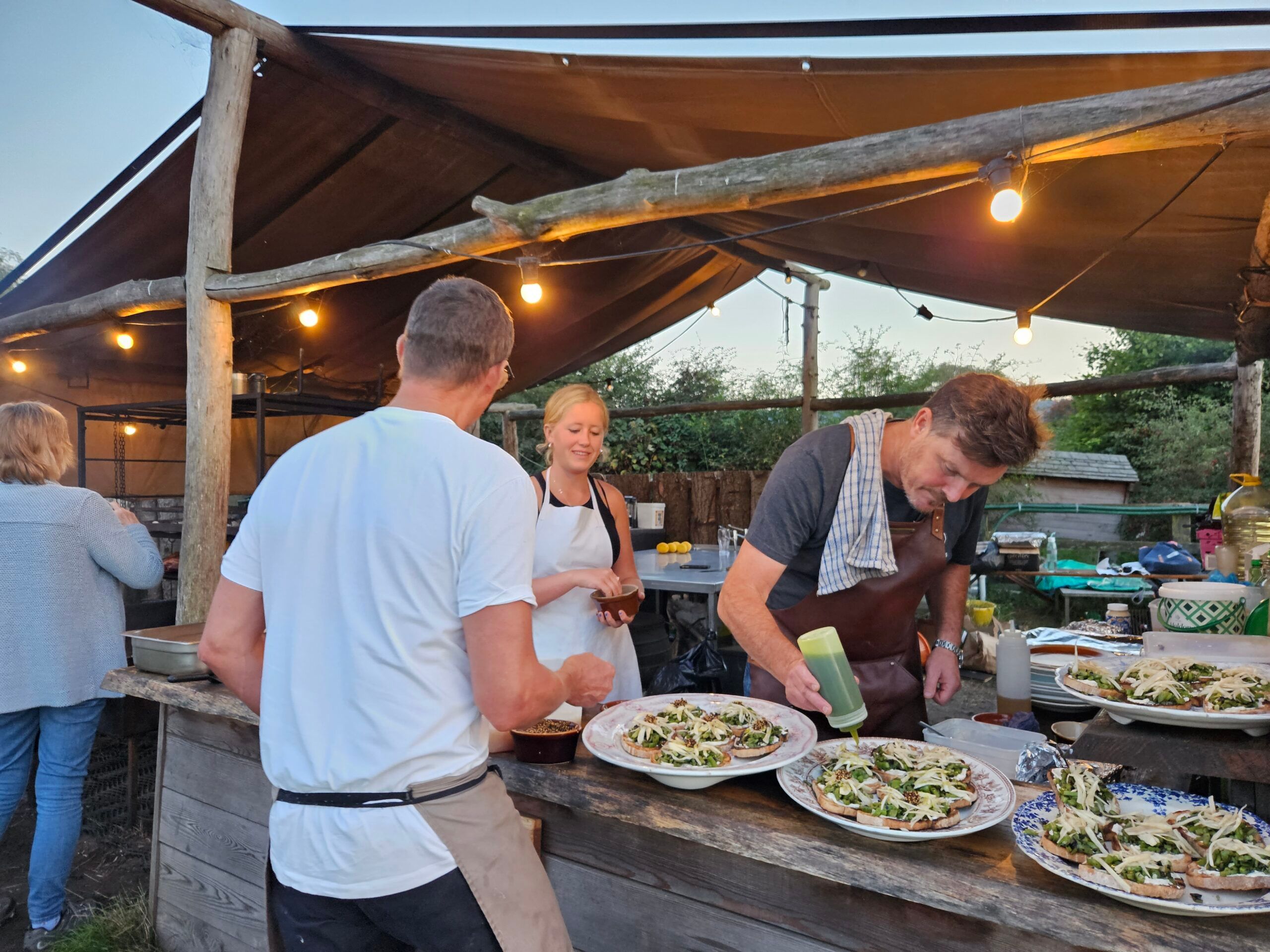 As we tucked in, Stella, Griff and Julian spoke to us about their passion for agriturismo (agrotourism) in Italy and how their time travelling and feasting with friends on the farm is what inspired their Feast concept. Absolutely everything on our plates was grown in Sussex and much of the meal was, in fact, grown on site or foraged from the estate.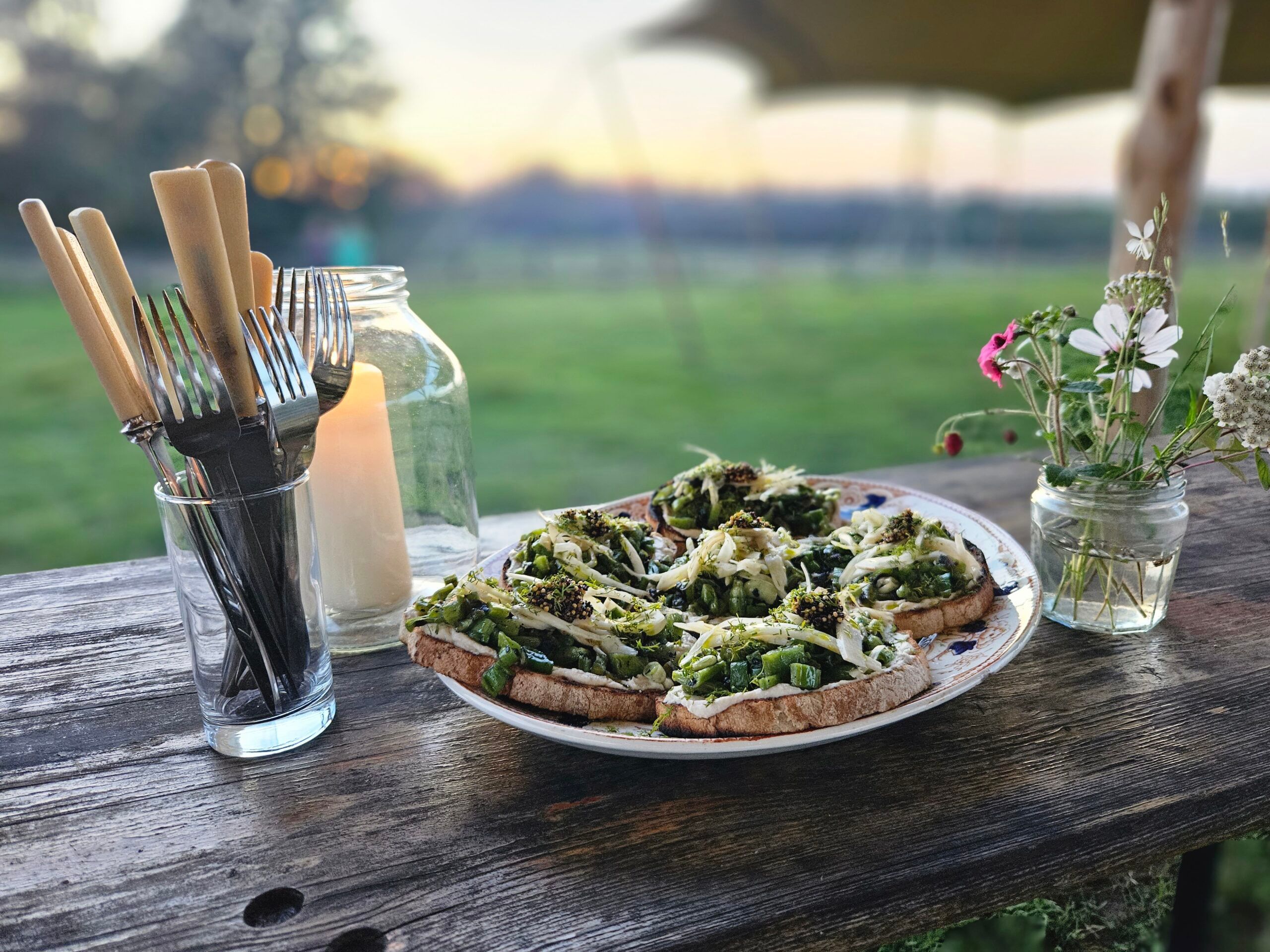 Getting back to the dish, the bruschetta was divine. Everything tasted as fresh as could be, and the balance of the dish was more fine-dining than camp food. Sweet, pickled, fresh, creamy and aromatic, it was absolutely delicious.
A quick apology…
Now I must apologise, but due to the nature of eating in the out-of-doors the lighting for photography was limited, and the wine plentiful, so alas my photography skills wavered as the night wore on. But in a way I see this as a positive, because you cannot experience a Woodfire Feast through a lens. It is a feast for the senses, a space where phones are forgotten, and food and new friendships are the atmosphere.
Eat with your mind.
For our next course, we were served Fire Baked Beetroot Carpaccio. By cooking the beetroot whole in the embers, the rich earthy flavour of the beetroot was pronounced and sweet, dolloped with home-made whipped crème fresh horseradish ricotta, sprinkled with crunchy roasted hazelnut dukkah, and topped with locally foraged blackberries, fennel and elder. For anyone saying they don't like beetroot, you're wrong. I would challenge anyone to not enjoy this dish, outstanding.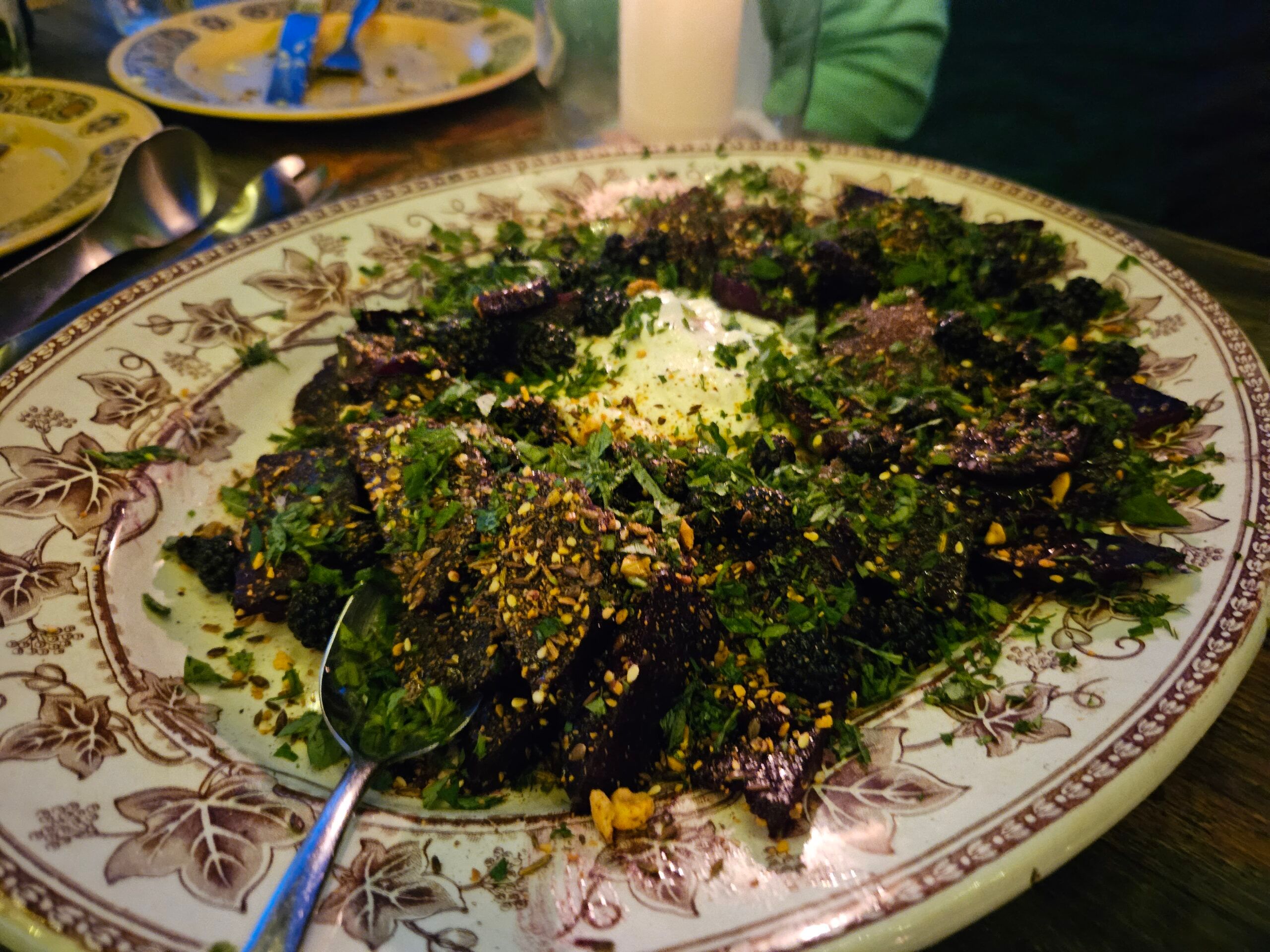 Planking delicious!
For our fish dish we were served a whole side of Cedar Planked Chalk Stream Trout on a savoury bread pudding. The fish was beautifully smoked and had a gorgeous cedar wood aroma. The fish was delicate, moist and tender, and paired beautifully with the savoury bread pudding which was flavoured with a rich and robust home-made fish stock.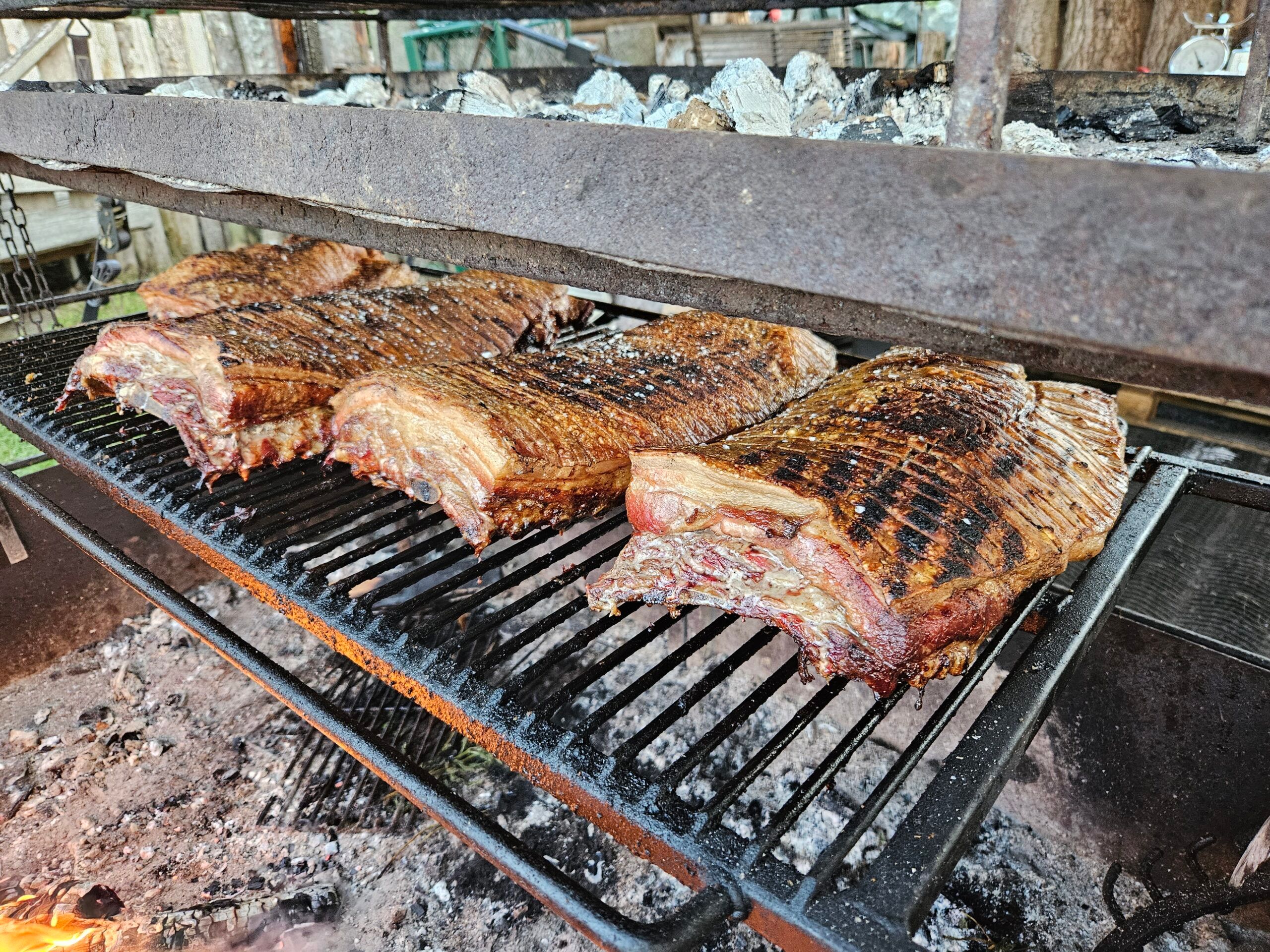 The meat course was a Slow Roasted Pork Belly topped with slightly charred, crisp crackling, served with a pickled onion and summer tomato salad topped with foraged sorrel and sour cherry dust. Fine-dining flavours on a family-style dish that hero'ed every ingredient, *chefs kiss*.
Our final course, the Poached Pear Trifle, was the perfect way to finish with a flourish. Just sweet enough, with a zing of home-made candied ginger, a dust of dark chocolate, and served with a glass of dessert wine. A satisfying finale to a fantastic feast!
Woodfire Camping have managed to create a magical atmosphere that elevates traditional camping in the most down-to-earth way possible by sharing their passion for fantastic food with family and friends.
What Stella and Griff have created here is something that cannot be taught or bottled. Something this special happens when passion and joy meet persistence. Woodfire Camping is more than experiencing the great outdoors, they show you how to savour it, and make magic out of every moment.
Thank you for having us Stella and Griff, it truly was the highlight of our summer!