There is an unplaceable, timeless loveliness about Wild Flor in Hove. Walk through the door and the scene speaks to you of classic French hospitality. There's a short, neat curtain on a brass rail shielding diners from the street, generously spaced tables and romantic banquets. The use of wood in the decor and the blackboard written up with the names of local suppliers and seasonal events, call to the modern, British preoccupation with provenance and sustainability. It's very now – and very then – both here and there. And it works. 
A Sweet Spot
In all things, Wild Flor seems to be aiming at the sweet spot between conviviality and discretion. Front-of-house is conducted from a counter at the front of the restaurant. Guests are welcomed warmly, personally, but with just the right amount of distance so that they feel, at the same time, that it is both normal and rather special for them to be there. The team is exceptionally knowledgeable and really, very nice.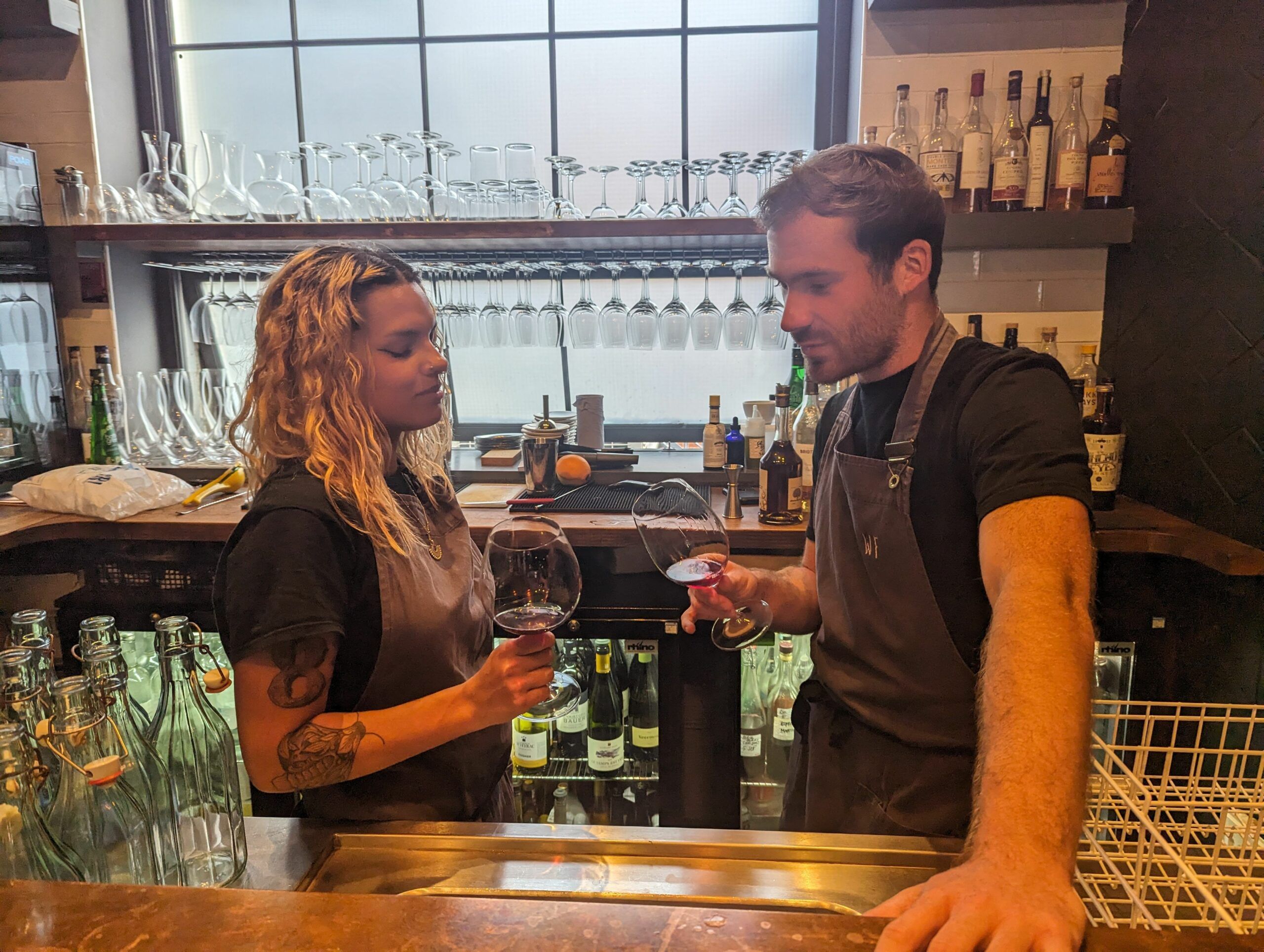 On the night that we visited, there was a grand event in the beautiful upstairs dining room which is often set aside for private dining. The restaurant was marking the launch of the Game Season with a menu of special dishes to showcase the best on offer.
Game Season at Wild Flor
If you're a game fan, there is no doubt that Wild Flor, with its commitment to sustainable eating, use of foraged ingredients, and access to the very best suppliers, should be on your 'must-visit' list. The menu included a snack of fallow tartare followed by grouse and shiitake broth then roast grouse with rosti, liver parfait and pickled plum; each dish having been expertly paired with delicious wines.  Excited-looking guests walked through the downstairs dining area, many with their trusty, astoundingly well-behaved hounds to enjoy this earthy feast. This could be the ultimate in dog-friendly dining.
The Autumn Set
Like many of the diners on the ground floor, my husband and I were at Wild Flor to try The Autumn Set. Newly launched, the menu offers 2 courses for £22 or 3 for £25.
There are three choices for each course – meat, fish and plant-based – making it easy to order according to your preferences. I don't know about you but I love a shorter menu – what greater luxury is there than to be fed great food and not have to think too much about it?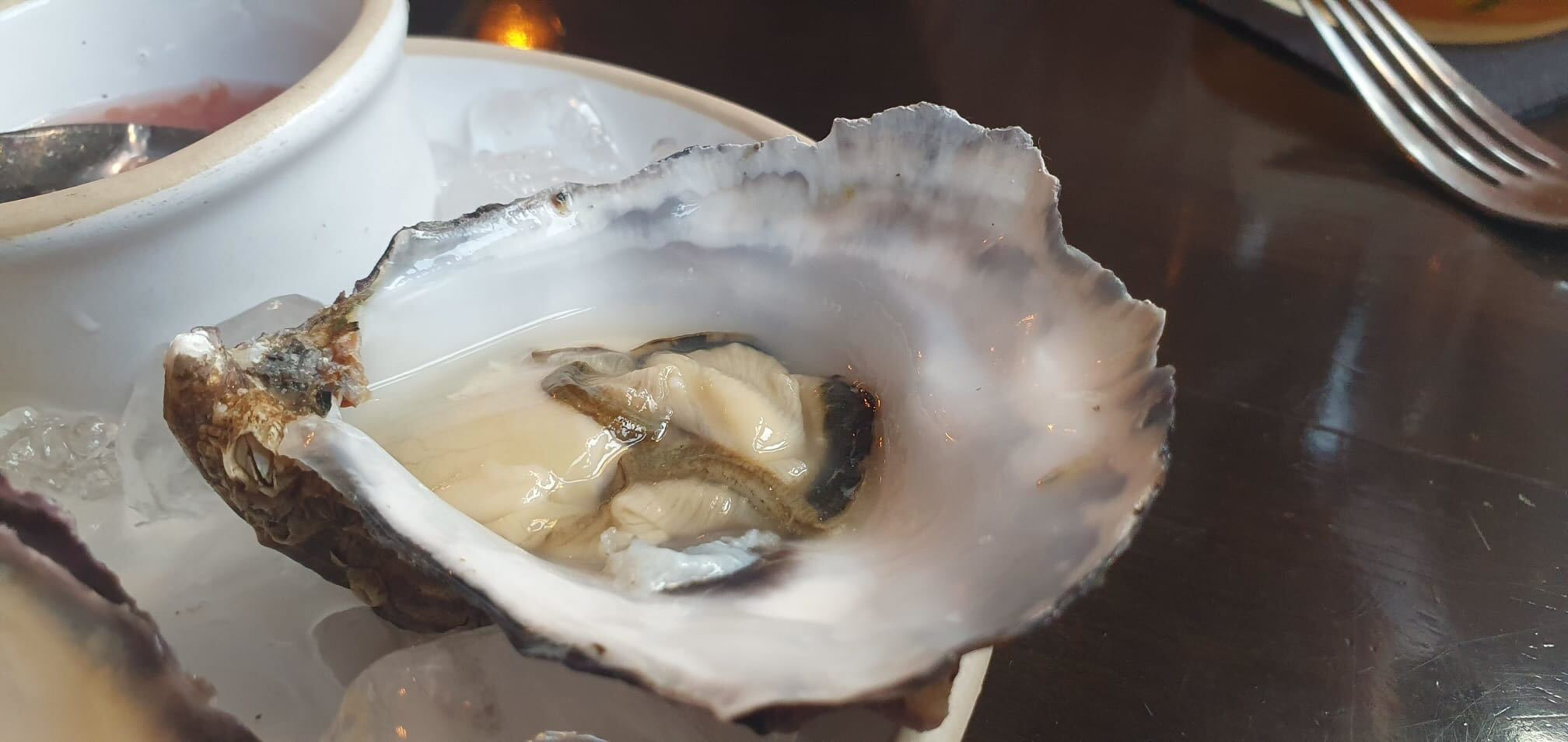 We ordered a couple of optional extras to start, three Jersey rock oysters, fresh as a daisy, served, as they should be, with an acid mignonette and a portion of Wild Flor's bread and butter. A special mention here for skilled sourdough, which was dark and crisp on the outside, but bouncy and moist on the inside, and served with creamy butter. My husband, an amateur sourdough enthusiast, looked ever so slightly wistful (jealous) but went on to polish off the lot. I made a few 'helpful notes' for him… To drink, an Orchard Fizz, an appley version of a classic champagne cocktail, the sugar-cube soaked in Norman Calvados.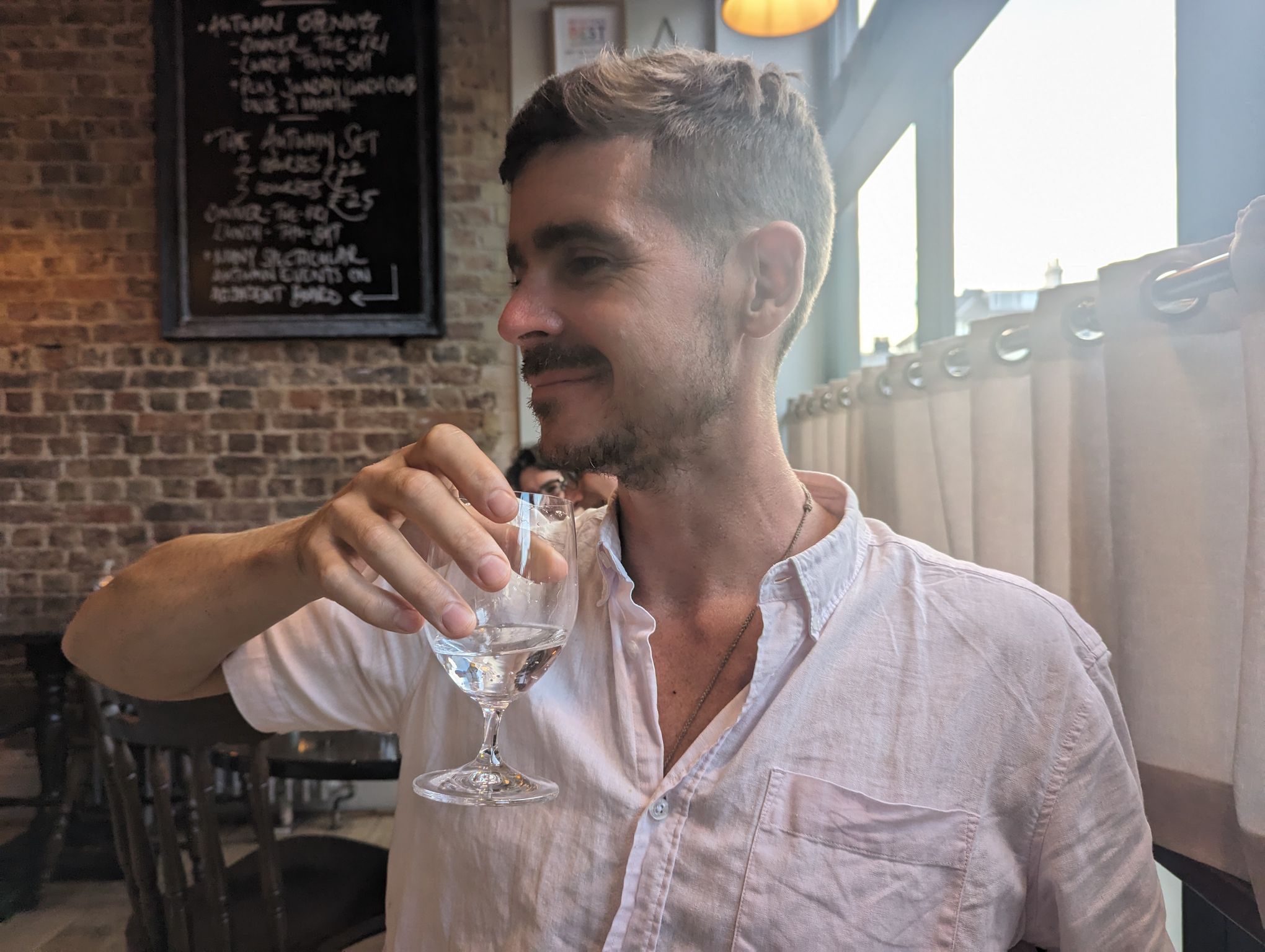 Honeyed Nduja, Pickled Cockles and Patty Pan
The meal started with Italian nduja sausage, roasted sticky with honey, and served on crisp toast. The plate was slick with bright red paprika-stained oil, the meat chewy and sweet with a hint of spice and toast providing a pleasing textural clash.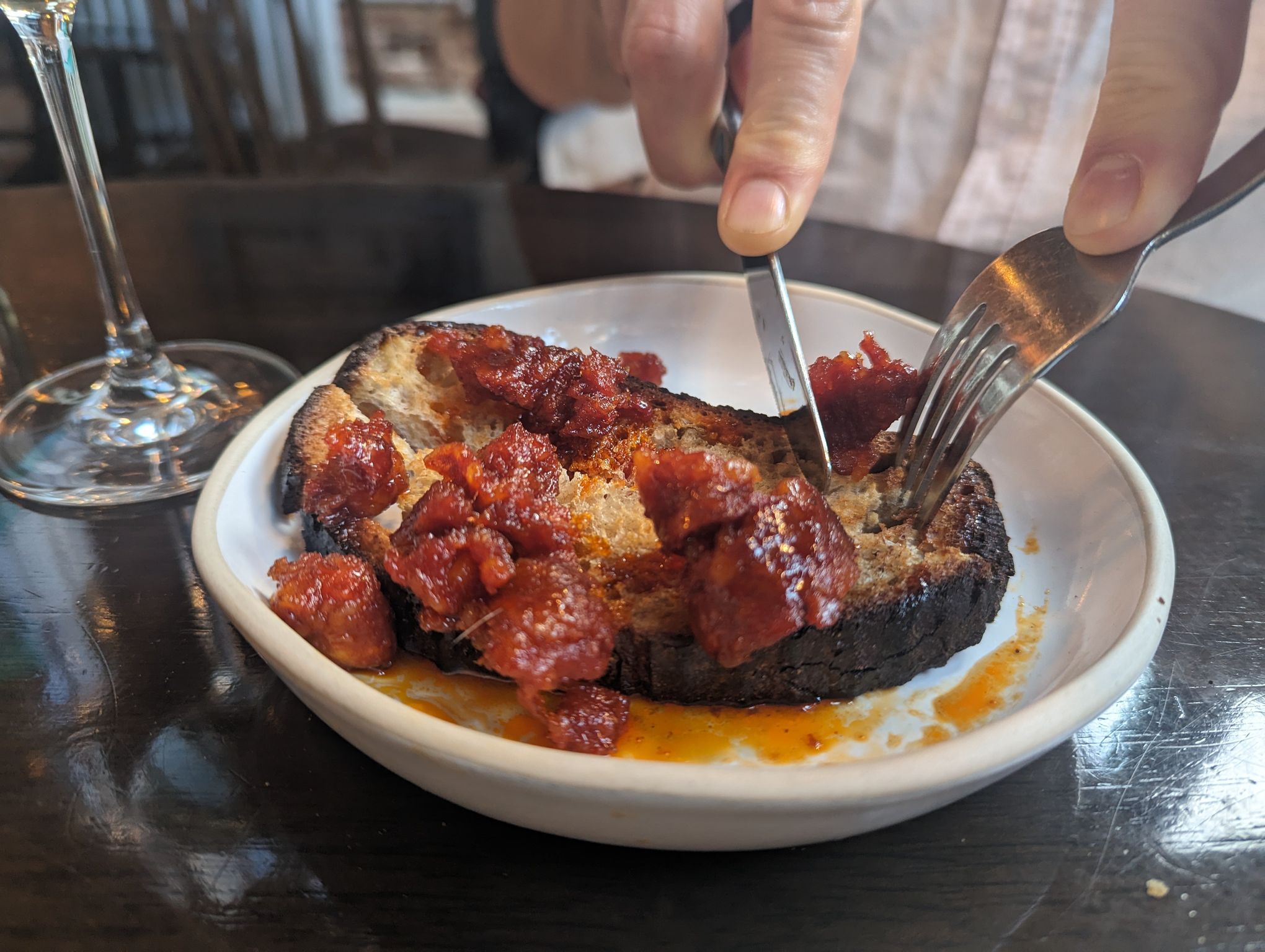 Next, a shallow dish of pickled cockle salad, thin slices of crunchy raw cauliflower topped with very good olive oil, nasturtiums and fresh herbs. There was also a dish of marinated, yellow patty pan squash, with a hot plum mustard scattered with smoke almonds.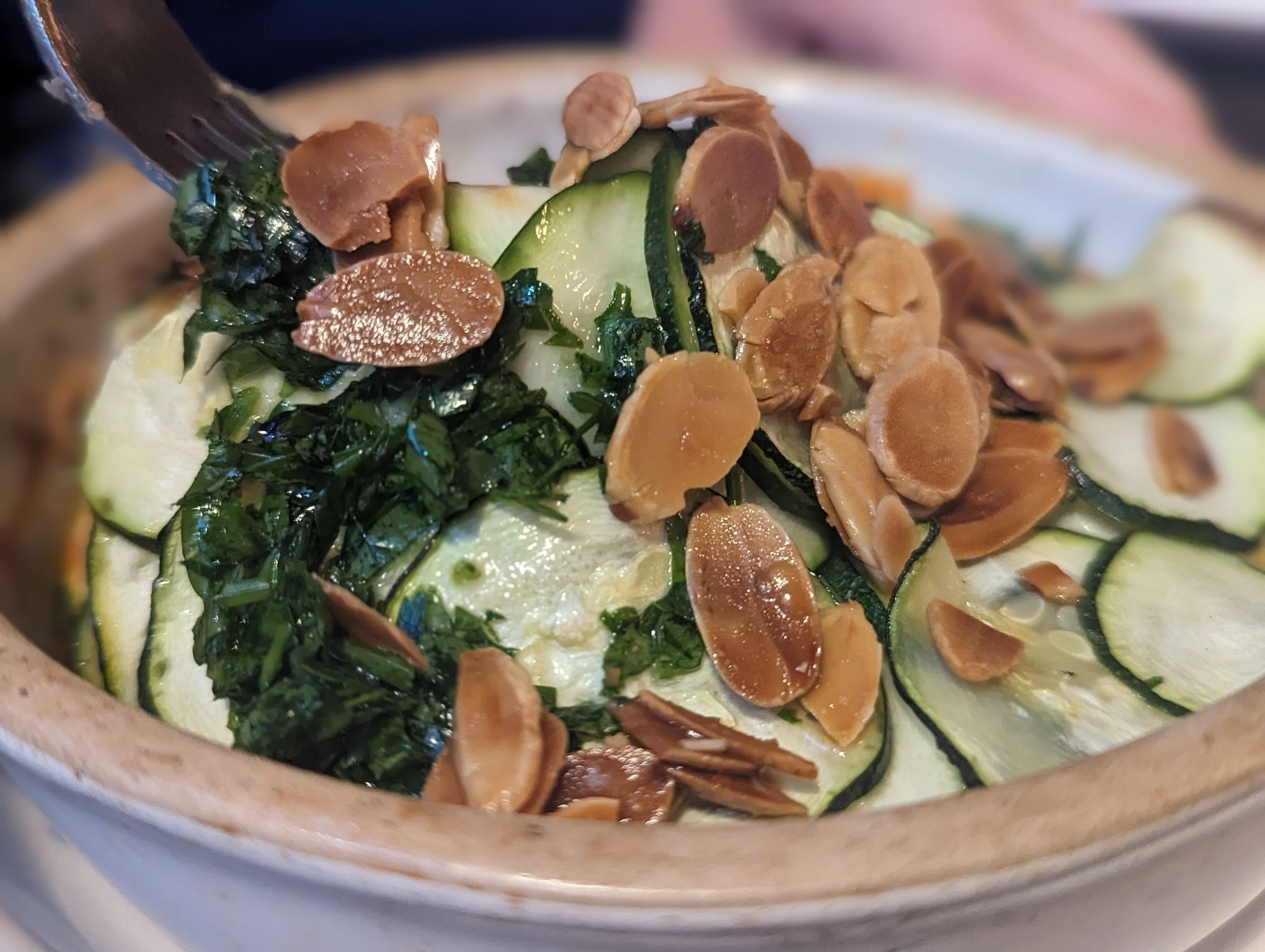 We ordered wines by the glass taking recommendations from brilliant bartender Kevin who took time to explain the nature and character of the Cote du Rhone and Gruner Veltliner we settled on.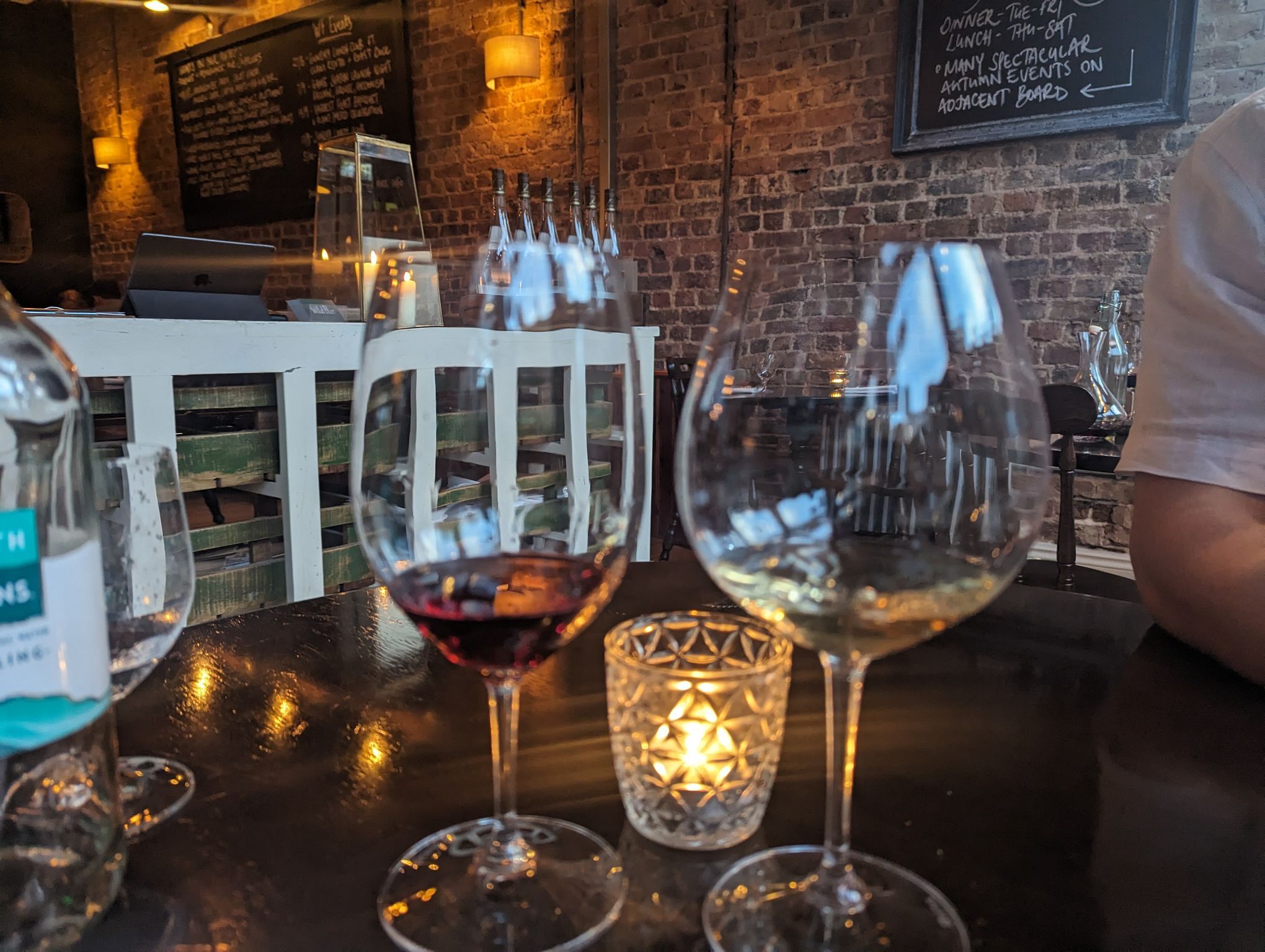 Autumnal Nostalgia
Next, deep, umami-rich Venison Ragu came served on a bed of pale, creamy polenta. Flavoured with juniper, black olive and muscovado, the ragu had the unstoppable allure of best 'pan scrapings', crisp edged, caramelised and deliciously nostalgic.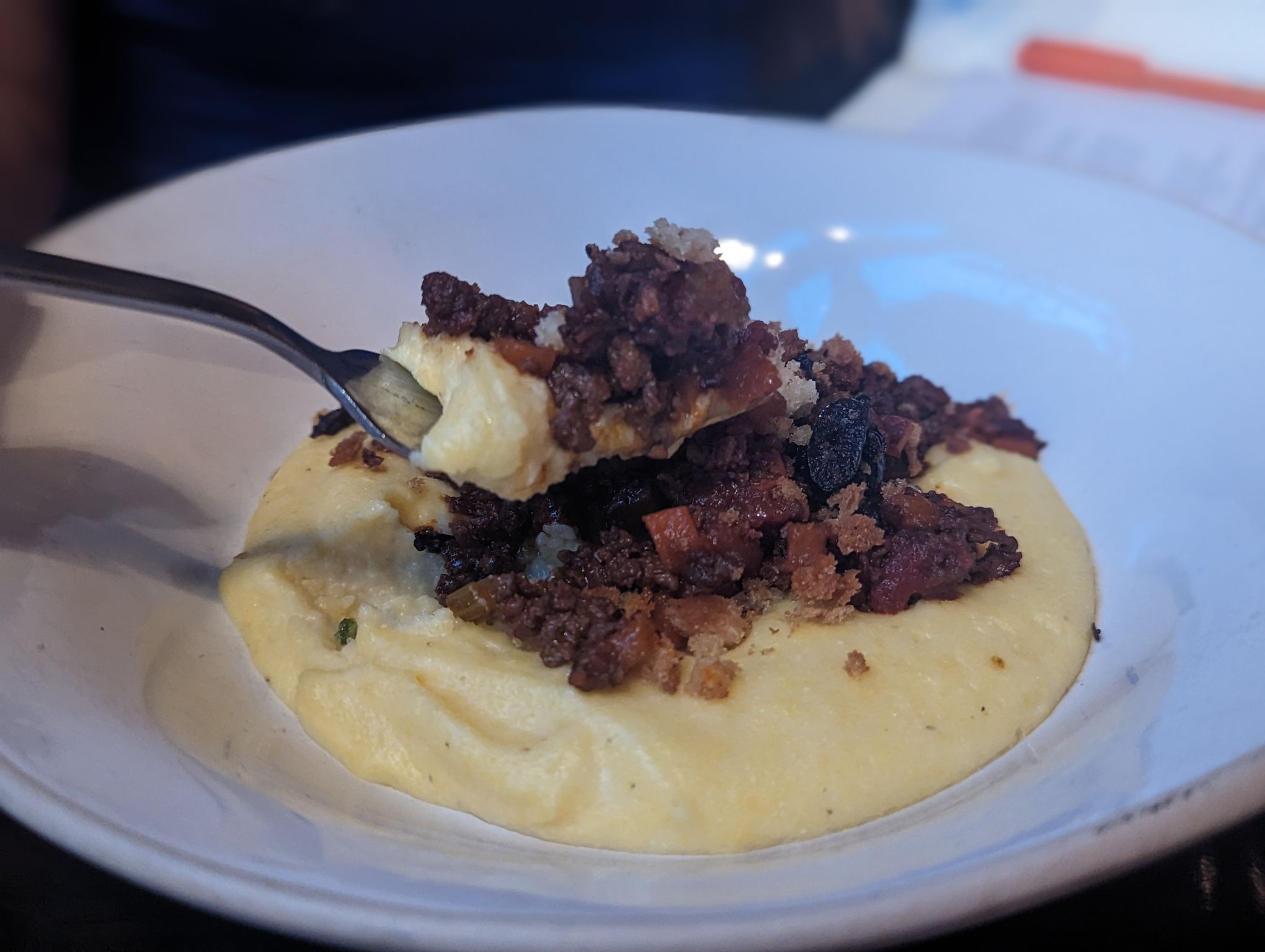 Flakey fresh, grilled bream, with its pretty stripes, was served in a light-as-air shrimp-pink shellfish sauce specked with tiny bubbles.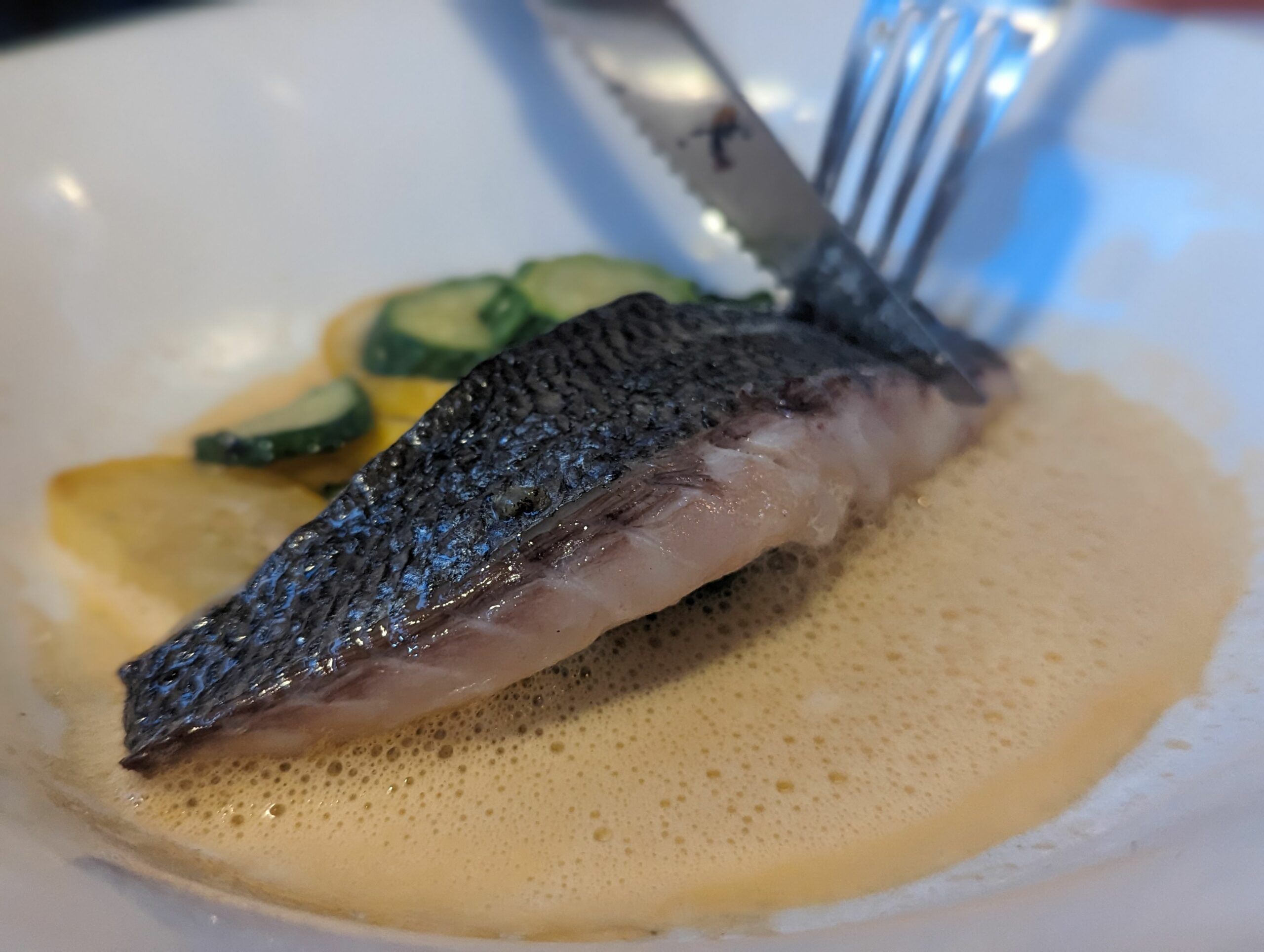 The plant-based option – a toothsome Beetroot Galette – showcased sweet, deep purple beetroot, cooked 'a point' and set against the metallic twang of baby spinach on a happily rustic, buttery brown square of puff.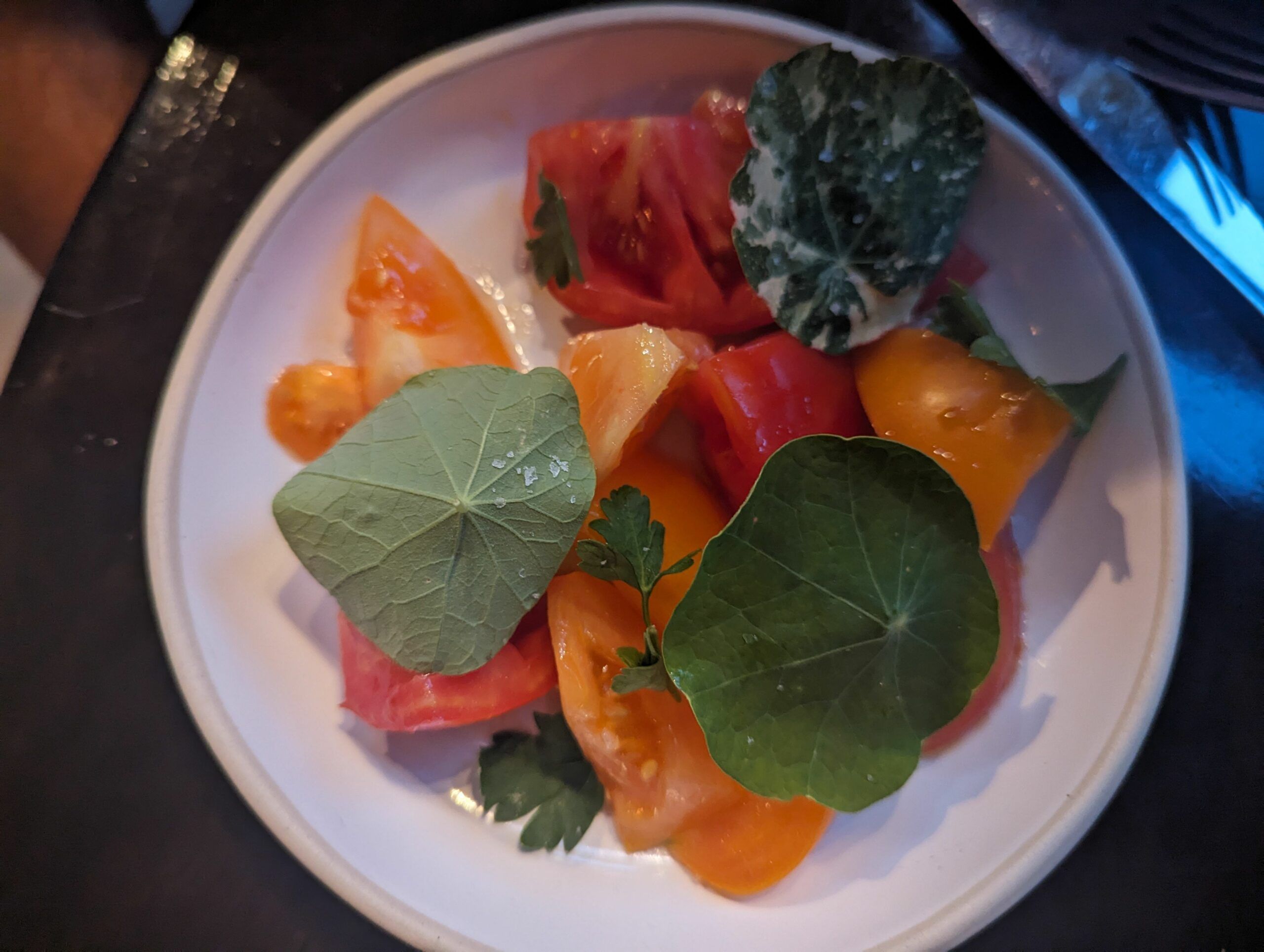 Generous side dishes can be ordered as extra. We tried ripe heritage tomatoes with fresh herbs and a dish of baked slivers of courgette with almonds and gremolata. A greedy dish of new potatoes was elevated by zesty lemon and slivers of tonic seaweed. These were all very good. You might not exactly 'need' them but 'want' might win in my experience. 
Wild Flor is known for its excellent wine list and our second choices were equally good. My impression is that it's hard to go wrong but again listening to the expert recommendations on offer we tried a fruity, tannic Piedmontese Nebbiolo and fresh, bright Viognier. 
Dreamy Desserts and Sharp Cheddar
Desserts were served in delightfully old-fashioned stemmed metal dishes on a paper doily. This 'knowing' choice gave me a little giggle before we dug into a thick Lemon Posset topped with peeled, roasted red grapes and a plant-based Plum Fool & Hazelnut Dacquoise, pillowy sweet topped with a nutty crunch.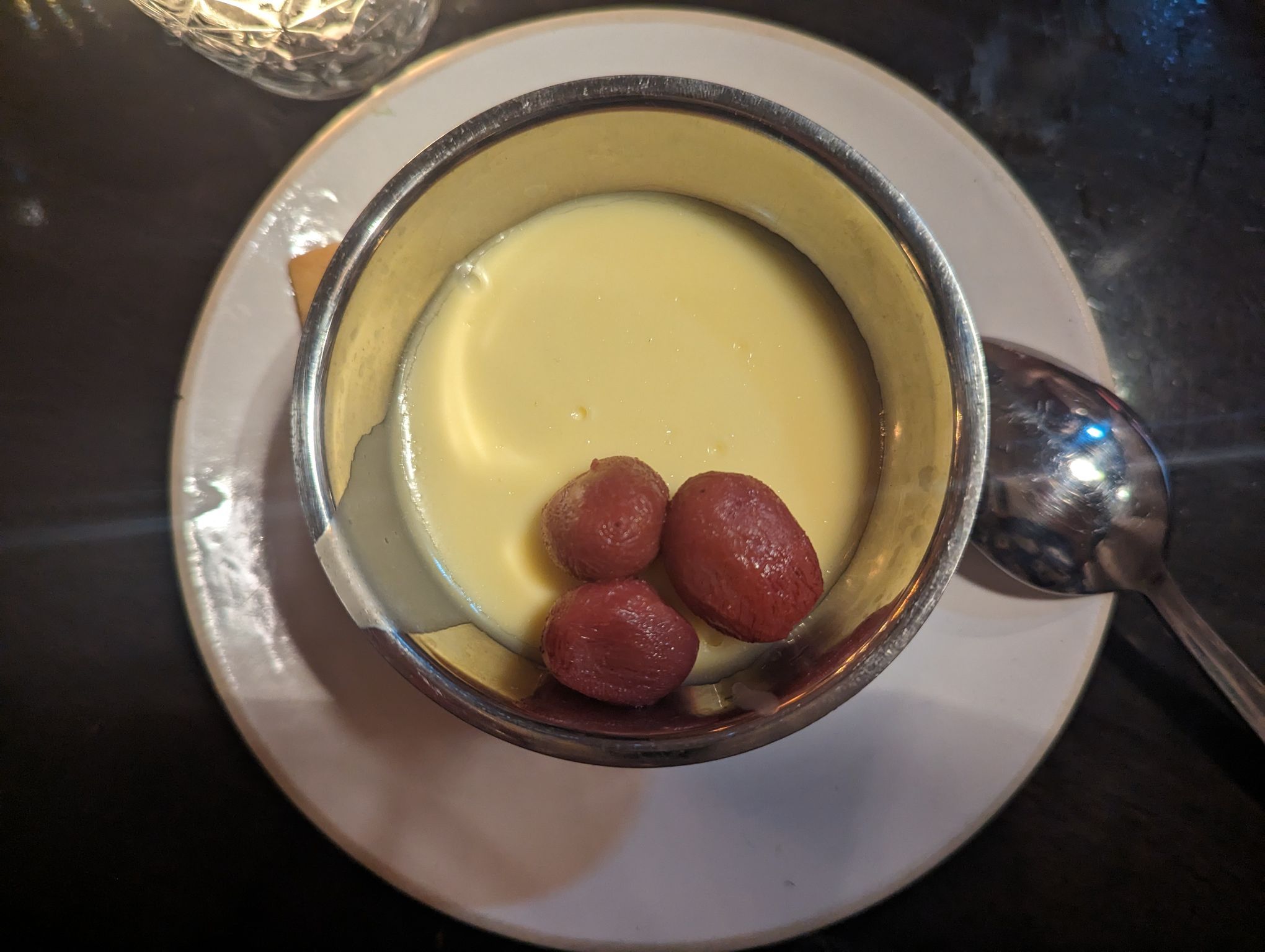 Keen's cheddar with fig and plum chutney and rustic, oaten biscuits were there for those who like to finish with a savoury mouthful. My husband indulged in a Wild Flor Plantation Punch which I believe he is planning to revisit. I couldn't resist a small glass of 2009 Sauternes, the sweet, mature depth bringing a slight sigh of regret to the end of this lovely meal.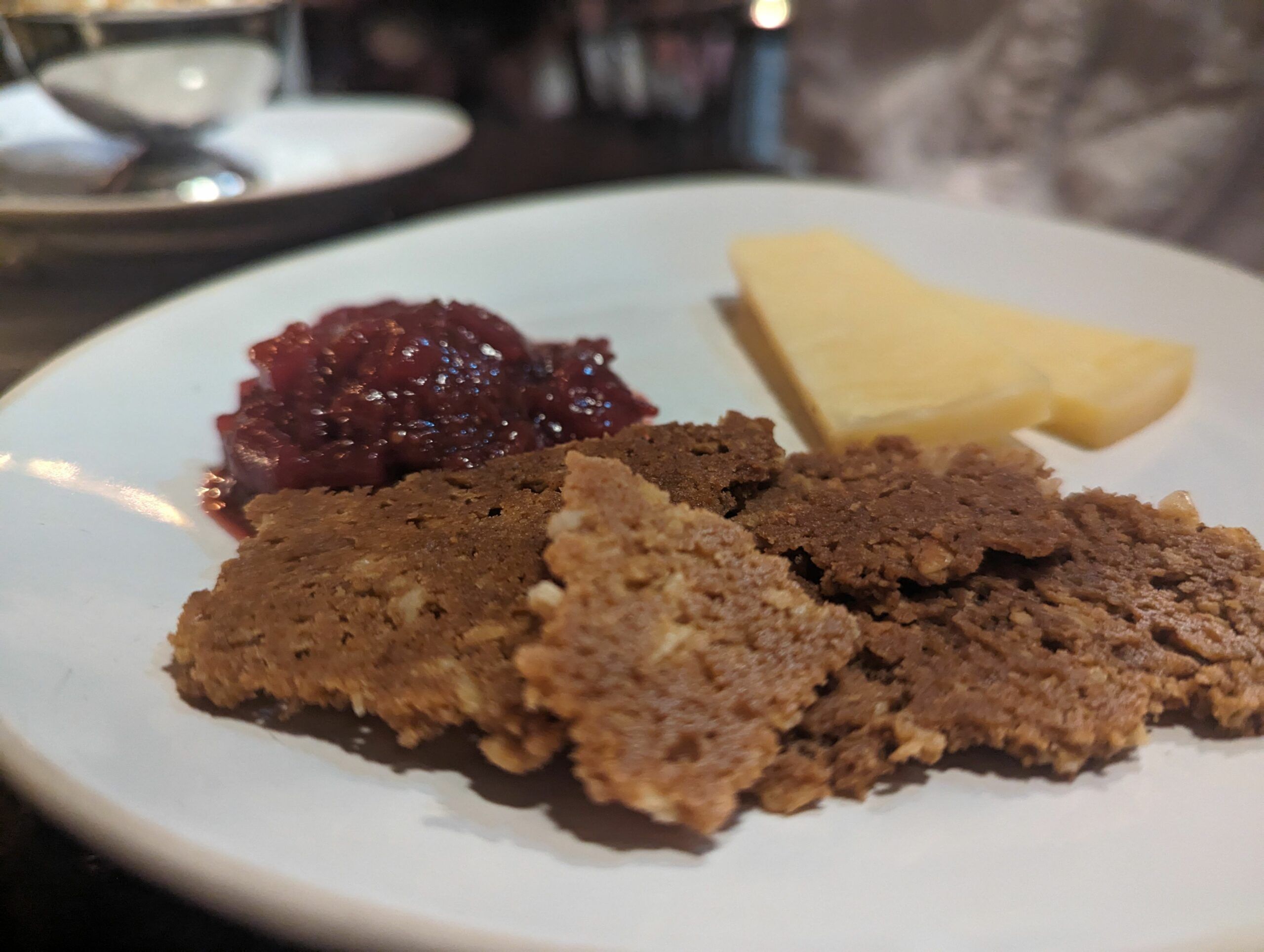 We're lucky that Wild Flor is here now, though I could wish I was there then again. Still, I suppose there is always tomorrow.