Let's face it, it's not often that a takeaway's food photos resemble what ends up in front of you. Some of the biggest chains have come under fire recently for allegedly misrepresenting their burgers, showing juicy patties laden with ripe tomatoes, glistening iceberg lettuce and oozing cheese inside plump sesame buns that in reality turn up soggy, sparsely filled and squished. Salt Shed is different, and even writing about it now is making my six-pack* rumble. 
*You didn't need to read this asterisk to know there's no six pack here, did you?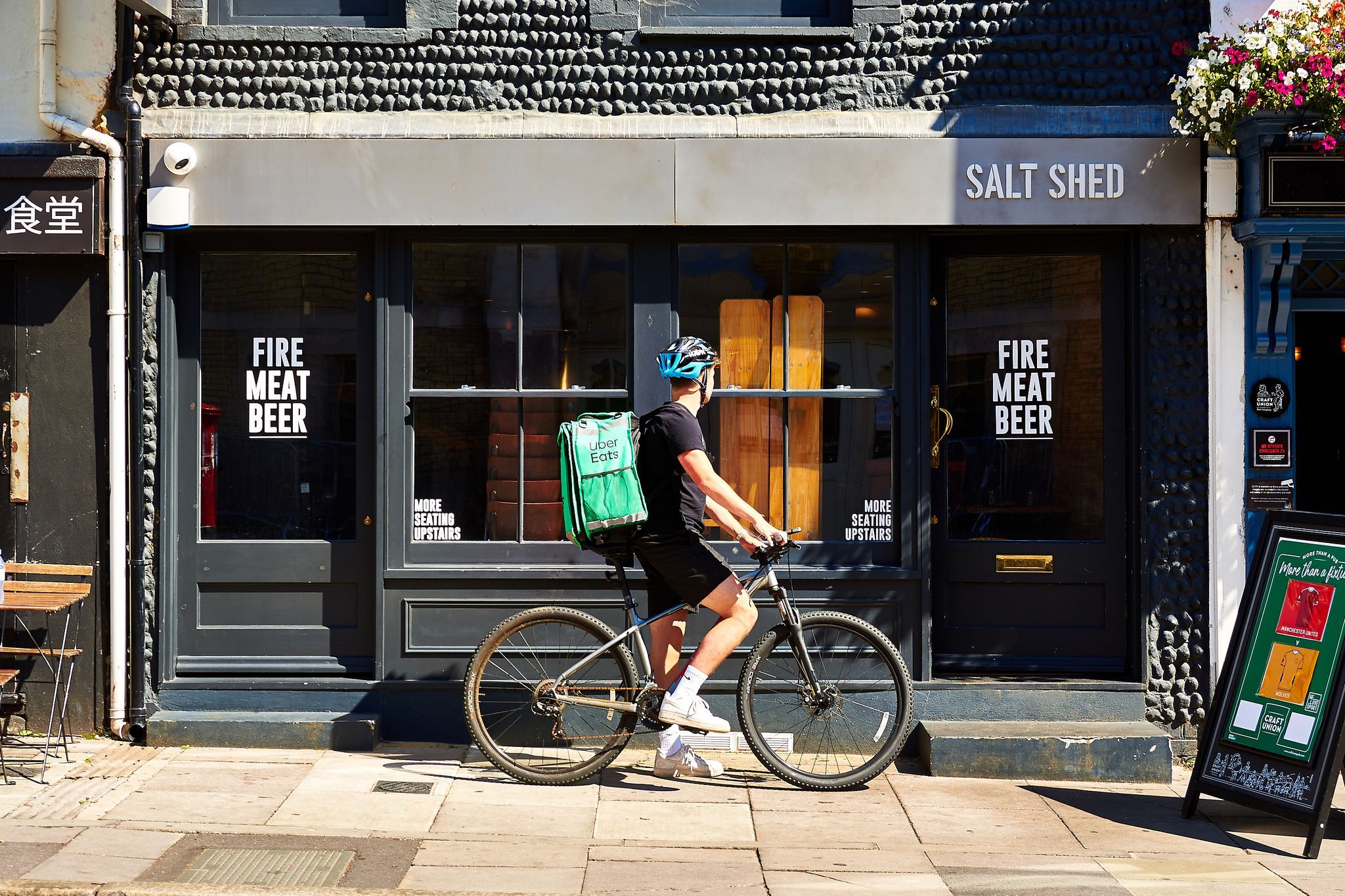 A Culinary Beacon in Brighton
The moment we heard that owners Frank and Lau's 'British Barbecue' concept Salt Shed was opening its flagship restaurant in Brighton, we were excited. The guys have earned their stripes transporting their cured and charcoaled meats to mud-bath festival sites, city street corners and even friends' dos. Now, they have a beautifully designed outlet on Church Street, opposite The Dome, and an exclusive home delivery deal via Uber Eats. They do meat 'like your chops were made for', making you feel half hunter-gatherer and half connoisseur of the fine-dine BBQ.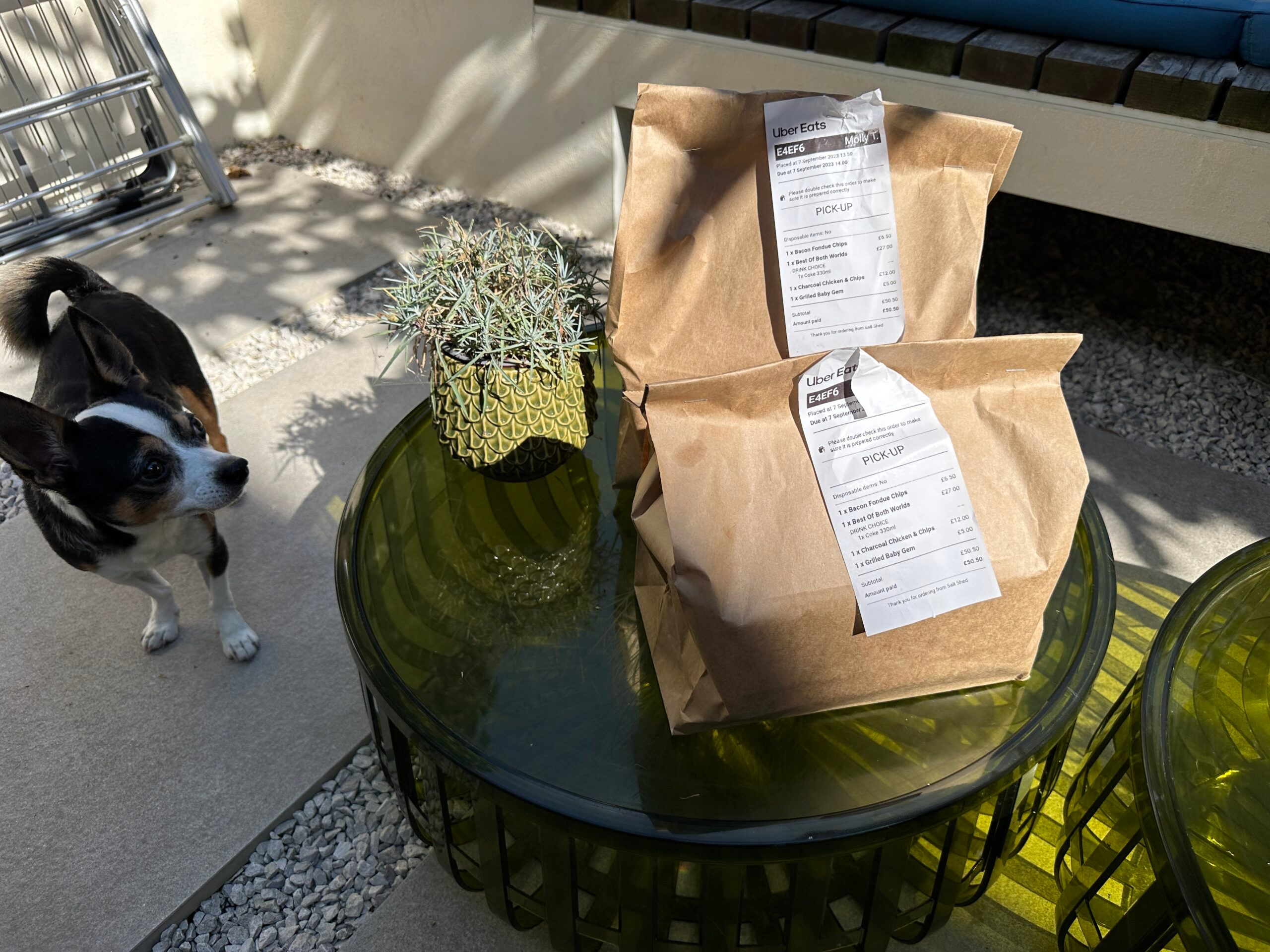 Burger Bliss
We fired up Uber Eats and ordered a bucketload of our favourites, knowing that we had a short hour for lunch and a desire for tasty fuel. Let's start with the burger: we plumped for the Charcoal Chicken version, which comes with pickled red onion, creamy slaw and more pickles. The team uses chicken thigh rather than breast, and the result is a juicy burger bang full of hot-grill flavour, in a fresh-tasting bouncy bun sprinkled with sesame seeds. They've got the mix just right, with the pickles countering the BBQ and the slaw bringing it all together.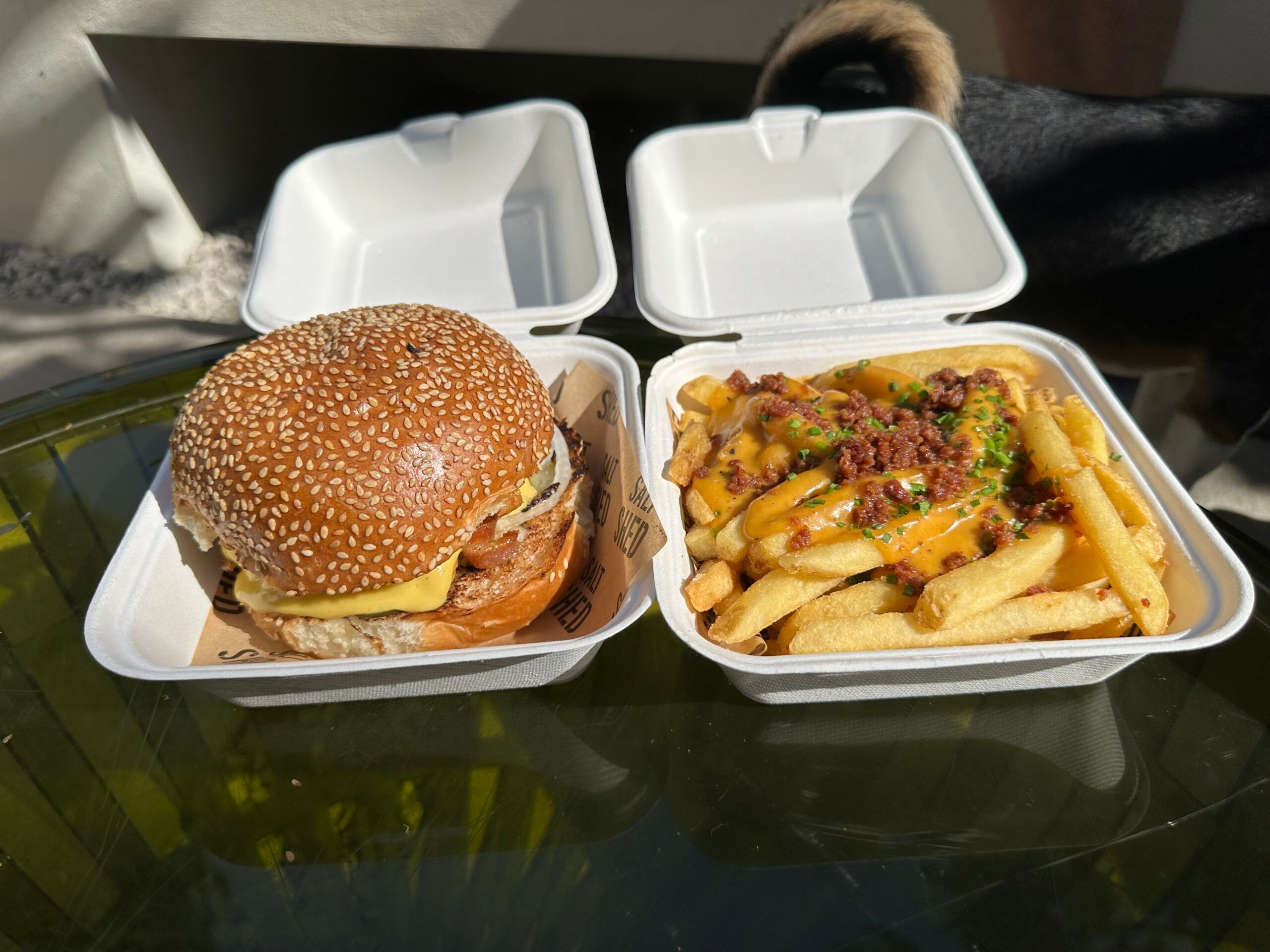 Sides That Shine
We went for a side of Grilled Baby Gem Lettuce, which is topped with an anchovy and lemon butter dressing and herbalicious(!) breadcrumbs. I've heard Gordon Ramsay ask why grilled lettuce is a thing and, well, this is why. It's delicious, drizzled in flavour and far more interesting as a side than a limp-leaf garnish. The addition of anchovy is pure genius.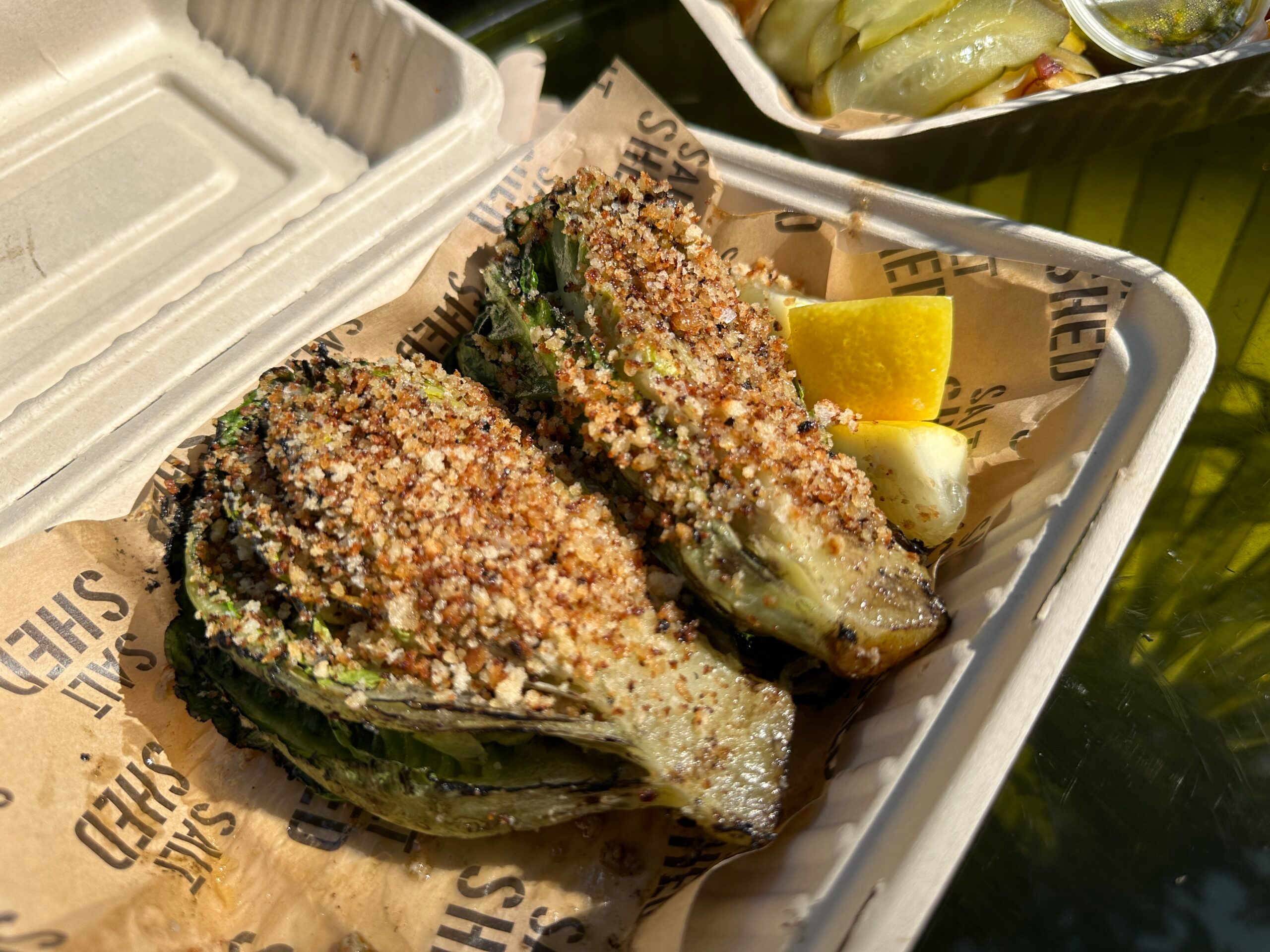 Now to the fries: skin-on chips with rosemary salt is an option but, if you're going to dive in, the option with cheese fondue, bacon salt and chives is the more indulgent, divine one. We looked mainly at the gem lettuce while eating this gooey, salty, cheesy creation to fool ourselves that we had made sensible, healthy choices. It didn't really work, but these chips are totally worth it.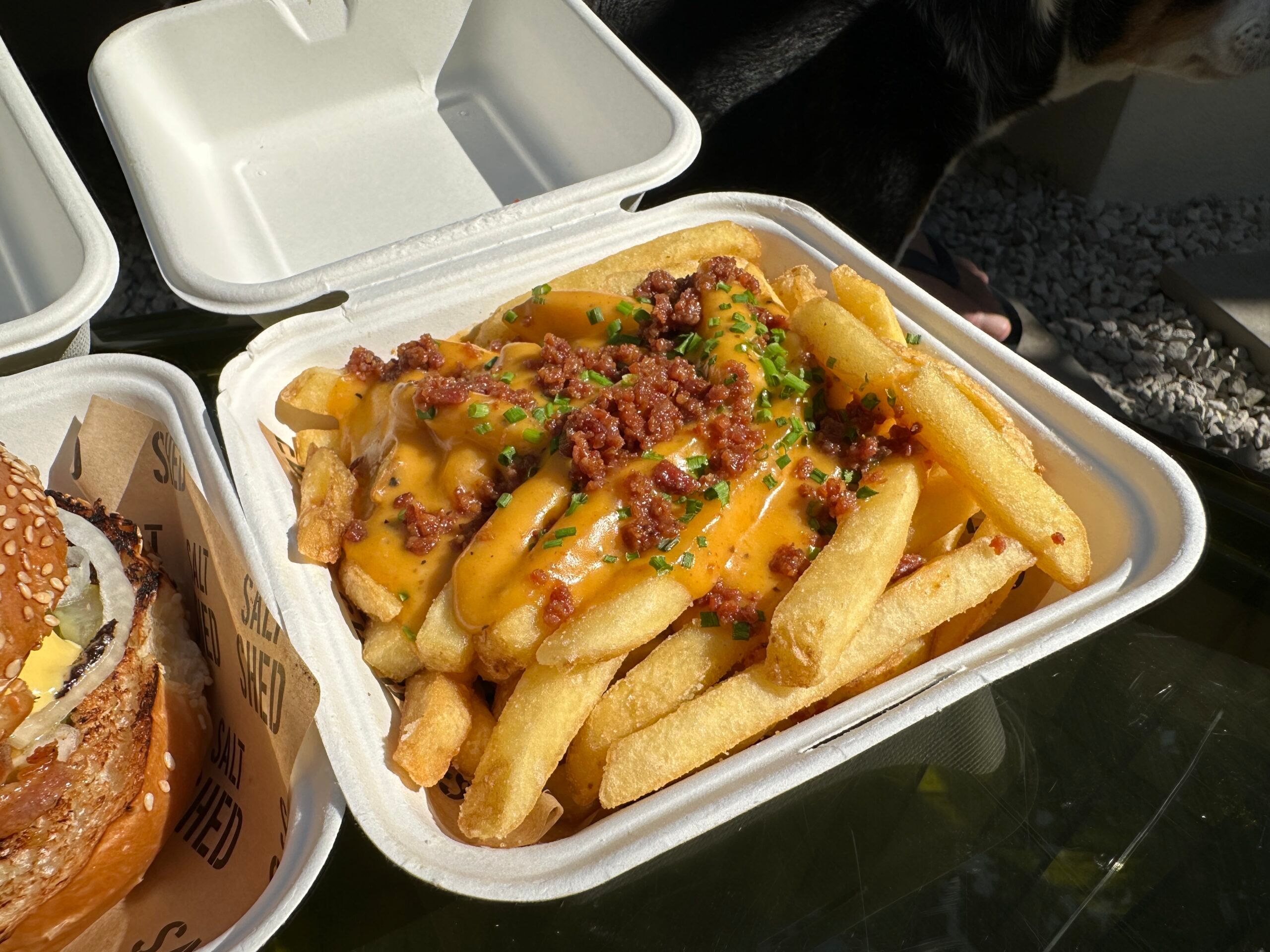 Meat Lover's Paradise
We've left the best until last: the menu section under MEAT. Here's where you can sample Salt Shed at its finest, and where the BBQ-flamed meats really come into play. There's a chicken option, taking those juicy thighs and charring the outside while keeping the inside moist. And then there's the steak trio of either BBQ Glazed Pastrami, Bavette, or Sirloin, the latter two of which are 32-day aged.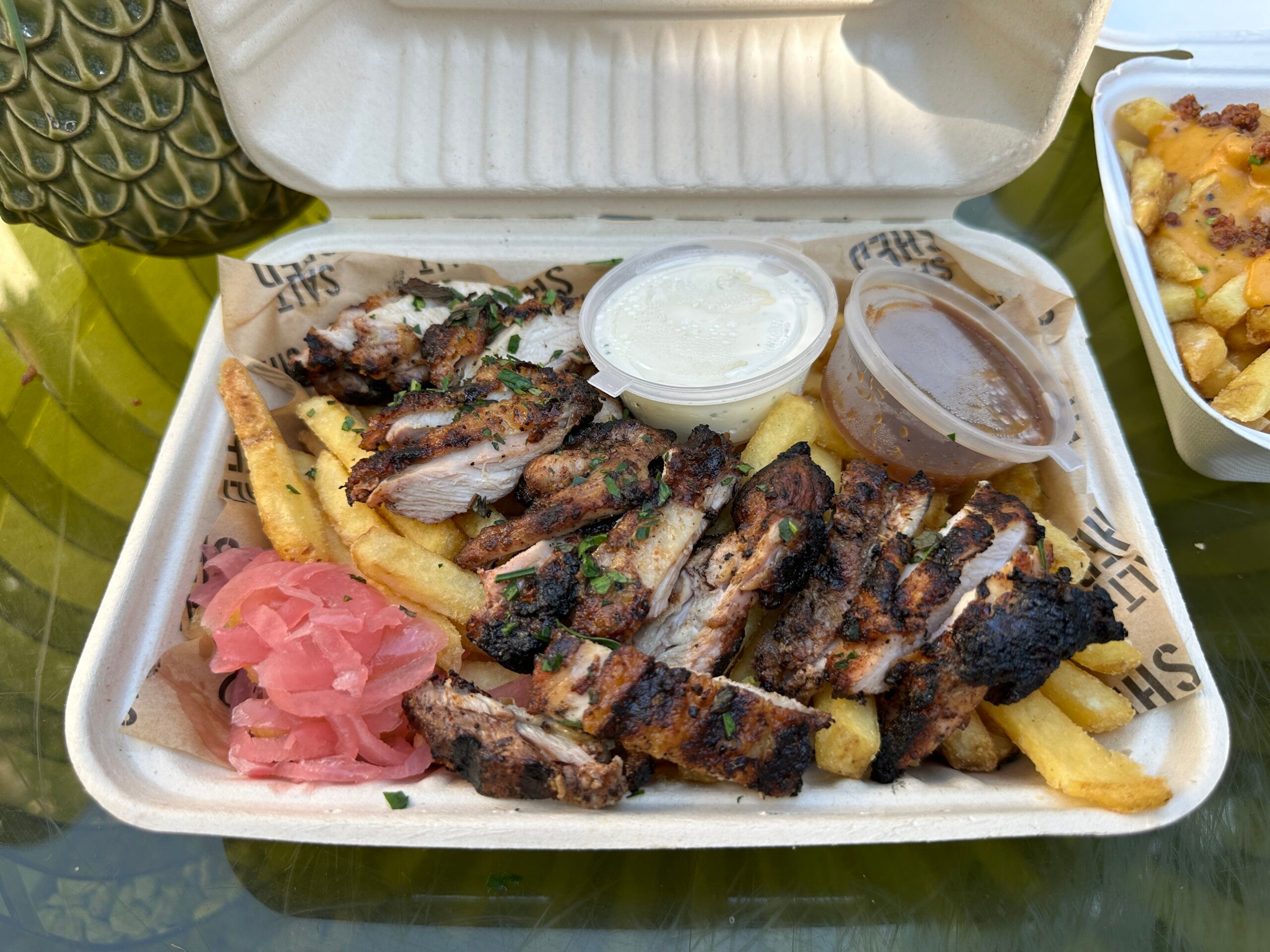 If you like your meat, this is some of the most succulent and tasty charred meat we've had the pleasure of chomping. The pastrami is blackened perfectly with that desired BBQ flavour and bursting with freshness in the centre. It comes atop fries which have been seasoned by the trickling juices, chillies for extra whoomph and pickles which add sweet-vinegar crunch to the meat slices.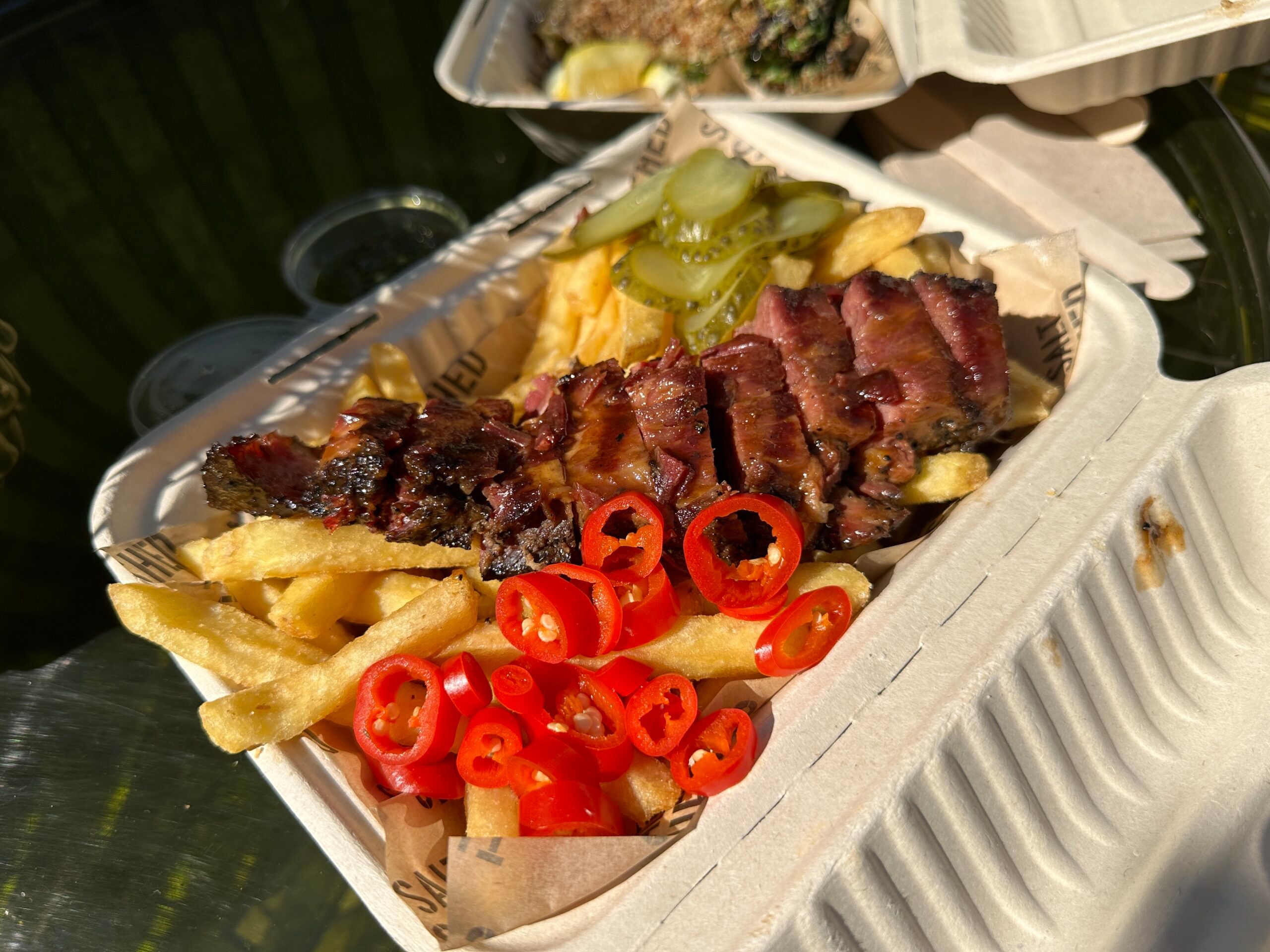 We wondered how something served as a takeaway – in a box – could deliver so much flavour. Whichever way these guys are doing this, they're doing it right. As they say, it took some time to get to this stage. Now we can reap the rewards of their dedication. 
Exclusive Offer for Restaurants Brighton Readers
And the BREAKING NEWS – Uber Eats just told us that there's a special offer for Restaurants Brighton readers. All the details are below. 
Please see code and T&C's:
SALTSHED10
£10 off offer is available until 11.55 pm on 9/30/2023, valid on (1) order(s) made via the Uber Eats app in the UK from the selected restaurant(s) (check the Uber Eats app for the availability of deliveries and restaurants) when you spend a minimum of £20 per order on food and drink, excluding the delivery fee. Delivery fee applies.
Other fees (such as a service fee) may apply to the order. Offer is not valid on any basket that includes alcohol or tobacco products. To be eligible for the promotion, apply code SALTSHED10 in the Uber Eats app at the checkout before completing the order. Offer applies to orders for delivery only and excludes orders for dine-in or pick-up. Code can be applied for a maximum of 1500 users on a first come, first serve basis. Read more: t.uber.com/EATST&C