Welcome to Mange Tout
The thing that makes French dining so distinct is the culture that it embodies. In France, food is sacred which is reflected in the custom of taking long lunches even in the working week, something quite different here in the UK where the majority of us commit the sacrilege of eating a sandwich on the run (or a salad for the slightly more health-conscious).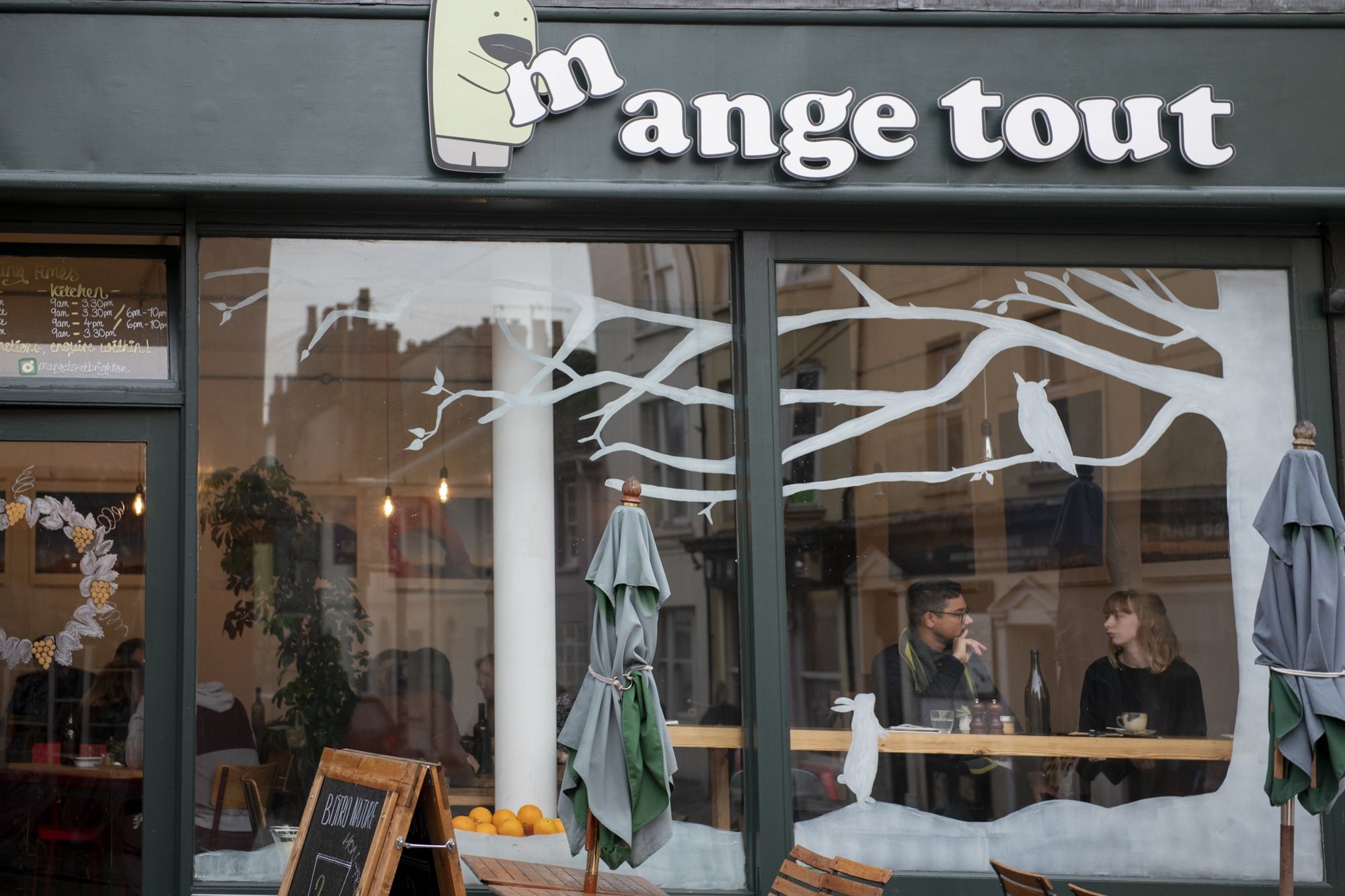 My experience of French dining is food prepared with only the freshest ingredients and often sourced from the local market, where produce is carefully scrutinised before buying the intended purchase. Tables are laid with care even if only for lunch and the table is free from distractions irrelevant to the dining experience. No-one is to clock watch. In other words, eating is a celebration of the food before you as well as the people you share it with; something I am a full advocate of. While it may hold a hoity-toity reputation, most French dishes have humble origins. Not made for kings or members of the aristocracy, but made for farmers and labourers (which is why a lot of dishes are regional).
Basically, the French do simple food beautifully, and this fusion of factors is epitomised in the dining experience at Mange Tout, Brighton.
Values
Mange Tout is a jewel in the depths of the North Laine amongst those interconnected streets coming off of the train station, behind better known Sydney Street before you delve into the centre of the city. It would be too clichéd to say we were warmed by a joyful 'Ah bonjour!' upon our arrival, however, we were genuinely greeted by the jubilant Ben (Front of House and also joint owner alongside Head Chef, Greg), who was unquestionably French in his mannerisms. I instantly knew we were in for an authentic experience. Ben introduced us to the rest of his team as we were seated, which validated the true team spirit here.
We stated, from the outset, that we were in no hurry for the rest of the afternoon. This allowed us to fully embrace the experience, though it didn't compromise the punctuality and service we received. Our appetites were well understood, our order was taken timely and our food arrived equally timely.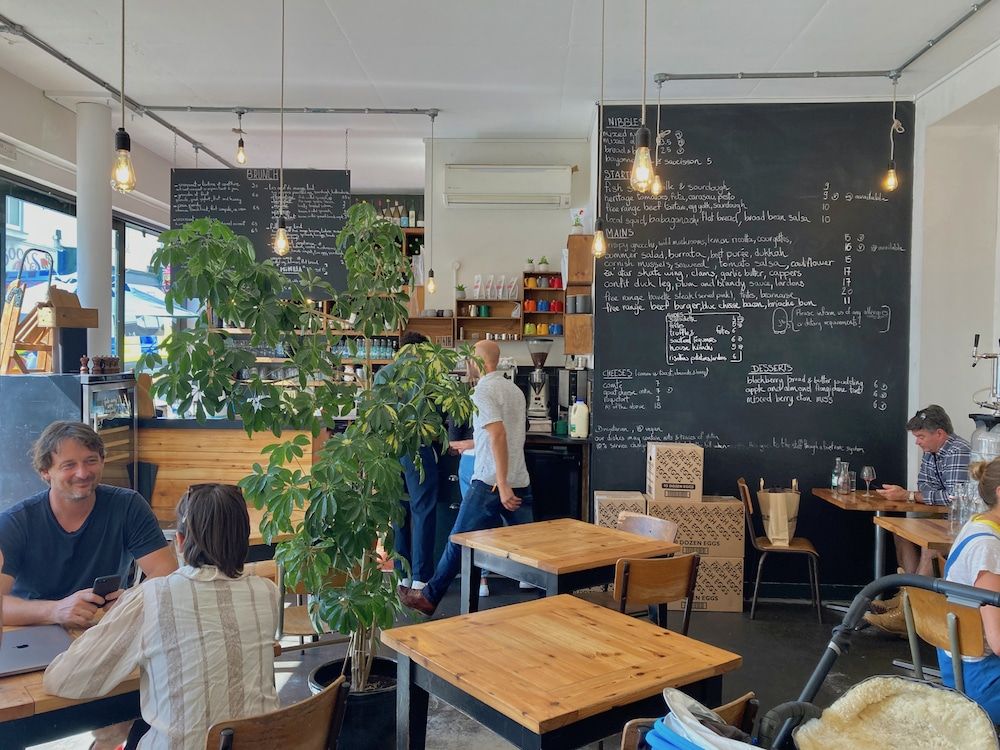 A delightful combination of options
Ben was insistent we tried a cluster of dishes from both the brunch menu and the main menu, which can change daily and is served from lunchtime right until the dinner sitting. This was quite literally my dream foodie experience coming true. Plates vary for one simple reason; Mange Tout places sustainable eating high on their list of values.
Chef and Co-Owner, Greg, puts his artistic brain to use in testing all sorts of flavour combinations with the ingredients he has at hand in the kitchen, as opposed to having a fixed menu where ingredients may deplete sooner than others.
Dishes to start
To start with, my friend and I shared the free range Beef Tartare, egg yolk and sourdough. Of course, we had to capture the cliched shot of cracking the yolk over the raw beef, which was bold and succulent with flavours from the capers and herbs it was prepared with. Our second plate was the Heritage tomatoes, feta, carasau and pesto, which paired beautifully with the tartare. The delicately sweet tomatoes were balanced by the sourness of the feta and zesty pesto.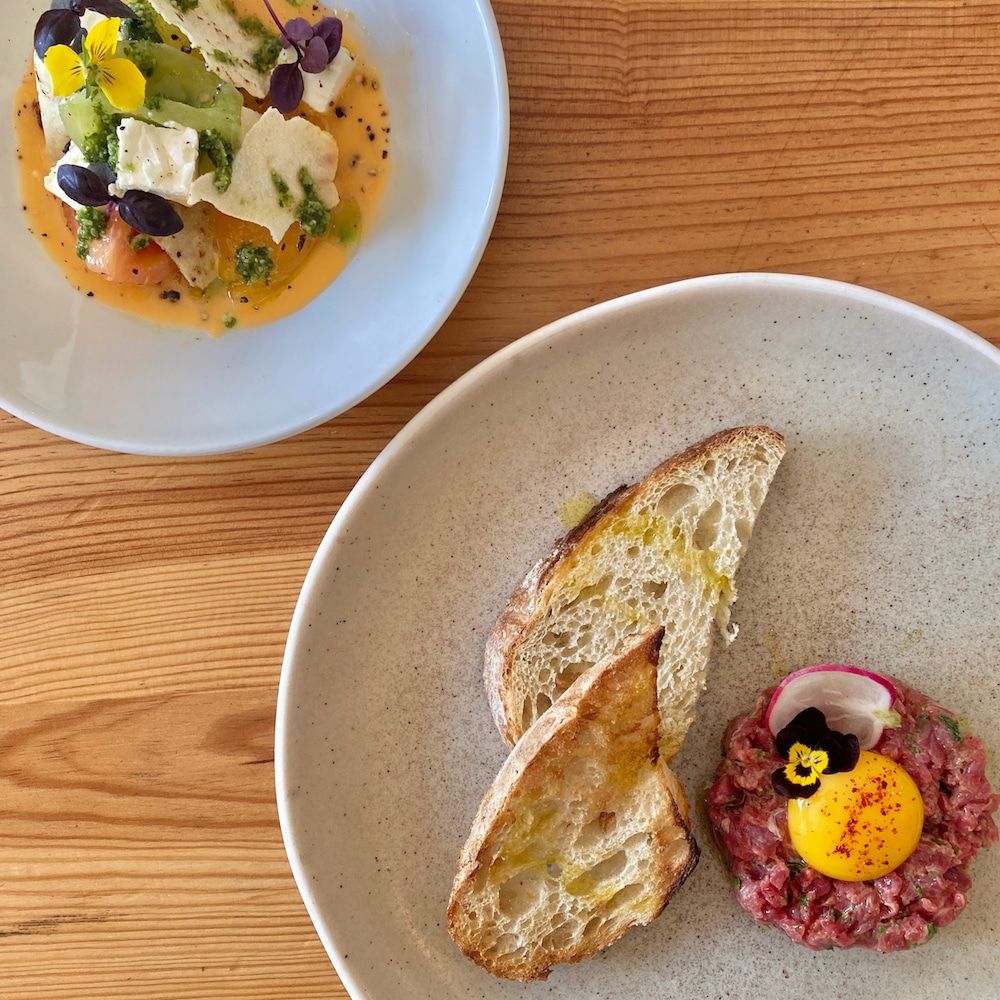 Scrumptious summer salad
With a modest menu offering seven different options for mains, I still found myself paralysed by making a decision. Ben highly recommended the Za'atar Skate wing with clams, garlic butter and capers as a heavier option, which I'd have definitely tried at a dinner sitting. I ended up opting for the Summer Salad which was a safe option given we wanted to try a selection of plates. The salad consisted of roasted vegetables, burrata, a yellow beet puree and dukkah topped with colourful florals. This could also be made vegan, although as a burrata fiend it was something I was unwilling to compromise!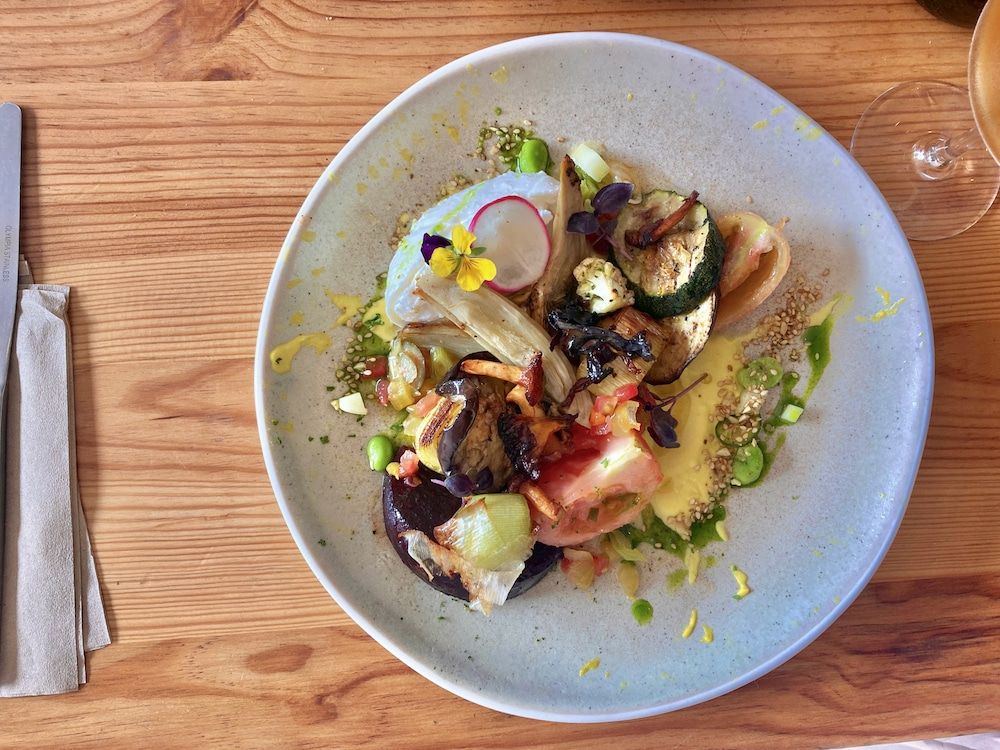 My friend was feeling more brunch-y and chose the Mange Tout Vegetarian Breakfast of sautéed spinach, Halloumi, roasted mushrooms, tomato, spiced tomato compote with two eggs of choice on sourdough. I can see why Mange Tout has been titled as one of the best brunches in Brighton, with this being one of their most popular dishes. My friend also added the Toulouse Sausage as an extra. Not only were we mesmerised by its size but the quality of the meat was second to none.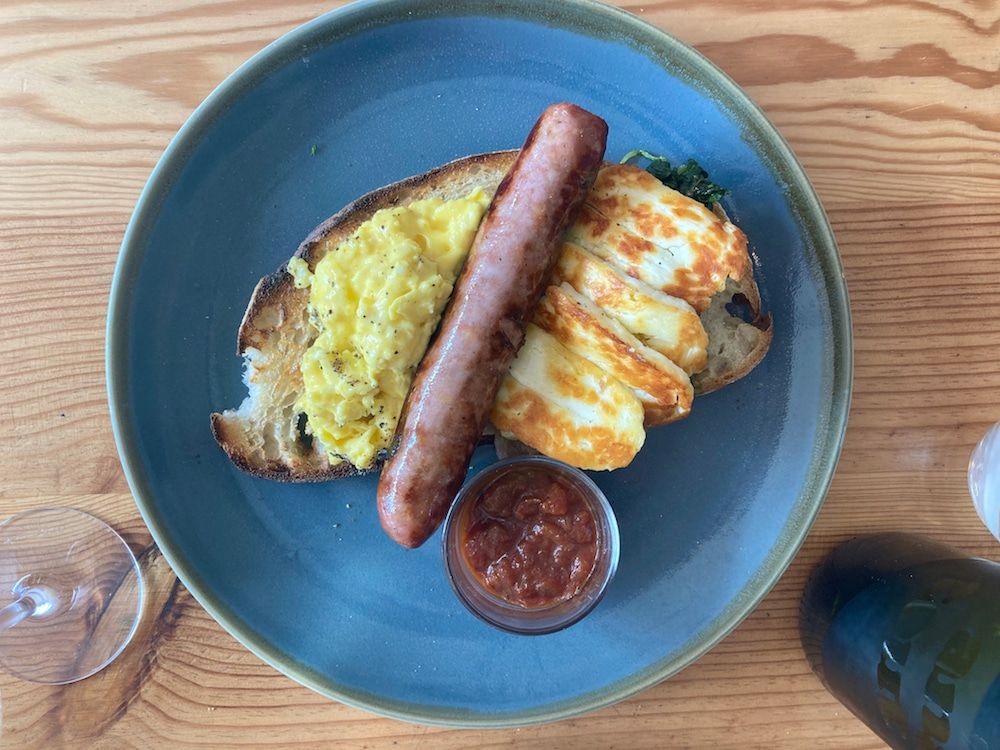 Lingering over dessert.
By this point we were full to the brim of the delicious food we'd had, but with plates such as Apple and Almond Frangipane Tart or a selection of cheese paired with toast, almonds and honey, who could resist an extra nibble? Against all odds, we soldiered on (this did require a brief forty-minute breather over a double espresso).
We were recommended to try the Mixed Berry Eton Mess as a lighter option, which arrived in a cute glass ramekin. Now I'm not much of a chocolate fanatic, but having tried some of my friends Chocolate and Raspberry Tart which also came with a smooth Madagascan vanilla ice cream, I was on the brink of being converted. It arrived hot and fresh out of the kitchen as Greg had just replaced the Bread and Butter Pudding, which had just run out.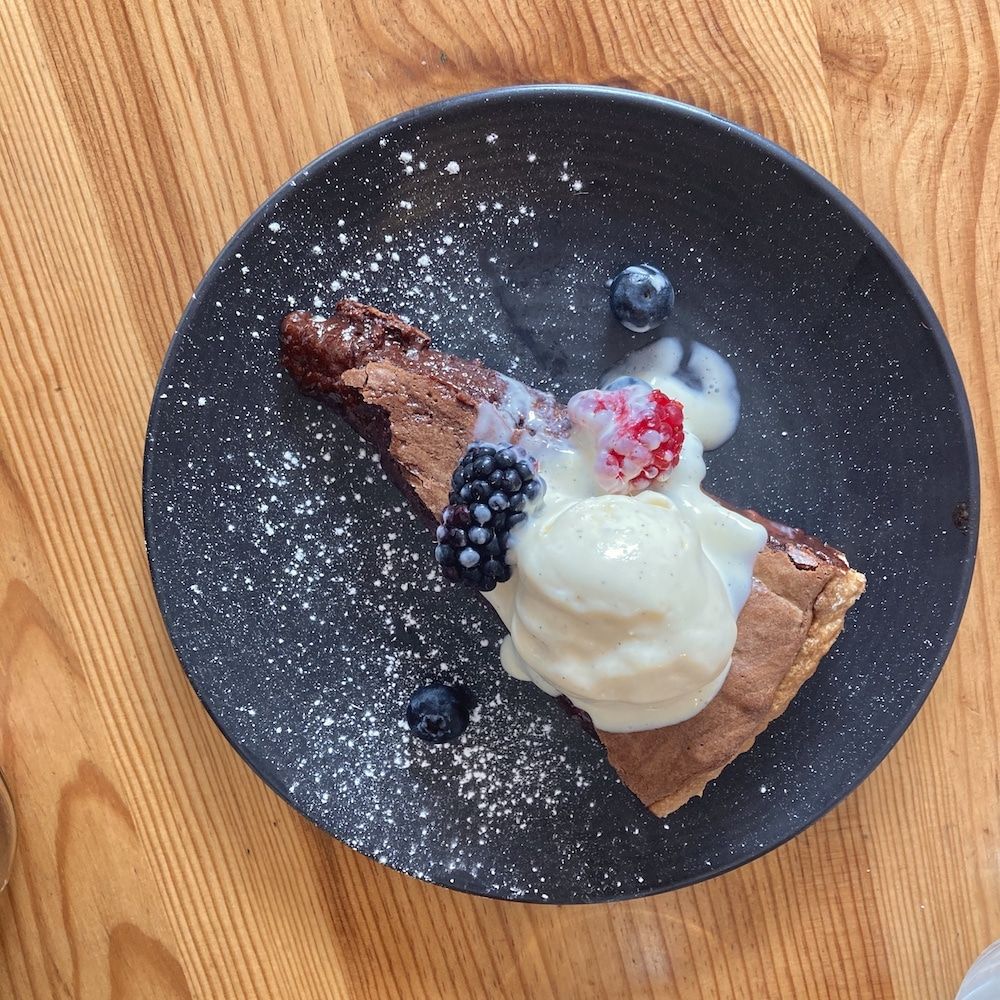 Organic wine
A significant part of the business which I've not yet touched on is the wine. I am not a big wine drinker but both Karolina and Ben were able to not just give their personal preferences, but they perceived our needs and navigated us through the menu to ensure our tastes were satisfied as well as pairing it well with our food.
Being at a lunchtime sitting our food was somewhat lighter and therefore I wasn't sold on needing wine, until we were advised to try the Baglio Bianco, a biodynamic (meaning these are made entirely organically with no artificial adjustments) orange wine from Sicily. I'd never heard of orange wine, but both members of staff were thorough in explaining that orange wine is similar to rosé where the grape skins aren't removed and stay in contact with the juice for up to months. It was bold with flavours similar to that of peaches, but not quite as sweet as rosé or certain white wines.

Concluding thoughts
As you might be able to tell from my lengthy recital, I found this one of my favourite restaurants to review. The restaurant had a unique ambience which was carried through by the charismatic staff. Plates of food were memorable and with rich flavours, while there were offerings available to suit all needs. I firmly believe that Mange Tout has nailed everything, from brunch and rosettas on your latte, to small and larger plates suitable for a social afternoon or evening. This is credible, modest dining à la Français. Bravo to the team at Mange Tout!