It's always a good morning when it starts with a Mange Tout French brunch!
On a particularly grey February morning, I made the trek to Brighton to meet a dear friend for a wonderfully decadent french brunch. 
With so many incredible brunch and lunch options in Brighton, it's hard to stick out, but Mange Tout more than manages it by having an impeccable reputation for stellar service, coupled with a killer menu.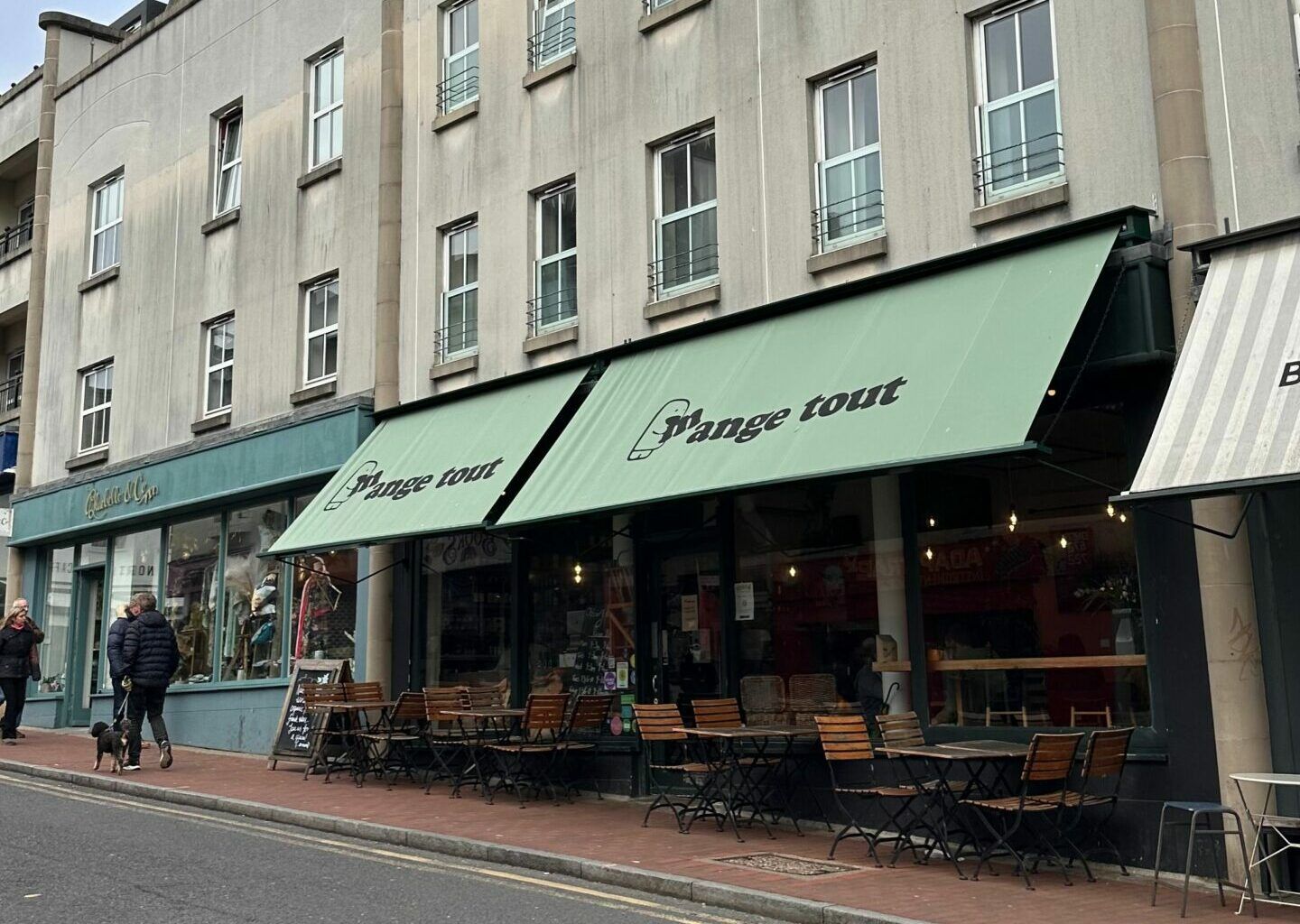 Outstanding wines and glorious specials
Their organic and natural wine list is outstanding, and there is always a glorious specials board filled with exciting and unique options: French Burgundy Snails In Garlic Butter, Harissa Squid, Butternut Squash Risotto, Truffle Baked Camembert…and that's only a glimpse of it!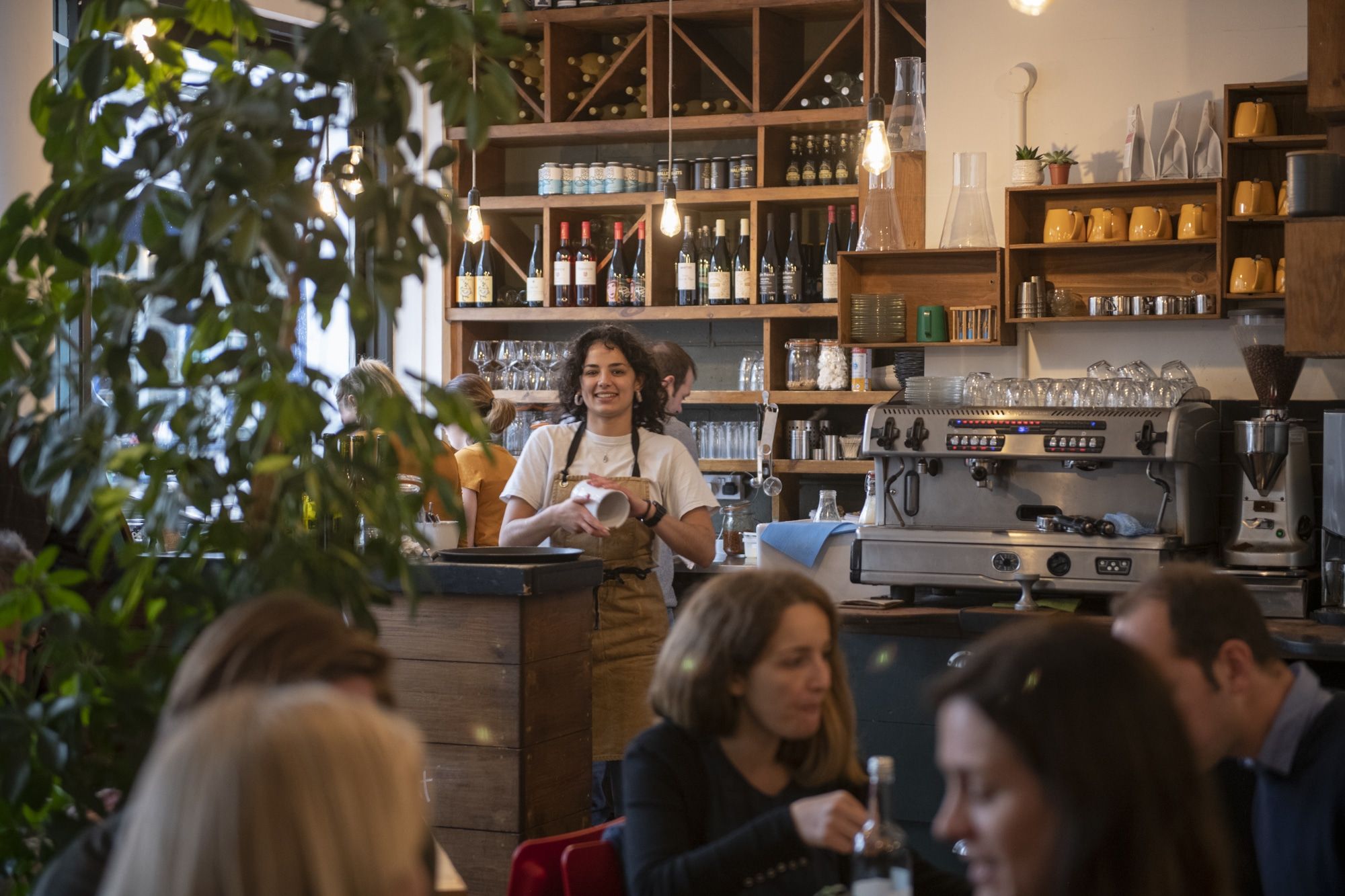 When we arrived, we were escorted inside the bustling bistro. The room was filled with diners sitting at rustic tables and banquettes enjoying their morning coffees. The high ceilings and open plan make the small intimate space feel bright and welcoming, with huge south-facing windows letting in the light. 
Who can say no to mimosas?
On a drier day you might find us sitting in their sunny seating area out front. These are some of the most coveted outdoor tables in Brighton, with all-day sun and plenty of shade if you need it. However, on a chilly, dreary one such as this, we were glad to be snuggled up inside. Once seated, the friendly wait staff welcomed us with french brunch menus and suggested mimosas to start. And who were we to disagree? 
Along with our fizz I ordered a perfectly poured heart-shaped latte served with the most precious little meringue you ever did see. The single bite of meringue was delicate and crisp on the outside, and chewy, soft, melt-in-your-mouth on the inside – just how I like them. 
French-style cooking lovers will be ecstatic
While we sipped our mimosas, we poured over the menus. The French Brunch and Bistro menus are traditional, making a great balance to their extensive specials board. Whether you are in the mood for a simple pastry and coffee, a fizz-filled brunch, or a casual lunch – they have options for most dietary needs. And if you are a lover of butter, cheese, and French-style cooking like me, you will be absolutely ecstatic.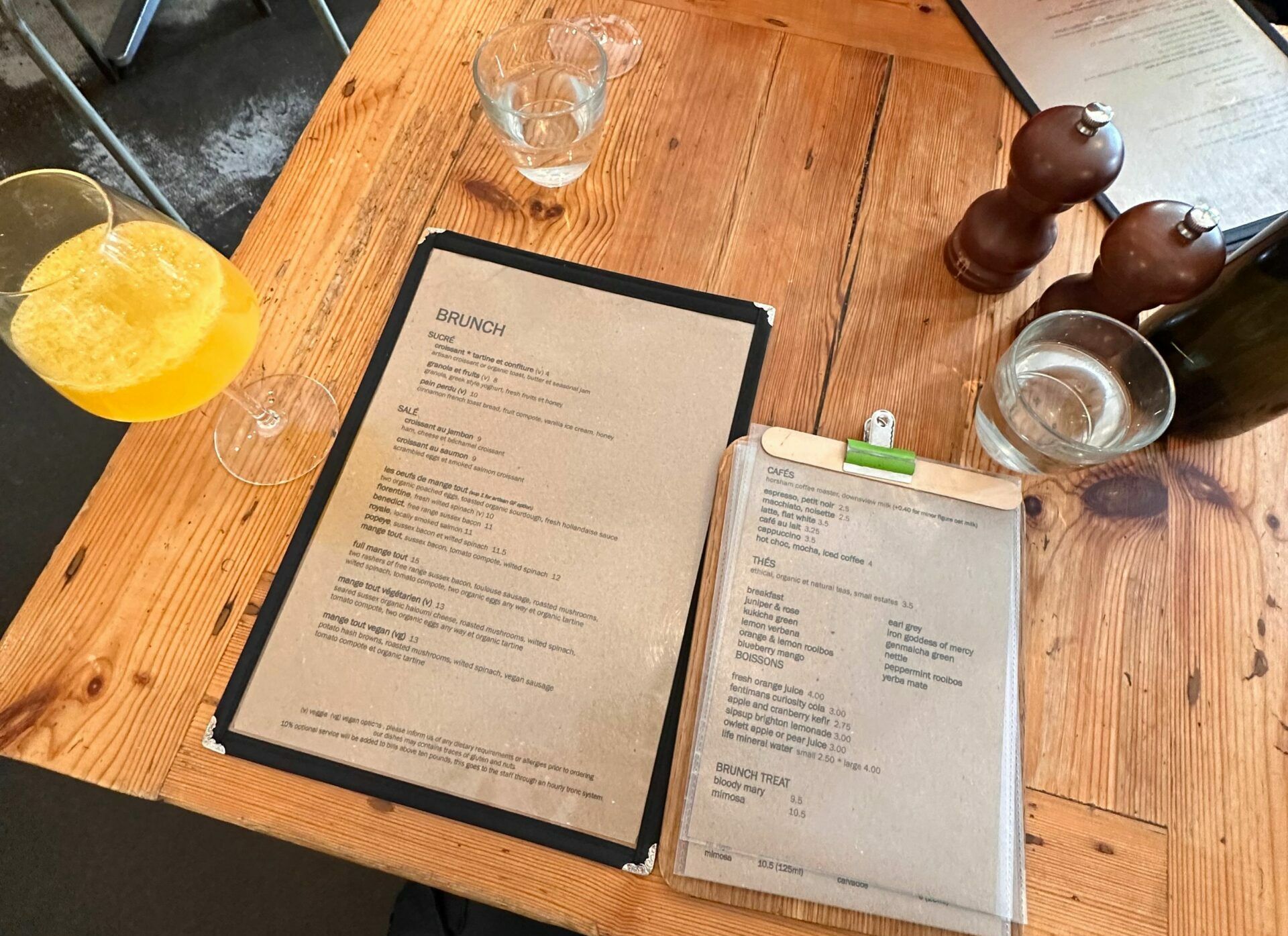 Eggs Royale and zesty compote for French brunch
Leaning into my love of buttery deliciousness, I decided on the Eggs Royale and added a side of their zesty tomato compote. Two perfectly medium poached eggs placed atop a generous fold of smoked salmon, and covered with a dollop of sunshine yellow hollandaise, served on toasted sourdough, and topped with fresh pepper and chives. The hollandaise was rich and creamy with a gentle taste of lemon, and the compote added a zing of acidity.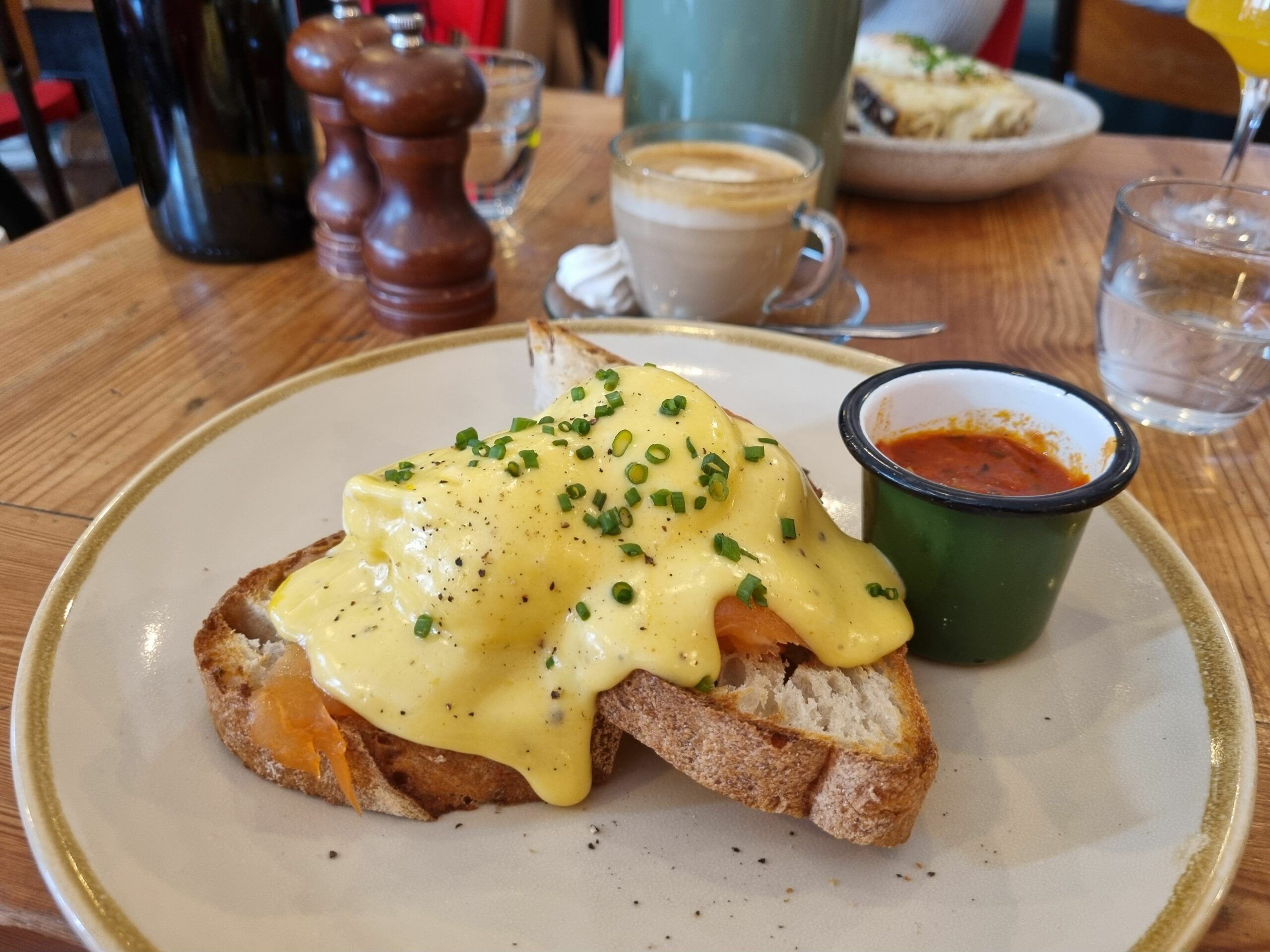 An edible shrine to French decadence
My date decided on the classic French "Le grand" croque monsieur from their french brunch menu. A toasted sourdough sandwich layered with thick rustic ham slices, creamy béchamel, covered with melted cheese. Nico added to her indulgence by topping her croque with a golden-yolked over-easy egg, fried to perfection. Of all the croque monsieurs I have tried, I consider Mange Tout's "Le Grand" to be an edible shrine to classic French decadence and melted cheese deliciousness. Generous in both flavour and portion size, this croque monsieur is everything you could want and more.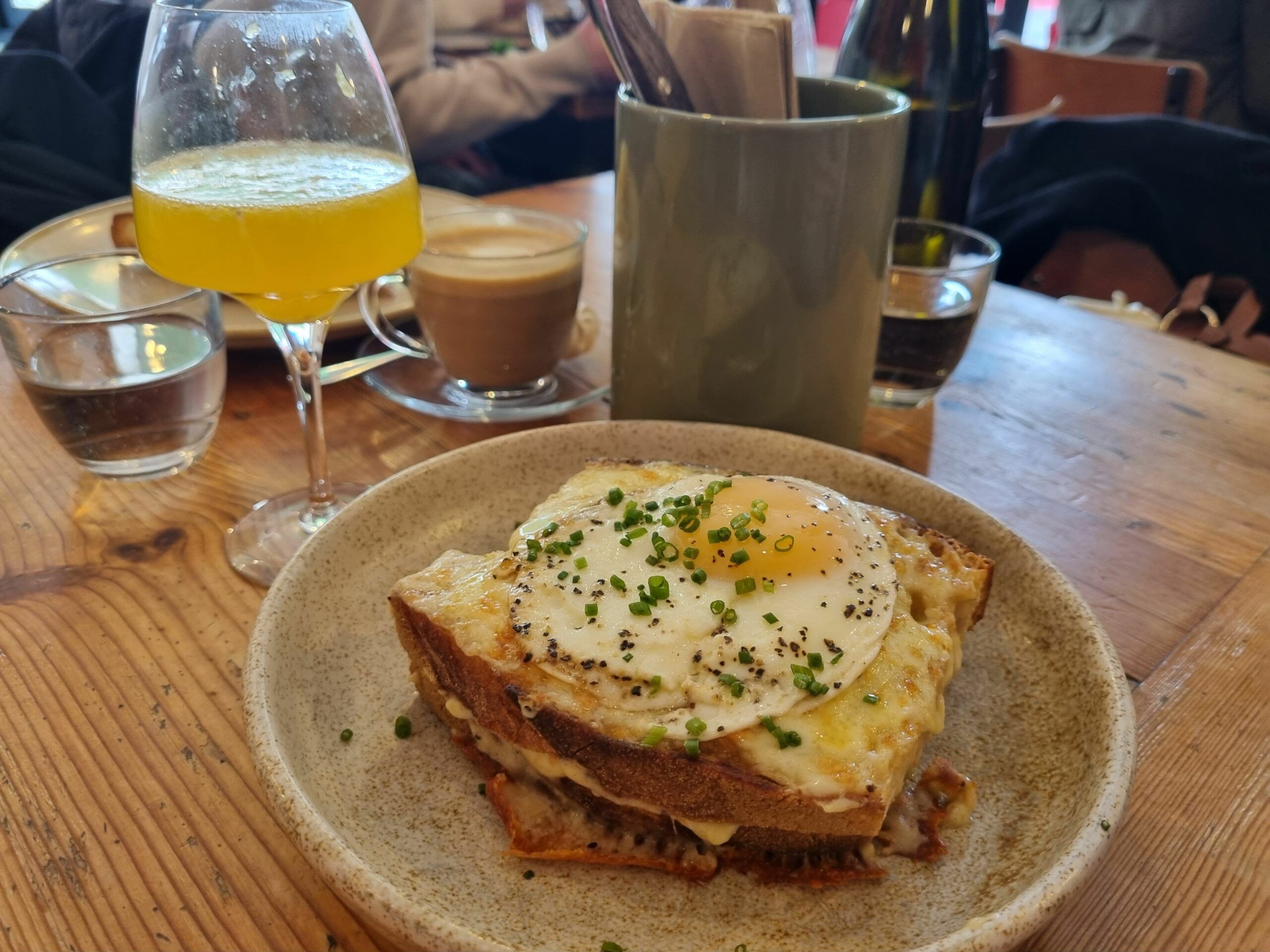 Couldn't miss out on dessert
After a short break to discuss how wild our cheese dreams will be that night, we decided we couldn't possibly miss out on dessert. 
Nico and I decided to share the classic Crème Brûlée, and Chocolate Brownie, because why not? In for a penny and all that. The Crème Brûlée had a classic burnt sugar topping, which was satisfyingly tappable, and the creamy vanilla custard waiting below was just the right amount of sweet. Nico has a bit of a chocolate obsession, and she was in brownie heaven. Fudgy, sweet, rich and airy. The brownie was served warm with a sprinkle of powdered sugar, and was totally more-ish. A sharp raspberry coulis cut through the sweetness, and the fresh blueberry and raspberries were the perfect finish to our decadent lunch.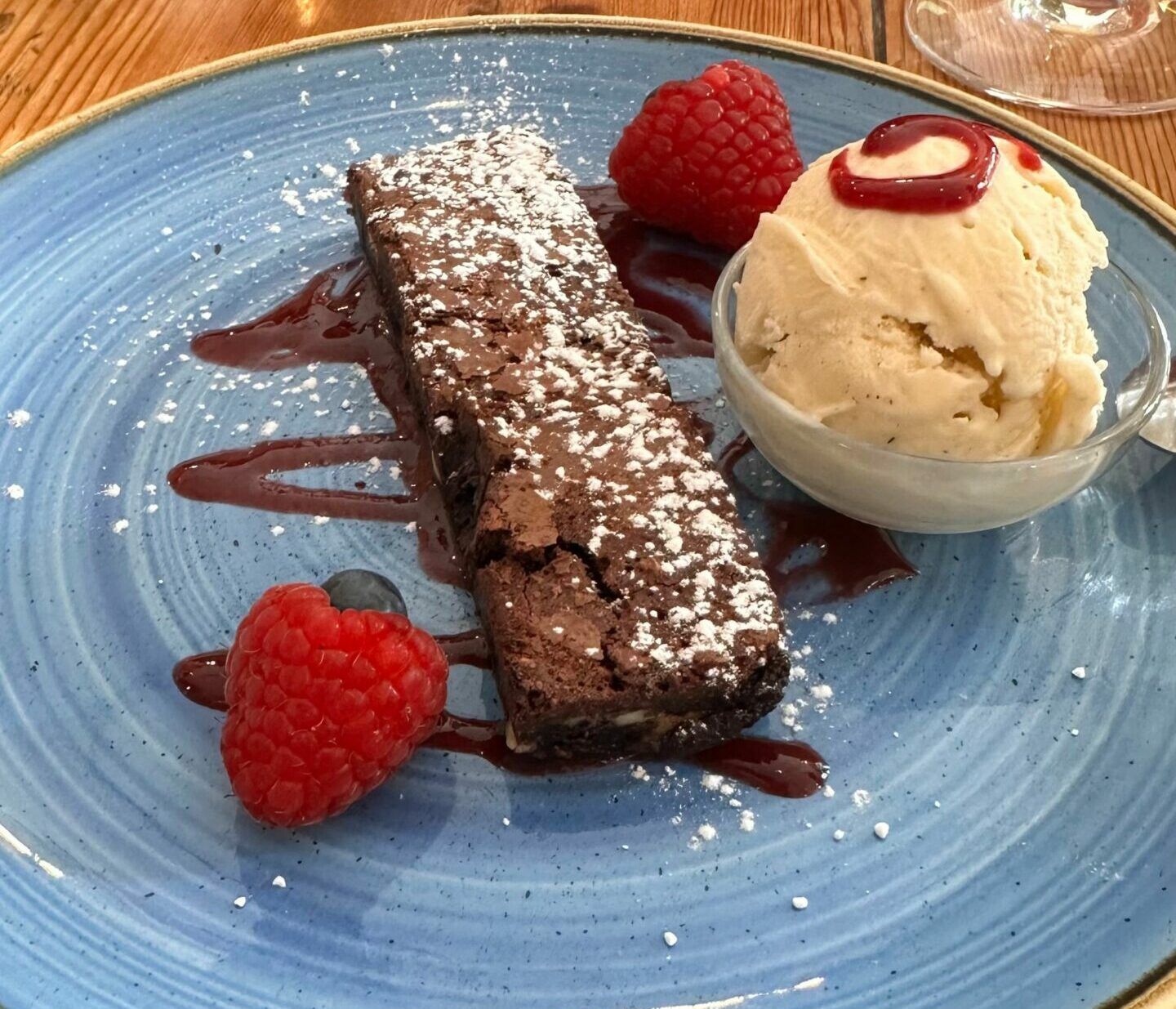 Start to finish was French brunch time delight
What can I say? From start to finish Mange Tout was a French brunch time delight. Every bite was delicious and we loved the fun and buzzy atmosphere of the bistro. Sunday to Wednesday Mange Tout serves food until 3pm, but Thursday, Friday and Saturday they open for dinner and drinks until 9pm. I will personally be back again soon to share a bottle of something divine over a cheese and charcuterie board with my girls. Thank you for having us Mange Tout, and we cannot wait to see you again soon!