Brighton's best kept secret is about to be OUT!
White Cloud Coffee Co at the Circus Street development is what we need and where we need it for a midday treat!
Brittany and her friend visited White Cloud Coffee for a midday treat, read about their visit here.
Tucked just behind the AMEX building and Brighton Police Station, White Cloud is located on a bright corner on the ground floor of the new Circus Street development. Having lived in Brighton for over 15 years I can say with confidence that this area has been crying out for an independent cafe that serves extraordinary coffee and outstanding food and drinks. Enter White Cloud Coffee Co with a flourish of their cape!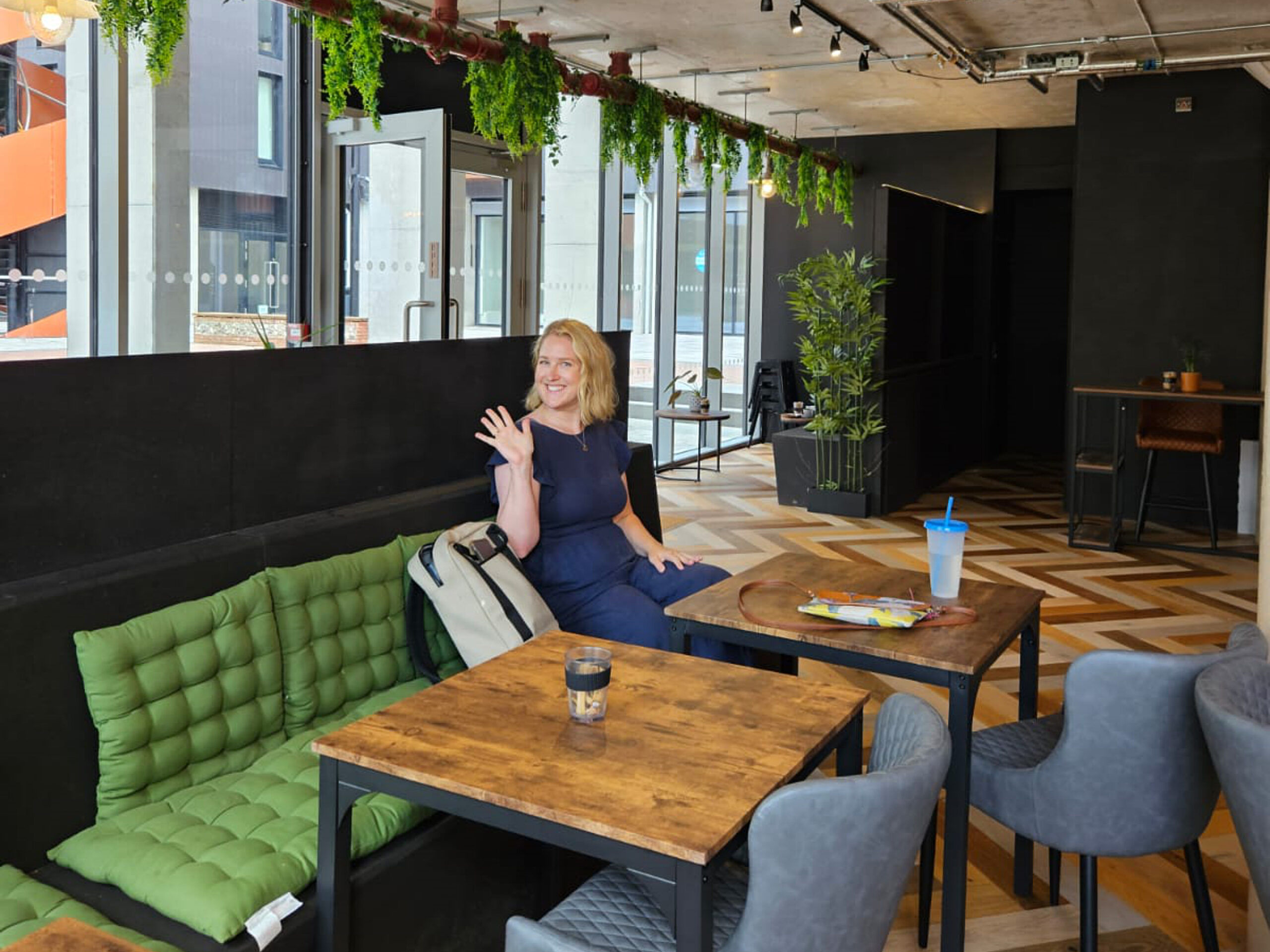 Up and coming cultural quarter.
Circus Street is an up and coming area with its eyes set on becoming a new vibrant quarter in a previously vacant space. This epicentre of culture is brought alive by creative workshops, restaurants, cafes and is home to the extraordinary talent of the South East Dance company. White Cloud Coffee sits right opposite the dance studios. With plenty of outside seating, it's adjacent to a grassy square, surrounded by eclectic street art and only a five minute walk from the seafront.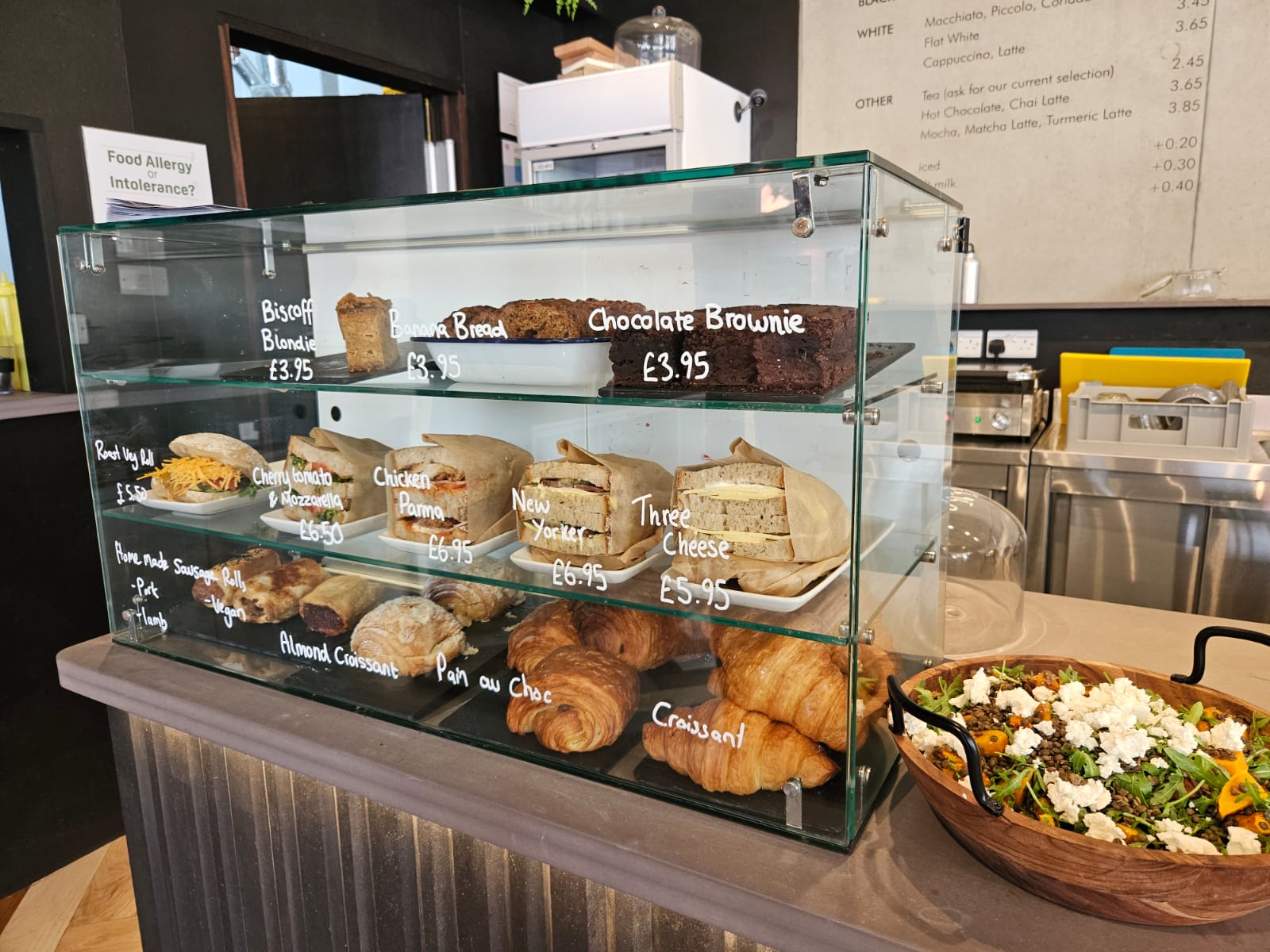 A relaxed sanctuary steps from town for a midday treat.
Contemporary and inviting, the White Cloud Cafe has a relaxed Melbourne style vibe that is laid-back, welcoming, and sophisticated. Hand picked artwork, hanging plants, and plenty of light make it an inviting space for students, families, coworkers and friends. Two minutes walk from the Brighton Pavillion, White Cloud is a world away from the hustle and bustle. Bright and airy, the square is calm and relaxed; a sanctuary just steps away from the town centre melee.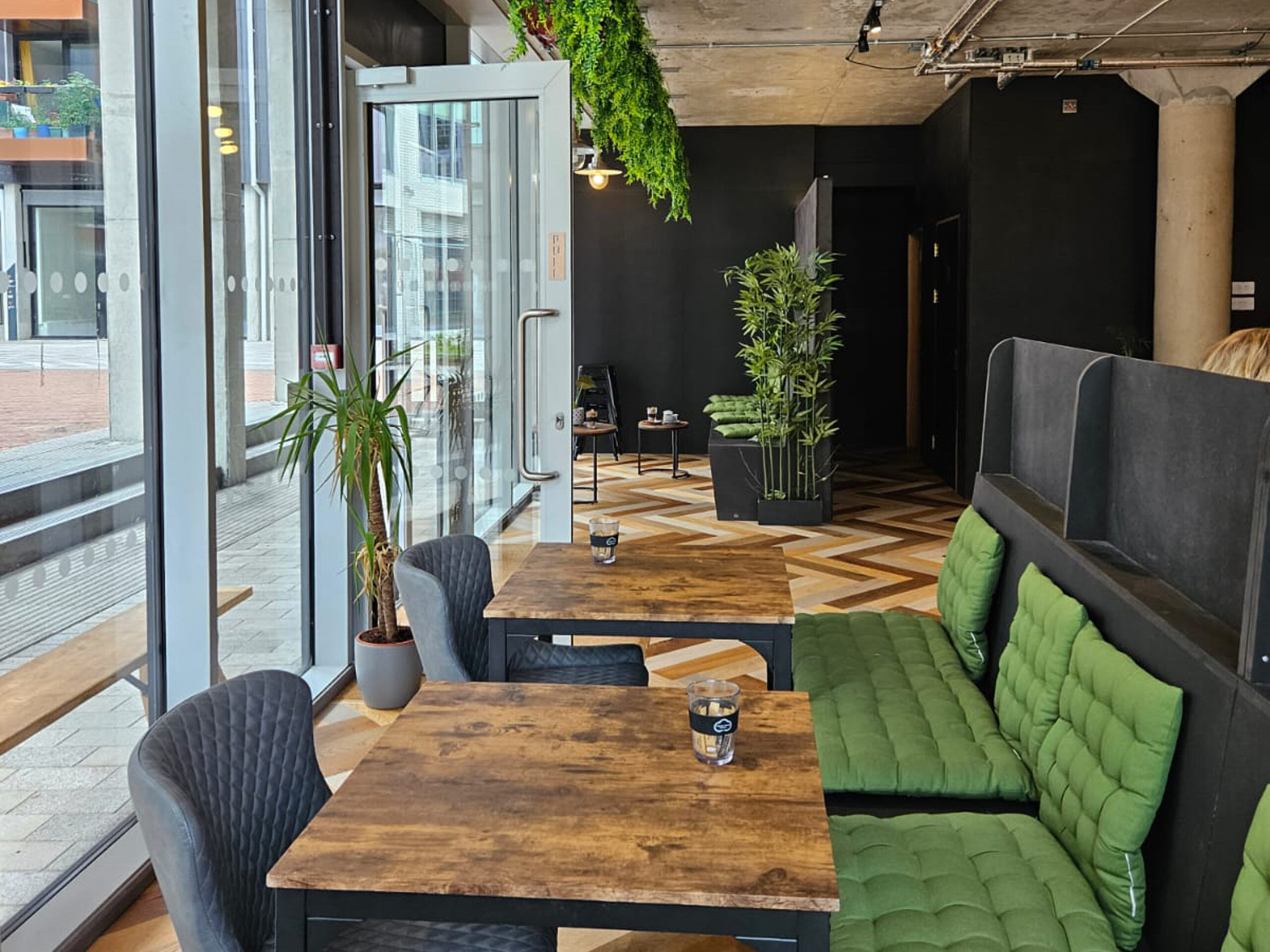 This coffee snob has found a new favourite brew.
In a city obsessed with coffee, coffee snobs like myself are not easily wooed, but White Cloud has turned my head with their passion for the coffee craft. When we arrived, our friendly barista chatted to us about the origins of White Cloud, and how they roast their own beans. They have put their heart and soul into making White Cloud Coffee Co one of the best seasonal coffee producers in the UK. Turns out our barista is also co-owner Phil, whose passion for coffee is only matched by his love of cycling. After a quick chat, we ordered and he got to work making our drinks. It's not often you get your perfectly poured flat white made by one of the owners of the roastery!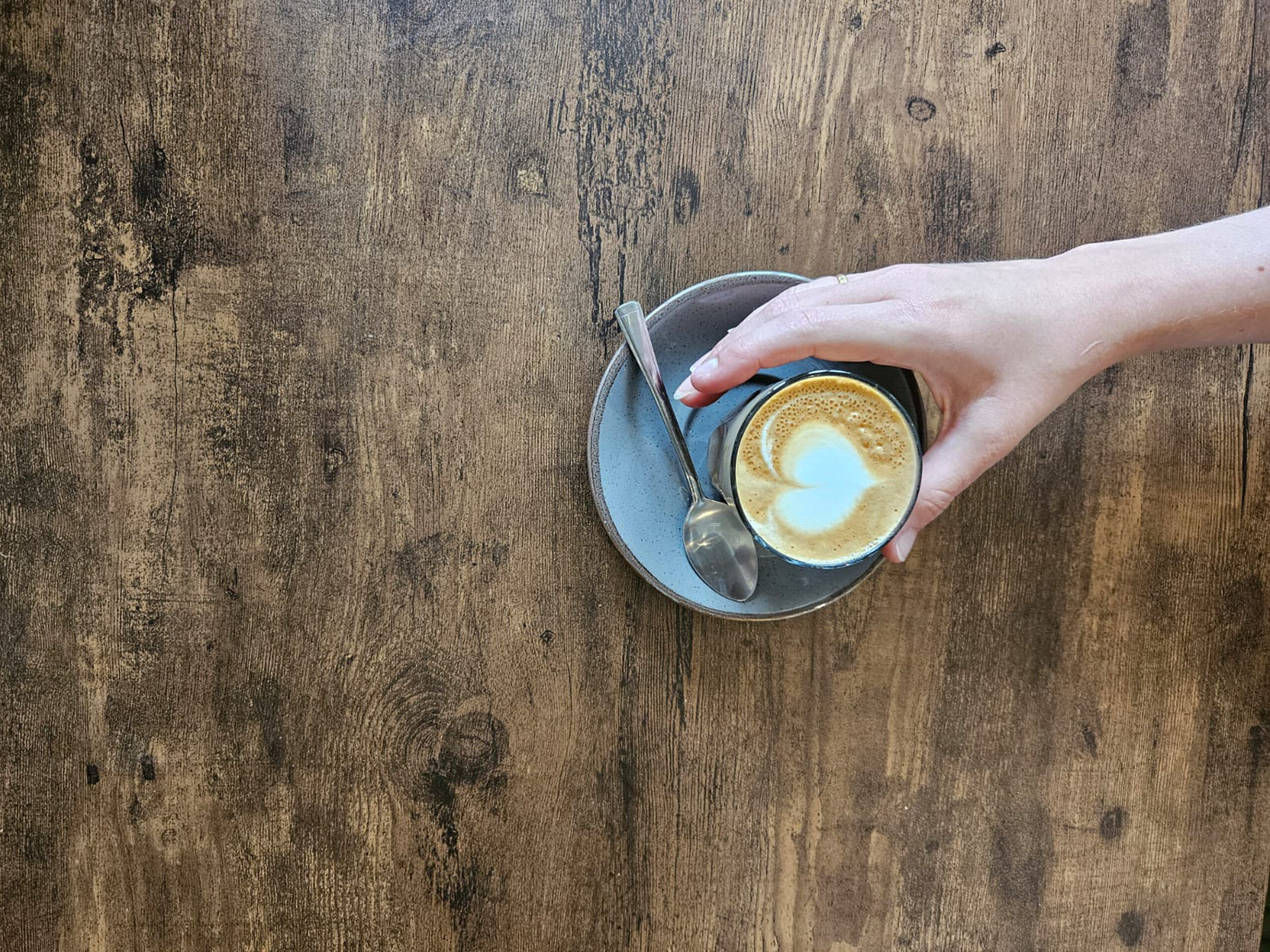 As any Brighton local knows, size definitely matters in the coffee cup world, and ratio is personal preference. Some like theirs milky, while others prefer an espresso hit that will make you cross-eyed. I land more in the middle, where balance is key, and White Cloud is perfect for me. Creamy, rich, with just the right amount of espresso oomph, their coffee is layered, aromatic and smooth to drink without any bitterness, served hot or cold. 
Everything is made in house and fresh as can be.
Enough about coffee, now let's talk about lunch! Each day the chef prepares a fresh salad with a selection of door stop sandwiches, fresh sausage rolls, and plenty of sweet treats, drinks, and smoothies. Vegan and vegetarian options are available as well, and I'll be back to try the vegan sausage roll for sure.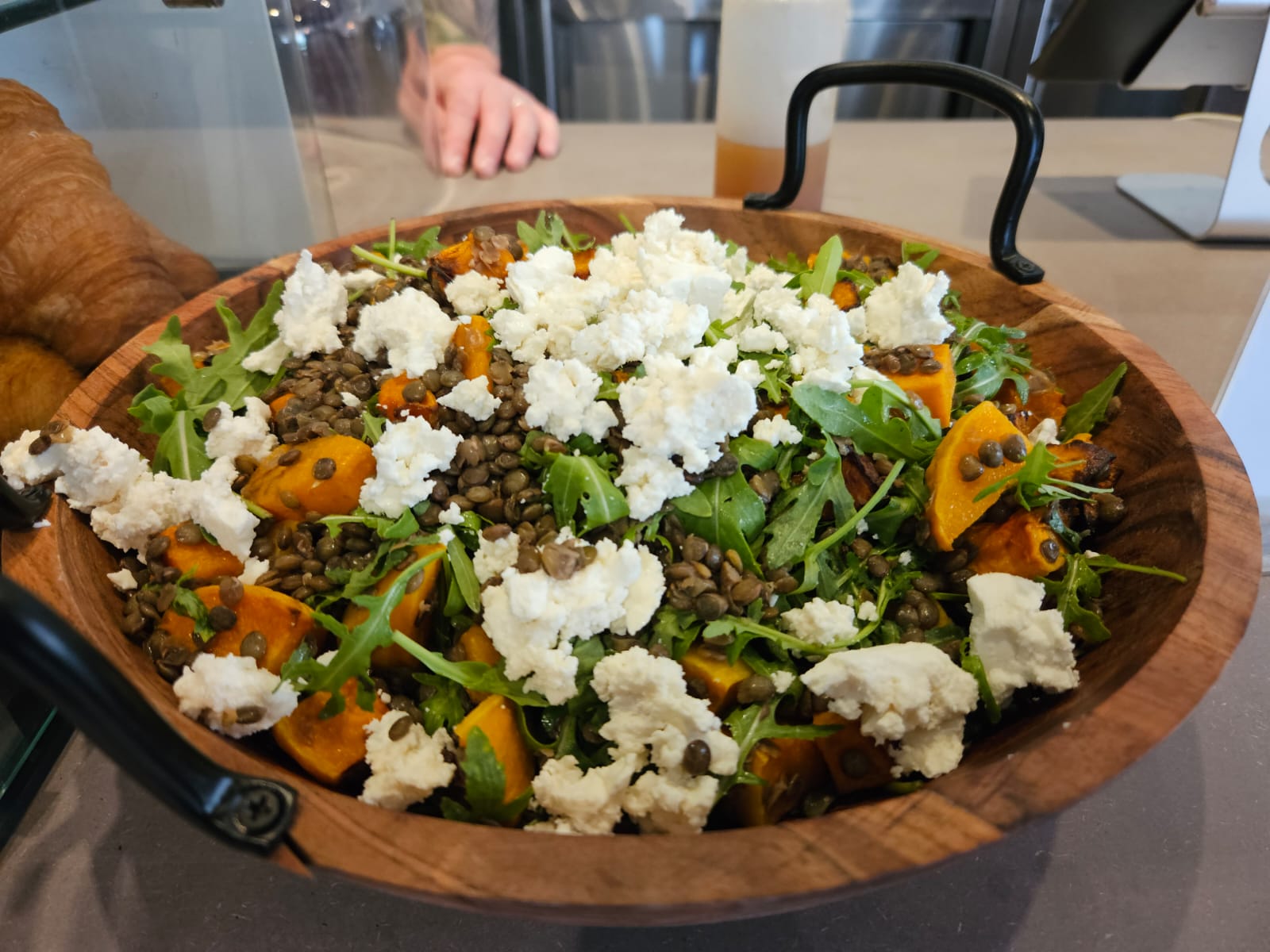 To start we ordered a freshly baked pork sausage roll that was beautifully golden and flakey with juicy pork and tangy dipping sauce. Great for a snack or an on-the-go lunch, hand-made and delicious.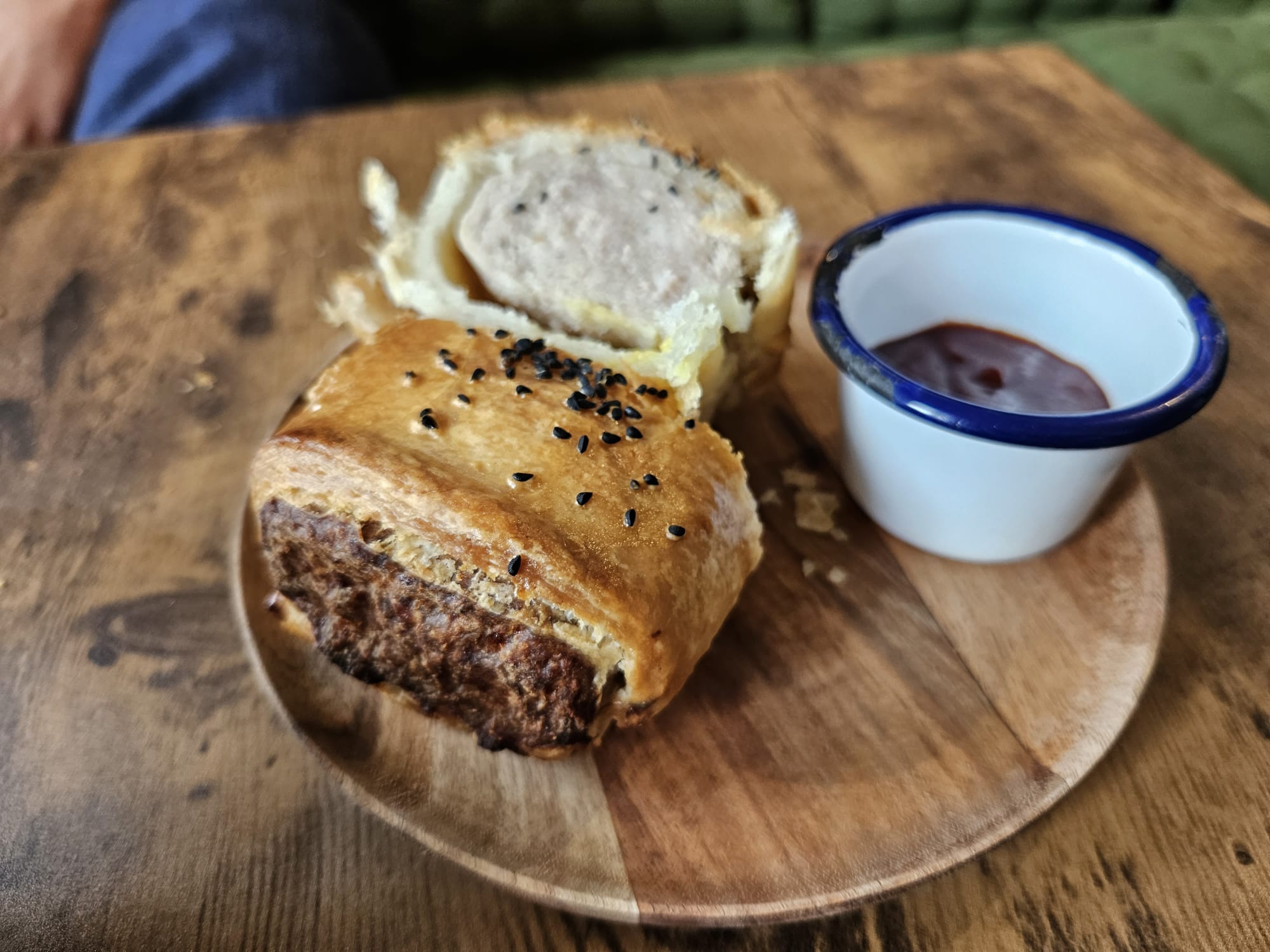 For our mains we shared the chef's special salad, mixed greens, topped with green lentils, sweet roasted squash, and creamy crumbled goats cheese. Lightly dressed, it made a beautiful side to our grilled parmesan chicken sandwich, but could also easily have been the star of its own show if you are looking for a light lunch or midday treat.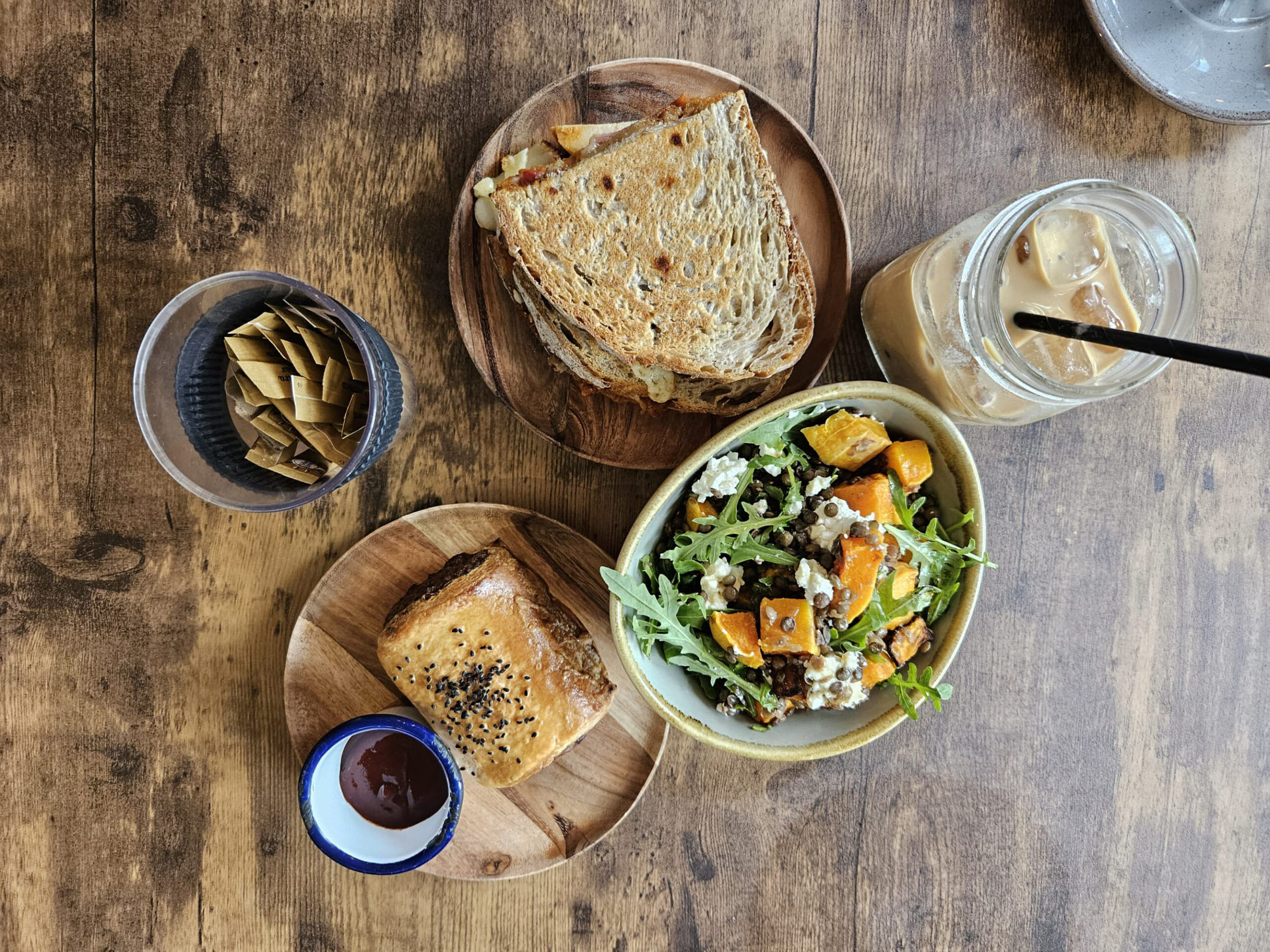 They offer delicious smoothies too!
My date is a smoothie queen, and for her, the combo of a fresh made salad and a tropical smoothie was midday treat perfection. As freelancers it's so nice to find a place that doesn't feel manic, where you can sit and relax, have a great coffee, eat a healthy hand-made lunch, and feel refreshed instead of weighed down. It is definitely somewhere I would recommend as a hub for anyone needing a relaxed space to focus.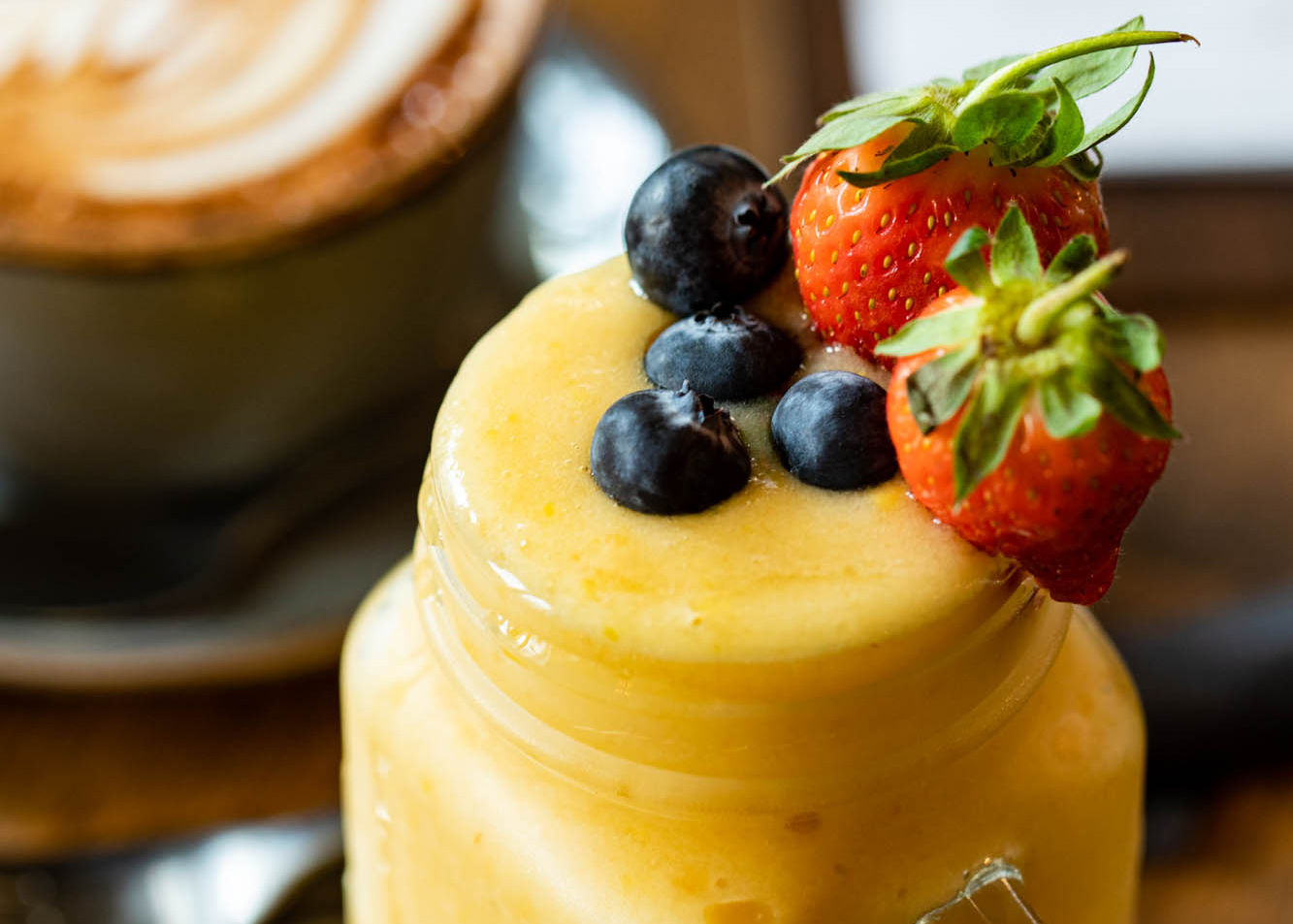 The chicken parm sandwich was filled with a healthy portion of succulent chicken, gooey cheese and a generous spread of home-made tomato sauce on crunchy grilled (what I would call 'sexy') bread. Bread lovers understand the clear difference between ordinary bread and 'sexy' bread, and I can assure you this was super 'sexy' bread.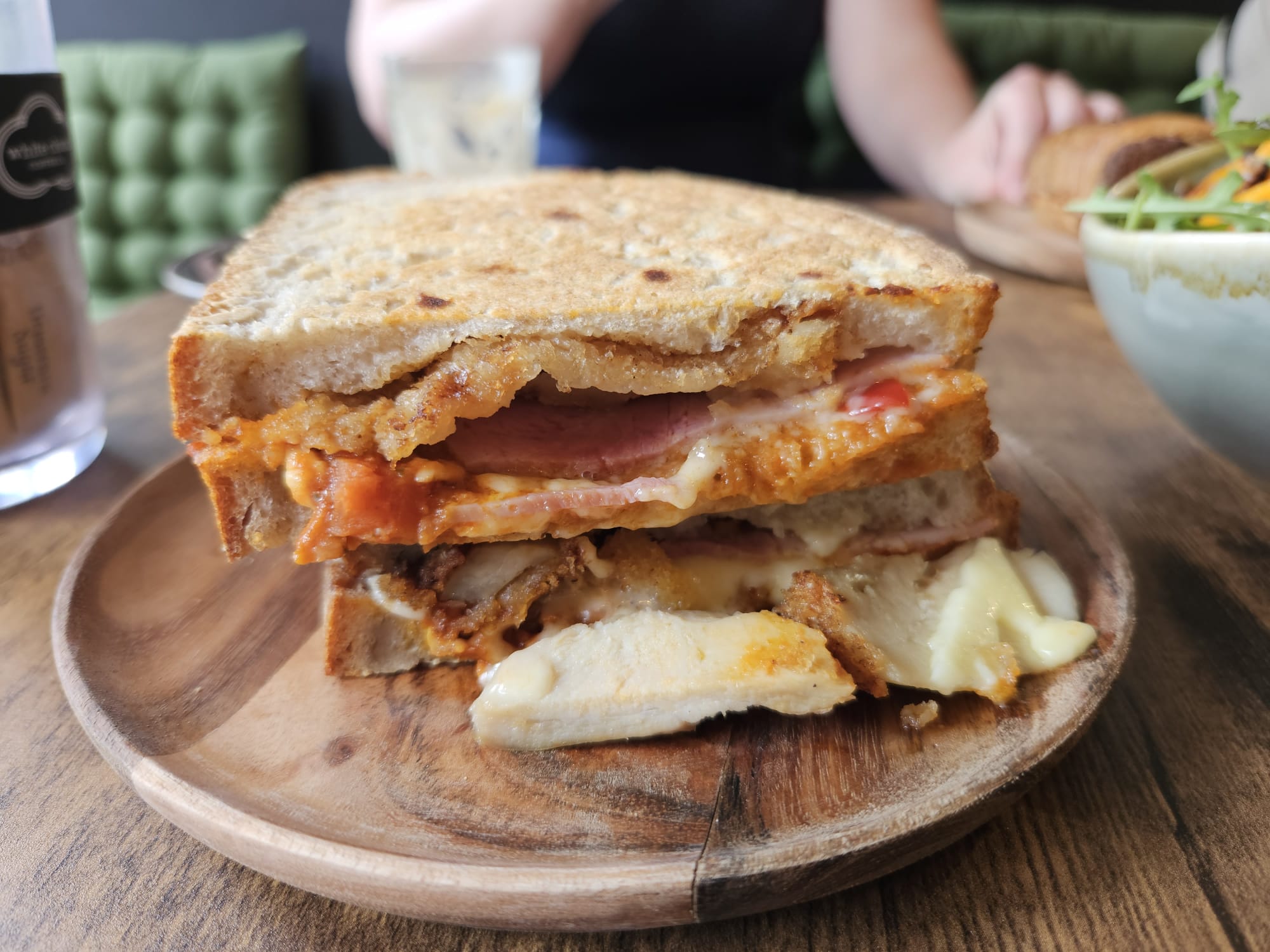 After lunch we asked Phil and the chef to send out their fav desserts for a sweet treat and, oh my days, did they deliver! 
Home-made sweet treats to die-for!
First up was a death by chocolate style brownie which was clearly Chef Sean's shrine to all things chocolate. Honestly, you couldn't have got more gorgeous chocolatey flavour in there if you tried. Dense, rich, and just the right amount of sweetness it was the ideal partner to a perfectly poured flat white. If you love chocolate, this is a winner for you, and the portion was generous enough for me to squirrel some away for the kids, who absolutely demolished it at home.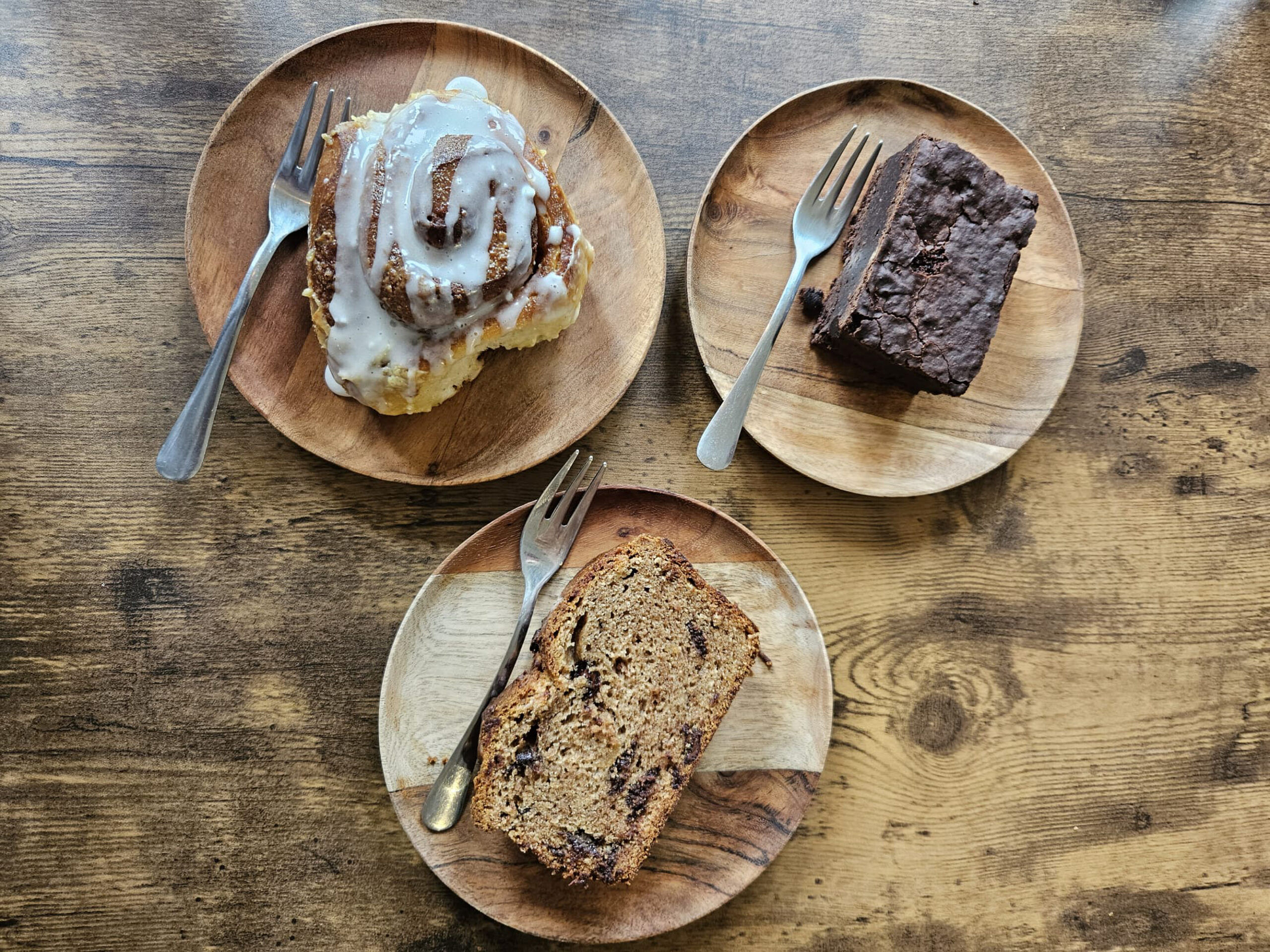 Next was the home-made banana bread with chocolate chips. Now I know a lot of you don't like this word, but there is no other way to describe the beautifully moist and springy texture. It was moist, moist, moist, ha! Not a dry crumb in sight, a strong banana flavour, with little hits of chocolate, yum. I love banana bread and this one gets top marks. 
Our grand finale was the oven-fresh, still warm, ooey gooey, pull apart, moreish, slap-your-friend's-hand-away-by-instict, glazed cinnamon roll…I need to take a moment. Next level cinnamon sugar deliciousness, wrapped in a buttery soft doughy parcel of joy, topped with an ample drizzle of sweet heaven. I mean it was fine, I guess. JOKES!  Honestly, White Cloud if you are listening, these need to be an everyday treat. Please be sure to text me when they're coming out of the oven and I'll be right over.
Thank you so much to White Cloud Coffee Co, Phil, and Chef Sean for having us at your gem of a cafe. It is my new town centre sanctuary and I can't wait to come back soon for a midday treat, so get some cinnamon rolls in the oven will ya? See you there Brighton!