The new kid on Brighton's small fine dining block, Dilsk has found a home in the romantic dining room at the iconic Drakes Hotel, which has been a beautiful shell missing its pearl for far too long. Dilsk has only been open for a few short months, but it is happily causing quite a stir. They've had visitors, with notepads, from London and France… if you know what I mean…and now I've been. It is all very exciting.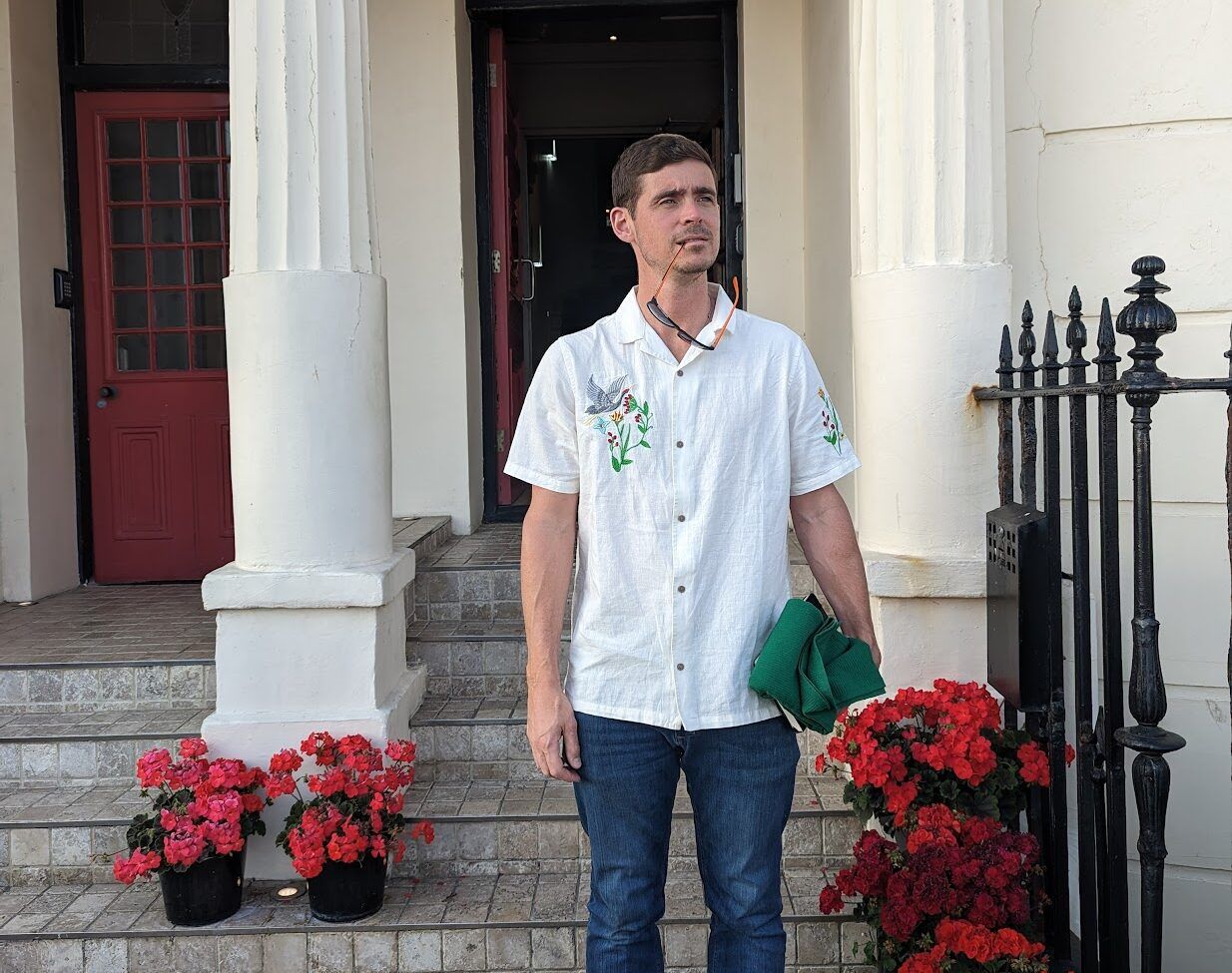 Just in case you were wondering, Dilsk is an edible seaweed; sustainable, flavourful and subaquatic, so one wonders why chef Tom Stephens and restaurateur Madeleine Riches chose this name for their sustainable, flavourful, subterranean restaurant? No, wait…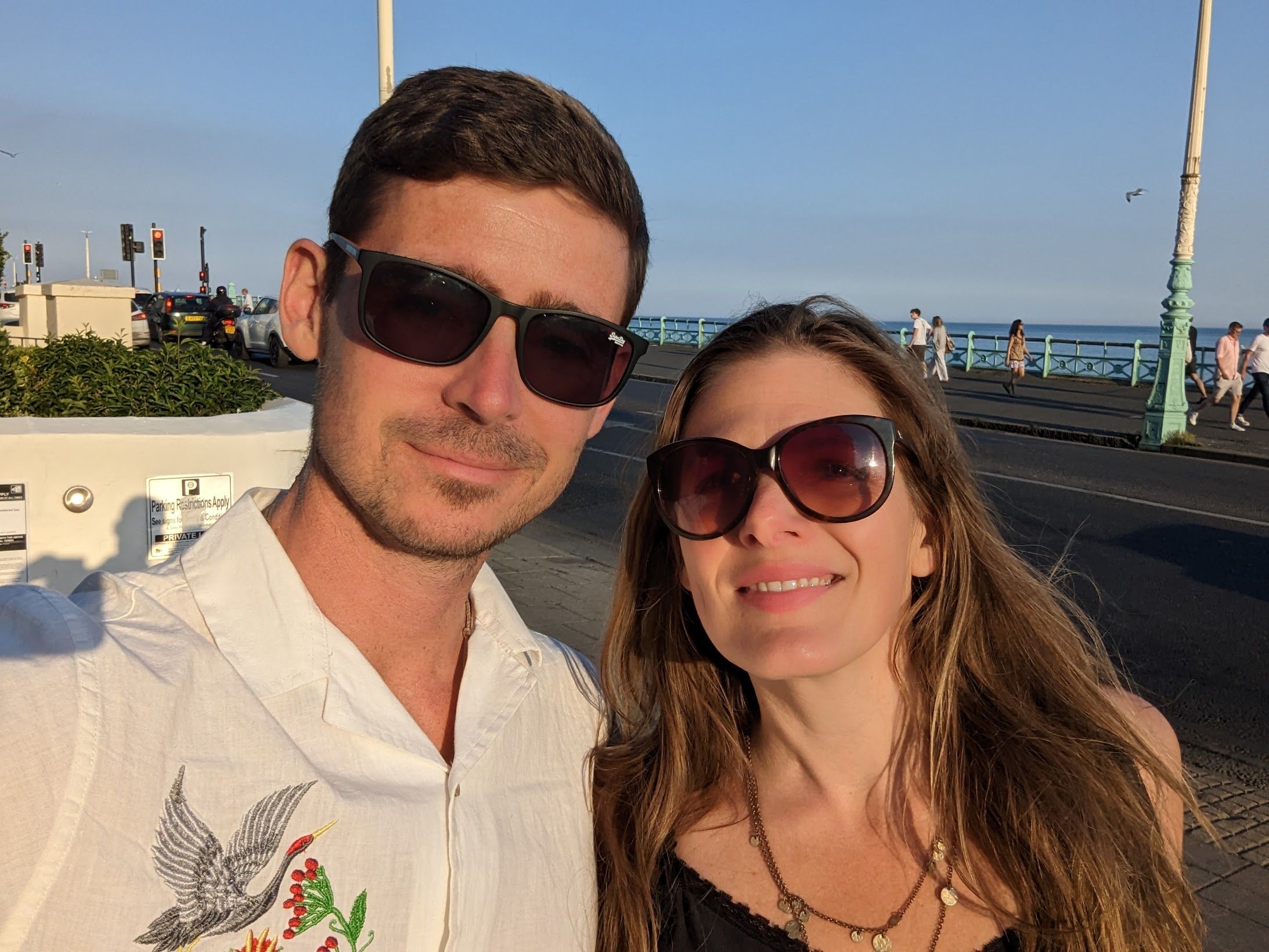 My date* and I arrived for supper unfashionably early at 19:30, the midsummer sun still high in the sky over the pier and Kemptown seafront looking at its sparkling best. We paused for a few moments to gather ourselves before descending the stairs. I've decided on heels for the first time in months and wobble a bit on my way down, gripping the bannister. I remind myself that this is quite the occasion, requiring gravitas and poise. I must try not to giggle too much. 
Hand-poured wine and 'snacks'
We're met by Poppy, who shows us to a lovely table, sunlight spilling in from above and a great view of the room. We can see guests arriving, plates coming out, wine being poured; it is a delight. 

There are two tasting menus on offer in the evening. With time on our side, we opt for the longer one, with nine dishes, and take a deep breath. We really can't resist the opportunity to try the full gamut of Tom's amazing dishes. Who knows when we'll have the chance to come again?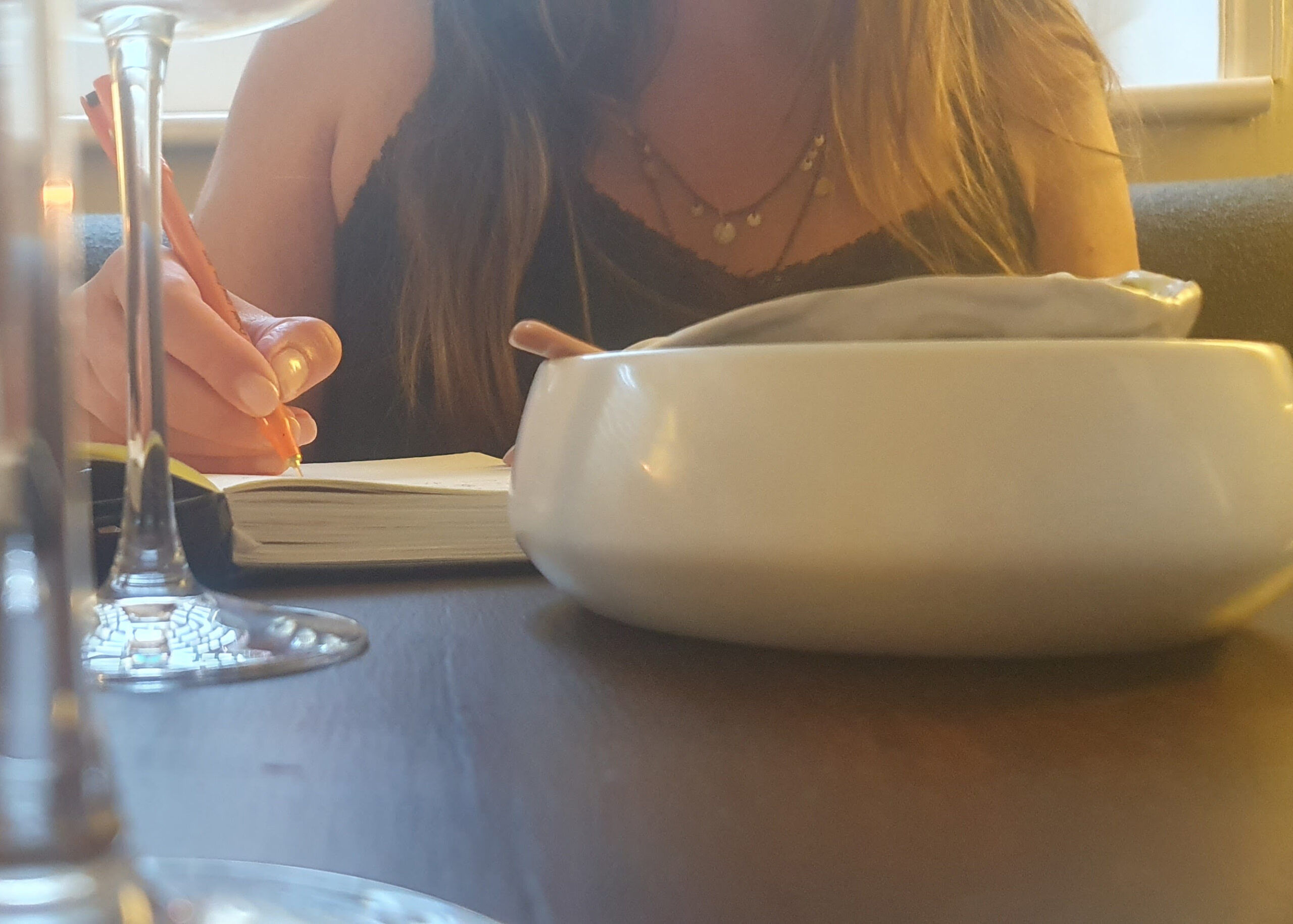 The wine flight has been carefully curated by Madeline, who clearly knows her stuff but she is also highly intuitive and, I've been told – 'chooses her horses by their colours' – very successfully I might add. 

What would a meal like this be without bubbles to start? As if in homage to English Wine Week, Poppy arrives with our first glass. A pretty, sparkling Makers rosé from the nearby Artelium Estate. Bright tasting, it has been chosen for its high acidity which opens the palate ready for what is to come. The wine is generously hand-poured and offered with fascinating notes which undoubtedly add to the drinking experience. 

Dilsk's chef Tom Stephens trained under Tom Kerridge and Steve Drake before working in a number of notable kitchens including Limewood House Hotel, Pied a Terre under Marcus Eaves and Fera at Claridges. Before opening Dilsk, Tom had been Head Chef at Brighon's 64 Degrees. This is straightforward ascendency. 
Tom and Madeleine have gathered about them a lovely team, many of whom we meet as they present us with their creations, taking time to explain the stunning, complex flavours of the dishes at Dilsk.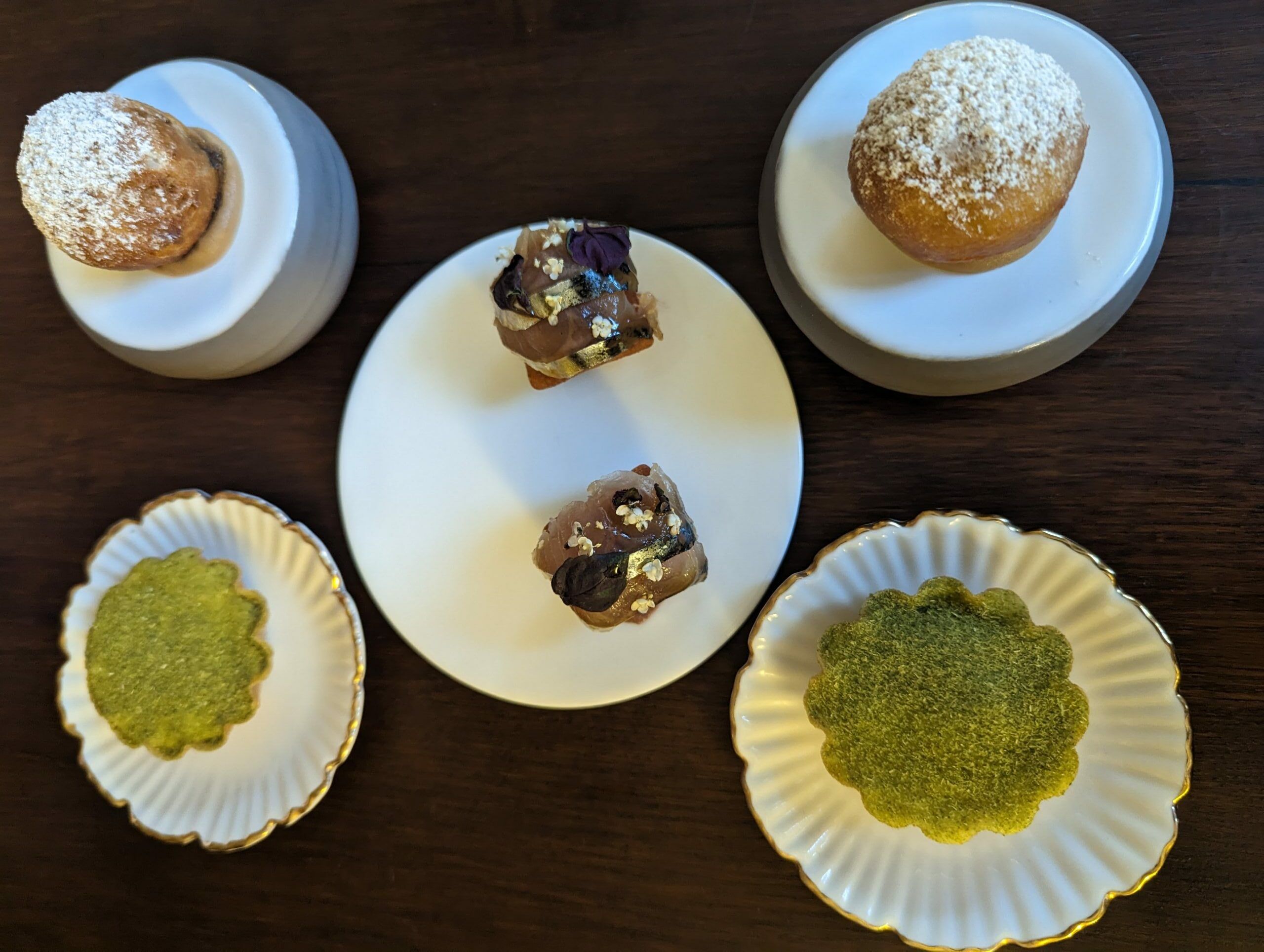 Perfect little plates arrive topped with 'snacks'; a rather understated description of the dishes. A tiny, fluted tart, crust made from chicken skin is filled with a sweet, pea and parmesan custard. A croquet of braised goat and cauliflower has an overwhelmingly nostalgic flavour, and a mouthful of mackerel with seaweed tapenade is decorated with elderflower and gives a mineral hit of the sea. This trio sets the scene for the journey ahead.
A Pleasure Cruise
Next, a glass of 'Big Fine Girl Riesling' from Jeanneret, Australia. The winemaker apparently believes that grapes are gendered and this one reminds him of a strong woman with plenty of feminine charm. Snort. Whether you buy this or not, the wine is a perfect foil to the lightly poached oyster, sweet, with the mildest metallic which comes served on a slick of dilsk custard, rivulets of a bright green dill oil, peachy trout roe and pink radish, painting a very lovely picture. Rather than the usual tip and slurp, this oyster is eaten with a dainty spoon; so refined.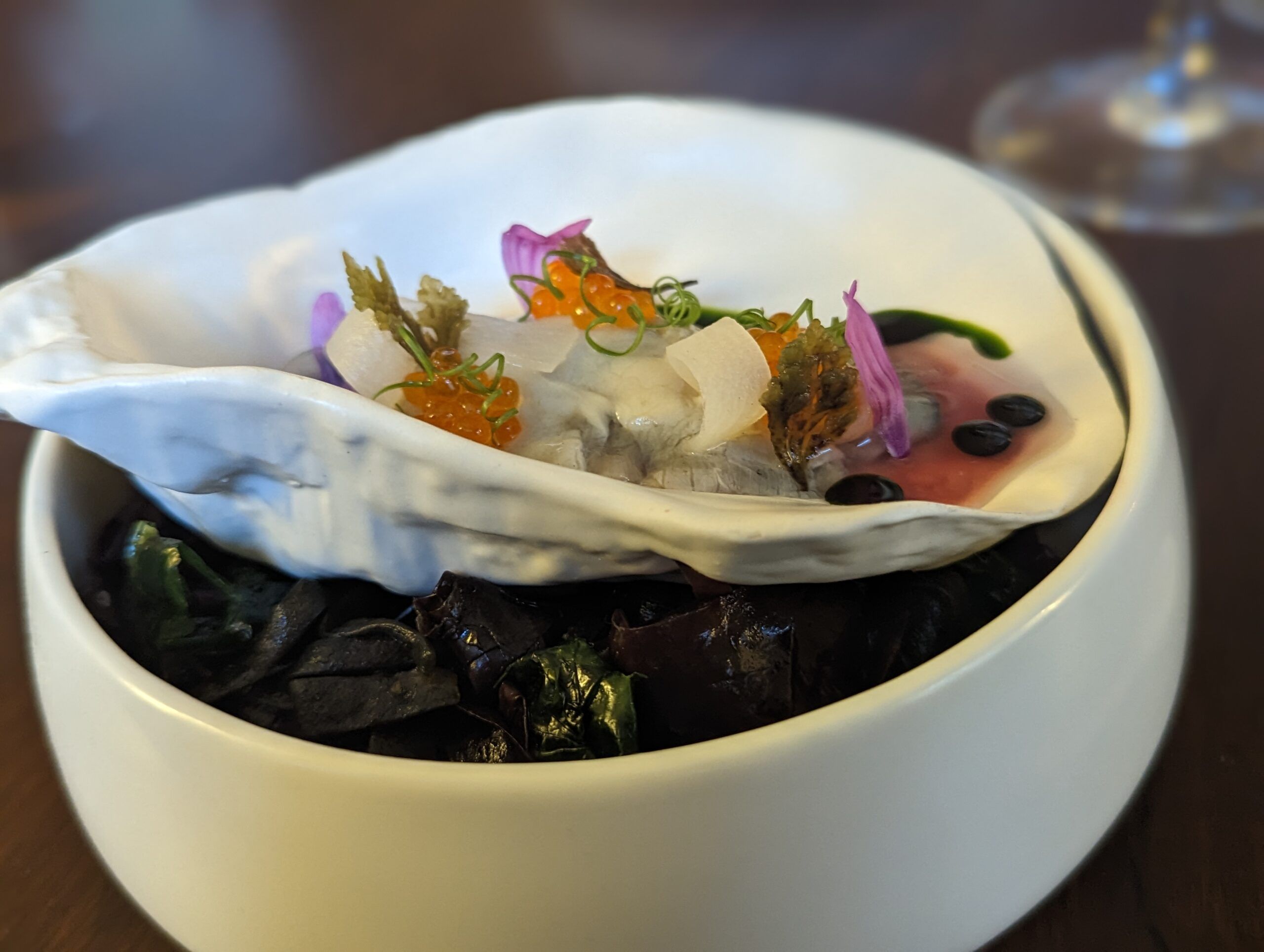 Everyone who has heard about Dilsk, has probably heard about the bread course. Two beautifully golden rounds of laminated brioche are served with a quenelle of vivid, fragrant wild garlic butter. Imagine a perfect flat-topped column of the best croissant you've ever tasted. Pass on the bread? Not a chance.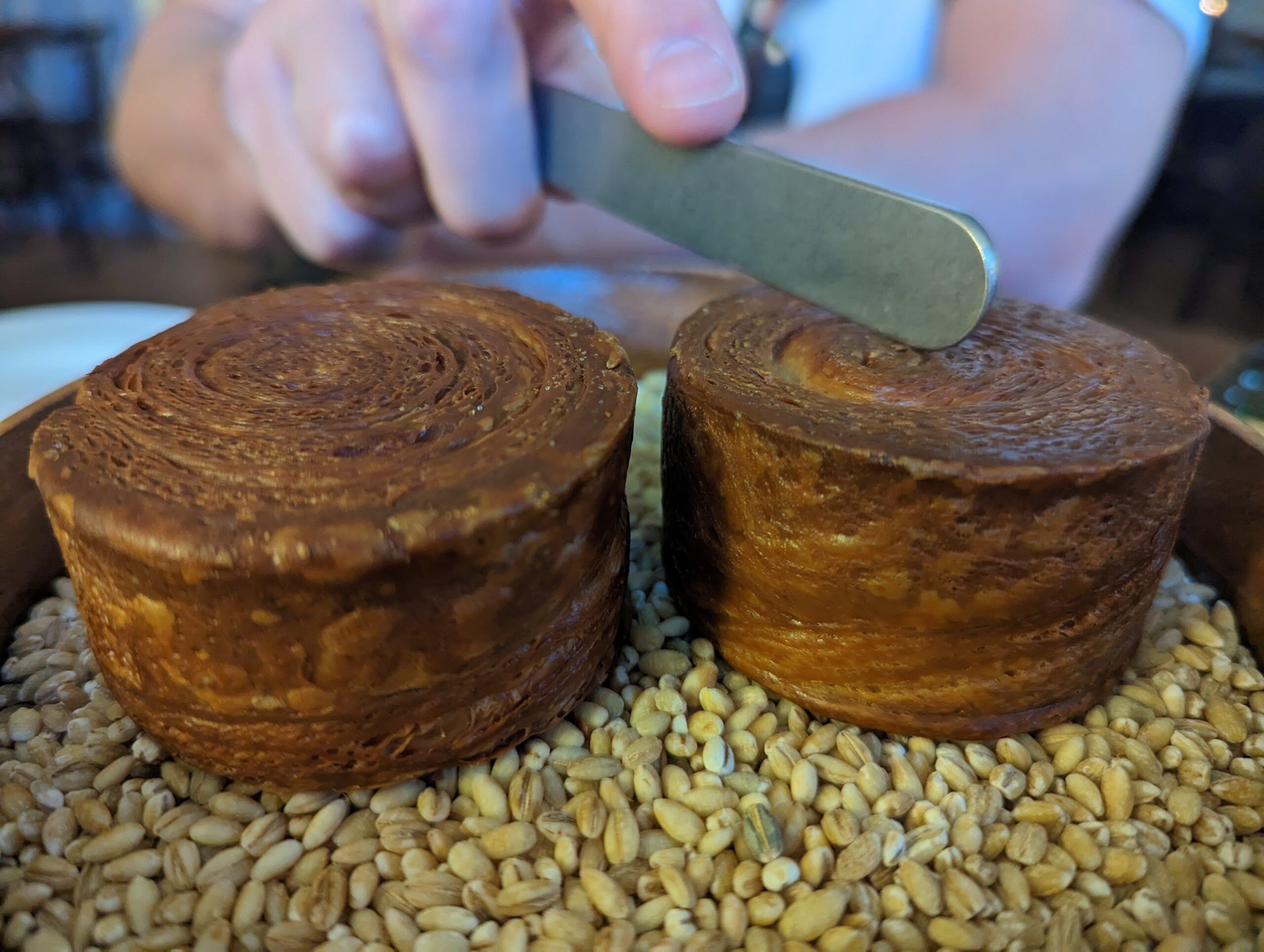 I imagine the Orkney Scallop had been gently plucked from the salty brine of the stormy North Atlantic by the rough hands of a swarthy Viking-type. (Just me?). The delicate flavour of the scallop is perfectly offset by a dashi-style ham broth, which adds depth and umami with spheres of perfectly fresh mellon. It is decorated with wispy crackers shaped like coral and fine slivers of ham. This is served with a glass of punchier-than-usual Pinot Gris from Alsace; the maker, inspired by their Japanese partner, has designed it to pair with the flavours of Asia. 

Still at sea, chef Tom Stephen's appears to have snuck in an extra course. Lucky us. The brill is served two ways. The first dish serves as a palate cleanser with fine ribbons of braised squid and courgette in a tomato consomme. Nothing has ever tasted so exquisitely of fresh, ripe tomatoes. Next, the brill is rolled with salted ricotta and squid ink. A tiny swirl of yellow and green courgette is served alongside a sunflower seed puree. The fish is tender and flavoursome, the dish marvellously reminds me of sunny holidays. A Californian Friulano from the Clendenen Family Vineyards is packed with stone fruit, honeysuckle and just a hint of oak to round it off.
The Perfect Landing
We're brought to earth by a succulent wedge of chicken breast in a rich mead jus, BBQ lettuce on the side with caramelised whey for sweetness. In a concerted effort to waste as little of the excellent produce as possible, an ambition obvious throughout the menu, Tom Stephens has pressed the chicken leg between wafer thin crackers and topped it with whipped liver parfait. Caper ketchup cuts through the richness and the whole plate is utterly divine. This is served with a light, joyful chilled Italian Frappato; unpretentious and drinkable.

The final, show-stopping savoury course is a celebration of Trenchmore Wagyu beef shin, cooked sous vide, with a deeply savoury bone marrow jus and little cubes of the tongue. Pickled maitake mushrooms increase the umami along with truffle, parmesan, and a yeast and shallot puree. This calls for a serious pairing, which comes as a glass of Babylonstoren Shiraz from South Africa. Dark, rich, fruity and full of tannins, this wine certainly stands up for itself.
A Box of Delights
Just when we might have been starting to flag, a blackcurrant leaf, cherry, yoghurt and marigold ice 'pre-dessert' saves the day, waking our palates and freshening everything back up. It is thoughtful and welcome. 

The final glass is poured. Late harvest, dessert Riesling from Ular in New Zealand, the grapes buffeted by Pacific winds, is golden with notes of tropical fruit and sweet florals. There is a slight tingle on the tongue. 
A beautiful Gariguette strawberry tart is split between us, crisp, buttery pastry filled with hay-infused custard and a delightful, surprising Caramac aero topped with fruit. Hand-made chocolates are served in a pretty wooden chest for a final piece of theatre.
Despite our better selves, we finish absolutely everything. Tom Stephen's delicious cooking transports us from land to sea and back again; along the south coast and finally across the channel. The wine, so brilliantly paired, tours the globe. This seriously good food deserved our rapt attention, and that it got, but oh my gosh we had fun too.
*Husband