Occupying a prominent position, on a corner in Kemptown's pretty village, the vibrant colours of Nanima Brighton's attractive facade invite you in. This friendly neighbourhood restaurant is family-run and prides itself on the cheerful, personal welcome you get when you walk through the door, making it a great favourite with the local community. The location is prime for people working in the area, especially at the nearby hospital and school. But word of Nanima's unique daily-changing selection of freshly prepared of delicious, authentic, pan-Asian dishes is spreading and new customers are being drawn from across the city and beyond.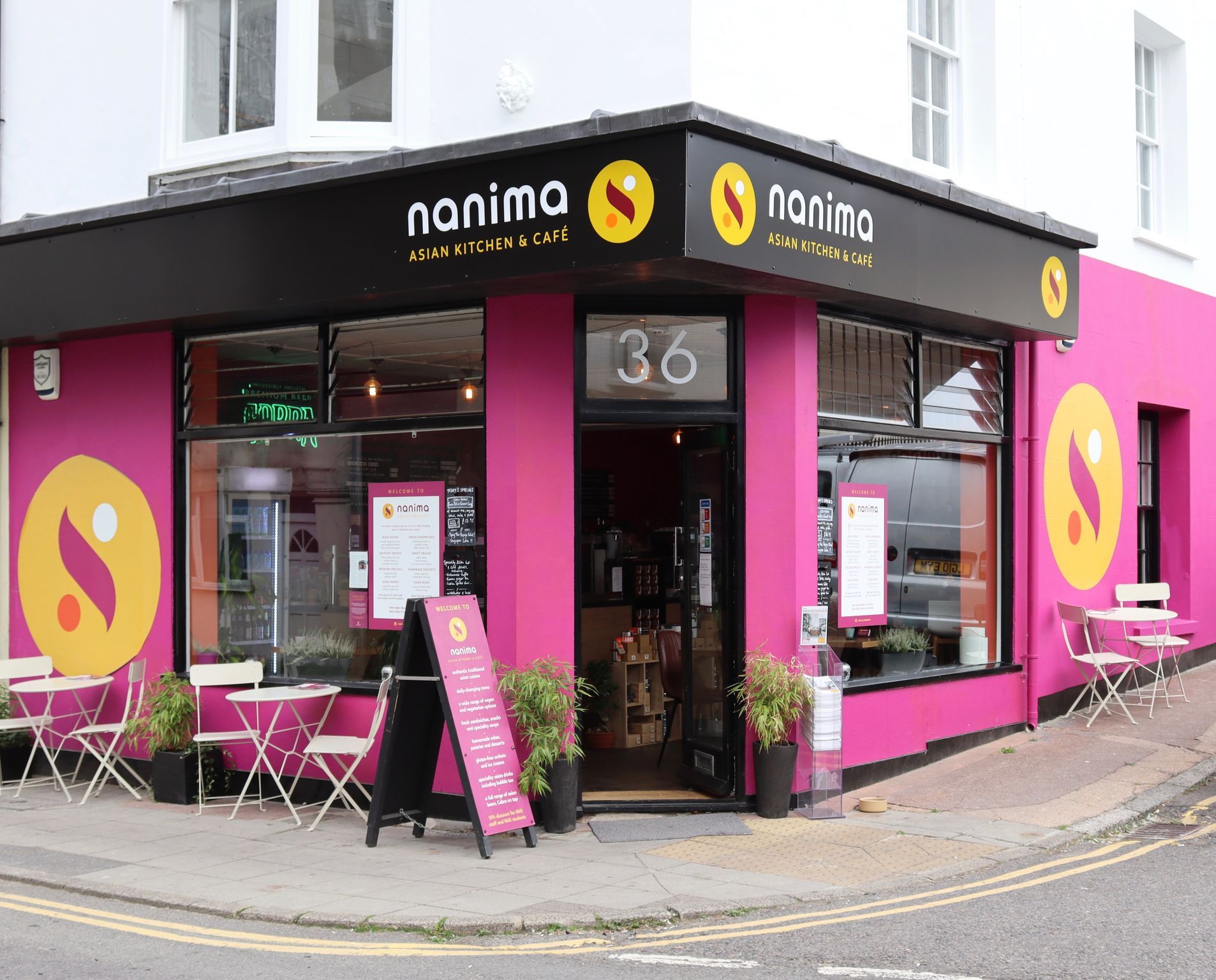 Nanima Brighton has a cosy layout with seats for around 20 customers, three tables inside and benches to perch on if it's sunny out. Open for business from 10am, it is a great place for breakfast, coffee, a snack, lunch or a takeaway. Nanima also serves dinner until 8pm on weekdays and 9pm on the weekend. Customers are encouraged to take their time to explore the wonderful variety of options from the daily-changing offerings and stay as long as they like. Nanima Brighton is licensed and serves a wide range of Asian bottled beers, draft Cobra and Soul Tree Indian wine – which is made to pair with spiced foods. They're closed on Sundays and Mondays.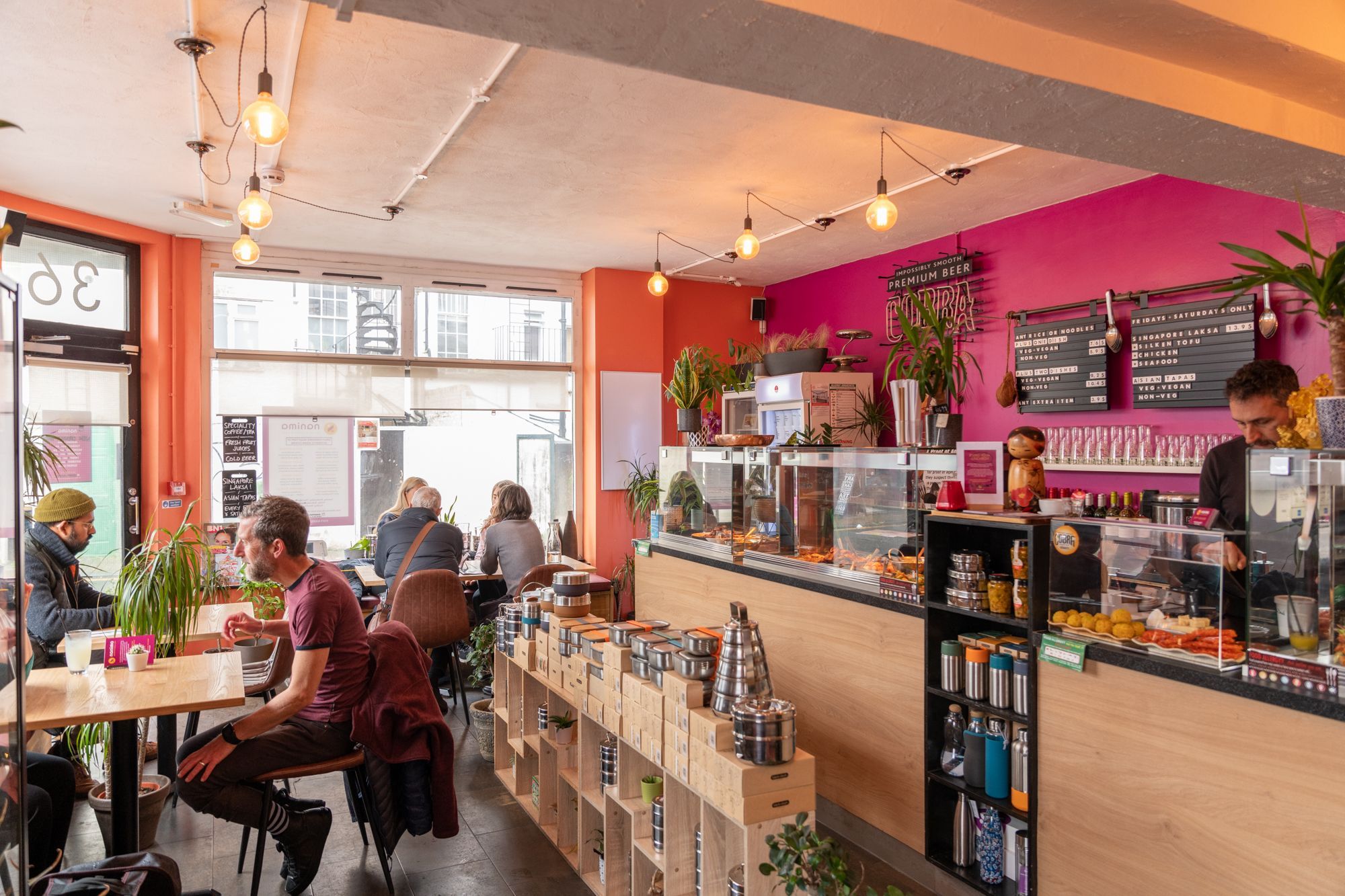 A Family Business
Nanima's chef and co-owner Nicky was a talented home cook whose family and friends persuaded her to offer the wider public a chance to enjoy her deep knowledge of Asian cuisine and delicious dishes. Just three years ago, Nicky and her husband Lonnie opened Nanima with the ambition to create a genuinely independent, intimate and relaxed place to hang out and eat Nicky's great food. Lonnie now manages the front-of-house where customers value the time he takes to explain dishes on the menu. You'll often find their kids and other family members helping out in the restaurant which gives the place a very special feel.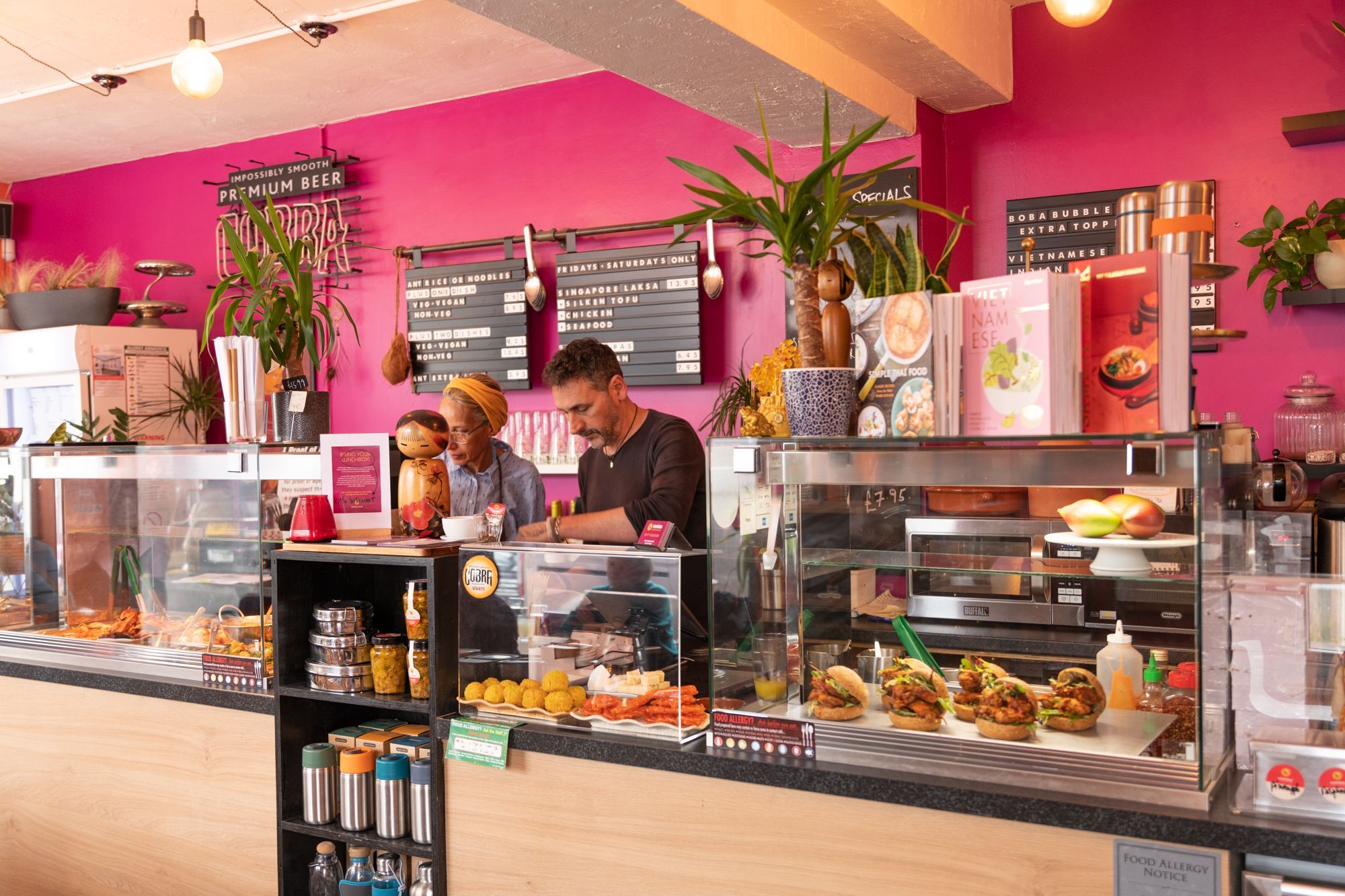 Authentic Asian Cuisine at Nanima Brighton
Nanima Brighton offers a daily-changing, seasonally-led selection of authentic Asian dishes from across the continent and includes, but are not limited to, specialities from India, China, Vietnam, Thailand, Malaysia, Singapore and Afghanistan. Every plate is freshly-prepared – on site – by Nicky and her small team. When you arrive, you are invited to choose from a wide selection laid out on a hot counter before you. You will be encouraged to create your perfect combination from what's on offer with generous portions of their hearty food. 
There isn't a set menu at Nanima Brighton since every day sees a different selection of dishes from Nicky's wide repertoire. Some examples of main courses include Madras Lamb & Potato Curry, Vietnamese Ginger Chicken with Honey & Ginger, Goan Pork Belly with Mustard Seed, Szechuan Salmon with Pak Choi and Filipino Adobo Chicken.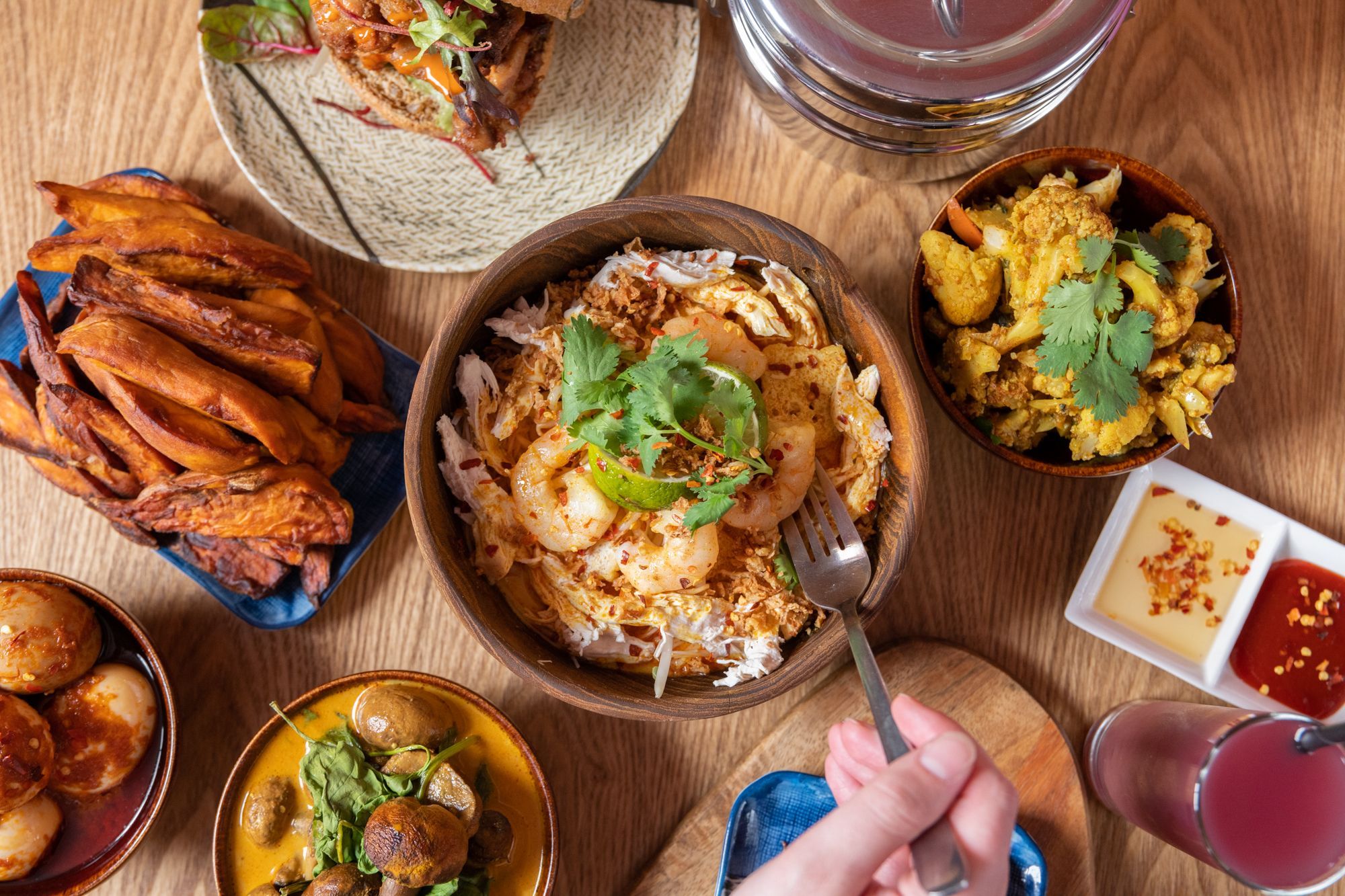 There are always non-vegetarian specials, vegetarian dishes and many vegan options plus rice and noodles on offer. Typical vegetarian/vegan options include Indonesian Sambal Aubergine, Mushroom & Kale Korma, Spinach & Paneer Pastry, Punjabi Aloo Chana and Sweet Potato Casserole.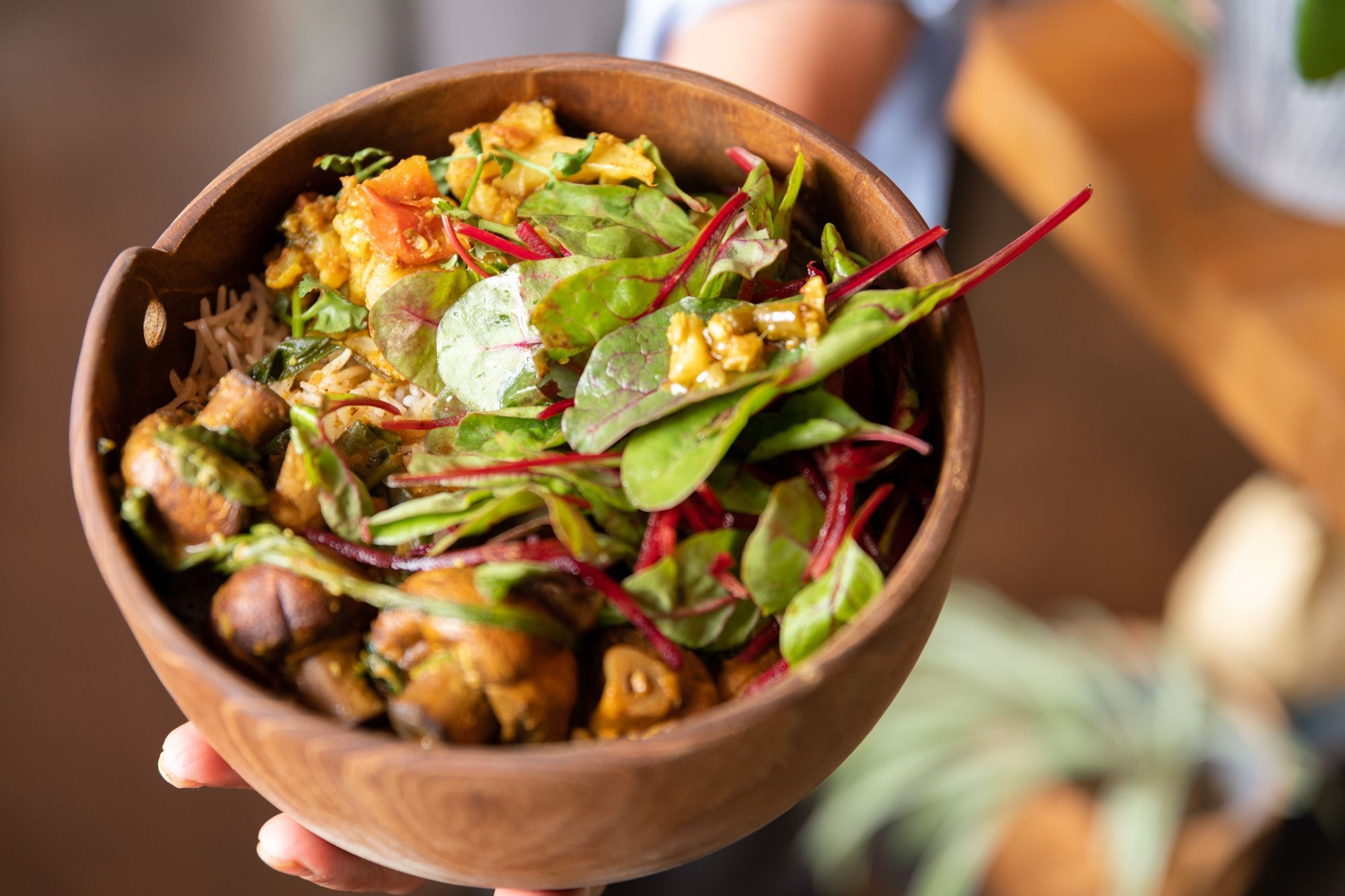 Each day there two or three pots of hot soup on offer which might be Japanese Mixed Mushroom, Thai Tom Kha, Beetroot and Coconut with Cumin or Chinese Chicken Congee. Whatever it is, it is sure to provide exotic flavours and deep umami comfort in a bowl.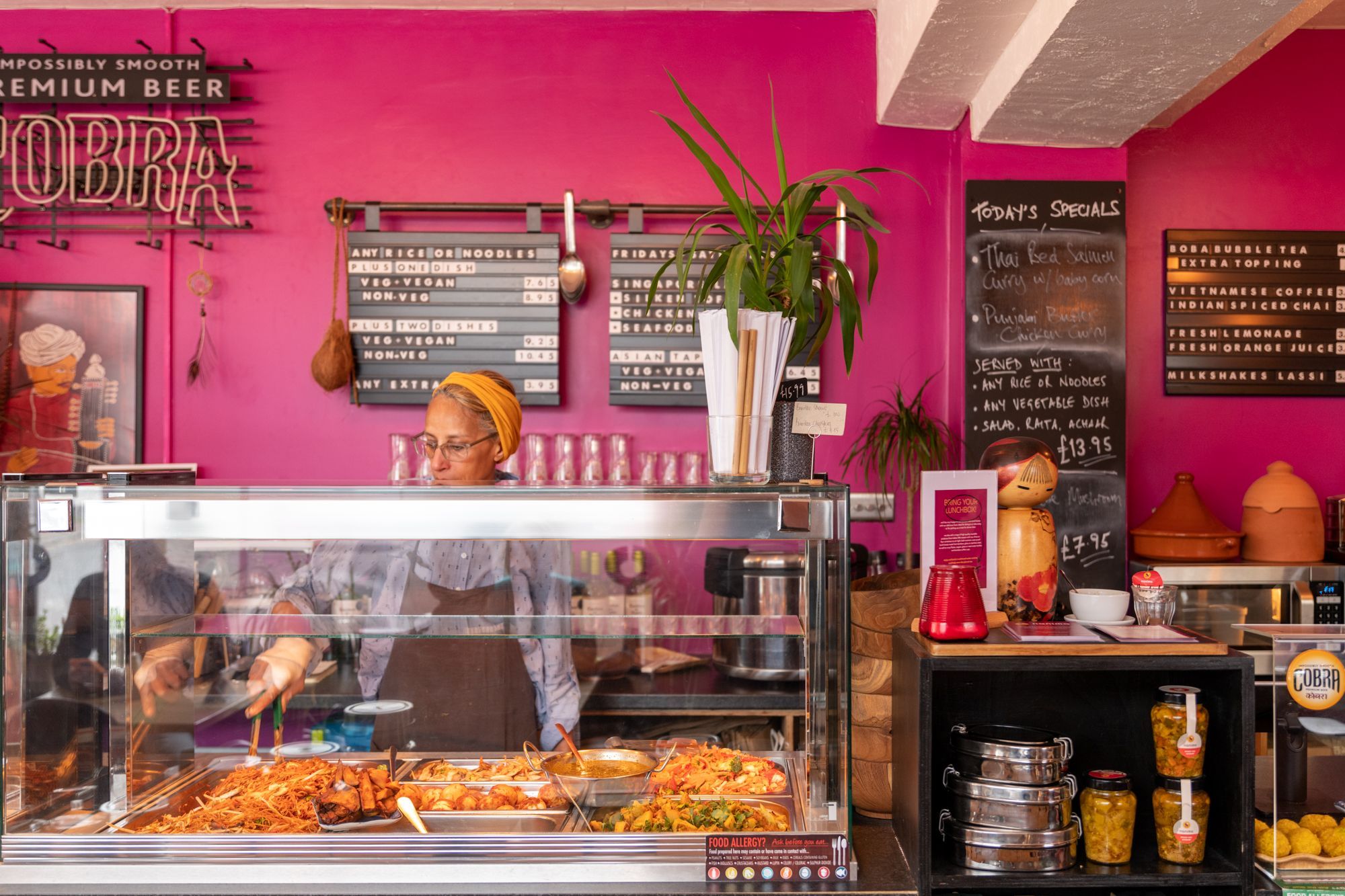 Singapore Laksa and Thai Papaya Salad are Nanima's signature dishes. They're only available as weekend specials and always sell out, so arrive early or ring ahead to avoid disappointment. On weekend mornings, you can also enjoy a zingy chilli masala omelette, wrapped in paratha and stuffed with paneer, while you read the paper in peace.
Cafe delights at Nanima Brighton
Open from 10am, Nanima Brighton offers freshly ground Union Hand-roasted Coffee plus a dazzling range of speciality teas –  including some house blends – and a full range of dairy and plant-based milk. Nanima lovingly brews up authentic Vietnamese coffee each morning which is traditionally served with a teaspoon of condensed milk as well as Indian spiced chai and moorish mango lassi. You can also order fresh juices, smoothies, bubble tea and shakes.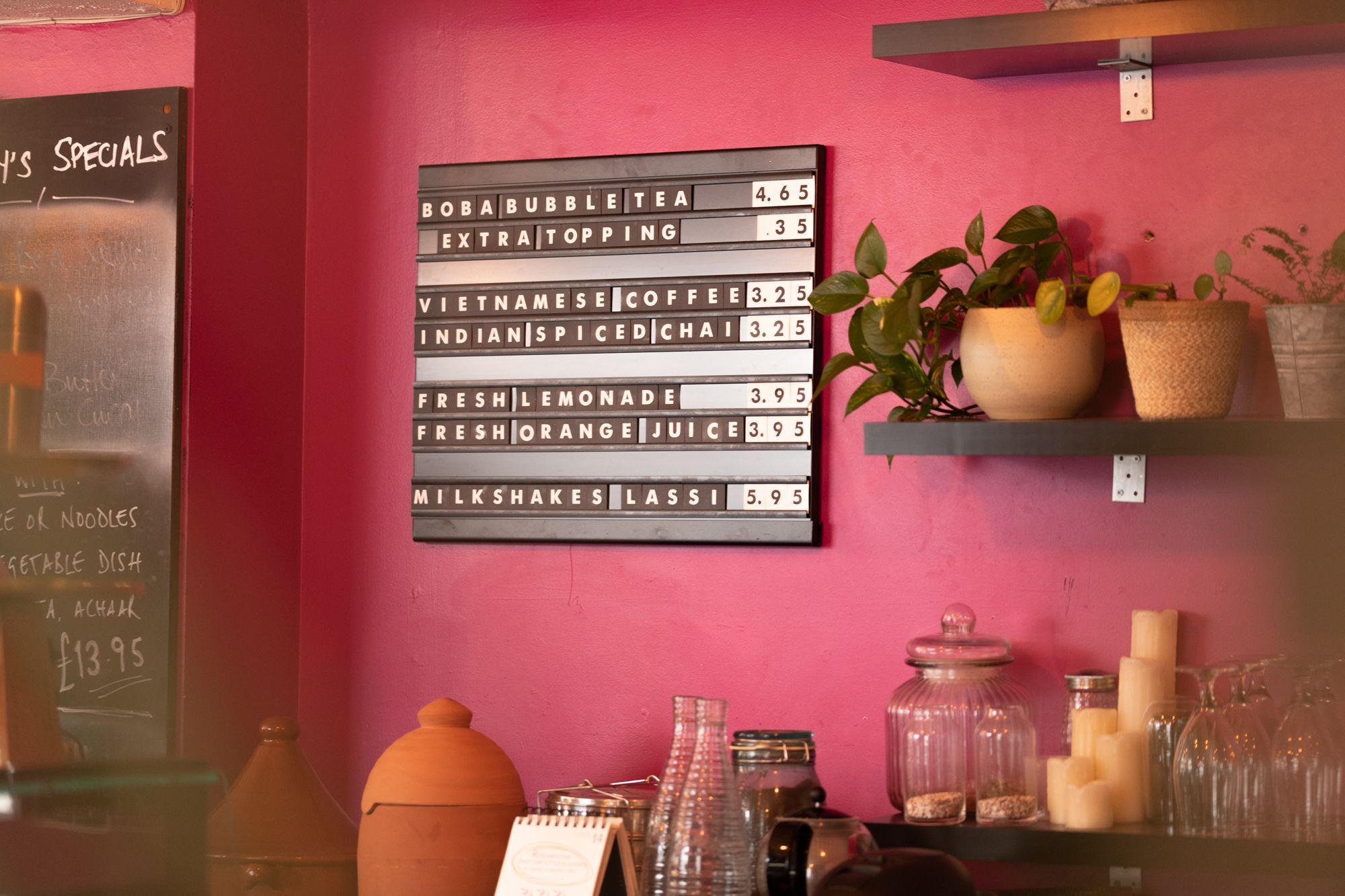 There is a counter heaving with home-made cakes, pastries, flapjacks and delicious custard tarts. A great selection of enticing Asian-inspired sandwiches like Vietnamese Bahn-mi appear mid morning swiftly followed by irresistible snacks like homemade samosas and pakoras, spring rolls and spicy chicken wings.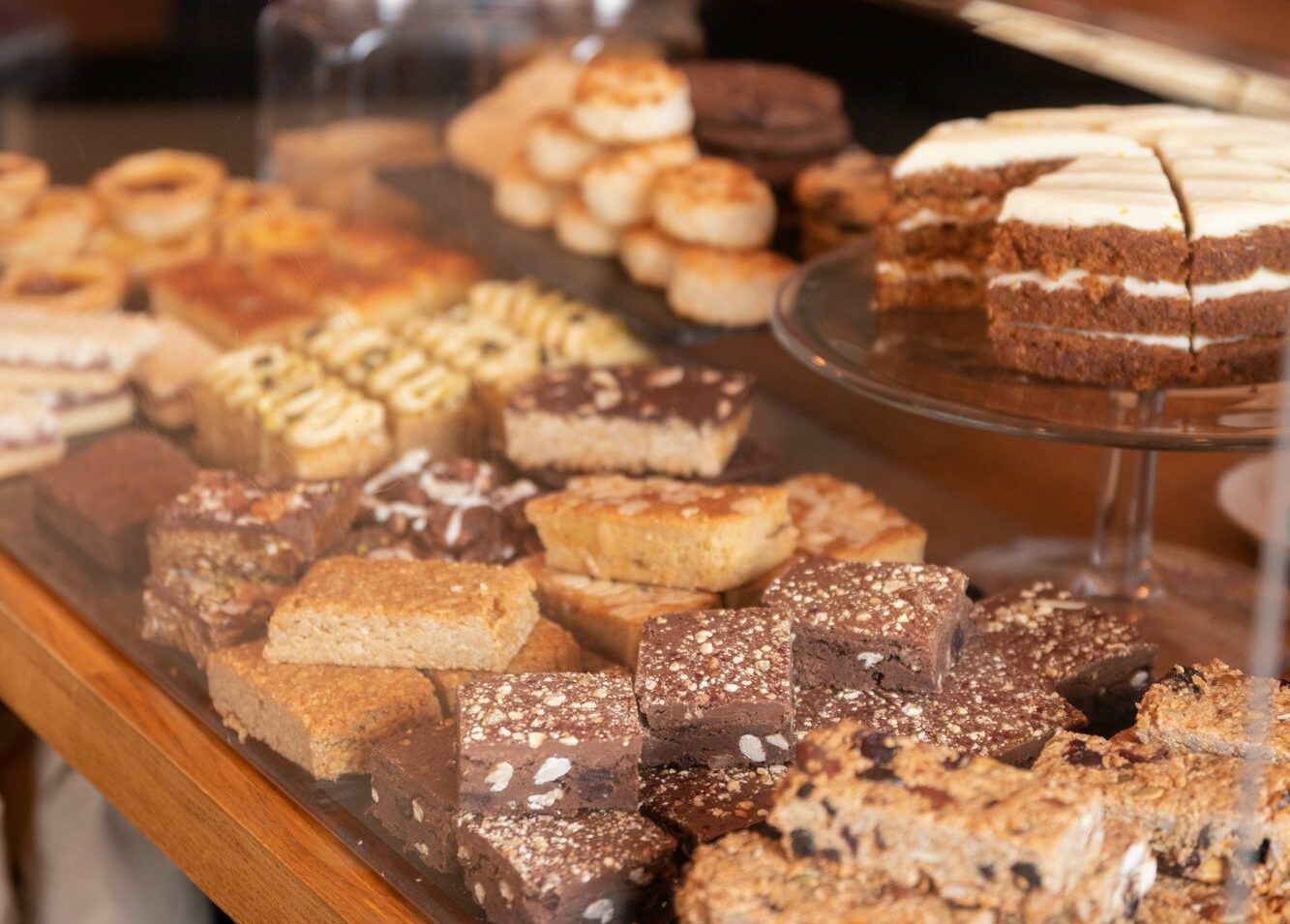 Nanima Brighton welcomes customers all day for coffee, cakes, sandwiches and snacks. You're welcome to set up on one of their cafe tables, use the wifi, and remote work in Nanima while you enjoy the delicious treats on offer.  
There is also a small room at the back which you can book for a dinner party or working lunch. Lonnie and Nicky are happy to discuss catering options for external events.