Kemptown is special for Brightonians and has a well-deserved reputation for being eclectic, welcoming, unapologetically weird at times, and supremely inclusive. However, for many Brightonians working in healthcare, it also means where we work and play, being host to the Royal Sussex County Hospital. My partner and I are two such NHS workers and have had plenty of evenings down the streets of Kemptown looking to celebrate the end of a stretch of 13-hour shifts, debriefing with our co-workers and friends, or just winding down when cooking feels a little too much of an ask.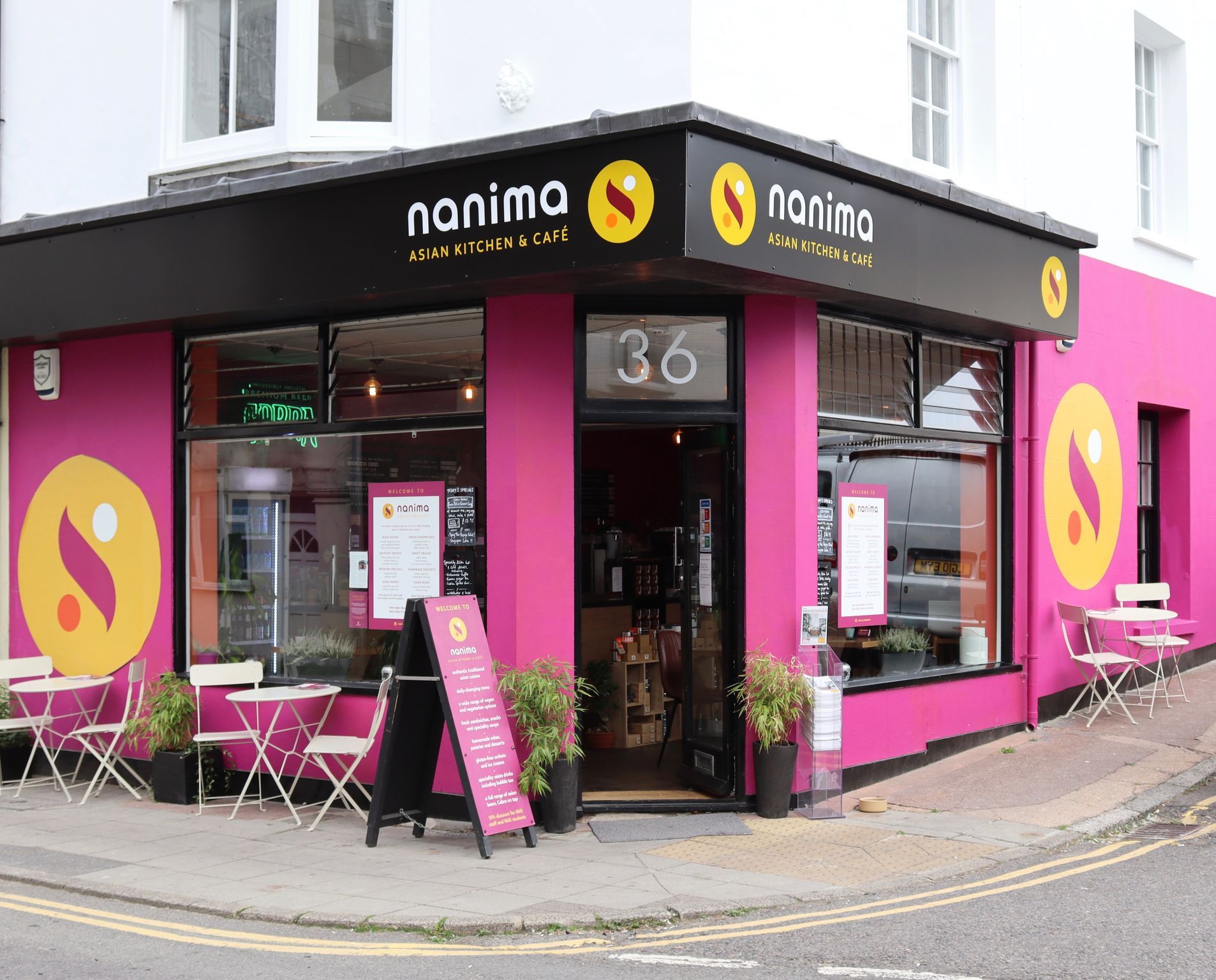 Nanima is one of the first spots you come across walking from the hospital towards the town centre and the view through the warm, vibrant windows was always a tempting offer. My other half and I gave in to temptation last Friday.
Welcoming, comfortable, but never dull
Taking two of the 20ish covers and surveying the restaurant, we surveyed a restaurant of full, relaxed, and chatty diners. To many, this was neither their first nor last visit. Owners and proprietors Lonnie and Nicky flitted between tables at ease sharing snippets of conversations and recommendations. Their welcoming, casual, fun, and enthusiastic personalities gleam as you survey the restaurant with its bright pink and orange art-laden walls, with classic rock and roll tunes playing. An eclectic mix of reusable food storage containers and water bottles on offer are tucked in between the multiple counters offering savoury food and sweet treats. On that note…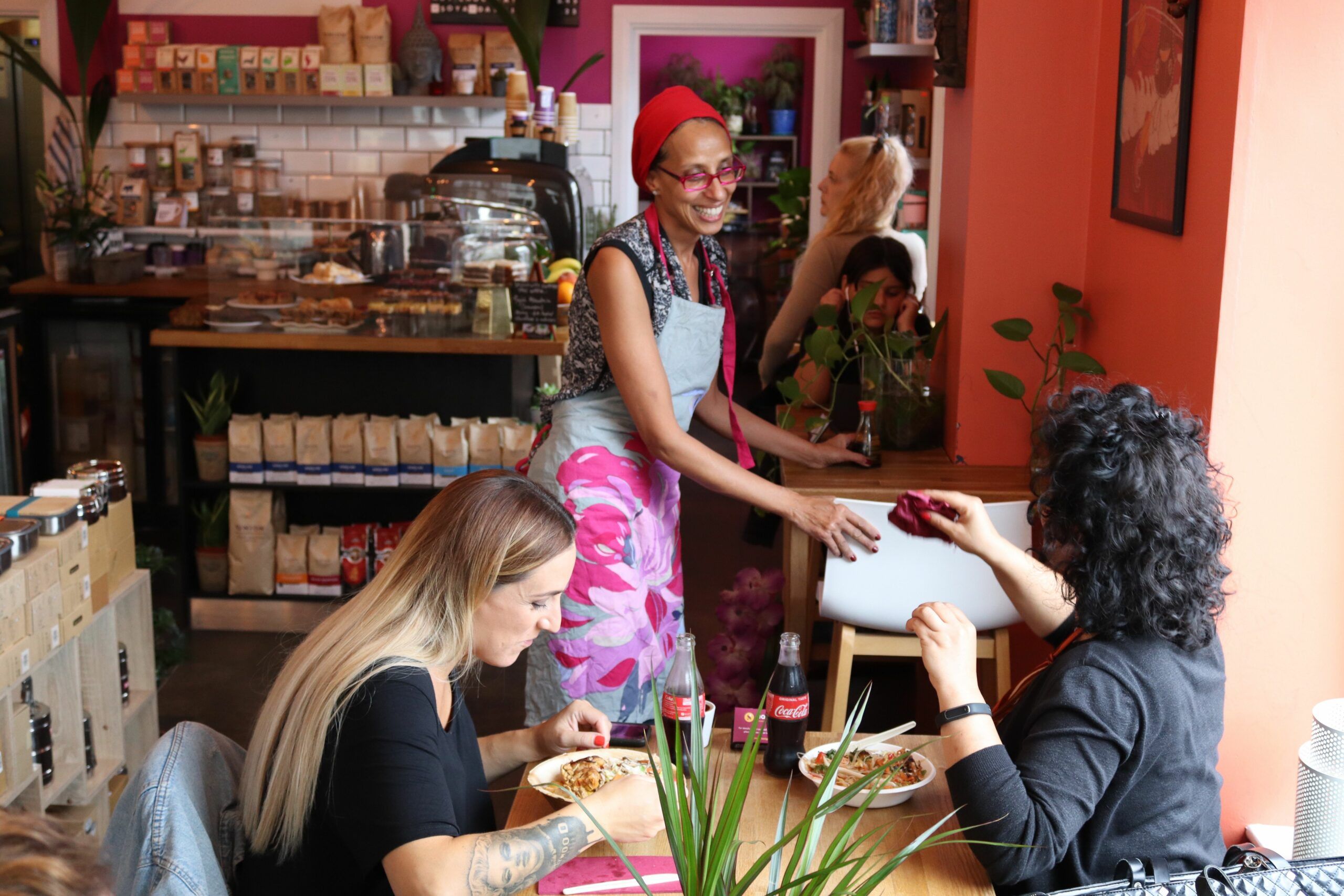 The food and drink
Lonnie whizzed us through the set-up as we were seated. Everything is cooked fresh in big batches on the day, and the precise menu is whatever Nicky fancies that day. There are a few greatest hits making regular appearances (the laksa, more details below), but a number of different mains, side dishes, soups, and small bites are made throughout the day, and when they're gone they're gone. We found this an exciting and waste-sensitive approach to cooking. Furthermore, for not being cooked to order, not a single dish lacked any freshness.
The drinks on offer vary from Cobra on tap to a number of house specials: my other half immediately opted for the sweet, tangy, and refreshing mango lassi, but we were sorely tempted by the homemade chai. There is even a short wine list, and I couldn't resist trying a glass of Indian red wine (Indian wine?!).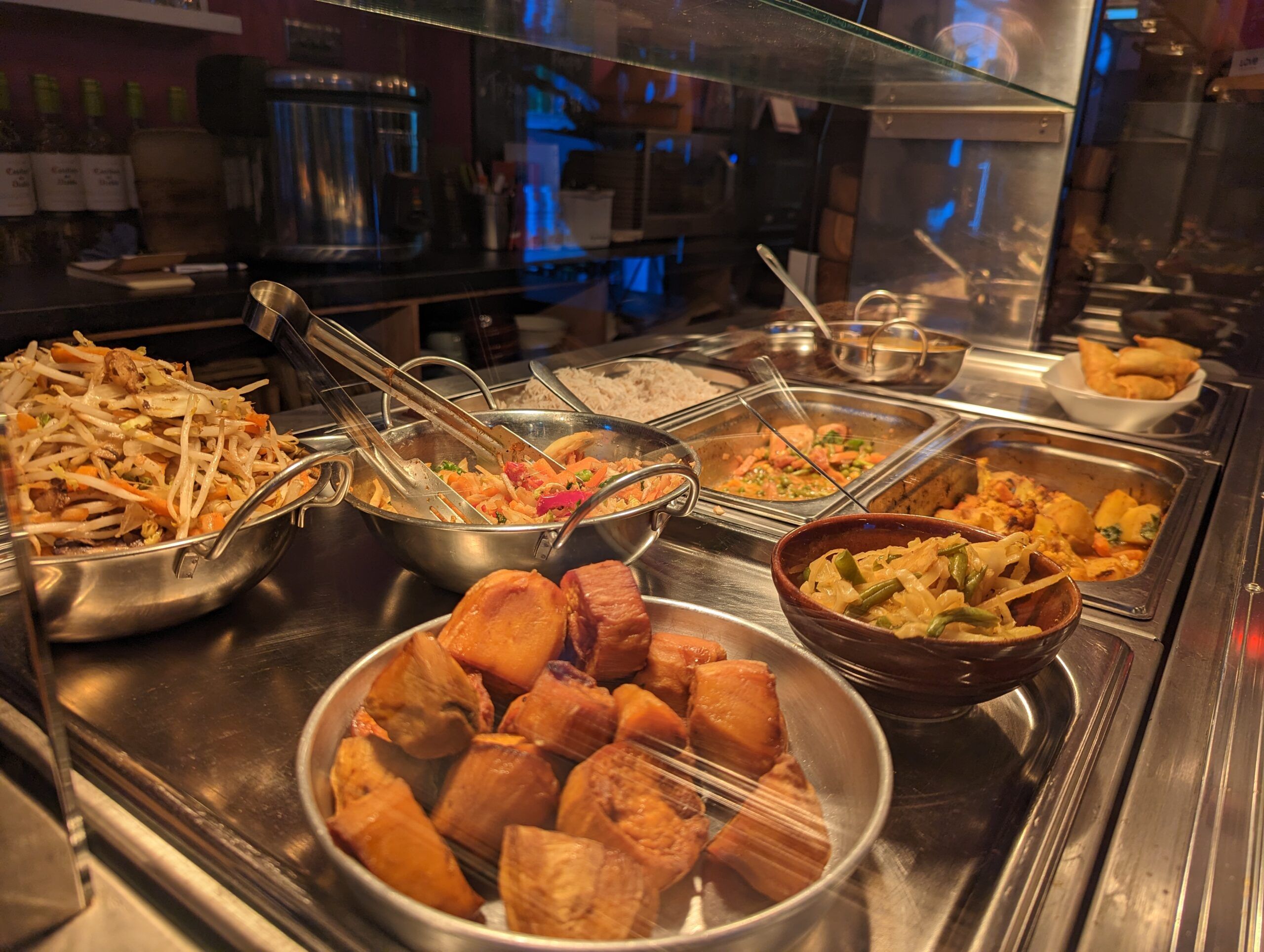 Flavours and inspirations span South and East Asia, and there were options from Singapore, Malaysia, North and South India, and China to choose from. Ordering at the counter allows you to view the broad selection of small, medium, and large plates on offer. Personalisation is welcome as you can pick and mix dishes to your appetite and palate's satisfaction.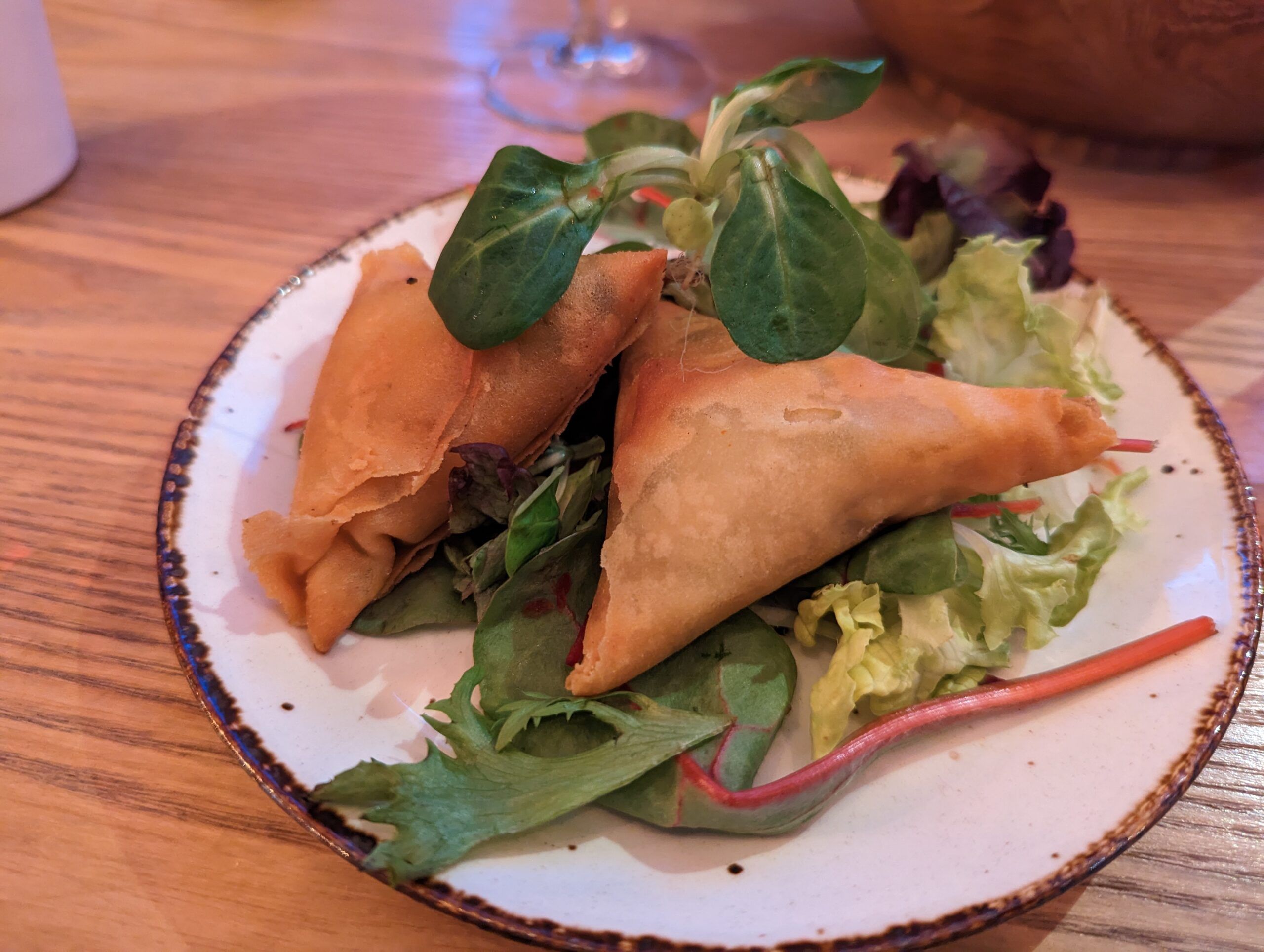 We started with one of their "Asian Tapas" dishes. Their three-biter samosas are perfectly crisp and the homemade achaar pickle (available to buy by the jar as well) incorporated into the filling was exactly what was needed to elevate this classic dish.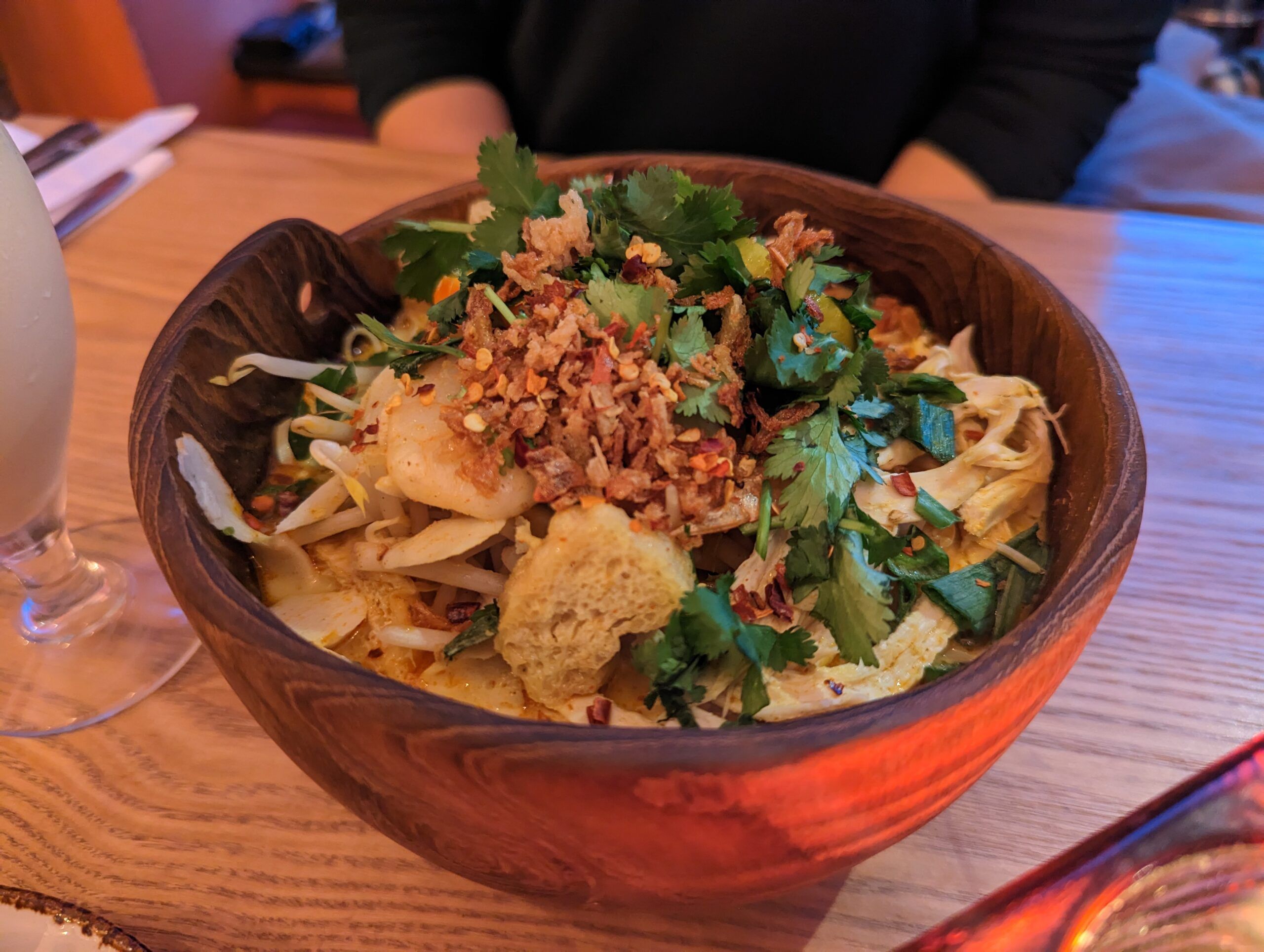 Ordering the laksa was a no-brainer. It can be personalised with the addition of tofu, chicken or prawn, and we went for the supreme option – all three. A good laksa curry is never guaranteed outside of Southeast Asia, but Nanima were very successful in delivering a huge bowl packed full of savoury, tangy, and fresh flavour.
There was crunch from the beansprouts and herbs, and there was chew from the fish balls and chicken. The fine rice noodles were cooked perfectly and were eminently slurpable. Special mention to the fried gluten that soaked up the fragrant, flavourful broth only to release it in an explosion when eaten. I'm counting down the days until my next bowl.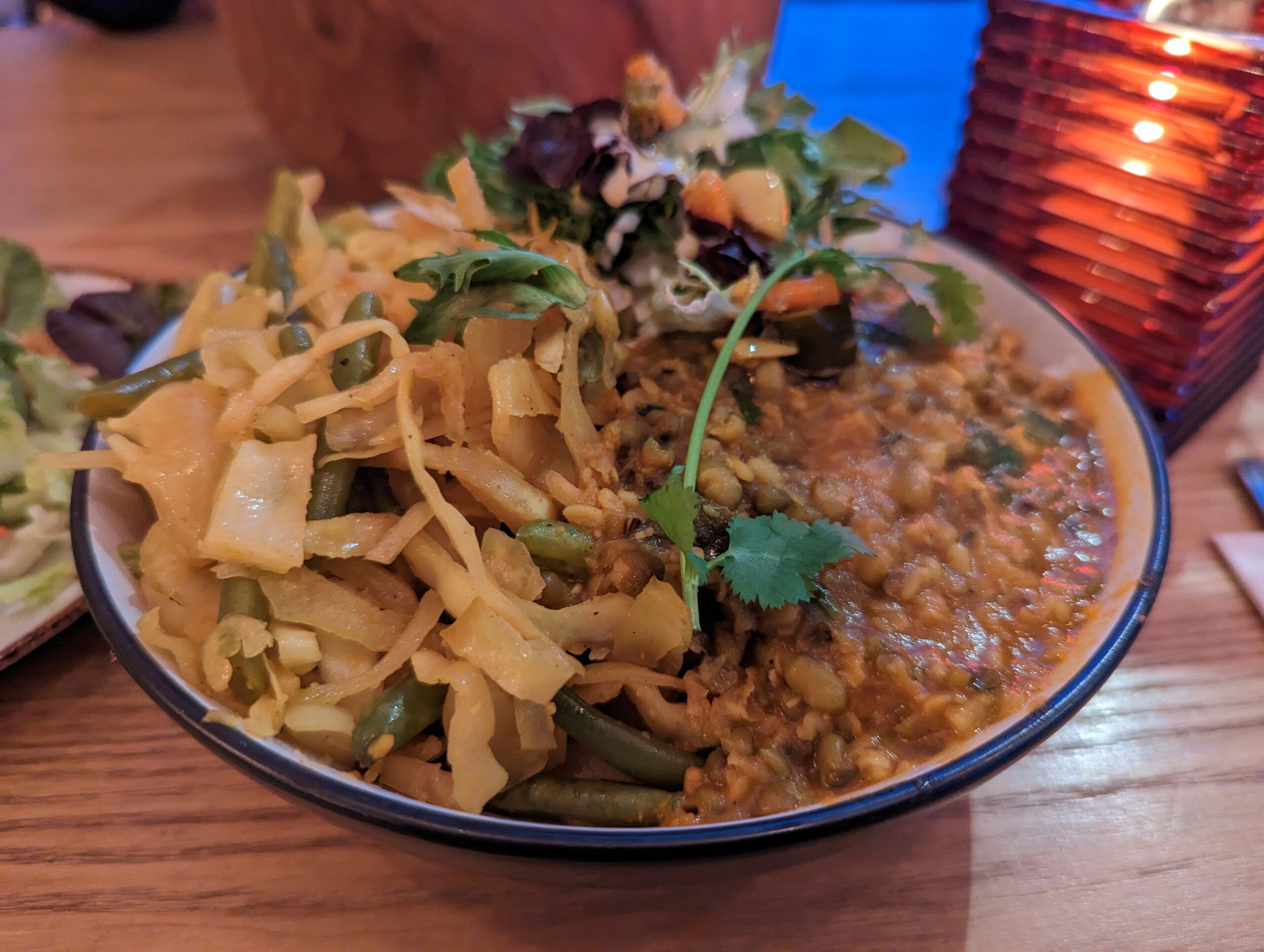 I had a mixed bowl of the tarka daal, rice, and a veg side of Malaysian cabbage and green beans. All this came with a side of salad and raita. This would have been the boring option growing up in my Indian household (sorry Mum), but Nanima's magic ensured the daal was complex and bright, and the veg side offered a pickle-y moreish crunch. The other two veggie side dishes available leant on flavours across Southeast Asia and looked just as intriguing.
As a third main to share (this is how me and my wife order, don't judge), we went for a Goan Chicken Kebab skewer. A single skewer was a generous portion, cooked succulently, and garnished with fragrant fried curry leaves. The super savoury, tart, and complex tomato and onion sauce ended up being mixed in with my rice to make sure we didn't lose a drop.
A brief disclaimer – we ordered three mains but would have been very satisfied with two. We were delighted, but we did waddle out…
Sweet treats and everything else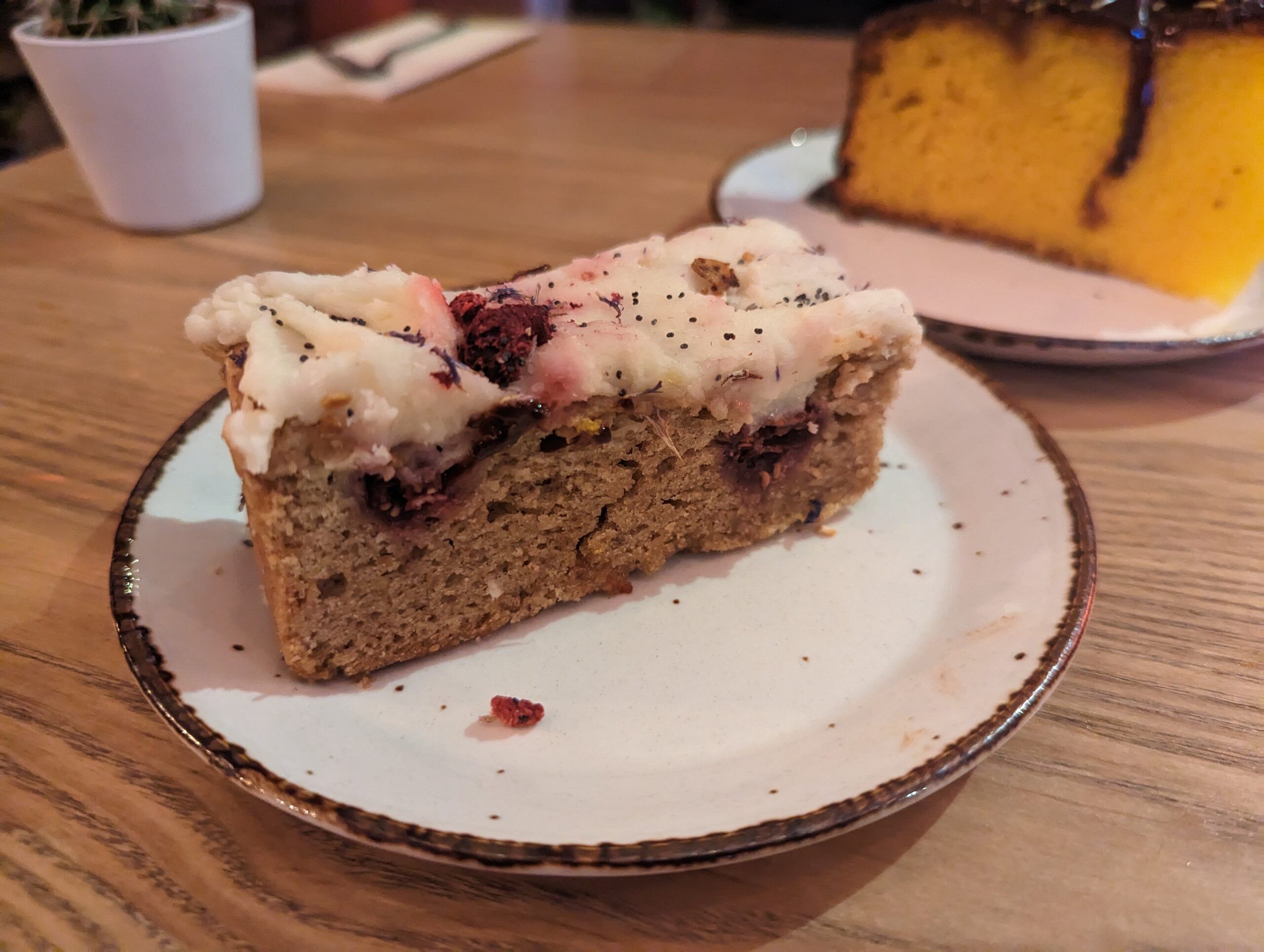 It's impossible to miss the giant counter of sweet cakes and bakes. More than ten options of cakes, cookies, and flapjack are available, either baked in-house or sourced locally. The slice of raspberry, lavender and whisky cake was well balanced and floral, but we were seriously impressed by the orange curd chocolate fudge cake. The cake is saturated by moist chocolate curd but remains light enough to make finishing a large slice a pleasure.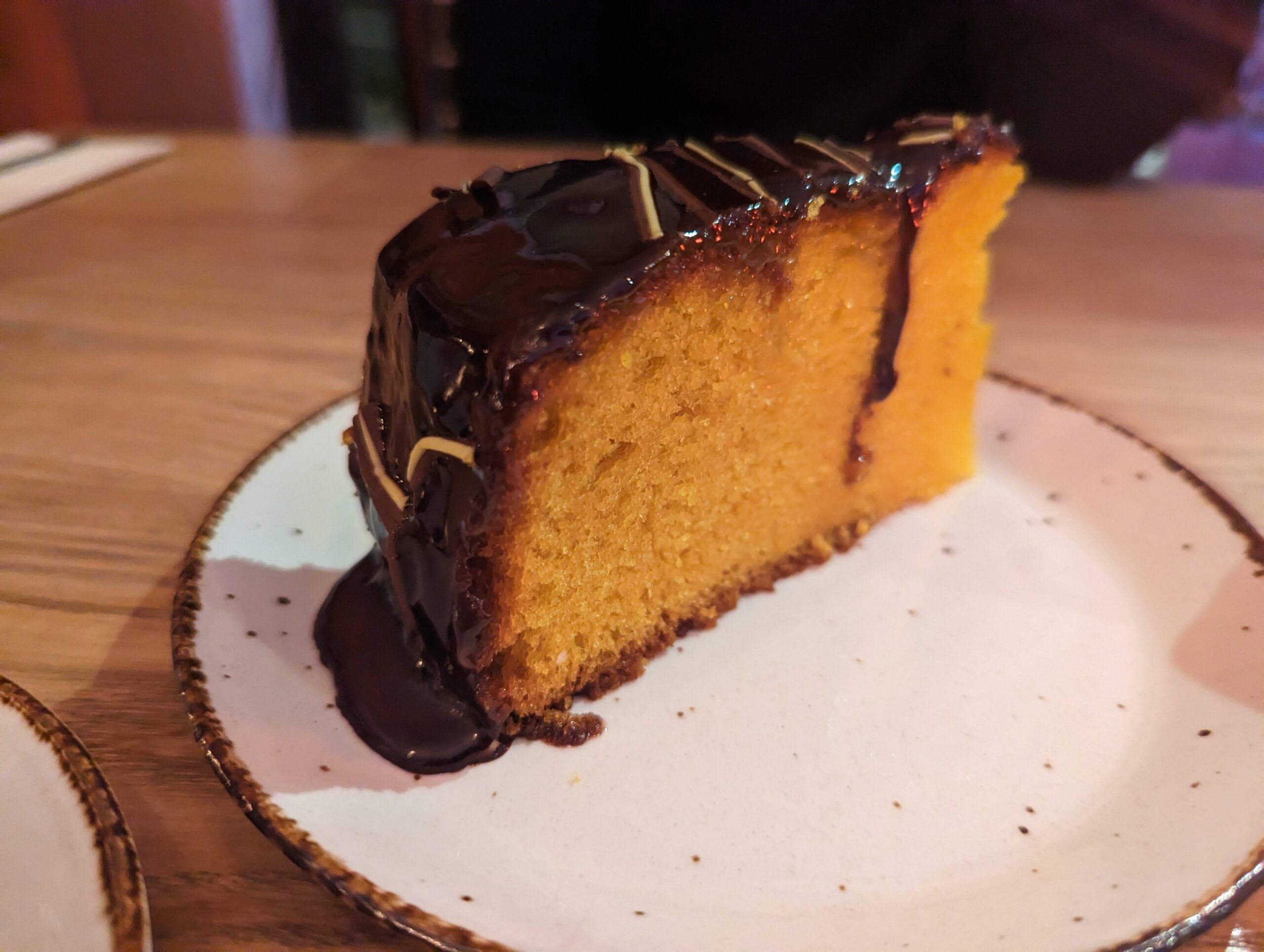 The locally sourced Indian sweets are high on the to-eat list for our next visit. I suspect they would go down a treat with their homemade chai.
Finally, a shot of locally roasted espresso was well extracted and just what I needed for the home journey.
It's a party!
Pan-Asian cooking is a challenge to do faithfully but Nanima delivers. Nicky has first-hand knowledge of flavours and cooking techniques across the continent and this is definitely at play in Nanima's food. While dinner was delightful, I could happily pop in for a quick lunch, or take it away to make my work colleagues jealous. 
Their coffees, cakes, and wide selection of home-made tea infusions make it a solid choice for an afternoon catch-up as well.
Nanima means grandmother in Punjabi, and those vibes of being welcomed and fed heartily live up to the promise. However, with the vibrant surroundings and exciting food, it feels like Nanima's throwing a party and you're invited!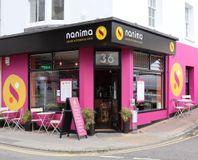 Want to know more about Nanima Asian Kitchen & Café?
Find Out More