The Port Hotel in Eastbourne is unmissable, the dark grey facade stands out against the otherwise pastel seafront, and exudes contemporary sophistication. The location is exceptional, just steps away from the seafront and boardwalk, and only a pleasant 5 minute walk to the iconic Eastbourne pier. Their outdoor patio overlooks the ocean and has plenty of seating for guests and walk-ins alike.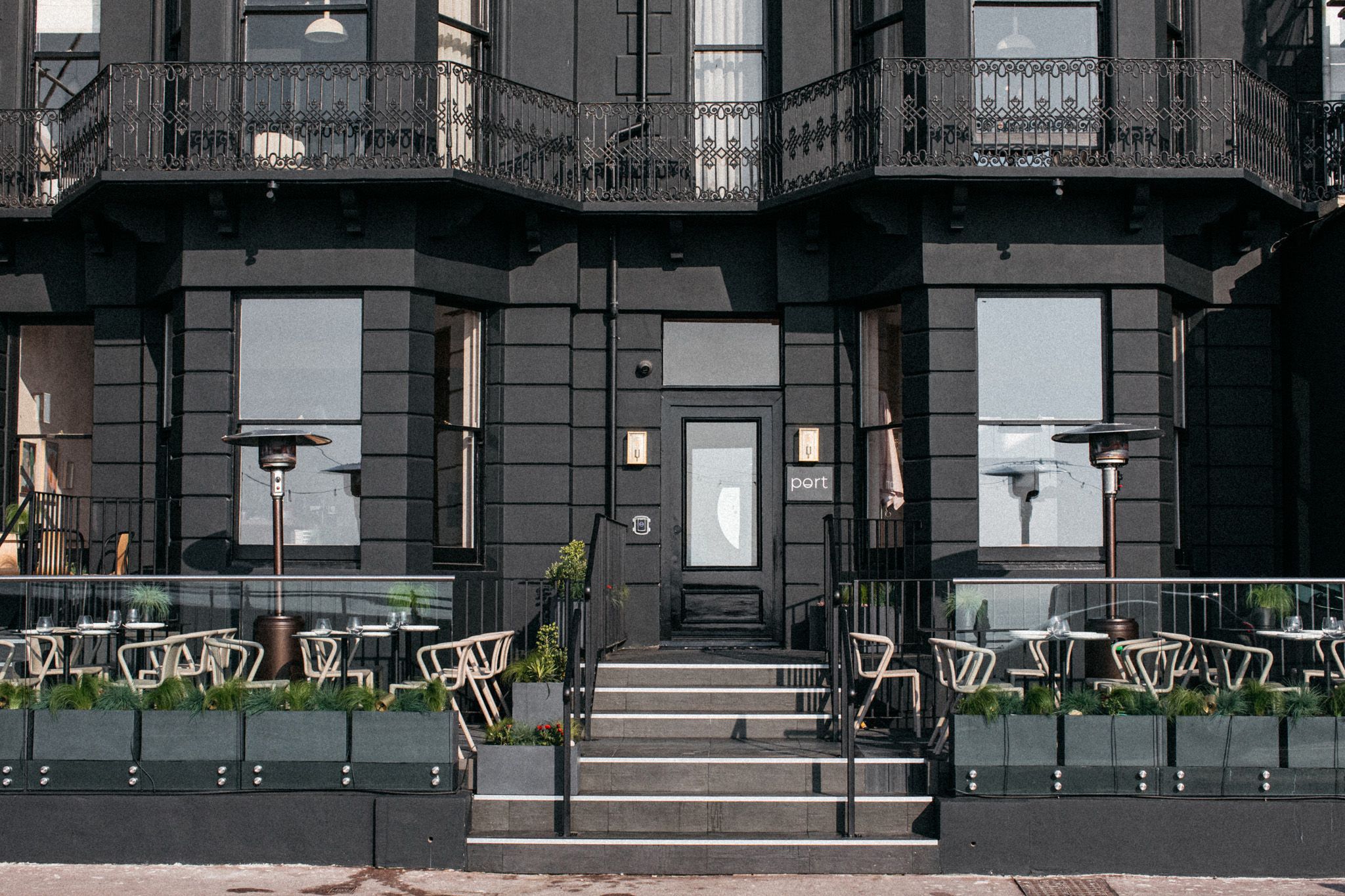 With high ceilings and plenty of light pouring in from the windows the space was warm and inviting from the moment I entered. After a quick check in, I headed upstairs to my top floor room.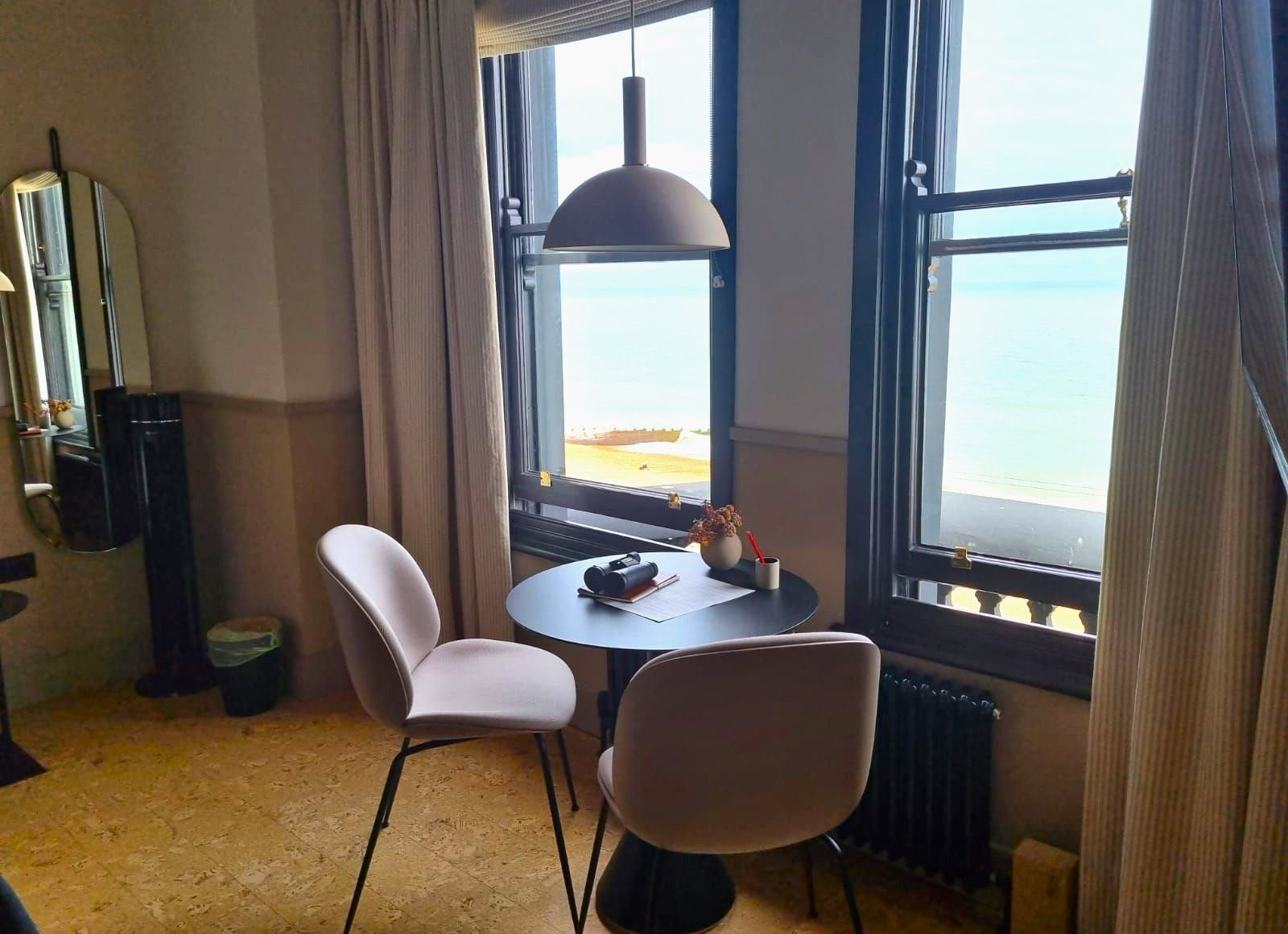 Serenity as far as the eye can see
With contemporary decor, two bay windows with uninterrupted sea views, and a dreamy extra deep bathtub, my room was exactly what I didn't know I needed. As a mum of two I find it hard to find quiet and calm, but this space was exactly that. It was a mature sophisticated moment made just for me to simply unwind, away from it all.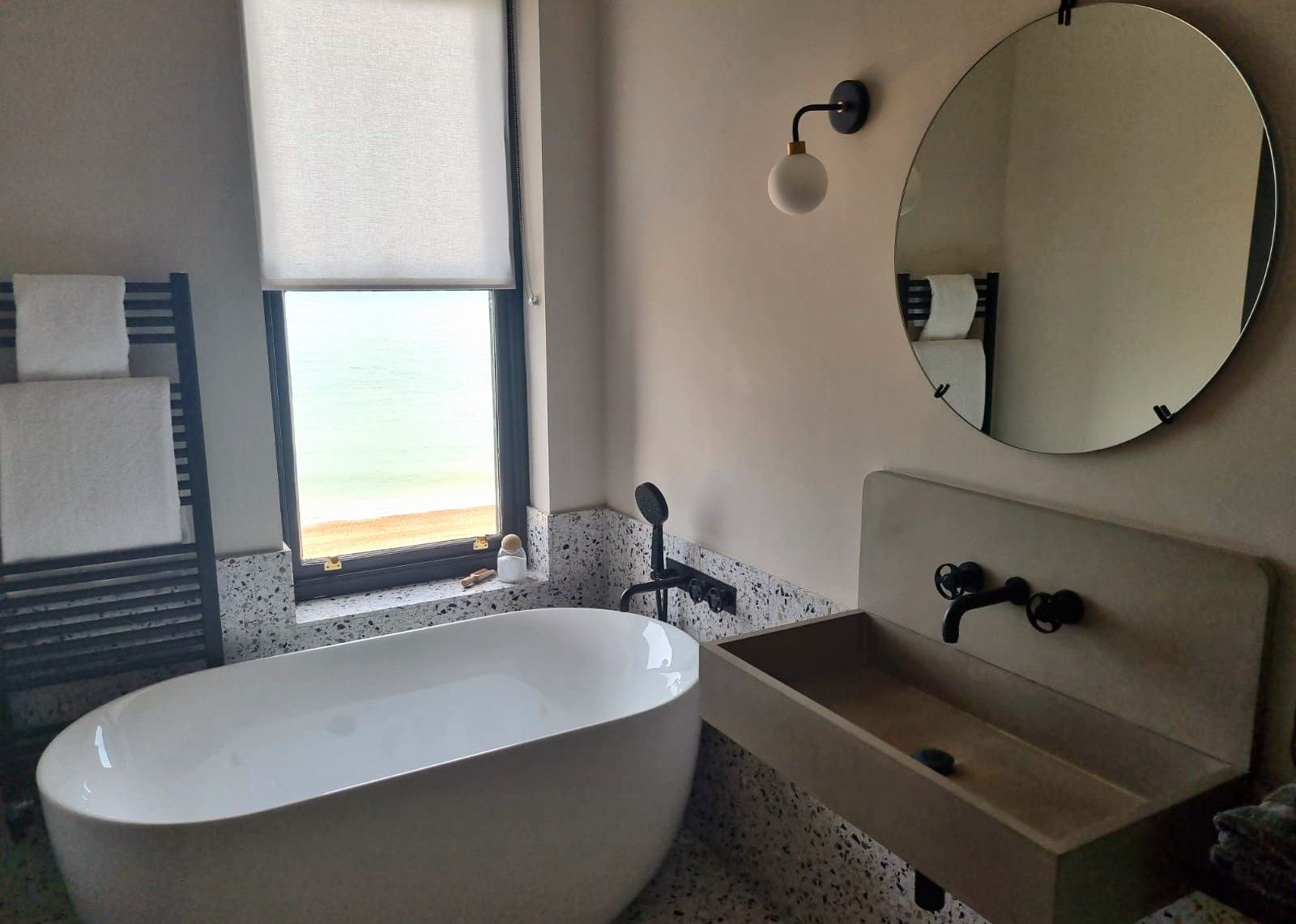 Terrace cocktails to start
Once refreshed I headed downstairs to meet my date and enjoy a couple of expertly crafted cocktails on the terrace.
I had the gin and cucumber cocktail with mint aromatics, it was wonderfully refreshing and cool. The other was a beautiful play on a pisco sour that was tart, but creamy and vibrant pink.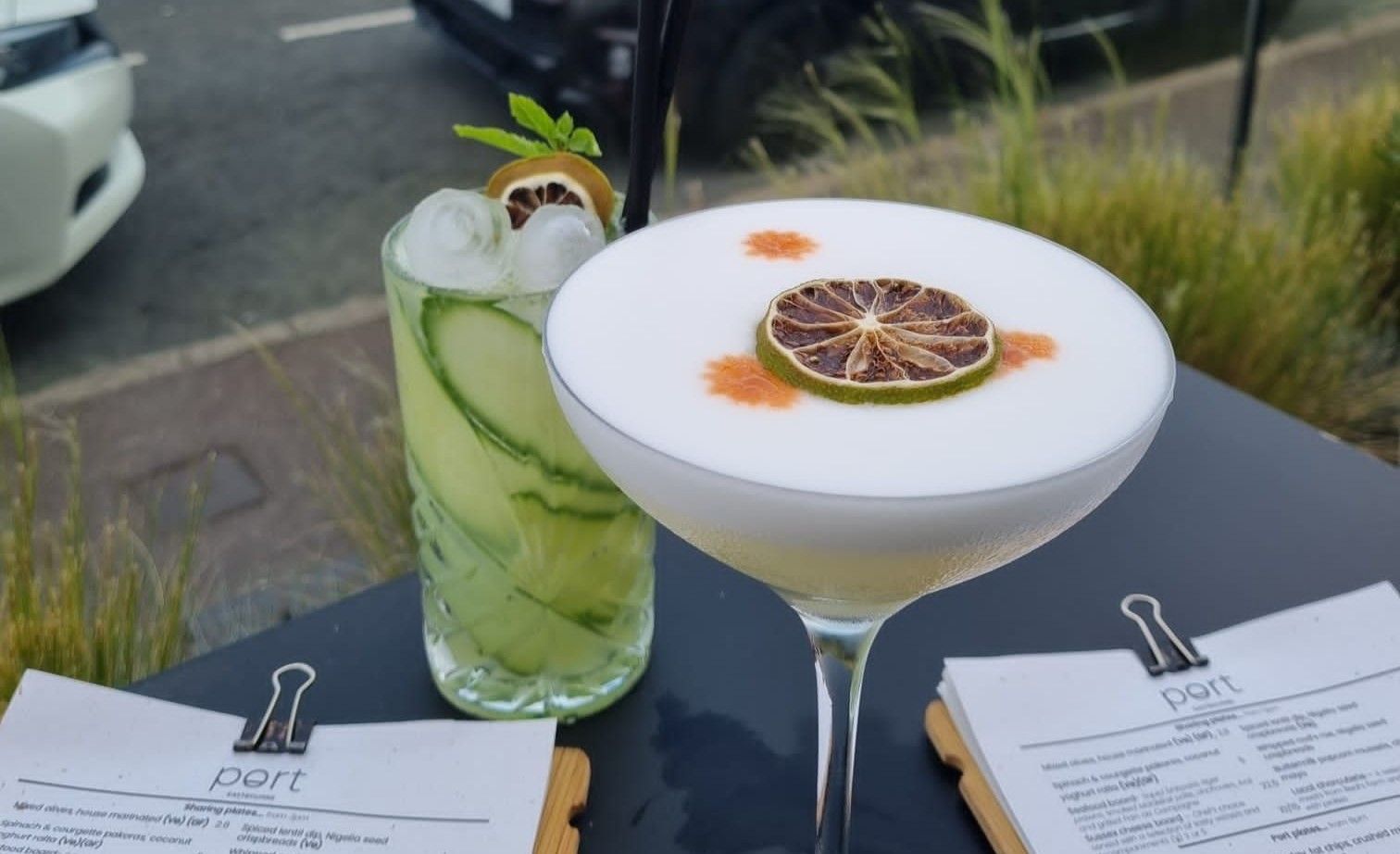 Seaviews and seafood
For our starter, we ordered the shared seafood board. Eastbourne has a strong fishing culture and the seafood was as fresh as you can get. My personal favourite was the squid antipasti, tender and soft, I loved the bright purple brine. We also ordered the buttermilk popcorn mussels which were crispy little pops of deep fried seafood deliciousness! When dipped in their homemade chipotle mayo it added just the right amount of cream and spice.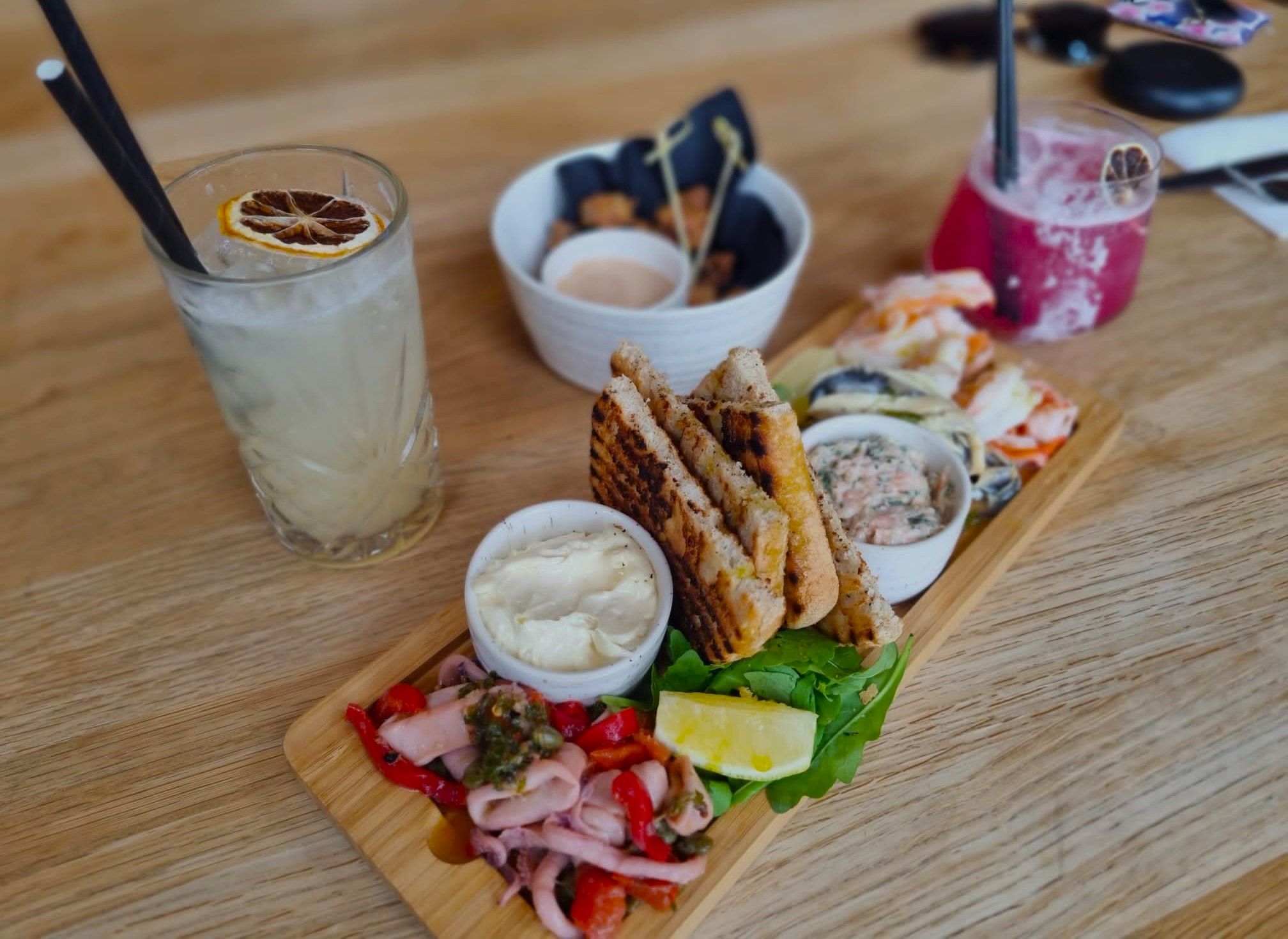 For mains I ordered the Clapham Farm free range pork shoulder, bisque braised borlotti, clams, slow roasted tomatoes, tapenade. The pork and clams were tender and sweet, with plenty of umami, and the tapenade really stood up against the bold flavours of the rich pork.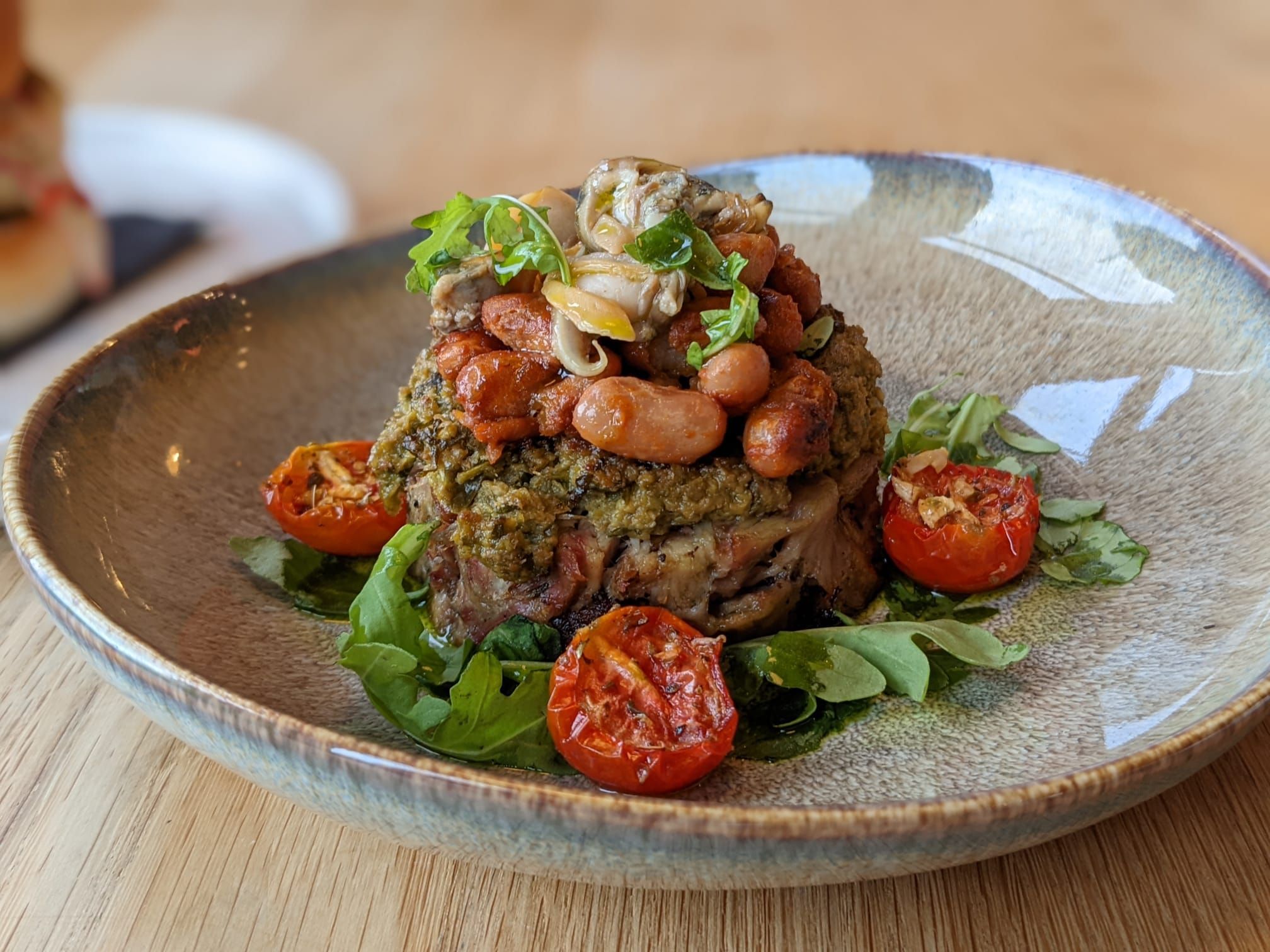 My date ordered the cod, crab and prawn patty with jalapeno salsa, brown crab mayo, sesame slaw, brioche bun. Again the seafood was as fresh as possible and very generous, the only thing I would have changed was to have ordered a side of that brown crab mayo, it was so moreish!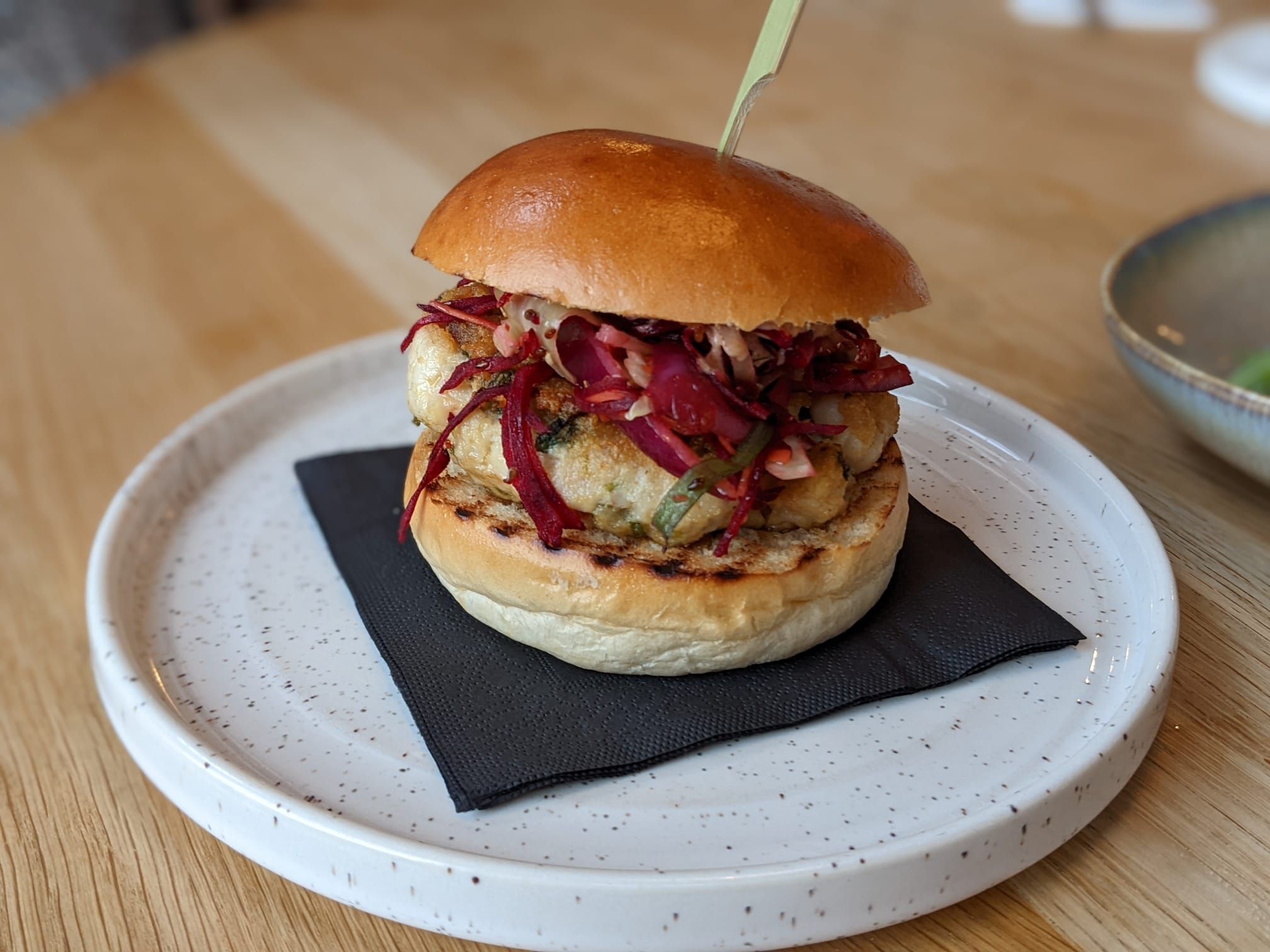 After dinner, we retired to a comfy couch for dessert. We ordered the Kentish Strawberry Sundae, which we shared over a relaxed conversation and another cocktail (but who's counting!)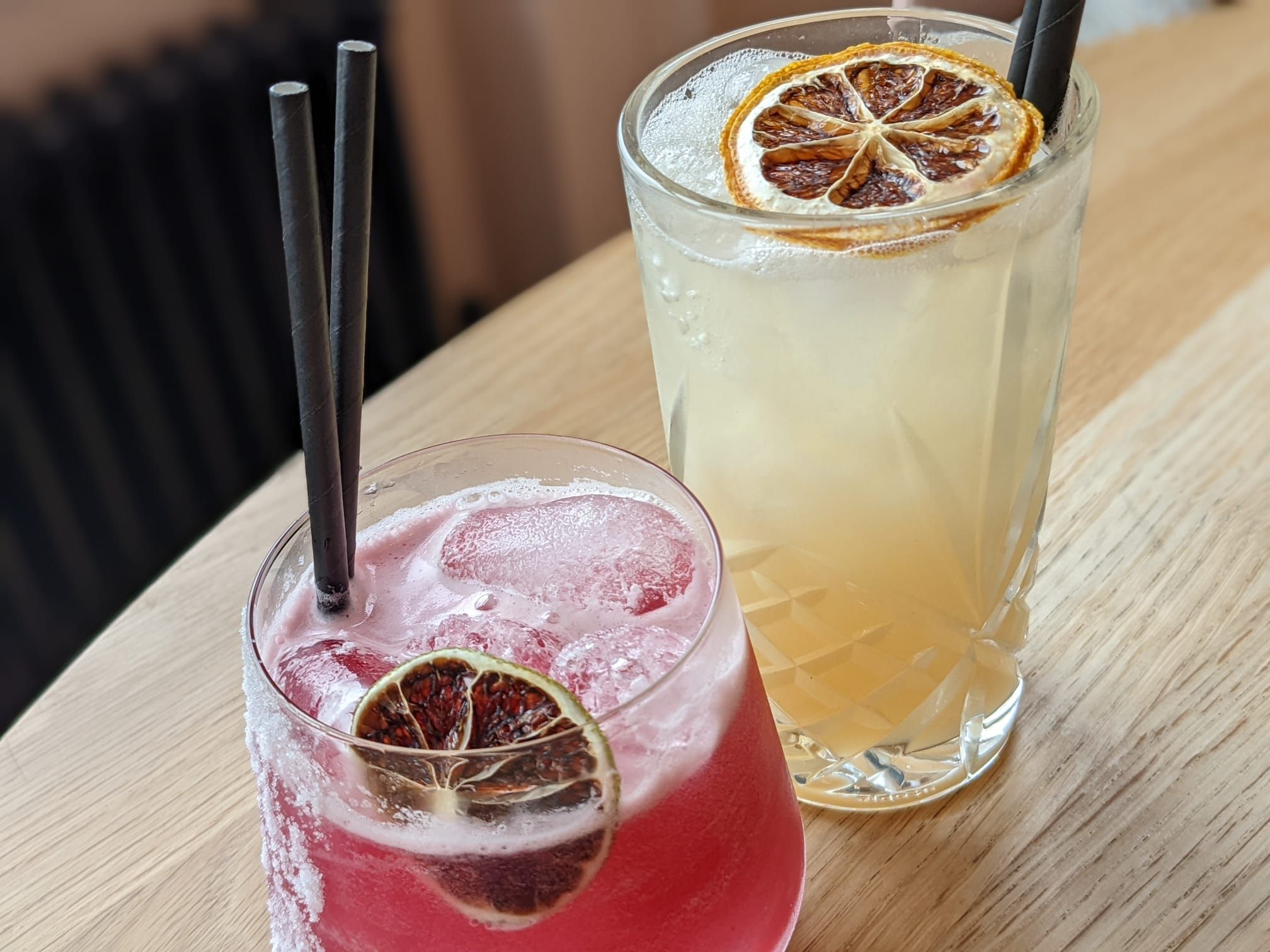 Thoroughly well fed and only a little bit more than a little tipsy, it was time to head upstairs for a relaxing bath and a great night sleep.
The morning after the night before
The next morning I rose early and went for a gorgeous run along the Eastbourne seafront out to the end of the pier. 
Just a 40-minute drive outside of Brighton and it feels like a world away. The pebbles are the same, but the pace is slow and relaxing. A world away from the thronging hoards jostling for position down West Street and dumping out onto Brighton beach. I stood in the morning sun sipping my coffee with only the sound of the sea on the stones. My only company was a few fisherman pottering to the end of the pier. After a luxurious shower, it was time to check out and head downstairs for brunch. 
One last thing before I go – breakfast
My date joined me again and we sat in a sunlit table overlooking the cerulean sea. I ordered the iced latte with smoked salmon and scrambled eggs, with a side of tomato and avocado (very Californian).
Salmon on eggs is one of my absolute favouirite starts to the day, fresh and light, plenty of protein, and when served atop toasted sourdough and a side of creamy avocado and ripe tomatoes on the vine, there's no stopping me.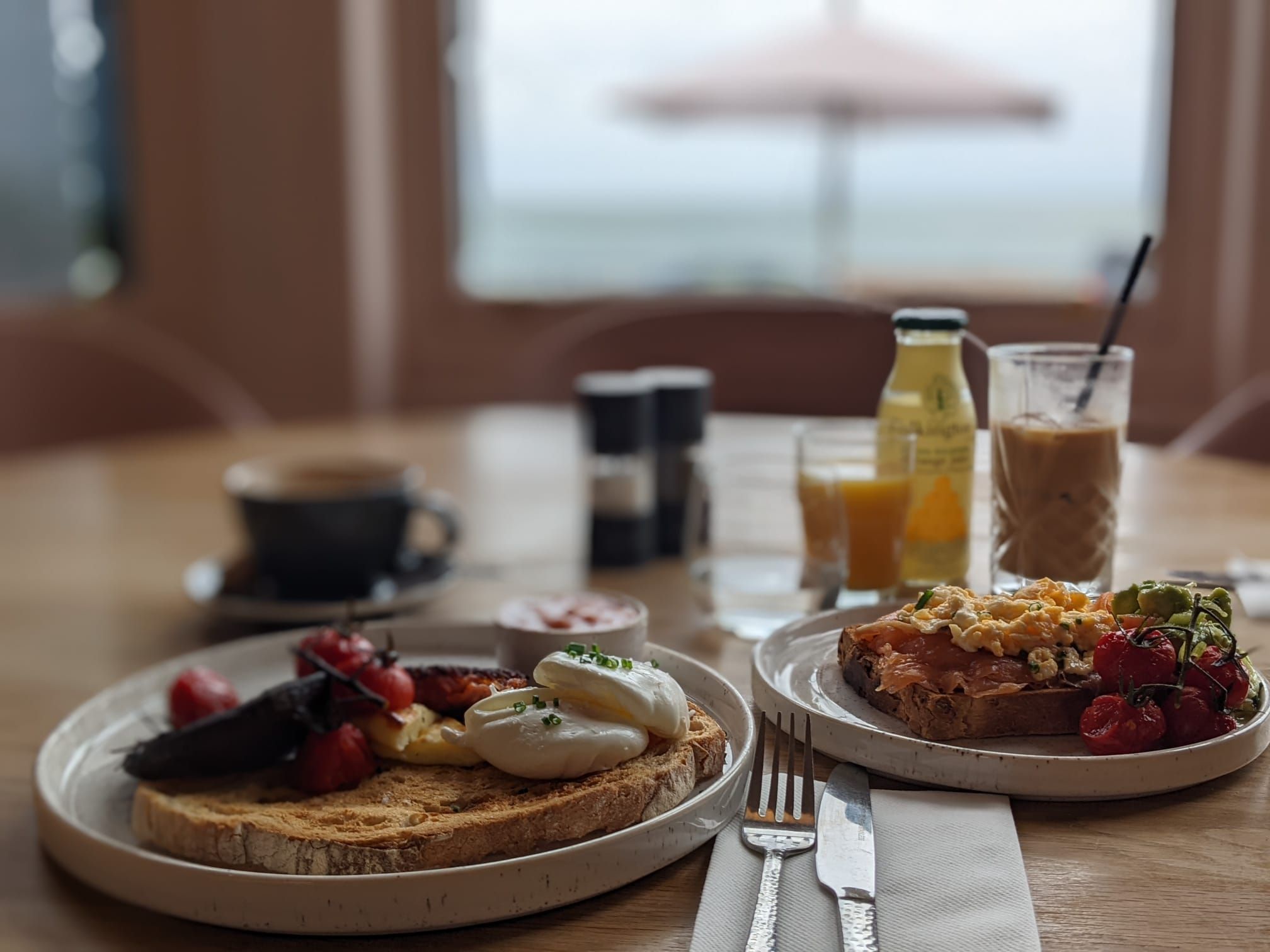 My partner's Full Vegetarian Breakfast was full indeed! With generous slices of halloumi, atop freshly baked and toasted buttery sourdough, slow roasted vine ripened tomatoes and a seared steak-like portobello mushroom. The eggs were poached easy with a melty gooey golden yolk, which poured out onto the crispy homemade made hash brown, which I may have stolen a bite or two of! The salty crisp pull of a freshly cooked hash brown was too much – I'm only human! 
I felt thoroughly pampered by the lavish attentions of the Port Hotel staff. And after a glorious morning routine, made even better by a stunning sun-soaked breakfast, I felt recharged and reinvigorated all over. Sometimes all you need is a change of pace, a gorgeous sleep, and some sensational food and friends to make the world seem even brighter.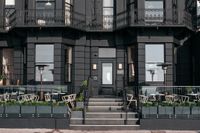 Want to know more about Port Hotel, Restaurant & Cocktail Bar?
Find Out More