Music inspired cafe near Queens Park
Starfish and Coffee Brighton is located right next to the beautiful Queens Park in Brighton and specialises in brunch, pastries, homemade cakes and excellent tea & coffee. In 2020 Starfish and Coffee won the Brighton Restuarant Award for Brighton's Best Cafe, a title they retained from the 2019 BRAOs.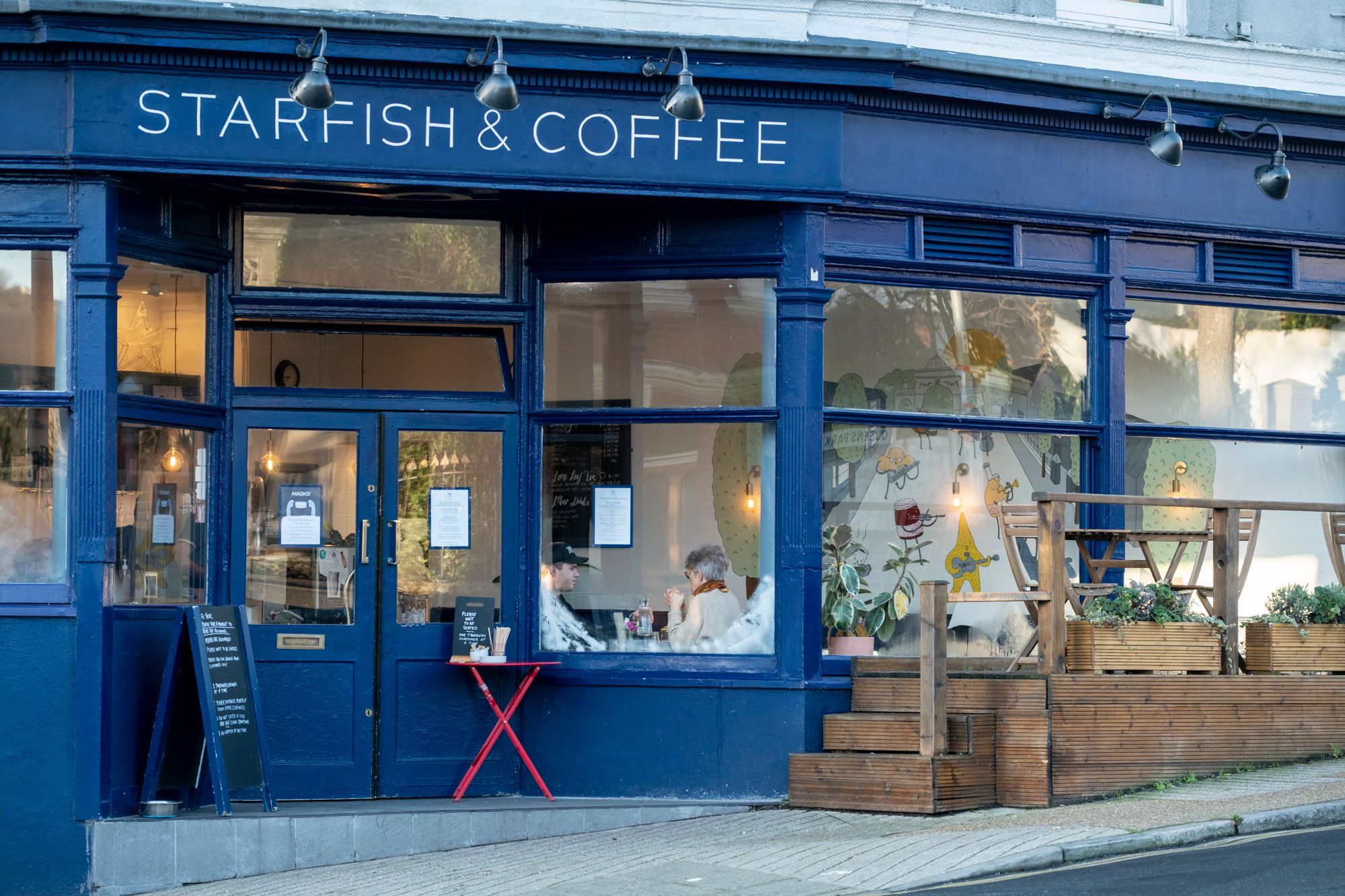 Rhys tries takeout
It's good to see the familiar smiling face of Tony, proprietor of Starfish and Coffee, who has just dropped off my traybake meal for two. It will be dinner tonight and a nice break from cooking while still getting something "home-cooked". The whole meal comes in compostable or recyclable containers and is quick and easy to heat up.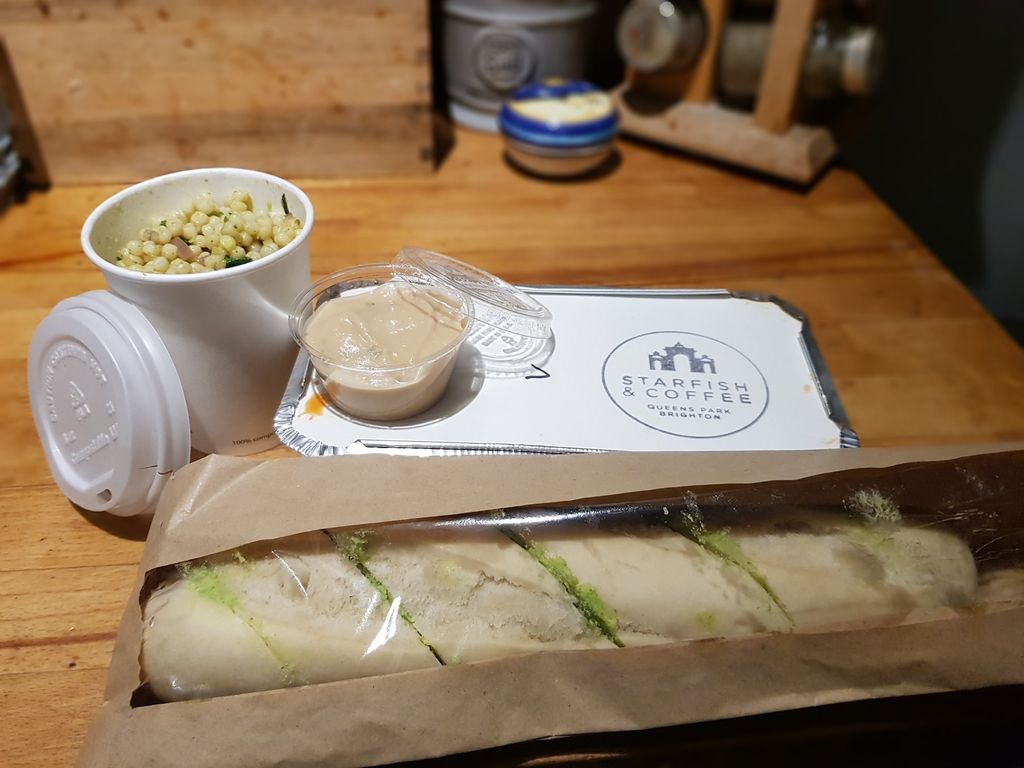 Tonight we have vegetable harissa with cauliflower, chickpeas and aubergine in a slightly sweet, gently spiced tomato sauce. My first response is a surprise, in my head I'm eating Starfish and Coffee food – so what was I expecting it to taste like, bacon and eggs (or in my case tofu and avocado)? But in this topsy-turvy world, some surprises are good ones, and that realisation is a pleasant surprise in itself. The harissa main comes with a side of herby garlic bread, a portion of giant couscous salad and a tahini dressing. The meal is just right for two, healthy, nourishing and well balanced. The rich flavours of the harissa work perfectly with the clean, fresh taste of the giant couscous salad and the comforting herby garlic bread. What is also refreshing is this tastes like homecooked food, but not my homecooked food, I could convince myself I've popped over to a friend's house for the evening. A change is as good as a break, and a traybake turns out to be both.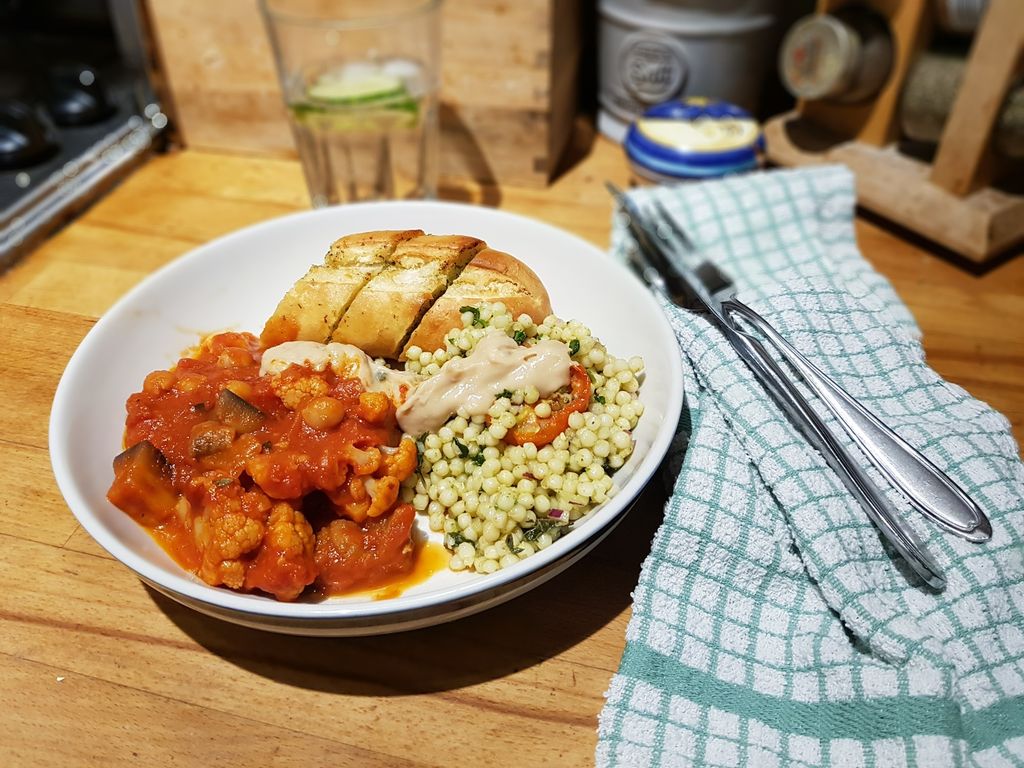 Tony is delivering two-person and family-sized meals to the Hanover, Kemptown and St James' Street area, with daily meat, veggie and vegan options. Meal donations to the Royal Sussex ICU staff are also made possible by the traybake sales. Tony says he's enjoying making the deliveries, driving around listening to Prince (of course), seeing and being able to have socially well-distanced conversations with his customers. He says he might keep doing the traybakes post-lockdown because he doesn't see Starfish and Coffee as an evening venue, but customers love these evening meals, I have to say I agree.
If you live in the Hanover, Kemptown, St James' Street areas, you can join the WhatsApp group on 07934 785501 to place orders and get daily meal updates. #TraybakeLikeABoss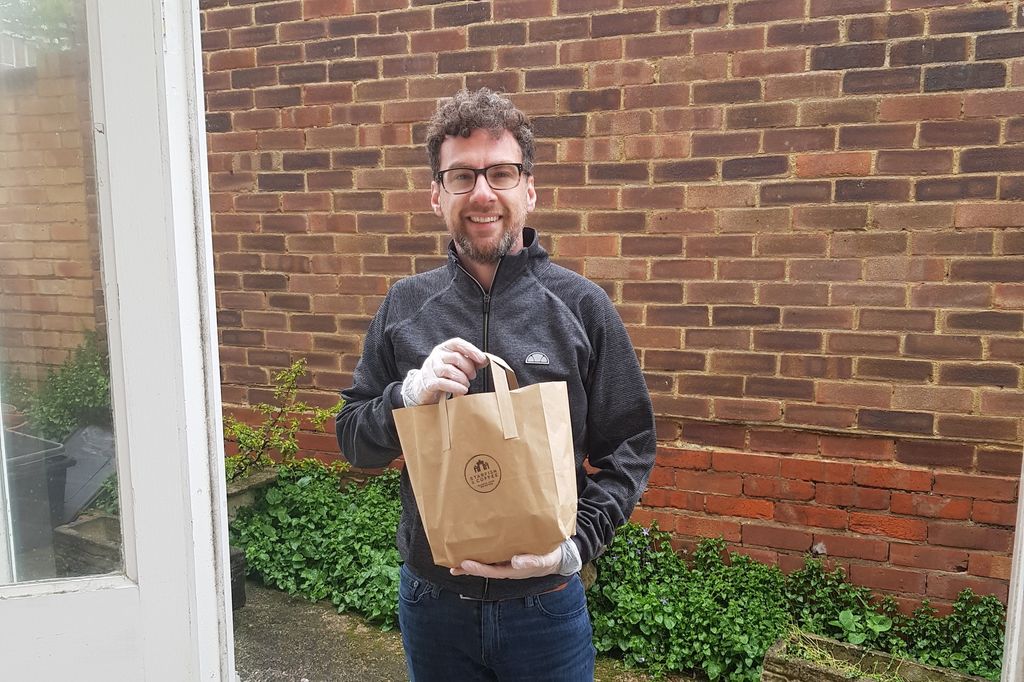 Starfish & Coffee Brighton
Juice FM's Tony Marks bought this building to open his vision of a cafe, he wanted to give the Brighton residents the 'best breakfast' in the city along with amazing coffee. The cafe was named after Tony's favourite Prince song, Starfish & Coffee, so expect a strong influence of his music taste running through the cafe. Coffee is a running theme, with Tony and the team running a strong barista game using a coffee roaster by local legends, Coffee@33.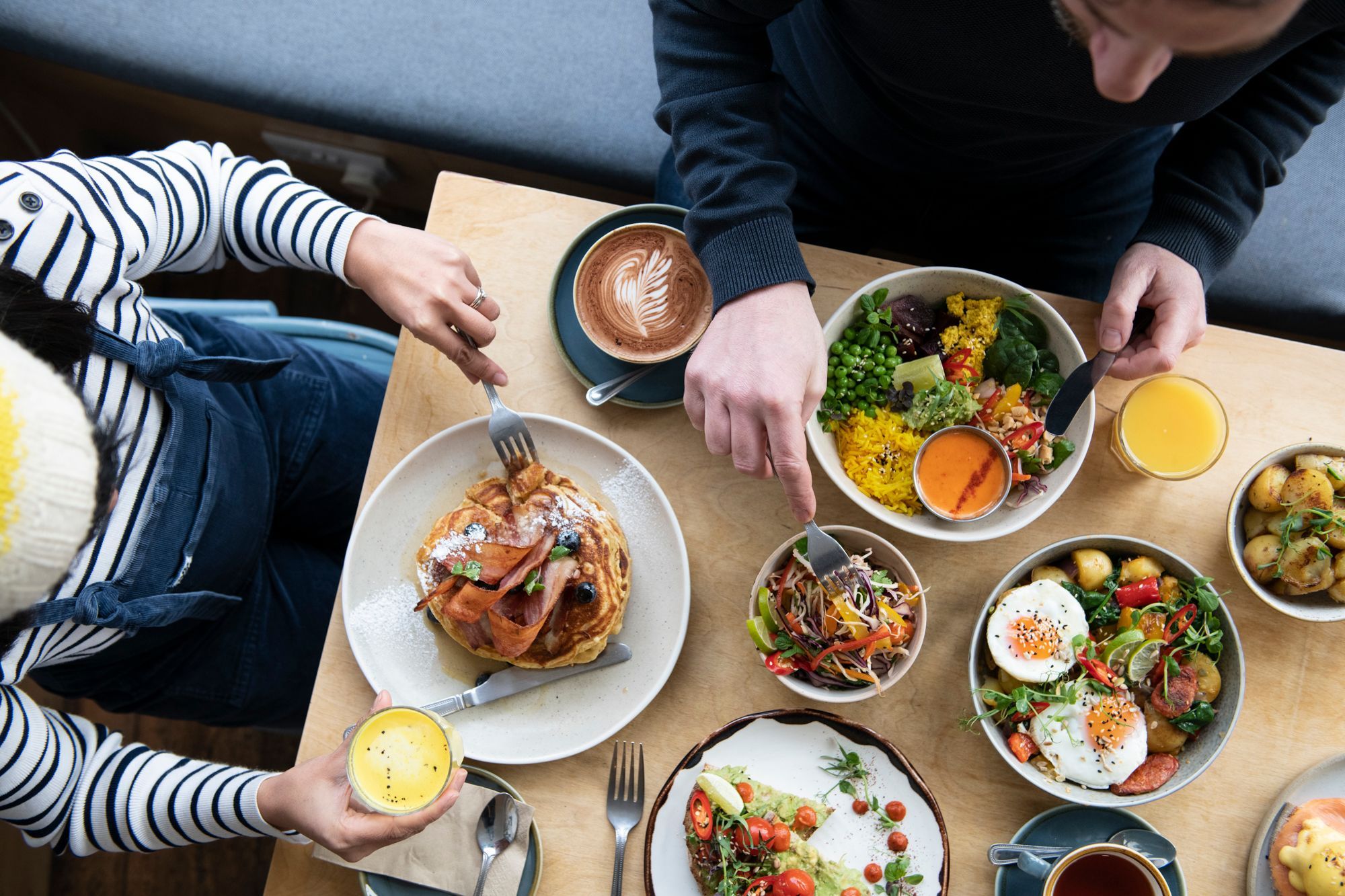 Using local suppliers to ensure quality
At Starfish & Coffee, they ensure all ingredients used are of the highest quality and at their peak of freshness. The meat, eggs and milk are actually sourced from local farms, so you know they haven't had to travel too far. Smoked Salmon is sourced from Springs Smokery who are based in Henfield and is famed for their expertise in traditional methods, slowly smoking their produce over Sussex oak logs.
Starfish and Coffee Brighton – What's on the menu?
From pancakes with bacon & maple syrup to a luxurious eggs Benedict or a big slice of fresh homemade cake baked by Brighton baker, Berkson Bakes. In fact, all cakes, bread and pastries are sourced from local bakeries who deliver fresh each morning. There are vegetarian & vegan options plus gluten-free bread and pastries available.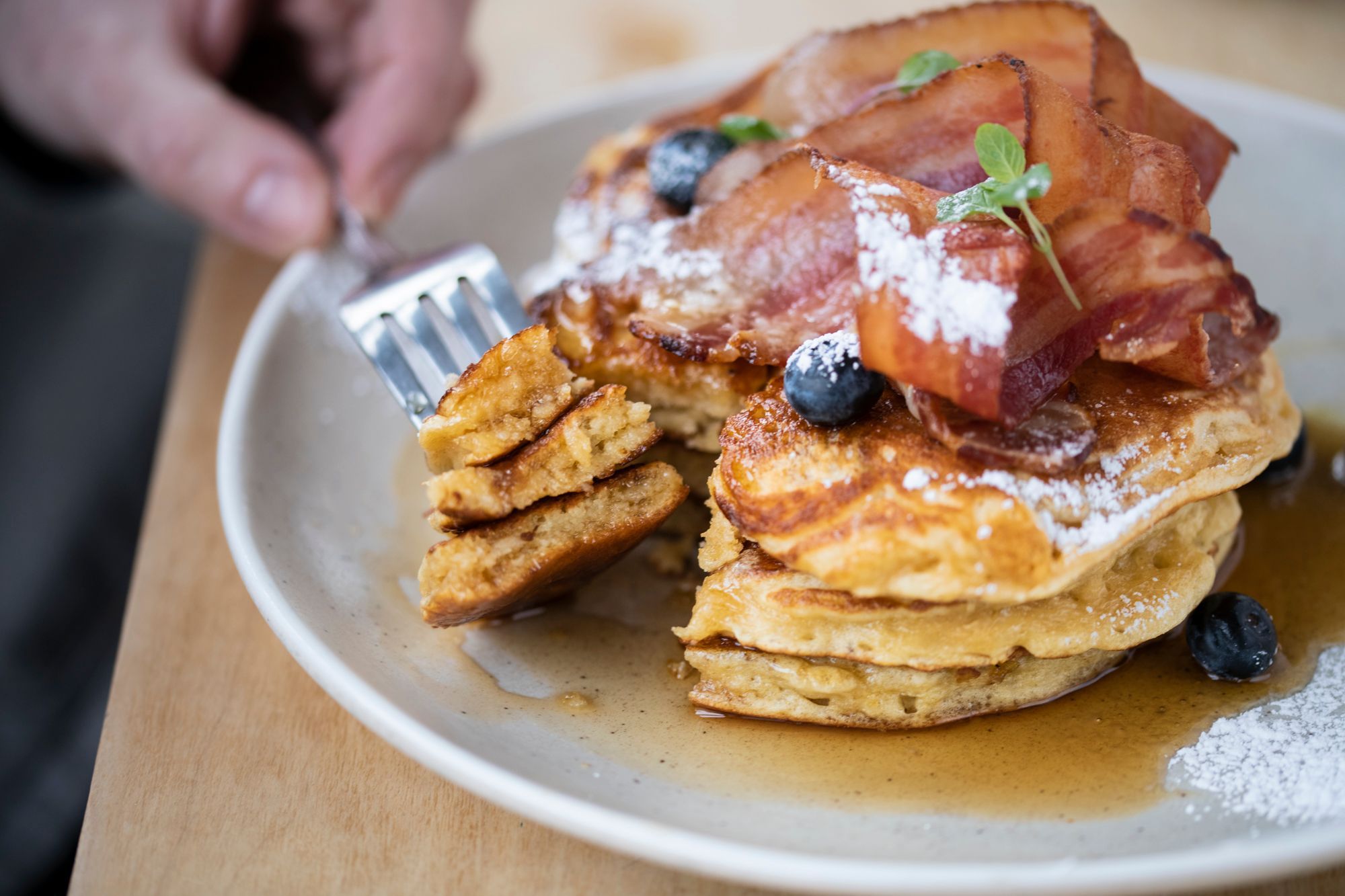 Dog & child friendly
It's the perfect stop after taking your kids to Queens Park or walking the dog. With their excellent coffee that has been carefully chosen, Full English Breakfast and high end brunches, you'll be set for the day ready to get going!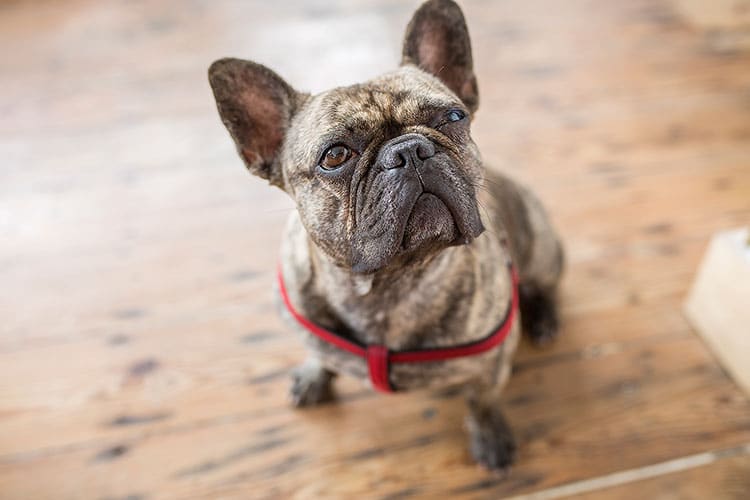 Starfish & Coffee welcome dogs with water bowls and biscuits available for them. There are also changing facilities and high chairs for the little ones.