Starfish and Coffee, with their #BrunchLikeABoss slogan, are renowned for brunch. They've landed a BRAVO win every year since opening in 2018. So the idea of them starting a monthly supper club – with a set tasting menu and wine pairing – might seem a tad unexpected. But oh my, this is how you #SupperClubLikeABoss
Meet Laura and Mattia 
Starfish's dynamic chef duo, Laura and Mattia, have known each other and worked together for many years, their paths crisscrossing between Italy and the UK. They both grew up cooking and have studied macrobiotic cuisine (fermentation) and molecular gastronomy. They've worked in fine dining establishments in Ravenna and Milano Marittima and, closer to home, in Riddle and Finns.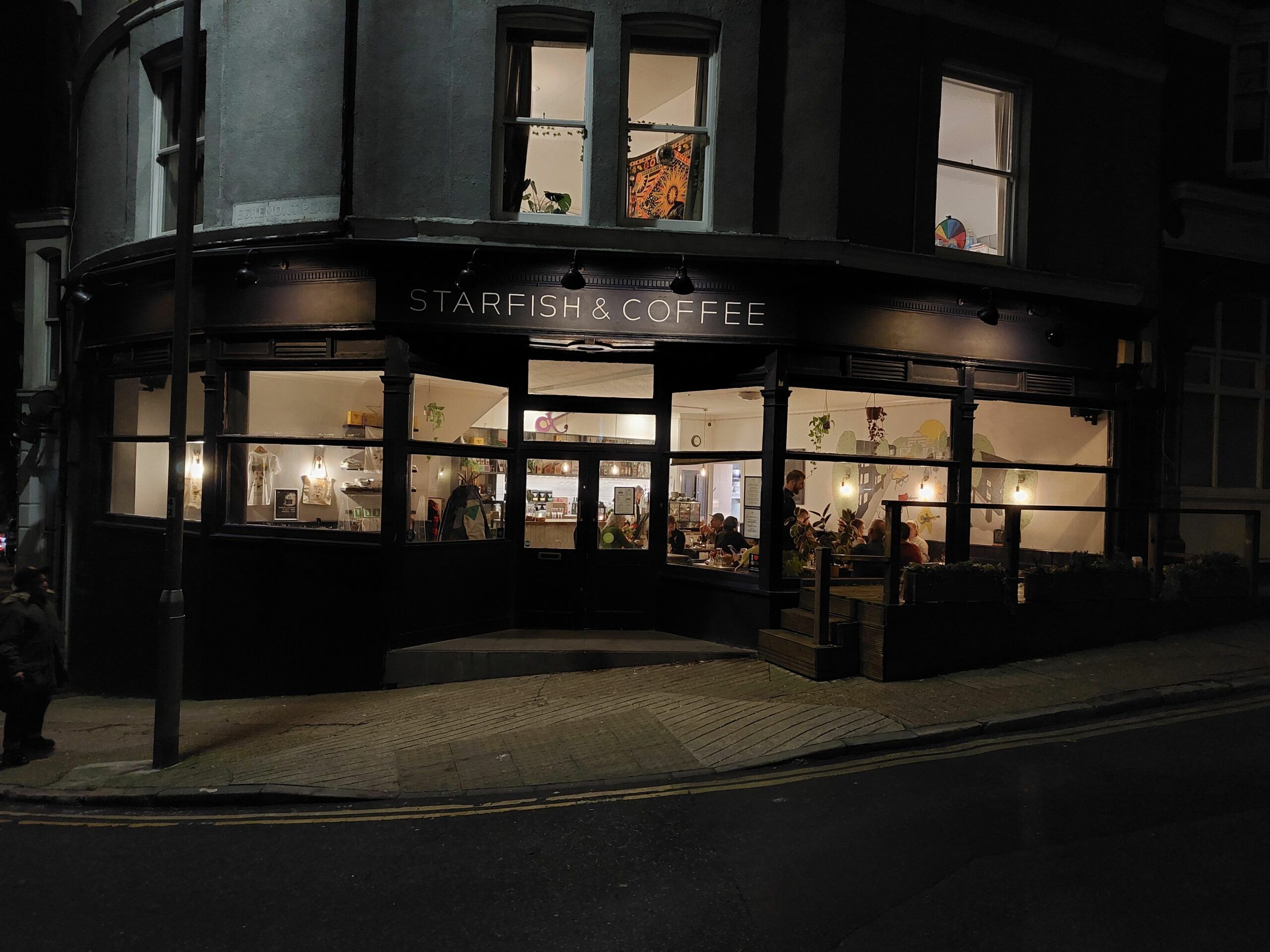 Laura applied for the job at Starfish and Coffee when, like many, she reassessed her priorities in the wake of spring 2020. The switch from 15 years of working 16-hour evening shifts to a balanced life of morning shifts, was a no-brainer. For Starfish and Coffee owner Tony, however, there was one big question: "what's going to keep you interested beyond poaching eggs?" A little while later Laura poached (pun intended) Mattia into the Starfish gang and the idea of L&M Supper Clubs began to ferment (pun also intended, but I'll try and make that my last).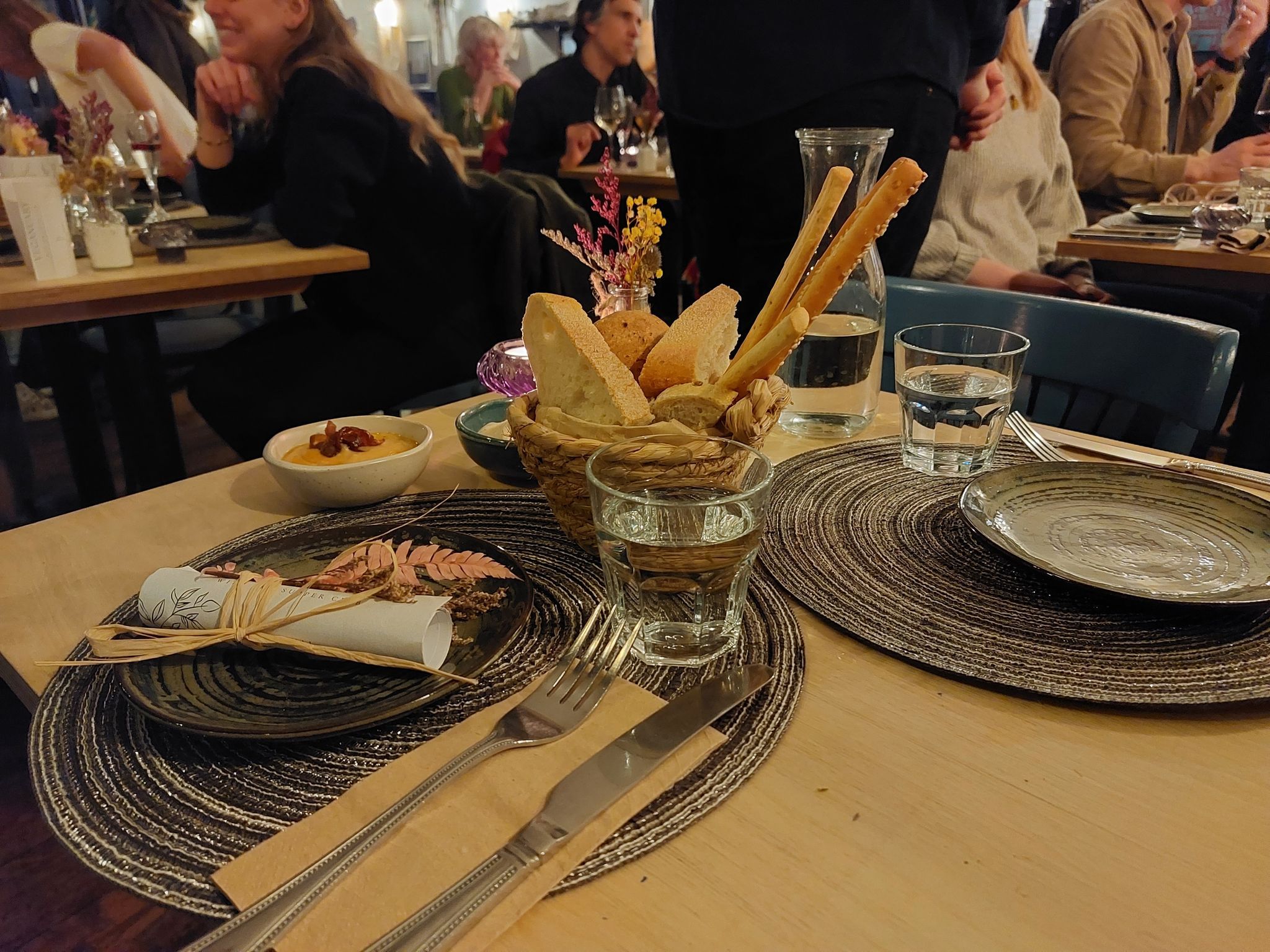 The first supper club was held in September 2022 and the limited 20 places sold out. Keeping it to 20 covers, and monthly, means they have plenty of time to research, experiment and prepare. This way they can make each supper club unique and memorable.
Welcome to L&M Supper Club at Starfish and Coffee
We were some of the last to arrive for the Veganuary supper club – their first entirely vegan evening. Many of the supper club guests have been coming since it started and the cafe was already abuzz with conversation and a sense of excitement. The familiar space was transformed into an intimate dinner venue. Tables were laid with bread and dips and individually presented scrolls detailing the delights to come.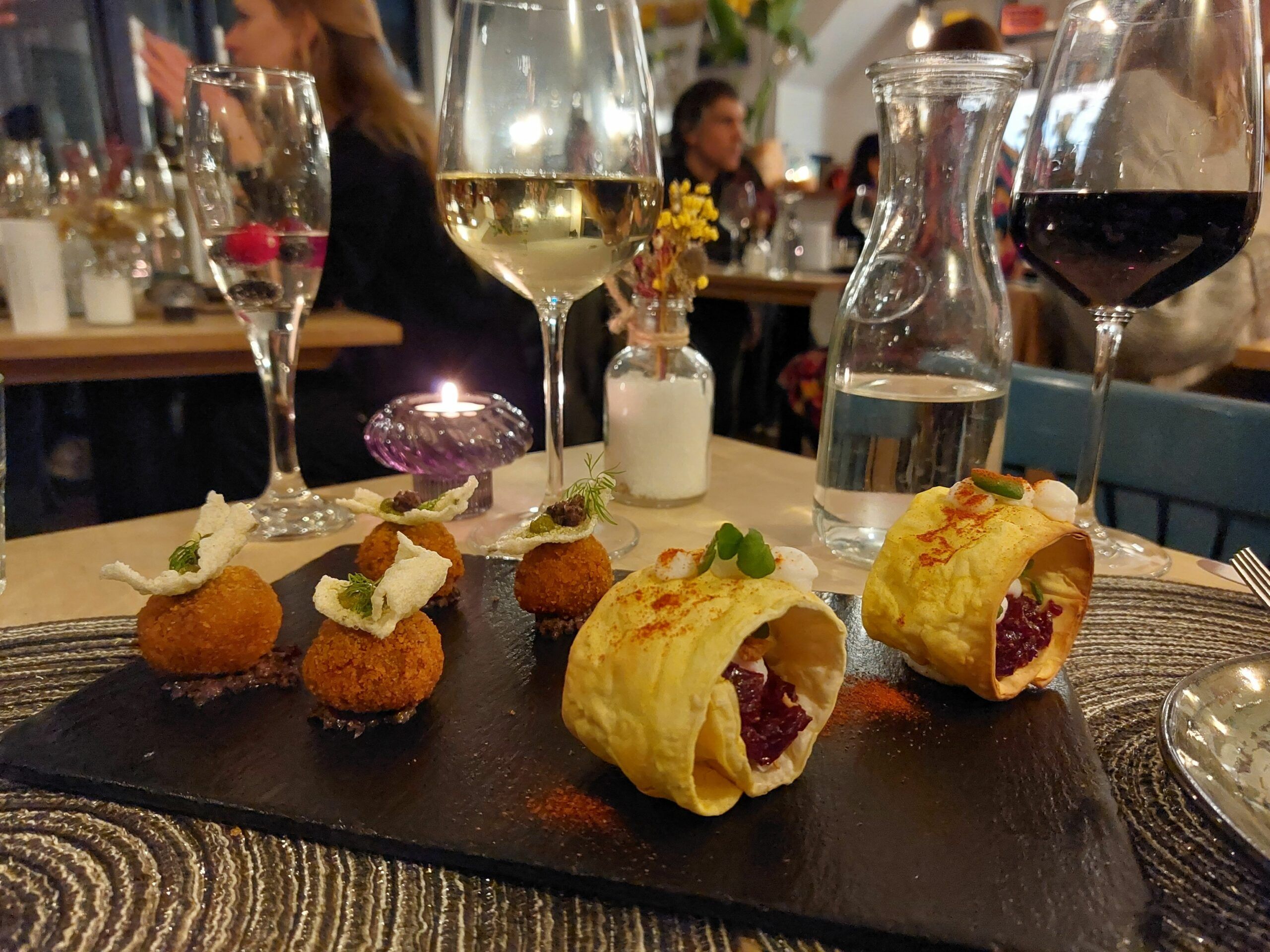 We started with Cauliflower Arancini and Smoked Beetroot Tartare, presented on a sharing slate. The arancini were soft and crunchy with a delicate flavour of sundried tomatoes and pesto. The tapenade hit first at the front of the palate with citrus and olive. Then deep sweet earthy tones of sundried tomatoes rolled back, carrying on past the last mouthful.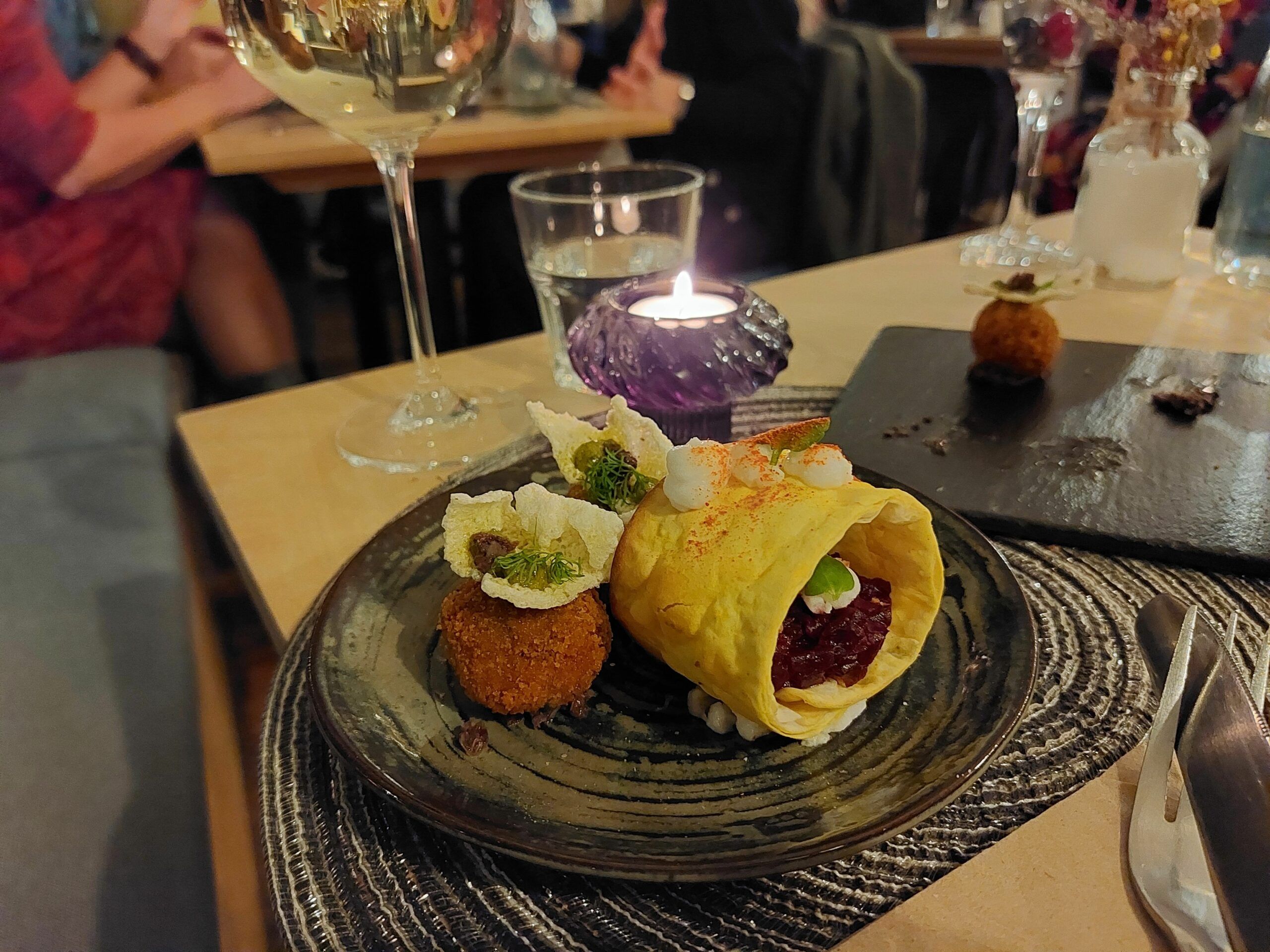 The Smoked Beetroot Tartare looked like little sculptures and tasted like art. A crisp pastry ring sat upright with the beetroot and nut feta nestled inside. This was a perfect symphony of flavours with the umami smokey tartare, creamy feta and sharp watercress balancing perfectly.
Laura later explained the beetroot had been cooked in a salt crust for five hours, marinated in koji powder for a day, and then again in miso paste for another day before being smoked. The level of commitment to developing flavours was impressive and the pay-off was worth every last tiny crumb.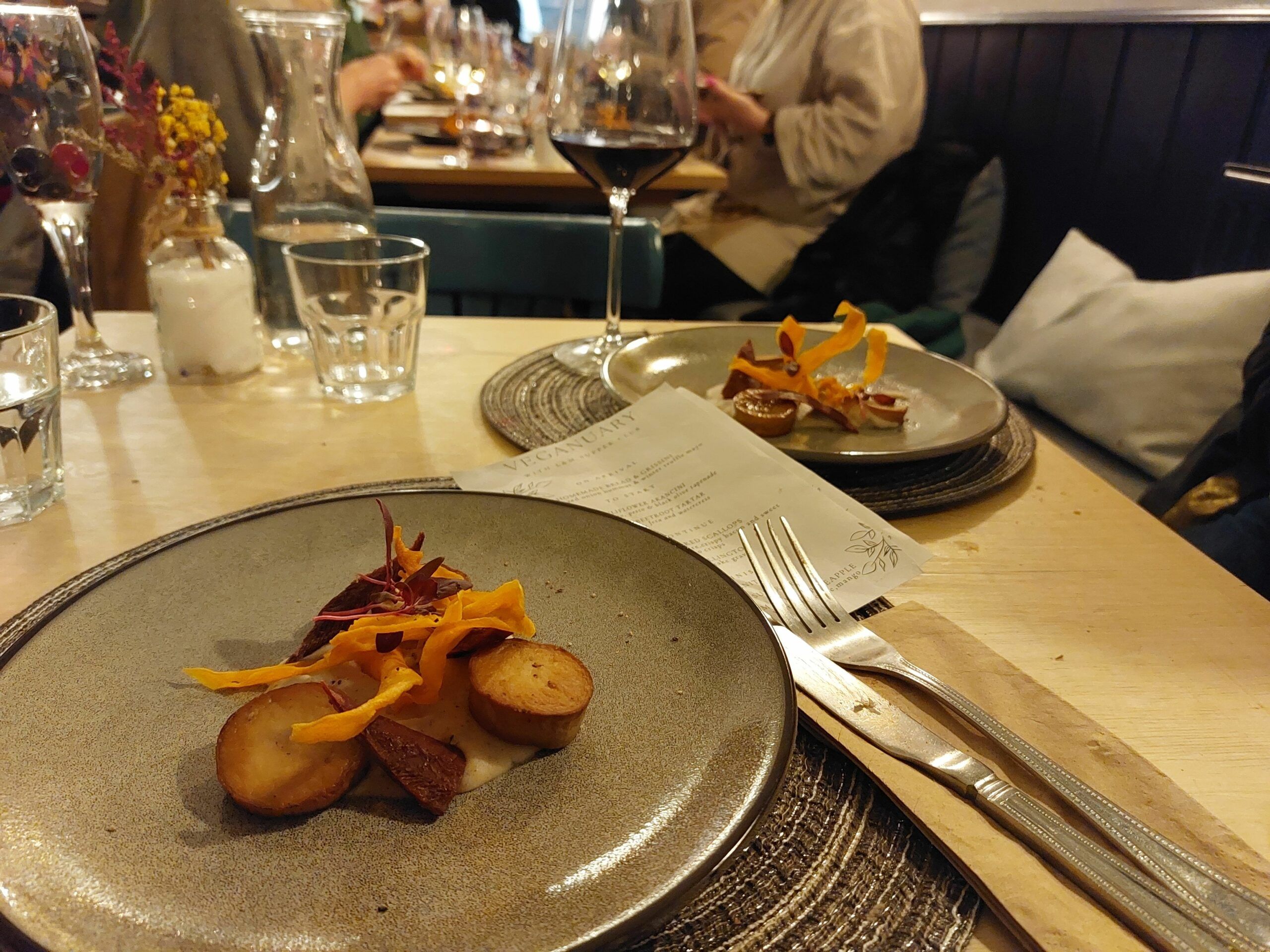 Mattia is a wine enthusiast who is helped by a sommelier friend to pair the menu. With our starters, we had a simple, crisp Chardonnay that kept the palate fresh and didn't interfere with this bold combination of flavours.
Smoked, seared, beet and bombed
To continue we had Vegan Seared Scallops and Beet Wellington. I've had king oyster mushroom stems as a vegan 'scallop' before, but never quite as good as this. They came in a bed of silky smooth cauliflower puree (I love the cauliflower renaissance, is there anything the common cauliflower can't do?) Beautifully sweet and creamy flavour paired sumptuously against the bite and chew of the scallops, topped with smokey This Isn't Bacon and sweet potato crisps.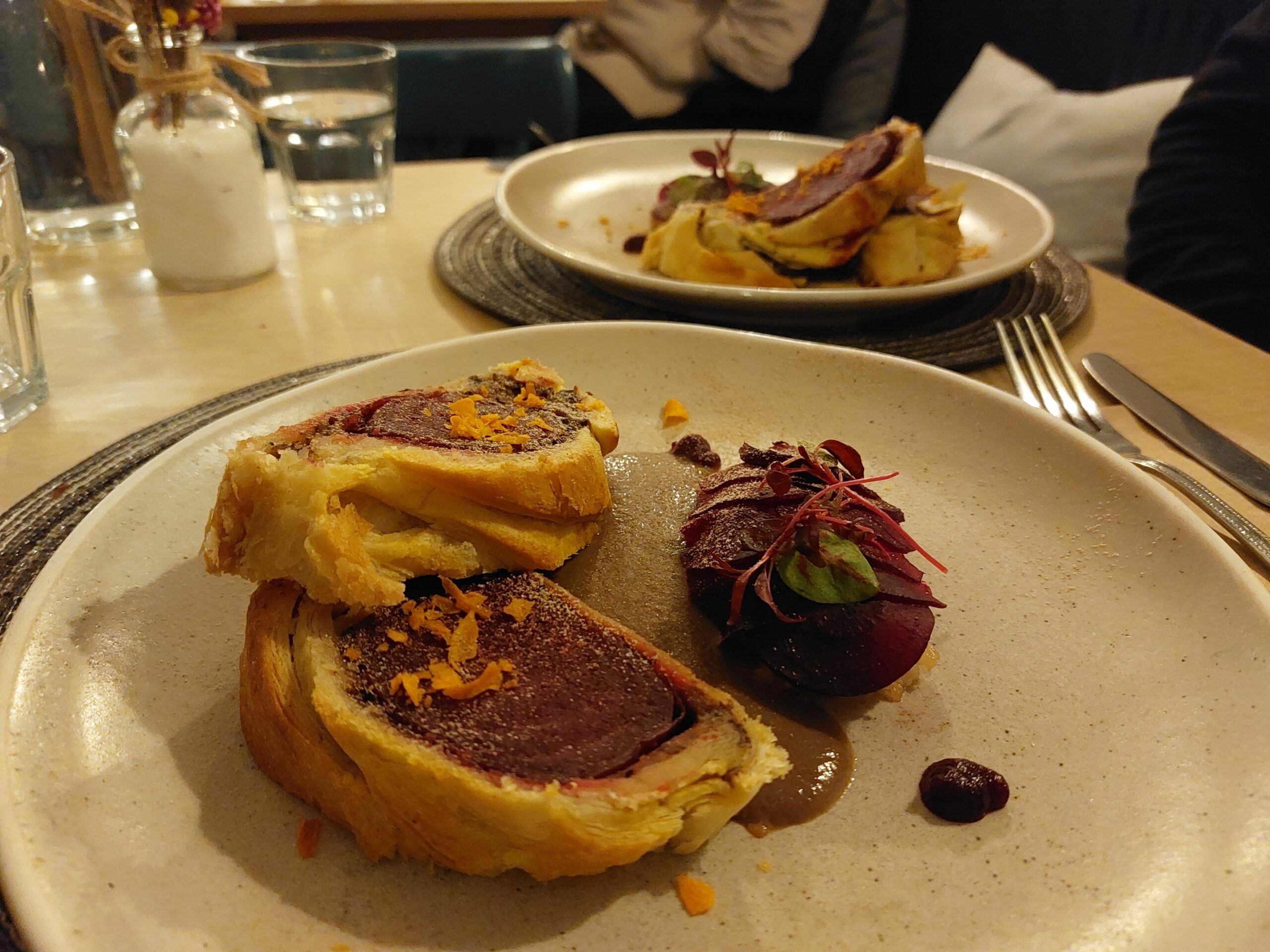 The Beet Wellington excelled in flavour. The beetroot was again marinated with miso and combined with the shiitake gravy dropping an umami bomb that I'm still enjoying the fall-out from now. A topping of mushroom dust and sweet potato crisps tied this into the earlier scallop dish. Hidden beneath slithers of smoked beet was a smear of potato puree (which I could have sworn was artichoke, but wasn't) which gave a creamy levity to the dish's flavoursome depth.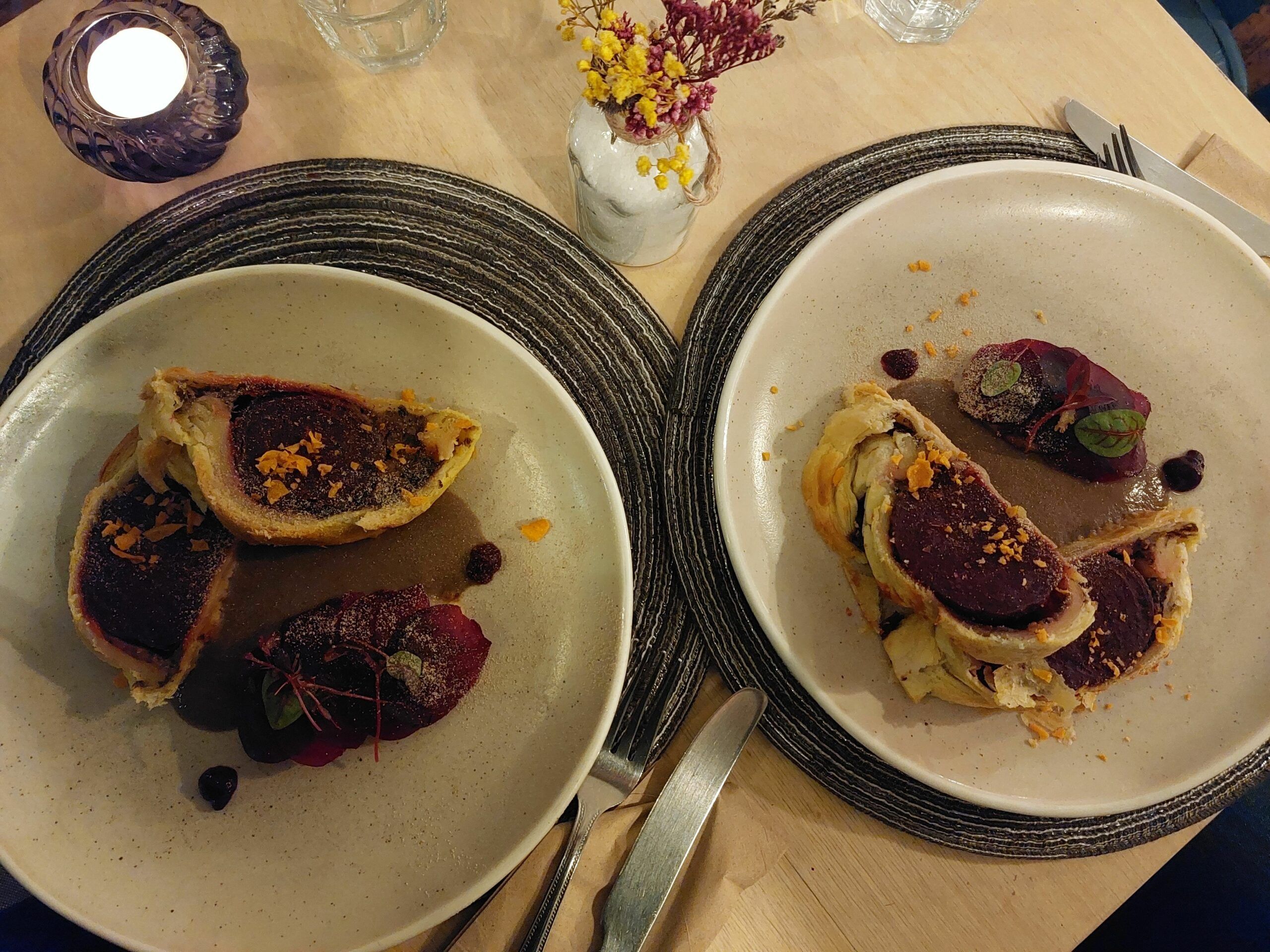 Each dish's range of flavour lasted far beyond the last mouthful. Every taste group was targeted with sniper precision. Thoughtful curation had ingredients weaving through the menu, so each dish recalled elements of earlier ones.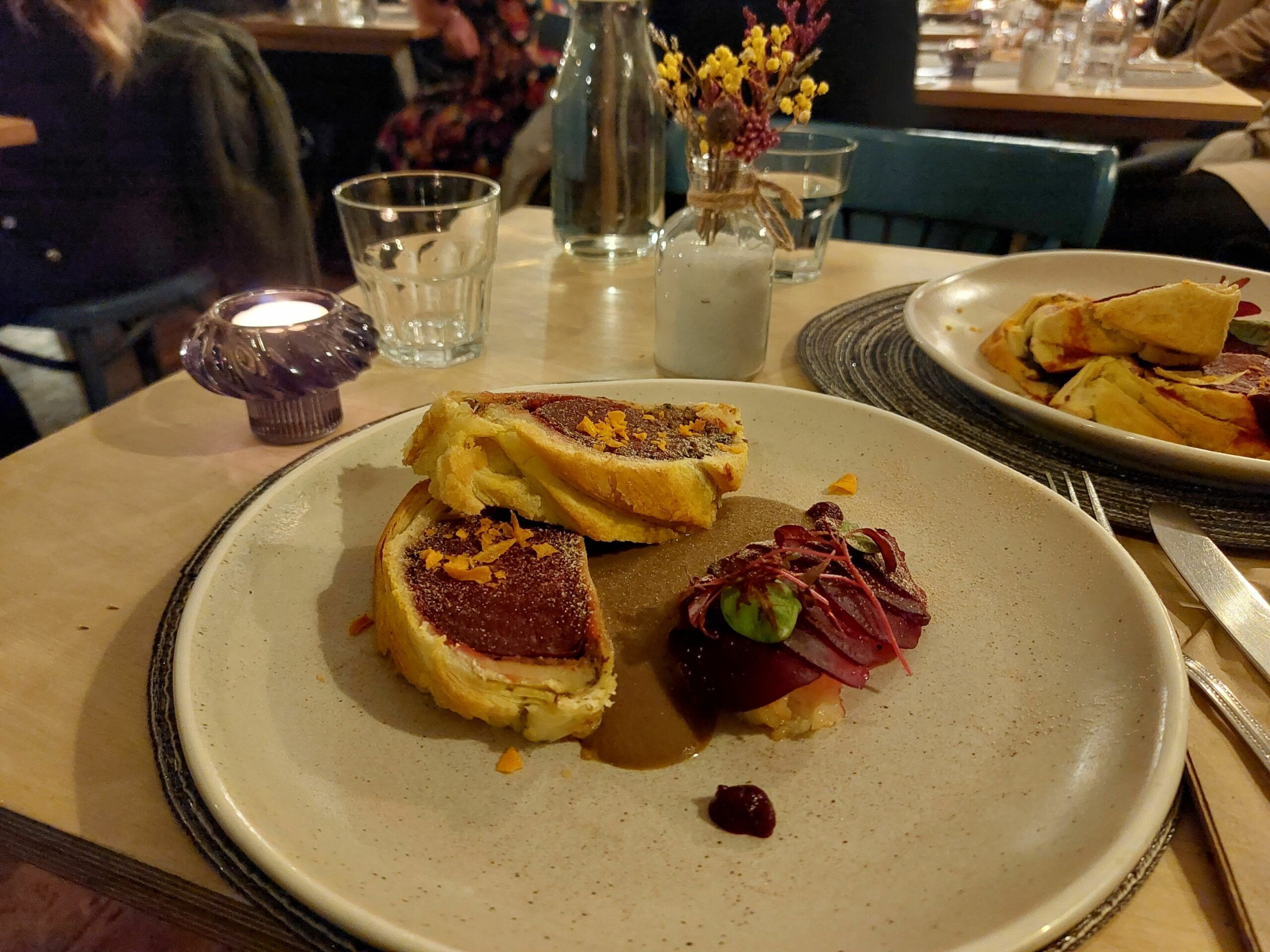 The Wellington was paired with a smoked Primitivo. This arrived cauldron-like, a glass of garnet red swarming with smoke topped with a coaster. The effect was visually spectacular while serving to transform and round the dish. Bonfire flavour. Winter warming. Seasonal taste. Unforgettable. 
Room silencing dessert and my final word for Supper Club at Starfish and Coffee
After this, a gem-like pomegranate, lemon and vanilla granita arrived. Helping us reset our taste buds lest our heads explode with so much excitement. 
Before dessert, we were presented with what the menu tantalisingly called a 'Little Surprise'. A small bamboo box contained four devilishly dark homemade chocolate truffles on a bed of coffee beans. These were both delicious and tactical, giving us a little energy burst to see us into the home run.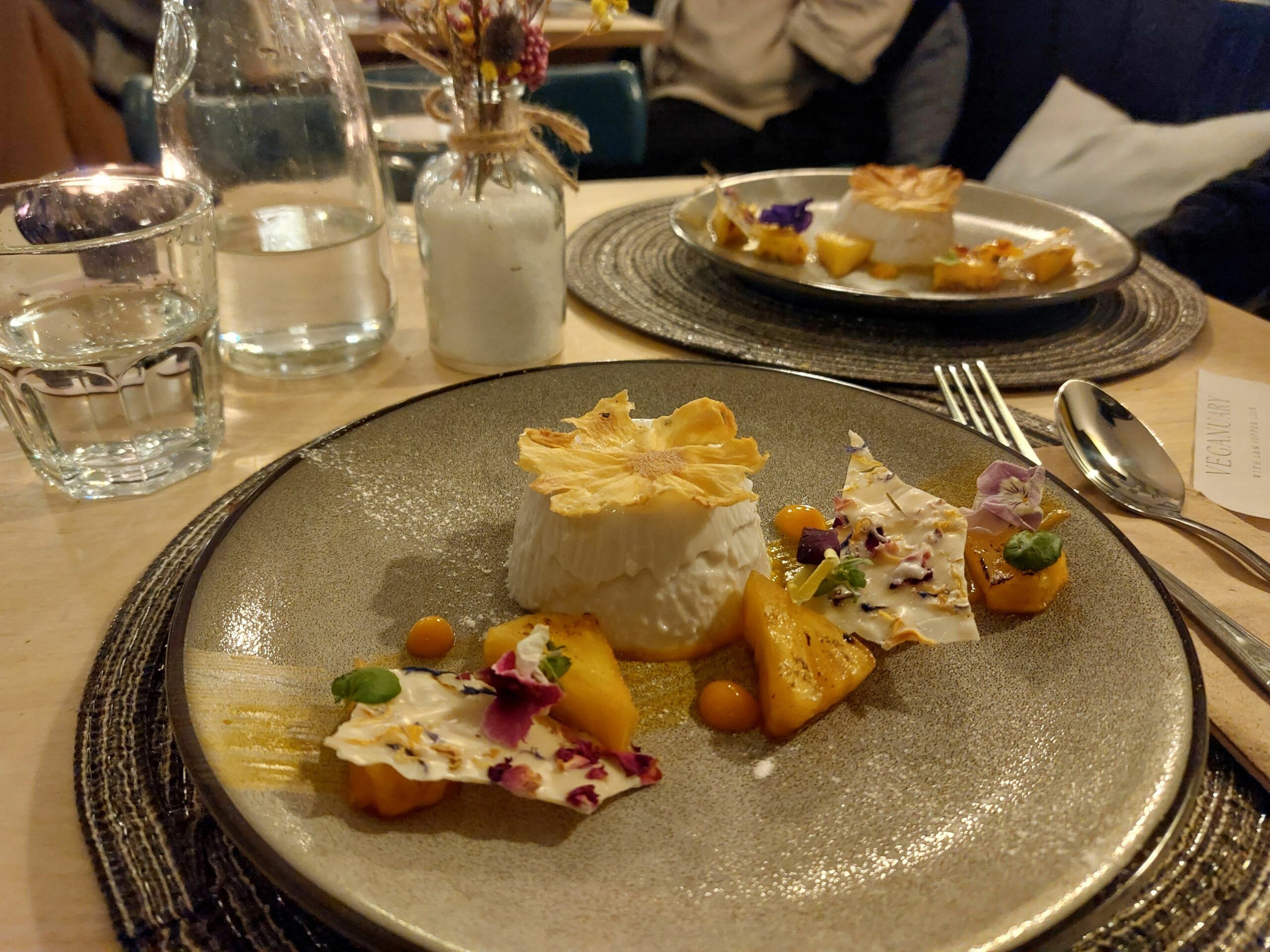 The evening was rounded off with Caramelised Rum Soaked Pineapple with panna cotta, shards of white chocolate with rose petals and mango puree. I'm rarely short of words but I was on this occasion reduced to quivering mmmmm noises. And I wasn't alone. The restaurant descended into silent eye-rolling delight. Not too sweet, not overly coconuty, the dehydrated pineapple was a real treat. And the panna cotta was spectacular – creamy, and delicate, dissolving instantly into heavenly memories.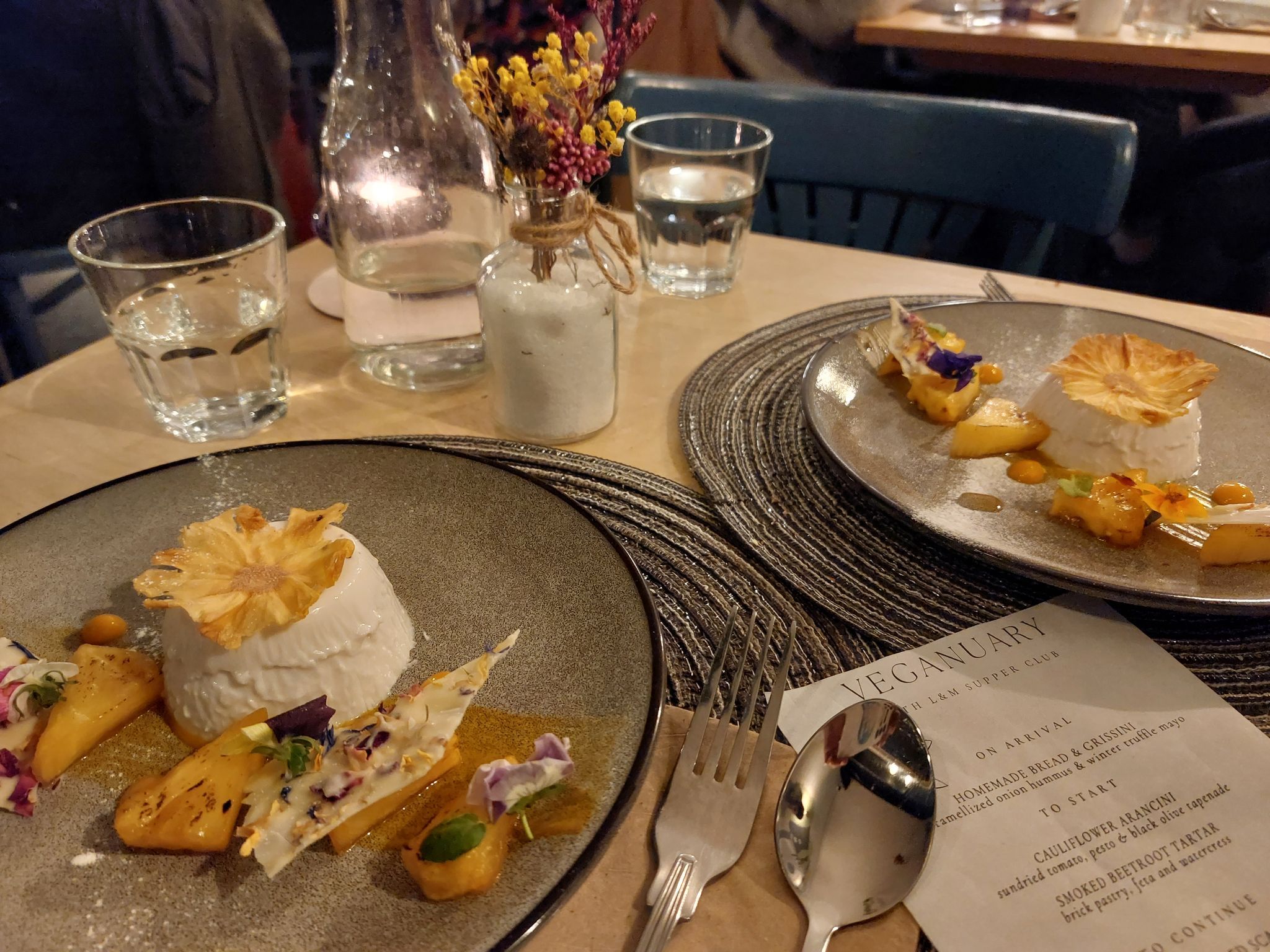 This meal will stay with me for an extremely long time. The excitement that charged the restaurant as we arrived makes complete sense to me now. 
L&M Supper Club returns in March and I ache with anticipation. I urge you to go, but with this one sincere caveat: I will fight you to the death for that twentieth place.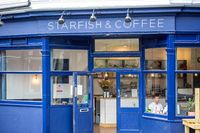 Want to know more about Starfish and Coffee Brighton?
Find Out More