Starfish and Coffee – The Prince of brunch on Queens Park
Starfish and coffee, maple syrup and …ham?! Yes please! Run by Tony Marks, a previous Juice FM radio presenter with a history in hospitality.
Tony has built this cafe from strength to strength by winning 'Best Cafe Culture' and 'Best Brunch' runner up 2019 – it's no surprise Starfish and Coffee is a Hanovarian favourite.
Using local produce with ham and free range eggs coming from Holmansbridge Farm near Lewes, sausages and bacon from Ockham Farm in Ewhurst Green, milk from Sussex and Surrey Dairies and the salmon being smoked by Spring's in Edburton; this cafe really does place an emphasis on a local and neighbourly feel.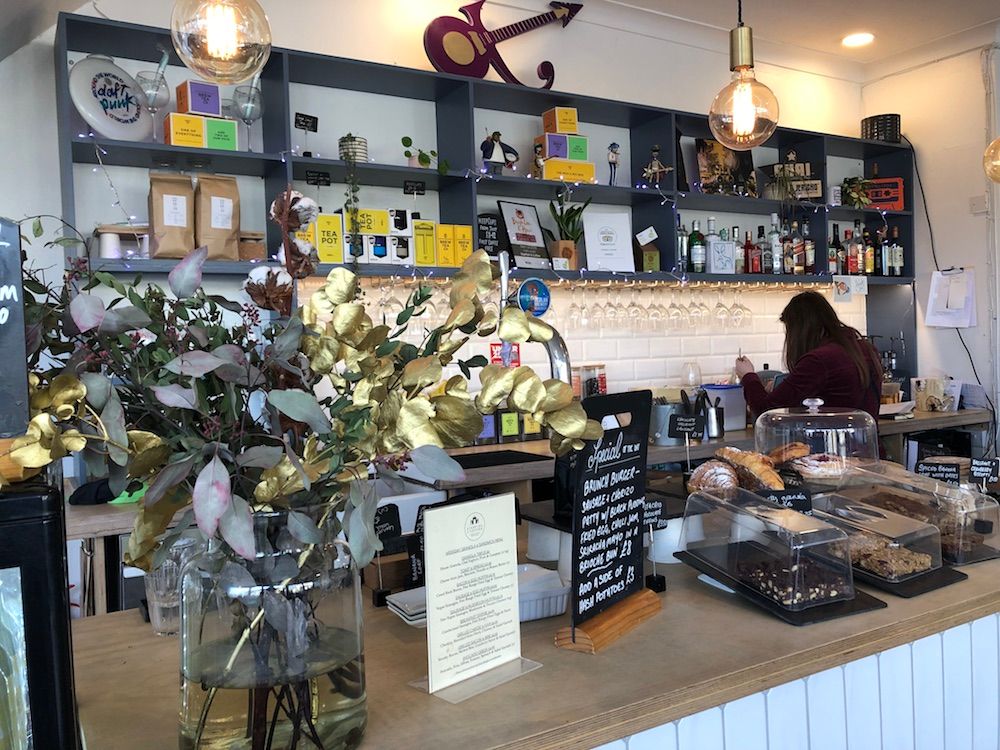 A local, and citywide, favourite
As we entered Starfish and Coffee on a bright February morning the place was already buzzing with warm light flooding through the large windows on to happy customers enjoying their breakfasts. We were warmly welcomed and shown the menus for us to drool over, as the firm purveyors of 'brunch like a boss' Starfish and Coffee do exactly that – the menu is full of dishes to suit every taste from a full English breakfast, vegan breakfast with scrambled tofu to the fluffiest pancakes this side of the Atlantic – savoury or sweet, a selection of smashed avocado on toast with a variety of toppings and potato hash.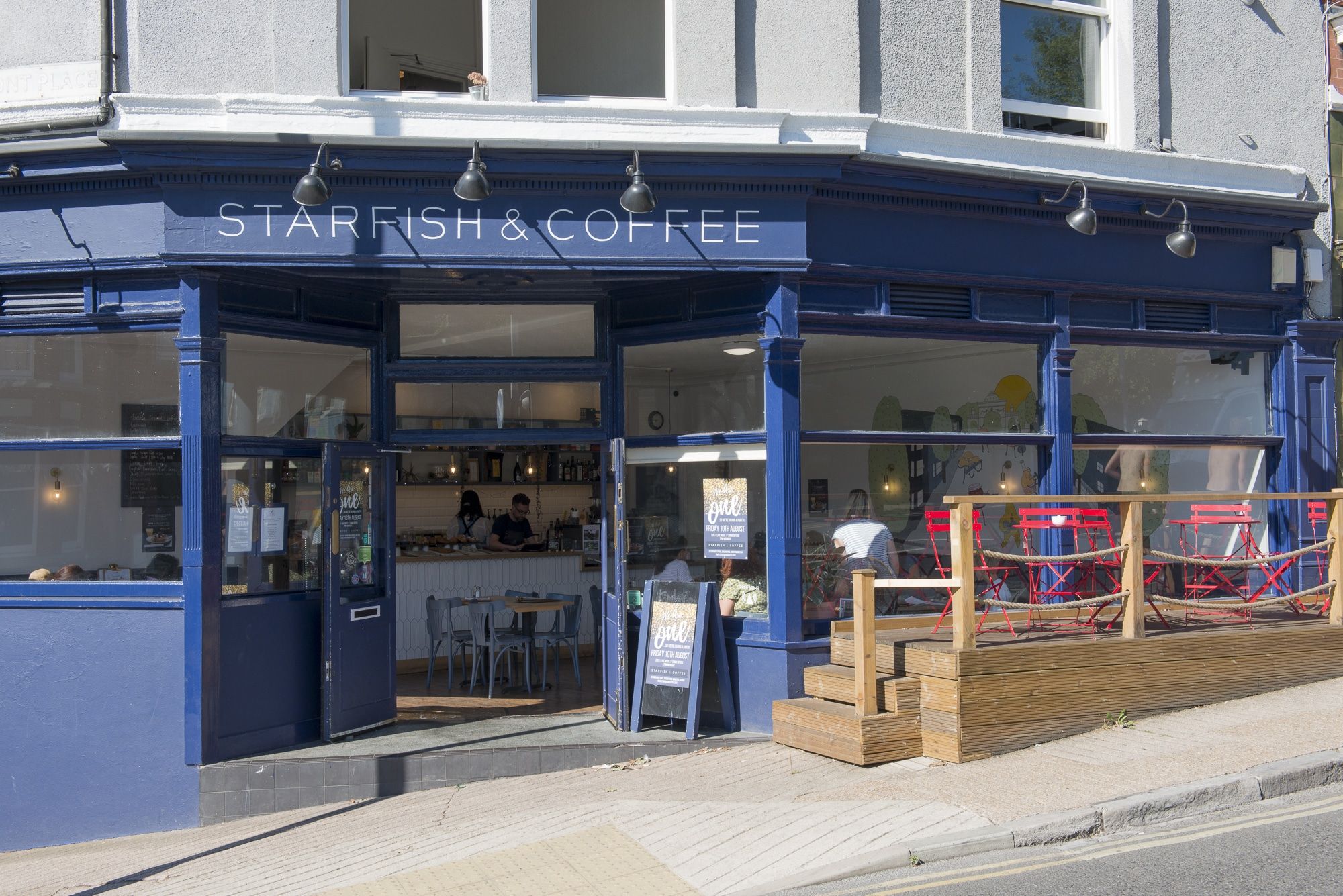 There's no doubt you'll be brunching like a true boss with any of these mouthwatering choices!
The atmosphere was calm and friendly, Starfish and Coffee seems to be a firm favourite amongst the Queens Park locals from the scene on a Friday morning but also definitely worth the walk out of town for those less local. The waitresses were attentive and friendly and brought our drinks – an oat latte roasted by Coffee at 33 and an apple juice – while we decided what to eat.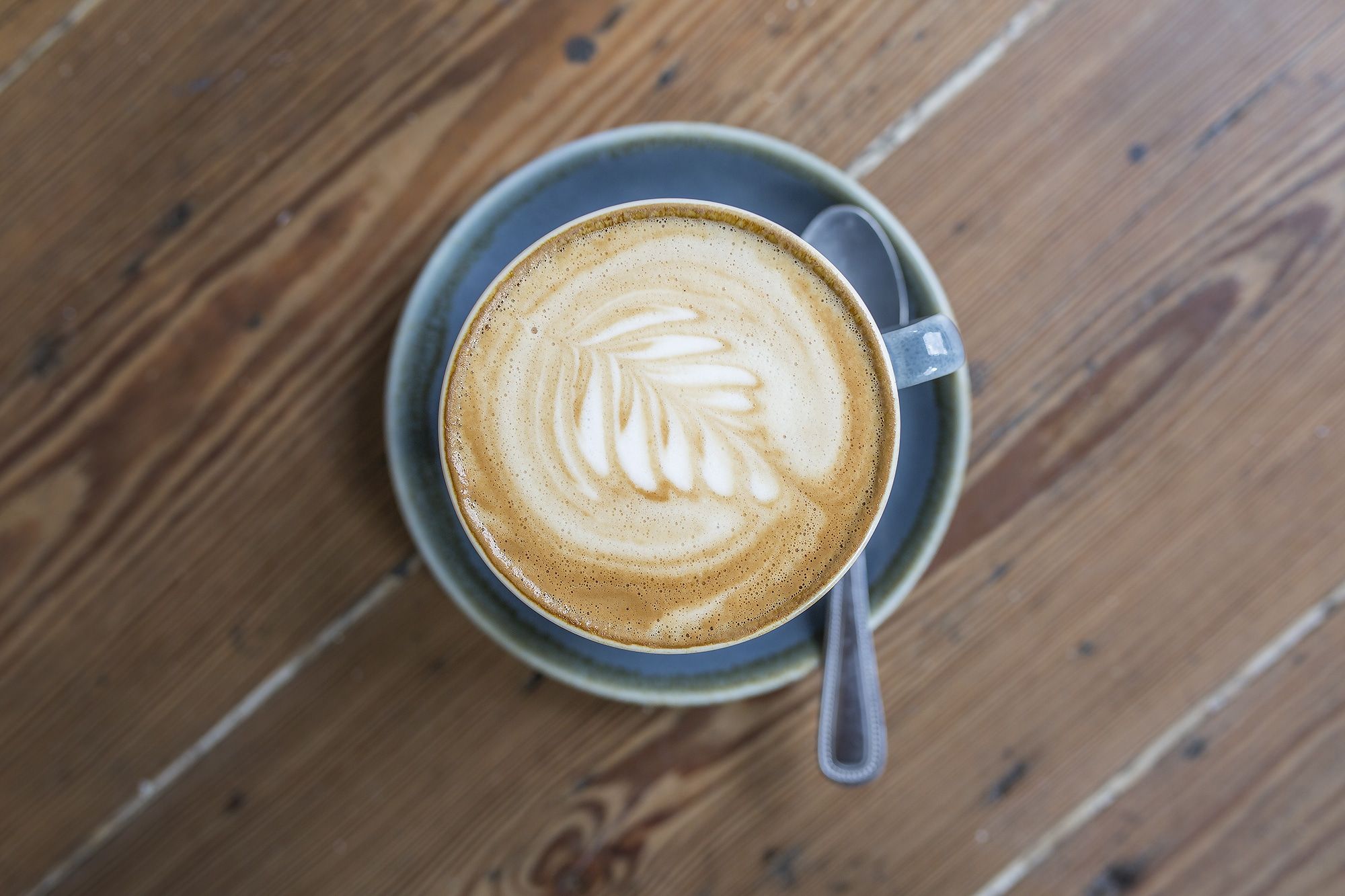 How to brunch like a boss
I went for the 'Starfish Classic 2.0' smashed avocado on toasted flatbread with Za'atar, Fattoush and Tomatoes which was beautifully presented with a coriander oil drizzled around the plate, the large pitta was generously laden with smashed avocado and piled high with the colourful fattoush salad and garnished with sesame and coriander seeds for an extra burst of flavour.
The dish was vibrant and fresh and felt really wholesome while being filling and satisfying – the marriage of flavours from the avocado, fattoush and za'atar were wonderful and gave the dish a unique twist.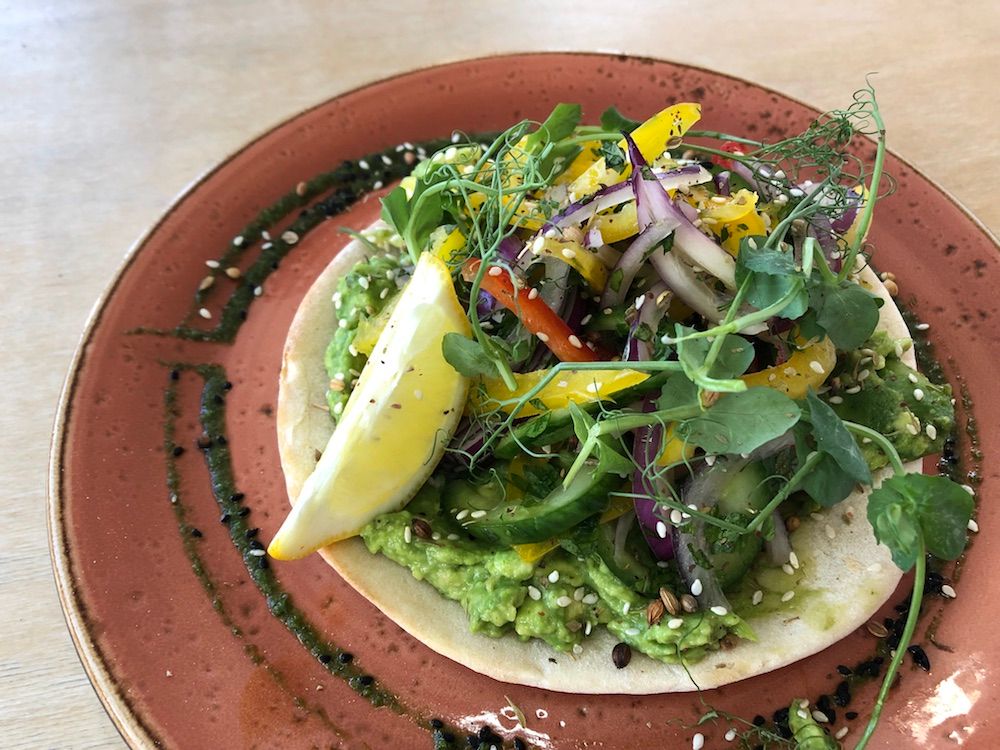 An American Classic
My friend went for the buttermilk pancakes with streaky bacon, maple syrup, blueberries and a poached egg addition.
Our eyes lit up when we saw the stack of three large fluffy pancakes piled with crispy bacon and blueberries and a pot of maple syrup.
The pancakes were cooked to perfection with delicate air holes running throughout ensuring for a light pancake, the bacon was crisp but juicy with a good ratio of blueberries for the dish not to be too fruity but with a balance of sweet and savoury. My friend delighted in the perfectly poached egg which oozed it's bright orange yolk over the pancakes and mixed wonderfully with the drizzle of maple syrup.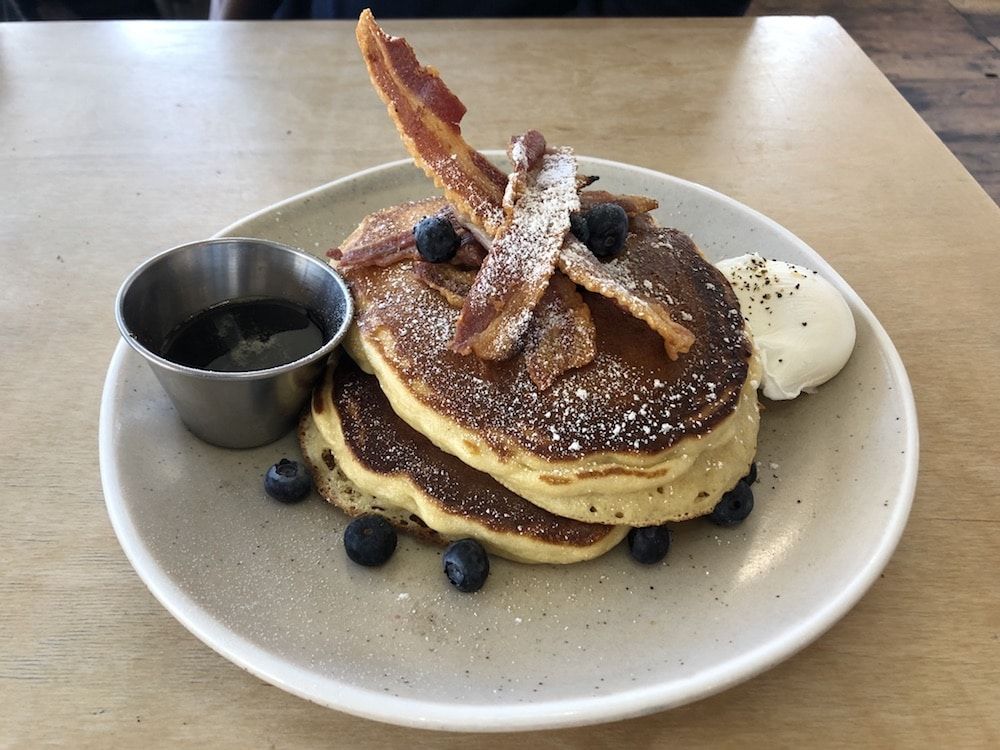 We also ordered a side of the potato hash to accompany our meal which came as large fried cubes of potato with crispy onions and pea shoots. Eagerly devouring our meals we were attentively checked on my the waitresses, she aptly suggested my friend might like some more maple syrup as she got to the third pancake and promptly brought some over – a nice touch as there can never be too much maple syrup!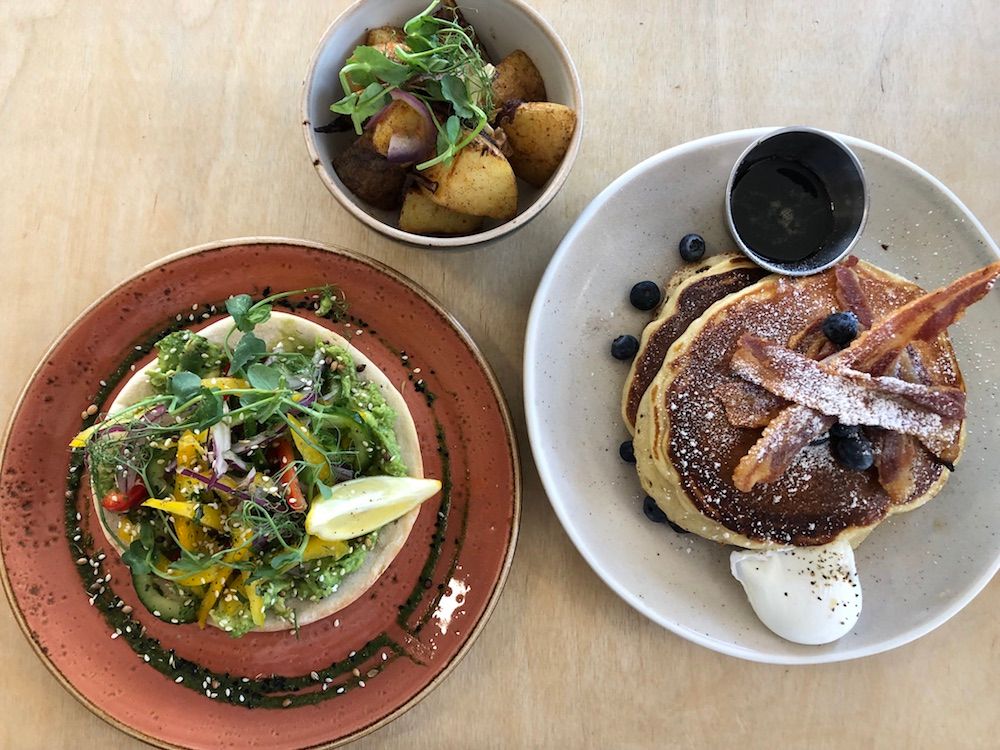 Fresh savouries and sweets
As our plates were cleared we were offered more drinks or a sweet, the bar was stacked with pastries, flapjacks, tiffins and cakes, delivered fresh each morning, which were very hard to refuse but after the satisfying meal we were left content and happy.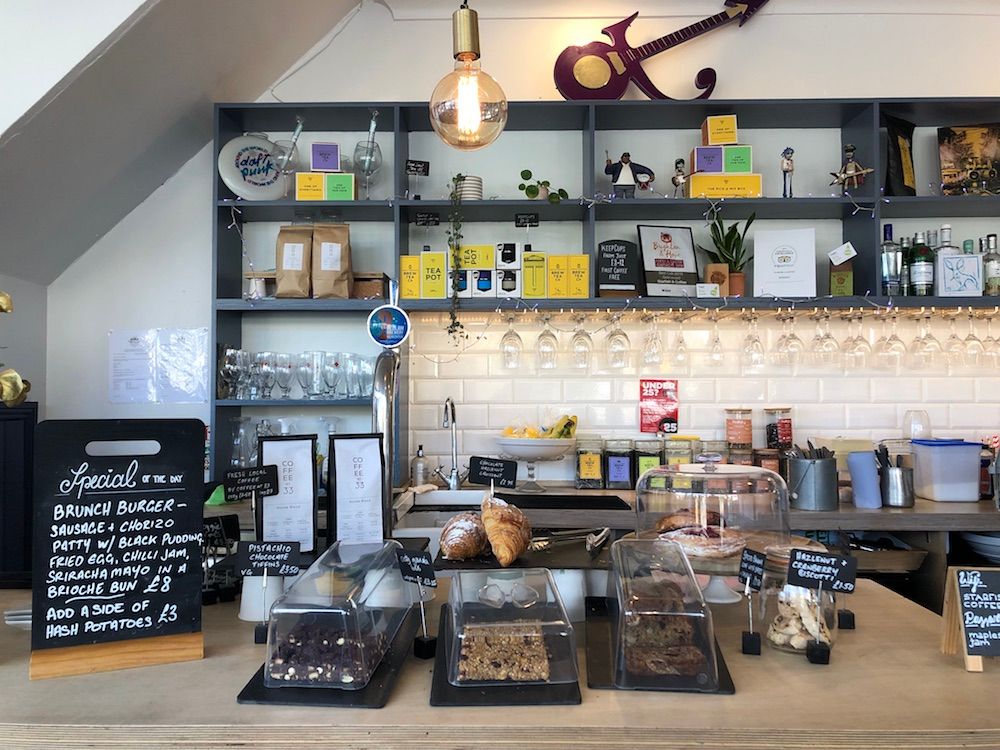 This cafe is child and dog-friendly and is the perfect pit stop after a stroll around Queens Park or for that lazy Sunday brunch – we'll definitely be back to brunch like a boss!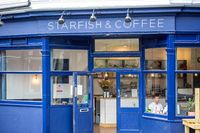 Want to know more about Starfish and Coffee Brighton?
Find Out More