Sunday's at ChezMal
After celebrating my husband's 40th, there seemed no better hangover cure than a proper Sunday roast. Only just open this month, the brand new Malmaison in Brighton Marina was beckoning us to come and sooth our sore heads and bellies with a 4 course Sunday lunch. Malmaison, a sister hotel of the much loved french chain Hotel du Vin is an exciting new addition to Brighton's hotel, restaurant and bar scene.
Funky decor
The entrance is on the ground floor but the 'Chez Mal' bar and bistro is on the floor above. This adds an element of suspense and intrigue. As we came out of the lift, we entered a reception area leading into the lounge. Decorated in funky, bright colours and geometric patterns, it looked like a place you could easily spend a few hours chilling with friends.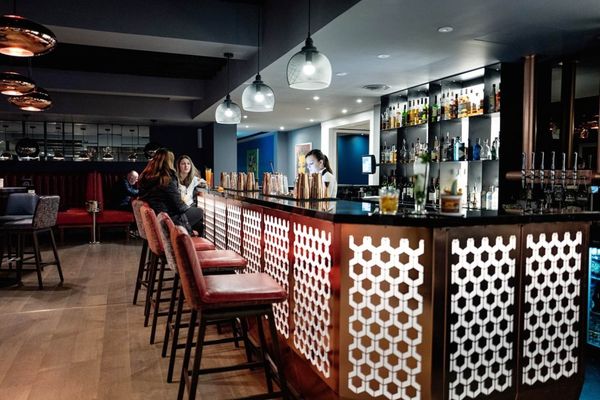 One corner had a few retro board games on the round marble coffee table giving the message to make yourself at home. The lounge led into the bar which although just as trendy and cool, had a totally different feel to it. More sultry and cinematic, there were copper light shades hanging low from the ceiling, and vintage brown leather booths lining the edges. I love the fact that the bar and the lounge had different 'personalities'. It gave the place real character.
Warm welcome
Now into the restaurant, we were greeted by the restaurant manager, Colom. Instantly making us feel welcome, he showed us to a table in the conservatory, adjacent to the roof terrace. Not quite warm enough to sit outside, this was a lovely compromise as we were warm and cozy but still benefited from the gorgeous view of the boats in the marina, and the sea beyond.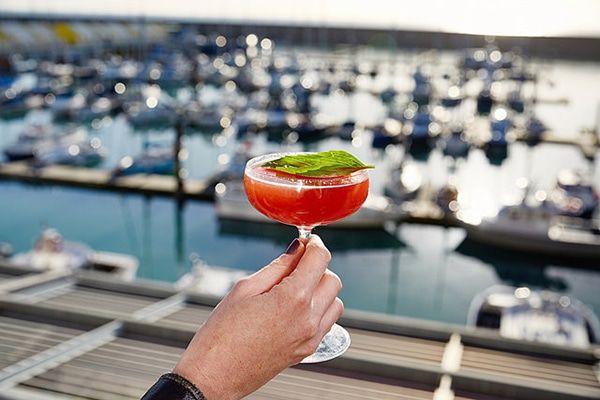 Our friendly and efficient waitress offered us a drink right away and explained the Sunday lunch menu. She explained that the first course was soup of the day which was 'Spinach', then followed by the 'Chef's Table' which we could help ourself as many times as we wished, then the main course of our choice, finished off with our choice of dessert. At £19.99, it's amazing value.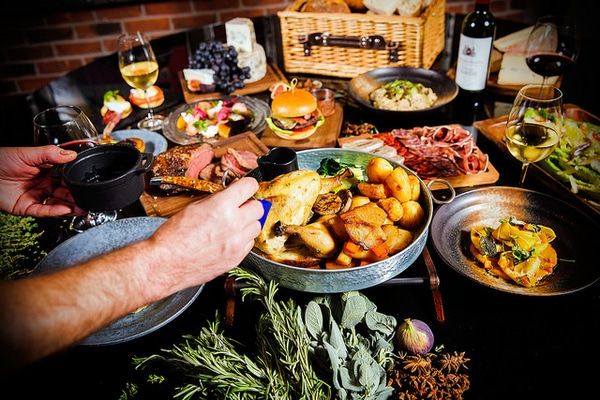 I was most excited about the 'Chef's Table' as we had walked past it when Colom showed us to our table and it looked and smelled unbelievably inviting. Housed in what I later found out was called 'the Cage', the long wooden table was filled with cheeses, meats, terrines, a selection of salads, artisan breads, seafood, pickles, and much more. I was wondering how I would fit in anything else. The 'cage' was a square section of the restaurant in the centre which was encased with elegant navy blue netting. Colom told us that this can be hired out a private dining room for special occasions and parties. It was a unique and stylish feature of the restaurant, adding another side to it's personality.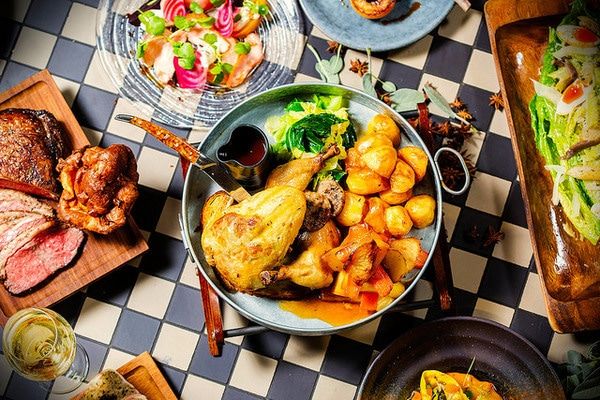 Due to our hangovers, neither us fancied any alcohol so went for a soft drink. Although, once I was enjoying the cheeses, meats and salads from the chefs table, I caved in and ordered myself a chilled glass of Chablis. It was heavenly, and all thoughts of my hangover disappeared.
The soup arrived in a beautiful french soup bowl, with a slice of warm, chewy brown bread on the side. When I heard 'Spinach' soup, I was looking forward to replenishing my vitamin C levels but wasn't necessarily expecting much in terms of taste and flavour. How wrong could I be. It was absolutely delicious. Piping hot, and topped with what tasted like lemon creme fraiche, it was a beautiful start to the meal.
Chef's table
With our appetites whetted and our hangovers fading, we went up to the 'cage' to fill our plates from the chef's table. There was so much to choose from it was hard to know where to start. I started with some fresh, crunchy salad and some roasted vegetables. I couldn't resist a selection of creamy bries and stilton and dangerously went for some more of that warm, chewy bread. I decided to skip the cured meats and went for some smoked salmon instead.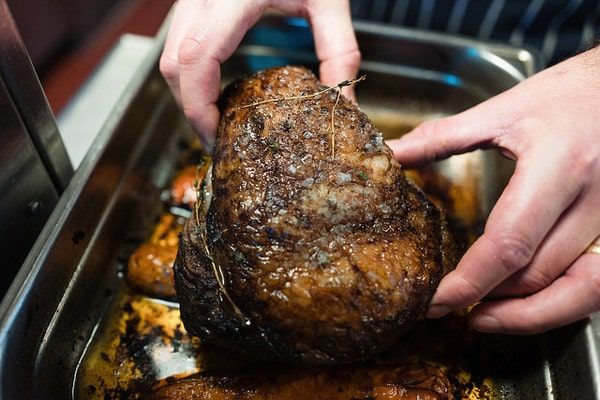 Everything so fresh, tasty and moreish, we resisted the urge for a second visit and showed some restraint to save room for our mains. Tommy chose the USDA black Angus Picanha Rump with all the trimmings. I decided to go for something lighter but equally comforting and went for the Severn and Wye Smoked Haddock Fishcake with poached egg and grain mustard sauce. Both dishes came with a generous portion of vibrant, crunchy veg. Wholly satisfied, we sat back with all thoughts of our hangover vanished.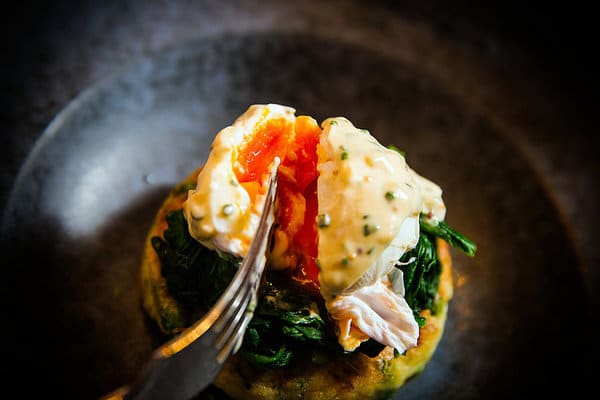 Soaking in the atmosphere and the surroundings of the restaurant I looked around and noticed how happy and relaxed everyone seemed. Guests, diners and staff, it felt very comfortable and chilled. The combination of the tranquil seaview, the soft background music playing, and the relaxed attitude of the staff all seemed to play a part. We didn't feel rushed by staff at all, and felt at home just enjoying our meal at our own pace.
Decadent desserts
To finish it all off, we decided to squeeze in something sweet from the dessert menu: Creme Brulee and the 'Mal Hot Chocolate'. The latter was not a drink as the name suggests, but what I would call 'a teacup of sweet genius'. Appearing very much like a 'hot chocolate' it came in a tea cup with a mound of fresh cream on top decorated by 4 homemade white marshmallows and a small jug of hot chocolate sauce to pour over the top. As I put my spoon in I found creamy vanilla ice cream at the bottom and chunky flakes of white chocolate. The combination of hot and cold & smooth and chunky made for one of the best desserts I've ever had. I wanted to meet the chef and shake his hand.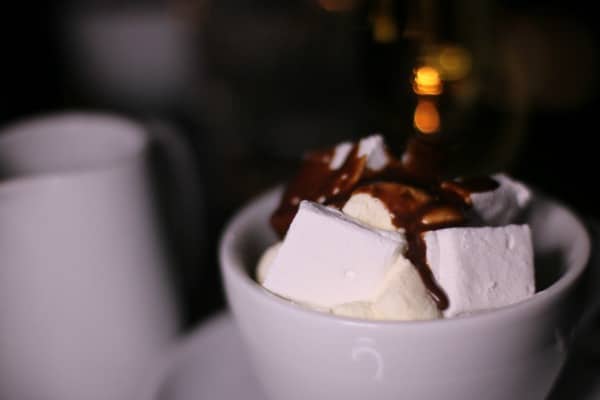 We left Malmaison with smiles on our faces and the colour back in our cheeks. I would definitely come back again, hangover or not. I've since discovered that Malmaison loosely translated means 'Bad House'. If in this context, they mean 'bad' as in 'extremely good' I would totally agree.
What Next?
Make a reservation on 01273 679799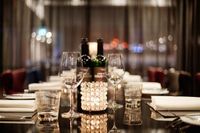 Want to know more about Malmaison Brighton – Chez Mal Brasserie?
Find Out More