Seasonal ingredients
The Chimney House is a short walk from Seven Dials. It has a warm, welcoming and traditional interior and a menu that offers something for everyone. You can enjoy bar snacks or go for a three course meal. All dishes are made with seasonal and local ingredients and the kitchen works with local farmers, growers and foragers to source the best ingredients. They use a range of artisan techniques from baking bread, pickling, smoking and butchery, to ensure as much is done in-house as possible.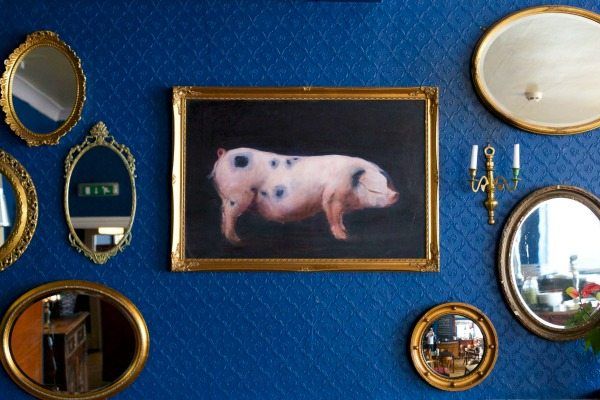 Cosy pub
Reducing waste is also something that is taken seriously. As well as all of this, The Chimney House offers its punters a wide range of delicious drinks – local ales, fine wines and spirits – and is family and pet friendly. We are seated in a cosy corner of the restaurant in full view of the open kitchen; the cool and collected chefs already hard at work. We know they have some recommendations for us tonight, but peruse the menu anyway. The dishes all sound mouth-wateringly good. There is a strong selection, without the menu being overwhelming. The descriptions are enticing, but also dont give everything away, creating an element of mystery.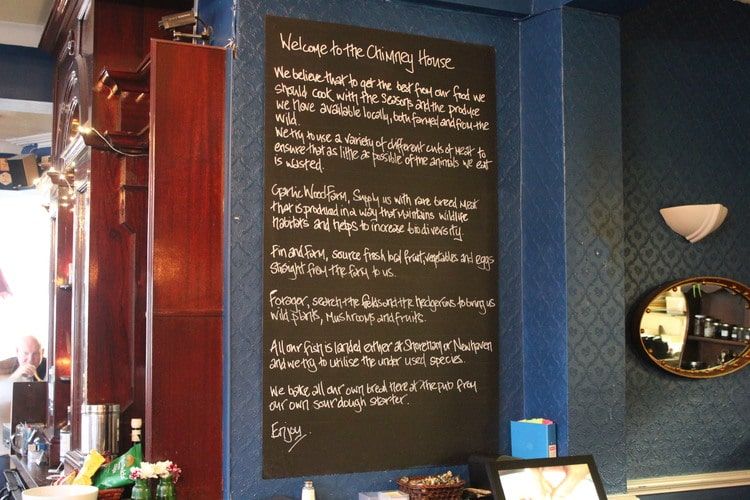 Hearty pub grub
There are a couple of veggie options, but the overarching theme is one of good, hearty grub, with a high-end twist. Were eager to get stuck in and would frankly be happy to eat anything from this selection. Our enthusiastic and smiley waitress wastes no time in coming over to explain everything. She is really excited about the menu and it rubs off on us instantly. We tell her we are lovers of a good red and I am more than happy she recommends a large glass of Rioja each – her favourite. The starters and mains are confidently communicated. We tell her that we love all food and the deal is done.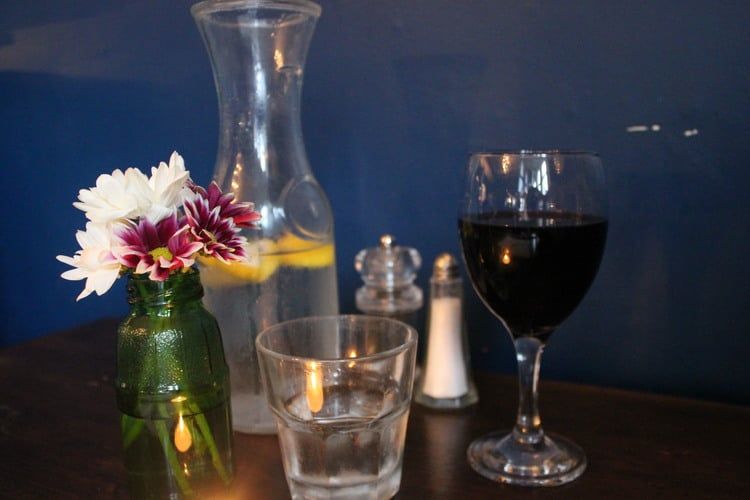 At the recommendation of our waitress and the chef, we'll be eating tomatoes, wild herbs & hazelnut (v) (£6.50) and smoked mackerel, unripe blackberries & hazelnuts, cured pig cheek & sour cream(£7) to start; and Harveys beer-battered hake, chips, curry sauce, picked egg, pickles & mushy peas(£13.50) and pork shoulder with dauphinoise potato, golden beetroot, blackcurrants, rose & fennel (£16) for our mains. The wine comes and its delicious. Its smooth and fruity and goes down very well.
Sensational starters
Along with the wine, we are served some wonderful, made today, sourdough bread and lightly salted butter. Im normally careful not to fill up on bread before a meal, but when it tastes as good as this, I can make room. The starters arrive in perfect time, just as the last piece of bread disappears into my partners mouth. Colours pops from the tomato dish. This is sweet and crunchy; the tomatoes and herbs working in perfect harmony. The nuts add variety to the texture.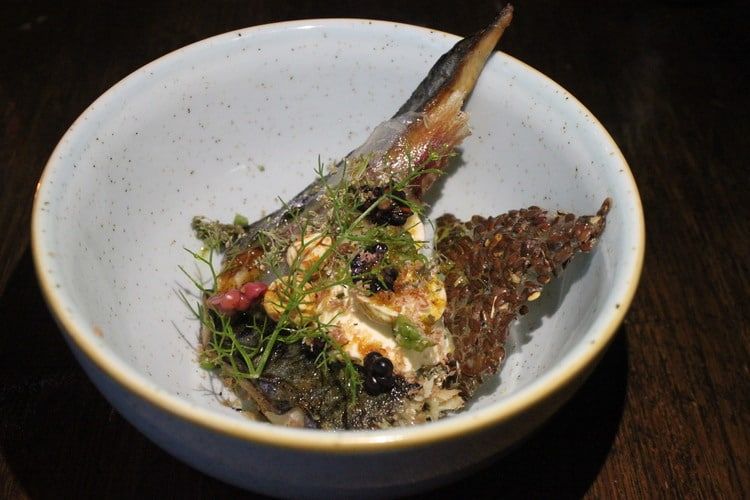 The sprigs of fennel make the dish even more pretty and project an interesting flavour into the mix. Sometimes the simplest of things are the most enjoyable. The Mackerel dish is no less attractive. All of the different elements, placed with precision into the bowl. We tuck in, taking note of each different flavour and how it plays its part. The unripe blackberries alongside the smoky mackerel and sour cream, contrast and complement. I accidently devour the slice of cured pig cheek, leaving not a slither for my partner to taste. This is salty and so thinly sliced, it almost melts in my mouth. Again the nuts add texture and crunch, as do the unripe berries. This is a lovely dish.
Tasty fish
Our attentive waitress, keen to know how weve enjoyed the starters, clears the dishes and asks if wed like another glass of Rioja. How can we say no? Our mains arrive at the table in a blaze of glory. Both dishes look incredible. The beer-battered fish is a sight to behold. Possibly the biggest piece of fish I have ever been served. The hake is plump and covered in golden, light, crispy batter. The slate its served on is adorned with many extras: moreish mushy peas, a really authentic curry sauce, creamy tartar sauce, a pickled egg, gherkin and pickled veg, plus a fair amount of skin-on, chunky chips. The chips are not greasy, but fluffy on the inside and impossible to leave. I'd honestly say its worth a trip to The Chimney House just for this glorious take on a tradition; youll never think of fish and chips in the same way again.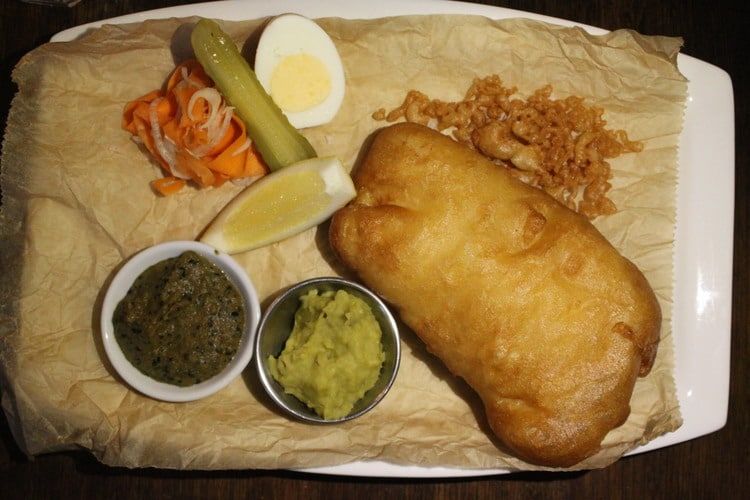 Tender pork
The pork shoulder is a beautiful and colourful dish. The flavours are rich and plentiful and the portion is by no means modest. The pork itself is tender and the crackling snaps and contrasts the melt-in-the-mouth texture of the meat. The vibrant beetroot is sweet and the blackcurrants add an edginess. The dauphines are made from rich mashed potato and make a superbly light and crispy potato addition to the dish. The scented rose and fennel finish everything off effortlessly. I would happily recommend this dish. Its impossible to say no to dessert, although we are both happy and satisfied by the end of our mains.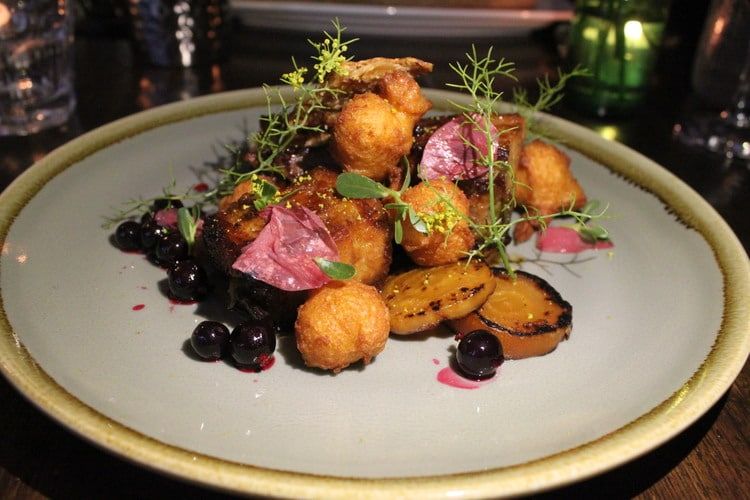 Different desserts
Our waitress' recommendations have served us well so far, so we are happy to accept when she suggests the cucumber, douglas fir & sorrel (v) (£6.50) and Hay panna cotta, raspberries & barley (£6.50). The green dessert comes with two buttery short bread biscuits on the side. The douglas fir sorbet is seriously refreshing and the perfect palate cleanser, as is the dark green, icy sorrel accompaniment. The cucumber balls are crisp and visually pleasing.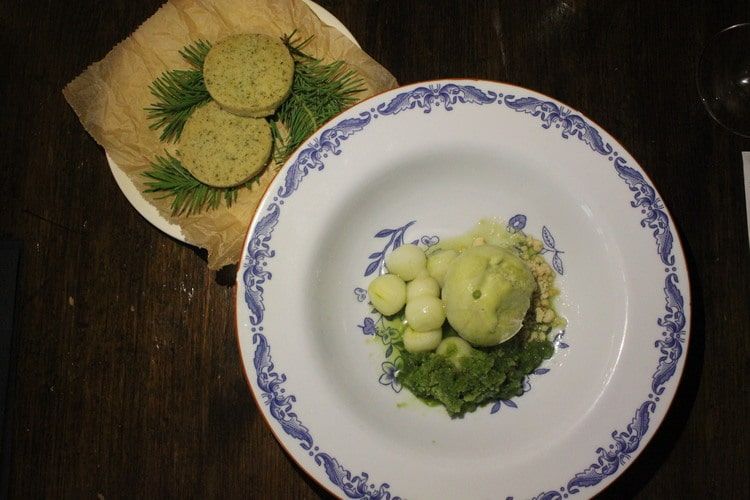 The panna cotta has been infused with hay and this subtle smell comes through in the taste. This sounds odd, but somehow works when paired with the sweet berries. The barley sprinkled over the top of this dessert adds depth. Im not going to say that this isnt an acquired taste, but we both thoroughly it. This dessert is like nothing Ive tried before, which for me is a big plus! We have no complaints. Its been a joy to dine at The Chimney House tonight. Weve been really well looked after. The vibe has been relaxed but the meal has felt special. The menu is a crowd pleaser that still manages to be adventurous and interesting. I would love to go back and sink my teeth into some of the other dishes on offer. In fact, Im confident that I will.