Family fun dinner at the Lewes Road Inn
On a blustery rainy March afternoon, I picked the kiddos up from school and braved the elements to enjoy the pub sanctuary that is The Lewes Road Inn. Previously a bit of a trouble-makers haven, The Lewes Road Inn has had a truly remarkable make-over. Long gone are the days of sticky floors and ruffians, and in its place instead, a truly welcoming community pub with a wholesome vintage vibe. With walls lined with paintings of neighbourhood pets, plenty of seating for young and old, and an ice cream case filled with rainbow delights, The Lewes Road Inn has transformed itself into a family-friendly space that the whole fam-dam would approve of.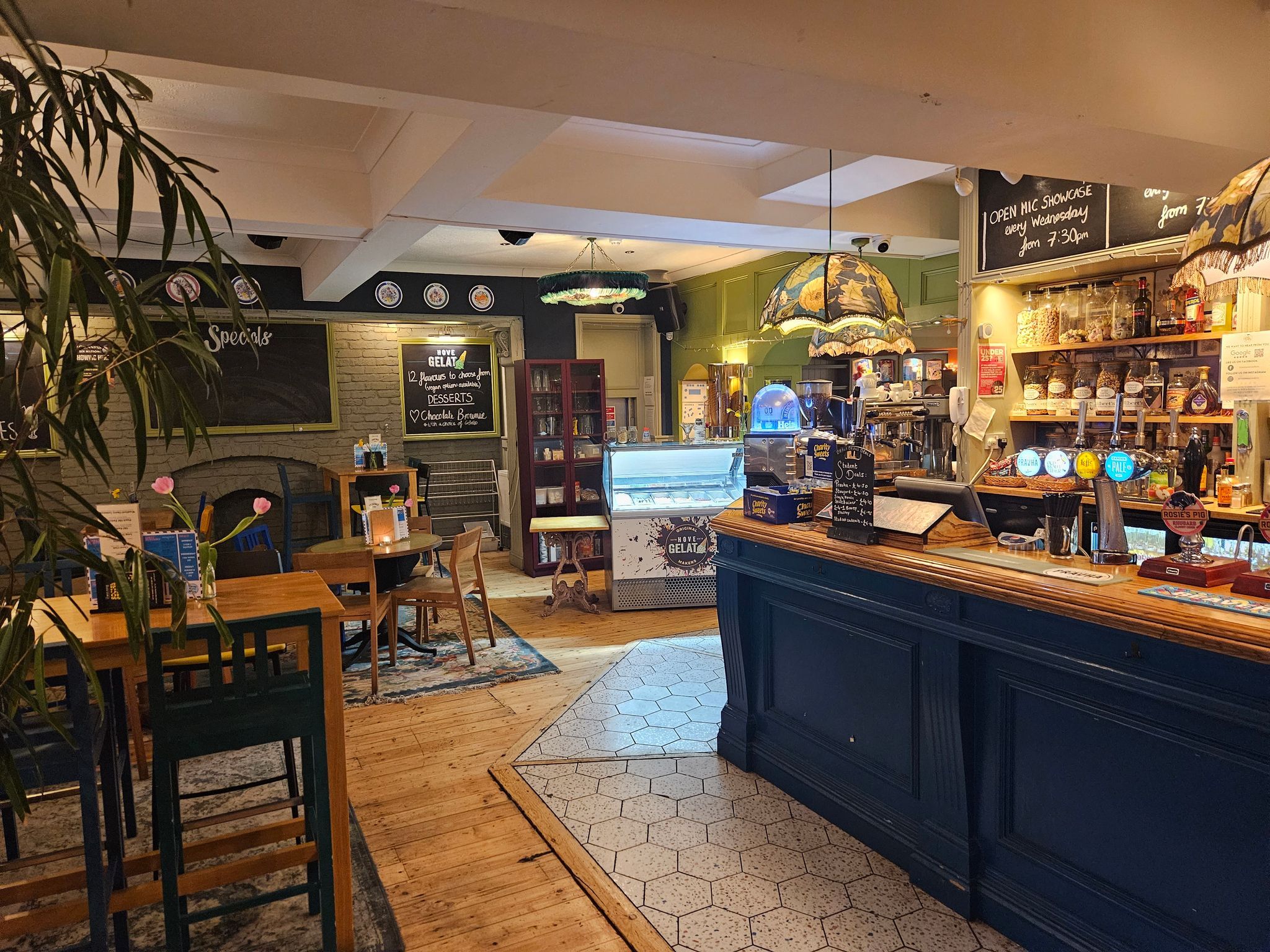 Classic meets vintage, in food, style and fun.
The decor is a throwback to my 1980's childhood, with *cough * antique toys like Garfield and Fraggle Rock. They even have a classic coffee table arcade. Filled with favourites like Pong, PacMan and Asteroid, you name it, they've got it, and with the added convenience of contactless payments, you can play for days without running out of dosh.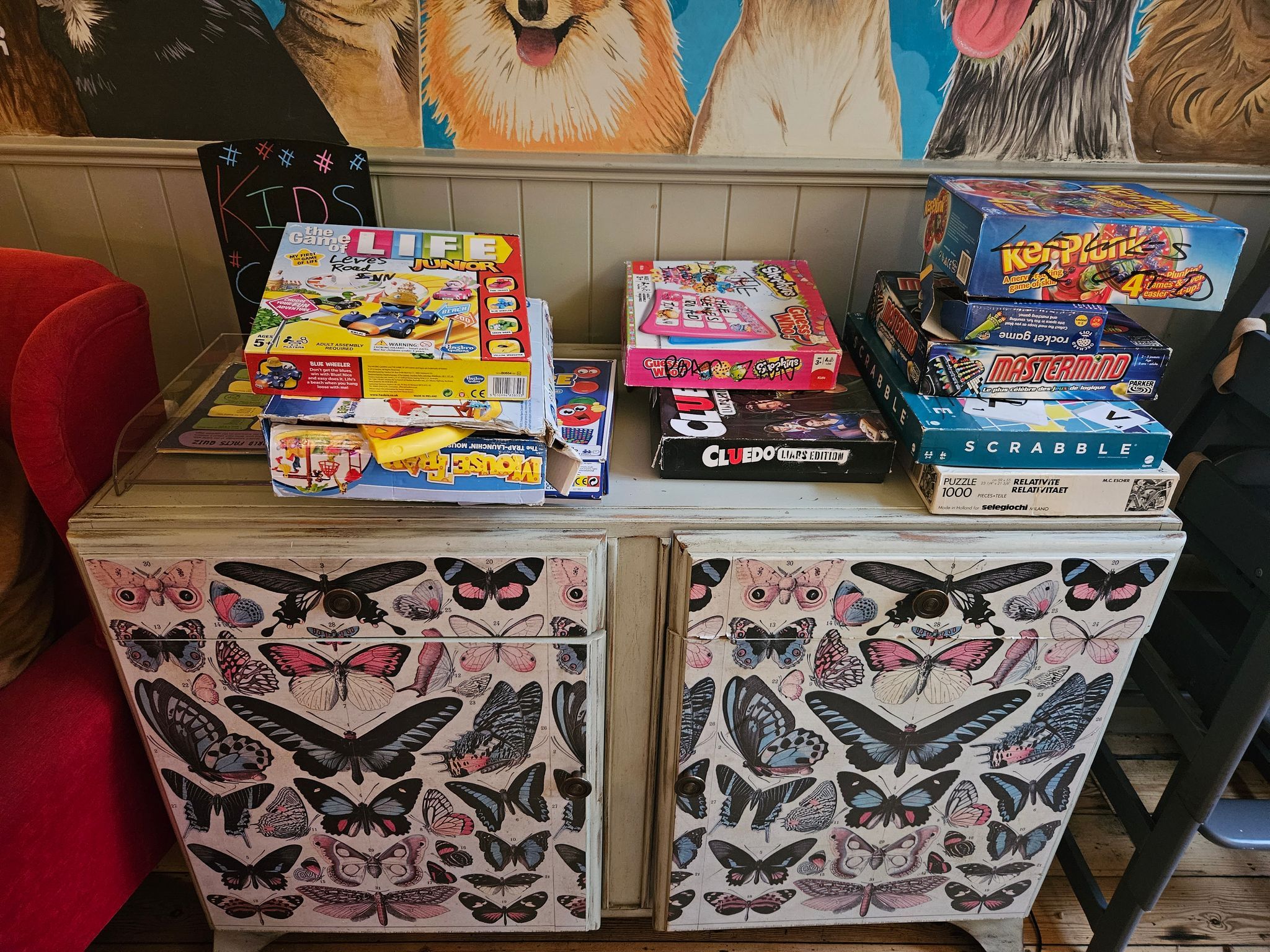 Cosy corners and suntrap gardens
The pub itself is huge, but their carefully thought-out sections give it an intimate feel. Little reading nooks for quiet conversations, back areas with cosy armchairs, banquette seats and long tables for games night, and of course an ample well-stocked bar front and centre. 
Although today their garden was being pummelled with rain, I could see from the window that their spacious suntrap garden and quaint little Wendy house would be a hit on a sunny day. My two would have happily gotten soaked to play outside, but alas, Mummy wasn't keen on having soggy kiddos. (Worst. Mum. Ever. Jeez!) 
Games for days!
On arrival my boys instantly clocked the games area, and started filling our long peppermint-coloured table with everything from 'Jenga' to 'Don't Wake Daddy'. We ordered our drinks with Luke the friendly Manager, and he introduced us to his lovely chef James who was about to fix our feast. We quickly ordered as I knew the monsters would need feeding shortly, and we got stuck into a fierce game of 'Disney Princess Guess Who?'.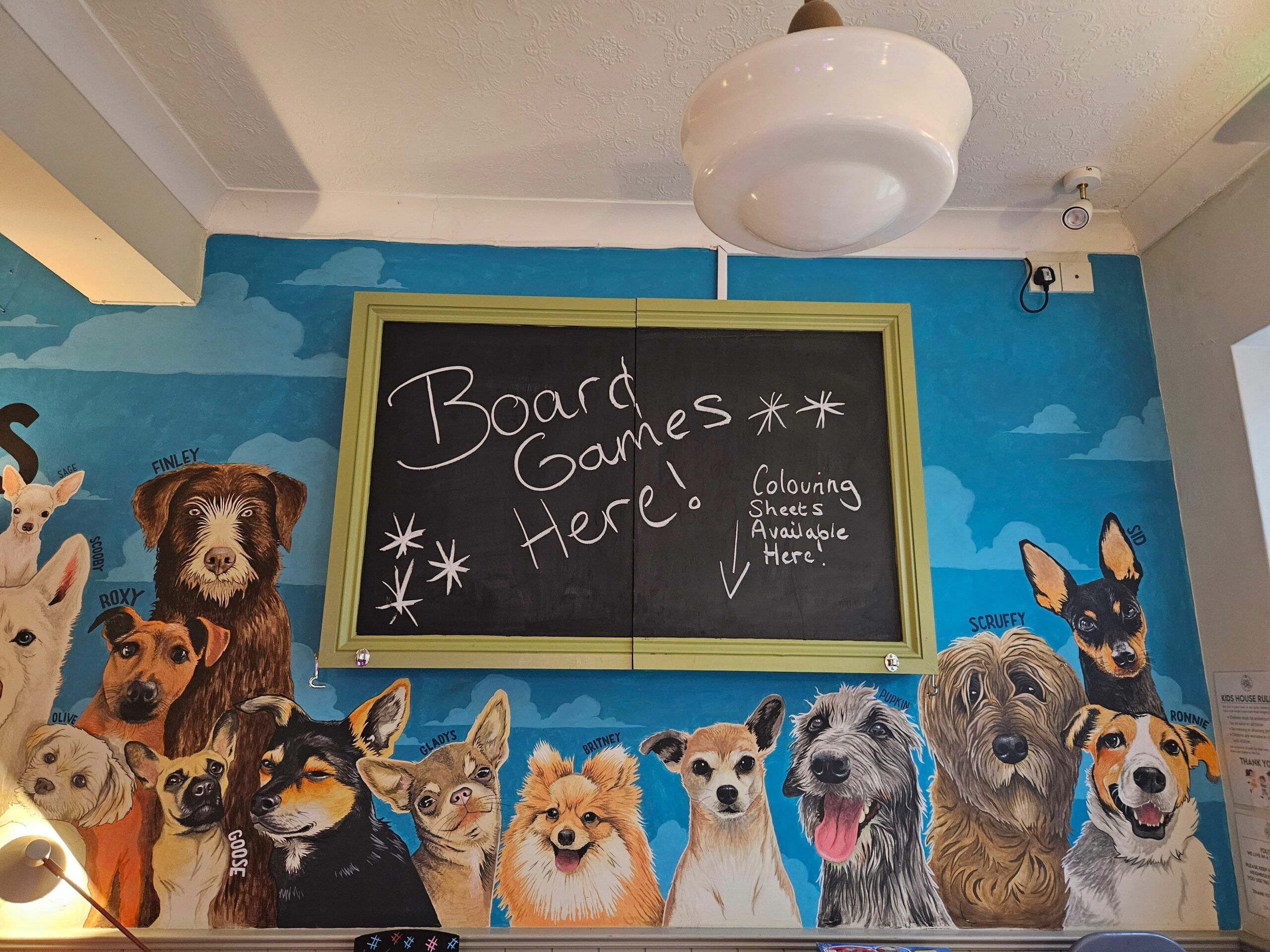 Full bellies make families happy.
The Lewes Road Inn menu is all about keeping families happy and bellies full, and their Americana-inspired 1950's soda shop style is absolutely ideal for doing just that. Nachos, Wings, and Loaded Fries 'Oh My'! Not to mention Pizzas, Frickles, Burgers and a sweet treat menu that was made for filling 'Dessert stomachs'.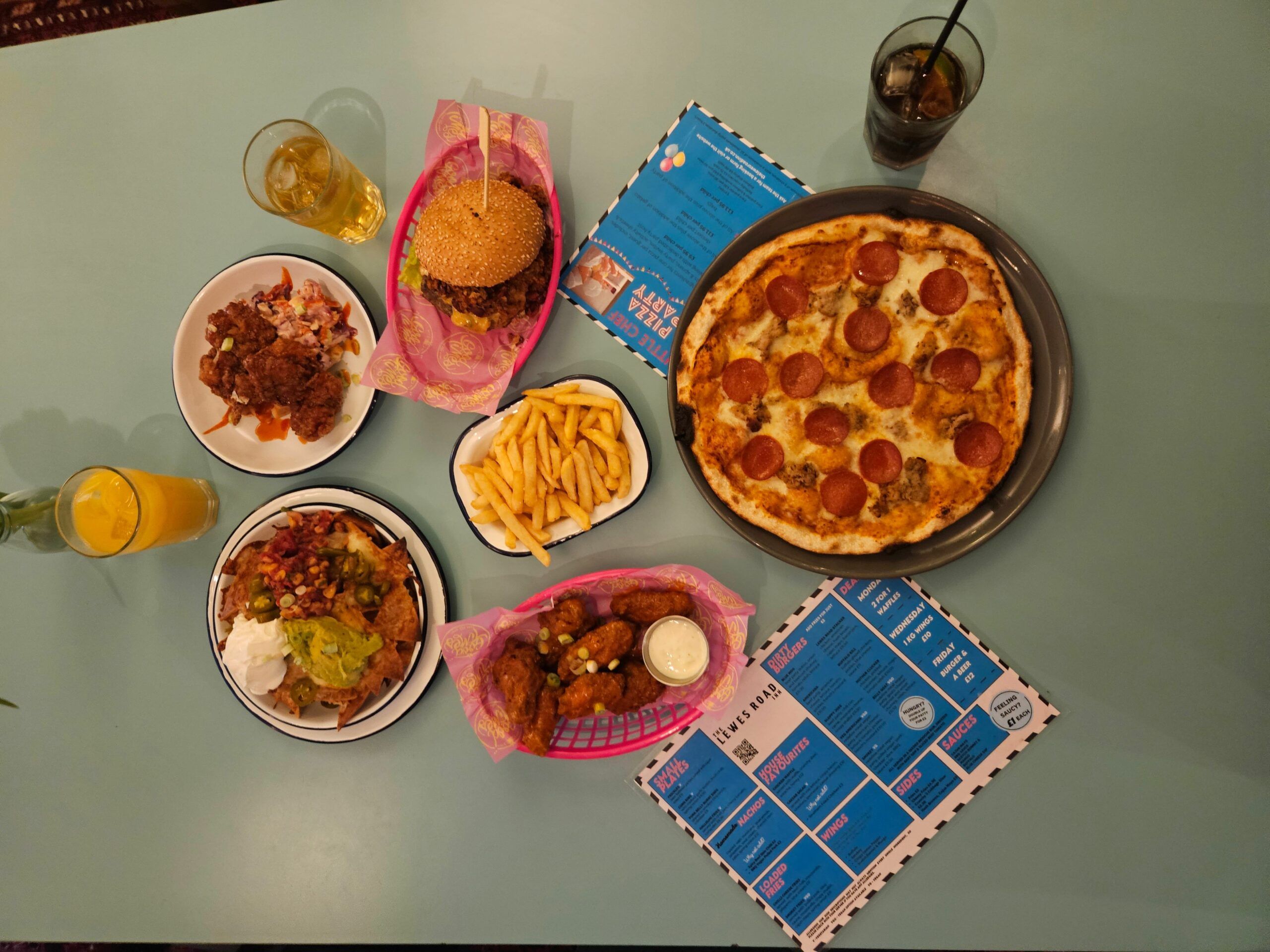 After one or two games the food began to arrive and my kid's eyes lit up! Aven (6) ordered an entire pepperoni stone baked pizza for himself. Hubs supervised while Aven expertly cut it into slices with his shiny pizza cutter. Aven loves to cook and has decided that he wants his next birthday to be a Lewes Road Little Chef Pizza Party! Aven and his little friends will get chef hats and aprons, and be shown how to make their own pizza from scratch. They also get party invites and activity sheets, and we can upgrade to have gelato and party bags included too. Tick Tick Tick…also there is a well-stocked bar inches away from the reverie for all the grown-ups, result!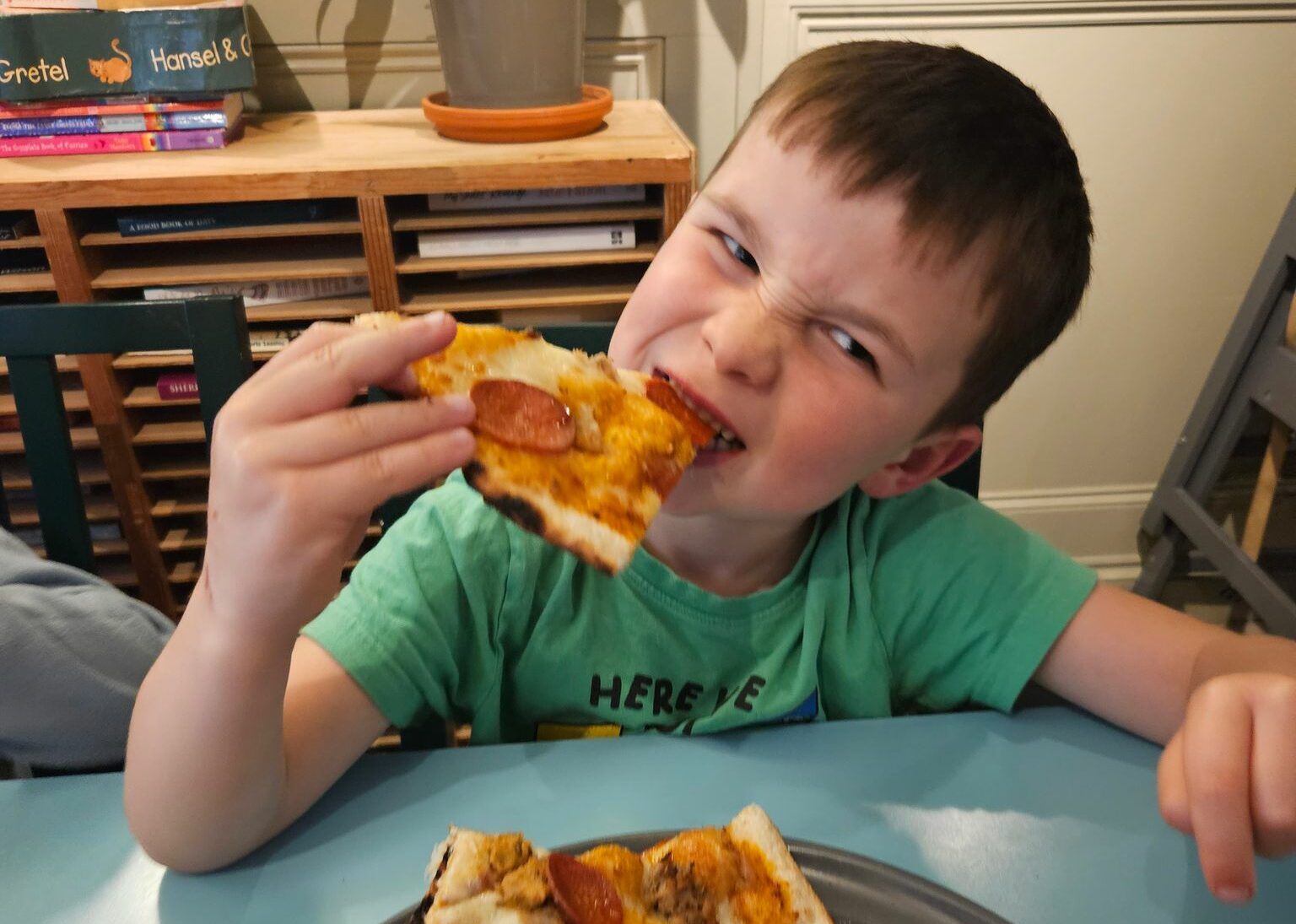 Liam (4) ordered the obligatory table fries, and a Sloppy Joe Burger roughly the size of his head. Don't let his tiny stature fool you, this kid can pack it away. Mere mortals bow to his might. With an American Mum, Sloppy Joes are part of our at home menu and one of his favs, so when he had the chance to, and I quote, 'tummy squash my favourites' he was fit to be tied. Dad of course stole a ceremonial 'tester bite', and then there was silence at my table for a solid 5 minutes while they tucked in.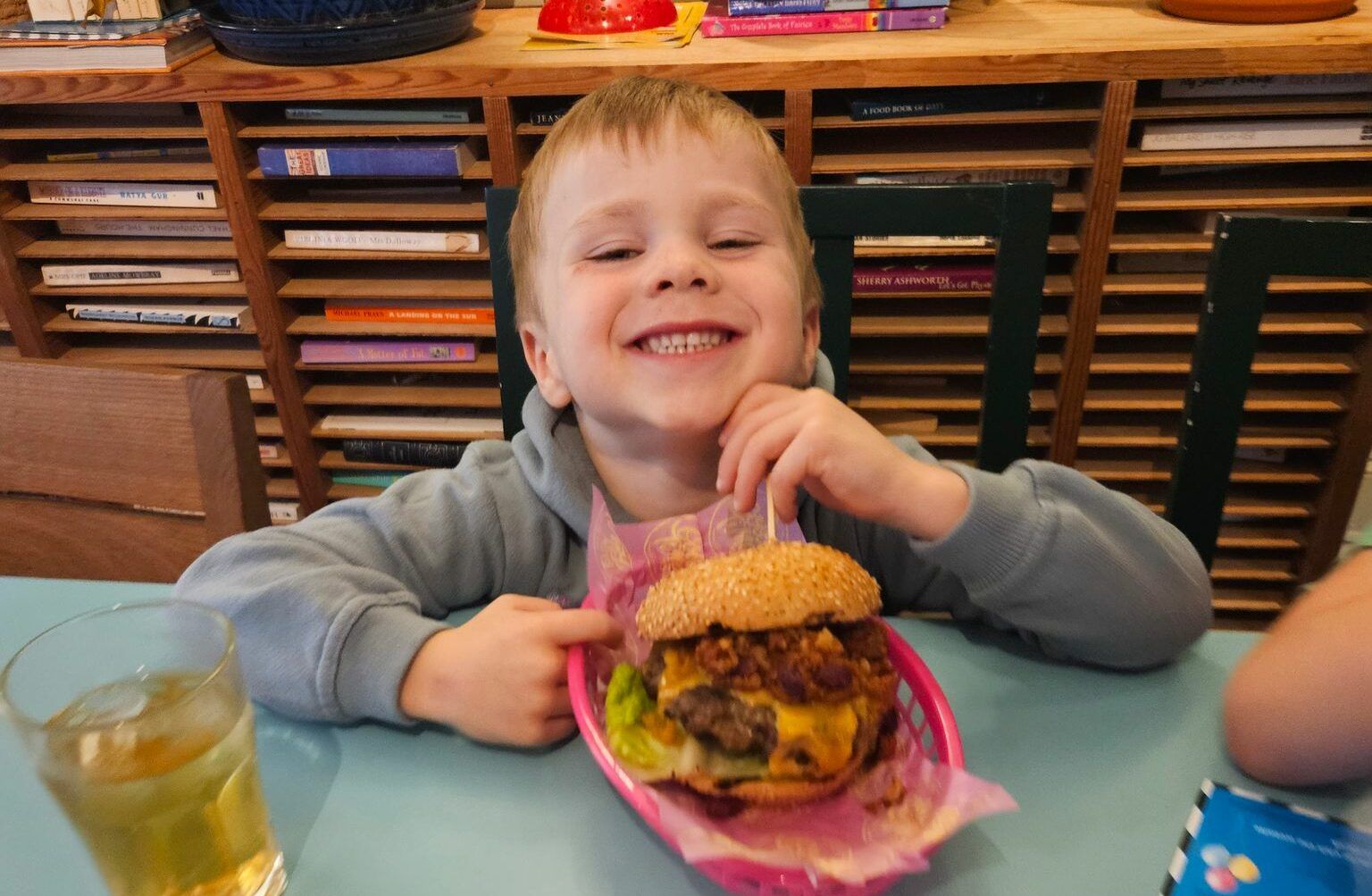 Americana at its best
Hubs and I love what we call 'Football food' (ie: dishes that you would normally eat at the Super Bowl party), and Lewes Road knows how to deliver. Piles of cheesy Nachos dollopped with Guac and Sour Cream, Spicy Buffalo Chicken Wings with zesty Blue Cheese dressing, and now banging Chicken and Waffles! I hear what you're saying 'What in the American-deep-fried-madness is this?' but trust us…it's all about Chicken and Waffles.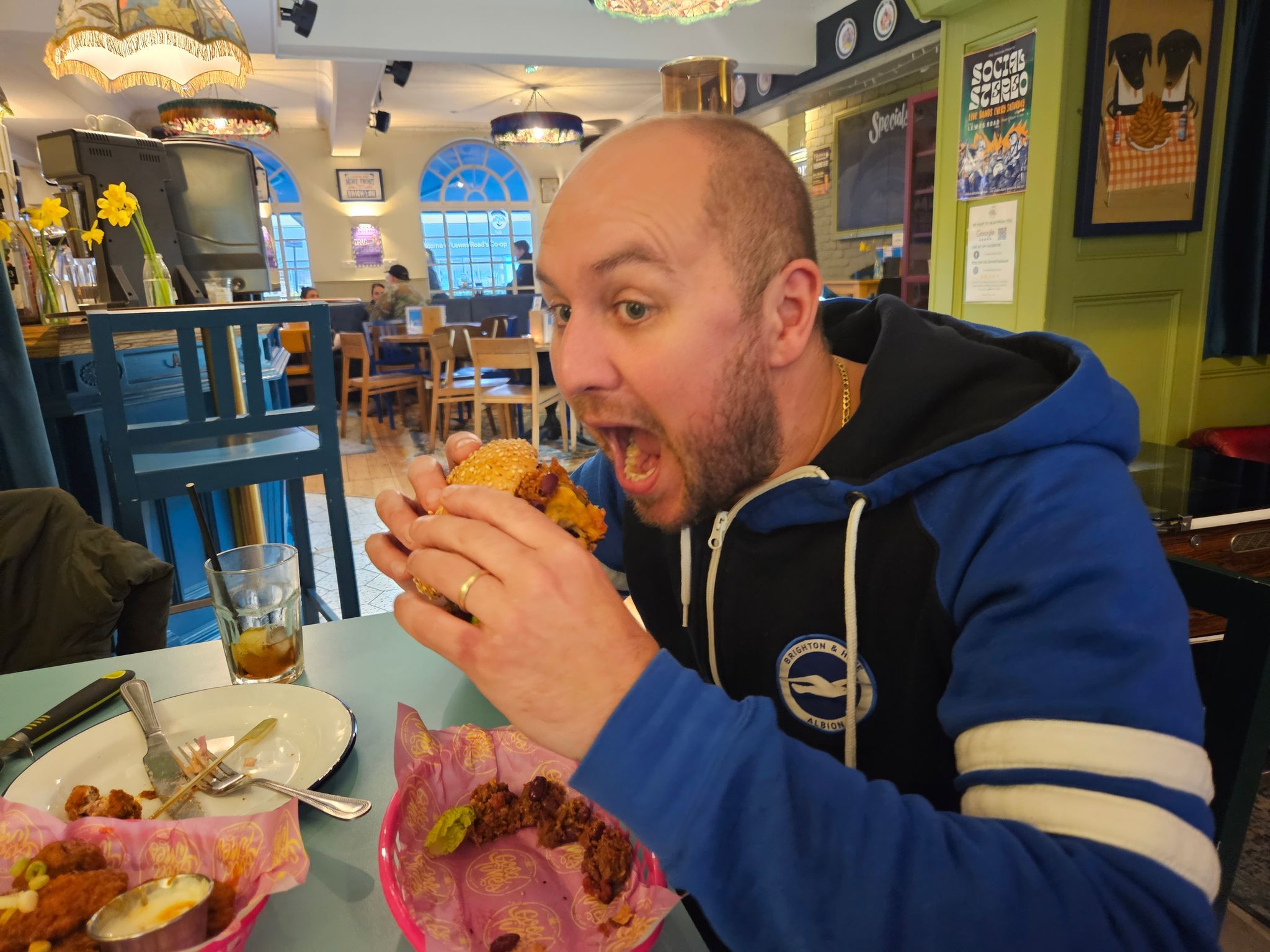 Picture this, deep-fried chicken thighs, placed atop a belgian waffle, drizzled with honey and spicy sriracha, and served with crunchy red cabbage slaw. Sweet, salty, spicy, savoury, juicy and delicious. The Lewes Road Inn hit it outta the park #baseballreference.

Sweet treats for everyone
After our American sized feast, the kids and I dove straight into a heated game of Jenga. I play to win, but I was no match for their tiny agile fingers. For a champions treat, Hubs and I got them each a Hove Gelato Shake. Liam ordered the sky high Nutella Shake topped with whipped cream, swirls of chocolate, and pieces of kinder bueno. Aven ordered the Biscoff Shake with whipped creamy goodness, caramel sauce, and topped with Biscoff biscuits. I have to say their smug little sugar filled faces were picture perfect while they sipped their shakes.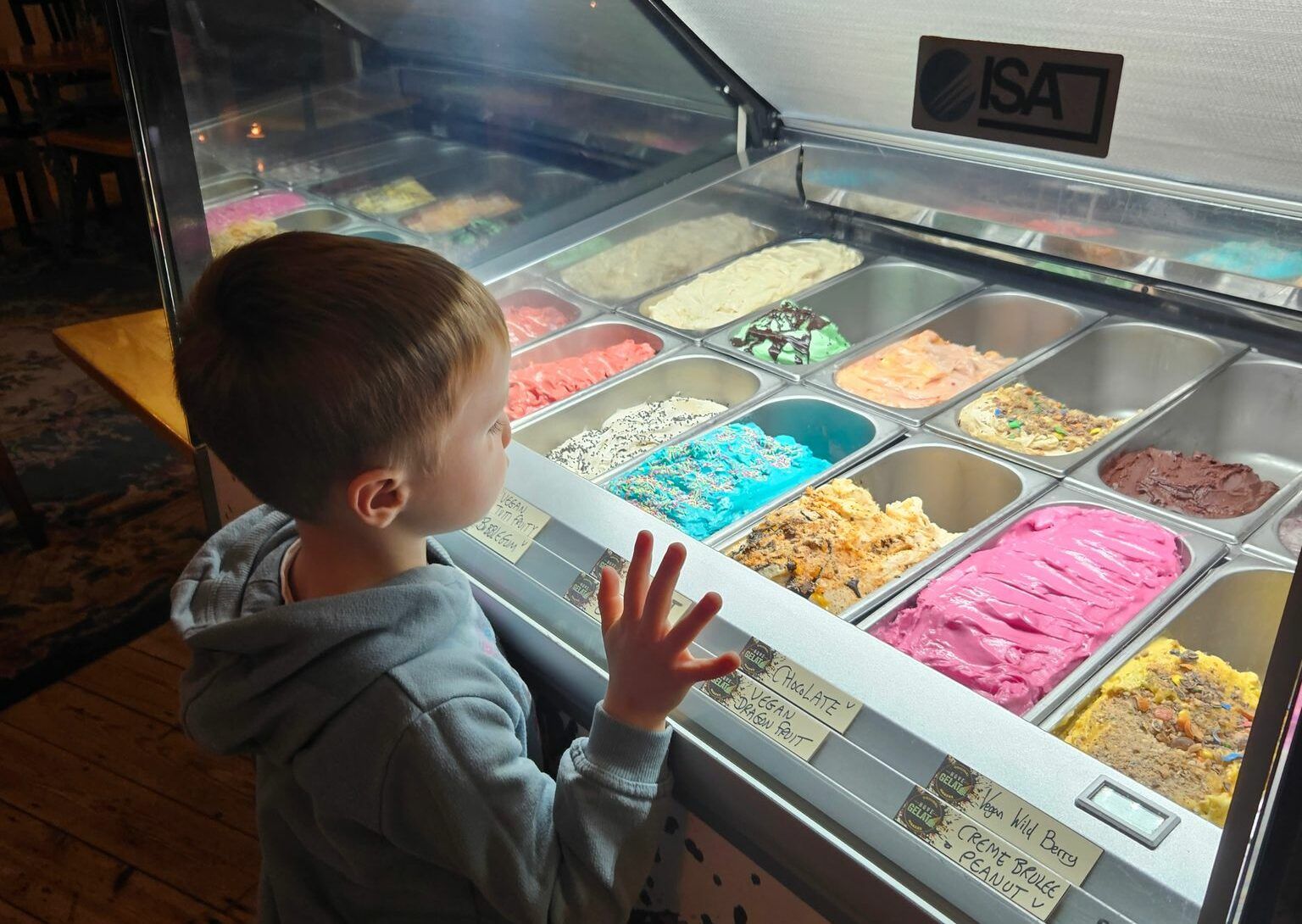 As a consolation prize for losing to our children, we ordered ourselves some sweet revenge! Mwahaha! (You may have won Jenga, tiny humans, but we won the battle of best dessert!)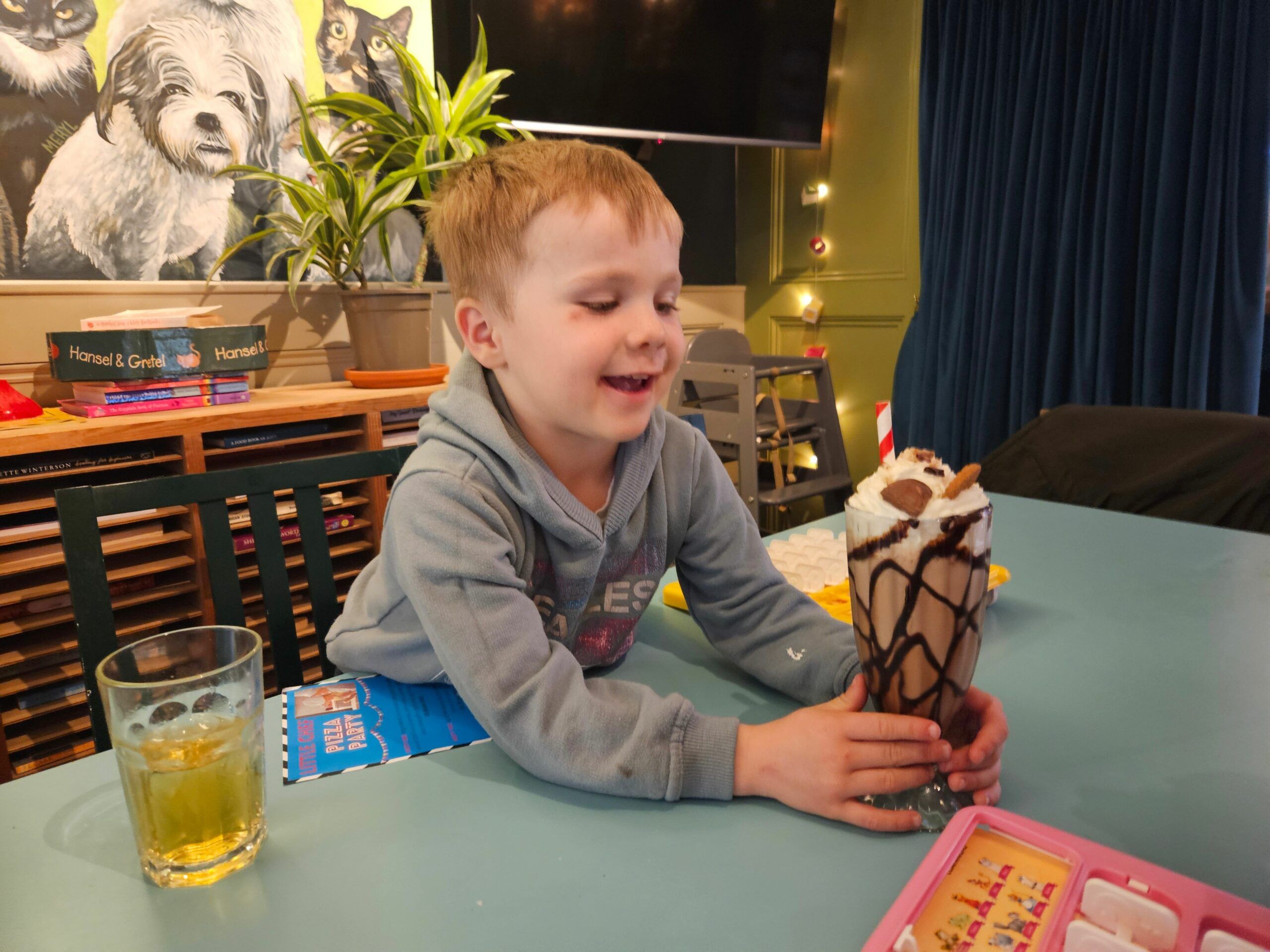 To really make a show of my power I decided to go uber American and had the Neapolitan Sundae. A trio of vanilla, chocolate, and sour cherry gelato, filling a classic sundae glass, topped with whip, sprinkles, wafers and chocolate sauce. It was a triumphant tower of deliciousness and I savoured every bite.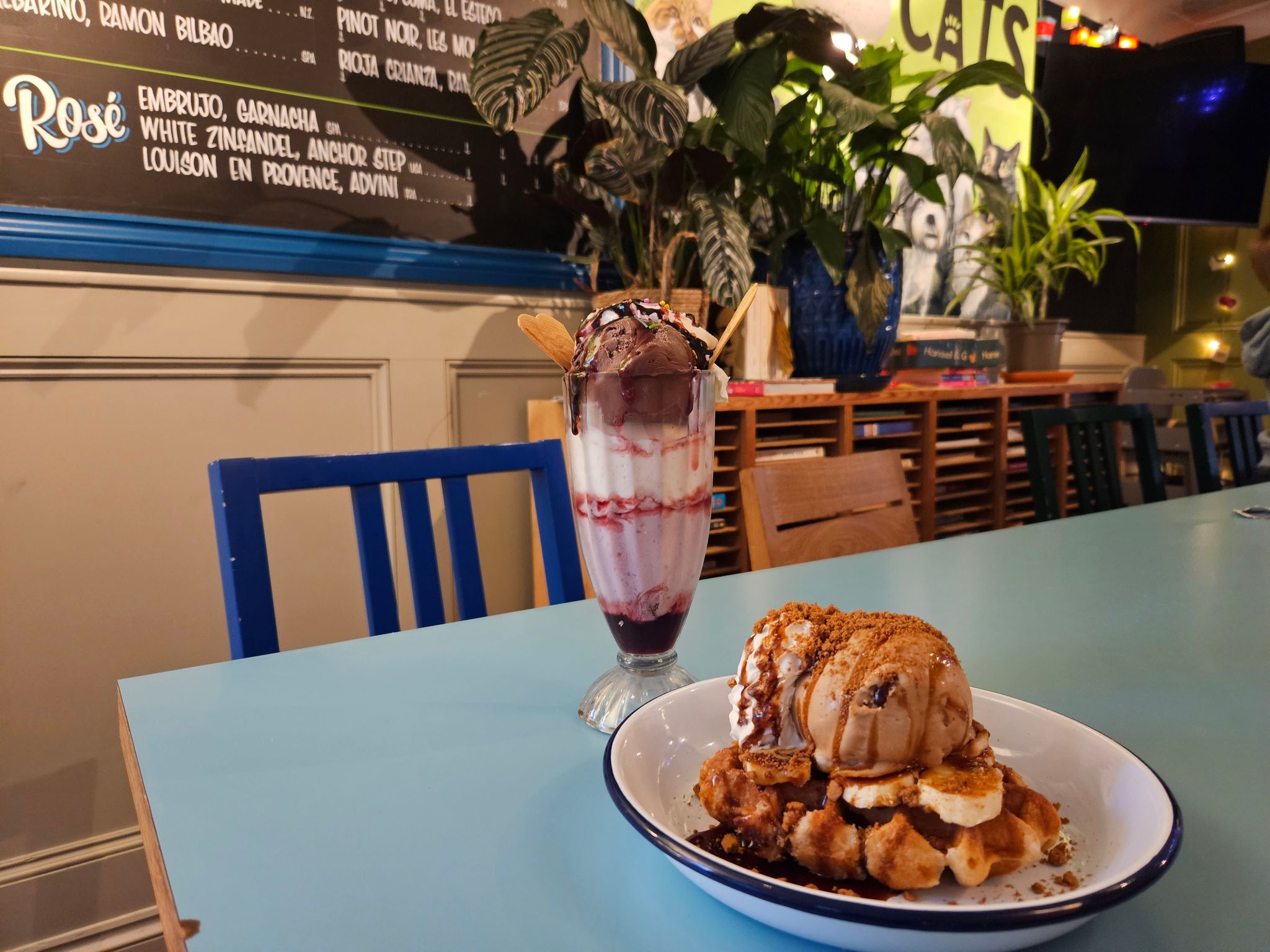 Hubs ordered the Banoffee Waffle served with salted caramel gelato, slices of fresh banana, drizzled with caramel sauce, and finished with Biscoff cookie crumb. Oh my days, it was good. If you like a banoffee pie, this is one for you. It's the kind of dessert that you probably should share…but nah. The salted caramel gelato was my personal favourite, I reckon I could eat it every night and not get bored, yum. 
And if you are wondering, yes we caved and let the little seagulls have a nibble or two, we're not monsters after all.
Brilliant food and great fun at The Lewes Road Inn
After a whole evening of playing every game, and eating all the food, my little family was ready to head home for bedtime with full bellies and sweet dreams. I am so looking forward to returning again soon for our Pizza Party, and some more tasty bites. Thank you for having us at Lewes Road Inn, it was a blast from the past and we will be back!