Fantastic food with a great atmosphere
Brighton Food Reviewer, Emma Harrel, October 2016
I've been wanting to try Libation for a while, since I went there for a drink whilst waiting for a seat to free up at Fatto a Mano. When I was there, I really liked the ambience and the food looked great! It's situated in Hove on Second Avenue (not the beach end), you can't miss it, because it's quite big and has some fantastic outdoor seating on its decked terrace at the front premises. If you don't know what Libation means, you won't go far at the restaurant no knowing, because it's written above the bar as you enter; "a drink poured out as an offering to a deity". A profound statement.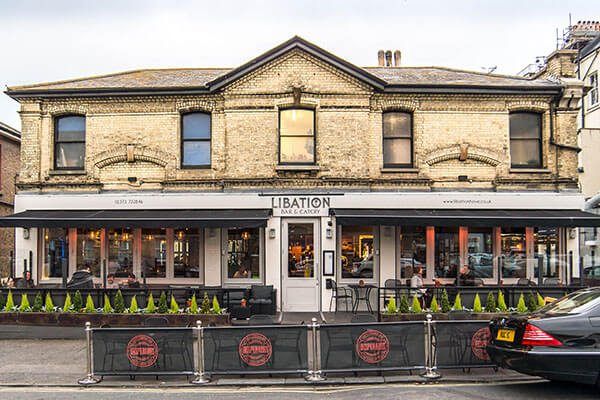 Interesting interior and buzzy vibes
So we were seated by a friendly waiter, who was our waiter for the rest of the evening. He was smiley, accommodating and told us that the many of the furnishings in Libation have come from the old Hove library. When we looked at the wall next to us, the entirety of it had been covered in old library drawers, then I saw somebody's food being served on a drawer! I liked that eccentricity and theatrical element to the venue, yet it still held a stylish aesthetic. Along with these details, the place had a great vibe going on this Thursday evening.
It was only 6 o'clock but it was buzzing, presumably people going for that pre-weekend drink! The music was good, and the lighting was moody. Very atmospheric.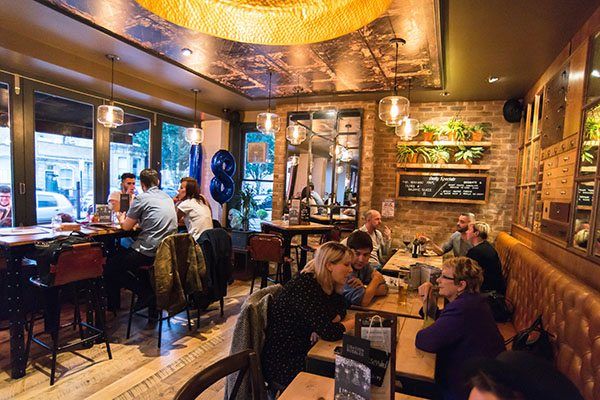 Lots of drinks to choose from
We were given the food menu and drinks menu, which were on wooden boards with a ring binder, I'm guessing to go with the library theme. I liked them; it made the menus feel special. There were plenty of drinks to choose from (as it is a bar as well as a restaurant), including an array of bubbly drinks and some tasty sounding cocktails, which I know are good having been here before. For dining though, I settled with a white wine.
When it arrived it came in this amazing glass. I loved the shape and feel of it, it looked so elegant. I really think as well that the shape of the conical you drink from, has some effect on how the drink tastes.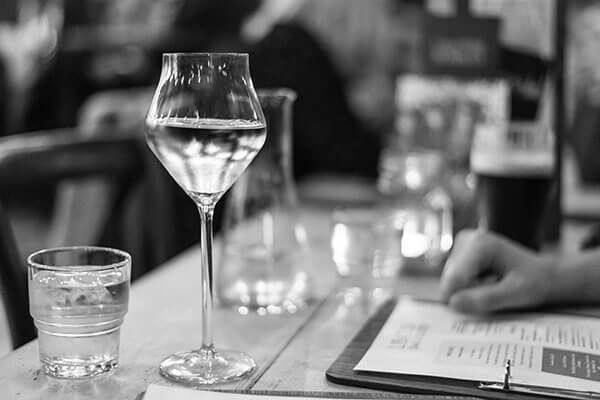 Tapas with a twist
The menu wasn't bombarding. There were a few classics to choose from as well as some more adventurous dishes and a selection of tapas style dishes too, (they weren't Spanish as such but small plates of interesting sounding food.) We thought we'd try a couple to share as a starter, so went for the 3 for £13 offer of Scallops with Garlic Parsley Butter, BBQ Cajun Pork Ribs and finally Duck, Black Pudding, Cherry, Red Onions & Parsley. When they arrived they came presented on one of those library drawers I had seen earlier! I really liked that way of presenting it. We also got a little bowl of warm water and lemon for cleaning our fingers, I like it when restaurants do that.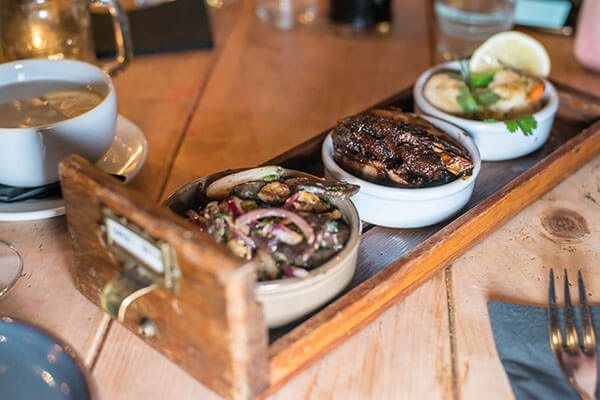 The ribs had a beautiful dark, rich sticky sauce with a hint of cajun, the actual ribs themselves were those little stubby ones, yet had plenty of tender meat to gnaw off. The scallops were soft and sweet, and the sauce was lovely and fresh with parsley and some lemon had been added to the garlic butter. The black pudding and duck was an interesting combination, being two very bold flavours, but they worked really well, the opposing textures coming from the soft black pudding to the stringy duck meat married well, then the cherry sauce was fragrant and sweet yet gave a good punch to the dish.
Popular risotto
For our mains, I had asked for the waiter's recommendation and he'd suggested the Scallops & Tiger Prawn Risotto With Parsley & Peas (£15). He said it's new on the menu and been popular since it's been added. I never usually go for a risotto so thought I'd try it since it's been recommended. When the risotto arrived, I was very pleased I had ordered it. It came in a big deep bowl (which was also very nice) filled to the top with sticky risotto rice, bright green peas, tiger prawns dotted around and inside, along with those sizeable scallops, and pea sprouts had been dressed on the top.
The flavours were fantastic, I loved the freshness of the dish and the rice had a nice bite to it. The tiger prawns were humungous, and the scallops soft & buttery texture went really well with the el dente rice. It's definitely inspired me to order risotto again when I'm out, whether they'll live up to this is another question…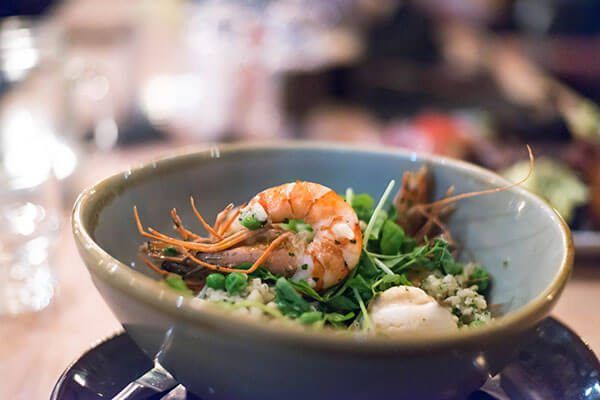 A giant portion of steak!
Dan had ordered for his main the Sussex 10oz Sirloin Steak Garlic Butter, Red Onion & Tomato Salad, Grilled Mushrooms & Wedges! When he was asked how he'd like his steak, blue was one of the options, and with this not being a popular offer he took it up. I wasn't so sure when I heard him go for that, personally I think more flavours come out of the meat when it's been cooked a little longer, so I was curious.
When it arrived it was a giants portion, I knew neither of us would be leaving hungry, if we could leave at all after our portion sizes! But it's better to be stuffed than hungry!
His steak had been grilled both sides so the smokey taste ran through the meat, yet it was still blue and hot all the way through. The flavours of the meat were rich and it was tender, it went really well with the garlic butter and wedges. Dan was very happy with it, and I was shown that plenty of flavour can still come through a slightly cooked piece of meat!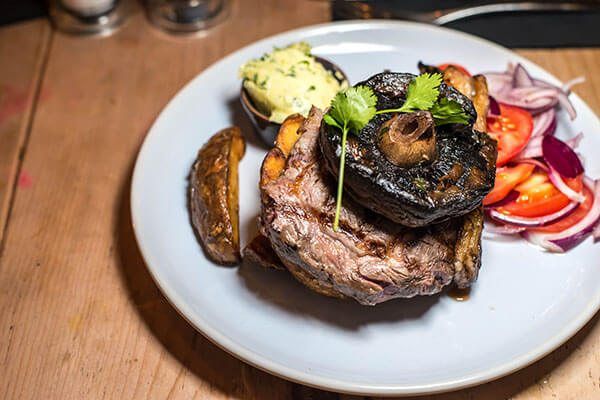 Brownie recommended by the chef
When we finished, a man came over from another table that was part of a birthday celebration, it turned out he was the chef that had created the menu and he was asking about why I was taking photos. He said we can't leave without trying the Roasted Pecan Chocolate Brownie with Hot Chocolate Sauce and Vanilla Ice Cream (£6.50). And that was that, we were having a dessert (to share after the copious amount of food we had already consumed!). Boy I didn't regret it though, it was bloody delicious!
The brownie was soft, warm and gooey with crunchy roasted pecans running through it, mmmm!
And the sauce was thick but not too rich, it almost had a chocolate pudding consistency, it was hot and not too sweet; belissimo! And the ice cream was the thing that completed the dish, a cool refreshing creamy ice-cream that melts in the mouth with the chocolatey goodness.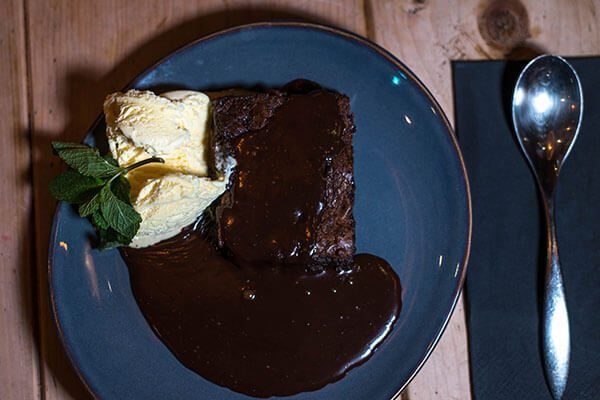 Definitely recommended
I would thoroughly recommend going here, whether it's for a drink, a meal out with a friend or a party of people. If you go for a drink(s) get a few of the tapas dishes, as there are some interesting combinations that would go perfectly with you favourite beverage. And if you see that brownie is on the specials board when you go, GET IT!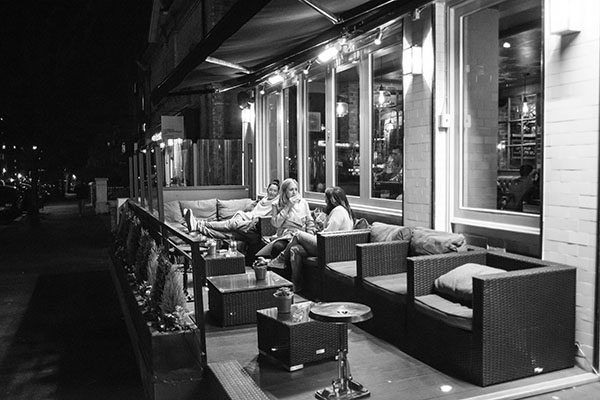 What Next?
Make a reservation on 01273 722846