Dishoom Brighton
Dishoom Brighton offers a menu of Bombay comfort food delivered to your door daily. Providing first-class Indian feasts and the most satisfying snacks and tipples from lunchtime until evening.
Gemma tries takeout
I'm a huge fan of Indian cuisine. Not the made-for-British-tastes curries that leave an orange stain on fingers and napkins, but authentic Indian food. So, I was seriously excited by the news that Dishoom had started delivering their renowned Bombay comfort food to Brighton homes. I deliberated and drooled over the menu of Small Plates, Ruby Murray, and Biryani and eagerly (over) ordered.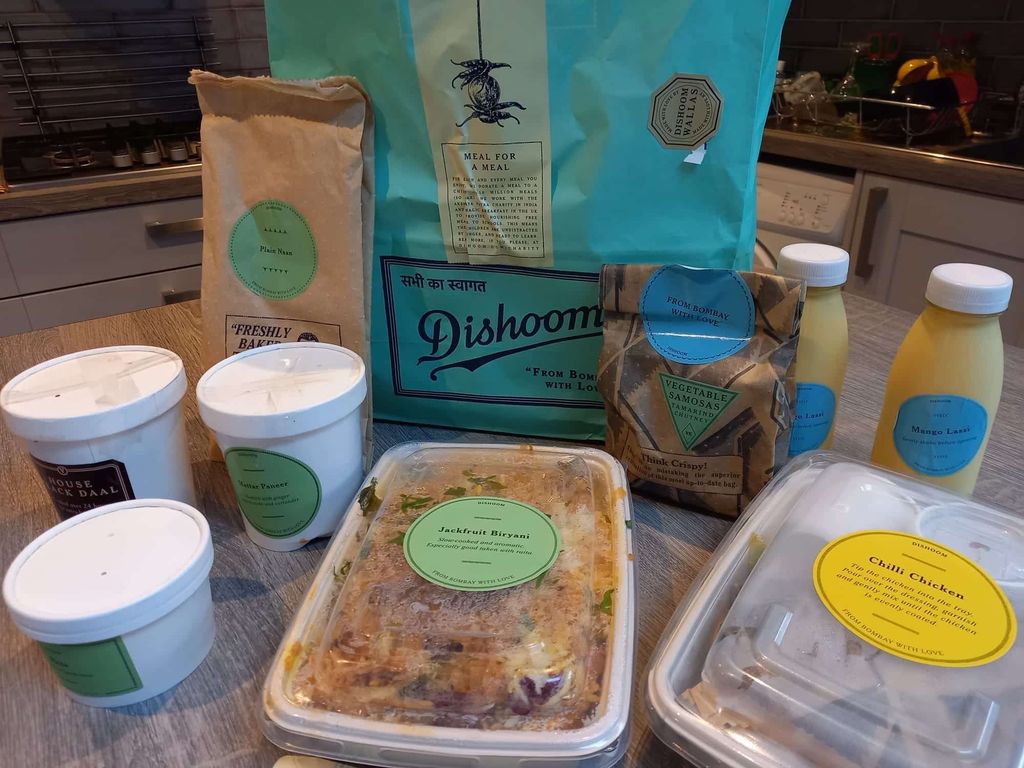 Our feast arrived in attractive eco-friendly packaging that was clearly labelled and smelt incredible. Light, filo pastry samosas were packed to the very corners with tender vegetables and served with a rich and intensely tangy tamarind chutney. The Chilli Chicken lived up to its name and packed a punch. The perfectly fried crispy chicken bites were succulent on the inside and coated with a sticky sweet and salty chilli sauce. The creamy, spongy paneer cubes of the Mattar Paneer provoked mouth filled murmurs of appreciation. And Dishoom's signature House Black Daal was a satisfying cuddle in a bowl.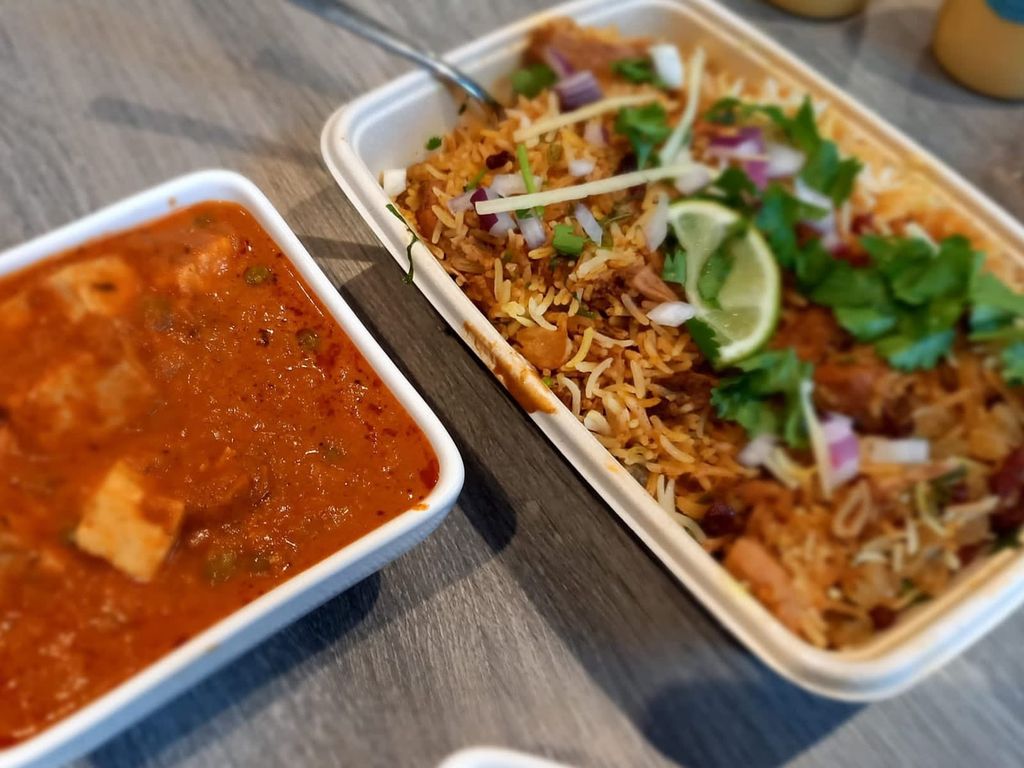 The surprising star of the show (particularly for my carnivore husband!) was the Jackfruit Biryani. Who knew that a fruit could be so meaty in texture and savoury to taste? It worked perfectly in the aromatic, warmly spiced, saffron rice Biryani that was dotted with golden sultanas and slightly sour barberries. The subtly minted cucumber raita was an ideal, fresh accompaniment.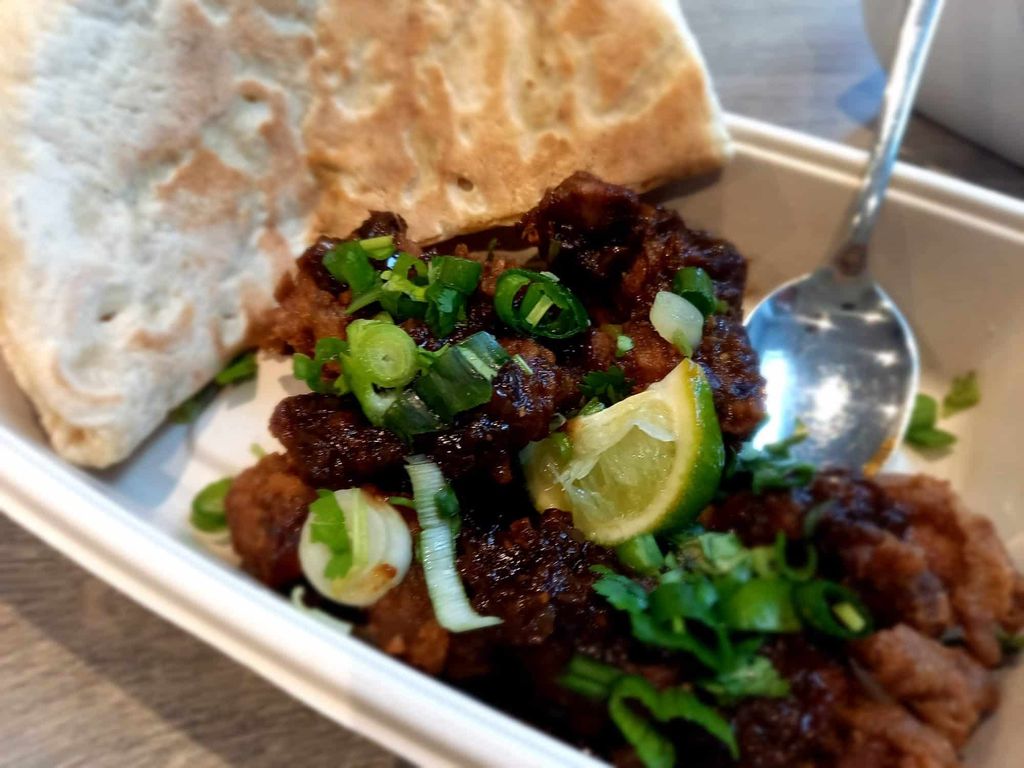 Conversation was minimal as we greedily scooped up mouthfuls using still-warm naan to mop up. Decent sized portions (and my ambitious ordering) meant admitting defeat and left a lunch-sized portion of daal. Mental note for next time!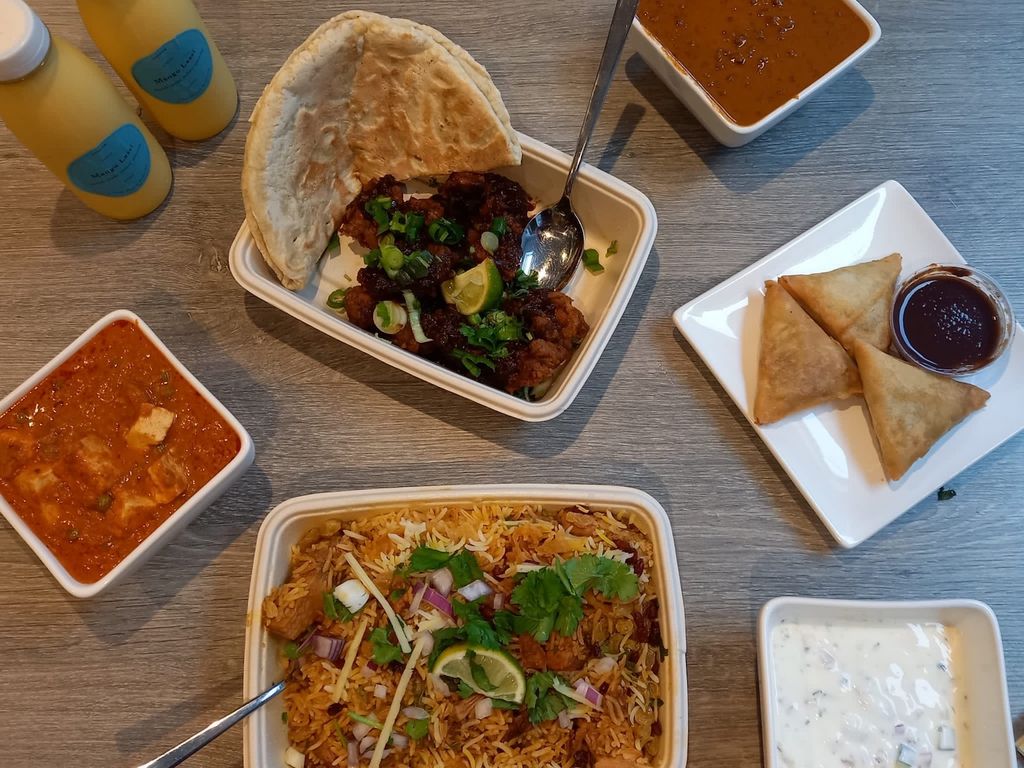 Dishoom work with a charity in India which provides nourishing free meals to schools. For every meal ordered they donate a meal to a child. So, by dining on a Dishoom delivery not only will you be tucking into mouth-watering, flavourful Indian cuisine, you will also be helping a child, so they are not distracted by hunger and ready to learn.
You can order Dishoom for takeaway direct or via Deliveroo
Follow Dishoom on Instagram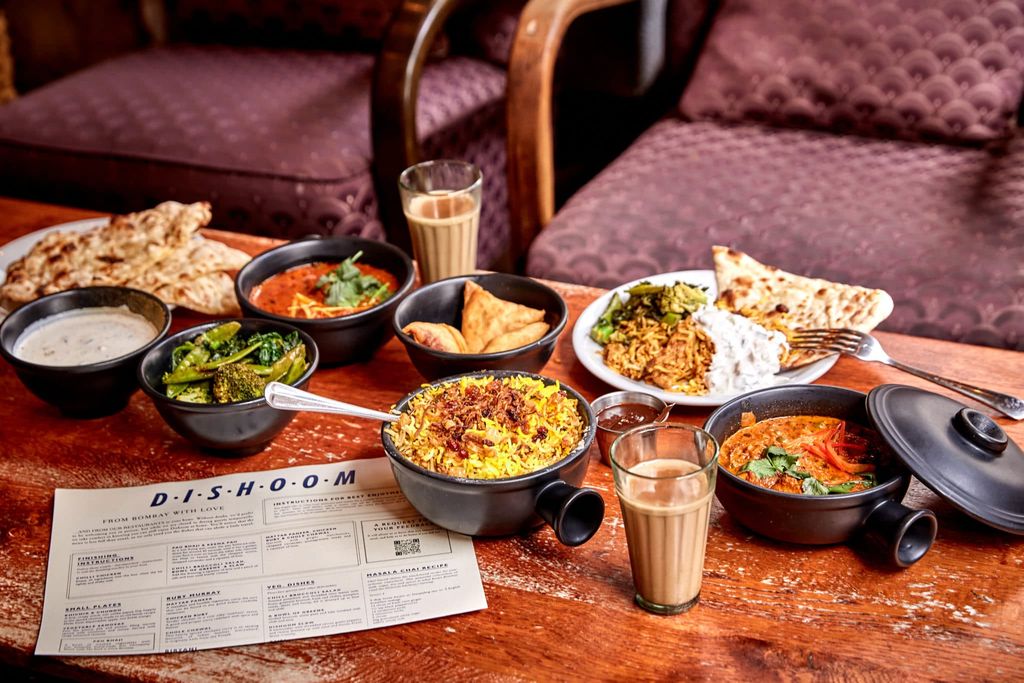 Brighton is yet to get a physical Dishoom cafe, which are modelled on the turn of the century Irani cafes that bloomed in Bombay in the 1960s. But the delivery kitchen, which operates out of Brighton, holds true to the authentic nature of these cafes, with food prepared by Dishoom's talented chef-wallas and delivered "from Bombay with love".

Dishoom delivers
Working from a kitchen on East Street, Dishoom Brighton delivers a mix of small plates, curries, daal, biryanis, sides and sundries, alongside IPAs and bottled cocktails. All dishes are selected for their ability to endure a little travel and retain their high quality. Dishoom delivers to Brighton and Hove seven days and is available on Deliveroo.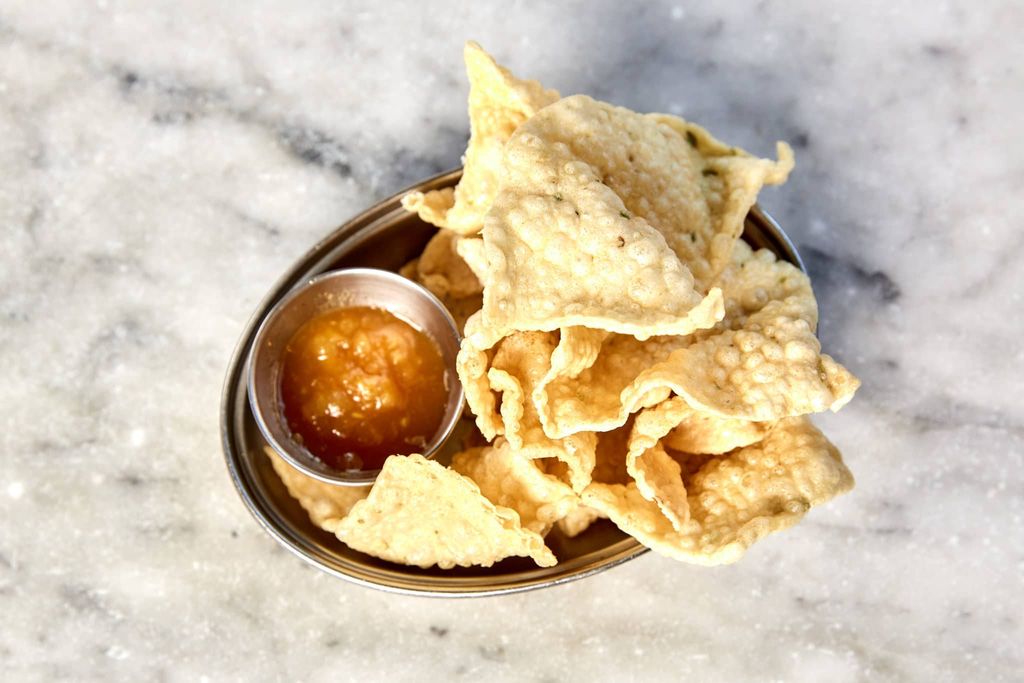 The menu has a plentiful selection of vegetarian and vegan options to choose from including small plates, hearty mains, sides and puddings. While there are plenty of dishes that are made without gluten or nuts and other allergens dishes cannot be guaranteed completely allergen free – do check before ordering.
The Dishoom store
As well as their home delivery menu Dishoom has a store from which you can purchase an array of meal kits. Enjoy Dishooms much-loved breakfast Naan Rolls, bottled cocktails from Dishoom's Permit Room bar, the Dishoom cookery book and the Dishoom LP, "Slip-Disk" (so you can listen to Dishoom in your room).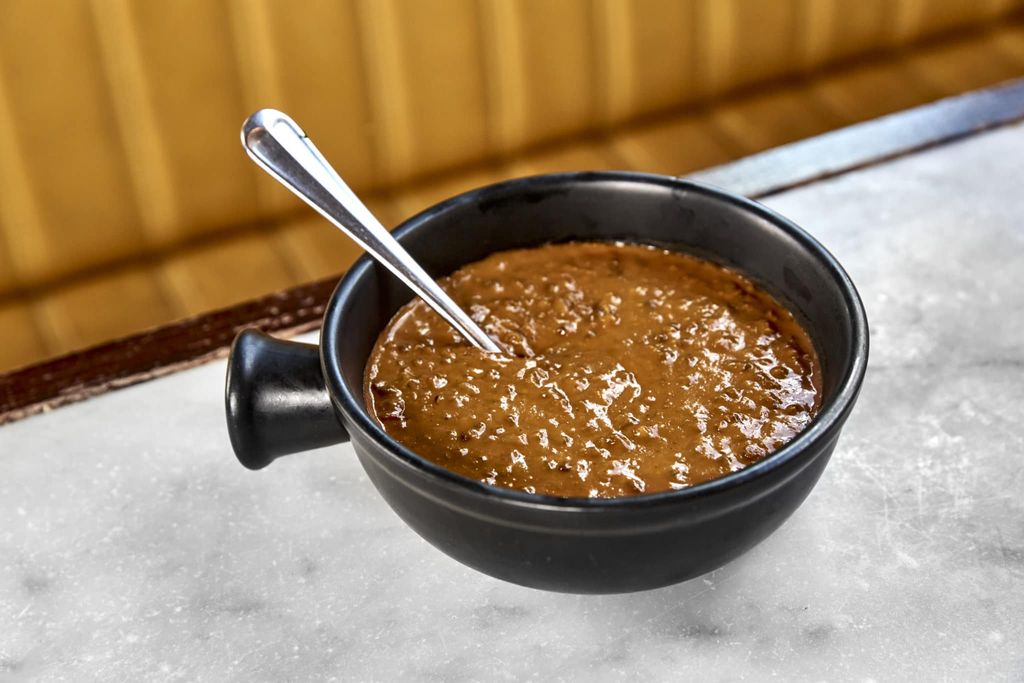 A top feature on the Dishoom store is their make-at-home Bacon or Vegan Sausage Naan Roll Kits (available with or without Marmalade Mimosas). These are easy to make with simple instructions and contain all the ingredients to make two first-rate breakfast naan rolls at home, alongside a plentiful batch of chai. The kits are for two people and make a super gift to send to oneself or a friend – for a luxurious brunch or breakfast in bed, but equally delicious any time of day.
Dishoom – doing good
Buying a meal from Dishoom also means you are helping feed a child that might otherwise fo hungry. Since 2015, Dishoom has been working with two charities, Magic Breakfast in the UK and The Akshaya Patra Foundation in India, donating a meal to a child for each and every meal they serve (whether in the restaurants or via delivery or as a meal kit). Since then, Dishoom has provided over 10 million meals to hungry children in both countries. You can read more about Dishoom's charitable contribution here.