The rise of Flour Pot Kitchen (no pun intended)
Flour Pot Bakery is one of my go-to cafes for a seriously good cup of coffee and a home-baked sweet treat. Whilst I have yet to sample their famous gourmet doughnuts I'm a sucker for a slice of their super-spongy carrot cake.
When I heard they had opened a licensed restaurant next to the i360 in the regenerated Kings Road Arches I was curious.
Would the menu be bread-centric? That would make for quite a limited offering, but wholly expected from an established artisanal baker. The name Flour Pot Kitchen suggested a step away from the existing Flour Pot establishments, but in which direction would that step be? Seemingly sensing my troubled mind Restaurants Brighton asked me to pop along to suss it out.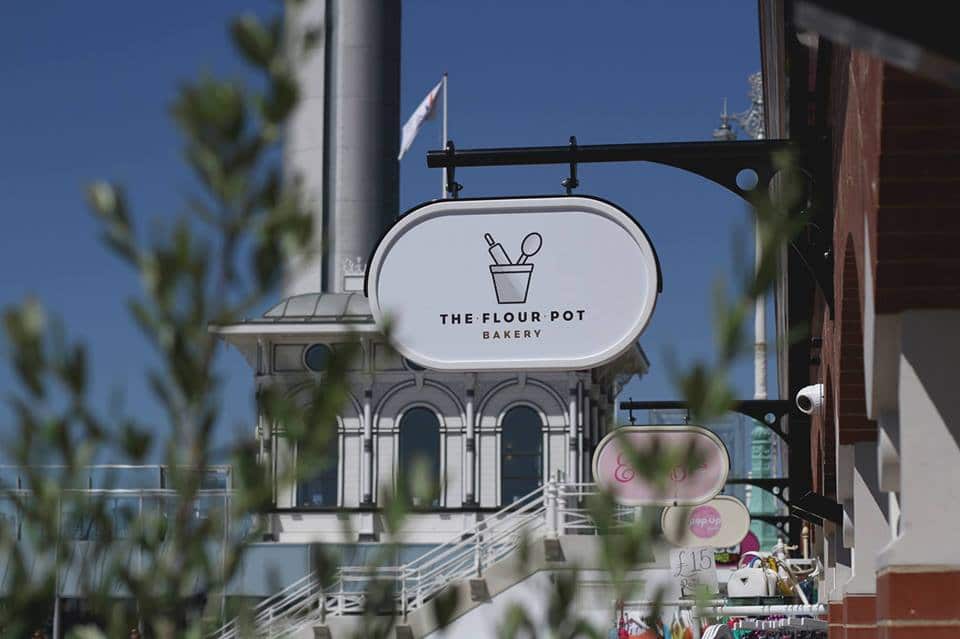 Beach views
Whilst the Flour Pot Kitchen will certainly be frequented by loyal 'FP' fans, the restaurant's enviable location overlooking the beach and West Pier, will inevitably attract new customers. After all, there are only a handful of quality eateries directly on Brighton beachfront. As the restaurant doesn't currently take reservations my initial concern was that tables would fill up with non-diners spending hours soaking up the views over a bottle of wine, making it tricky to bag a table for dinner, but the enthusiastic manager, Ollie, reassured me that licensing laws require food to be served.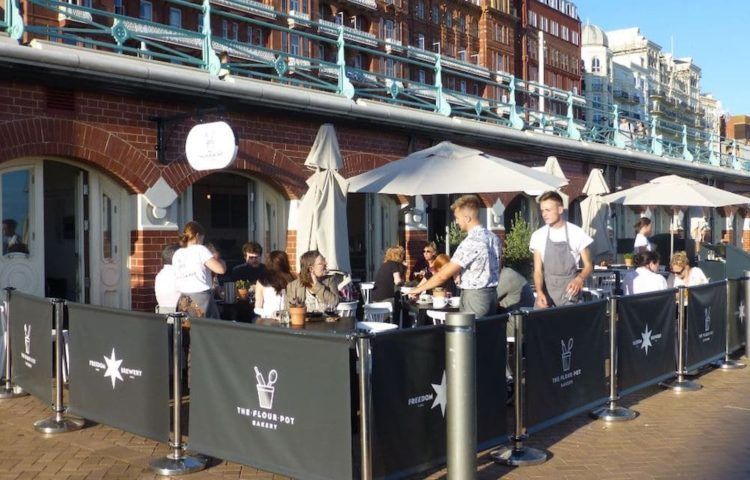 The Menu
The menu comprises of a mix of small and large plates, designed for sharing (is there any other way to eat?!) Elements such as the charcuterie board, garlic & herb bread, and the stone baked sourdough pizzas play to Flour Pot's baking strengths, however it's not all about dough-based dishes. The menu also features three hot, skillet-cooked dishes: one veg, one fish, one meat; a fresh green salad that can be pimped with added extras such as gooseberry relish & soy roasted pumpkin seeds; and herb roasted fingerling potatoes with an intriguing choice of toppings.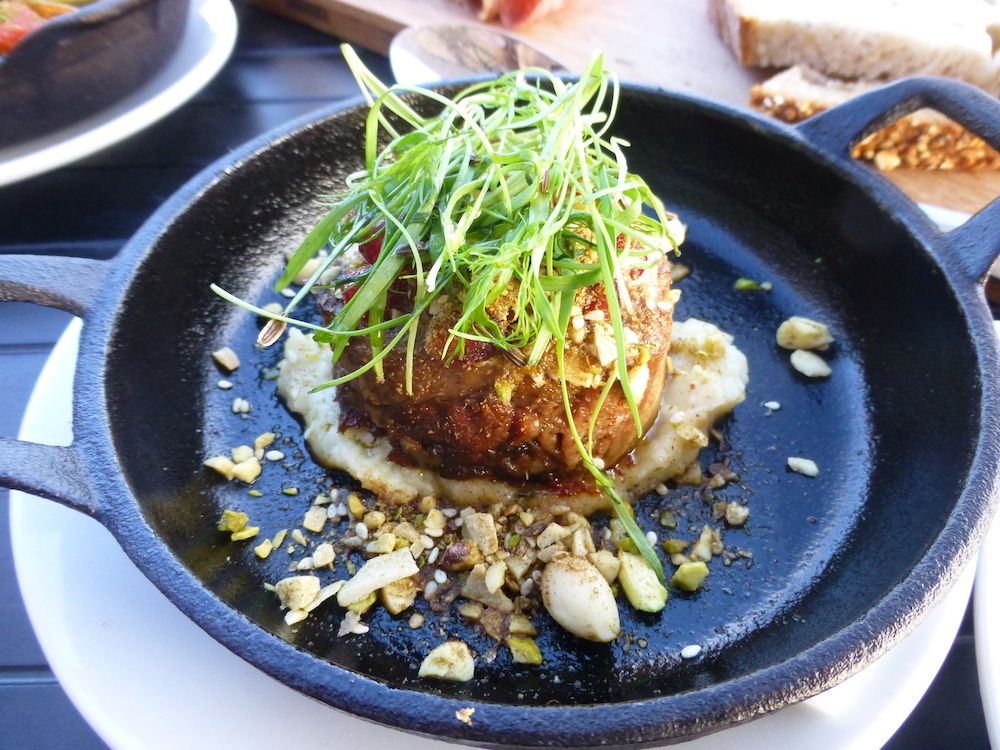 Helping hands
After a frantic day at work my brain was fuddled and my friend Alex was recovering from a crazy Pride weekend, so we were struggling to decide how to structure our dining experience and sample a little of everything. One hot skillet to start, a pizza each and salad? Would all three hot skillet options and a pizza be too much? What about the pimped-up potatoes? Ollie stepped in and suggested we start with two of the hot skillets, followed by a pizza, a portion of spuds and a salad to share. Phew!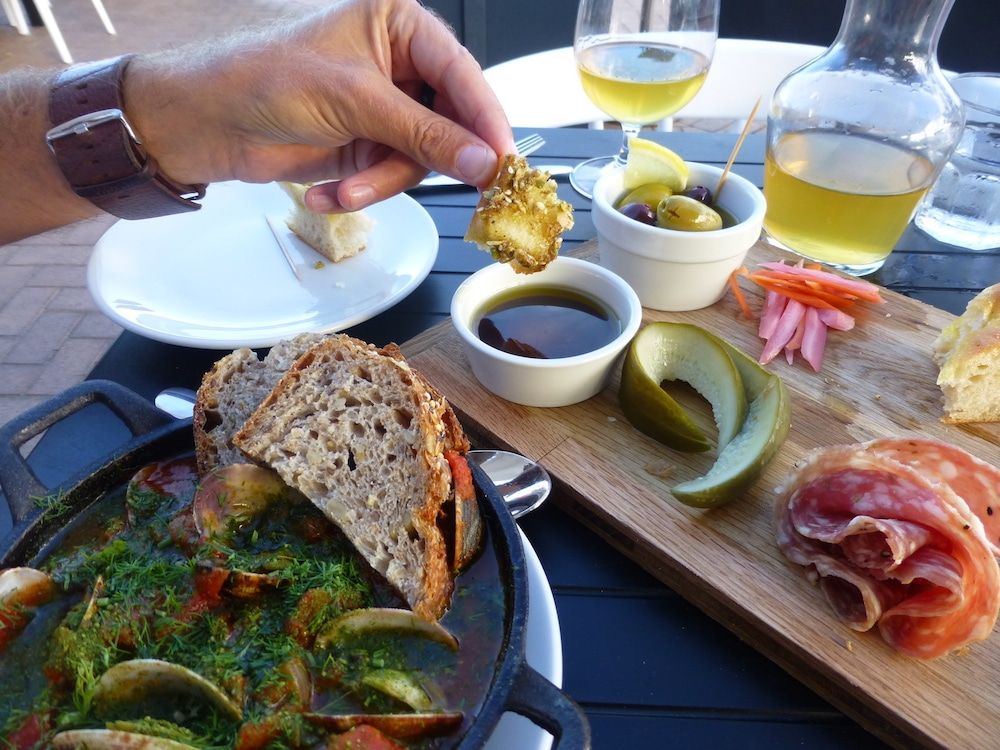 Natural wine
When it came to choosing wine the options were much more straightforward: white, red or rose; a glass or carafe? All the wines served are organic and on tap. Despite the rather golden, slightly cloudy appearance of the white wine, it tasted fresh and summery and was the perfect accompaniment to the beautifully presented charcuterie board that found its way to our table (Alex craved carbs!)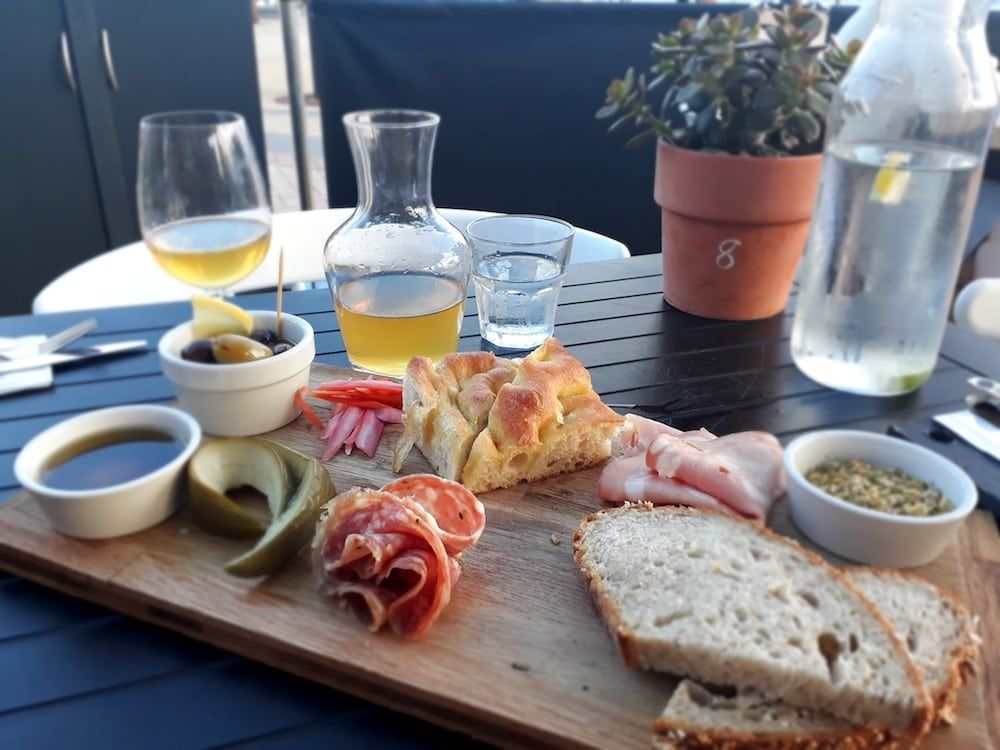 Sitting on the terrace in the sunshine listening to the sound of the waves whilst picking at fat, creamy olives and dukkah-dipped spongy focaccia..
I could have been in the Med.
A vibe reinforced by the flavours of our chosen hot skillet dishes. The Sicilian Fish Stew was bursting with seafood: chunks of cod mingled with plump mussels and dill-sprinkled clams in a sweet and smoky tomato sauce. The ras al hanout spiced lamb was fall apart tender and served on a bed of skordalia (pureed garlic & potato – a Greek speciality), sprinkled with pistachio and pomegranate for a taste of Arabia. I closed my eyes and felt transported from Brighton to Barcelona / Bodrum / Biarritz (any of the above – you get the picture!)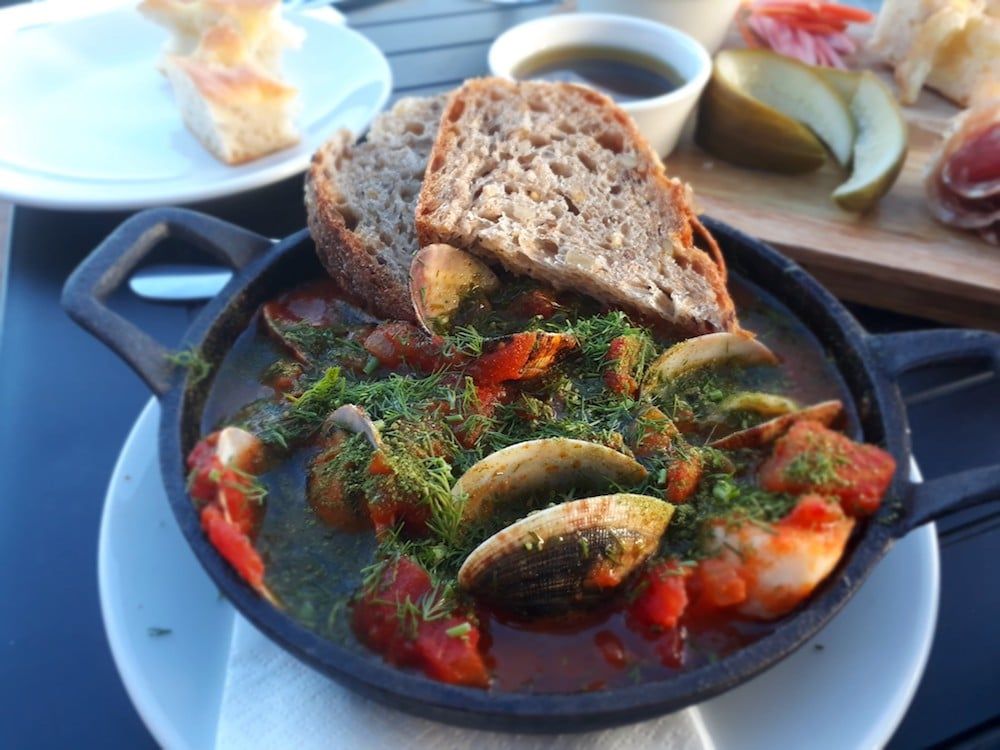 The Pizza
A warm waft of chargrilled pizza roused me from my daydream and signalled the arrival of our next round of dishes. Despite being tempted by the unusual combination of toppings on the Guerrero pizza (beef shortrib, pickled mushrooms, gremolata & carrot puree – not your average pizza flavours), we opted for the daily special with its' slightly more classic covering of tomato, basil, spring onion and chorizo. I can't resist chorizo! The sourdough pizza was unmistakably handmade: not wholly spherical, slightly charred in places, crispy thin edges interspersed by bulbous pockets of trapped air.
Perfectly imperfect. We dispatched with utensils – pizzas like this should be folded up in fingers.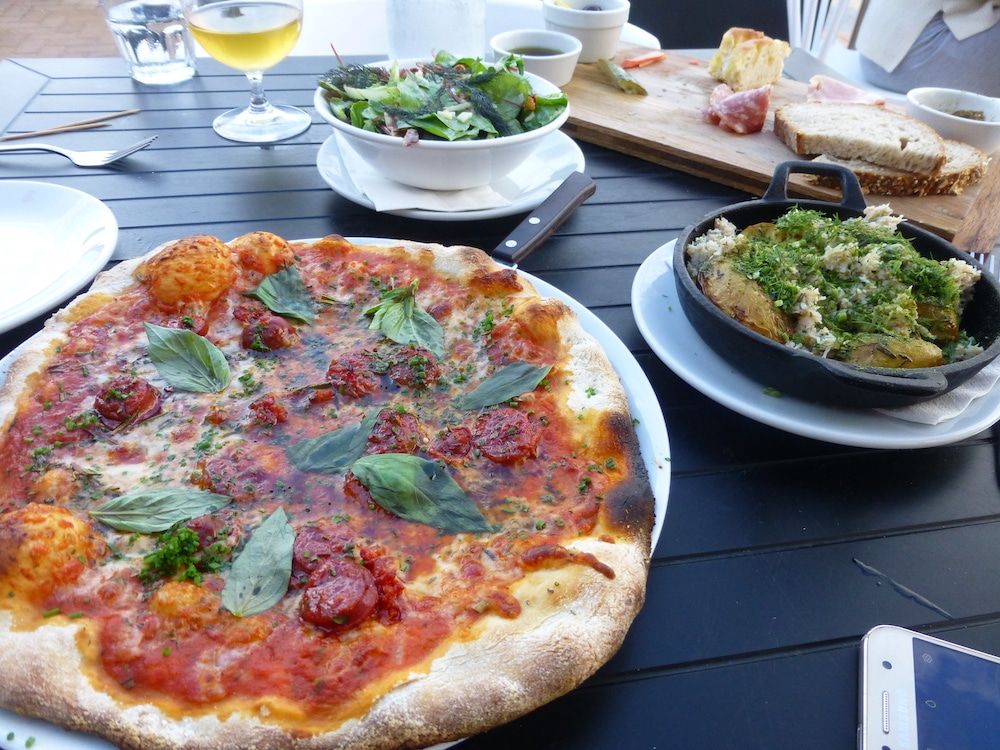 Serious sides
Served alongside the pizza was a fresh green salad mixed with slithers of pancetta and parmesan. And skillet-baked potatoes that we had chosen to pimp with the 'crabmeat, samphire and nori mayo' option. I would never have thought about sprinkling crab meat over baked spuds, but OMG, the chef clearly knows a thing or two about food combinations. The samphire and seaweed subtly reinforced the taste of the sea and added a slight saltiness to the crab. A saltiness that was replicated in the seasoning on the stubby, herby potatoes. Conversation was replaced by mouth-filled murmurs of appreciation at our table.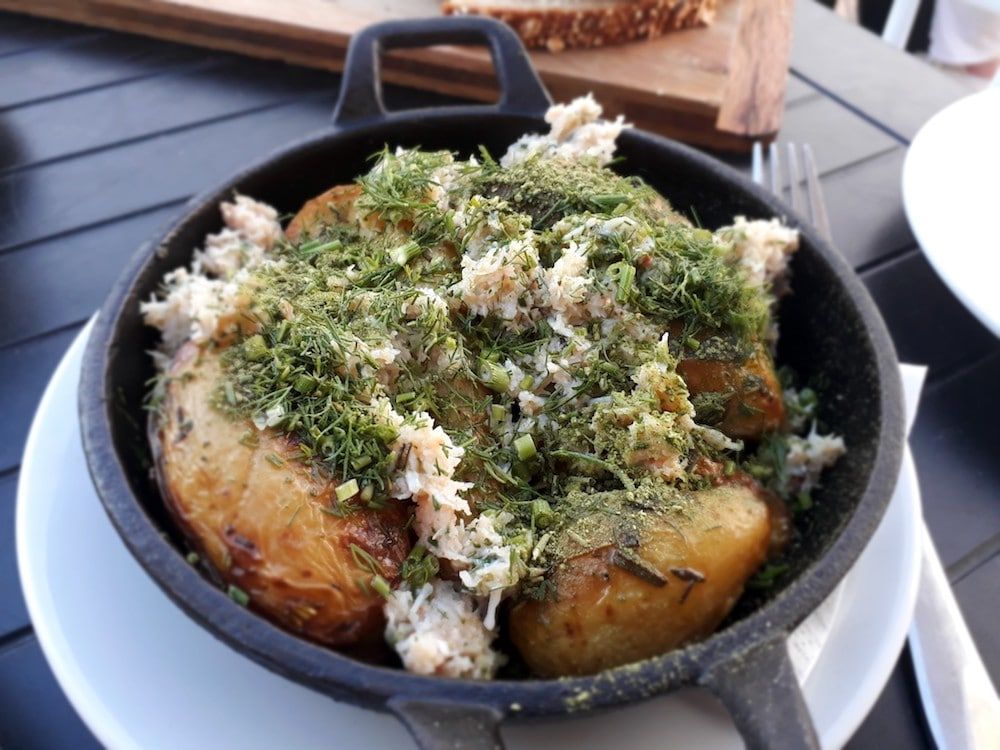 Now for some pud..
Having successfully sampled a decent selection of the menu (i.e pigged out!) and satisfied Alex's carb cravings we felt our work was done. However, Ollie spouted passionately about the dessert of the day: a vegan chocolate brownie. As I mentioned I have first-hand experience of FP's cake-making skills so I was confident it would be (probably) the best brownie Alex would have tasted, and we had trusted Ollie's recommendations thus far…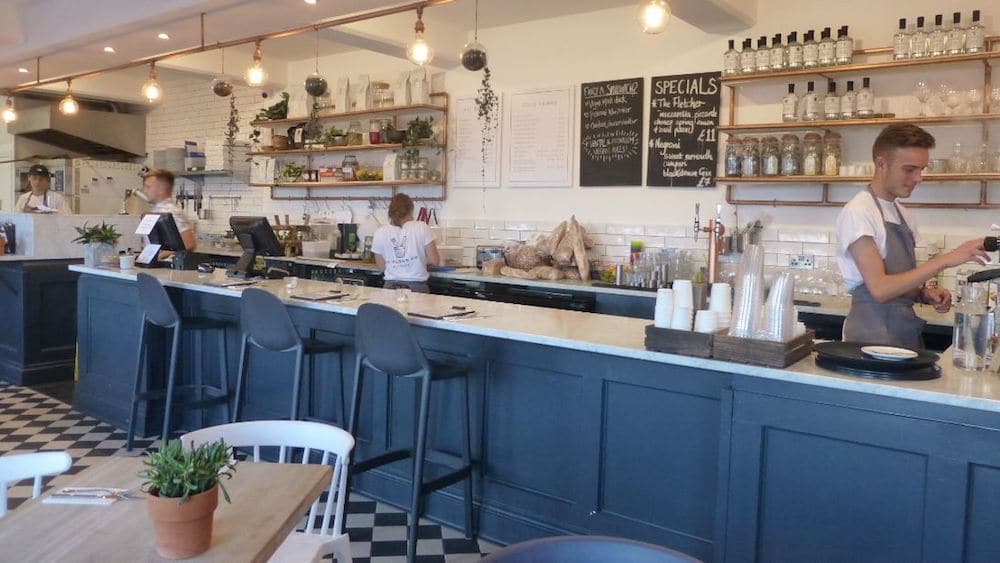 It didn't disappoint. The brownie was a skilfully baked balance of squidgy, gooey and crusty. Frozen raspberries and an insanely fruity strawberry sorbet cut through the dark chocolate ganache. In essence – a delightfully sinful chocolate indulgence. Ollie was right to be so gushing and it was indeed the best brownie Alex had ever tasted!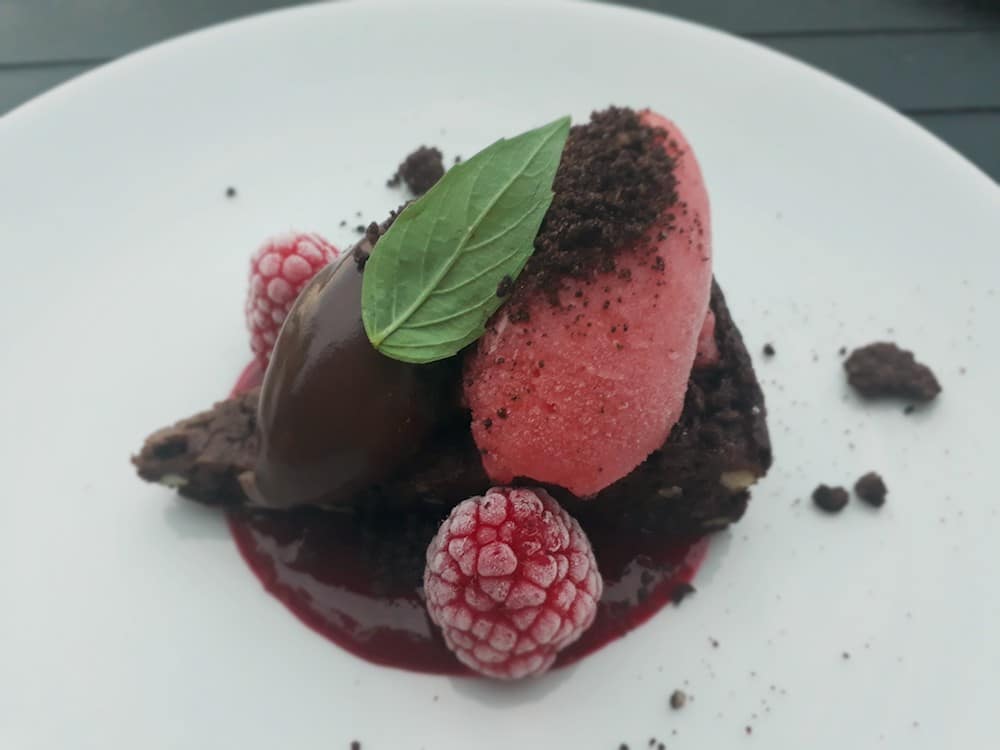 Come rain or shine
Obviously many diners will be drawn to Flour Pot Kitchen by its enviable location. A beautiful beach front setting is one thing, but when this fantastic summer weather finally breaks (and sadly it will), the restaurant needs to offer so much more. And it does. The enthusiastic, attentive staff and a mouth-watering menu of totally unique and carefully thought out dishes will ensure Flour Pot Kitchen's success. I look forward to coming back to review the restaurant again on its one year anniversary.
What Next?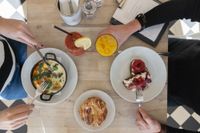 Want to know more about Flour Pot Bakery Brighton Beach?
Find Out More