Middle Eastern Restaurant Brighton
The best Middle Eastern restaurant Brighton has to offer!
If I absolutely had to pick my favourite cuisine (which is a question I try to avoid being asked, as it's too hard to answer!) then I think it has to be Middle Eastern. With all of its interpretations and cultural influences, I want to return to it again and again. It reminds me of holidays, sunshine, family time and I find, for the most part, it is pretty healthy – a treat but not so indulgent that you regret it afterwards. Perfection.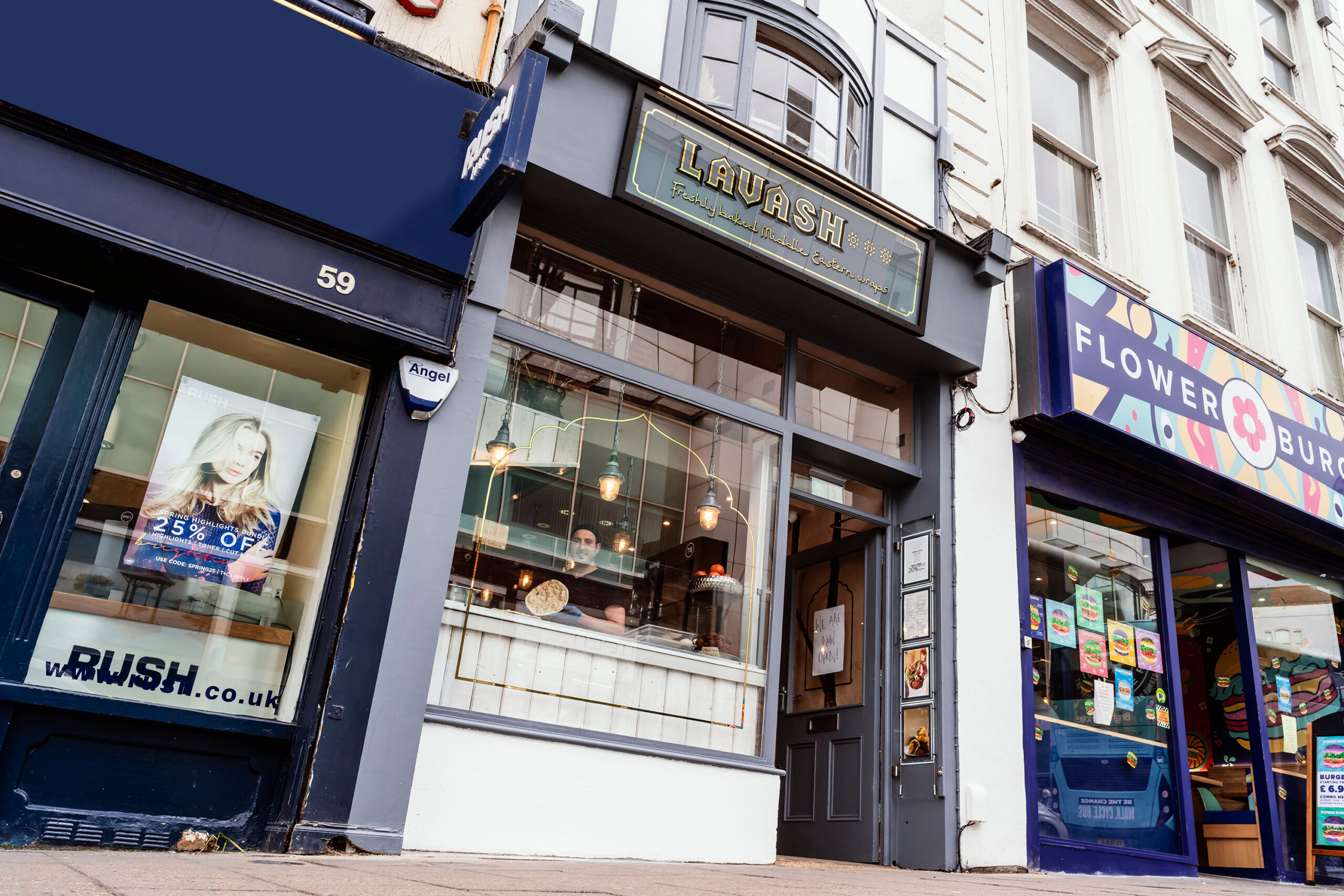 I've found myself walking past this Brighton restaurant on numerous occasions from work to the station and as tempting as it's been to grab a falafel wrap en route, I've always restrained myself in favour of one day being able to really embrace the experience and enjoy it properly over dinner…. so needless to say, it took me a mere few seconds to jump at the opportunity when I was invited.
Independent and family run restaurant
Lavash is an independent, family run restaurant, with two locations – firstly arriving to Brighton's North Laine in 2018, then following such tremendous success a second branch landed in 2022, located on North Street. The two-story North Street restaurant offers evening dining as well as plenty of space for private event hire.
After a couple of pre-drinks nearby, my brother and I hurriedly made our way to our dinner reservation, excited and hungry.
Leaving the bustling North Street behind and entering Lavash really does transport you somewhere else. There's a true sense of calm from the moment you arrive; the simple, rustic décor and neutral colour palette make you feel immediately relaxed –  it's the kind of place you want to take your time in. 
An ambient restaurant with an open kitchen
What I first noticed when walking through the door, past the open kitchen, was the waft of incense which straight away sets the scene and adds to the ambience. Next to hit you is the heady aroma of charcoal and spices. It's great to see the chefs busy tendering to the huge bronze charcoal oven and Lavash bread clay tandoor. I love an open kitchen, there's something mesmerising about watching how everything is being made, and of course, being able to pay your compliments to the chefs afterwards.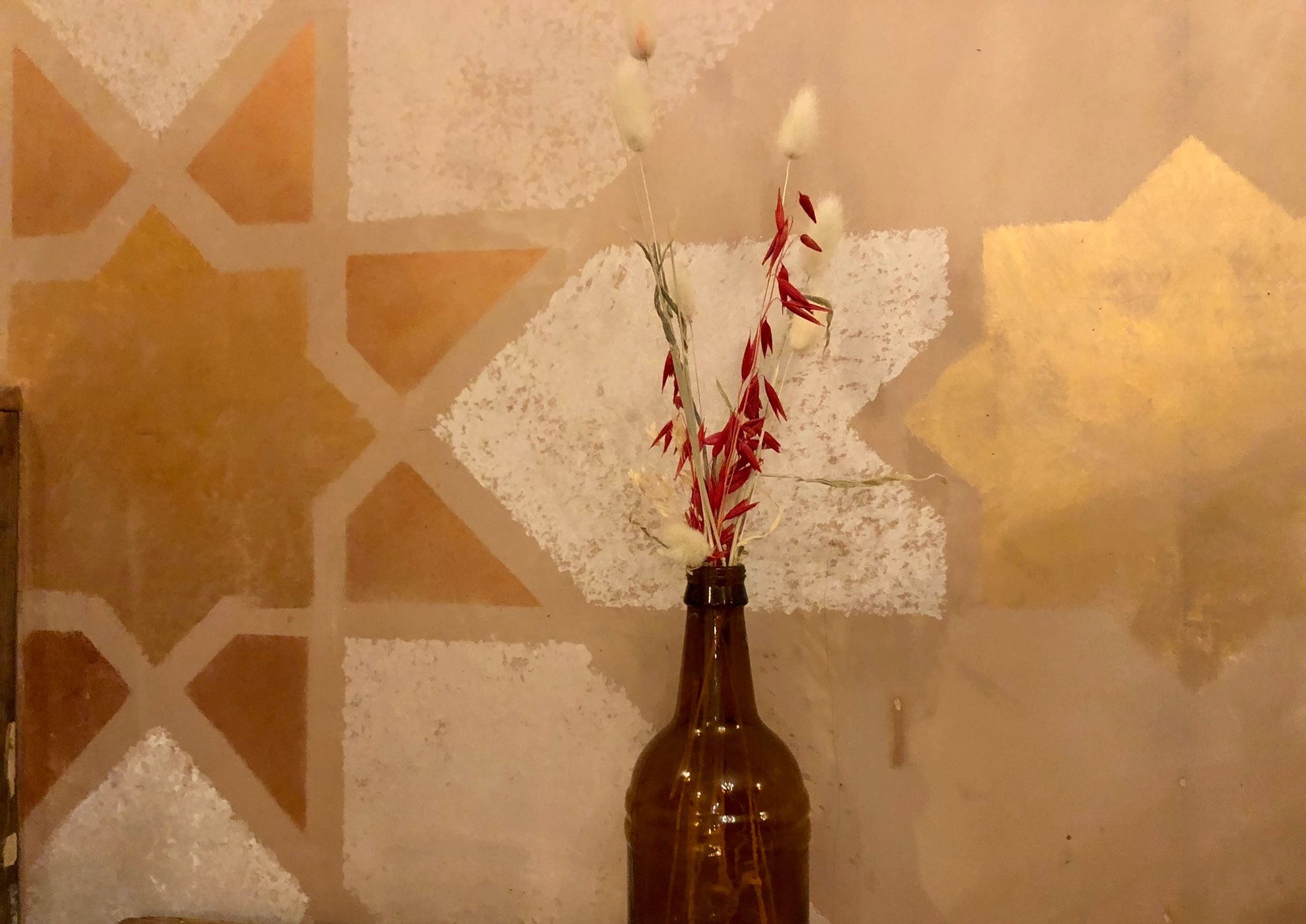 This beautiful restaurant is rich with culture and it is clear to see how passionate the owner Cemal and his staff are about giving their customers an authentic experience. They were so warm, friendly and attentive throughout the evening.
We were shown to our table tucked away in a cosy corner, and staff straight away topped us up with water whilst we browsed what was on offer. The menu is a great size, not too overwhelming and with plenty of options for vegetarians, vegans, and meat eaters.
Middle Eastern Restaurant Brighton | What to choose…
Whilst we debated what to have for our main course, we ordered the Mixed Olives & Feta Cheese – a selection of pimento-stuffed green olives, black olives and a silky feta cheese which melted in the mouth. We also had the Veggie Borek to start – home-made pastry parcels filled with fresh spinach & feta cheese, they were delicious and crispy with a velvety filling. We mopped up the seasoned oils with the famous Lavash flatbread, which was perfectly bubbly and most importantly folded well for mopping!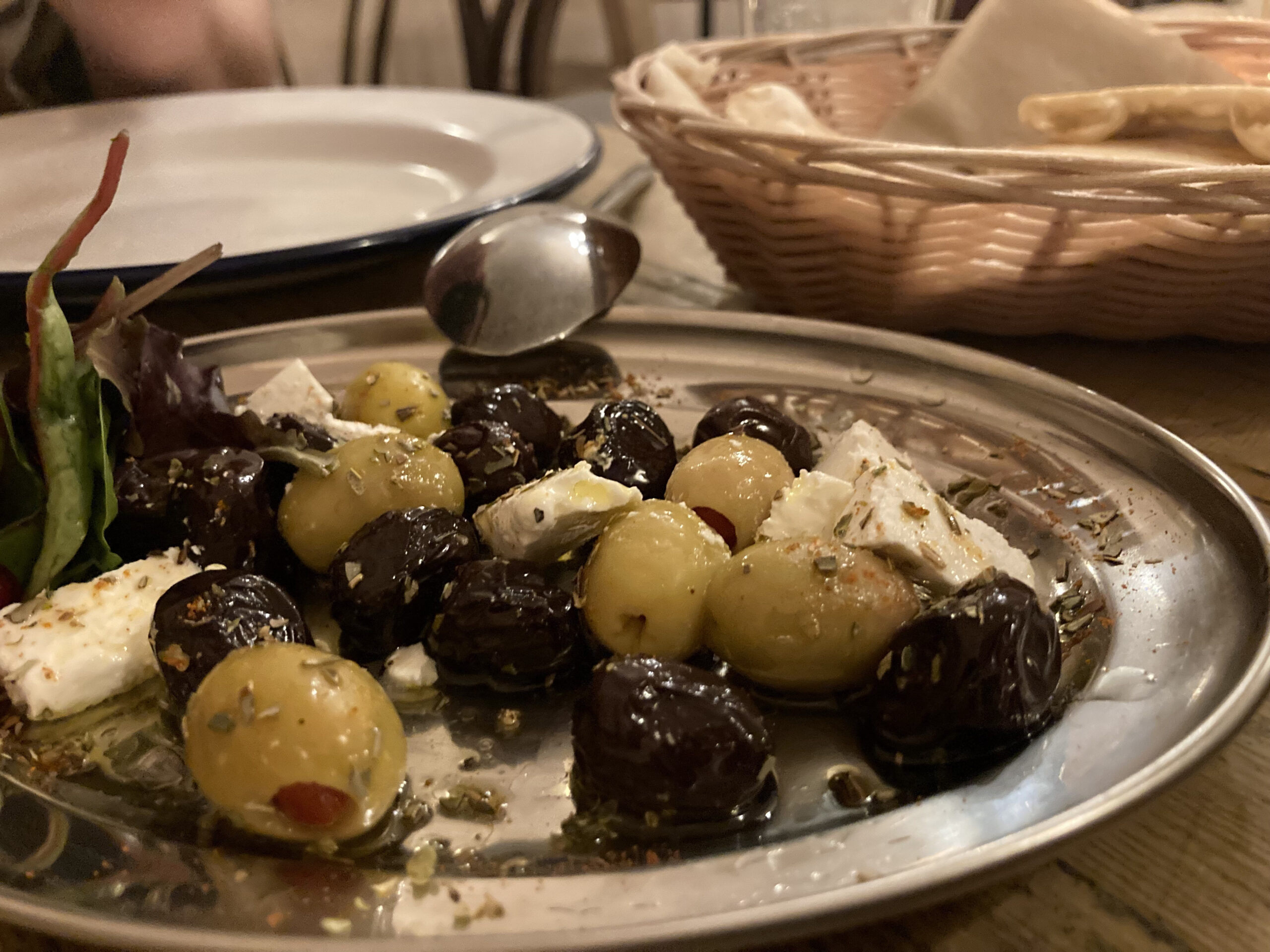 For the main, I chose the Veggie Platter which came with grilled halloumi, tzatziki, falafel, hummus, a smoky baba ganoush, roast peppers, chickpeas, red cabbage, sumac, onions, chilli sauce & mixed leaves…and of course, more of the pillowy flatbread to enjoy with the dips! The platter was vibrant in both colour and flavour, and the tzatziki was so moreish we ordered extra.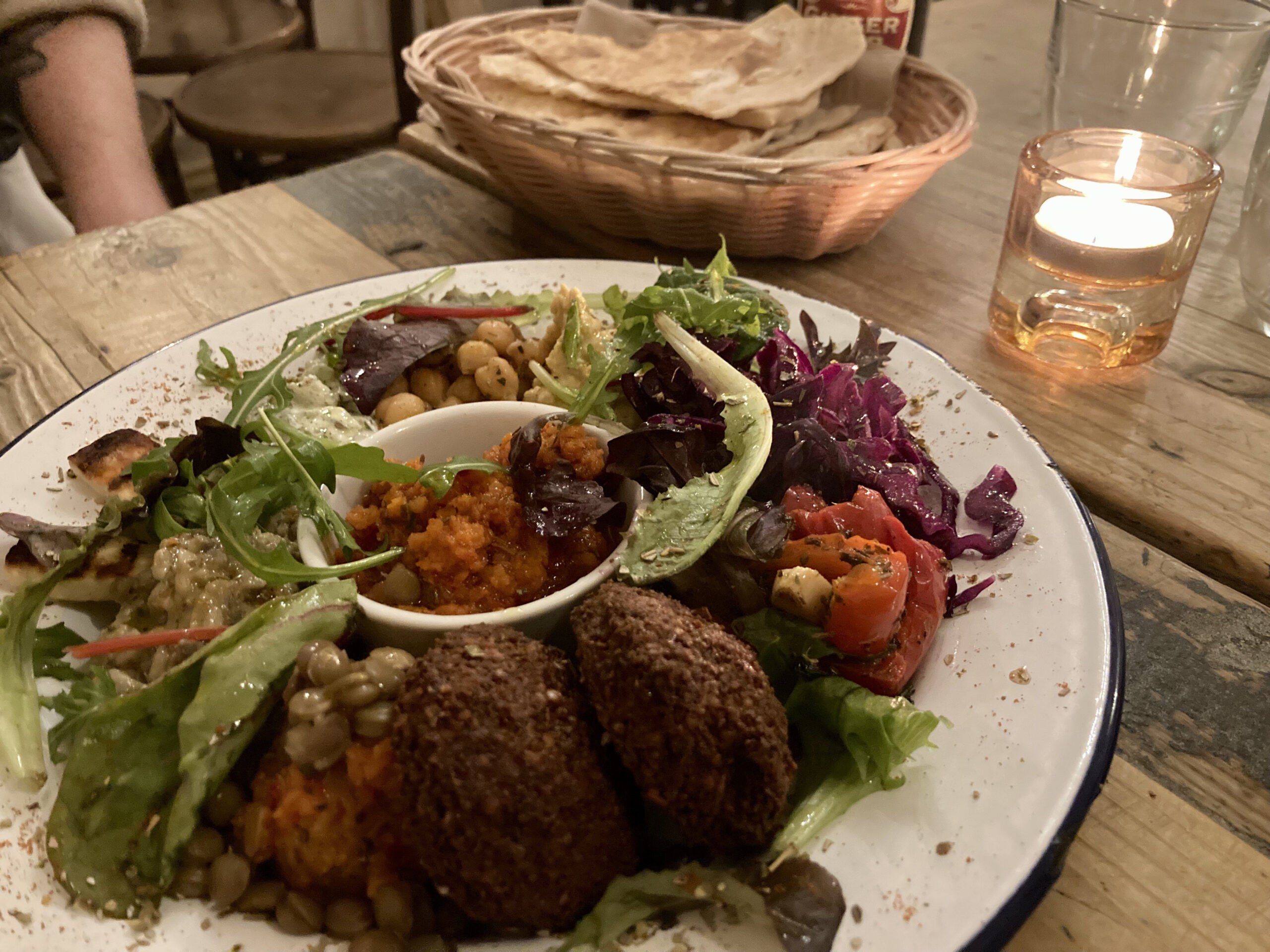 My brother chose the Chicken Cop Kebab – delicately marinated chicken cooked over charcoal, served on Lavash bread with bulgur pilaf and salads. This dish was plentiful. With three chicken skewers, and enough bread to accompany each mouthful, along with a dollop of their fiery chilli sauce, and cooling yoghurt to top things off.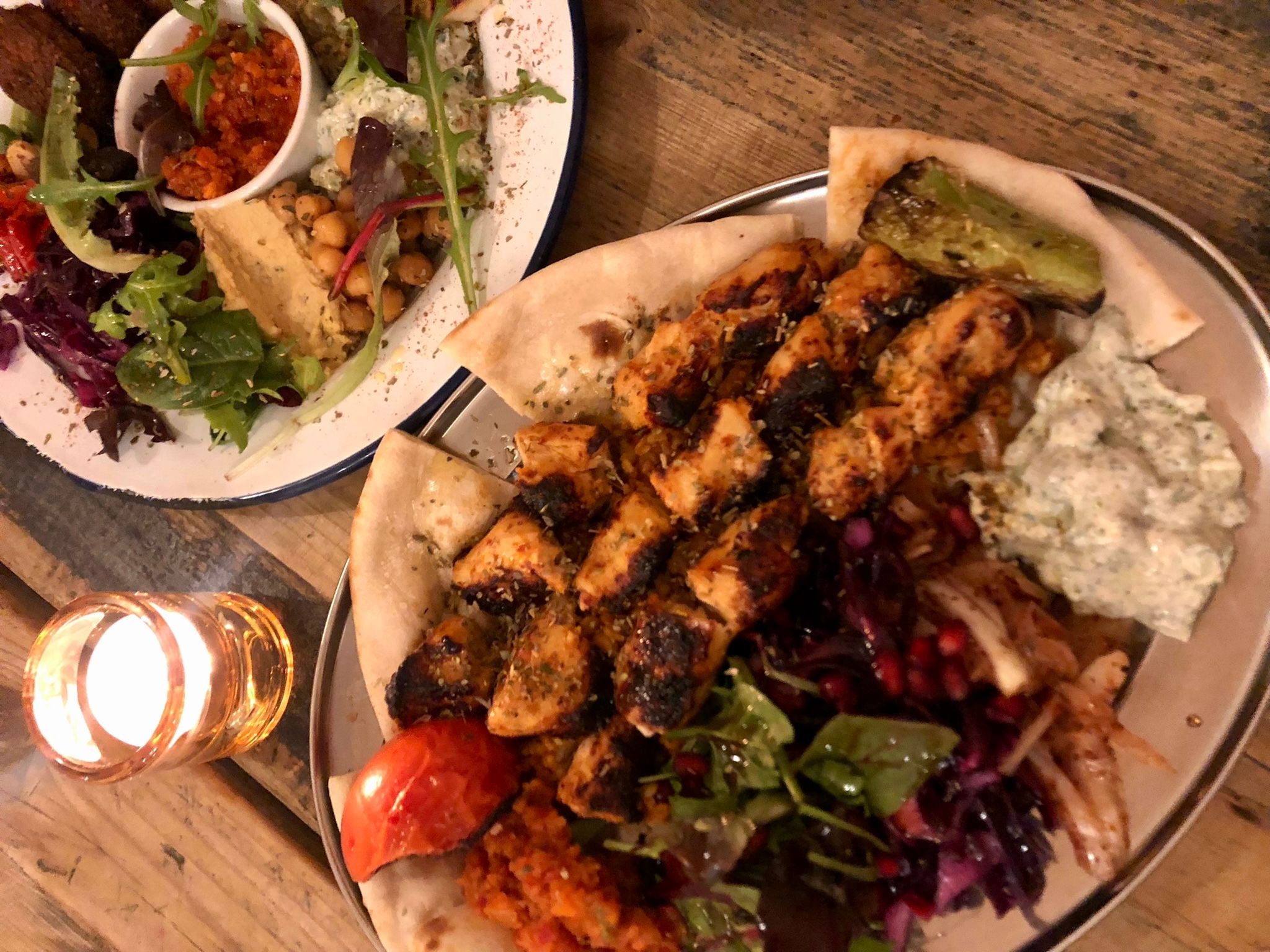 The perfect end to our meal
The portion sizes here are generous and we were feeling super satisfied with little room for more, but Cemal very kindly served us some sweet sticky Baklava (and who are we to turn down that kind of offer?!). It was the perfect end to our meal.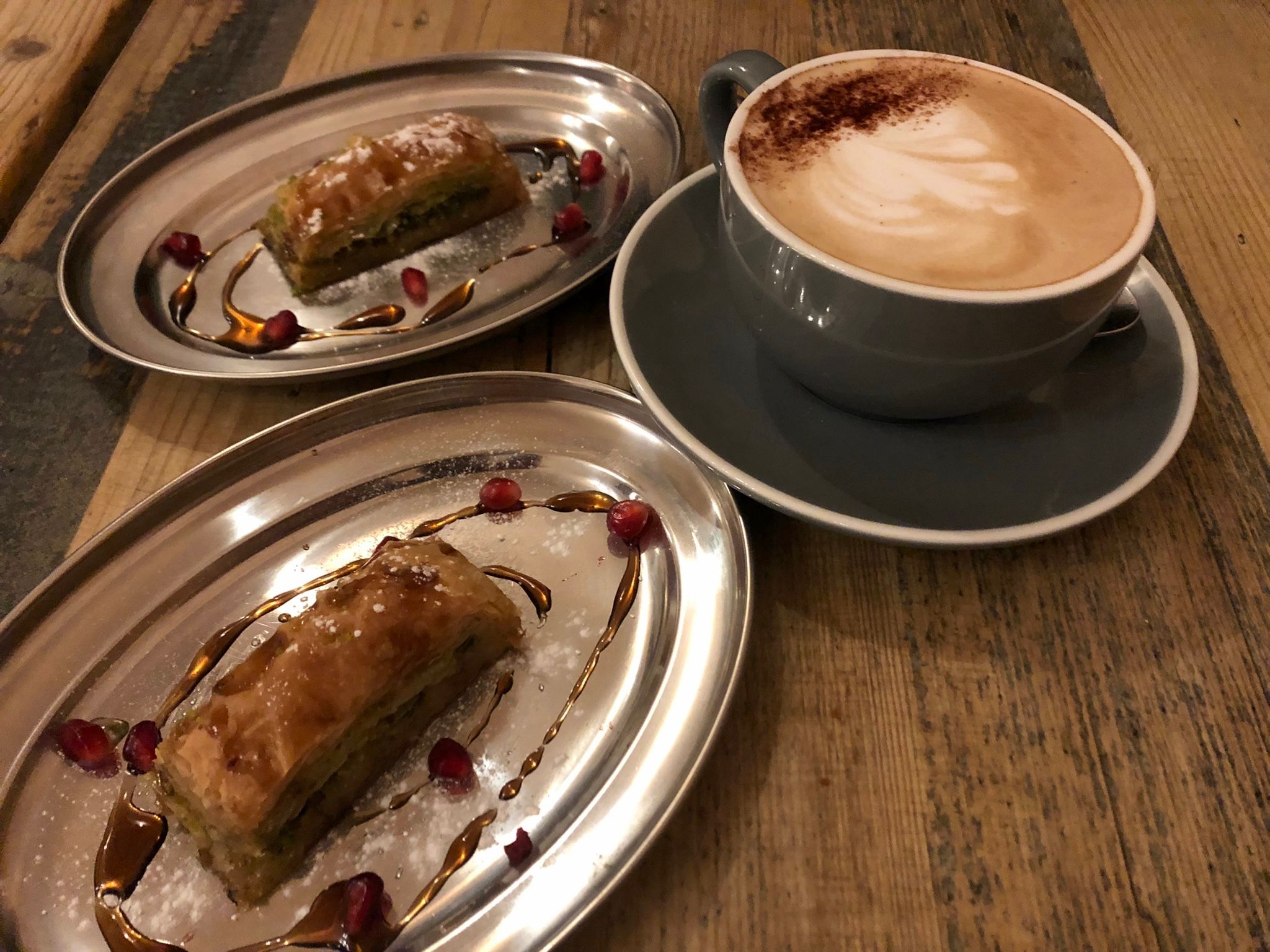 I'm already looking forward to returning, as one visit just isn't enough to try everything…perhaps now I won't find it quite so easy to walk past when I'm en route to the station!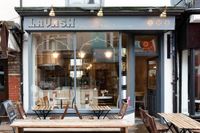 Want to know more about Lavash restaurant Brighton?
Find Out More