I live and work at the top of an especially tall hill in Hanover, so it takes an awful lot to persuade me to come down to sea level. Even more to persuade me to go all of the way to Hove. 
But then came the chance of a lunch date with a friend sampling the three-course set lunch menu at Fourth and Church. Safe to say I was on my bike, quick as a flash.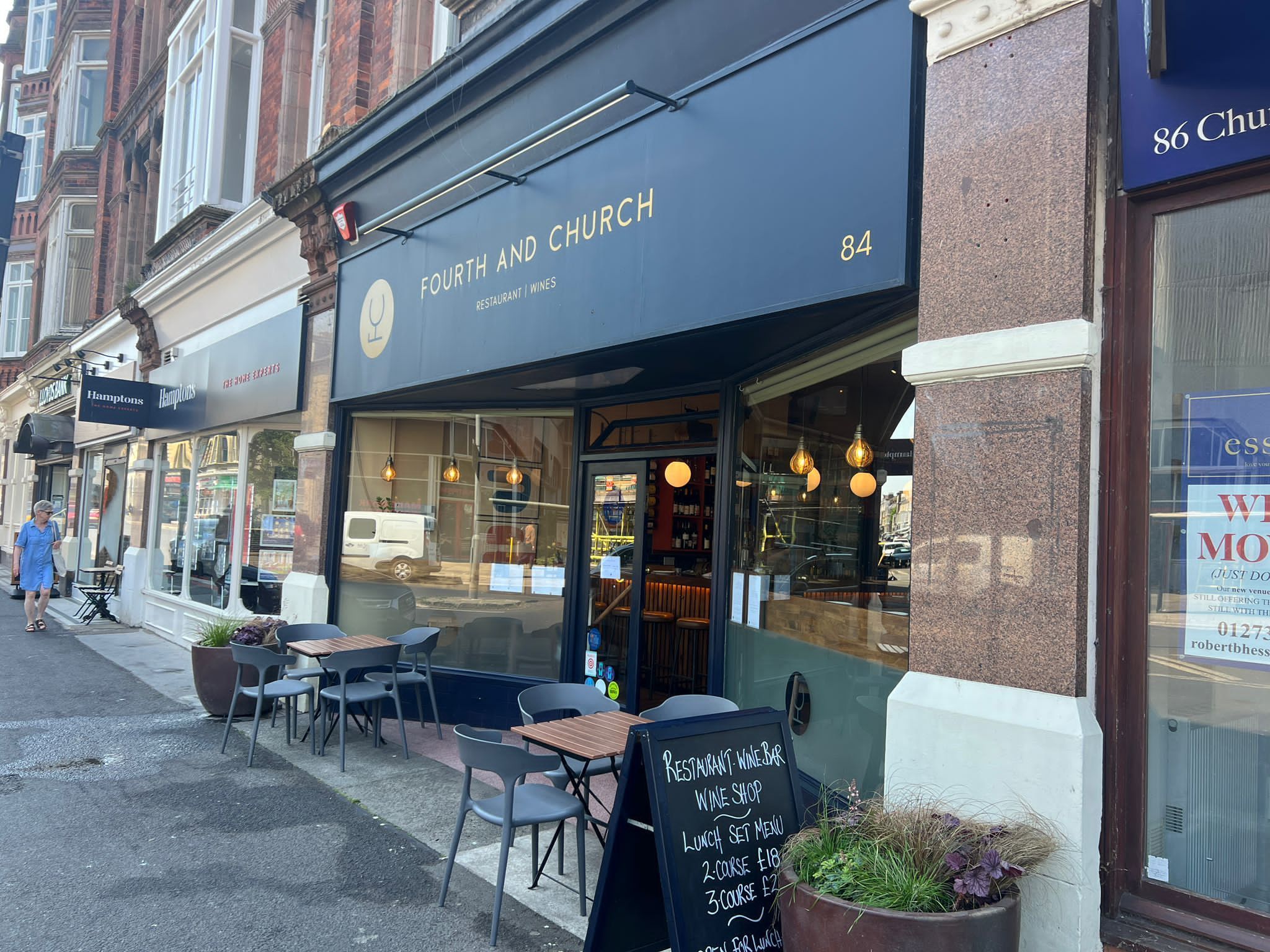 Sunnies on, pedalling along the seafront, gazing at the paddle boarders adrift around the old West Pier, I was reminded that our beautiful city has much to offer, especially if you're willing to look beyond your own backyard. A self-confessed tourist this far west, I passed Hove lawns, consulted my map, turned up Fourth Avenue and onto the corner of Church Road, and there it was. Sparkling windows and a smart frontage, Fourth and Church beckoned me in. Quietly unassuming, low-key, and beautifully lit; it drew me inside. I'm immediately reminded that I actually quite like Hove. Rather a lot actually…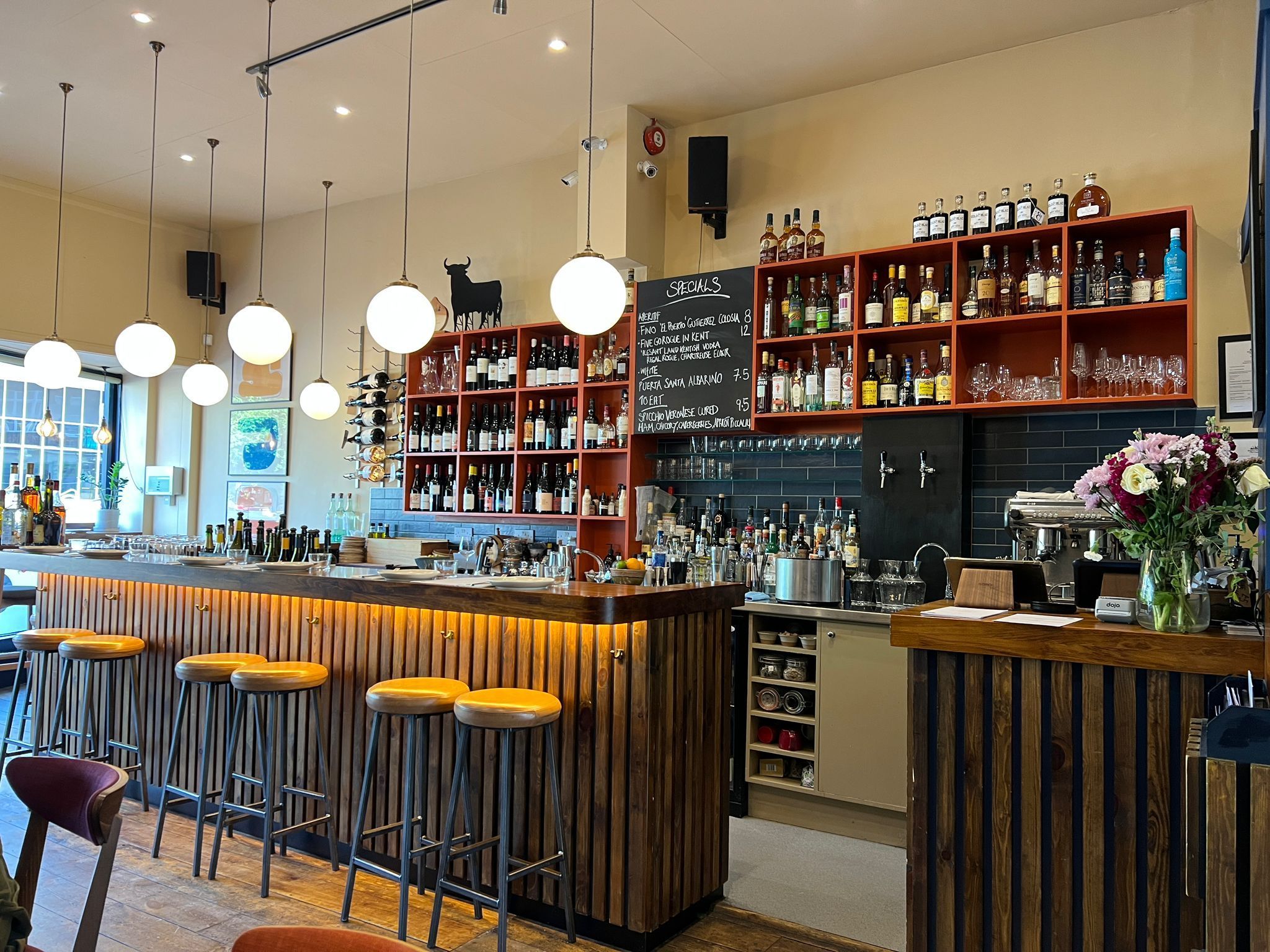 Chilled Wine and Seafood on A Scorching Afternoon
Once seated, and nestled comfortably between racks of wine and neighbouring tables, our attentive host helped us navigate the extensive wine list. With an incredible selection of wines both behind the bar and along one entire wall, Fourth and Church is not just a restaurant and wine bar, but a fantastic wine shop to boot. (I wonder about how many bottles I can fit in my bike basket?)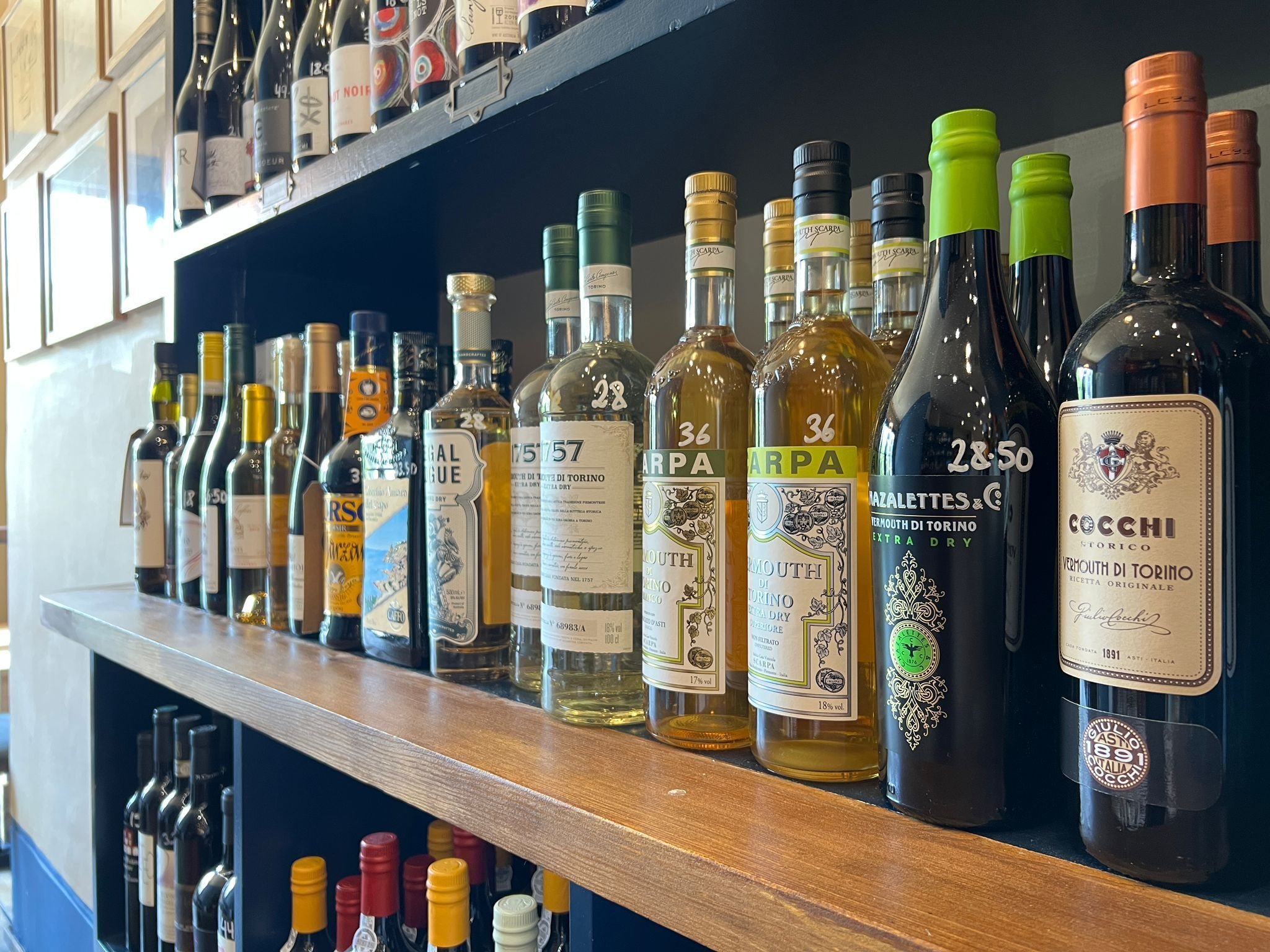 As a fan of Chardonnay, I was advised that the full-bodied flavoursome Bourgogne Blanc would be right up my street. They were so right. Beautifully chilled, it was the perfect accompaniment to the food to come. My lovely lunch guest sampled a glass of the Spanish Godello. Crisp and refreshing, it was exactly what was required on a scorching June afternoon.
A Fresh New Menu
Fourth and Church offers a full daytime menu, organised by plate size. However, we were grateful to have our focus narrowed by the beautifully curated set lunch menu. Available from 12 – 3pm, the menu offers just enough variety that there is something for everyone, but with just three options per course, not so much as to be overwhelming.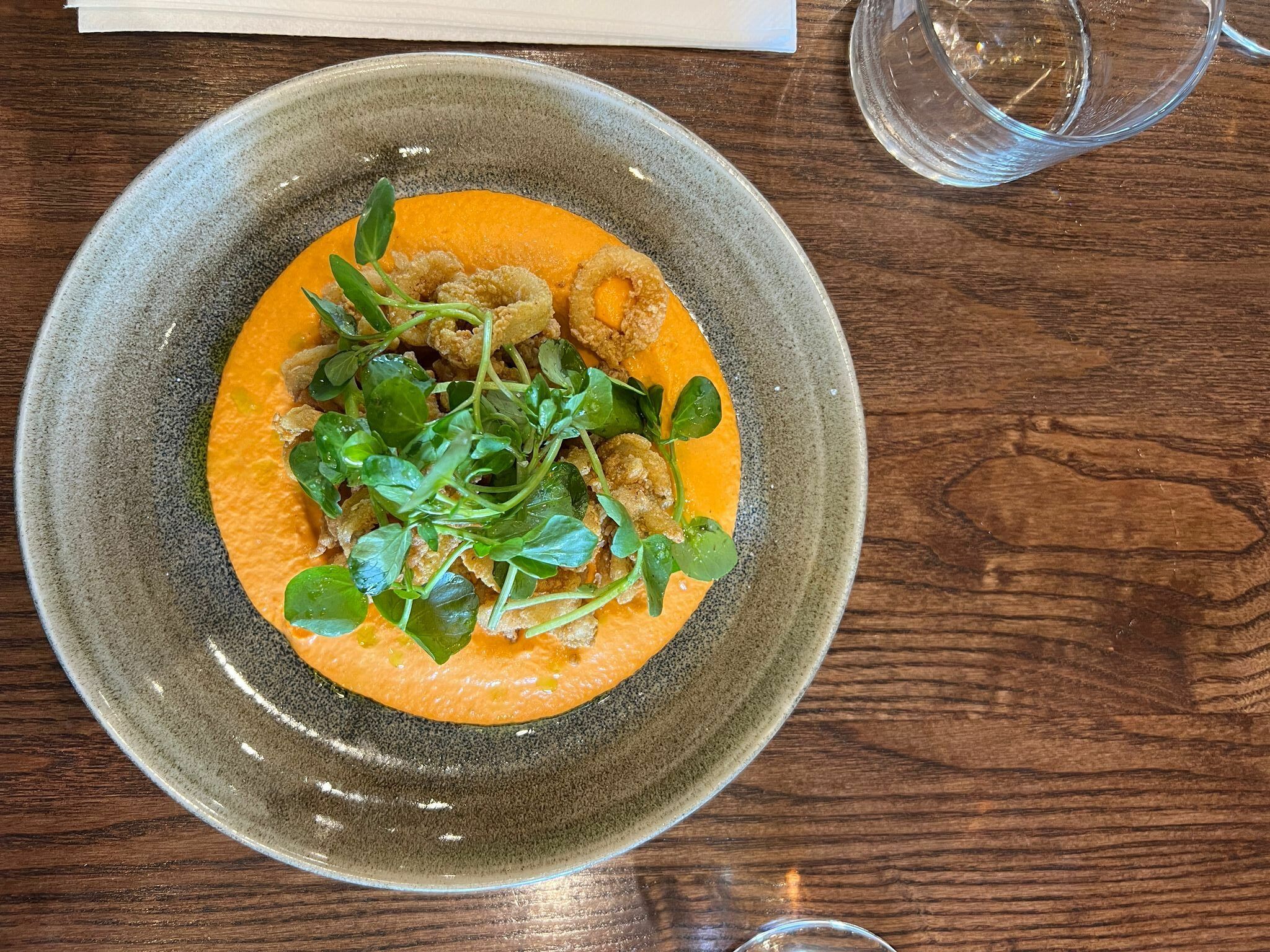 For starters, we divided and conquered. I opted for the crispy baby squid, served with roasted red pepper and hazelnut romesco drizzled in parsley oil. My date went for the intriguing smashed cucumber, served with cashews, Sichuan chilli oil, lime and gem lettuce.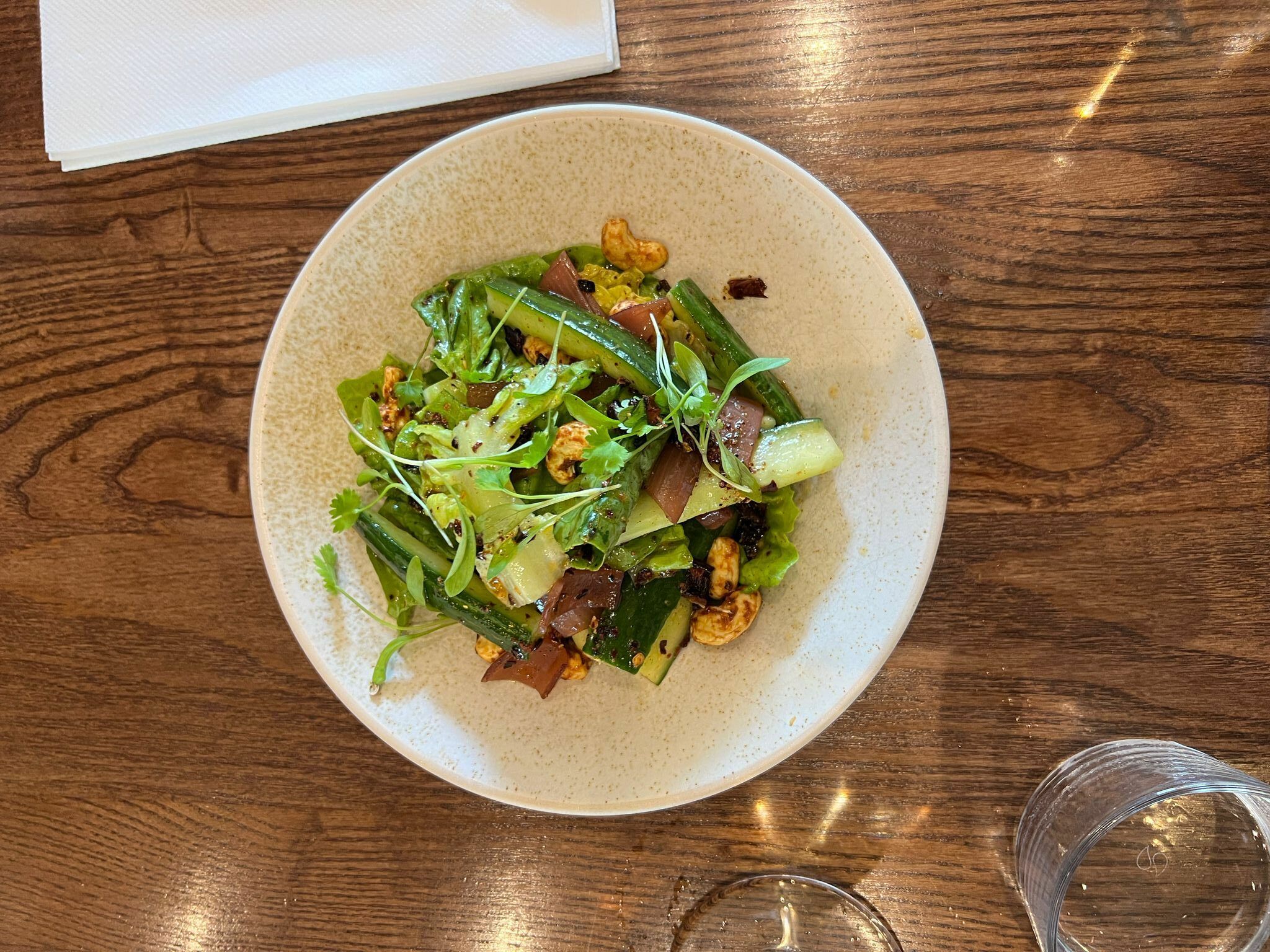 I cannot fault the squid which was crisped to perfection, but the true hero of my starter was the romesco. The roasted notes of nutty red pepper were unlike anything I'd had before. The mix of textures and flavours in this dish worked beautifully together, and it was all topped off with some crunchy, fresh watercress. My mouth is watering just writing about it…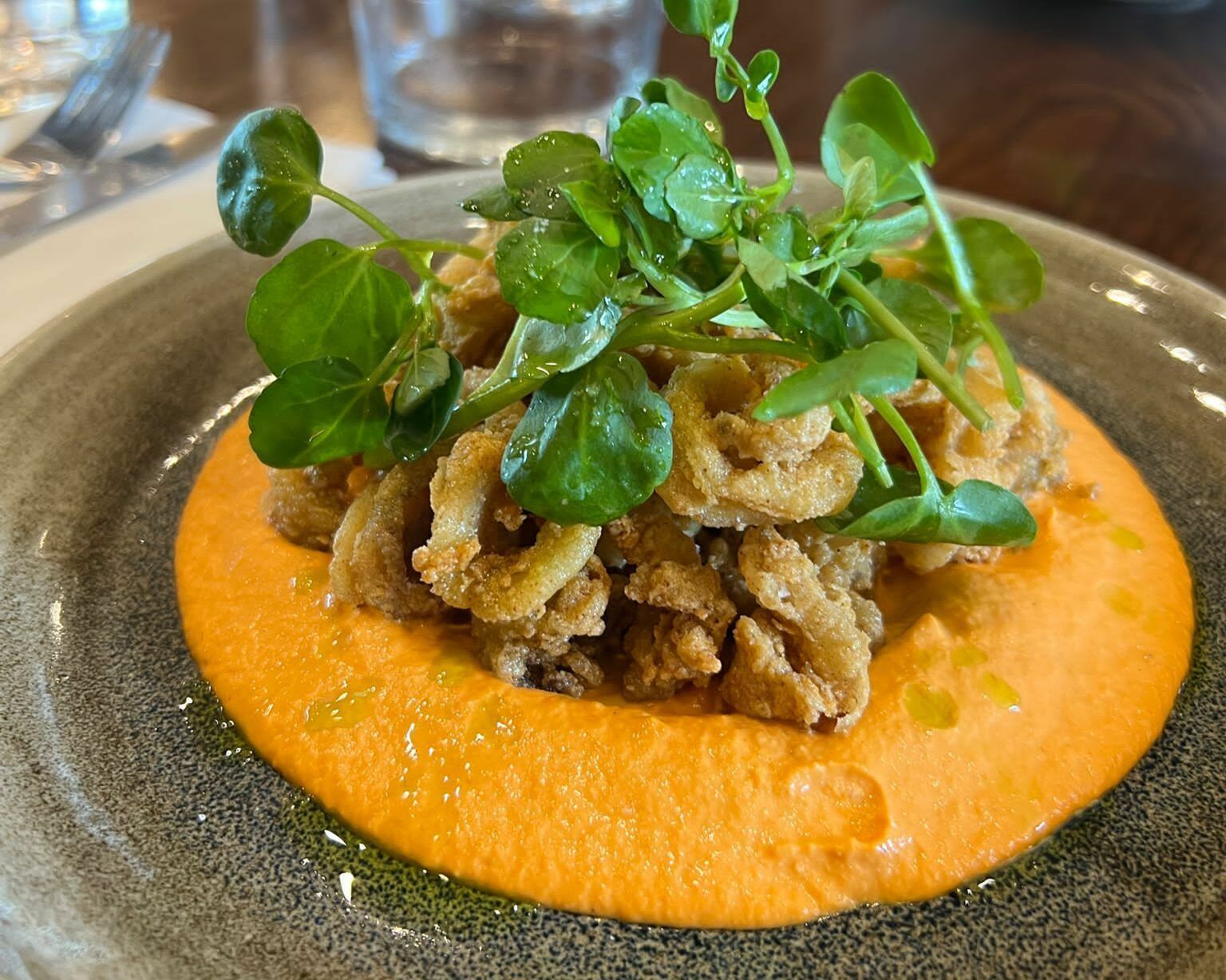 And what of the smashed cucumber? The chilli brings a great kick, and the mix of lime, fresh herbs and cucumber is another winning combination for the senses.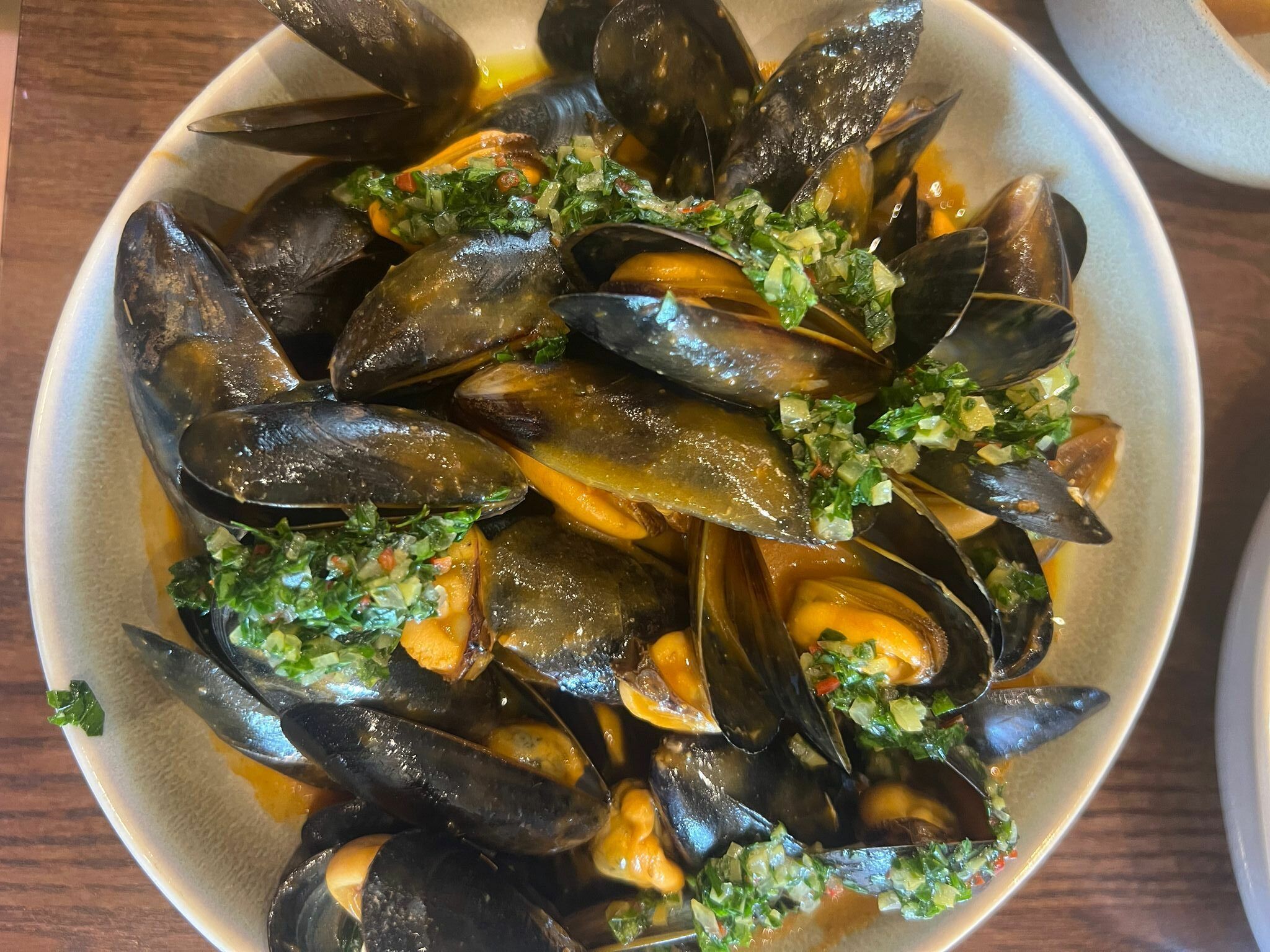 For the main course, I stuck with seafood and ordered the mussels with calamansi tomato, parsley and preserved lemon. It was served with delicious homemade focaccia to soak up the sauce. Great spoonfuls of lemon and parsley cut through the richness and lifted this dish into something really special.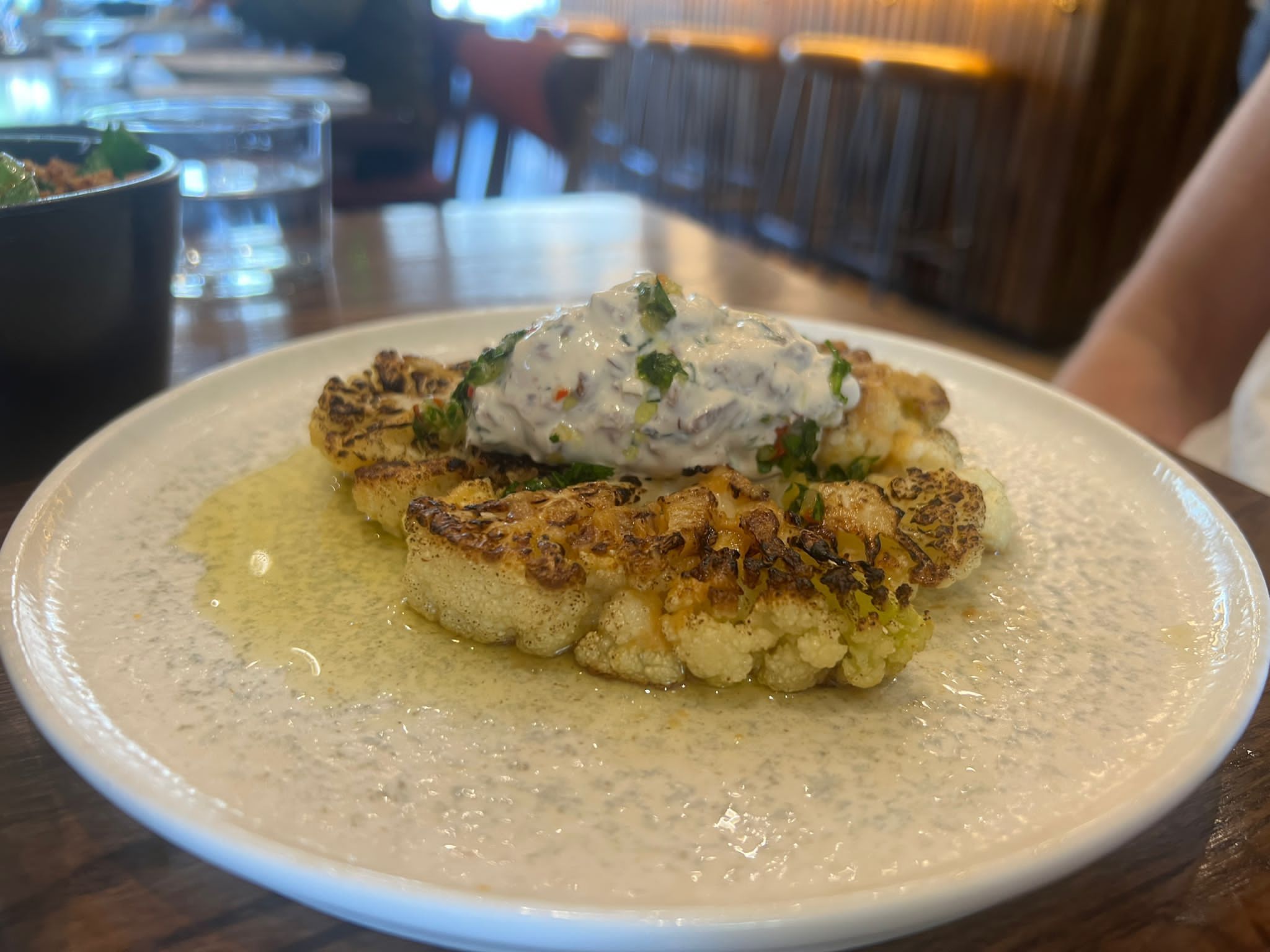 Meanwhile, my friend went for the caramelised cauliflower steak, walnut and preserved lemon tzatziki, served with fattoush on the side. This deliciously simple Middle Eastern salad, with crunchy garlicky croutons, was the perfect compliment to the cauliflower steak.
Would we like to see the dessert menu? Errr…yes please!
With music bubbling in the background, and the lovely hum of table chatter around us, we politely debated whether we should have dessert, knowing full well that we were absolutely both having dessert!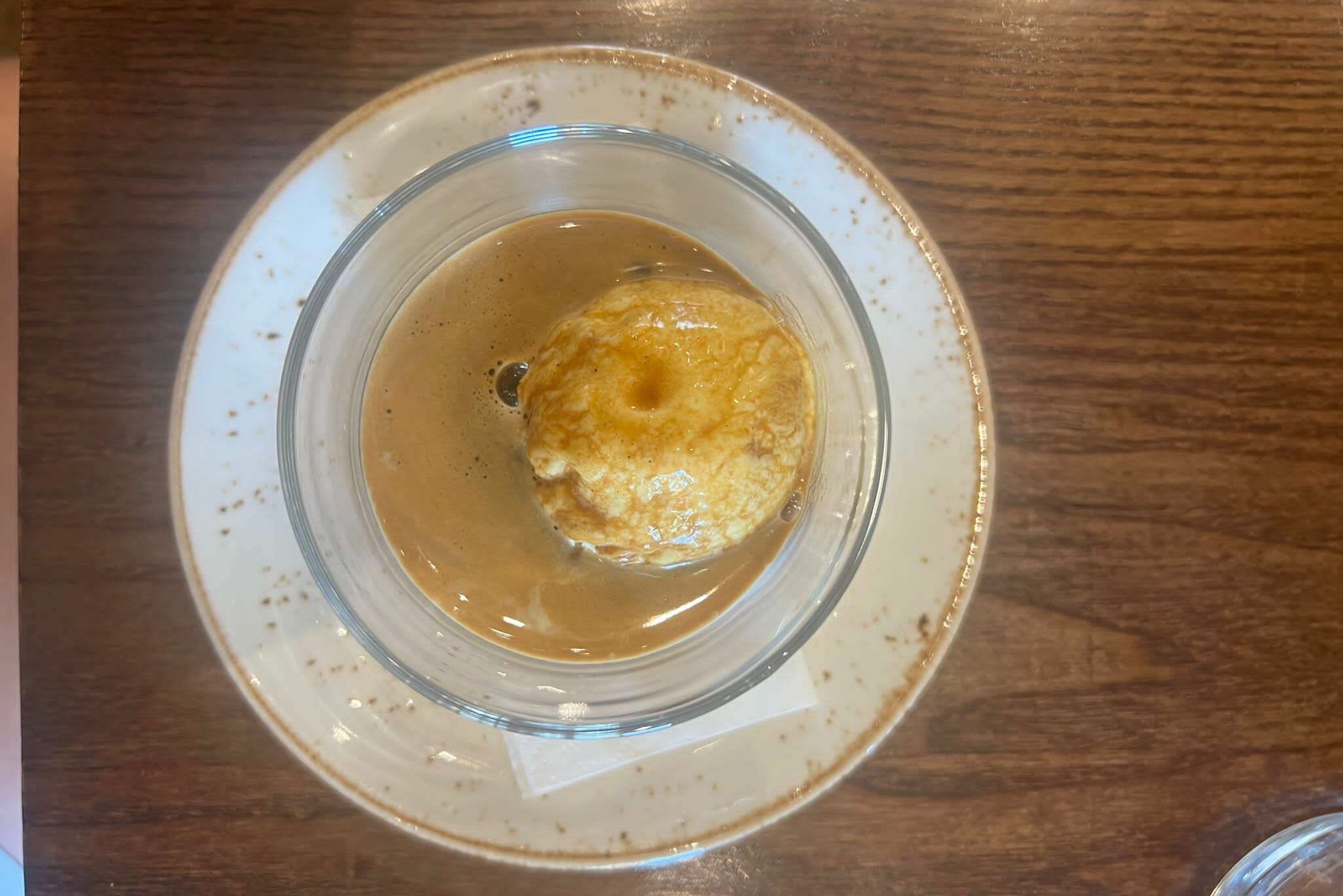 Physically incapable of refusing an affogato, I simply had no choice. A nice twist on a classic, the Campari affogato had my name on it the moment I stepped in the door, and it didn't disappoint. Deliciously creamy, a heady mix of ice cream and coffee, it was the perfect end to a perfect date.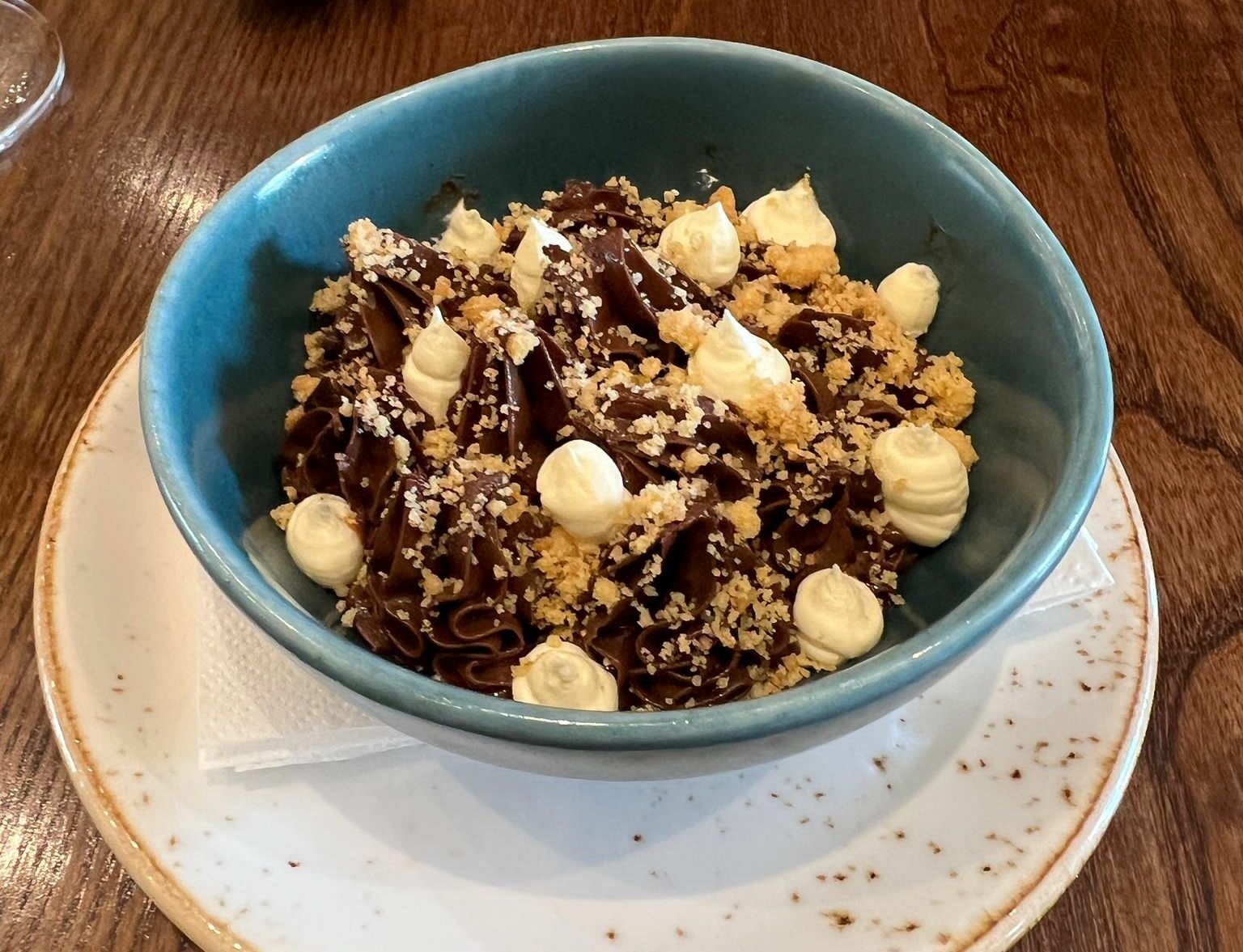 My partner in crime went for the chocolate and Amaretto mousse, topped with almond streusel. It was light yet intensely chocolatey, with just the right hint of amaretto.
Together we left feeling delightfully pleased with ourselves. We had ventured from our lofty Hanover backyard to the sophisticated streets of Hove. I can conclusively say that Fourth and Church is definitely worth the effort, and I write that having cycled, more than comfortably full and without stopping, the full 68 metres above sea level, back to my Hanover home.