A Refreshing Change To The Norm!
Brighton Food Reviewer, Chloe McKellar, November 2015
For a long time now I have been hanging out for a decent neighbourhood wine shop that I can trust to provide me with affordable wines with a wealth of knowledge and friendly service. When I lived in Melbourne, I was spoilt for choice with these types of places, and everywhere I had tried near my house in Hove just hadn't met the bill.
Of course, as soon as I moved away from Hove, I heard about Fourth and Church opening up – a friendly neighbourhood wine bar and deli owned by two experienced chefs and passionate wine drinkers, so I stamped my foot on the ground and said to my friend 'we must go there immediately!'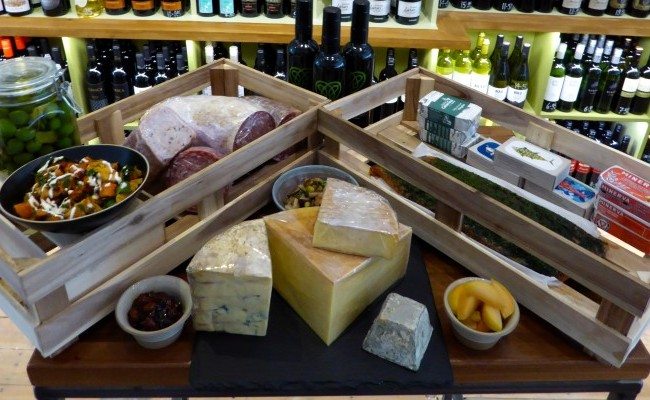 Try Something Different
Sam and Paul between them have worked in a number of wine shops, bars and kitchens over the years, and were looking to create something that is a combination of their favourite places they have been to whilst travelling or working abroad. Their idea is to have a friendly neighbourhood shop, where you can go to try something completely different, whether it is a wine you have a never tried before, wine and food that you have never had combined before, or food combinations that you would never think of putting together. They would like to have somewhere where you can go to sit down for a delicious glass/bottle of wine, without the stuffiness, and small portions of food, or larger portions if you feel to match.

Full Wall of Wine
My friend and I visited on a brisk Tuesday evening after work, and after a stressful day we were much in need of some tasty food and wine. The shop itself is located on Church Road, near the corner of Fourth Avenue (hence the name Fouth and Church), and is in the old site of Ground Coffee house for those who knew it. The front of the shop has large floor to ceiling windows so you can see right in, with a deli counter to the left as you walk in, and a full wall of wine to your right.
Friendly Greetings
We were greeted straight away by the lady behind the bar who seated us at one of the tall tables lined up along the wine wall with large black chairs to fit. We were offered water straight away and given the menu for the day and told us that Sam would be over to speak to us shortly.
Simple Menu
The menu consists of 'bites', 'little dishes' 'on bread', 'salads', 'meats' , 'cheeses' and 'something sweet' and changes regularly depending on the wine they are showcasing at the time and what's in season. The cheeses are supplied by Neal's Yard, and they make all of their pickles on the menu in house which was exciting for me to see – I love home made pickles!

Great Value Corkage
For the wines, they have a selection of wines you can choose to have by the bottle or the glass, and then you can choose from any of the wines they have on the shelf for a reasonable corkage of only £10 each. It's a bargain if you are thinking of splashing out on a special bottle to enjoy in the store – most restaurants mark ups would be much more!
Busy Night!
The shop was full – a great sign for a Tuesday evening, and Sam was busy preparing other customer's food. After he was done, he came over to say hello and introduce himself, and asked if it would be okay to bring us a range of different plates from the menu with wines to match. As we were both feeling exhausted and not in the most decisive of moods we were most excited about this and said that was absolutely perfect, thank you.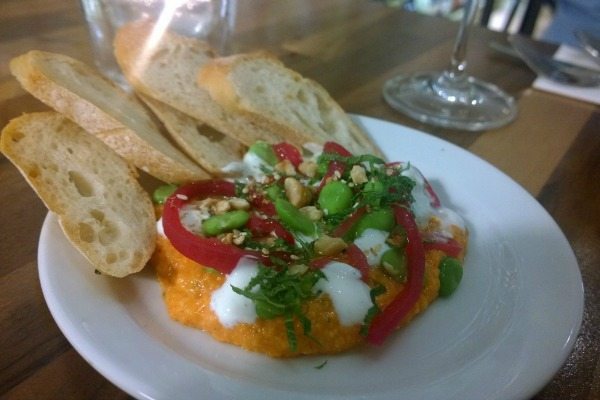 Colourful Combinations
Our first dish was Marmara (an almond dip) with roast garlic, mint, hazelnut dukkha and yoghurt, and was topped with soy beans, toasted bread and pomegranate seeds. It was bright orange with flecks of red, white and lime green, and looked gorgeous. It was creamy and light and tasted lovely with the white wine that was given to us to match.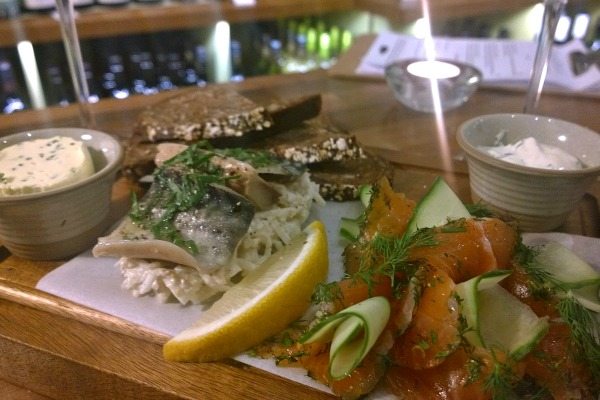 House Cured Seafood
Our taste buds were certainly now alive, and our eyes lit up when the next plate of food was brought to us. Sam placed a board in the table with home made dill and salmon gravalax, mackerel atop celeriac remoulade, home made chive butter and a dill creme fraiche. There was a side of dark bread as well, which was a perfvect combination to the fish. This was served with a glass of Albrino Spatchas wine that was light and sharp, but had a lovely finish and cut through the oily fish really well. The mackerel melted in our mouths and the gravlax was well cured, the chive butter was some sort of revelation and the celeriac remoulade still crunchy and firm to bite.
I could easily eat a board like this on my own with a glass or two of the wine.

Charcuterie Board
Next up was a charcuterie board topped with Italian ham from the Veneto region, fennel salami, house pickled pears, pork terrine with pink peppercorns, and crunchy puff pastry with caramelised onions, fresh herbs and pine nuts. The pickled pears were subtly tangy, and bought a fresh acidity to the pork pate which was rich and well seasoned and flecked with the heat of the crunchy peppercorns. The ham and salami were both top quality and tasted great with the caperberries on top. My friend really enjoyed the crisp puff pasty with the sweet onions, and all of this was really special with the Collosio Veno sherry that Sam bought to match.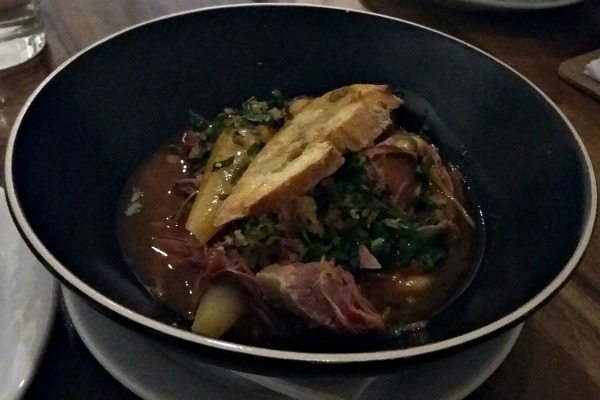 Food That Brings Back Memories
Just as we thought we had tried it all, Sam presented us with a steaming bowl of ham hock, butterbean and chorizo stew that smelt amazing.
The ham hock was so tender and fell apart when touched with the fork, the butterbeans were cooked perfectly and the chorizo provided a rich flavour that took me back to eating in rustic tavernas in Spain.
My friend said it brought her back to her home in Southern California, as it reminded her of the hearty soul food her Aunt used to make. We both agreed that it is a great achievement to trigger these memories with food! The wine we had to match this time was called Drunken Red (excellent name) and it was produced by well known port producers in Portugal who have recently made some fantastic table wines too.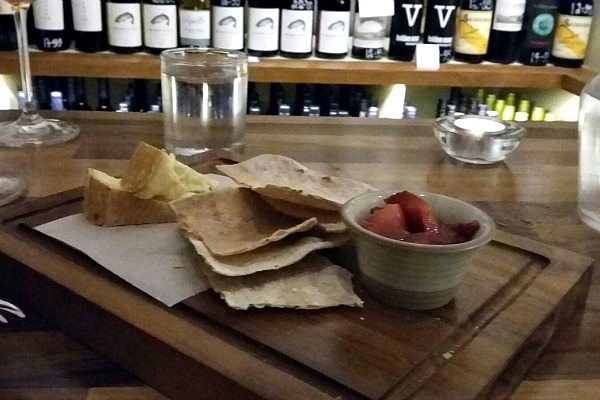 A Taste Sensation
Cheese course was next for us and this truly was a taste sensation. We were served a washed rind cheese produced by Neal's Yard, accompanied by spelt crispbread, coriander and caraway and house made pickled plums. Sam matched this with a sweet vermouth which we initially thought was an interesting combination, however when tasting the cheese and vermouth together all we could taste was chocolate! I would certainly recommend trying these together if the cheese is in stock when you go.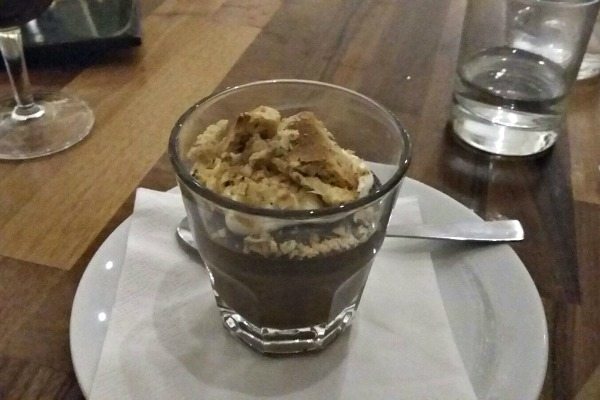 A Sweet Finish
For our final course we had a lovely chocolate, cardamom and almond biscuit dessert matched with a Pedro Ximenez sherry that was lovely and rich and sweet and was lovely with our small glass of dessert. Good to see they know their sweets too, and I can see this being a popular option for locals on the way home from a show or a film as a night cap.
A Lovely Evening
As you have probably gathered, I had a wonderful time at Fourth and Church. The service was lovely, the atmosphere was relaxed and informal, and the food and wine was of such quality you could easily see this is any of high end restaurant in town. I have already planned another evening there soon with the girls and I am certainly going to keep an eye out for their different themed tasting evenings as well!