Stella's brunch Oeuf experience is all it's cracked up to be!
Our blogger, Stella, visits Hove's popular cafe for brunch, so let's hear about her 'Frumpet' Oeuf experience…
One of my favourite jokes ever is an ole classic I like to bring out when offering someone an egg-based snack (usually my children, let's face it). It goes like this: I ask how many eggs they want. They say (utterly disinterested) 'one'; I say, with a jaunty wag of the finger, "Aha! But is one egg un oeuf?". They bury their heads in their hands.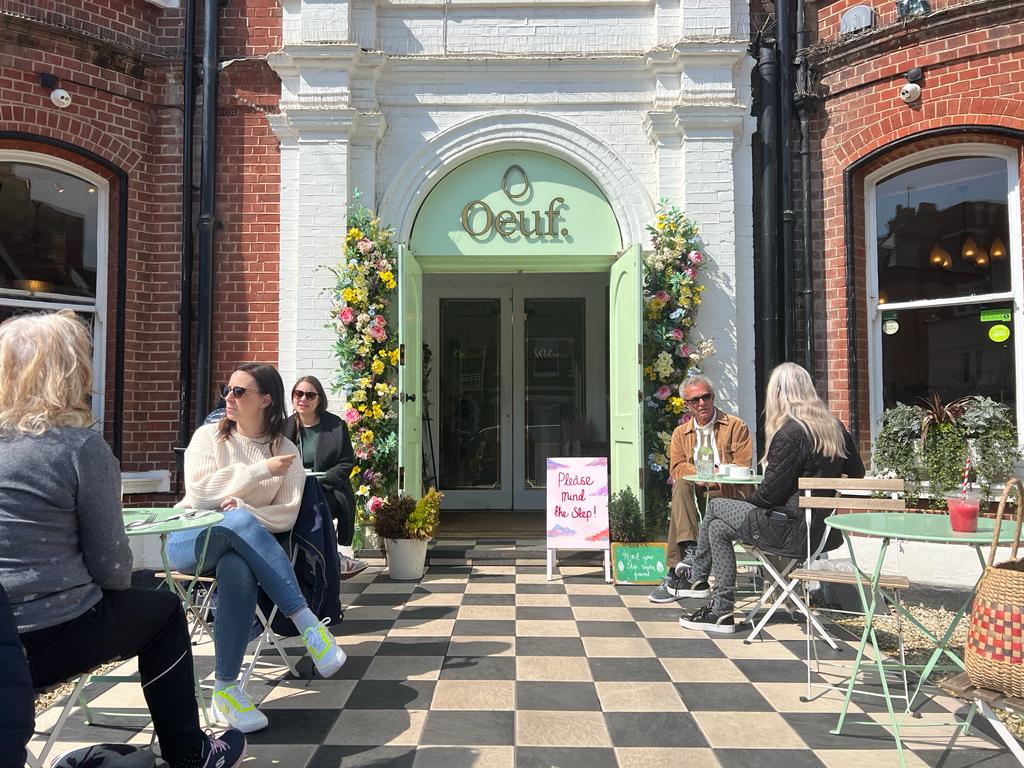 Un oeuf = en-ough – geddit!!!?? Not only does it tell you how to pronounce 'egg' in French, it never fails to tickle me. As I enter the fabulous interior of Oeuf, BRAVOs #1 Best Café, all my senses are tickled. Gorgeous décor, wonderful smells, great atmosphere – and then I see the line 'One Oeuf is never enough' written large above reception…I am in heaven.
Better by the Dozen
First things first for the Oeuf experience, let's talk about Oeuf's Frumpets. No, it's not a typo, but rather a delicious twist on a British classic. These Frumpets, a glorious fusion of crumpets and French toast, are a match made in brunch heaven. Thick fluffy crumpets dipped in a sweet and eggy batter, then griddled to perfection. The result? A crispy exterior with a soft and tender middle. I took one bite and was immediately transported to brunch utopia. Topped with savoury smashed avocado, sweet chilli jam and a perfectly-cooked free-range fried egg, drizzling its golden yolk down the side, these Frumpets were like sunshine on a plate. In fact, they're so good, Oeuf has trademarked them!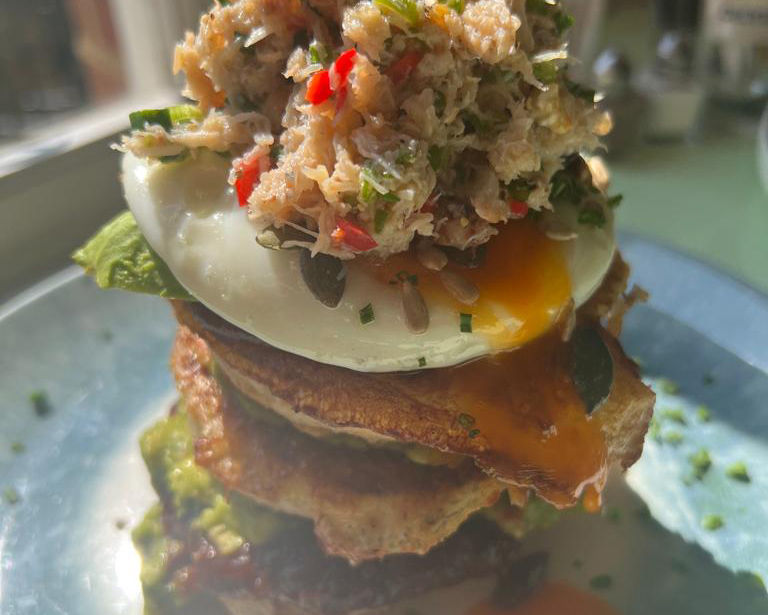 Next up, Oeuf's Hot Honey Chicken Waffles. Picture this: a succulent buttermilk-fried chicken thigh, perfectly seasoned and oh-so-juicy, perched on a fluffy waffle. The crispy exterior of the chicken perfectly complements the soft, airy waffle, creating a divine texture contrast. Creamy homemade mayo and hot honey sriracha add moistness and the classic fried egg on top elevate this dish to pure brunch nirvana. It's no wonder Oeuf has brunch enthusiasts clucking for more!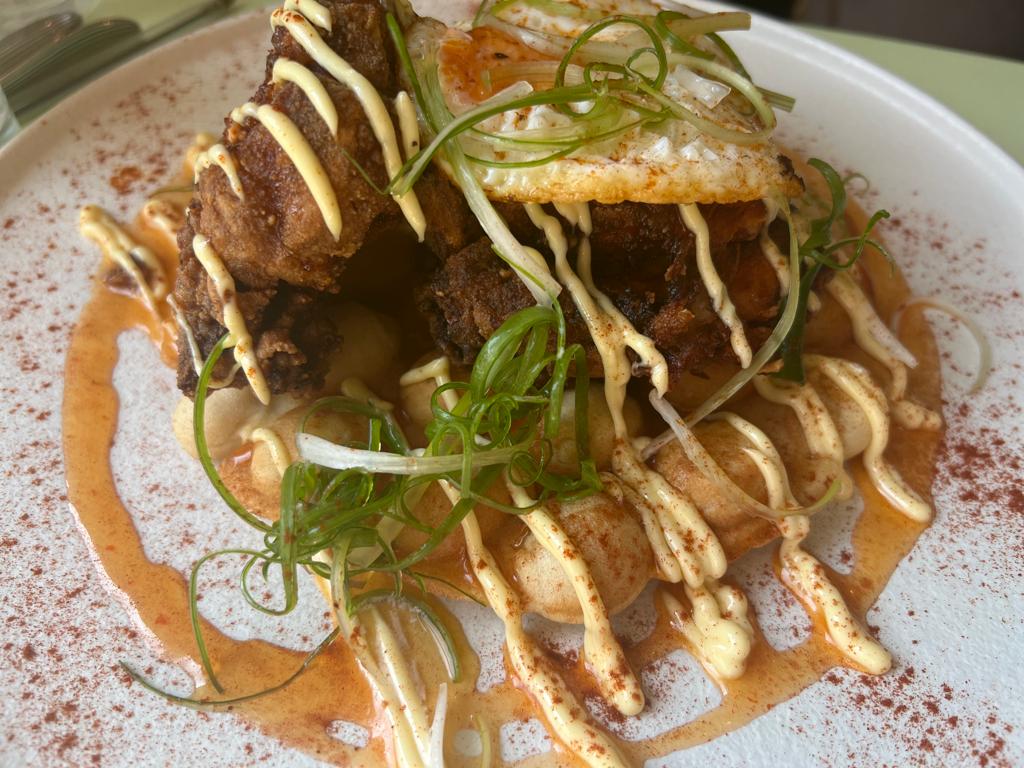 My plus-one was Griff, my husband, who'd insisted he wasn't hungry but then couldn't resist his own tower of Frumpets topped with fresh crab… and then also found room for the Sticky Honey Sriracha Chicken Bites, sprinkled with crunchy sesame seeds and served with a hot mayo – mmmmmm.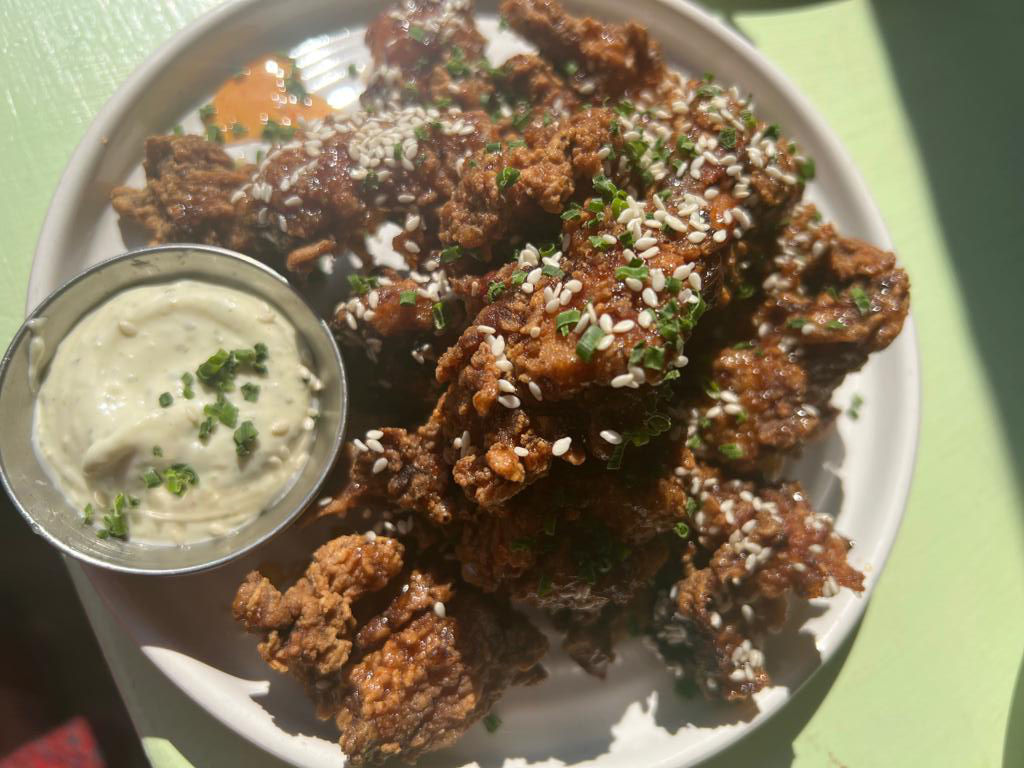 Creaking at the sides by now, my eye caught Hot Banana Bread with Salted Espresso Butter on the menu. I can't resist banana bread, especially toasted banana bread with melted butter – I was helpless in Oeuf's hands.  Crispish on the outside, soft and moist on the inside with a sprinkle of melty chocolate chips and salty drips of butter. Mnyumnyumnyum.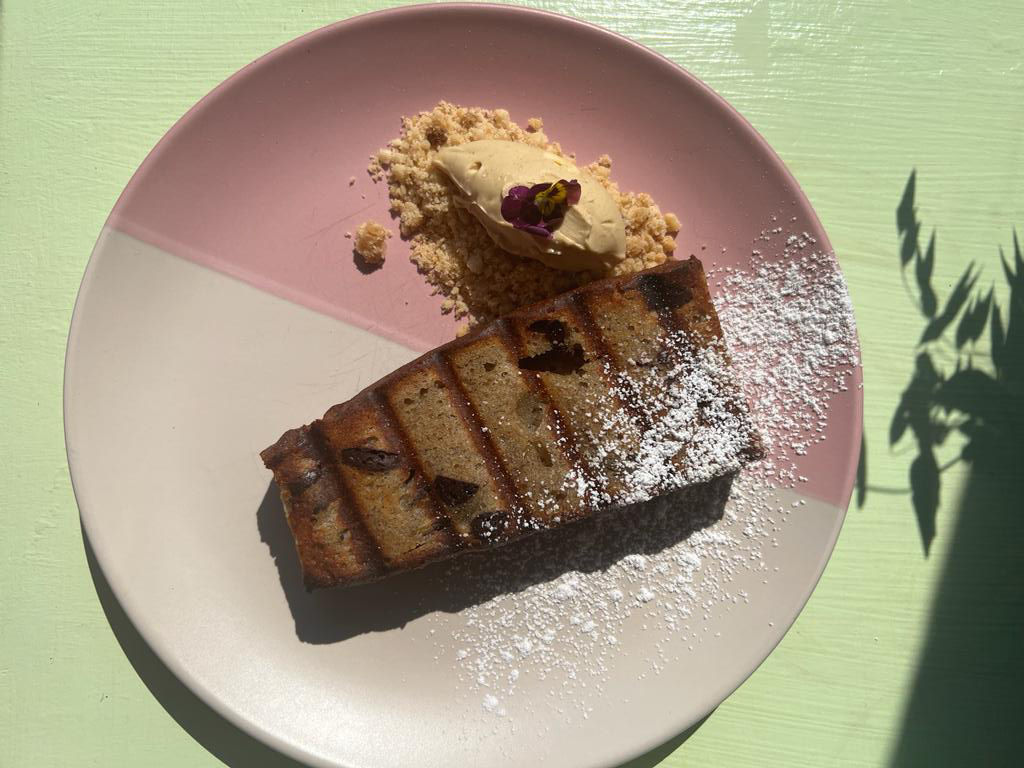 A Golden Oeuf experience
Time for a sit back and a look around to allow things to settle. Oeuf's décor is a treat all by itself. From the garlanded front door to the marble pillars and art-deco fittings, there's a playful sense of grandeur and occasion. The proprietor, Amber Sterck, decorated much of it herself, upholstering the gorgeous velvet banquettes and, with her hands-on team, painting tables and the bar a fabulous eau-de-nil with gilt work detail all done by hand. The atmosphere was buzzing; efficient, friendly waiters bustled between tables occupied by couples, mums and teenage daughters and groups of friends celebrating birthdays. All this at 11am on a Monday morning in term-time!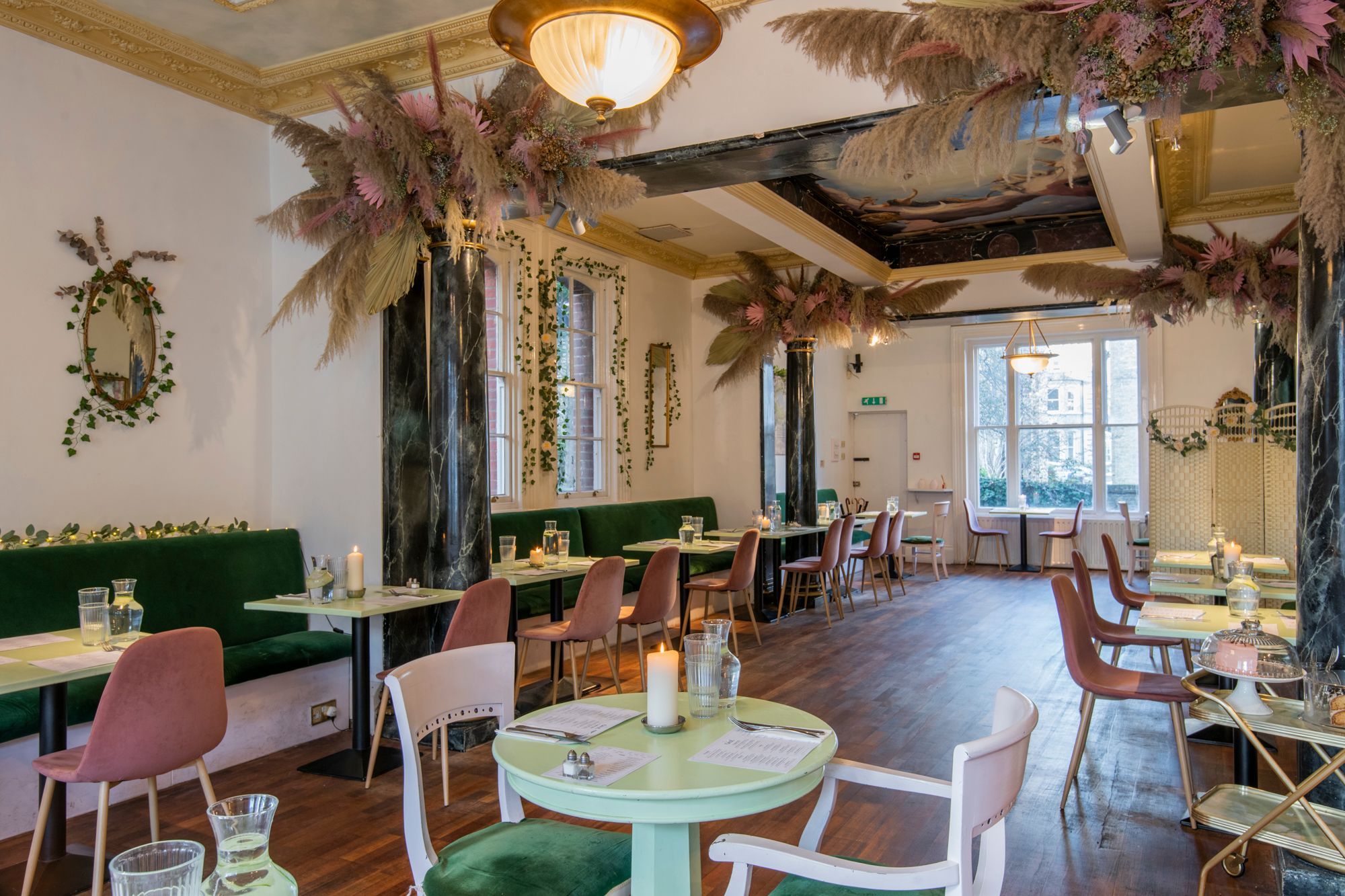 The Secret Garden
As an Official Brighton Restaurants Blogger (you may kiss my hand), I was given a sneak peek at the summer menu, to be released on May 1st; all the usual joys but also a delicious range of summery cocktails which can be enjoyed in the Secret Garden also opening on 1st May, a brunch Eden of floral displays, birdcages and mirrors.
Oeuf's commitment to sustainability also needs a big mention. As BRAVO's #3 Sustainable Eat in town, they make a conscious effort to source ingredients locally, reducing their carbon footprint while supporting local farmers. From free-range eggs and Sussex bacon and sausages to organic produce, Oeuf is not only pleasing to your taste buds but also the planet. Brunch guilt? No need!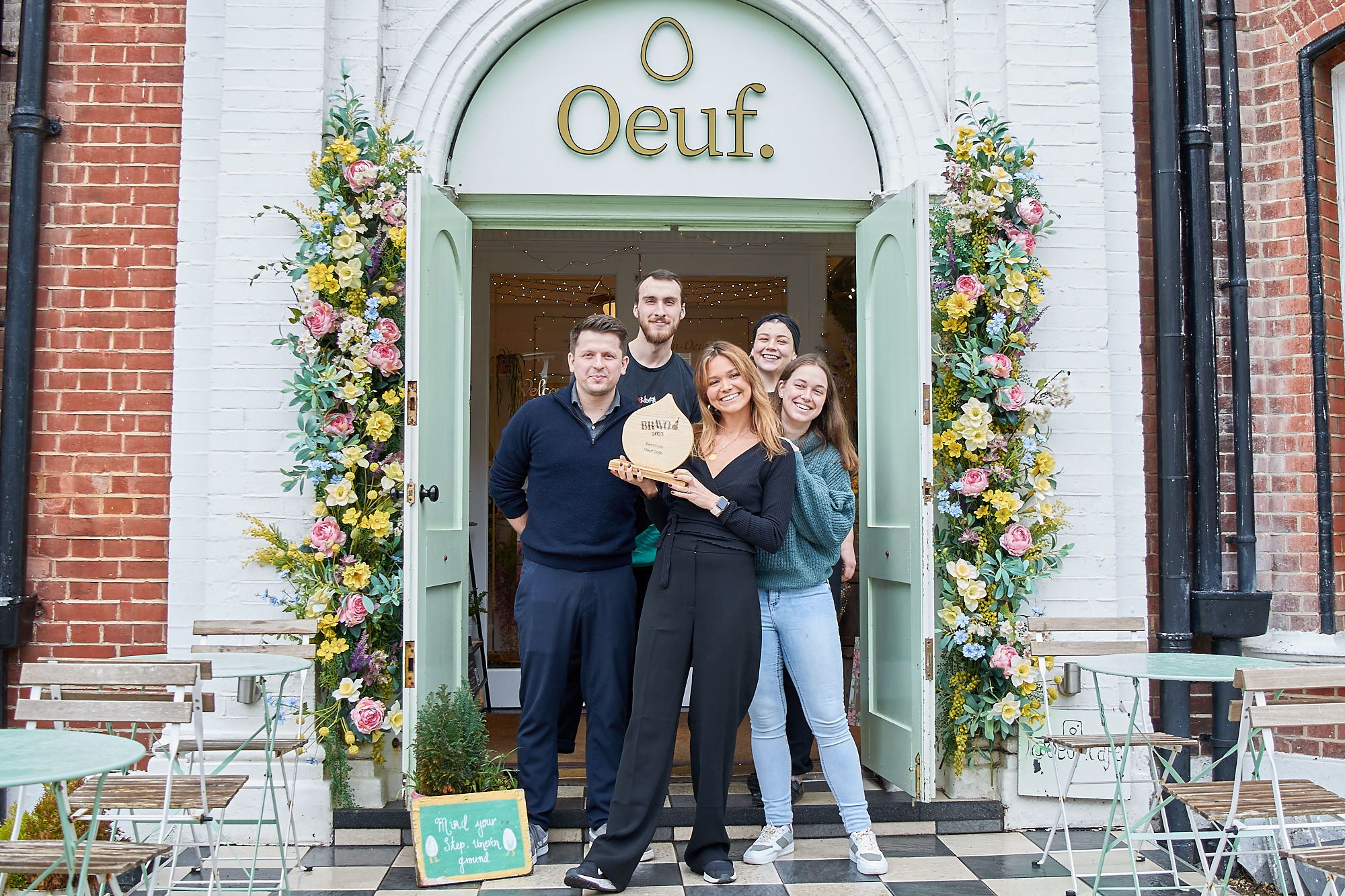 My conclusion? One Oeuf isn't enough! More, please!
…and that's no yolk!
Guys?
Guys! Where are you going?