Welcome to Oeuf café Hove
Oeuf café Hove is located on Third Avenue, not far from Brighton Town Hall and a short distance from the seafront. The wide residential street is populated with a few hotels and it is on the ground floor of one of these that Oeuf café makes its home.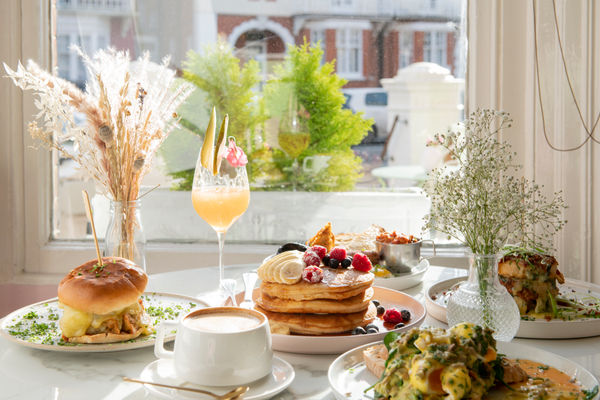 You know you're in for a unique experience as soon as you approach Oeuf. You enter by ascending the black and white tiled front terrace, passing through the duck egg green double front door to be received by the maître d'. Marble pillars, high ceilings and Parisian pastel tones instantly set the mood for a decadent affair.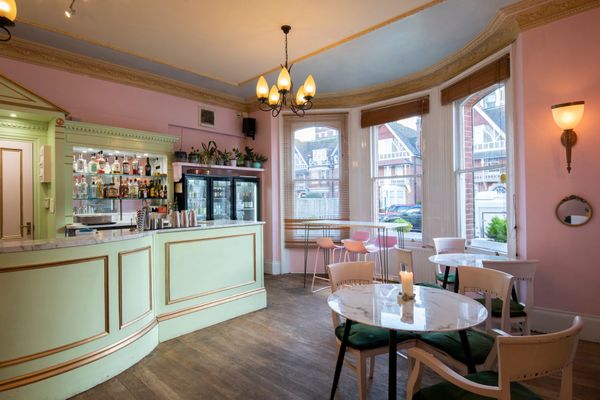 In addition to the main dining area and front terrace, Oeuf has a bar area, if you just want coffee or a cocktail. An off the beaten track secret garden with big trees, roses and quaint tables to eat your breakfast or sip on a cocktail or coffee.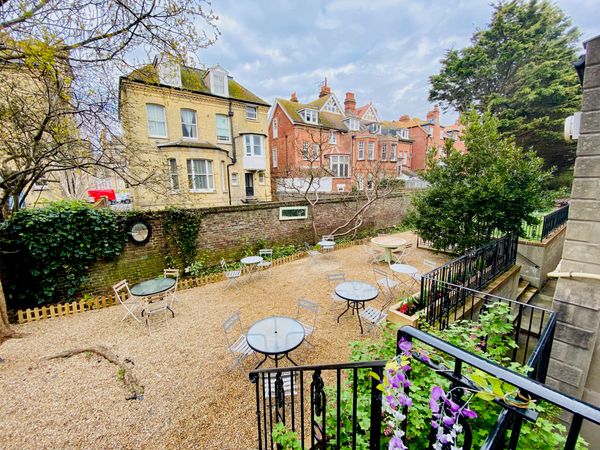 Brunch for your whole bunch
The extensive brunch menu offers something for everyone. Naturally, as the name would imply there's an extensive list of ways to have your eggs, Oeuf and Surf, Oeuf Benedict, Scrambled Oeuf (an oeuf offering for everyone).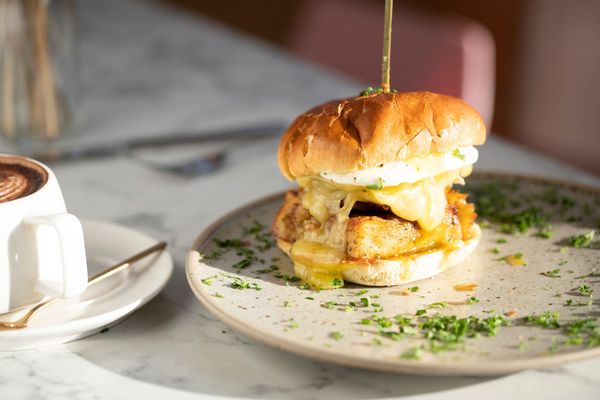 Additionally, there are smaller breakfast options such as a seasonally flavoured porridge, berry compote or simply locally baked sourdough with a choice of toppings. Seasonal specials give you at least a small handful of excuses to return before the menu changes.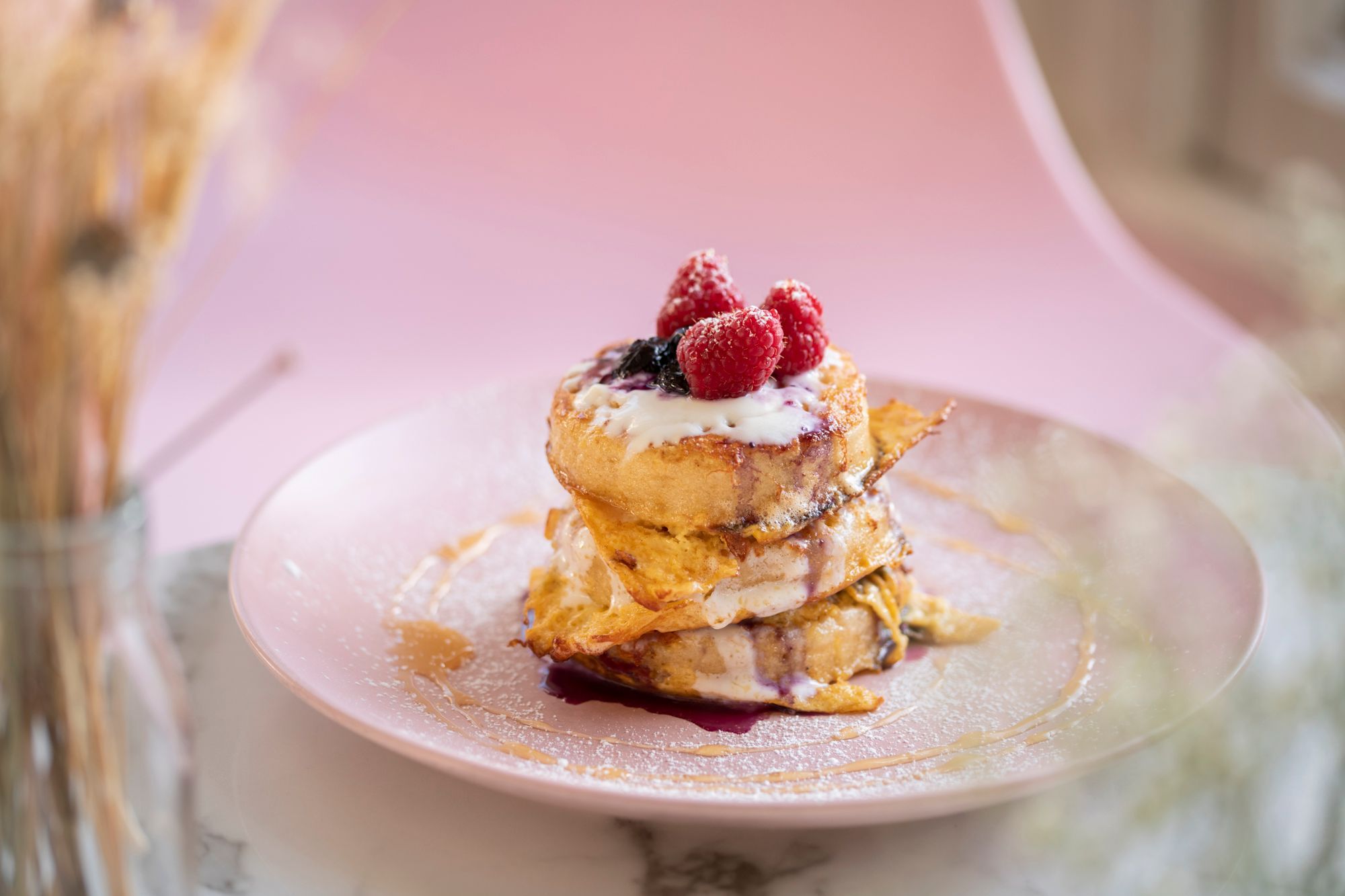 Vegetarians and vegans get some seriously good breakfast options that reach deep into plant-based creativity. The plant Full English really goes the distance with sausage, vegan black pudding, mushrooms, roasted tomatoes, beans and excellent scrambled tofu with Brighton made 'Fu Fighters Burmese tofu (it's made with chickpeas, not soy). Four-legged friends even get to enjoy a little homemade biscuit courtesy of the Oeuf team.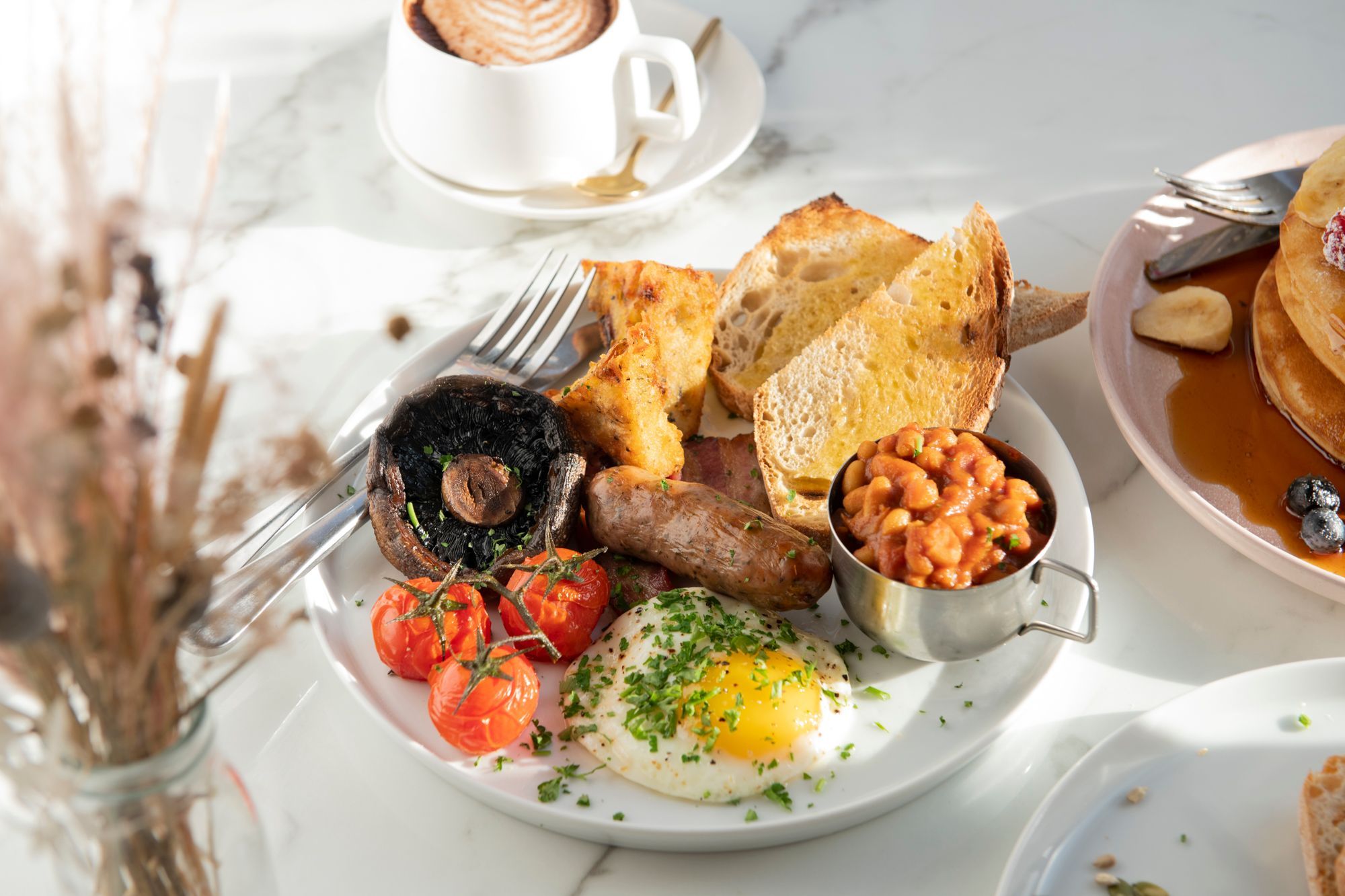 Eagle-eyed readers will have picked up a strong presence of local produce in the menu and this is really the yolk of the Oeuf values. The coffee you'll be sipping here is from Pharmacie Coffee, which is just a short cycle away from the cafe. If tea is more your cup of tea, that's local too, from Hoogly Tea in Brighton.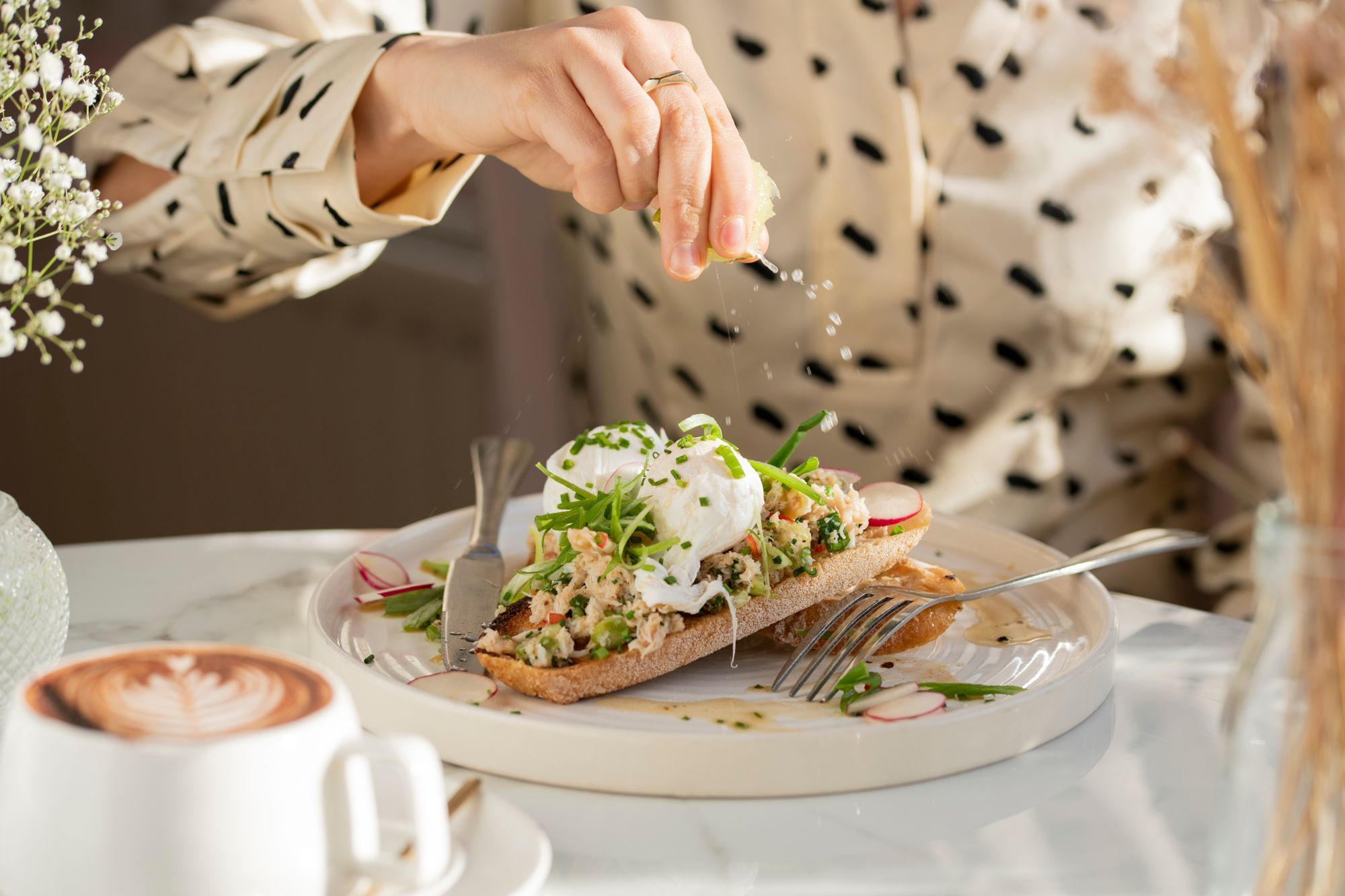 Brunch and beyond
Open daily until 4pm Oeuf café is a destination spot for breakfast, brunch, cocktails and floristry(!) The mimosa selection is angled at early drinking, so on the lighter, longer and more fruity side. But they're not afraid of a margarita or two either (did someone say breakfast martini?)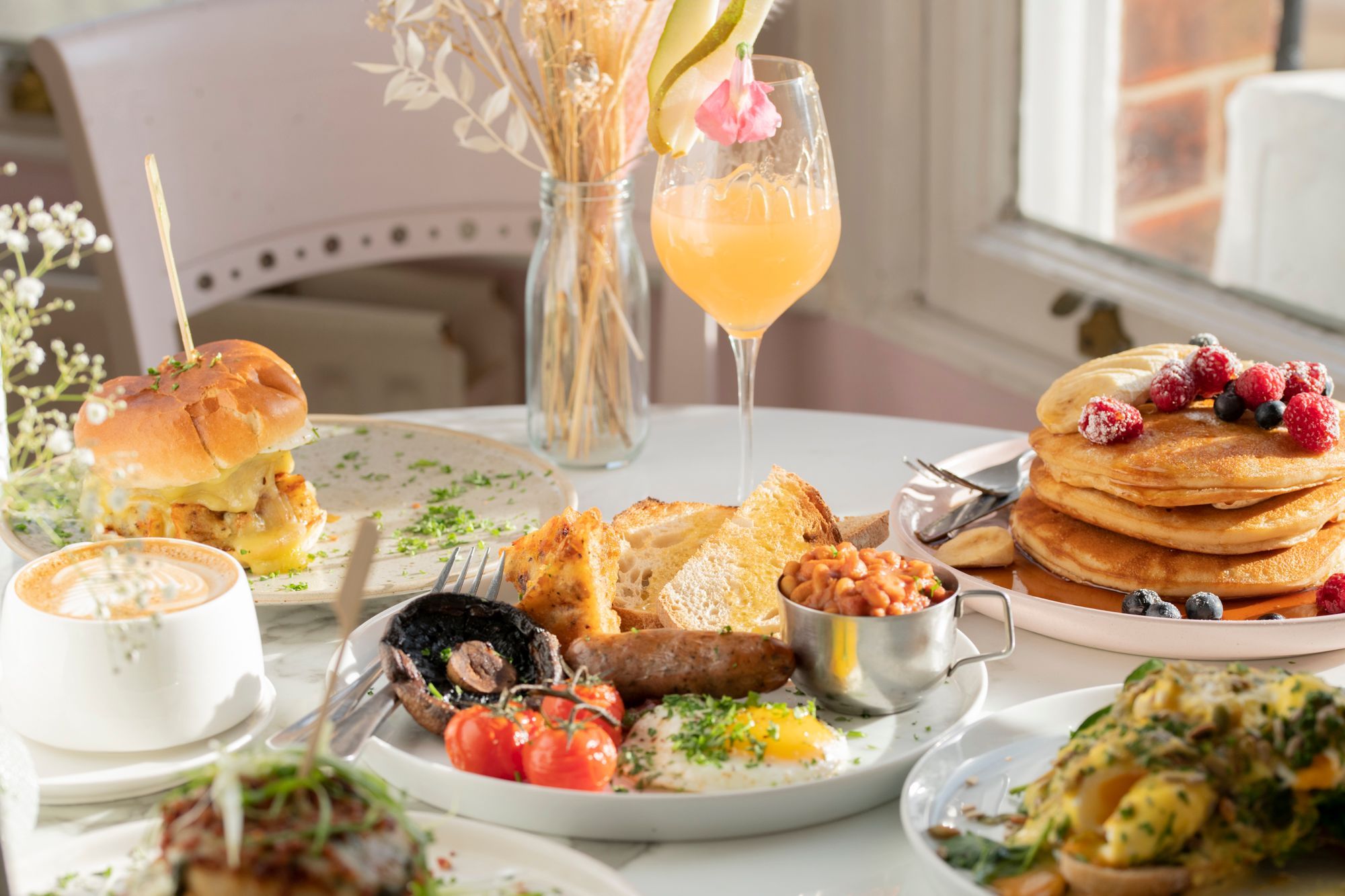 As you're leaving, filled with the joys of a good company a stack of Frumpets (French bread battered crumpets) and maybe a Good Time Gimlet or a Fizzy Ellie or two, why not pick up a bunch of beautiful flowers from the resident florist, Linden Tree Flowers. Because you'll definitely be leaving with that feeling that everything's coming up roses.