Permit Room Brighton
Permit Room Brighton is part of the popular Dishoom, but what sets them apart is the brand new menu and fantastic cocktail selection. Located in the windy streets of the Lanes, it's a great location for a lunchtime stop while shopping, a pre-theatre meal, catch-up drinks with friends, breakfast—basically anytime, any day!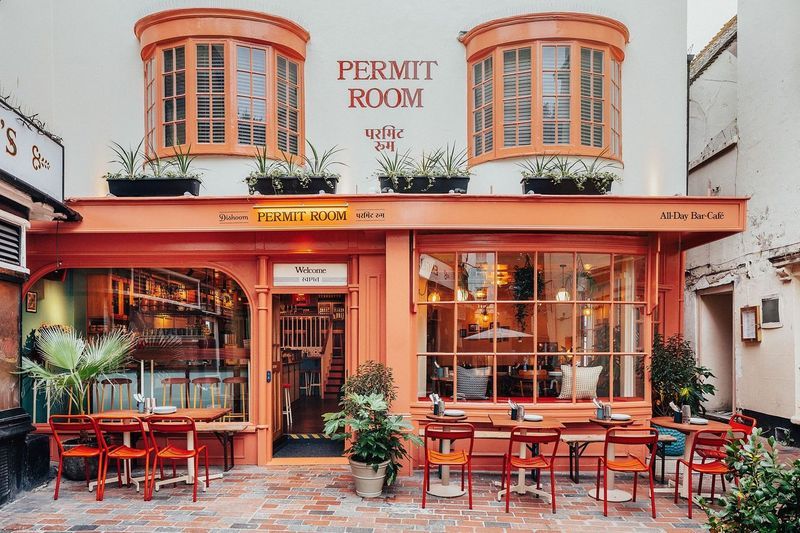 The story behind Permit Room Brighton
The Permit Room takes inspiration from the food and drink scene in Bombay and the food is influenced from India's different regions. The founders have spent a lot of time living and working there— they're obsessed with the city! The idea behind the Permit Room in Brighton's Lanes is as a homage to the permit rooms of Bombay. When alcohol was banned in 1949, people started secretly serving drinks from secret rooms named Aunty Bars across the city. There would be a boiled egg vendor outside, which was a sign for those in the know. The law loosened up by the 70s, and permit holders could buy alcohol, which marked the start of Permit Rooms. The Permit Room in Brighton is 'kicking back like Bombayites' with a drinking culture in the city that always has food at its heart.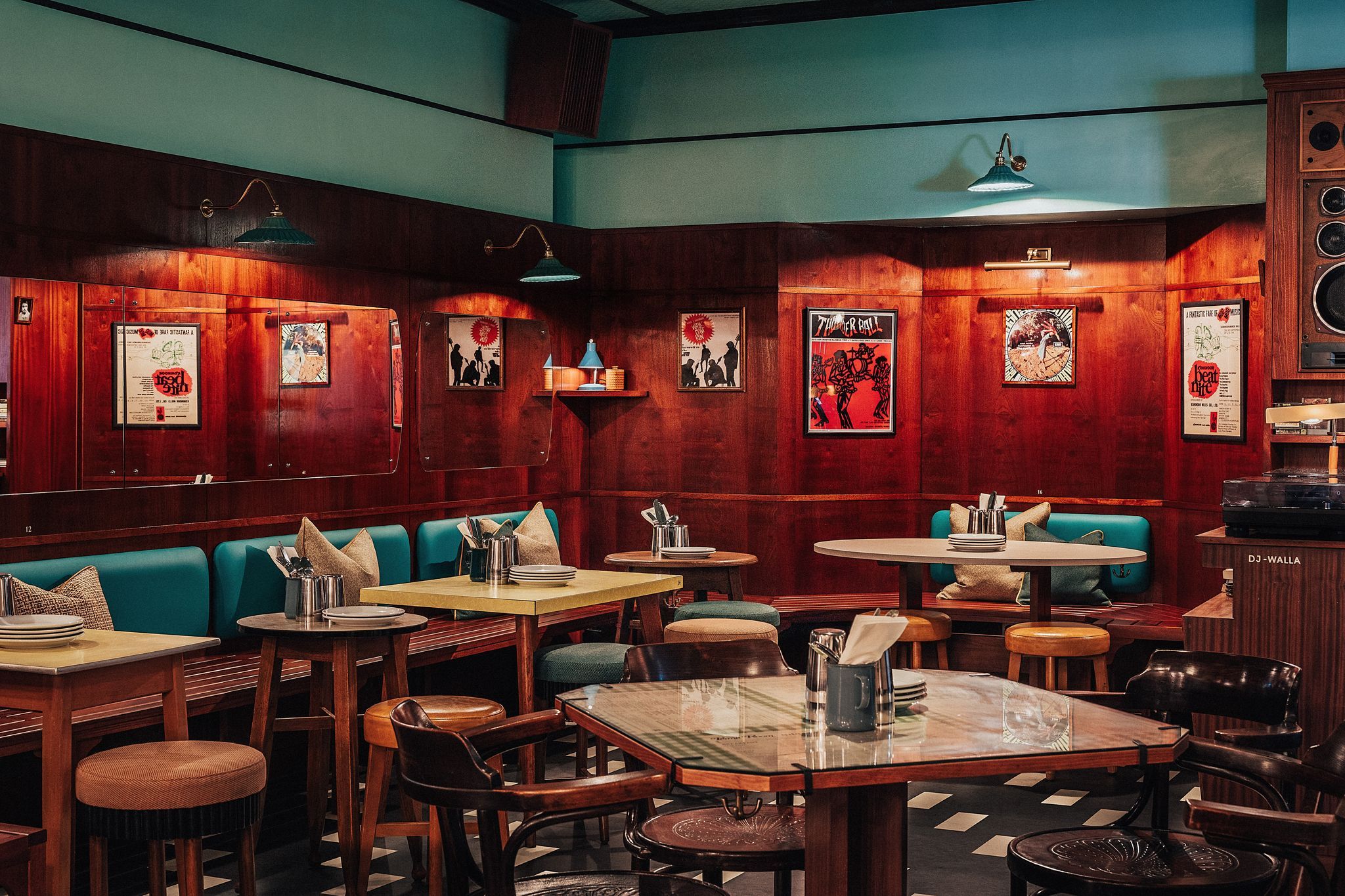 The vibe
The venue is a bit of an Aladdin's cave. From the outside, it looks like a lovely little restaurant but there's more than meets the eye. When you walk in, you are enthusiastically welcomed by one of their friendly staff. There's usually someone preparing a drink at the bar area, and a few people are mingling in the dining area where there are large windows – great for a spot of people watching.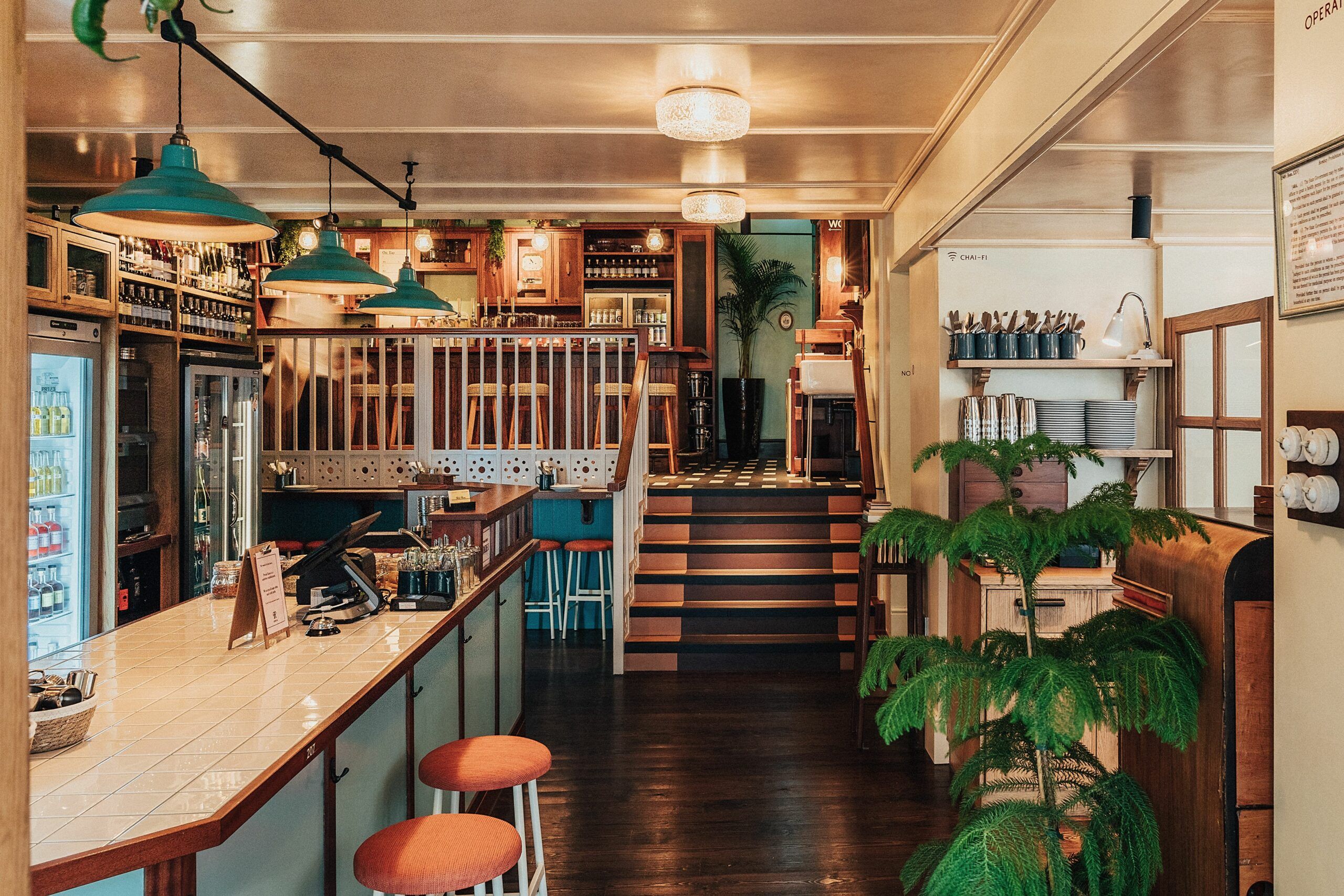 As you walk further into the venue, you head up a few stairs onto the mezzanine area, where you'll find a larger bar and more seating. Just around the corner, the restaurant spreads even further, with another room that opens up and lots more tables – ideal for larger groups to celebrate and catch-up.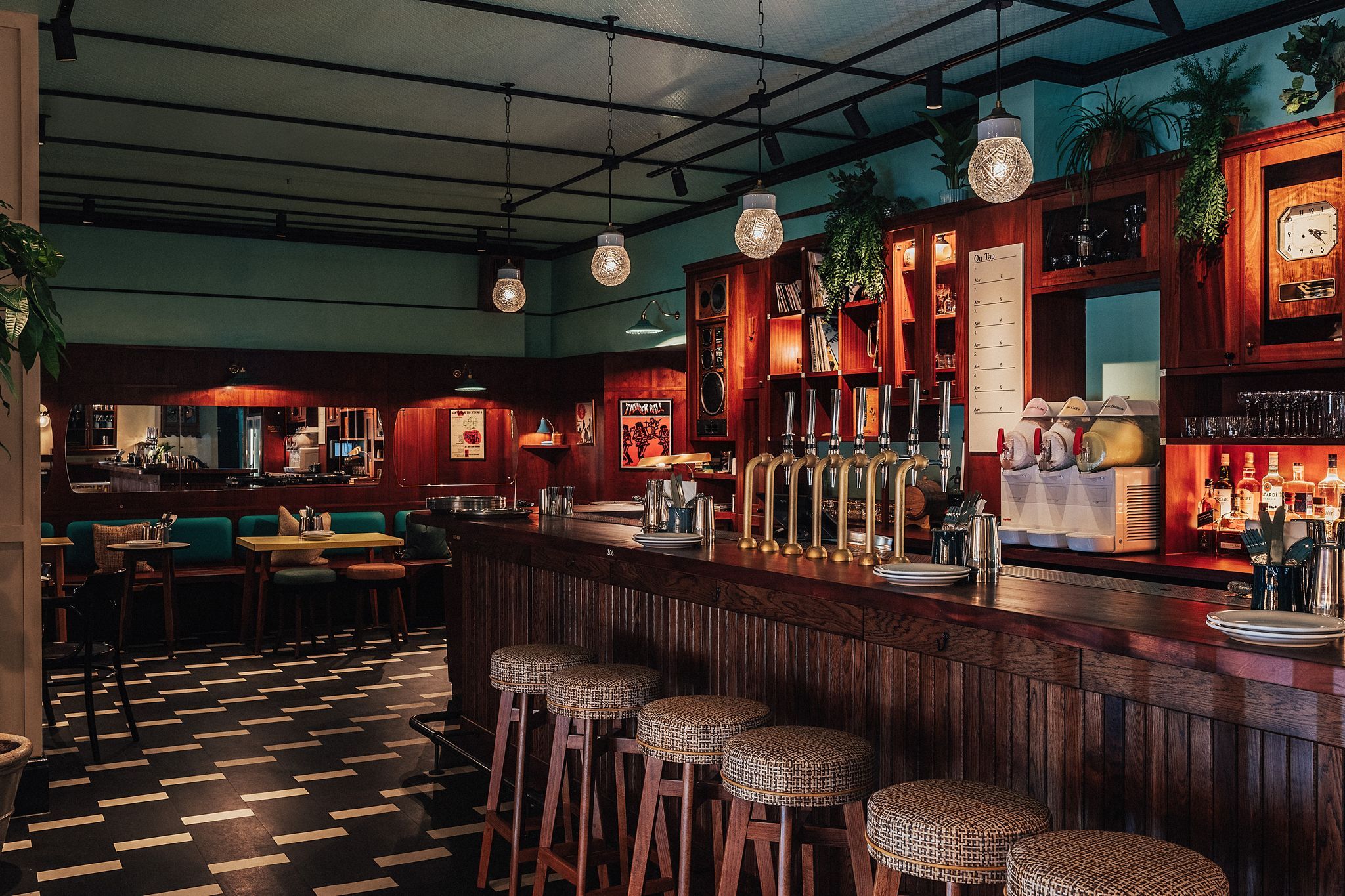 The lighting is warm, complementing the general feel of the venue, with lots to look at. The team behind the Permit Room has a strong passion for music and art, which is evident with numerous artworks on the walls and interesting features spread around. The gentle smell of incense fills the restaurant, adding a sense of calm. 
Breakfast
Breakfast is served from 8-11.45am every day with a variety of freshly made, filled Naan Rolls, porridge, and granola options, along with a Bombay classic – Bun Maksa, a soft, buttery bun made for dunking into hot chai. The Naan Rolls are made with a freshly baked naan, which is made to order in the tandoor. Each is served with cream cheese, tomato chilli jam, and fresh coriander, then wrapped around your choice of filling. Choose from their Bacon Naan Roll, or for a larger appetite, there's the Wrestler's Naan Roll which is filled with bacon, sausages, and egg. There are also vegan options with vegan sausages available, and you can add Masala Beans to round off your breakfast naan.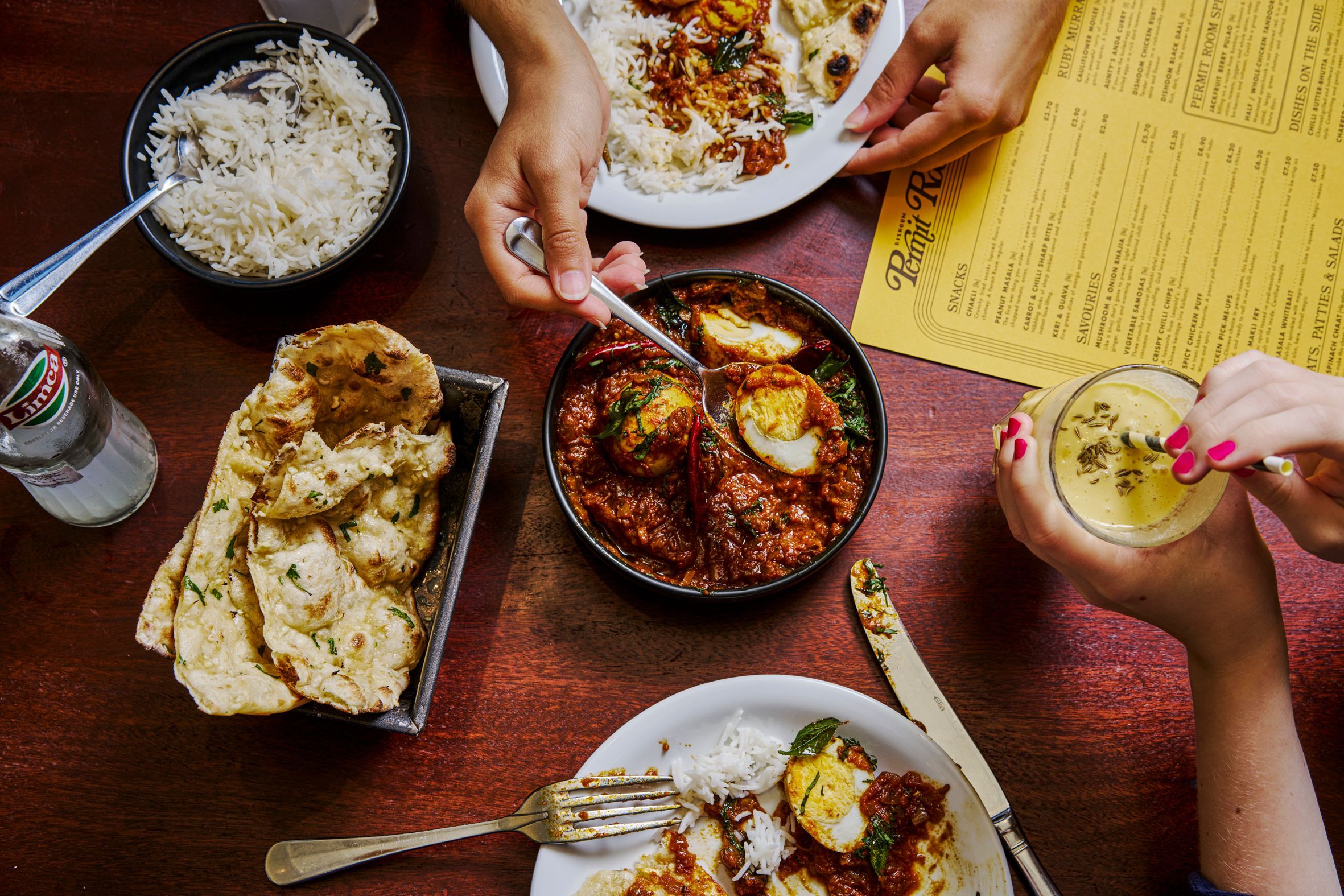 The Permit Room Brighton works with some amazing suppliers that they're proud to showcase, such as bacon from Ramsay of Carluke, pork sausages from Maynard's Farm, vegan sausages from Symplicity, and their eggs are St. Ewe Free Range Eggs. So you know you're in for a real treat with these top ingredients.
Lunch and dinner
Enjoy a delicious salad and chaat for lunch, pre-dinner nibbles and cocktails, or feast on curries. No matter the time of day, Permit Room has something to satisfy your hunger from the start of the day through to late-night cravings. We recently enjoyed a work lunch accompanied with a few plates, including the Spicy Chicken Puff, Crispy Spinach Chaat, and Cauliflower Moilee curry, and we are already planning our next work lunch or breakfast there!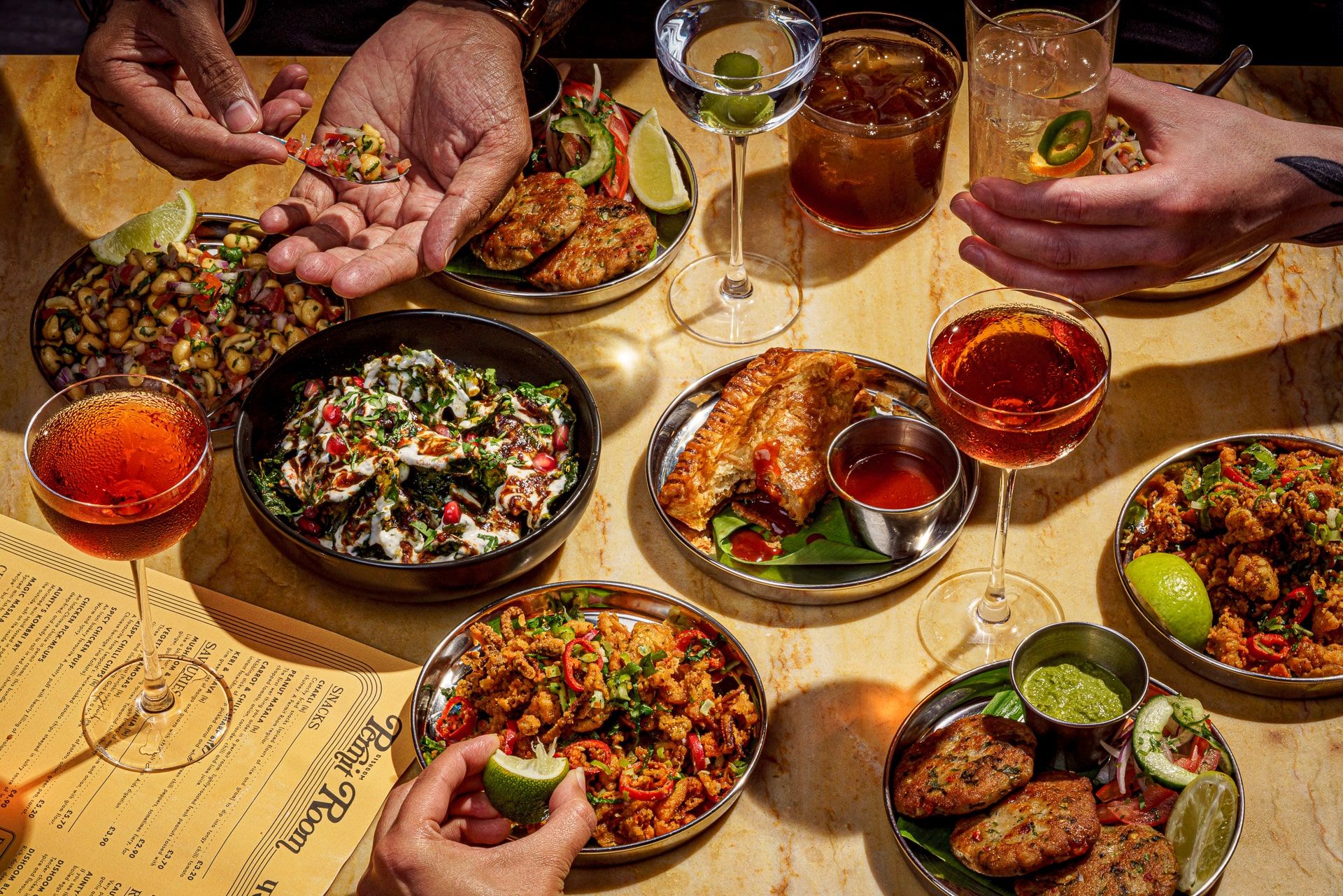 There's plenty for vegans, vegetarians, and meat eaters. For the sweet tooth, there's a small menu of 'Sweet Things' to choose from, such as the 'Orange Blossom Jelly, And Some' – served with ice cream from Brighton's Boho Gelato, or perhaps the boozy Rum-Soaked Gulab Jamun has your name on it!
Drinks for everyone
The drinks list is inclusive and has something for all tastes. The Permit Room Brighton prides itself on its fantastic cocktail selection, offering both alcoholic and non-alcoholic options. All handmade with quality ingredients, spirits, and non-alcohol spirits. You'll find some of your classics with a Permit Room twist, such as the Orange Wine Margarita or Chai Caffè Martini, to a Mango Lassi Punch—something frozen for those hot days, and there are some 'Morning Glories', if you're going for a boozy brunch.
There's a Teetotal section which includes options like their Sober Negroni, the No-Hafta Kiwi Colada, and more. Their Lassis go down a treat accompanied with a few small plates, and we can't recommend their House Chai enough. The oat House Chai is the perfect blend of spice, sweet, and comfort, transporting you to India with every sip—and did we mention, the chai is bottomless!
Beer and wine
There are some great collaborations with local Brighton breweries on their beer list such as the UnBarred X Permit Room Pineapple And Pepper Crumble Sour. There's also guest bottles, cans, and the Dishoom IPA on draught amongst others.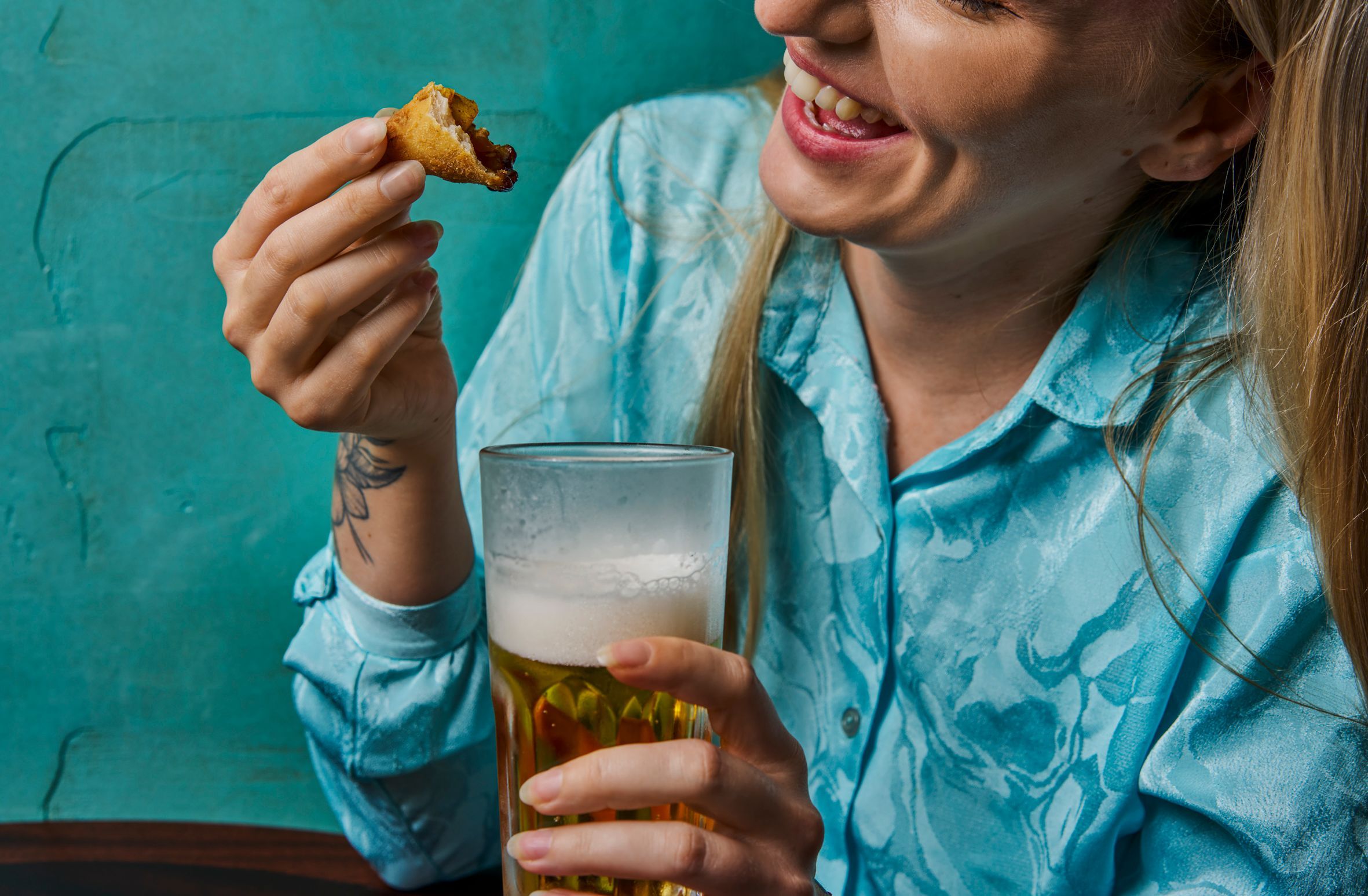 The wine list is thoughtfully crafted with the environment at the forefront, as all of their wines are grown with biodiversity in mind. Most wines on the list are organic, with many being natural or made with minimal intervention. You can order either 175ml or 750ml of any of the wines available
Day to night
The kitchen is open later than many venues, allowing you to order until 10.30 pm. This means you can enjoy something tasty to eat with your drinks or grab a bite post show, or meeting a friend after a late train. Additionally, on Thursdays, they host a live DJ in the evenings, enhancing your visit with a curated soundtrack for a laid back vibe with great music.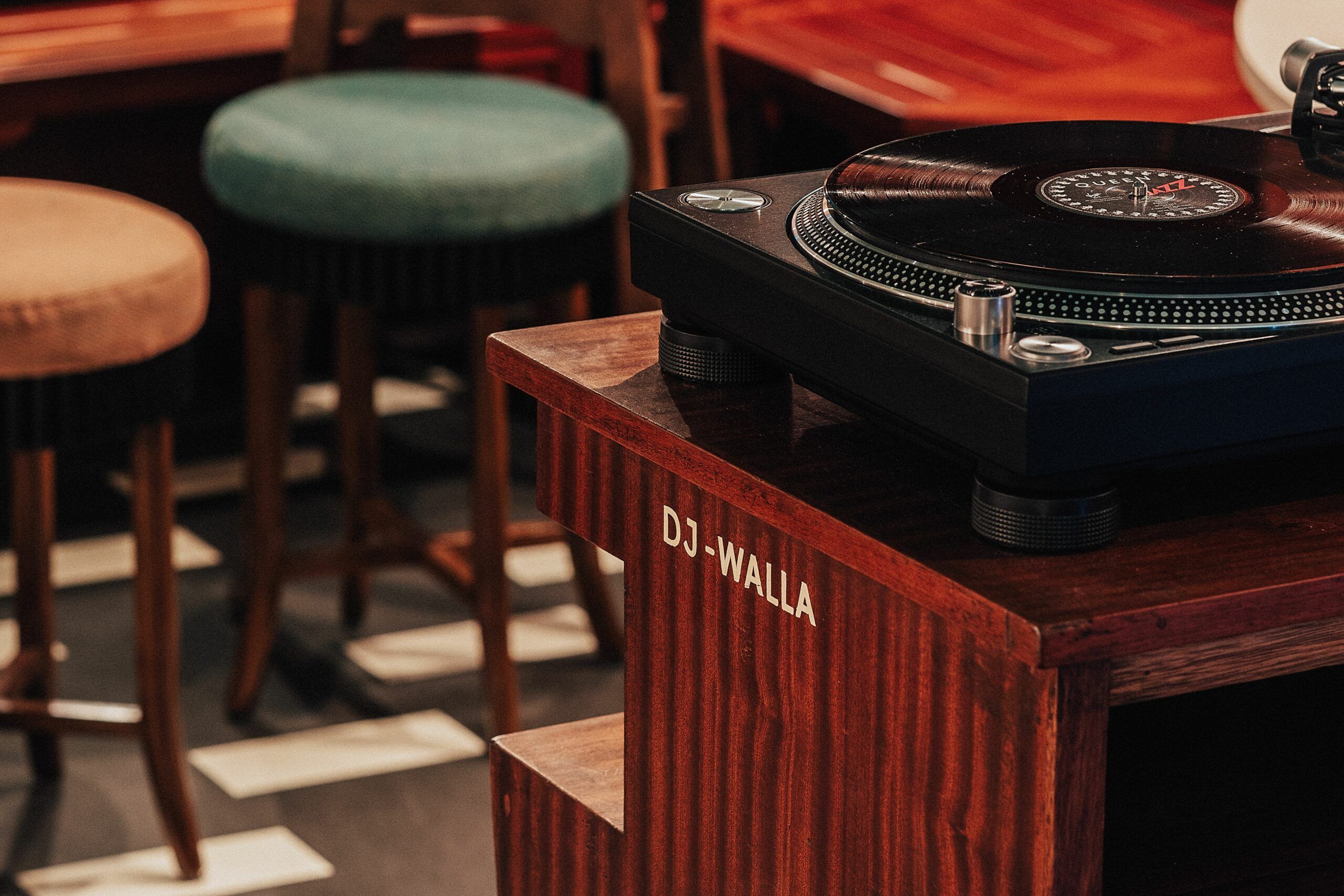 Remote working at Permit Room Brigton
Brighton is home to many remote or self-employed workers seeking a place to work or have a meeting, and Permit Room warmly invites individuals to settle in with their laptops and use the available Wi-Fi. Enjoy bottomless chai, which we can vouch for as delicious, to keep you fuelled throughout your work session. The venue offers ample space, revealing a variety of options as you explore. Whether you prefer a cosy corner for focused work or a larger table to spread out, you'll find what you need. Rest assured, there's fantastic food available to keep you going—the breakfast naans might just provide the morning motivation you're looking for!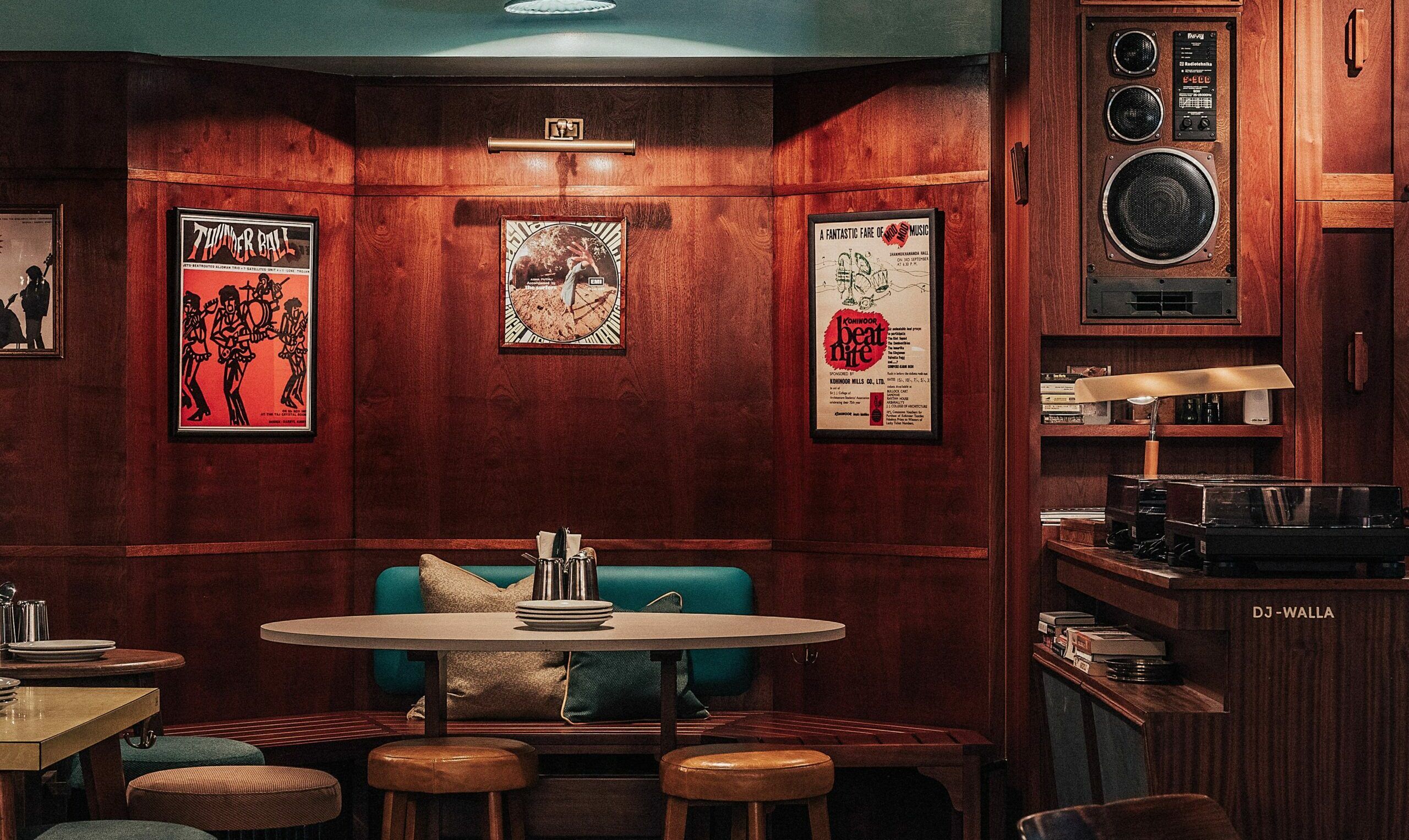 Soak up the sun
Take advantage of their roof terrace, fully equipped with heaters, a retractable roof, and blankets for cooler days. Additional outdoor seating is available at the entrance on the patio—a lovely spot to enjoy a morning coffee with a Bacon Naan Roll or sip on a Mangosteen Daiquiri on a warm afternoon, accompanied by some Dahi Bhalla Chaat for nibbling.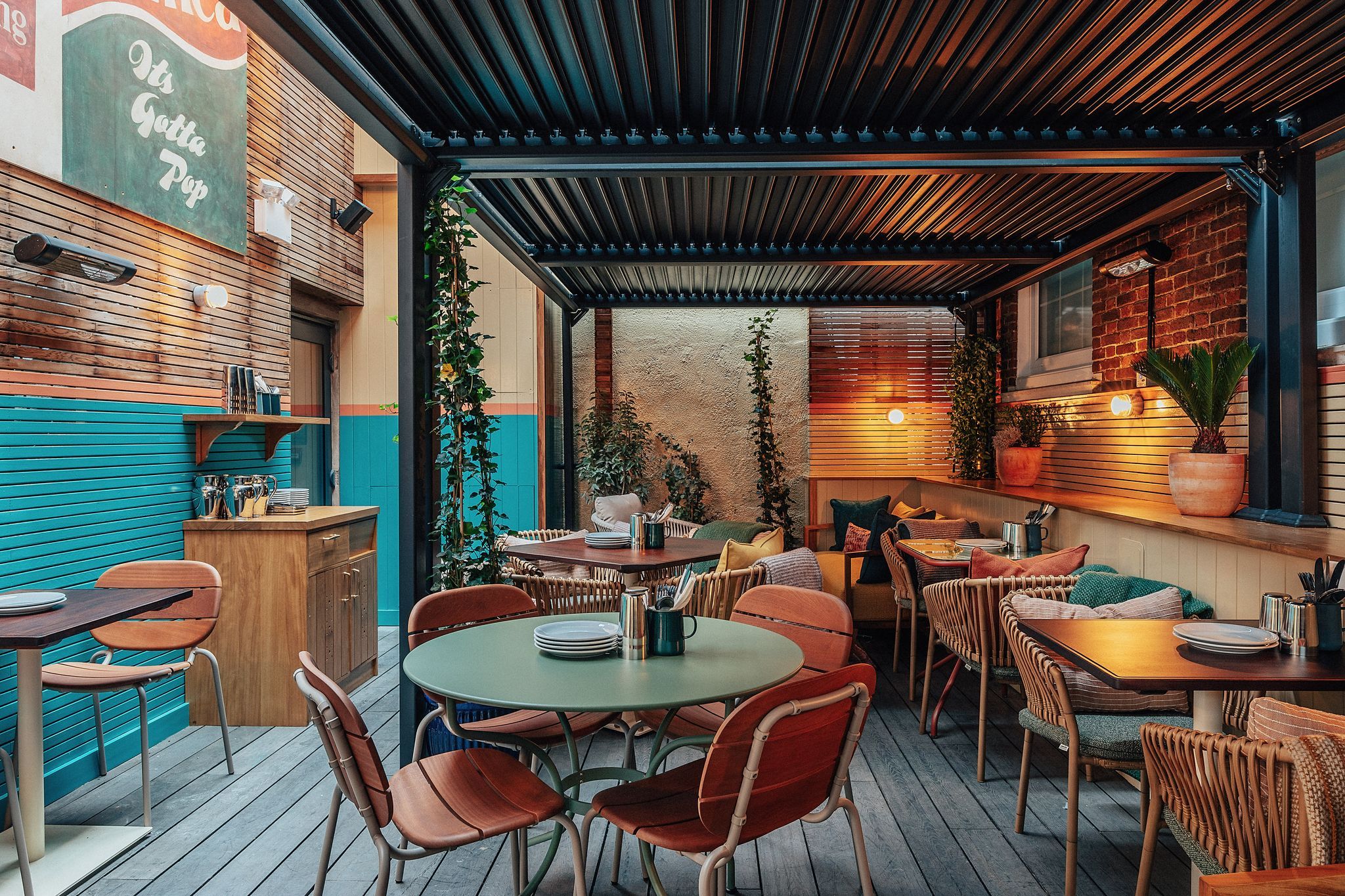 Special informality
'Special informality' – a term embraced by the Permit Room—welcoming walk-ins without the need for reservations. You don't have to commit to a full banquet; just drop by for lunch or warm drink. Whether you're popping in briefly or planning to stay for the day, the warm and inviting atmosphere, coupled with great music to soundtrack your visit, will undoubtedly make you want to return!
Post a Review
Be the first to review.