Take me to Drakes or lose me forever…

Brighton Food Reviewer, Emma Pryke, June 2016
As Brighton eateries go, The Restaurant at Drakes is something of a culinary enigma. Tucked away beneath the exclusive Drakes Hotel, the subtle signage outside is all that signals the treats hidden behind the glossy black doors…
Conde Nast has recommended the restaurant as the best fine dining restaurant in Brighton and the recent promotion of Andy Vitez from Senior Sous Chef to Head Chef has given the menu a new steer, experimenting with new flavours and presentation.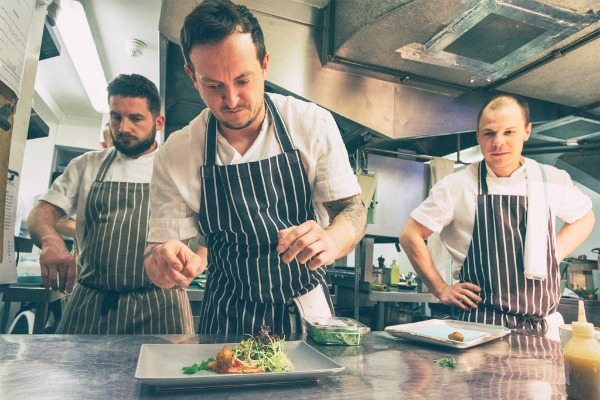 So it was with a frisson of excitement that I entered the doors of Drakes on a sunny Tuesday night. Arriving twenty minutes early (keen much?) my friend, Caroline and I decided to stop off at the cocktail bar which is situated right at the front of the ground floor with sea views. Luxuriously furnished, the interior exudes the decadence expected from one of Brighton's most exclusive hotels and I can imagine many guests enjoying this space late into the evening.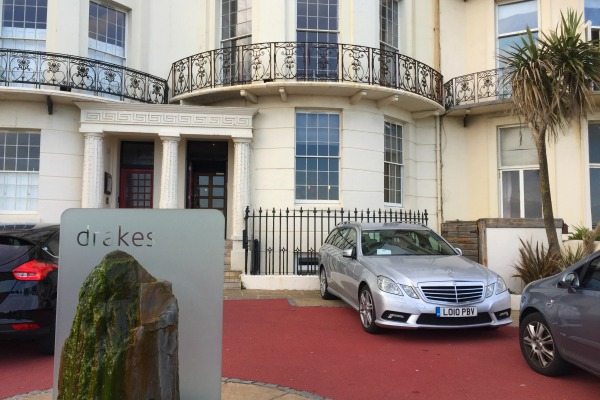 I chose a Pomegranate Cosmopolitan (SATC classic), featuring Wybrowa vodka, grapefruit bitters and pomegranate syrup and Caroline went classy and had a Bellini.
Both cocktails were the perfect start to our evening, expertly balanced and we enjoyed catching up and watching the world go by along the seafront.
7.30 came quickly and we were directed downstairs to the restaurant. Small and intimate, the restaurant manages to hold onto some natural light whilst still feeling cosy.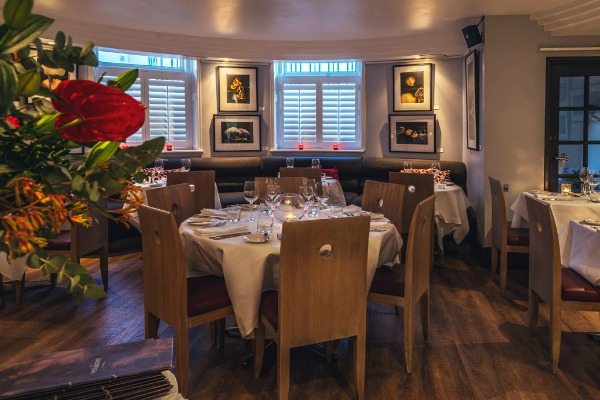 We were greeted by Eddie, who in a wonderful French manner moved straight on to wine talk. We liked him immediately! After umming and ahhing over the extensive wine list we decided to leave it up to the expert and asked Eddie to choose for us depending on our food and he offered to wine match each course to showcase their selection. Happy days.
Amusing our palates
The amuse bouche kicked things off with a bang, a tiny crafted 'apple' filled with mackerel pate and served with toast. The casing of the apple was a beautiful glossy green and was almost too perfect to cut into!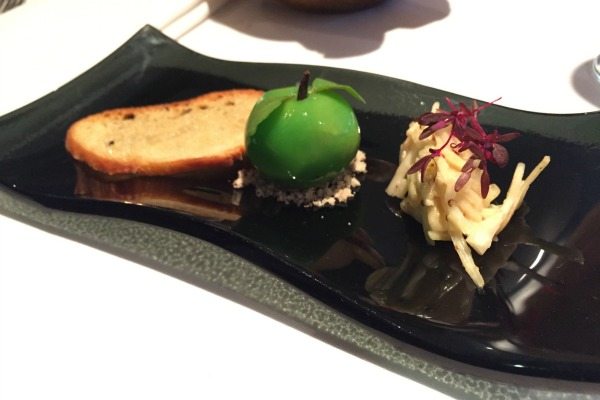 To begin I went for pan fried, hand dived scallops with cauliflower couscous and watercress veloute. Juicy and plump, the scallops were almost buttery cut through with the sharpness of the veloute.
Wine match (both starters): Pazo Barrantes Albariño 2014, Galicia, Spain.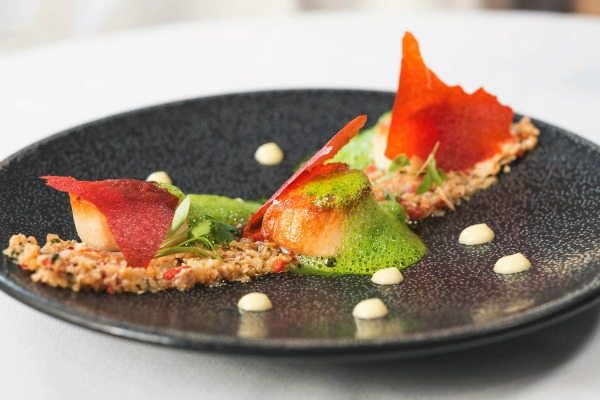 Caroline had the sea trout ceviche with crab beignet and a dill and cucumber granita, a delicate dish with plenty of technique – the crab beignet were golden brown and crisp, contrasting well with the simple flavours of the citrus-cured sea trout.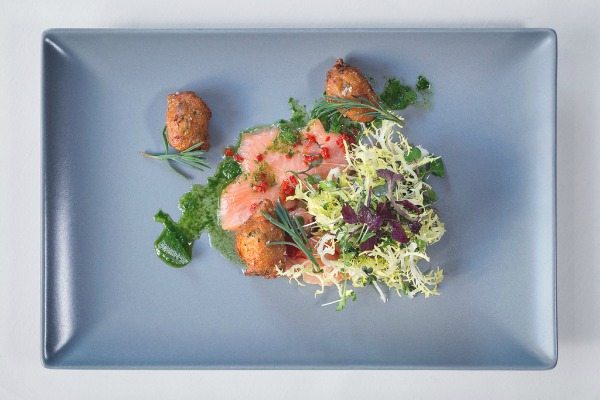 It was a good idea to choose a light starter as my main dish was deliciously rich and meaty – fillet of beef, pressed cheek, white asparagus, cep puree with a potato galette and red wine jus. Medium rare was the request and the chefs obliged, the fillet was tender, juicy and well rested. The pressed cheek added different texture to the dish and the white asparagus was the most preened vegetable ever to meet my fork. Could a dish get any better than this?
Wine match: Falernia Carmenere 2013, Chile Valle de Elqui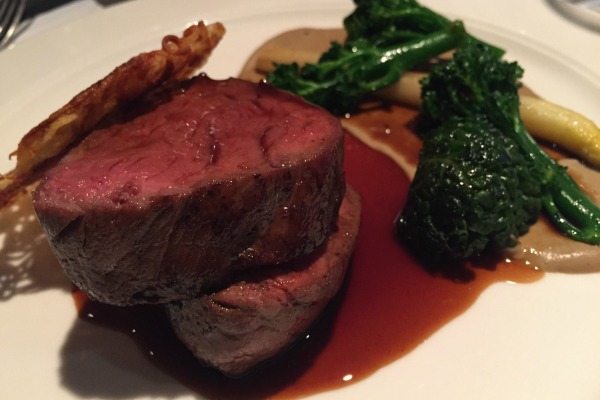 Letting the ingredients shine
Caroline was continuing with the fish theme of her meal and had chosen the lemon ash crusted brill with cockles, jersey potatoes, sea vegetables and a lemon caper butter. Yet again, a combination of simple but great quality ingredients which had been cooked to perfection. Lemon ash could seem a bit 'out there' but the taste and texture was subtle and added plenty of flavour to the white fish beneath. Sea vegetables lent a salty kick which merged well with the rich lemon butter.
Wine match: Cuilleron Viognier 2014 Vallée du Rhône, France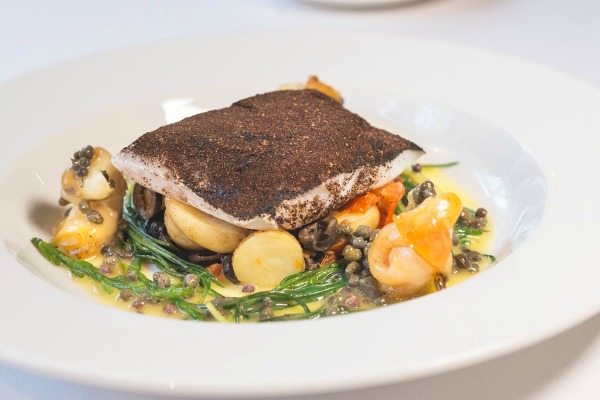 The most delicate of desserts
After the main course we were feeling the effects of plenty of good food and wine so Eddie left us to have a short break before dessert. After a pre-dessert (!) our choices arrived, with mine looking like something from an episode from 'Bake Off Creme de la Creme'. To be exact, it was a Papouasie milk chocolate and passionfruit delice, orange sorbet and passion fruit coulis. The Papouasie chocolate was extremely creamy, and went well with the fruity accompaniments. They say you eat with your eyes and this was one of the most beautiful desserts I'd ever had.
Wine match: Tommasi Fiorato 2012, Recioto della Valpolicella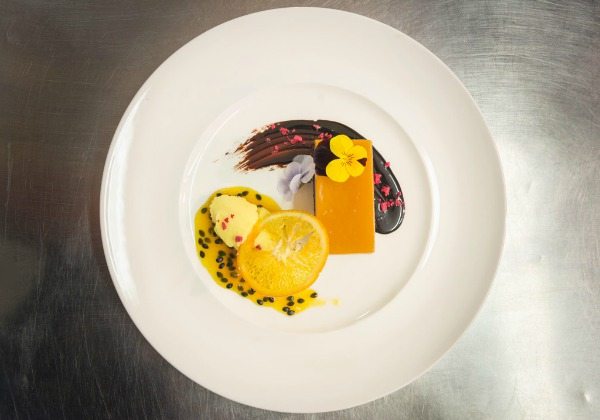 Caroline's violet soufflé, served with lemon curd ice cream and crystallised flowers was just as pretty, but not as flamboyant in presentation. The soft lavender sponge had hints of parma violet sweets and the lemon curd ice cream had just enough acidity to cut through the sweetness of the dessert.
Wine match: Guy Cadel, Demi-Sec Champagne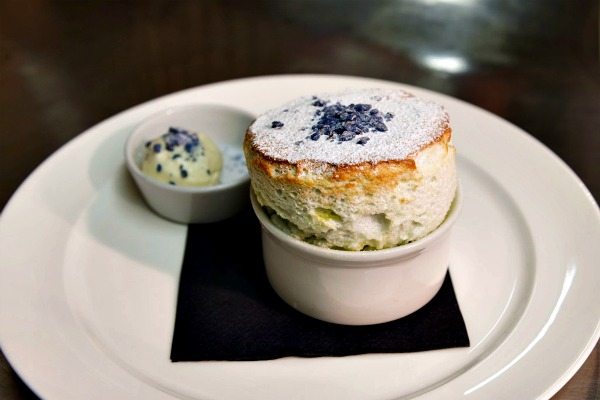 Just when we thought we couldn't manage any more, Eddie appeared with a tiny wooden box which revealed a treasure trove of petit fours; miniature mint macaroons and chocolate truffles on a bed of cacao nibs. I must save this idea for my next dinner party…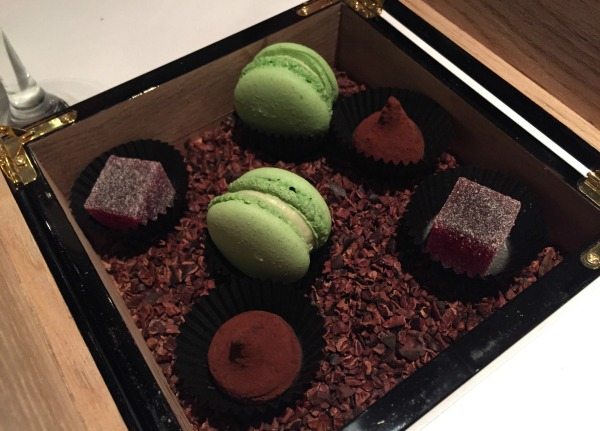 What makes a meal outstanding?
Although food is the instrumental reason that the Restaurant at Drakes is so highly acclaimed, the absolute top-class service is what takes your dining experience to a different level. Having Eddie explain and wine match each course meant that we could rest assured we were complimenting each part of our meal, a fantastic testament to the skill and communication that exists between the highly talented chefs in the kitchen and the front of house team.
Bravo Drakes – you've got me sold.
The Restaurant at Drakes menu is modern European with an emphasis on locally sourced produce and changes regularly. Choose from two courses (£34) three (£45) or four (including savoury course) for £56. There is also a 5-course Chef's Tasting menu available before 9pm for £60 or £95 for wine matching (highly recommended!).
Image credit: Xavier D. Buendia