Beach days in October, yes please! 
This past weekend my little family and I spent the day soaking up every ray, and after an utterly gorgeous day cycling the seafront to Stoneham Park, my kiddos and I were ready for dinner. Luckily, The George Payne was right around the corner, ready to welcome us!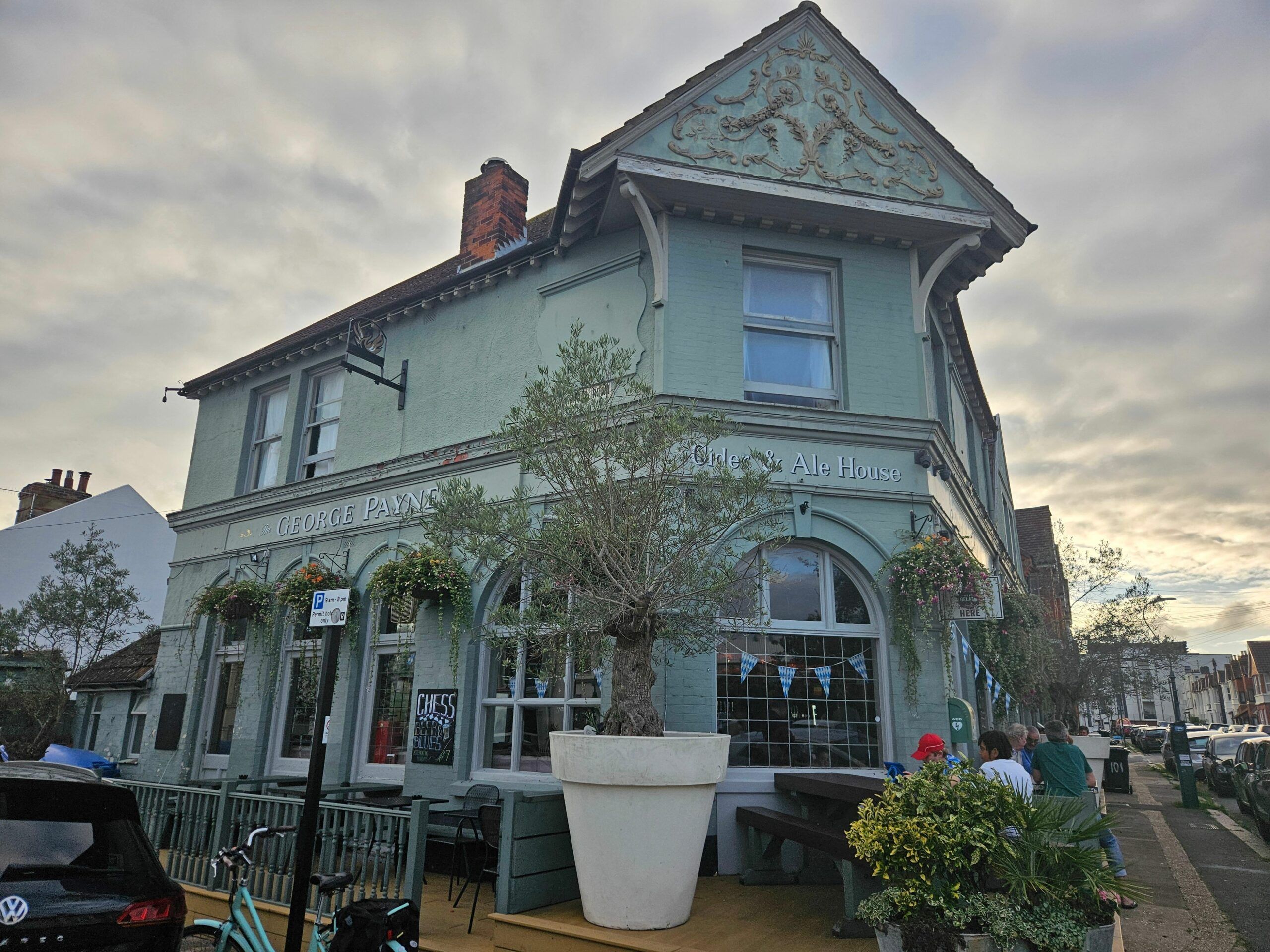 A Paradise for Parents and Kids
The George Payne is a gorgeous neighbourhood pub that has floor-to-ceiling character, plenty of seating inside and out, and is one of the most family-friendly pubs in Brighton and Hove. As a parent, I am forever dodging the 'grown-up' pubs these days for a space that allows my kids to be themselves without a tut or a grumble to be heard. The whole place is set up for tiny humans and fluffy friends, without losing its grown-up charm, and we absolutely love it.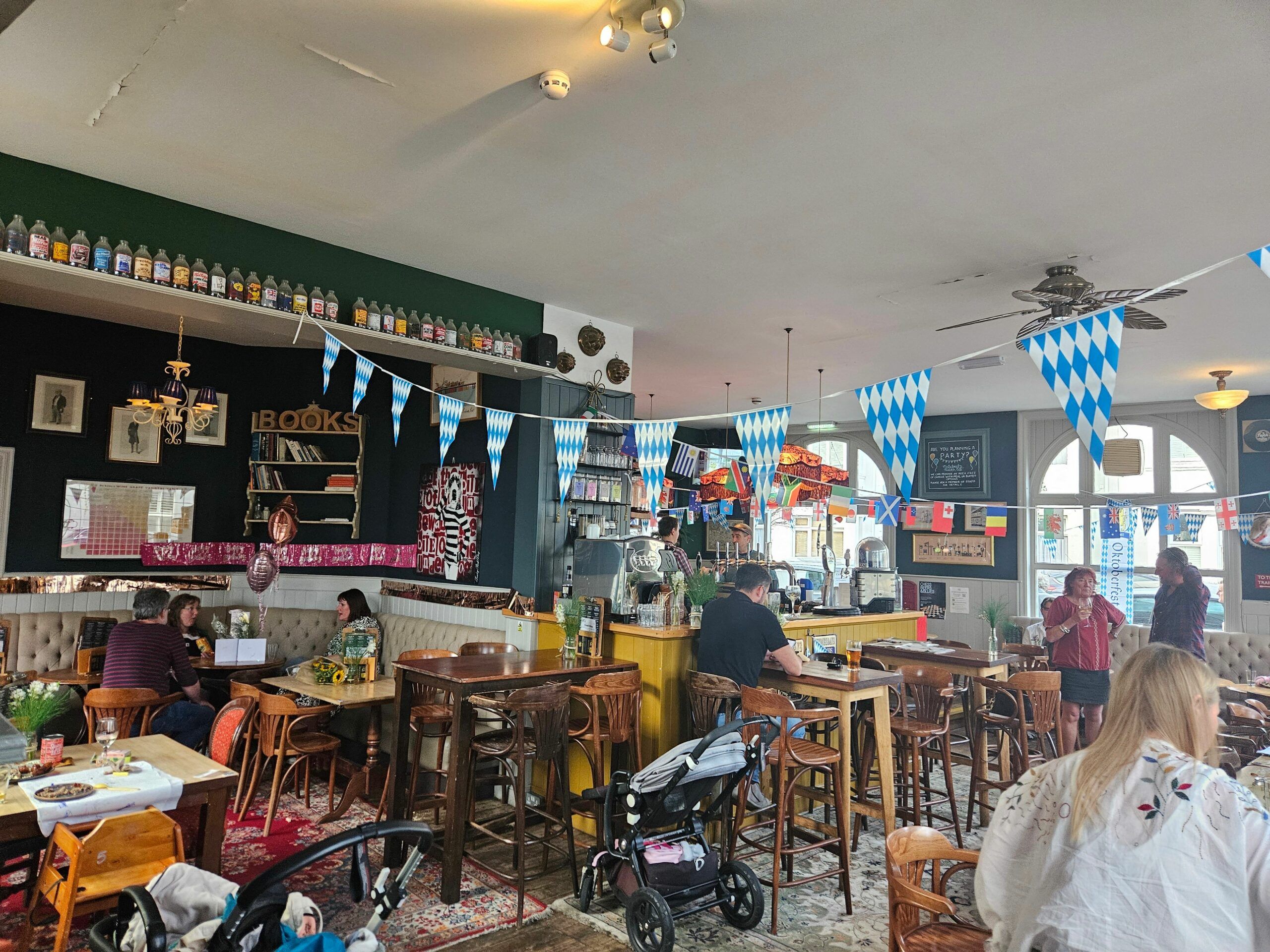 From the instant we stepped through the door, my kids were not only welcomed, but accommodated. There is plenty of space for buggies and high chairs, without feeling like you are in the way, and the staff are extra friendly which always helps. By the bar sits an antique letterbox, and beside it a stack of colouring paper and pencils for the kiddos to enjoy. My two grabbed a set, plopped down next to another family, and started feverishly writing letters to Father Christmas. With them entertained, I popped to the bar for a bevvy and a quick look at the specials board.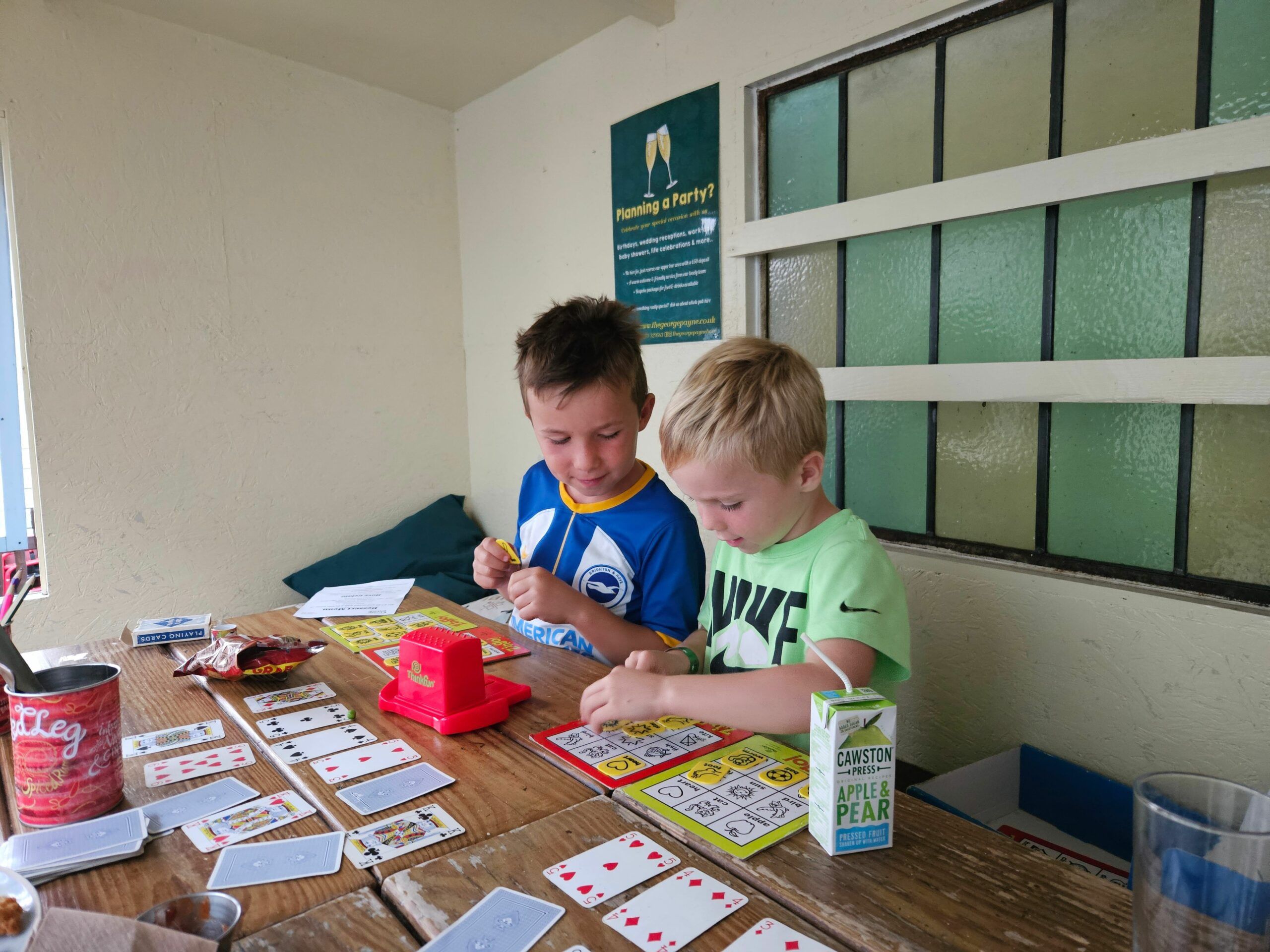 A Thirst-Quenching Start
The pub felt spacious and comfortable, and the service didn't skip a beat. No sooner had I sauntered up to the bar than I was being served, a good thing too, as I was absolutely parched for a Chilli and Cucumber Margarita!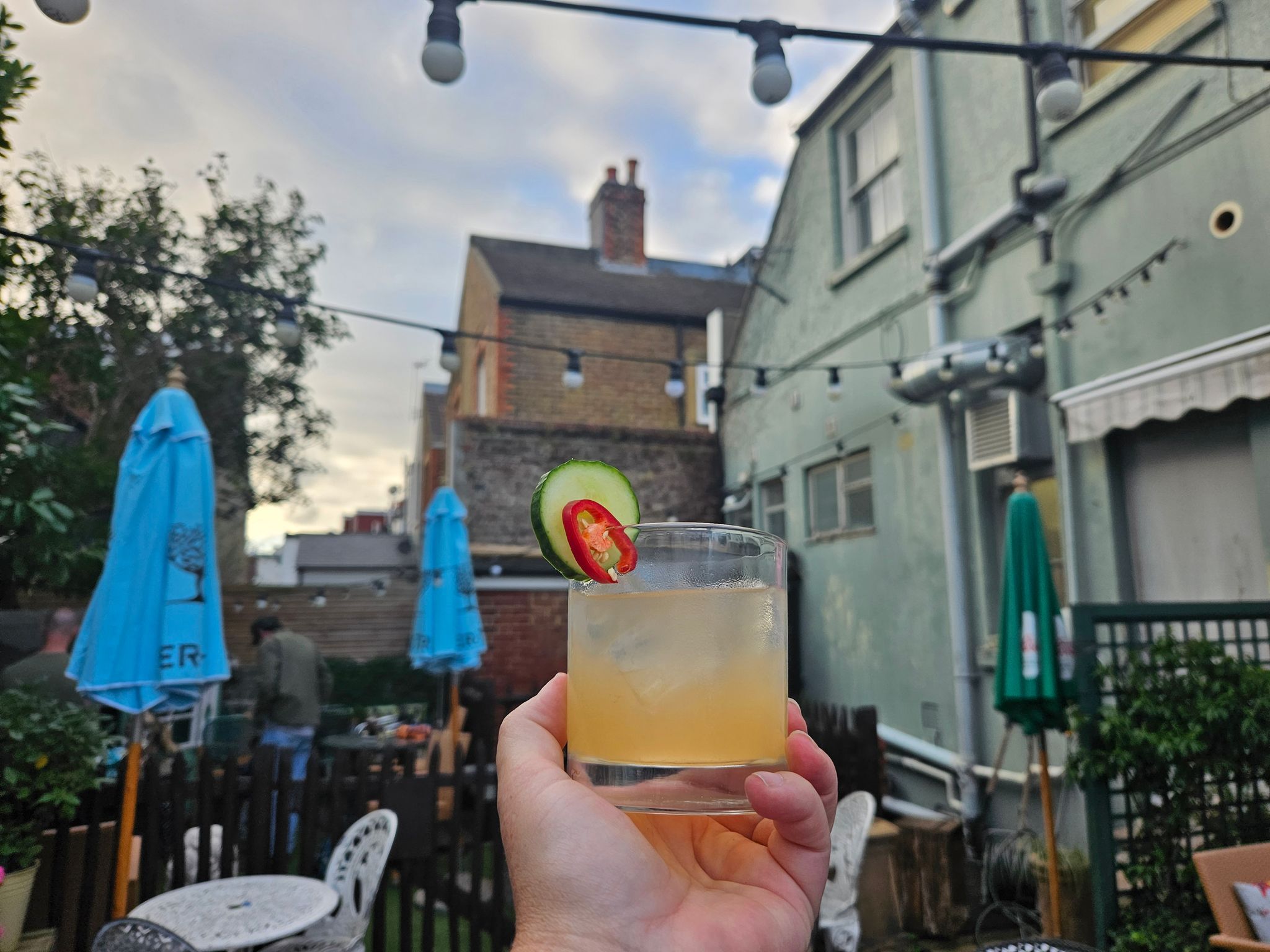 Light, bright, cooling, and spicy…hello! How can a drink cool you down and warm you up all at the same time? Enter The George Payne's Chilli and Cucumber Margarita! A perfect start to a delicious evening. 
Alfresco dining
With drinks in hand, we headed out to the pub garden which is charming, and exactly where we wanted to be on a warm autumnal evening. The terrace has plenty of tables, and around the front of the pub they offer picnic-table seating too, great for grown up chats without little ears listening in. In the garden they also have three quaint little dining pods that can accommodate small groups, the largest could easily sit 8-12 guests, all within eye shot of the play area. The play space boasts a sweet little Wendy house, some toddler toys and most importantly a fence; a great way to keep the littlest kids contained, and near enough to the terrace that parents can supervise with bevvy in hand. Ideal!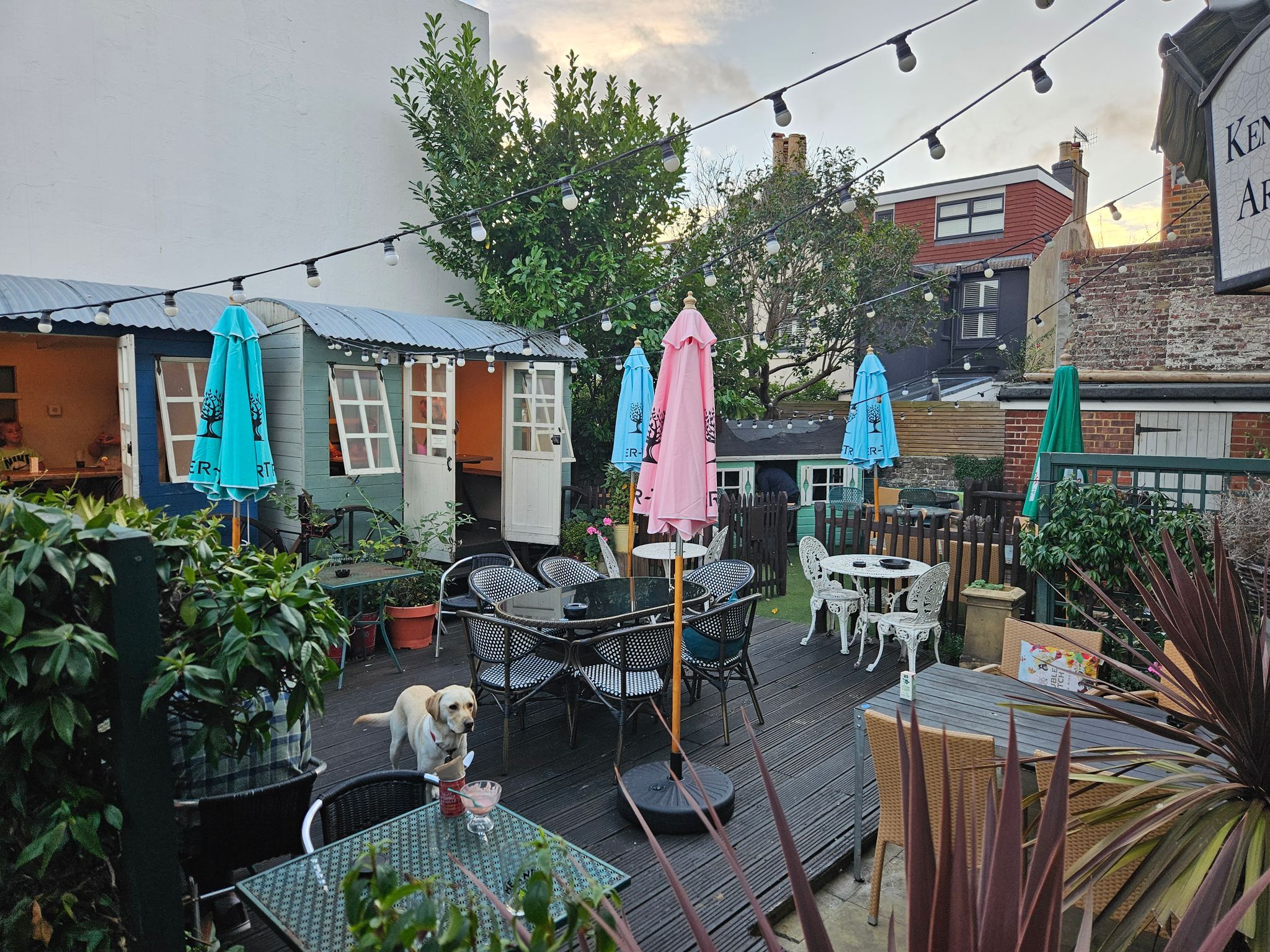 My kids settled down into one of the cosy pods and immediately popped on the heater, which was roasting. The boys loved it as their hair was still a bit wet from the sea, and my friend was able to peel off some layers and get comfy too. I – on the other hand – was boiling so stood just outside chatting and sipping my chilli margarita in the freshness.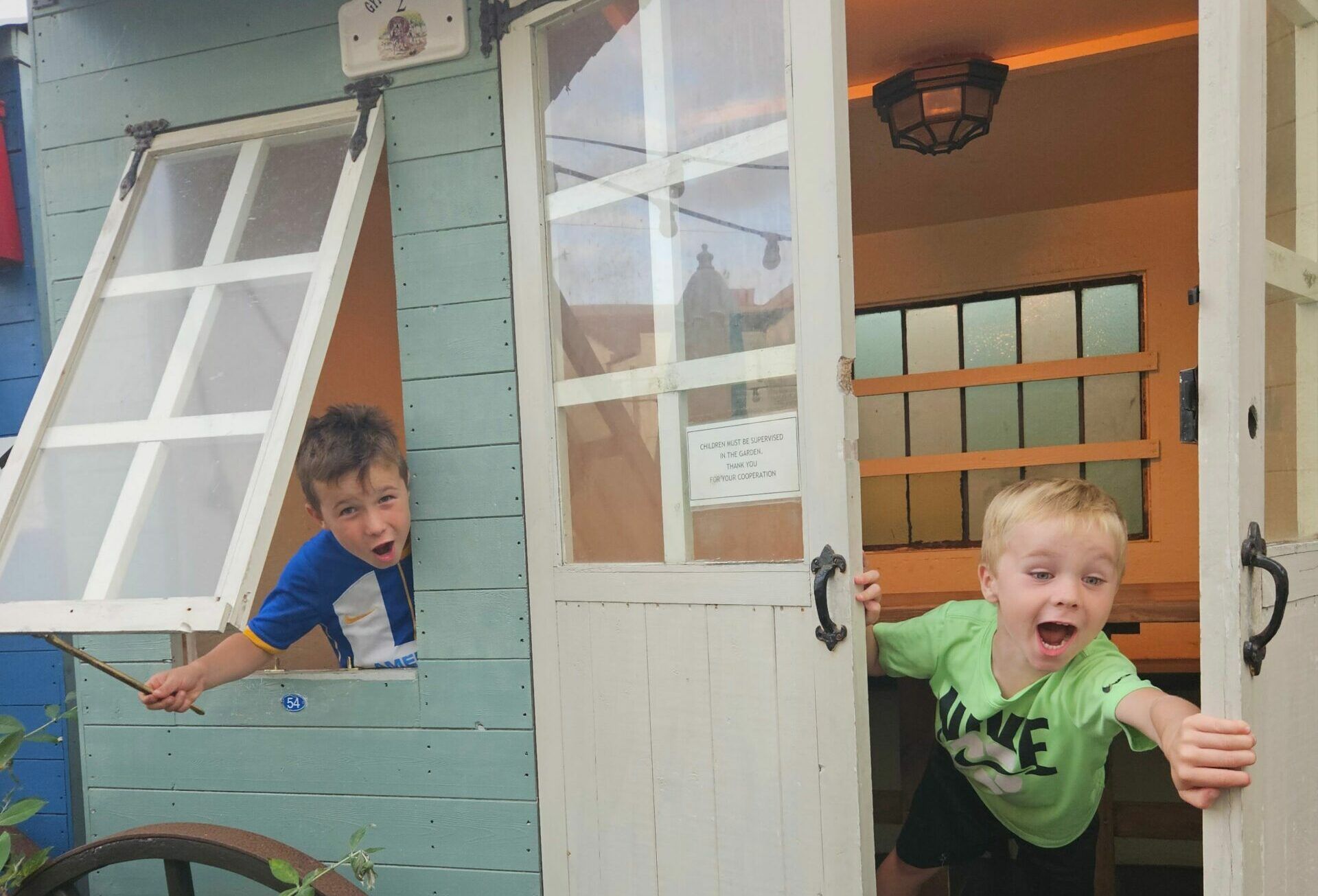 Appetizer for Hungry Tummies
It didn't take long until my littles were 'staaaaaarving Muuuuum' so I headed back inside to order and stave off the imminent 'hanger meltdown'. To be 100% sure they wouldn't turn into gremlins, I grabbed a couple of mini cheddars and a few juice boxes as an appetiser too.  #snacksarelife #snacketiser #thehangerisreal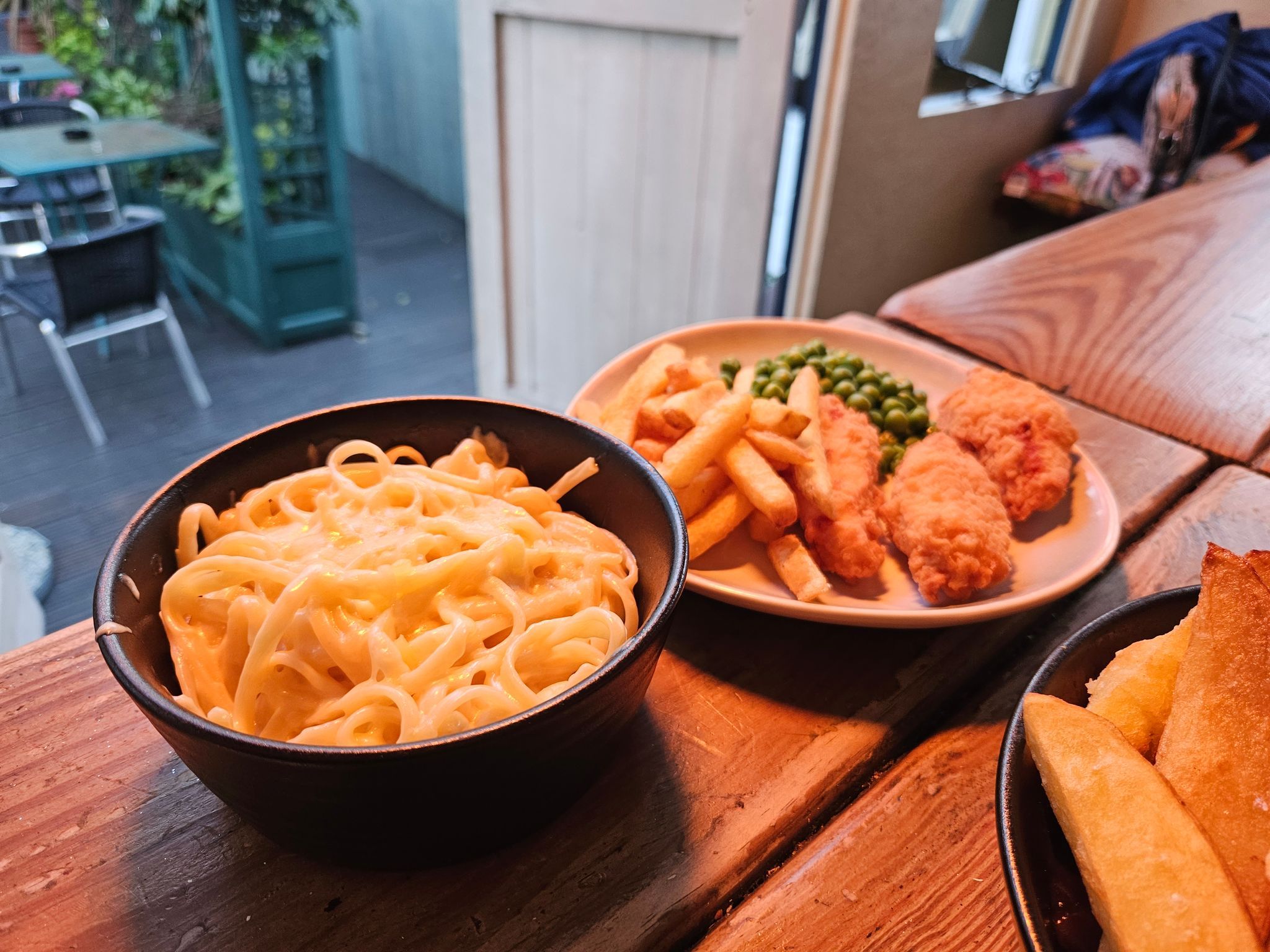 For my five year old, I ordered a bowl of extra creamy cheese pasta, which was, and I quote 'soooo yummy Mum! Can you make it like this at home?' My normally chatty secondborn was silent for a full five minutes while he twirled and slurped down a very healthy portion of pasta, only stopping occasionally to steal his brother's chips. His satisfied little cheese face was cute enough to almost make me forget he had viciously attacked my pasta making skills, almost…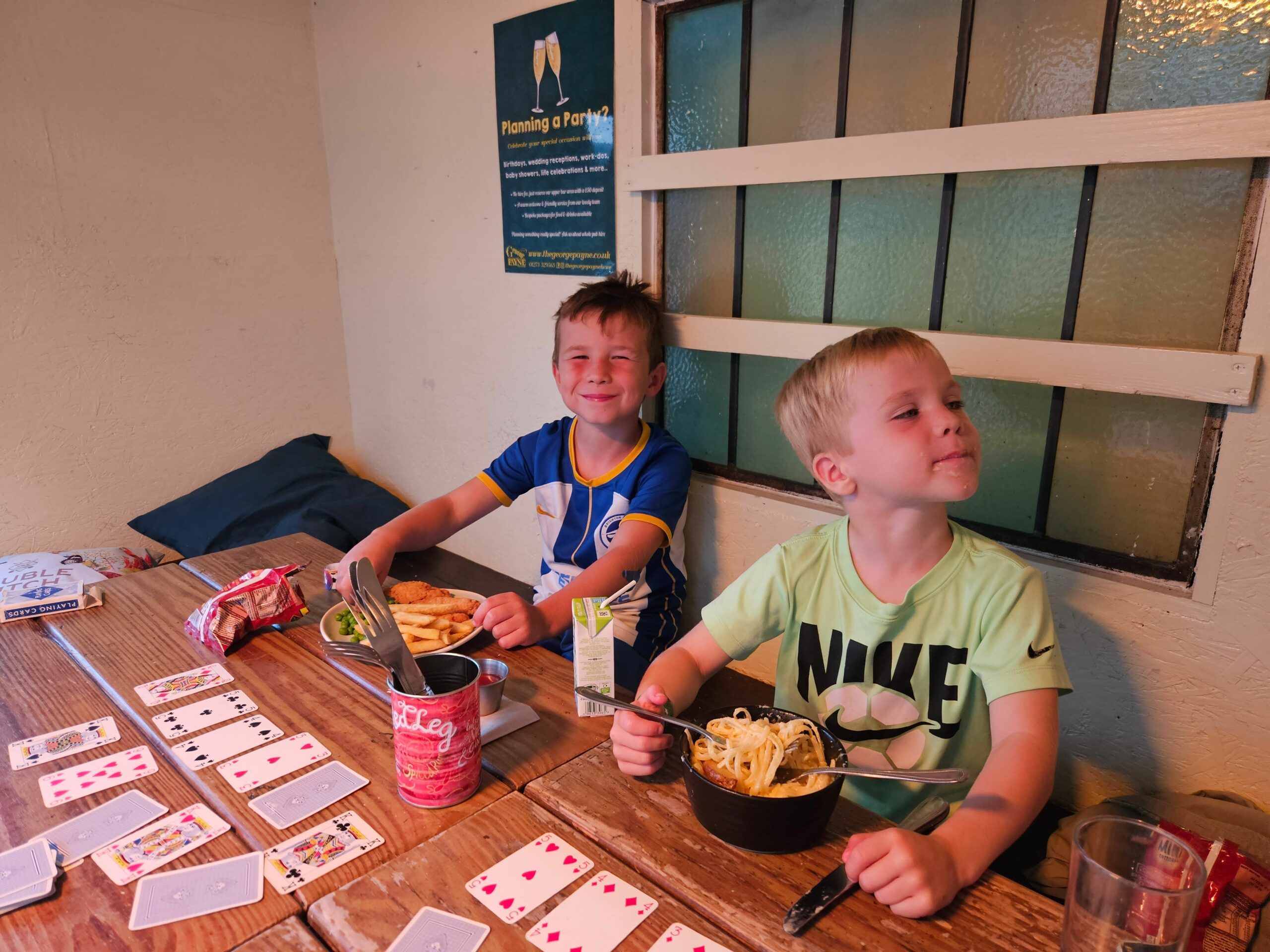 For my seven year old, I ordered the chicken tenders with peas and fries, classic kid pub grub done right. The chicken tenders were tender and crispy, and made of real, actual chicken! *Gasp * No rubbery frozen nuggets here, just real tenders made with real chicken for a real kid. He gobbled the lot, short of a few stolen fries. 
Vegan Bratwurst for the Win
To help wrangle the kiddos I brought along my bestie Ester. She is a full-time veggie, and part-time vegan and, after seeing the specials board, was set on the Vegan Bratwurst with chunky chips. For those of us that LOVE bratwurst it's a very specific flavour profile, and we both agreed The George Payne absolutely nailed it. It was all of the flavours she craved without any of the meat.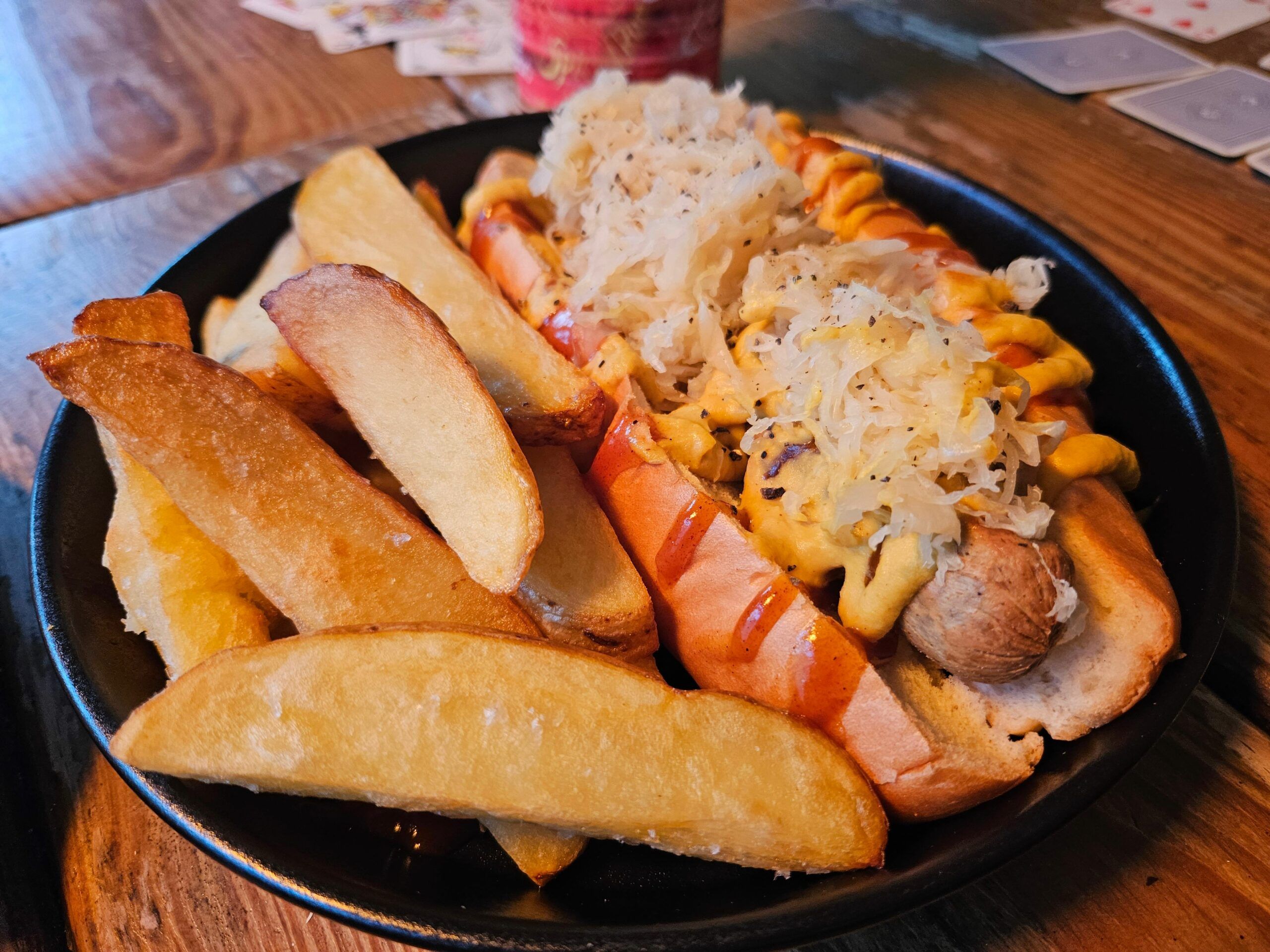 Moist and juicy are two words I never thought I could use to describe a vegan bratwurst and yet here we are! Served in a soft bun with a healthy helping of sauerkraut piled on top, it's drizzled with aromatic curry sauce and a generous zing of mustard – tick tick tick. 
Mussel Season
Did you know that October until March is the best time for mussels? Well it is, and I couldn't pass them up! I was presented with a huge portion of succulent mussels steamed in white wine, shallots, garlic, butter and parsley, served with a huge bowl of piping hot frites. I actively had to stop myself from drinking the broth even after I was properly stuffed, delish.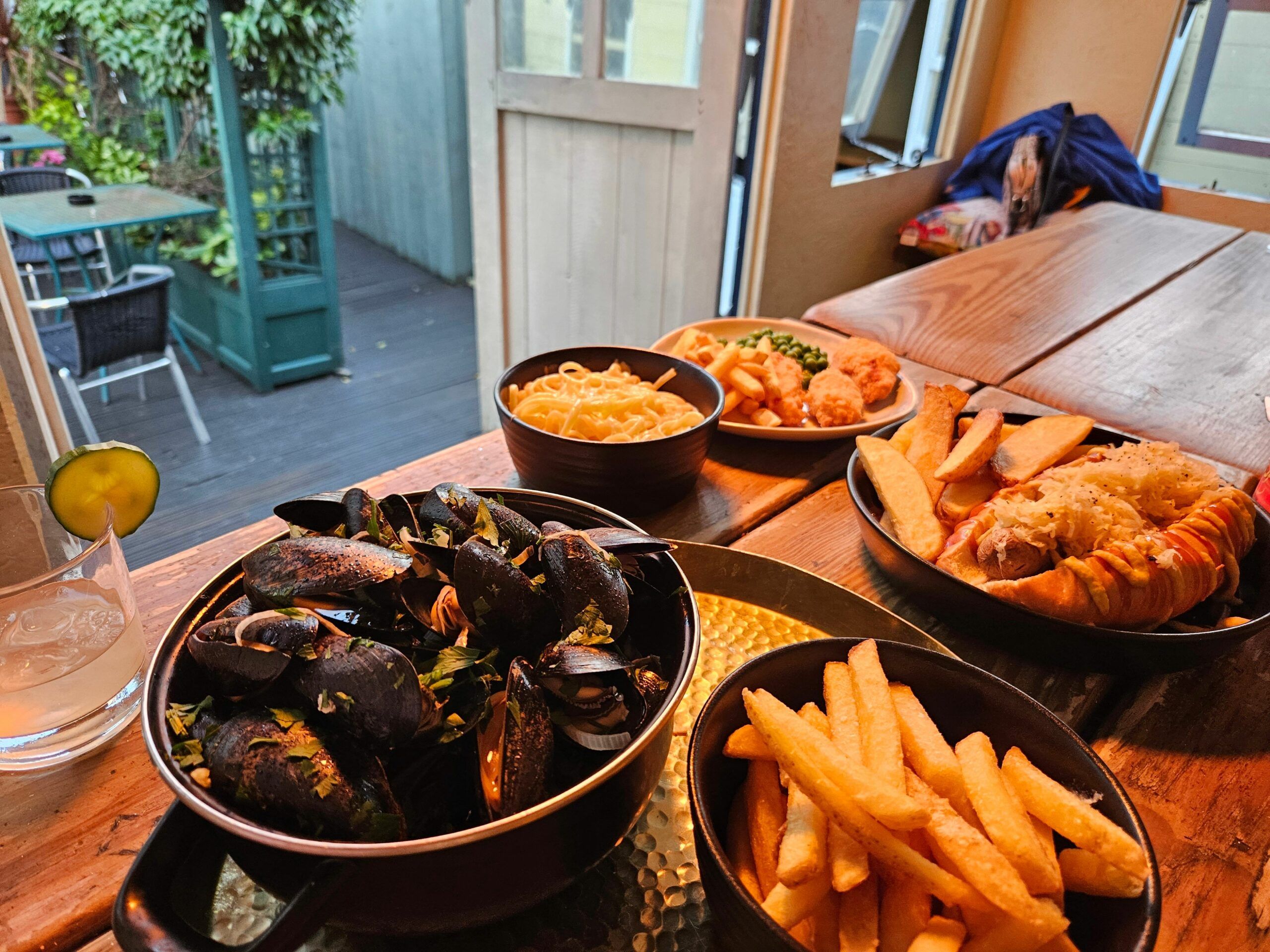 Family fun after dinner
Once dinner was through, the boys popped inside and returned with plenty of games for us to play. The little one cheated terribly, and the big got suitably annoyed, but it was all in good fun without a single request for a tablet (big win!).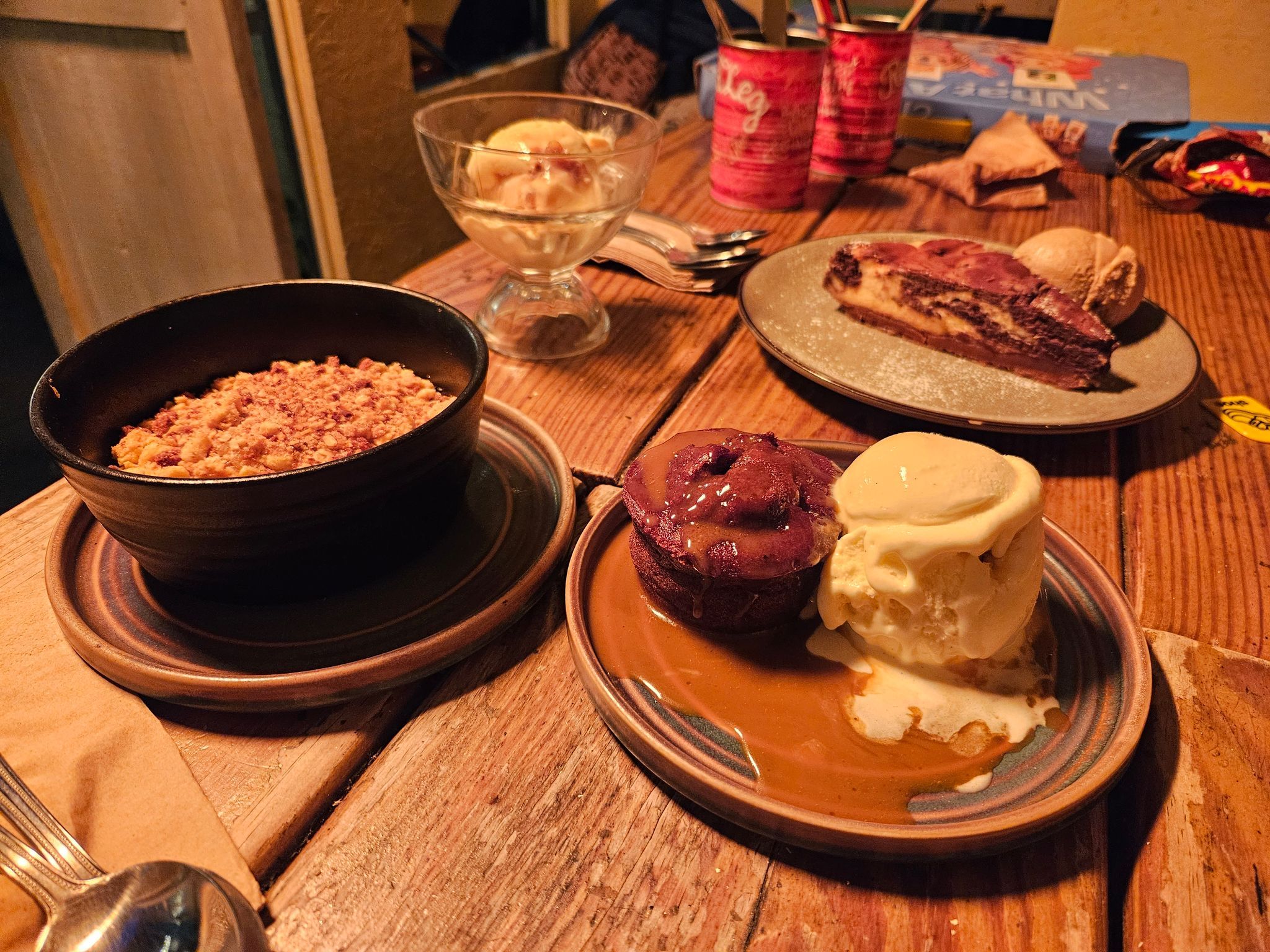 My eldest is starting to read and, walking back from the games table, he clocked the dessert menu. I told him, that if he read it to me, he could pick his own dessert (follow me for more parenting tips!). In no time at all he had earned himself a Banana Sticky Toffee Pudding with Vanilla Gelato. If banana bread and sticky toffee pudding had a baby, this would be it. Warm, gooey, melt in your mouth rich toffee sweetness, plenty of banana flavour and that unmistakable sticky pud texture. Add a spoonful of cool gelato and in seconds flat he was licking the plate!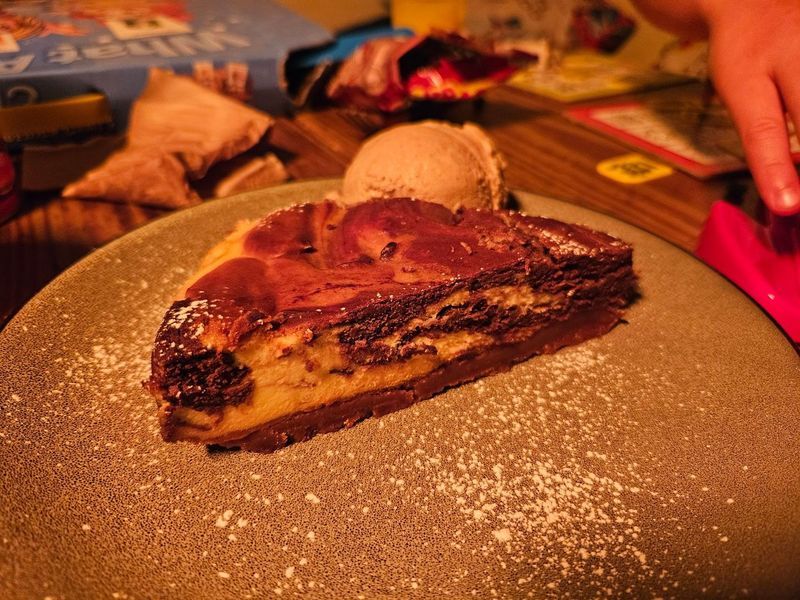 I personally love mint chocolate so the obvious choice was the Mint Explosion Cheesecake  topped with Baileys Irish Cream gelato…NOM! The cheesecake was a chocolate swirl with plenty of zesty mint flavour, rich chocolate and a cream-cheesey finish. The portion was generous, so I didn't mind sharing a spoonful or two…this time.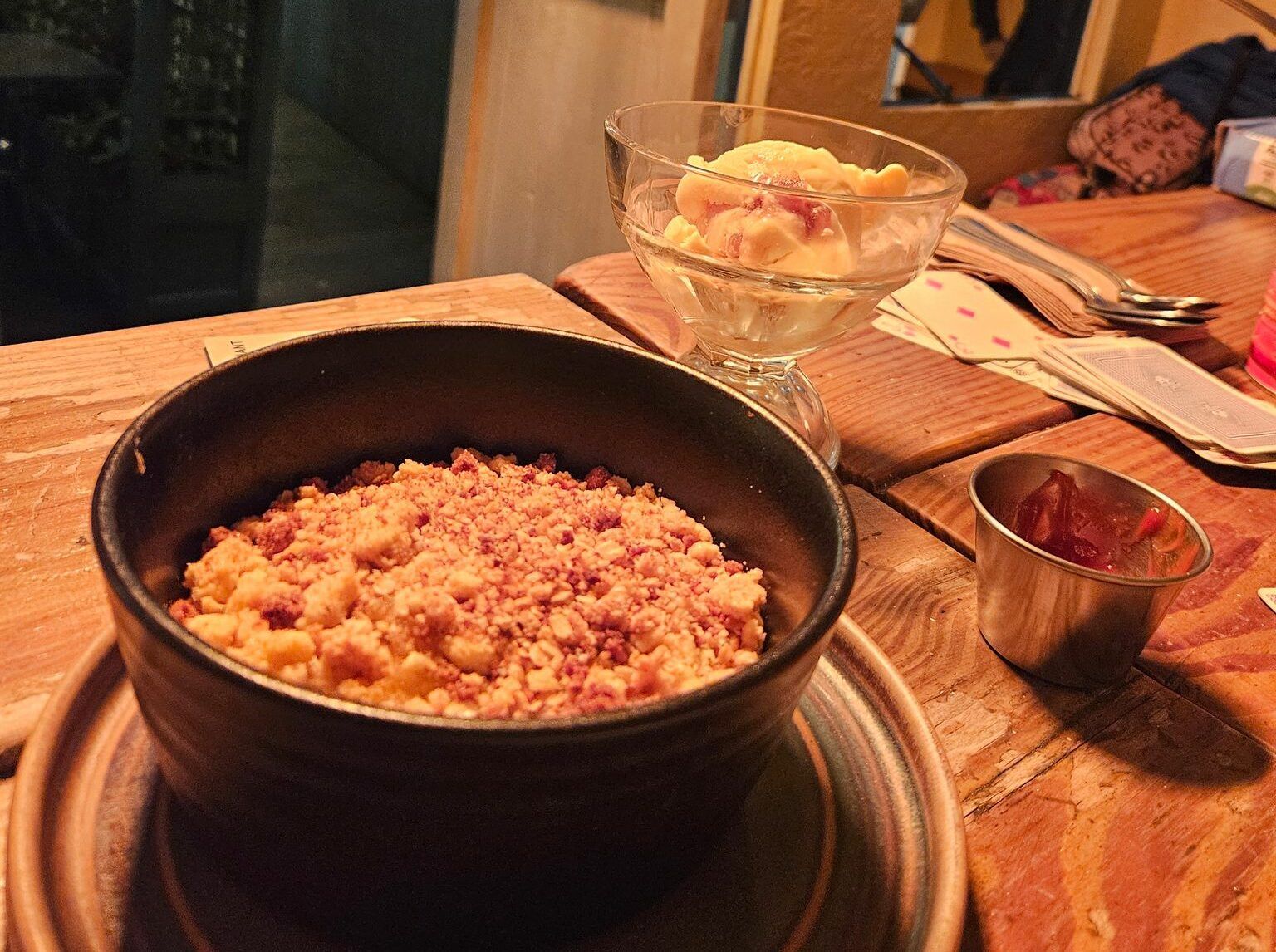 Ester opted for the Vegan Apple Biscoff Crumble, with an apple pie (non-vegan) gelato. We were all curious how the chef would pull off a vegan crumble, but by golly he did it! Creamy, crumbly, buttery-without-the-butter crumbs on top of tart apple filling. For all our vegan friends out there, it's definitely worth a visit. Genuinely so impressed. 
A Refreshing Finish
With bellies full of sweets, and plenty of games to finish, the kids were happy so I decided to indulge in a refreshing finisher. The Elderflower and Grapefruit Refresher, made with grapefruit, lemon juice, and zesty tonic absolutely hit the spot. I love fresh grapefruit and this was just the palate cleanser I craved. Fresh and light, with just a hint of sweetness, it was the perfect end to a delicious day! 
Thank you so much to Harry and his super helpful team who went out of their way to make our night fab, and an extra nod to the chef who nailed each and every dish! We will be back again soon, with more families in tow.