The Pub on the Corner
There's a hidden beauty to family run pubs, the passion and commitment that goes into every pint poured, meal served and customer greeted. The Cleveland Arms is the epitome of this. Set on the corner of Blakers Park, the buzz from outside filled the surrounding streets as we approached, with families, cyclists and friends filling the ample seating.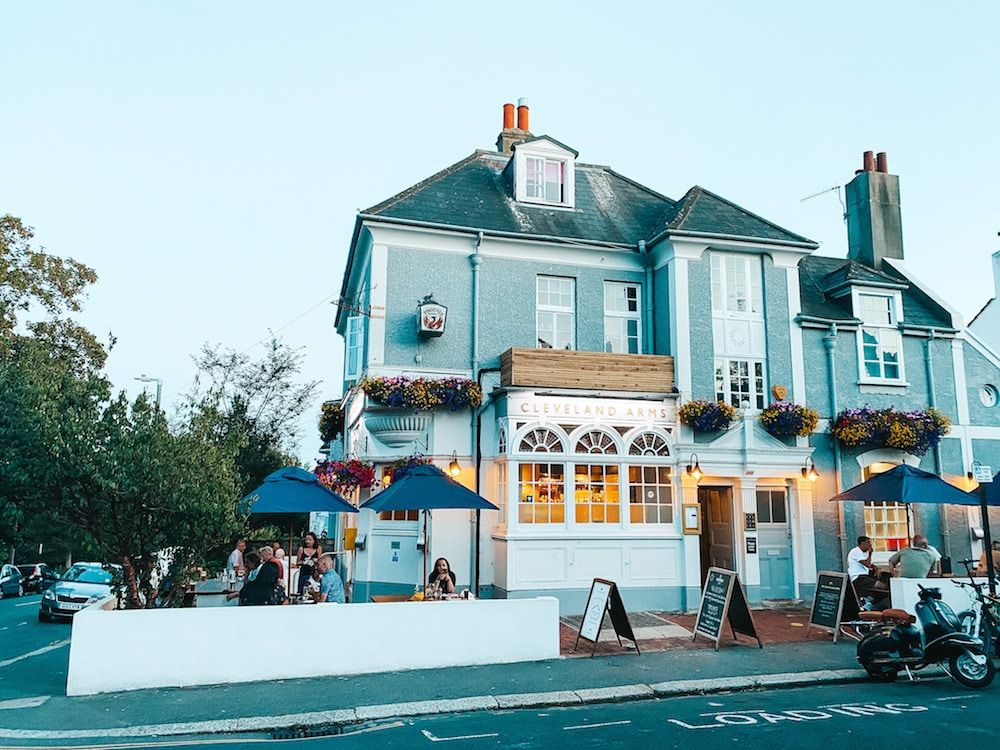 With warm greetings from current owners Sarah and Jamie, the updated social distancing measures were explained clearly to us; a one-way system with signage and hand sanitisation stations around the pub. Tables have been moved to a safe distance apart and thoroughly cleaned upon arrival of new guests. We were really impressed with how safe we felt and took our seats on one of the large benches overlooking the park.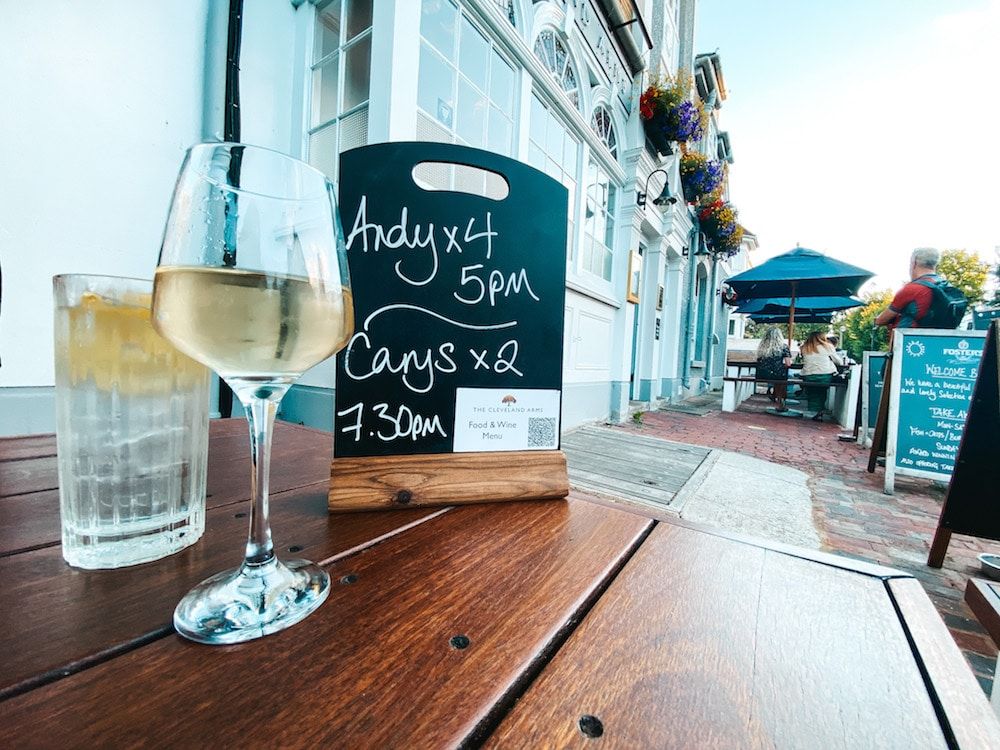 Wine to Dine
There are a great selection of wines available which are listed on the chalkboard inside and start from as little as £5.50 for a regular glass or £18.50 for a bottle. Sarah recommended the vegan Gran Cerdo, a crisp and sweet Spanish wine which was perfectly suited for a warm summer's evening. You can also find a wide range of other vegan wines on the menu, alongside Harvey's Brewery's bitters, Brighton Gin and Ridgeview Bloomsbury sparkling wine to mark that special occasion.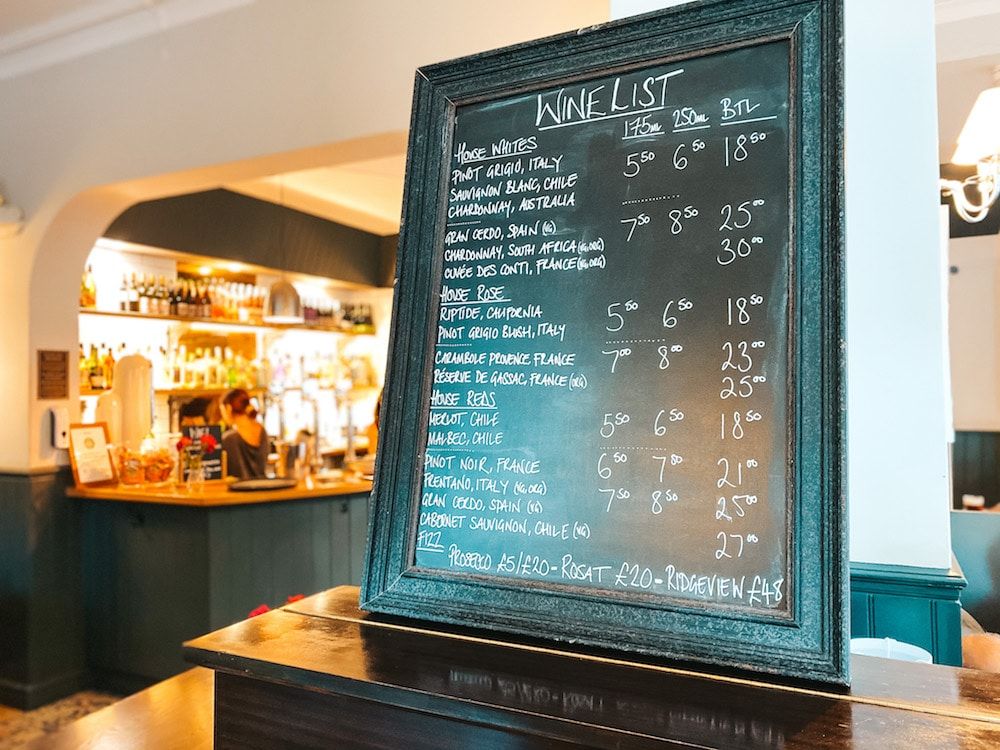 It took us a good 20 minutes to try and decide what to eat, so many things tickled our taste buds so we ended up seeking Sarah's knowledge for the most popular dishes on the menu with the regulars. We decided to go for two dishes from the small plates to start, Crispy Style Korean Chicken Wings and Hand Picked Crab Cakes.

Napkins at the ready
It's safe to say you're going to need plenty of napkins for these chicken wings, it's hard to not devour them without thinking of the consequences. Served with a blue cheese and celery dip, the stickiness and sweetness of the korean style marinade was complimented nicely. The Crab Cakes were meaty, packed full of fresh crab and potato, served with a tangy sweet chilli sauce, fresh lemon and pea shoots.
For mains, I went for the Beer Can Free Range Chicken which was incredible, the meat was tender, moist and fell apart. Served with hand cut chips, an apple and raisin slaw and mixed leaves, this was a wonderfully light meal for the summer months. The Summer Vegetable and Pine Nut Pasta caught my friend's eye, a really simple dish with subtle flavours or vegan parmesan and basil pesto, a moreish carby meal.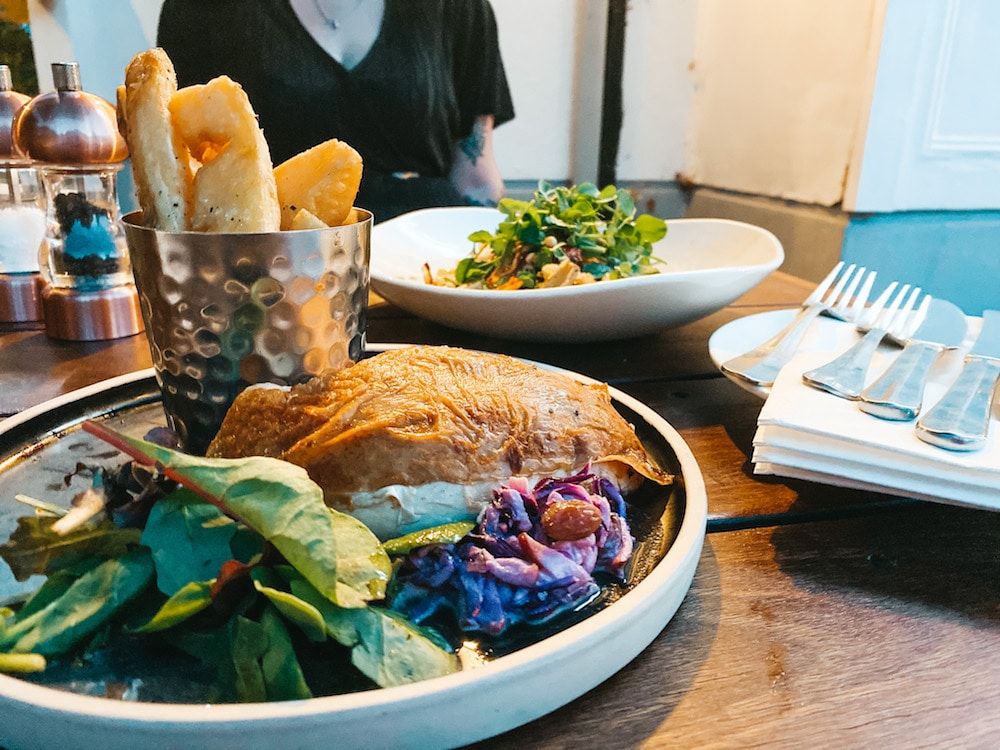 Something for Everyone
It's clear that the locals love this place, as well as the owners Sarah and Jamie.
Whether you're looking for a quick pint after a walk around the park, a G&T catch up with the girls, a family lunch sat out in the sun or an escape from the buzz of the city, The Cleveland Arms is an escape for everyone.
With a menu full of elevated pub grub including several vegan options, an array of beverages and a wine list to be lusted over, be sure to wander across to The Cleveland Arms and explore what could be your new favourite hot spot.