64 Degrees Brighton – Best Restaurant Award Winner!
Is there anything better than having dinner at 64 Degrees on a Monday evening? I'm not sure there is. Voted by the people of Brighton and Hove as the Best Restaurant in the 2017 BRAVO awards and voted as number one by food critics in the Brighton's Best Awards, 64 Degrees is clearly the most highly regarded place to eat in town.
Check availability and make a booking online
A warm welcome
As we take a seat at the end of the bar, everyone on duty greets us with a friendly smile and a few chefs pop out to shake hands with us – what a welcome! We set up our gear and start with a glass of New Zealand Gruner Veltliner, making our way through the menu. We decide to share different dishes so we ask them to put something together for this review. We toast to the success of the BRAVO awards before our waiter asks if we have any allergies or intolerances… we eat everything, but it's nice to be asked.
Cod Croquette
A cod croquette arrives swiftly. It's just like the ones I have at home in Barcelona: big, rough and crispy on the outside but smooth and creamy on the inside and full of flavour. The sauce on the bottom provides a nice gentle fire on the palate.
Seriously good ceviche
Just as we're finishing the croquette, the first dish from the fish menu arrives; a stone bass ceviche with chilli and celery. Seriously, it's one of the best ceviches I've tried in Brighton. Marinated in celery water and a bit of citrus, the fish has a beautiful firm texture and smooth flavour. Any Latino would be impressed by this ceviche.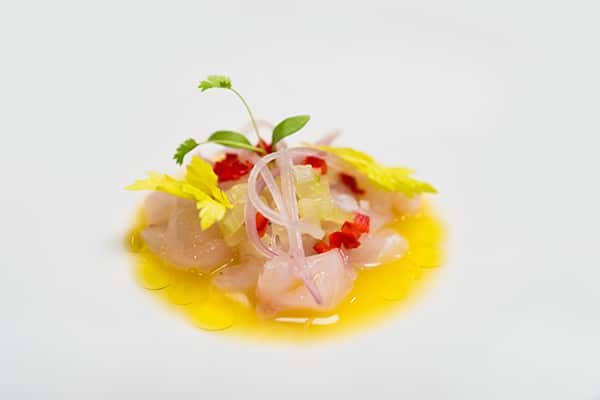 Packed with flavour
Again from the fish menu, we try the cod with almond and pancetta.
This is a dish packed with flavours that makes your palate ask for more after every bite. I let my companion chat away to the waiter while I dive into the dish, whatever they're talking about, I'm not interested with this food in front of me!
My ears prick up when I hear that the fish used in this dish is actually Skrei Cod, a sustainable cod caught in it's teenage life while travelling through Norway. Being so young (between 4 and 7 years) means the meat is firm, lean and packed with flavour. It's seasonal caught only during the winter.
Beautifully cooked squash
In between dishes we pick a glass of South African Viognier which comes accompanied by the third course. This time from the veg menu. Squash, crème fraiche and pumpkin seed. Just what I needed after such a rich complex dish. This one is simple, joyful, and fun. Beautifully cooked and like everything else we've had so far… full of flavour!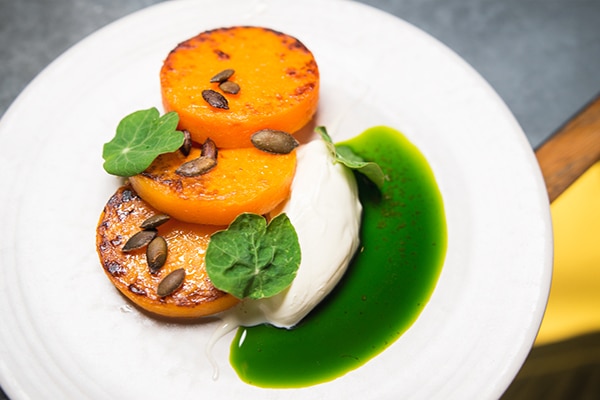 By this time the restaurant is full, all I can see are cheerful diners and all I can hear is a good atmosphere. This place is vibrant and I feel comfortable here.
Classic Fettuccine
Next was a classic: fettuccine, truffle and yolk. Plated to resemble a Jackson Pollock, it tastes just as good as it smells and looks. This was the last day of this dish on the menu since truffle season is over. We were very lucky!

Contemporary Scottish cuisine
Following the classic and moving on to the meat menu, we had a very abstract looking dish: Haggis, swede and potato. Covered with a silky blanket of béchamel and dusted with nutmeg. Delicious! This dish screams Scotland all over its layers of flavours and different textures. A glass of Corbieres from the Languedoc helped with the deep, nutty flavours of the Haggis and the smooth acidity of the pickled swede.
First to try a new dish
Last on the meat menu was a dish they were testing for the following menu. Beef, hollandaise and onion. A perfect portion of incredibly well cooked beef, if like me, you're not into giant pieces of meat. It was tender and juicy and went down very nicely with a powerful glass of Californian Zinfandel.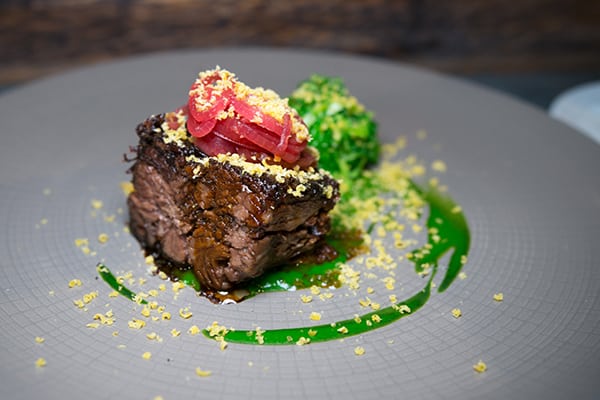 Fantastic atmosphere
While we cleared our palate with a rhubarb sorbet and a rum jelly bear, I had a quick look at the restaurant and everyone seemed to be sharing dishes and having a great time. I can't describe the atmosphere in here but it's fantastic. Good food and great service does makes things way better. This is how you get to be the best restaurant in town.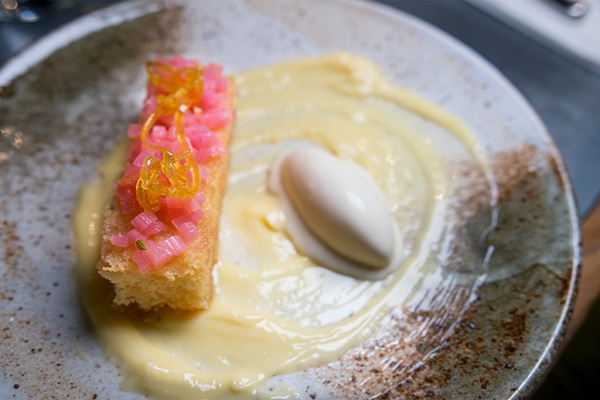 We finished our visit with a Rhubarb, buttermilk and lemon dessert. What a fantastic way to start the week!
Check availability and make a booking online
More from 64 Degrees