Seafood Sunday
Brighton Food Reviewer, Finola Robinson, June 2014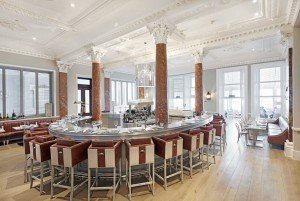 The Grand Hotel is a Brighton institution, a landmark that's as well known today as the Royal Pavilion and both piers.
The seafront hotel was designed by Victorian architect John Whichcord Junior when the city was just starting to take off as a tourist hot spot. The London to Brighton rail line had been constructed in 1841 and The Grand was built in 1864 to accommodate the city's growing number of upper class visitors, who needed somewhere suitably salubrious to rest their weary, well-coiffured heads.
The hotel was celebrated for its superior facilities, which included the "Vertical Omnibus" lift, which was hydraulically powered by cisterns in the roof and was the first of its kind outside London. The hotel also boasted 201 opulent bedrooms, a ballroom and a billiards room, making it every bit as swish as the name suggests.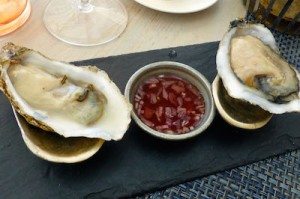 In 1984 it appeared in news headlines for more unfortunate reasons, when the hotel was the chosen location of a time-delayed bomb planted by the IRA during an assassination attempt on Margaret Thatcher.
The hotel re-opened in 1986 and was taken over in the 1990s by the De Vere Group. A multi-million pound refurbishment included a new spa and also a chic fish and oyster restaurant called GB1.
At the time of going to press, the exciting news this year is that the hotel has been bought by a private investor for an undisclosed sum, who is reputed to be keen to invest in the hotel further.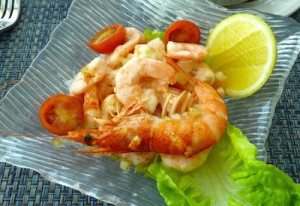 Suspicions abound that the owners of Selfridges and Fortnum and Mason have bought it for around £50 million, so it will be interesting to see what those investments entail and the changes they could bring.
For the time being, however, it's business as usual – and so it feels like an opportune time to pay the hotel a visit and enjoy a meal at GB1.
The fish and oyster restaurant is situated on the ground floor at the front of the hotel facing the sea. The main part of the restaurant has a big modern bar, and it's possible to dine there or in the front conservatory area.
To whet our appetites for our Sunday lunch, my companion and I each chose a rock oyster, which was wonderful – quite possibly the plumpest and most tasty oyster I've ever had in Brighton.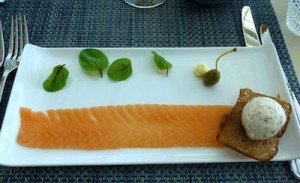 We also ordered a serving of the chewy white and brown bread, which comes served with 'scallop popcorn'. The bread and butter was as fresh and crusty as one would hope, and the popcorn had been covered in a dried scallop 'dust' was a great accompaniment to our drinks.
For my starter I chose the very traditional prawn cocktail with baby gem lettuce and marie rose sauce, which was faultless; light and refreshing on such a warm day.
My companion, meanwhile, chose the smoked Wye Valley salmon with treacle cured tartare, rye toast and brown bread ice cream which was a cut above – a far more interesting choice, both in terms of presentation and also flavours.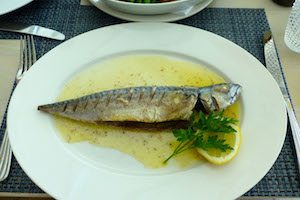 His rectangular plate had a long strip of the salmon down the centre, which had a very delicate, smoky sweet taste.
It was a world away from the vivid pinky orange salmon one finds in most supermarkets. Apparently Severn and Wye salmon is also sold in Harrods, according to my companion who is a senior chef there.
There's clearly no scrimping on ingredients at GB1!
The treacle cured salmon tartare had been been mixed with capers to add some sharpness and zest, and the rye toast was a very thin, small slice – more like a cracker – that added texture.
Opinion was divided at the table about the brown bread ice cream. I expected it to more savoury and found it too sweet for my taste, but my companion said the sweetness worked well with the salmon and was an intriguing addition to the dish.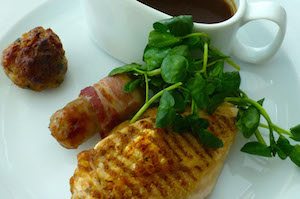 For our mains I decided to make a radical choice in a fish restaurant and went for the roast chicken with potatoes and seasonal veg (it was a Sunday, after all!) whereas my learned chef friend stuck with his fishy theme and chose the catch of the day – whole mackerel with a butter sauce.
My chicken was a roasted chicken breast, rather than slices from a whole roasted bird, but it tasted good nonetheless and was moist and flavoursome.
The potatoes tasted great, so had clearly been made from decent potatoes rather than blander, flourier varieties, and the green veg were served al dente, which is my preference.
My friend said his mackerel could not have been better –
..succulent and fresh. It was yet another indication that the GB1 kitchen knows how to cook and serve food in a way that best honours the high-quality ingredients.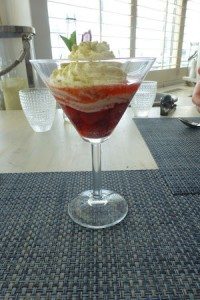 The dessert menu had a variety of tempting options. I went for something that sounded summer-like – the poached strawberry fool with mint shortbread – whereas my friend chose the Blue Lady tea custard.
Both dishes were very different from each other. His was a crème brûlée that was actually a bluish, purplish colour due to the Blue Lady tea (which I hadn't heard of before).
The taste was fragrant, almost perfumed and a tad reminiscent of Parma Violets.
My strawberry fool was tart and creamy, enlivened with a good slosh of prosecco or other bubbles.
It was just the sort of summery dessert I'd wanted, and a lovely fruity way to end a very enjoyable meal.
Check availability and make a booking online
What next?
Make a Booking on 01273 224300 – it would be great if you mention Restaurants Brighton when you do!