Sunday walk and the Haus roast
Today I was trying the Haus roast at the BRAVO award winning Haus on the Hill.
For me, the thought of a roast dinner conjures up memories of brisk Sunday walks with the family before docking at our foodie destination. These walks were often met with objection since they usually involved surviving the extreme elements. However, someone (*cough*, my dad) insisted it was a great idea and used food as the motive for our physical efforts. As a result, I've marched my way from my home in Hove to Hanover, numerous times in the knowledge I'll be rewarded with some glorious pub grub. If I know it's good, I'll go the extra mile for it.
This particular Sunday I was destined for Haus on the Hill, aptly named for its position on the top of Southover Street. Those that know Southover Street, will be very familiar with that climb to get to the top of it. Now to add to this, the nation was falling at the feet of an intense extratropical cyclone. Yep, this was the weekend Storm Eunice hit the streets and flipped all of our wheelie bins. On this occasion, I did accept that it might be better to drive to our destination for the Haus roast.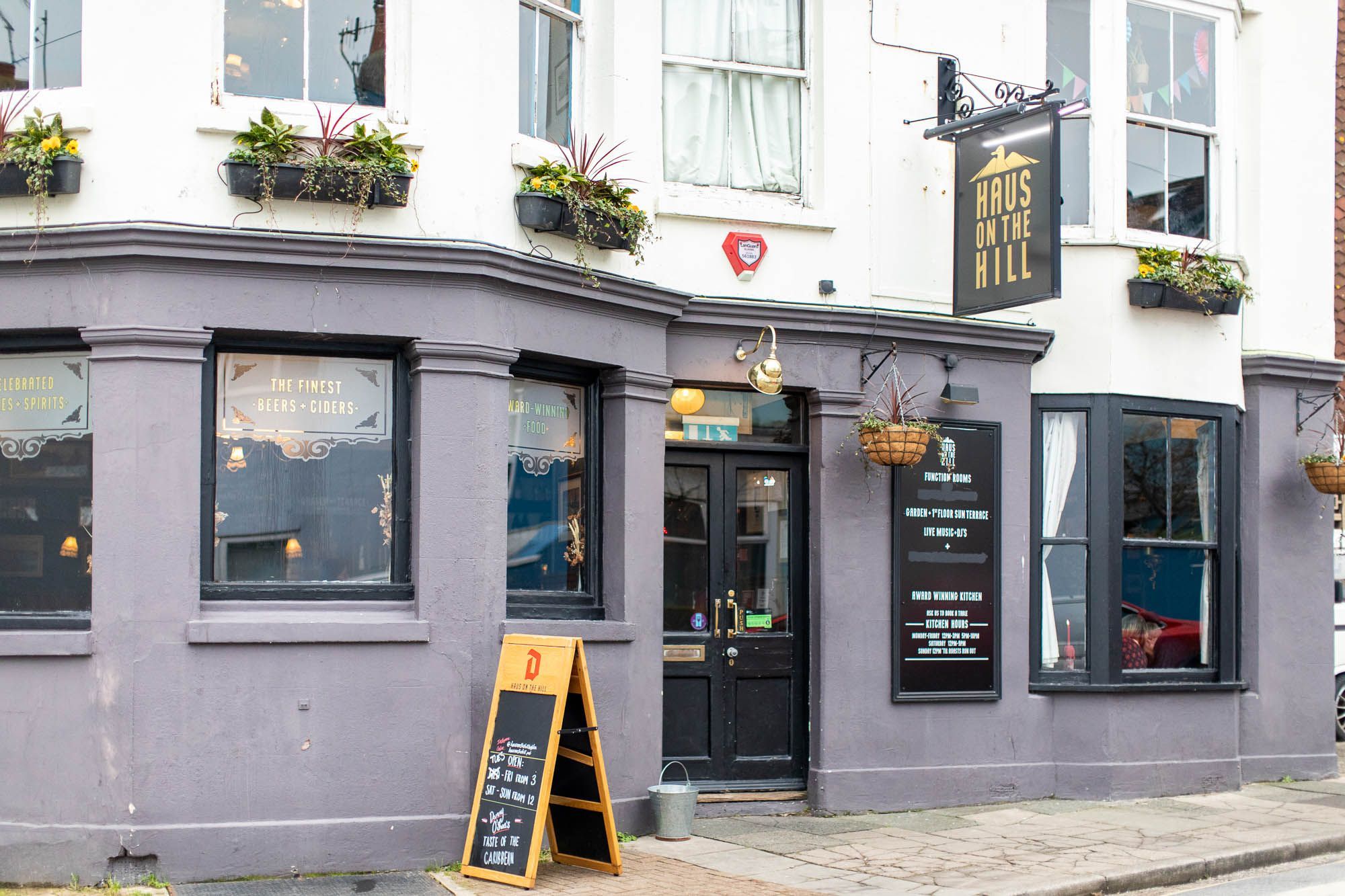 We had a brief battle against the storm having found a parking space up the road by Queens Park, so it felt like we were walking into a beacon of light as we entered the pub. You walk into the pub's saloon style bar as soon as you enter, we felt like two dishevelled cowboys having experienced the madness outside. Fortunately, Haus On The Hill exuded comfort from the moment we walked in.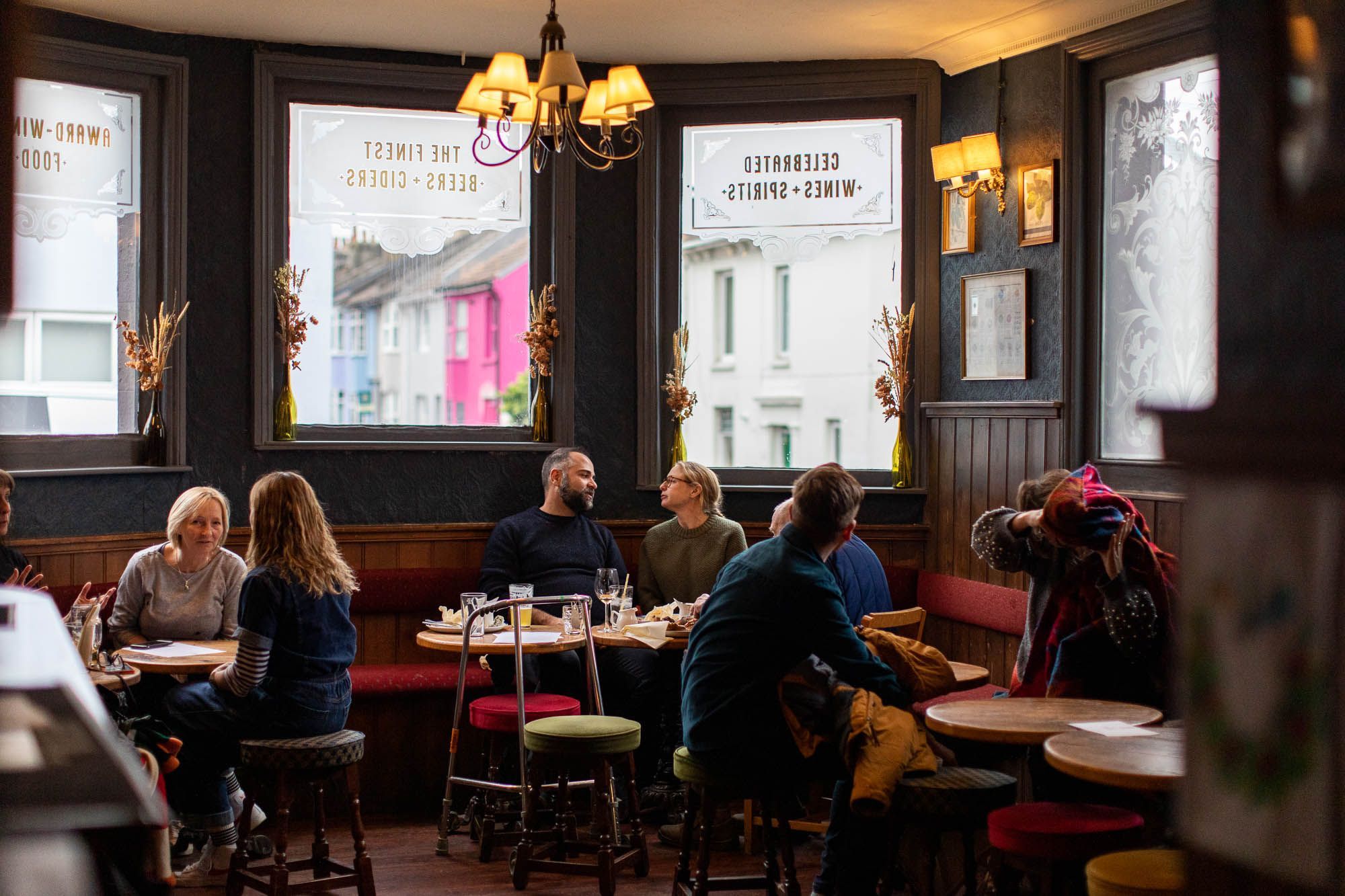 Friendly welcome
The pub was actually packed with people, indicative that this was a beloved neighbourhood hangout. Britpop beats and charming nicknacks brought this homely feel, not to mention the friendly at ease welcome from the bar staff who, while rushed off their feet, still shared a cheery smile. I'm not much of a beer drinker, but it's worth noting that the pub is run by Brighton's original craft brewery, Brighton Bier, so you'll find award-winning fresh pours to enhance the community spirit here.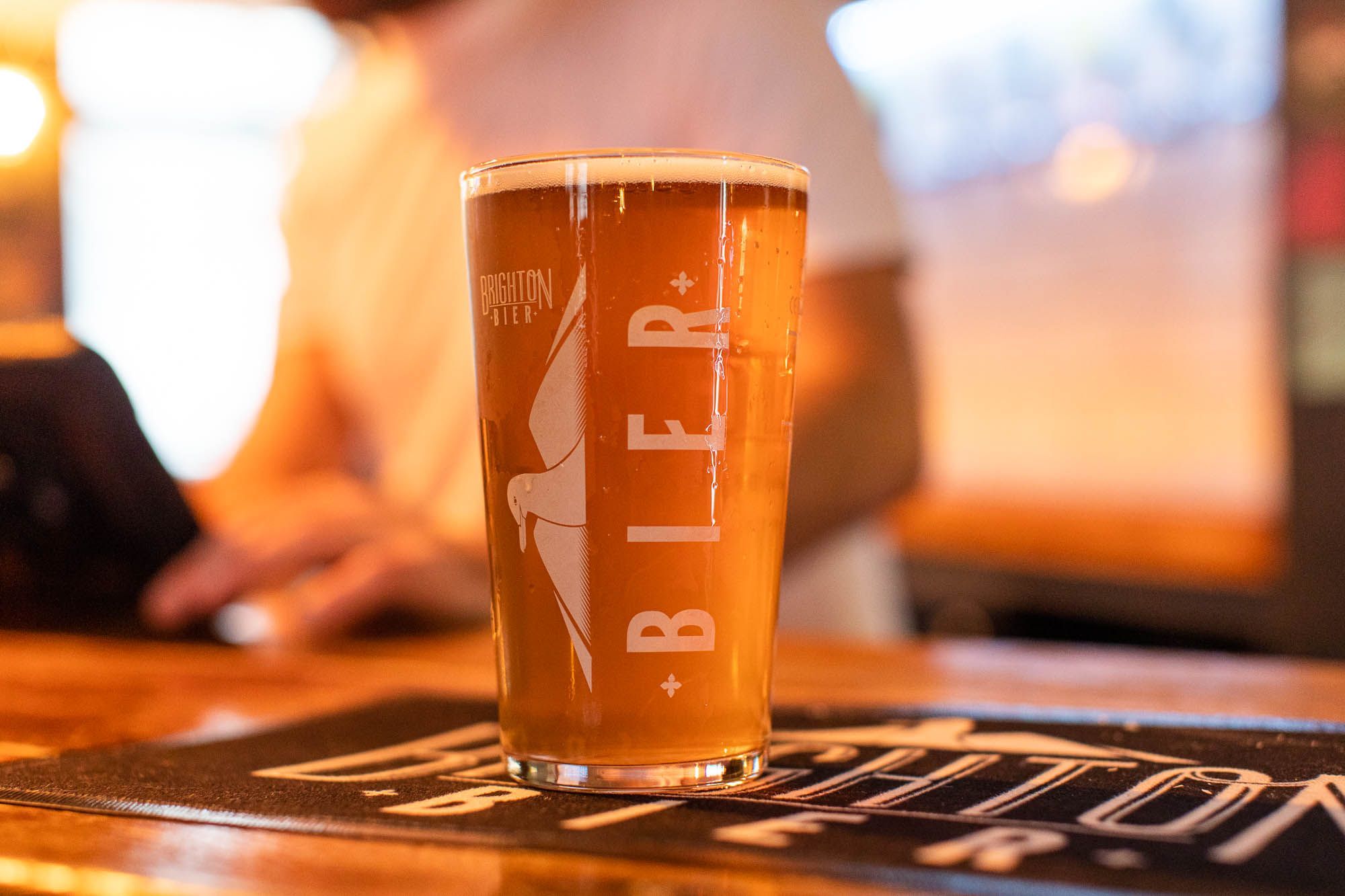 Danny O'Shea kitchen | Haus Roast
Following a brief pre-meal Instagram stalk, it occurred to me that there's a unique twist to the kitchen here thanks to resident chef Danny O'Shea, who has been a permanent fixture since January 2020. My research uncovered Caribbean classics like jerk spiced chicken and curried goat – what were we in store for with a roast?!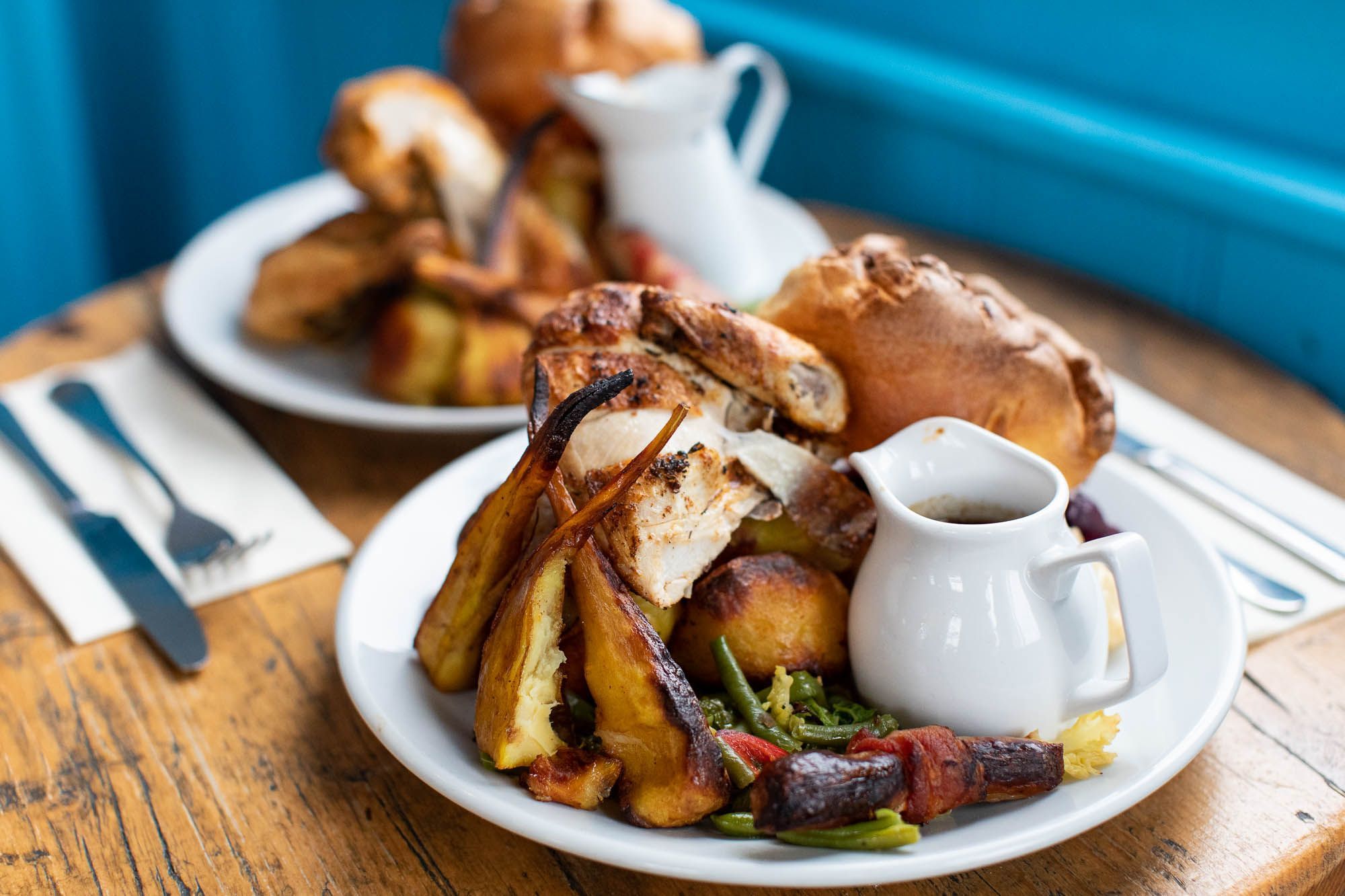 I hadn't tried Danny's food previously, but his hearty roast dinners have seemingly developed a devout following just as much as his Bajan classics. I couldn't wait to discover what was in store. The menu reads exactly as you would expect with the traditional offering of meats such as the renowned roast belly of pork which comes complete with liberal amounts of crackling, as well as vegetarian options with a butternut squash wellington and a vegan nut roast. I was half-tempted by the veggie wellington but the fear of missing out drove me to order the beef. My friend, on the other hand, ordered the half-roasted chicken in lemon and thyme.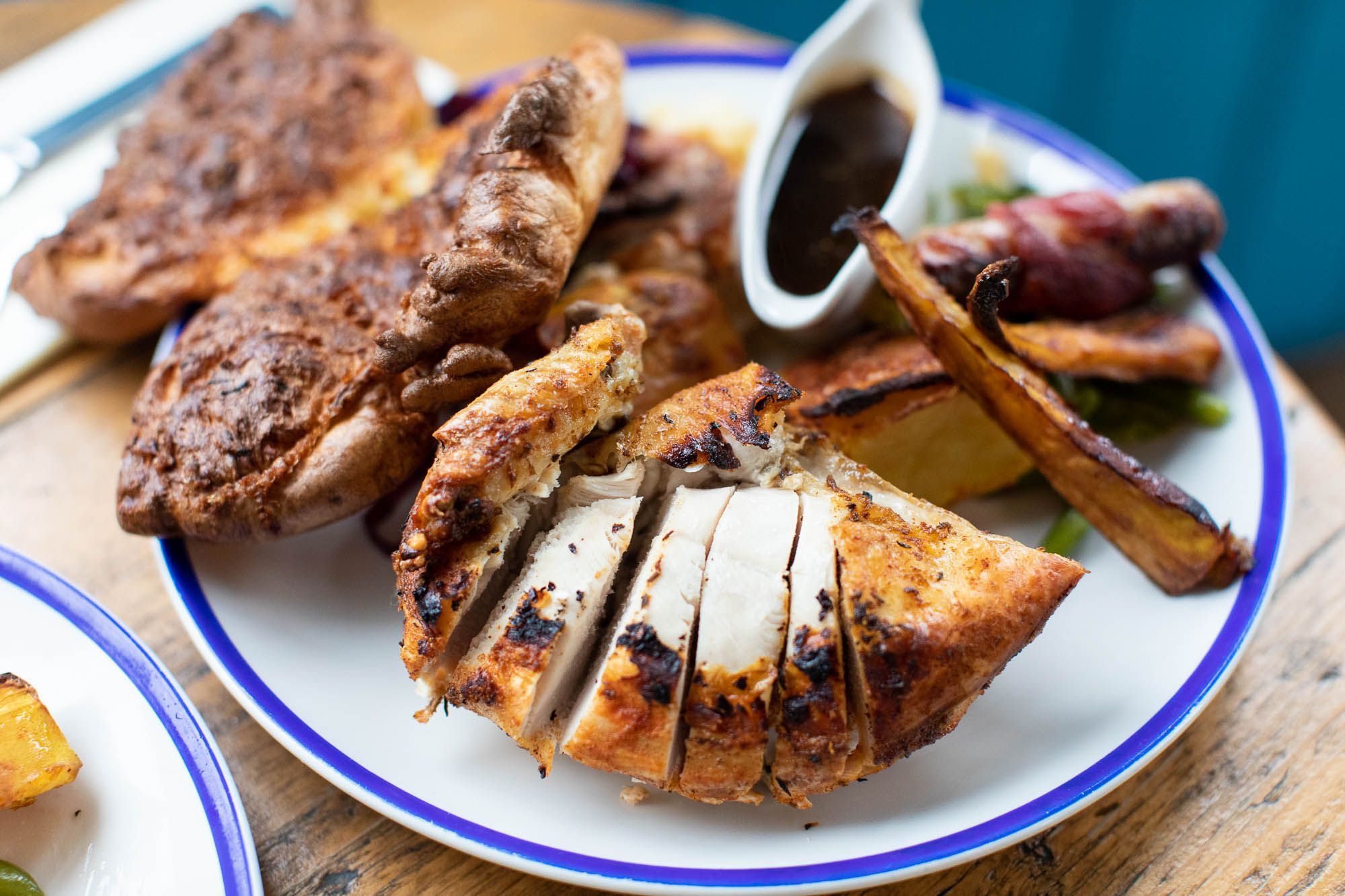 To me, the perfect roast dinner means nailing the supporting act of the veggies, the Yorkies and of course the gravy. Anything short of great accompaniments then I'm left disappointed and unlikely to return. Each element to the roast should be well-executed yet almost clumsily dished up. Tidy, yes, but not clean. Nobody wants a dainty plate of food after surviving the harsh outdoors!
Fortunately, Danny's cooking was delivered and we looked at each other wide-eyed as we saw mountainous plates of food walking towards us. The beef was presented as three strong cuts of meat, served slightly pink and succulent so the centre melted in your mouth. The half-roasted chicken had superbly crisp skin with a subtle, smoky seasoning and juicy tender meat as you cut into it.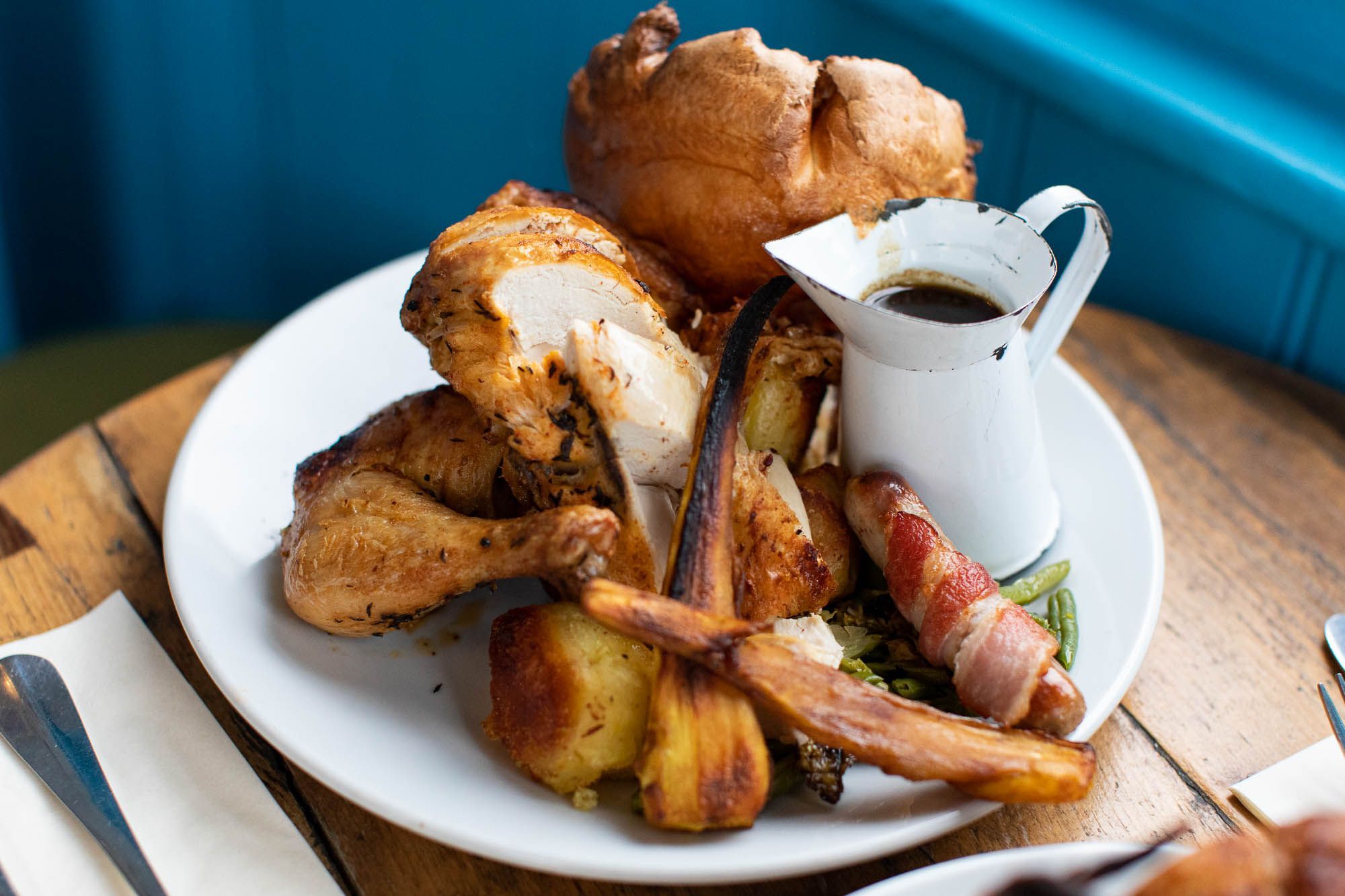 Treasure chest
We all live for a Yorkshire pudding, whether it's traditional or not to have it with anything other than roast beef. To my friend's delight, both our plates arrived with that savoury golden saucer piled high on top. These were as you hope with a crunchy exterior and buttery, fluffy centre.
Lifting the Yorkie to judge all the accompaniments was like lifting the lid of a treasure chest. Here there were more than just braised red cabbage and sauteed greens, but even sides you wouldn't always expect from a standard Sunday roast. It was a real treat to uncover goodies like complimentary pigs in blankets and rich cauliflower cheese – something that, more often than not, you need to order as an additional side dish. It was like Danny knew we had endured those bleak winter winds outside, and we were very well looked after indeed.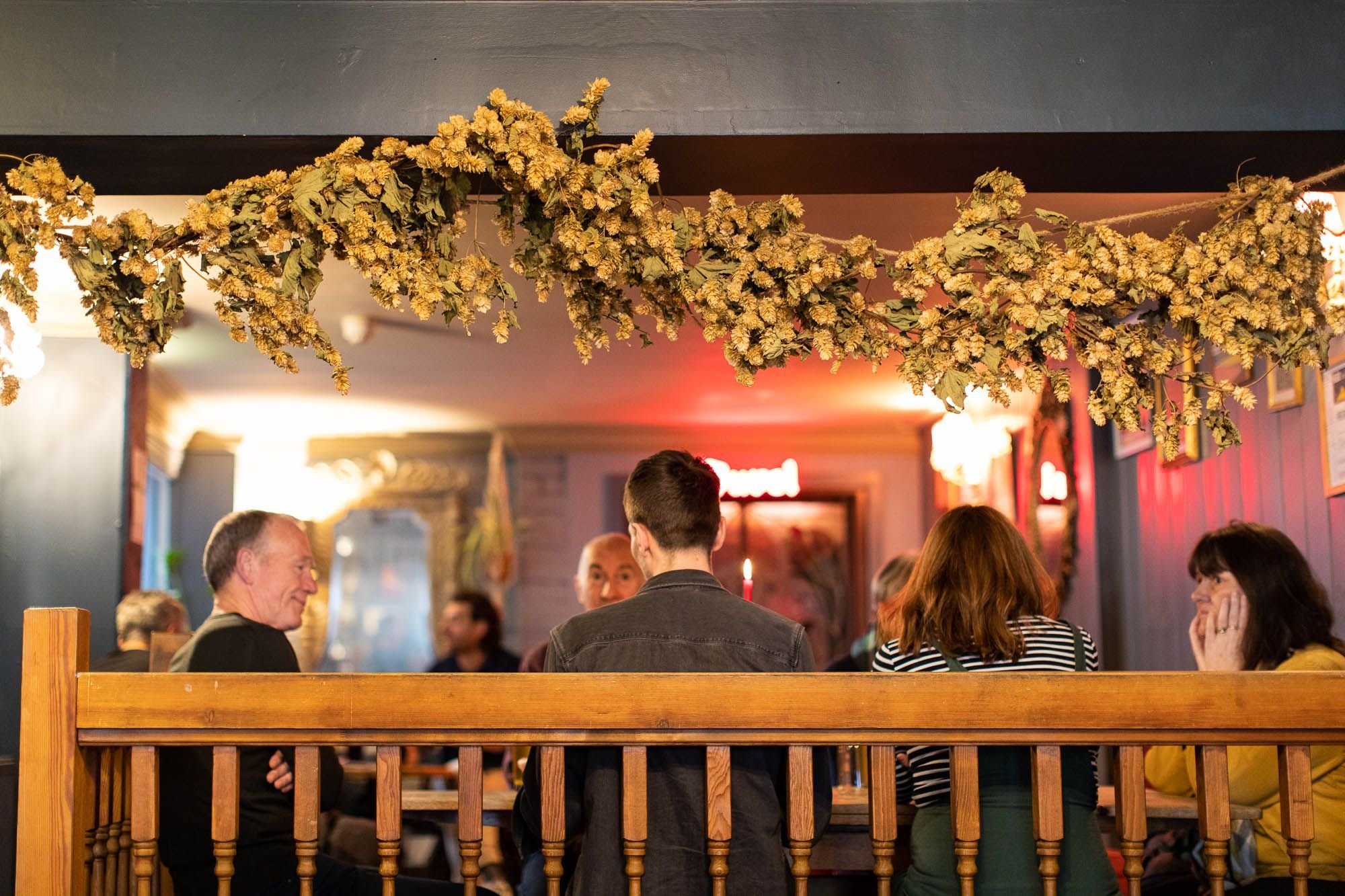 The root veggies such as the roasties and the parsnips were different from the usual aesthetic, with a distinct curcumin hue. Assumedly these were given a dusting of turmeric, but they by no means fell short of tasty and were well-texturised. Most pleasing was that gravy was provided individually and in generous quantities, so we could continue pouring as we ploughed through our plates. The umami, salty contents were the savoury icing on the cake.
It's fair to say we succeeded in docking at this safe haven from the storm, and I'll definitely revisit if there's promise of such a foodie reward.