Honest Burgers and their Summer Special, the 'Brighton Hot'
Gourmet burgers; a trend that clearly isn't leaving Brighton anytime soon while we have distinguishable options like no other city. Just take Burger Brothers as an example – there's nothing try-hard here with no burgers being served on slabs of artisan slate, and a strict takeaway menu which has truly stood the test of time.
Fancy chicken instead? You needn't walk more than a mile up the road before passing one of the three Lost Boys sites – offering Brighton's most supreme fried chicken burgers which come with a full kitchen roll (in anticipation of sauce-swamped hands by the end of your meal!).
Want a pimped out burger without the pretence that many artisan pop-ups offer? Honest Burger is your answer.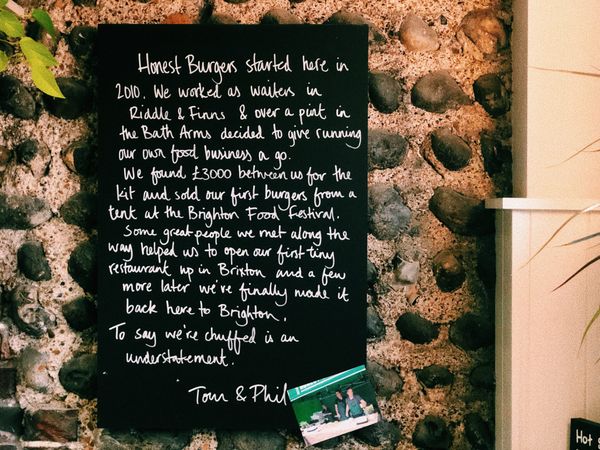 The key is in the name, everything here is prepared and displayed with honesty and integrity. 
"We decided to open Honest over a pint in our favourite pub. And that's what we wanted it to be: a pull-up-a-chair local with good people and good food"
say owners Tom and Phillip, both of whom met while working in Riddle & Finns in their university years (who would've known!). These humble origins shine throughout everything with the brand after Tom and Phillip spent years learning the tricks of the trade from the best butchers around, which years down the line has materialised into the development of their in-house butchery.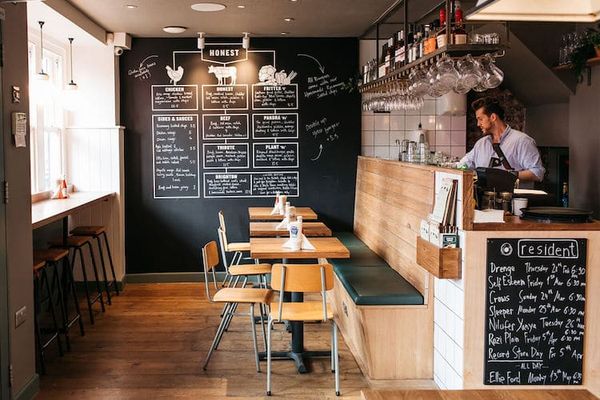 In addition to this, Honest use only the Best of British, with the vast majority of ingredients being sourced from local heroes; from their free to roam, grass-fed beef, to their unique craft beers which are all sourced from breweries local to each individual restaurant. See if you can spot the decorative map (which displays the locations of their produce) as you're on your way to the bathrooms.
The restaurant itself has a simple aesthetic with a hint of kitsch, as you'll find the giant butcher style blackboard with a flow-chart menu that guides you through the simple menu – but fear not as their offering is so accomplished that it really doesn't need complicating! There's something to everyone's taste. Instead of having nation-wide specials, each restaurant has its own special of the season, bespoke to the location. We were here to try the 'Brighton Hot'.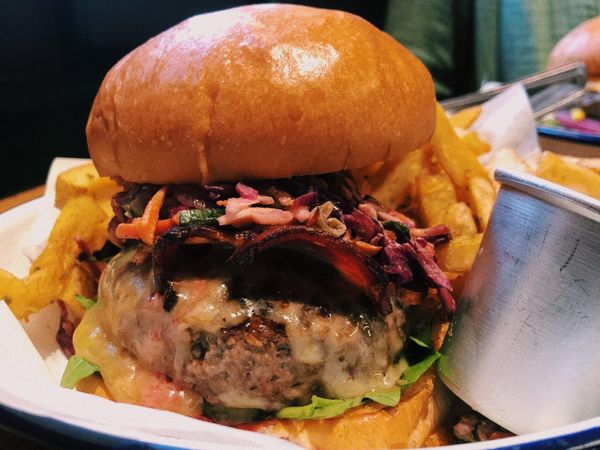 Blowing the lid off the status-quo is this year's Summer special, Brighton Hot; made of Honest beef, bacon, smoked Mayfield cheese, Honest x Brighton Hot habanero hot sauce, chipotle slaw, rocket and pickles with that famous rosemary salted chips. Honest are determined in their collaborative spirit and support of small independents:
"If we can't do something ourselves we'll collaborate with good people who can"
which is reflected in these ingredients. With cheese from Mayfield; the quaint village in the depths of the Sussex countryside, and Brighton Hot Sauce; made by two passionate hot-heads who do away with the gimmicks, wanting nothing more than to highlight the ingenious craft behind their spicy concoctions. Despite being a fan of the heat, our friendly waitress advised us to try the sauce on its own before our burger was smothered in it (it was just as well because this guy packed a mighty punch with red habaneros, ghost peppers, lemon juice, and chinook hops!).
As a result, I preferred my burger with the sauce as a side to dip as it had a real warmth that shot through after the initially mild taste. It's worth noting that burgers are always made from a combination of the chuck and rib cap (the fatty bit cut off a rib-eye), and the meat is cut rather than minced to keep it coarse yet tender (unlike some of the mushy, un-texturised meat you might find elsewhere). This promises the burgers to cut like butter, meaning you can keep this to a much tidier affair! As expected the beef itself was succulent with a good bite, cooked to a perfect medium with a lightly pink middle and followed by the crunch of the chipotle slaw, pickles, and the ever-so-smoky chargrilled bacon coming through as a secondary taste note.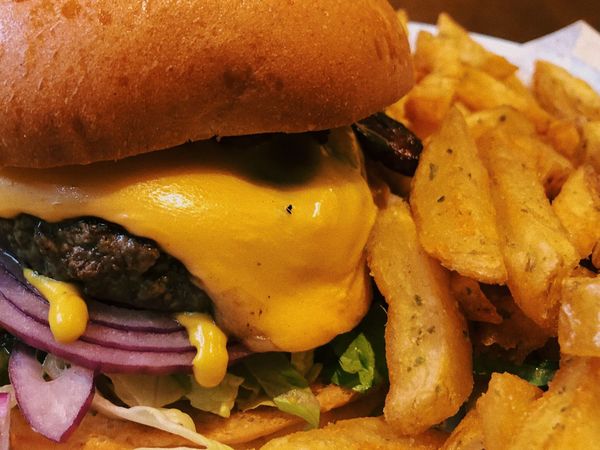 One of my favourite things here is that every burger is served with rosemary salted chips as standard, so you won't be paying the premium which many places now charge for side dishes alone – these aren't just any chips either. Hailed by Jay Rayner as "edible crystal meth", these golden nuggets are made in house every single day and are famous for their crispy, umami outer layer, and soft, pillowy inside as you take that first bite. It's been that way since the boys opened their very first restaurant so they've clearly captured something unique.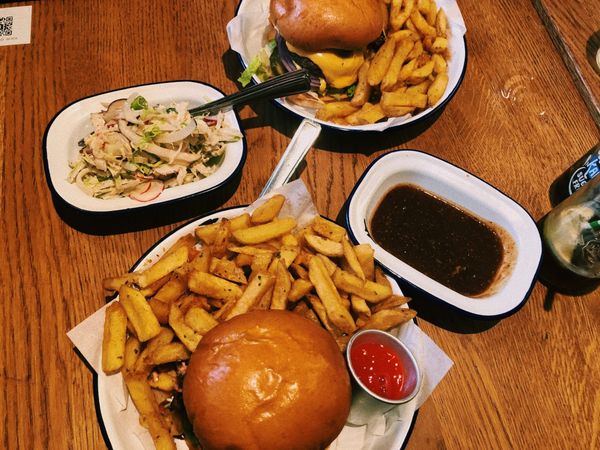 Seeing the brimming plates being served around us, we initially considered some of those enormous, buttery onion rings, but instead played it safe with a side of seasonal coleslaw and a little tin of gravy to dip our already umami chips into.
For me, there's nothing more heavenly than chips and gravy and I have to say that the combination of Honest's iconic rosemary chips, paired with their homemade beef & bacon gravy, has shot up there to being my ideal desert island meal! The gravy is rich, savoury and instantly melts on your tongue as you plough through that mountain of chips they give you.
I hope they never drawback on the portion here, for the endless dipping was a joyous experience to have after finishing the hot burger. I would strongly defend that this is a non-negotiable thing to order when you're next visiting any of the Honest Burger sites.
Items from the regular menu are available all year around, so I would always suggest trying one of the artisan combinations before they're gone. Think of yourself as a chilli connoisseur? Or a daring spice devotee? Get down to try the Brighton Hot before the end of Summer because it won't be long before they're serving their next artisan collaboration.