Exquisite Fish and Seafood Restaurant in central Brighton
Riddle and Finns is in a wonderful discreet side street called Meeting House Lane, off Brighton's North Street and it is situated within Brighton's famous Lanes.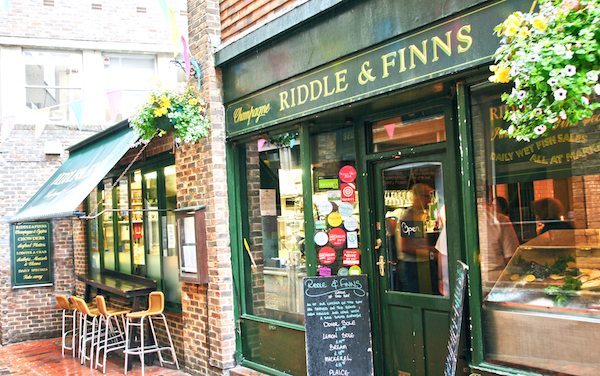 You may also like..
At this unique Sussex Restaurant things are a little bit different. There aren't many places in Brighton where you can watch a team of chefs busy at work as they prepare your food for you in this open kitchen style environment – it really is exciting to watch as the orders flow from the front of house and you can eavesdrop on the talented chefs at work.
Here they serve only the finest quality fresh seafood, in a relaxed stylish surrounding with friendly and knowledgeable service.
Quite literally, they buy almost all their fish and seafood from the fish market at Hove Lagoon where the fish are caught just off Brighton beach.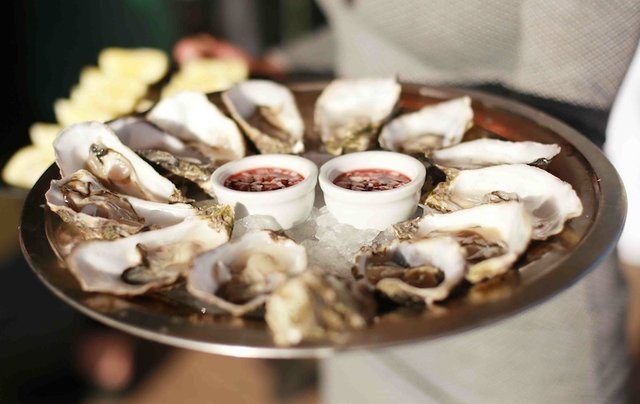 Their  menu is full of classic seafood dishes like the seafood platter, the fish pie, whole crabs, oysters, caviar – and many catches of the day.
You don't have to pre-book here (they won't allow it) and it will suit almost any occasion for breakfast, lunch or dinner – what's-more the candelabra is always burning, even for one of their delicious breakfasts.
Restaurant reviewers love this restaurant too and it very rarely disappoints.
This is Jay Rayners take on his experience at Riddle and Finns.
it understands the virtues of simplicity. Ingredients come first. Appetite rules. Neanderthal man would love it – Jay Rayner.
At this Brighton seafood restaurant they have a traditional wet fish counter which also means that you can select a fish and then take it home with you – They will even give you recommendations as to how to cook it and with which ingredients..
Riddles don't take bookings for their Brighton Seafood Restaurant – It is a matter of popping along to see if there is space, if not there may be a small wait or they could even grab you from a nearby venue when your table is ready..
Riddle and Finns also provide outside catering for private parties, weddings and functions, birthday parties and more..
Riddle & Finns is all about classic seafood dishes, marble topped tables, candelabra and chandeliers.
Riddle and Finns is frequently featured in our Restaurants Brighton Top Ten.
Read their latest review on line just here.
Find out about Riddle & Finns II on Brighton's seafront.
No Reservations Taken
You may also like..
back to top