Manju's Kitchen – Indian Vegetarian
Even if you haven't been to Manjus, chances are you've heard about it. Tucked away in Brighton's North Laine area, this vegetarian restaurant has been featured on the BBC, and won second place in the Brighton Restaurant Awards Plant Champions 2019.
For Manju herself, owning a restaurant has been a lifelong dream that was realised at the age of 80 when her family opened a Gujarati restaurant in her name. Now 83, she works in the kitchen alongside her daughter-in-law and a team of other talented chefs, passing down generations-worth of Gujarati recipes and secrets.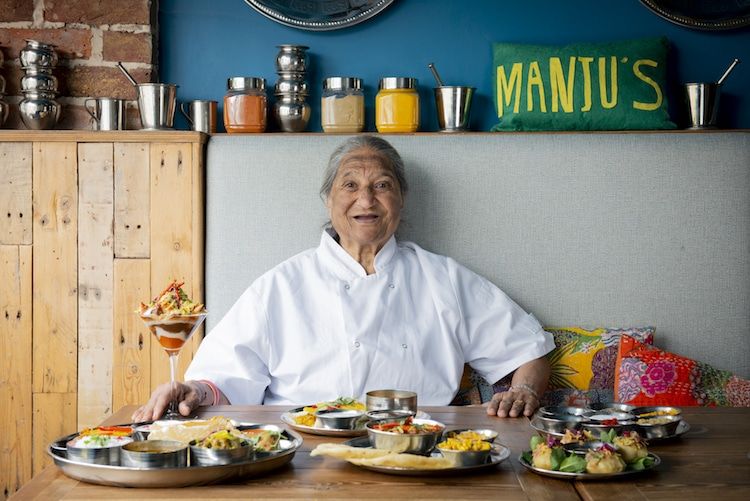 Warm welcome
Manju's feels special from the moment you walk in. The teal-coloured walls are tastefully adorned with tiffin pots and cooking dishes that are a throwback to Manju's earlier days when she cooked with her mother to make ends meet. With around 20 covers, and no large group bookings, this intimate restaurant has a very friendly and attentive vibe.
There was even a note on our table to welcome me and my partner Tommy personally.
The regularly-changing menu is based around sharing plates and curries that are served one-by-one to the table. Following the recommendation of our waiter Naimesh (Manju's son), we ordered four starters and two curries. To drink, we flicked through a wide choice of gins, cocktails and wines but decided to keep things simple with lager – a Kingfisher for me (the world's best-selling Indian beer) and an East African Tusker for Tommy (a nod to Manju's childhood, growing up in Uganda).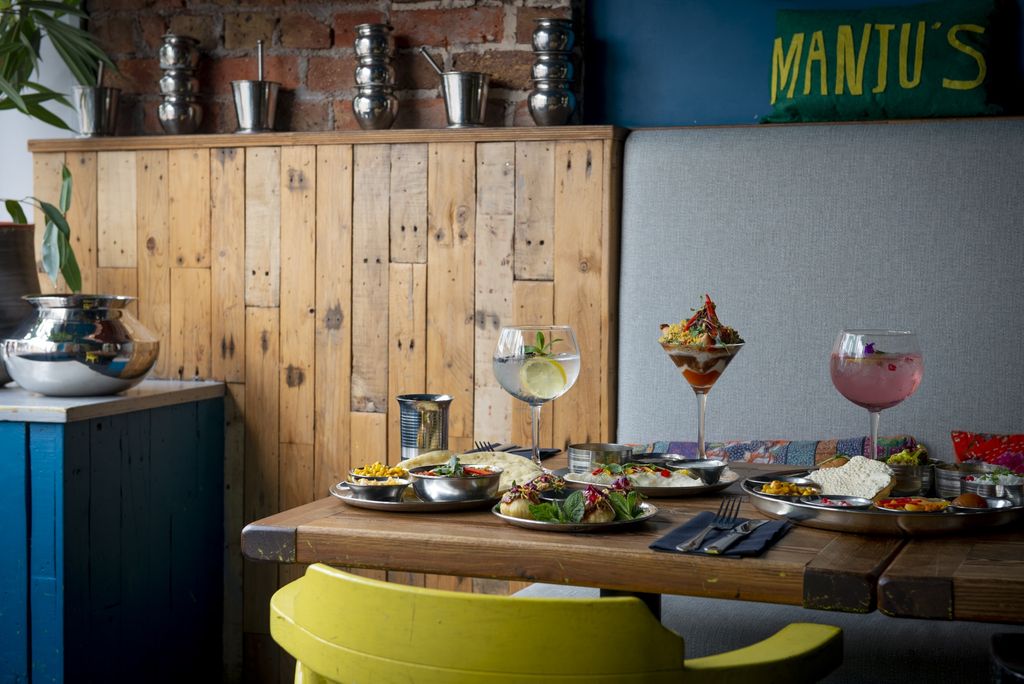 Papad & Chutneys
To nibble with our beers, we ordered a classic: papads and chutney. Two folded, charred papads arrived on a silver tray with puffed rice nibbles and signature homemade chutneys. Smooth, sweet and spicy, the mango chutney was particularly good. We also polished off the richer and darker date and tamarind chutney.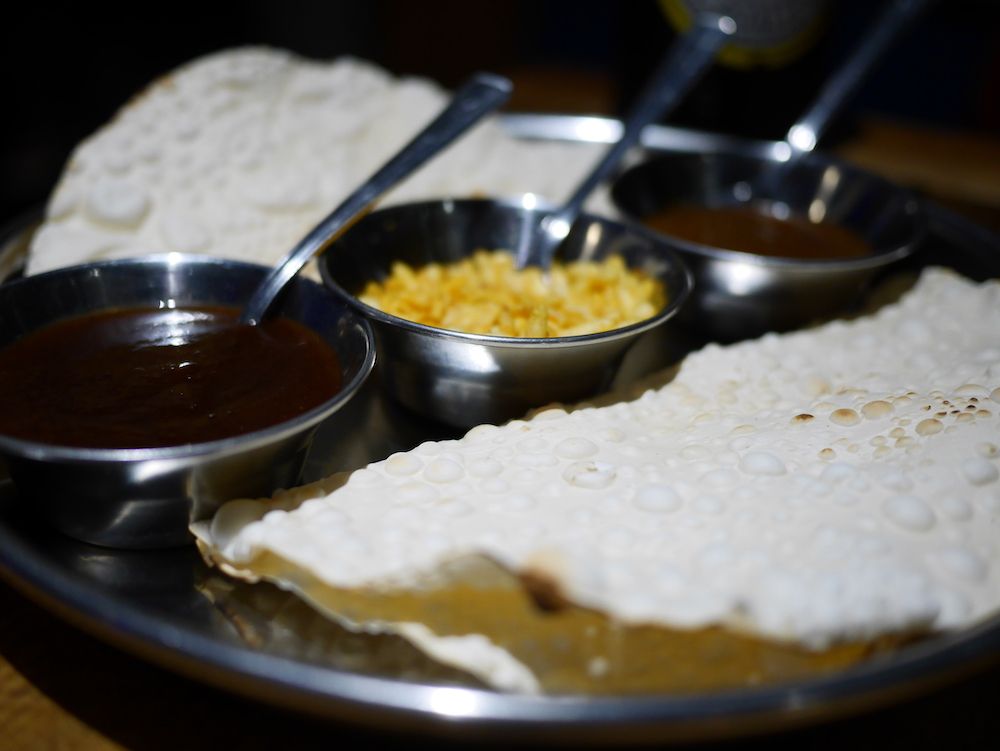 Pani Puri
Next up was our pani puri – a favourite Indian streetfood. Our four spherical 'puri' cases were filled with cold potato, chickpeas and crispy 'sev' noodles. Naimesh told us to pour some tamarind water into each one before popping them whole into our mouths. Fresh, zingy and expertly spiced, they were crisp and soft in all the right places. Yum.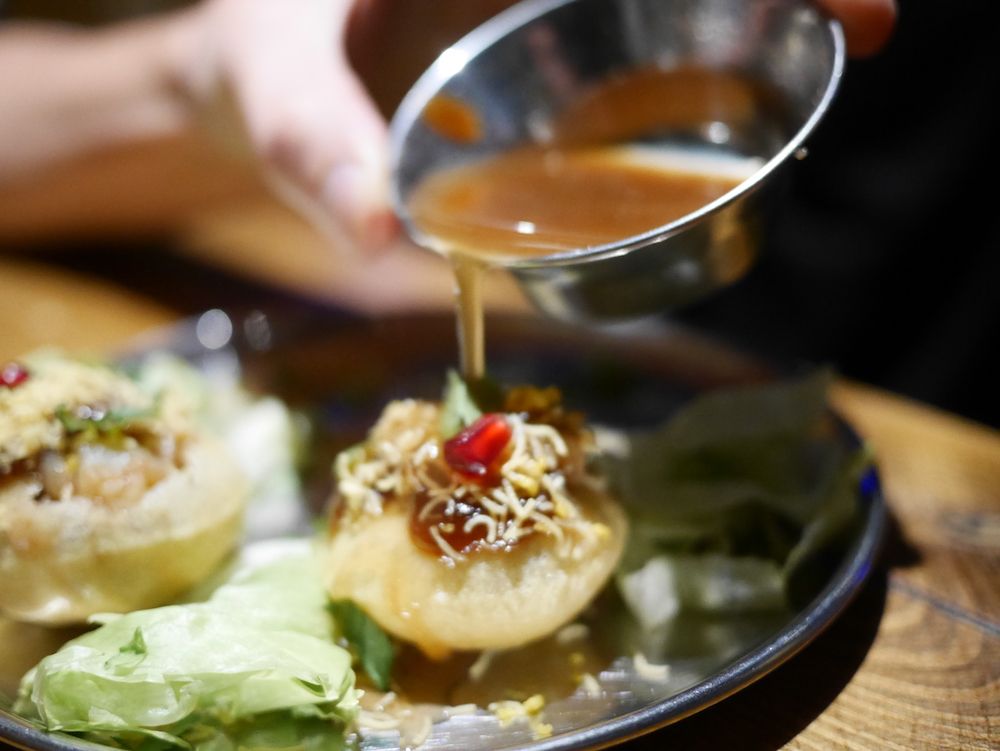 Katchori
My favourite of our four starter dishes was the Katchori – crushed peas encased in a thin, fried pastry. This dish is only cooked by Manju herself, and you can really sense the care and love that goes into each one. Served warm, the balance of spices in these delicate parcels is something that has clearly taken years to perfect.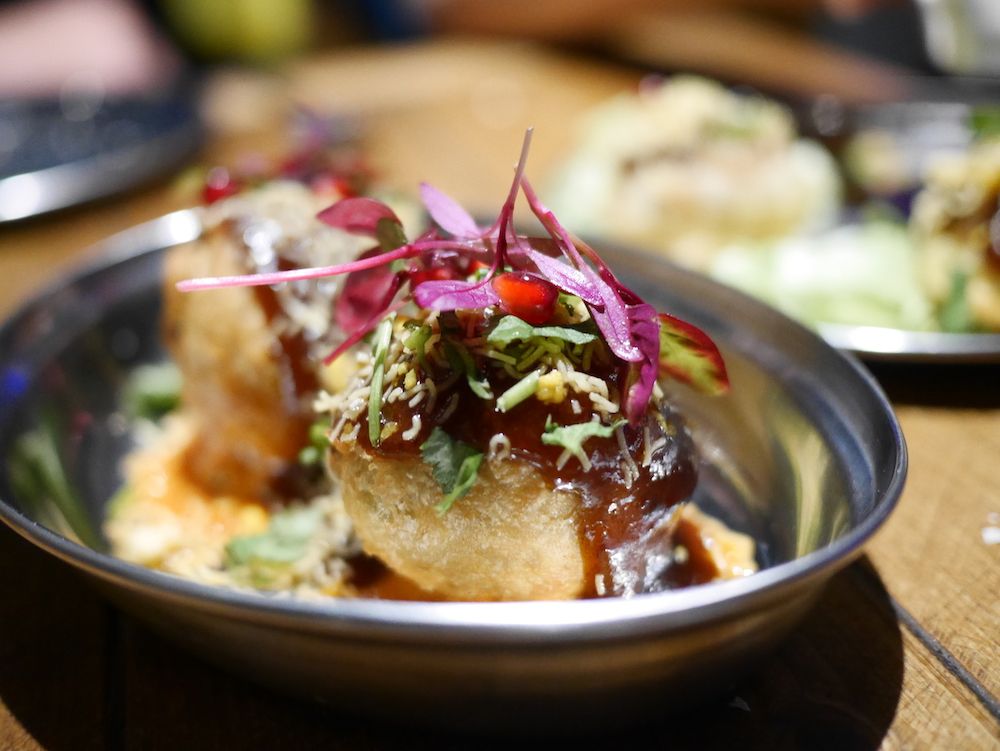 Samosa Chaat
Manju's most Instagrammed dish, their 'smashed samosa' starter, is a martini glass of colourful treats. I tucked into the delicious blend of veggie fillings, spiced Indian sauces and crisp, smashed up pastry shells – definitely no soggy samosas here.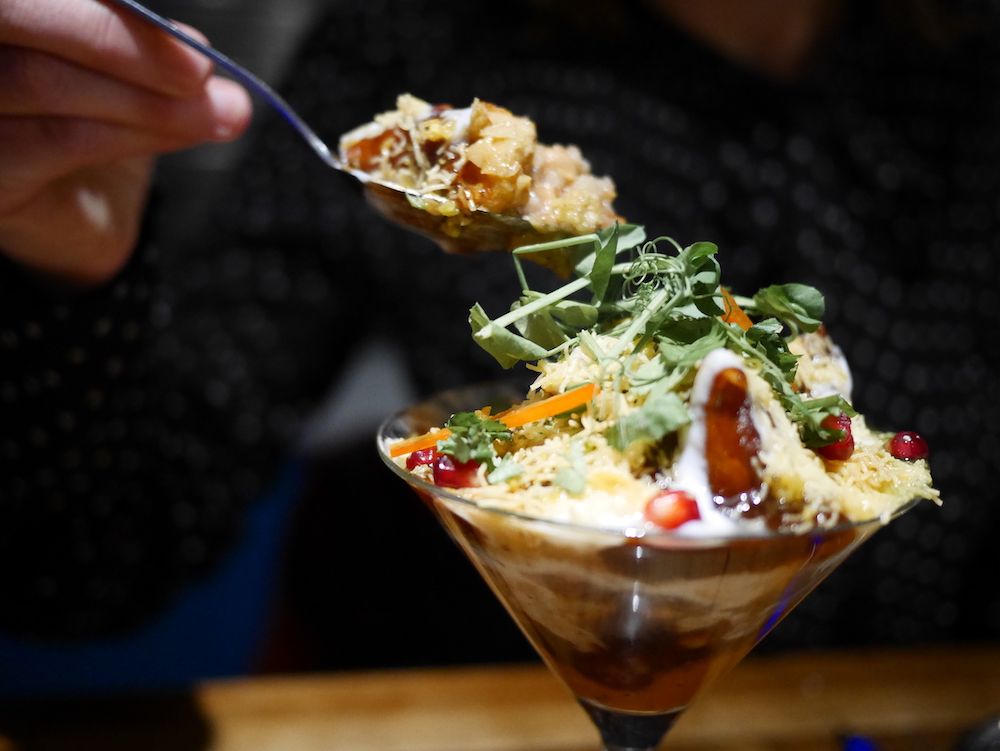 Dhal Mahkani
Moving on to our curries, we ordered a tasty black lentil Dhal Mahkani. On the side, we munched Gujarati sambharo – spiced and crunchy strips of white cabbage, peppers and carrot. Balancing the dish was a pot of white fluffy rice and a cooling, yoghurt raithu.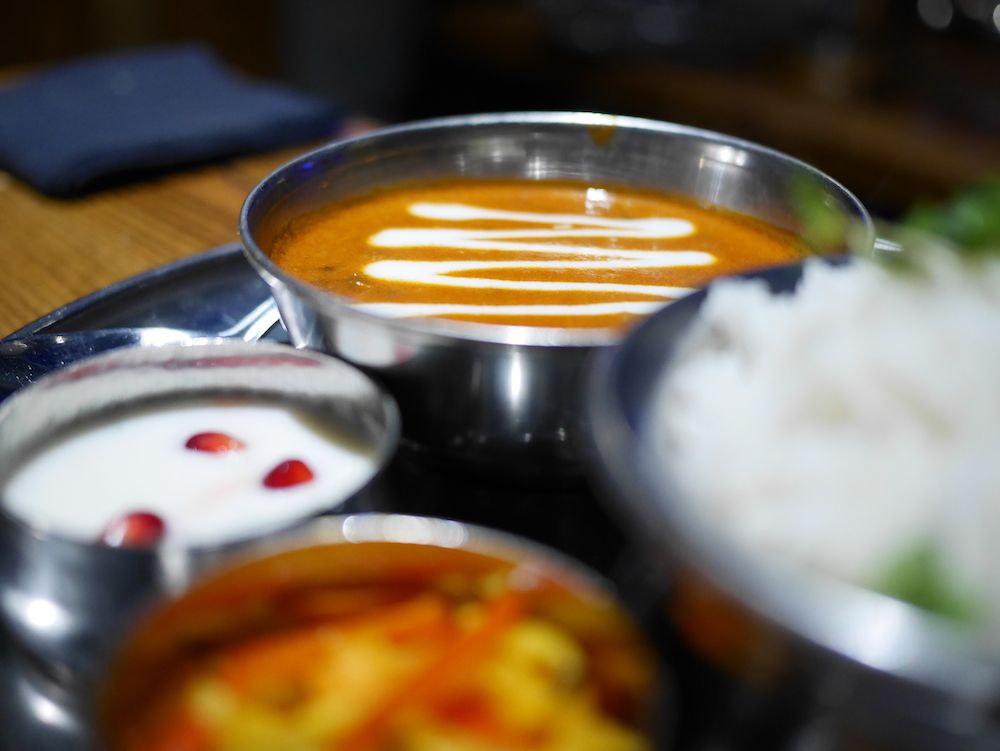 Paneer Masala
By now, we were both starting to feel stuffed but, as it turns out, Naimesh had saved the best till last. Firm, yet soft, our paneer was cooked in a rich masala sauce, with whole chillies lurking in its velvety depths. The sides were delicious too: spiced 'thepla' flatbreads for dipping and dunking, a sticky lemon chutney, and a mild onion salad.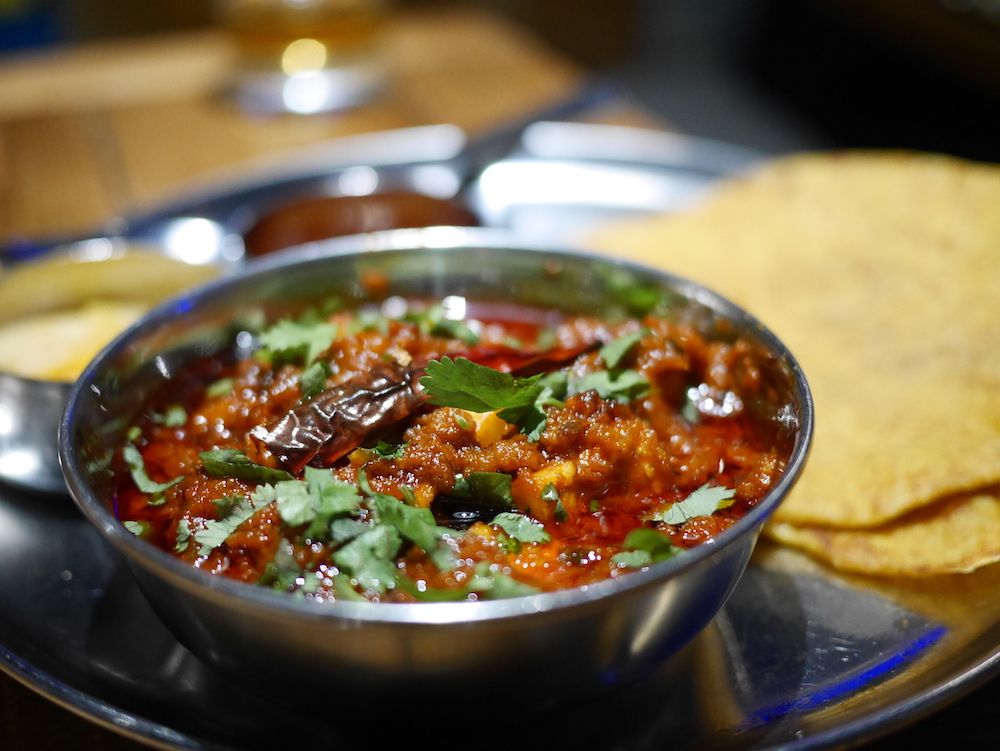 Gulab Jaman
We tried our hardest to resist dessert but Naimesh insisted that we'd be missing out. He was right. The Gulab Jaman we shared was like a warm, sweet hug. Served hot, two sugar-soaked sponge balls were served with crushed nuts and cinnamon gelato. To top it off, a drizzle of Pedro Ximenez gave it an extra kick.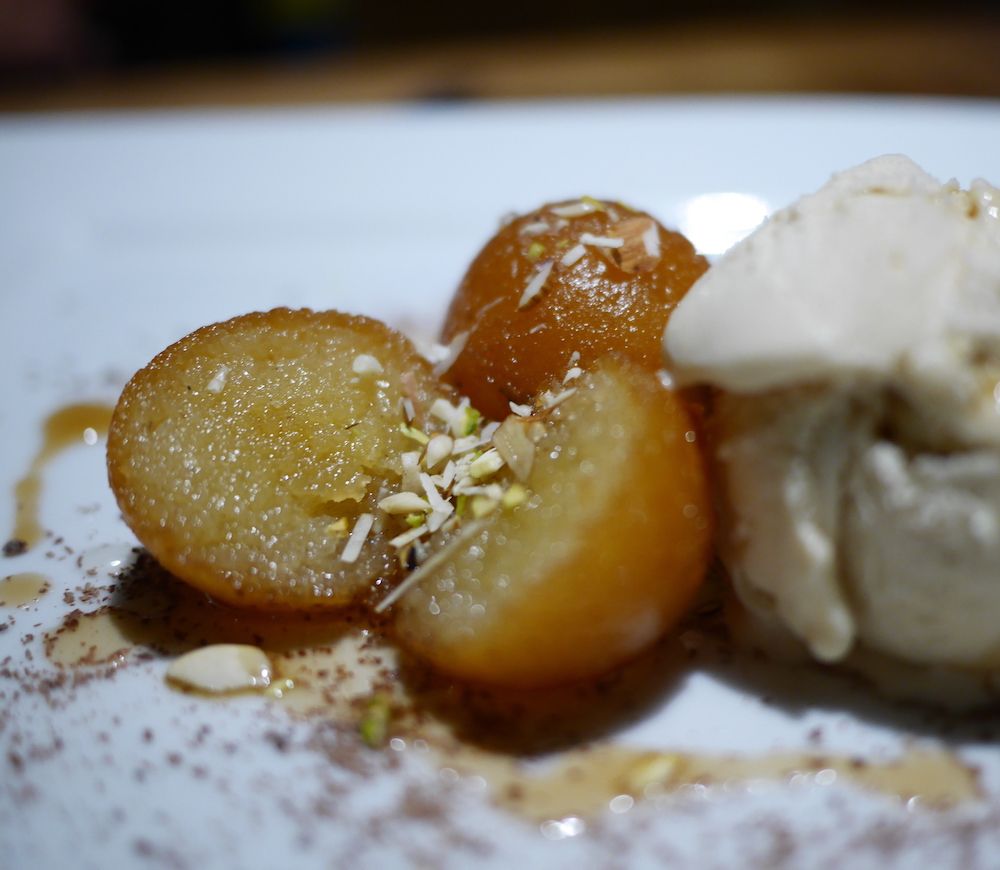 We enjoyed it so much that, despite being full to the brim, we regretted only ordering one pudding.
With everything created in-house, Manju's even make their own Kulfi (slowly-reduced Indian ice-cream), so it's well worth saving some room.
My new favourite Indian
Before we left, we vowed to come back and try one of their popular lunchtime thali boxes. Far more than your average Indian restaurant, Manju's serves authentic family recipes with real passion and heart. This is one restaurant in particular that I feel privileged to have here in Brighton.