Preston Park Brighton | A Carnival of Cuisines
For quite a small area of Brighton, which is essentially the intersection of roads all leading to more desirable spots, Preston Park Brighton and Preston Circus is a hub of fantastic food from around the world.
Brighton restaurants, cafes and pubs in Brighton are plentiful and it is a It is a carnival of delight for those in the know, where small operations on tight budgets beguile the senses.
This short guide also extends down London Road to Brighton Open Market.
Too good just for locals, The Cleveland Arms near Blaker's Park is a family-run traditional pub with a light and bright conservatory and modernisations in all the right places. The food here is elevated 'pub grub' with an emphasis on home cooking and Sussex ingredients.
Starting at the pub at the centre of the hub, The Joker plays host to Lost Boys Chicken. Serving up New York-style wings and sauces, some stacked burgers (called "sandwiches" on the menu – those crazy Americans!) and serious sides, Lost Boys is the spot for friends who don't mind seeing each other get messy. Voted #1 in BRAVO best Pub Grub.
Some of the best vegan 'fast food' in Brighton is served at Smorls Kitchen in the Open Market. Handcrafted houmous, falafel pittas and jam-packed salad boxes are just a few things we can't get enough of at Smorls. They open their doors at 10 am and serve right through until 4 pm meaning you could pick something up for tea too!
Intimate, and lively with exceptional food and service, Kitgum is one of the culinary must-tries of Brighton. Combining recipes from Gujarat and East Africa and reimagining them with a European twist. This Preston Circus restaurant has an offering that's unique to the city. The food here comes as small plates and there's no doubt you'll be happy to sample more of the menu. The menu is beautifully balanced, offering 50/50 meat and veg dishes to not leave anyone out. Beverages are sourced (generally) from within a 20-mile radius and on warm days there are street-side tables available. 
Fresh local 'proper' produce is served at Cafe Rust on Preston Circus. Welcoming and homey, Cafe Rust is the perfect spot for a quiet morning coffee, a lazy Sunday brunch or a delicious lunch with friends. Inside, the stylist rustic interior steals the show as Brighton's most Instagramable cafe while holding onto a very unpretentious and approachable vibe.
A quirky little venue, Pizza 500 is definitely more than it appears to be with the small space packing a big Italian vibe. Serving home made pizza, as well as a good array of traditional Italian dishes, with their home made Italian sausage and gelato being a must.
Photo credit: Pizza 500 Facebook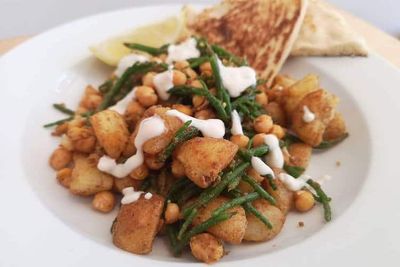 Green Kitchen - vegan cafe
Opening in 2016 Green Kitchen vegan cafe is the first devoted vegan venue in the Preston Park area, helping spread the growing movement to plant based diets out of the city centre. Serving a raved about full English through to lunch and early evening meals, with a special roast menu on Sundays.
Photo credit: Green Kitchen Facebook
Fatto A Mano at Preston Circus was the first of three to open for this very successful pizzeria. Pretty much always full, dining is close up – Italian style – with your fellow Neapolitan pizza enthusiasts.