Brighton & Hove Pride Guide | 4-6 August 2023 | brighton-pride.org
Brighton and Hove Pride is now arguably the UK's most popular and spectacular LGBTQ+ event. Over the years, it has expanded into a citywide festival embraced by businesses, bars, restaurants and residents of all persuasions.
The Saturday parade through the centre of Brighton is a myriad of colour and sound with protest, politics and equality at its core, and celebration in its heart. The main festivities run Saturday morning to Sunday night with live music, dancing and speech in Preston Park and a two-day street party in the city's Kemptown district (officially the 'gayest' per capita area in the country).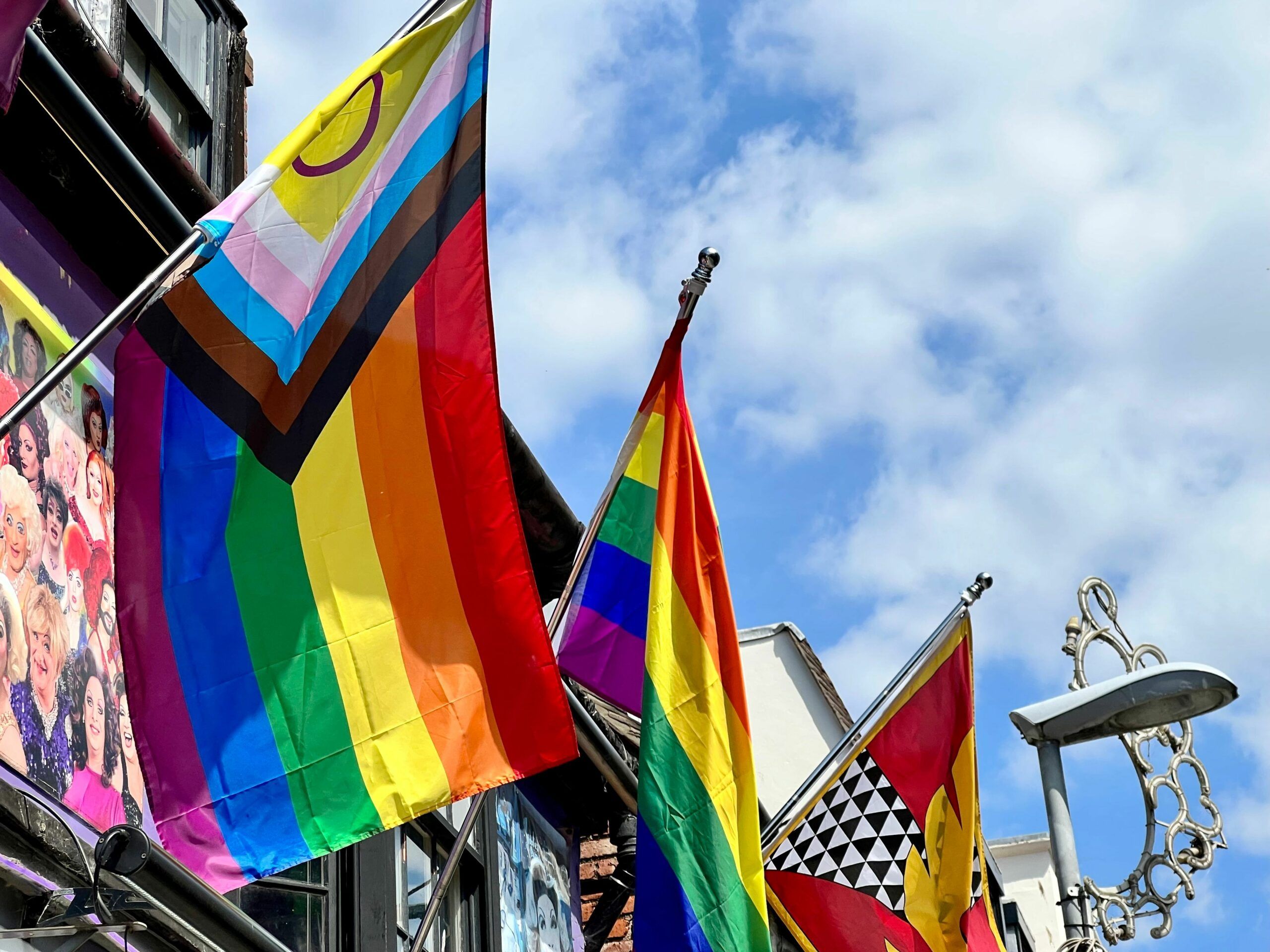 Most of the city's eateries are firmly in on the action. Brighton's restaurant scene is booming and they're ready to welcome foodies and revellers in need of a refuel.
Here's our pick of the tastebud ticklers simmering up sumptuous dishes over what's undoubtedly Brighton's most fabulous of weekends…
Arcobaleno
There's no place like Arcobaleno at Pride. The décor is decked out in rainbow patterns, pink neon signs offer queer messages, and ruby slippers stand proud on a wall. Known for their gay-focused cocktail menu (Mean Girls- and ABBA-themed creations have made an appearance). Over Pride weekend, there's a special Pride Cocktail and Brunch menu with their trademark Maltese twist. It kicks off at 9am on Saturday, moving on to an afternoon Pride Pool Party and BBQ then drag cabaret in the evening. And if it's a late one, you can top up your energy with their Recovery Brunch on Sunday morning. Read more about Arcobaleno here.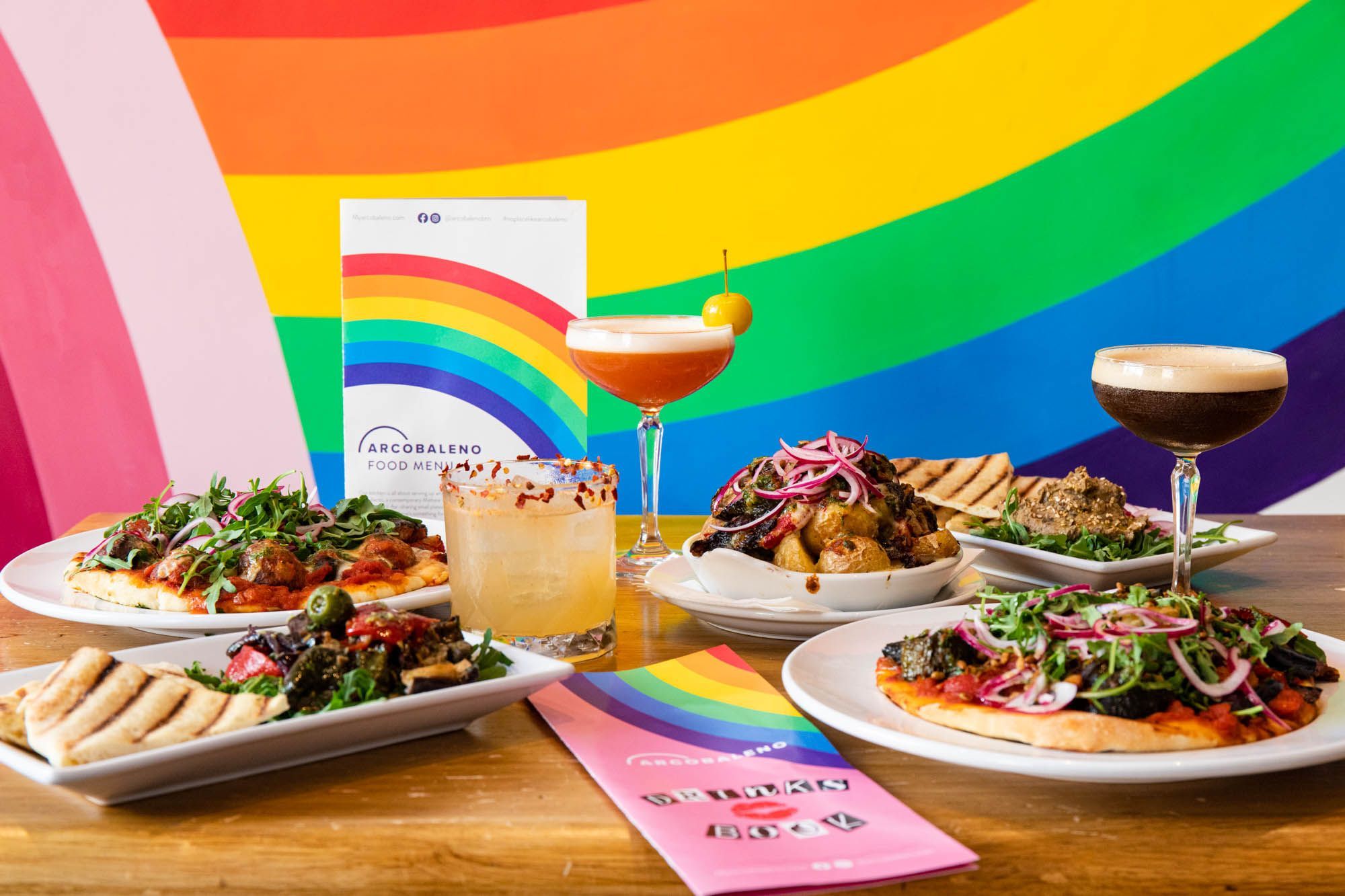 📍 120 St George's Rd, Brighton, BN2 1EA
📞 01273 752143
Plateau
The wonderful Plateau is a short skip from the Old Steine parade route, so after you've cheered, squealed and bopped alongside the floats, pop along for carefully curated small plates of delicious creations. If the sun shines, the south-facing stained glass windows beam colour into the space, and you'll know you must've done something good when you taste the divine dishes. The August menu shantays from bouillabaisse to warm crab salad, terrine to rock oysters. The doors are flung open from noon.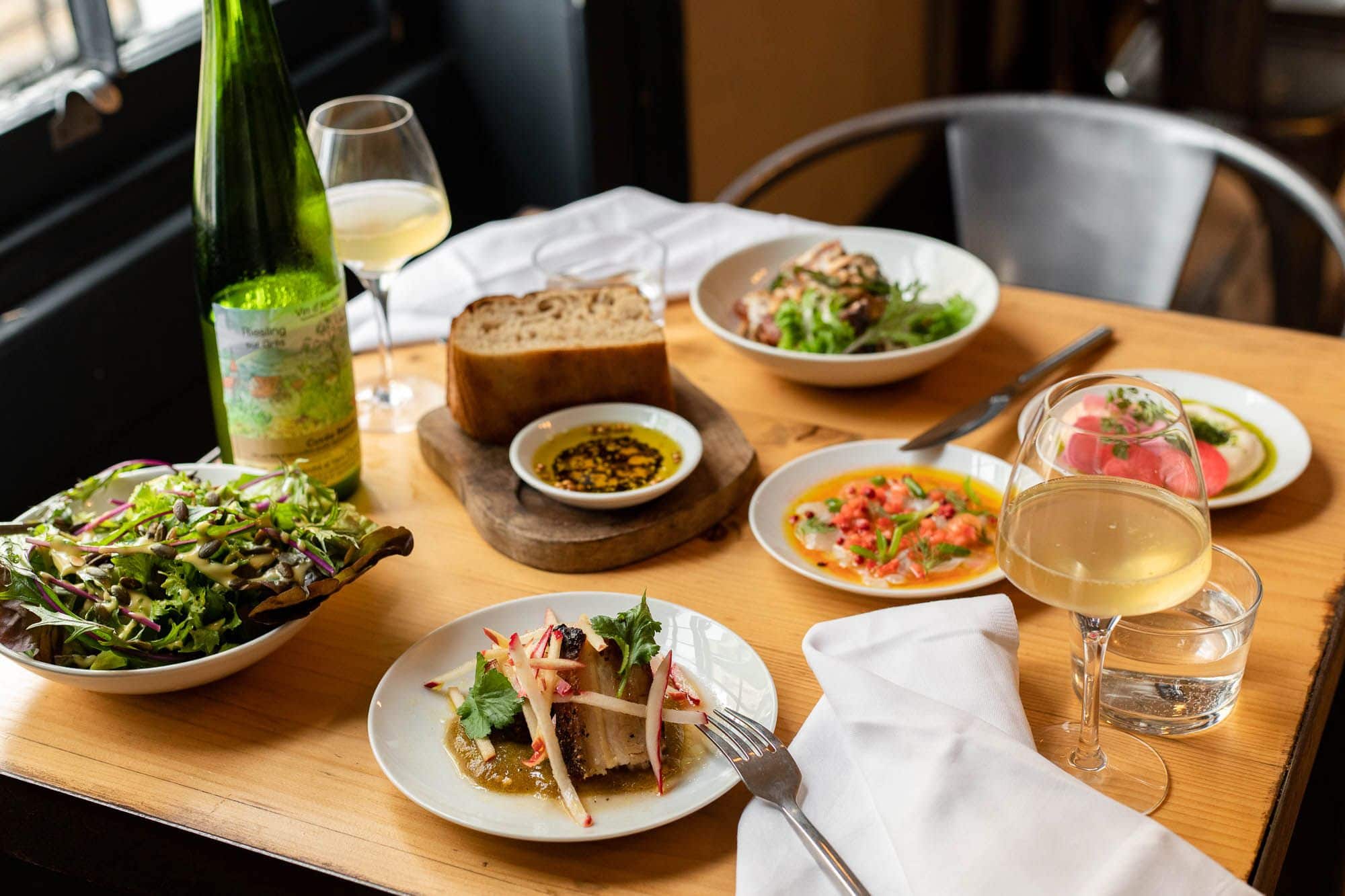 📍 1 Bartholomews, Brighton, BN1 1HG 
📞 01273 733085
Las Iguanas
They know how to party in Latin America, and Brighton's Brazilian, Mexican and Cuban-inspired Las Iguanas is being renamed 'Las IGaynas' for Pride Saturday. From 9-11am they're offering a pre-parade bottomless brunch with 2-4-1 'Carnival Queen' cocktails and DJs spinning the tunes at the specially-erected outside bar. Located opposite Brighton's LGBTQ+ The Ledward Centre, it's a good place to kickstart the day before watching the parade, or indeed after, where it continues all day. Dishes range from chicken tacos to Bahian jackfruit curries.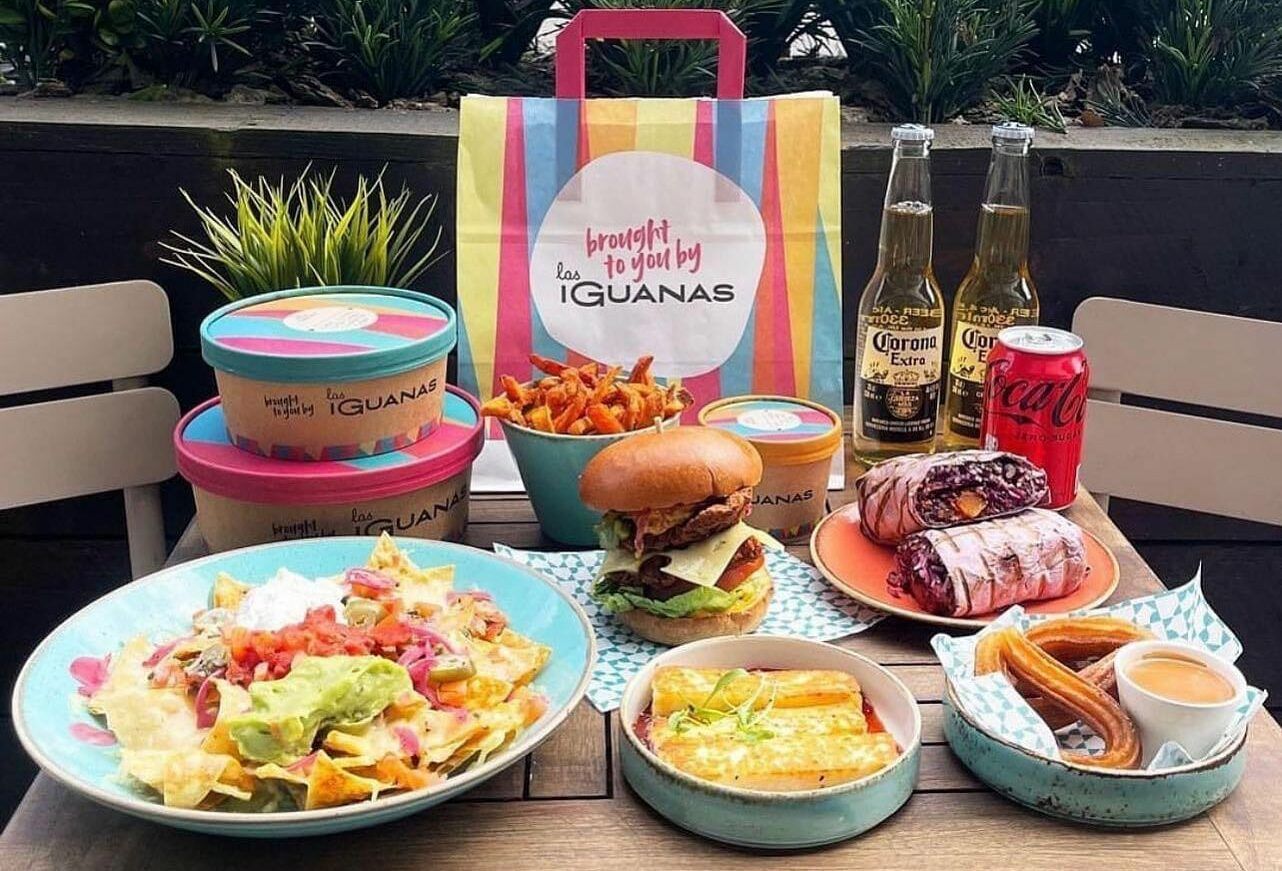 📍 7-8 Jubilee Street, Brighton, BN1 1GE
📞 01273 063264
Red Roaster
For a Manhattan-style Sex and the City-esque brunch right at the entrance to Brighton's Gay Village, this is the place to be seen. It's sophisticated, suave and sumptuous and they serve some of the best coffee this side of Hollywood. Over the entire Pride weekend, Friday-Monday from 10am-4pm, they'll be serving up colour-changing mimosas, 'Golden Gaytime' pancakes, glitter hot dogs, Pride party tunes and tons of fun, as part of a bottomless brunch. Outrageous outfits and glitter are strongly encouraged! The team go all out on décor, and last year was a sell-out, so booking is strongly recommended. But if you're passing by, do try your luck! The brunch is also available at the new Red Roaster location at Brighton Dome, where the camp echoes of ABBA winning Eurovision back in 1974 can reportedly still be heard!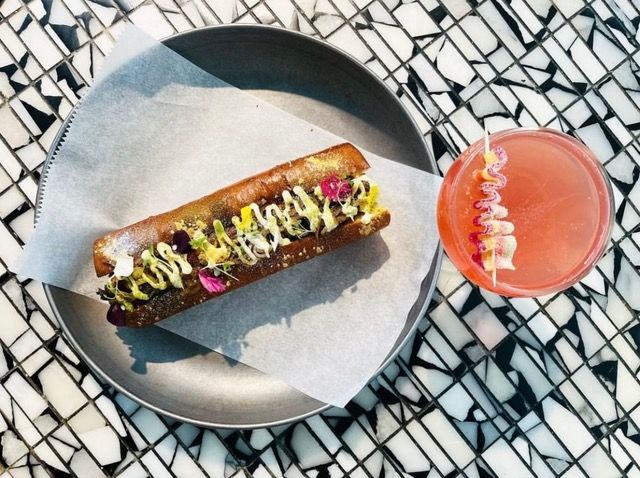 📍 1d St James's St, Brighton BN2 1RE
📍 Brighton Dome, 29 New Road, Brighton, BN11UG
📞 01273 686668
Tutto
As chic as it gets and tasty as an Italian saying 'sexy', Tutto is Brighton's swanky city centre surprise, where old-fashioned glamour meets forward-thinking fabulousness. Housed in an old bank with dining options at the long, divine bar and front viewing tables – where the Pride parade will pass – Tutto is ready to help you indulge (Tutto means 'everything', after all). The team is enhancing its beautiful décor for the Big Weekend with Pride decorations and is offering a complimentary glass of Prosecco for all Pride lunch bookings, and they sure know how to lunch.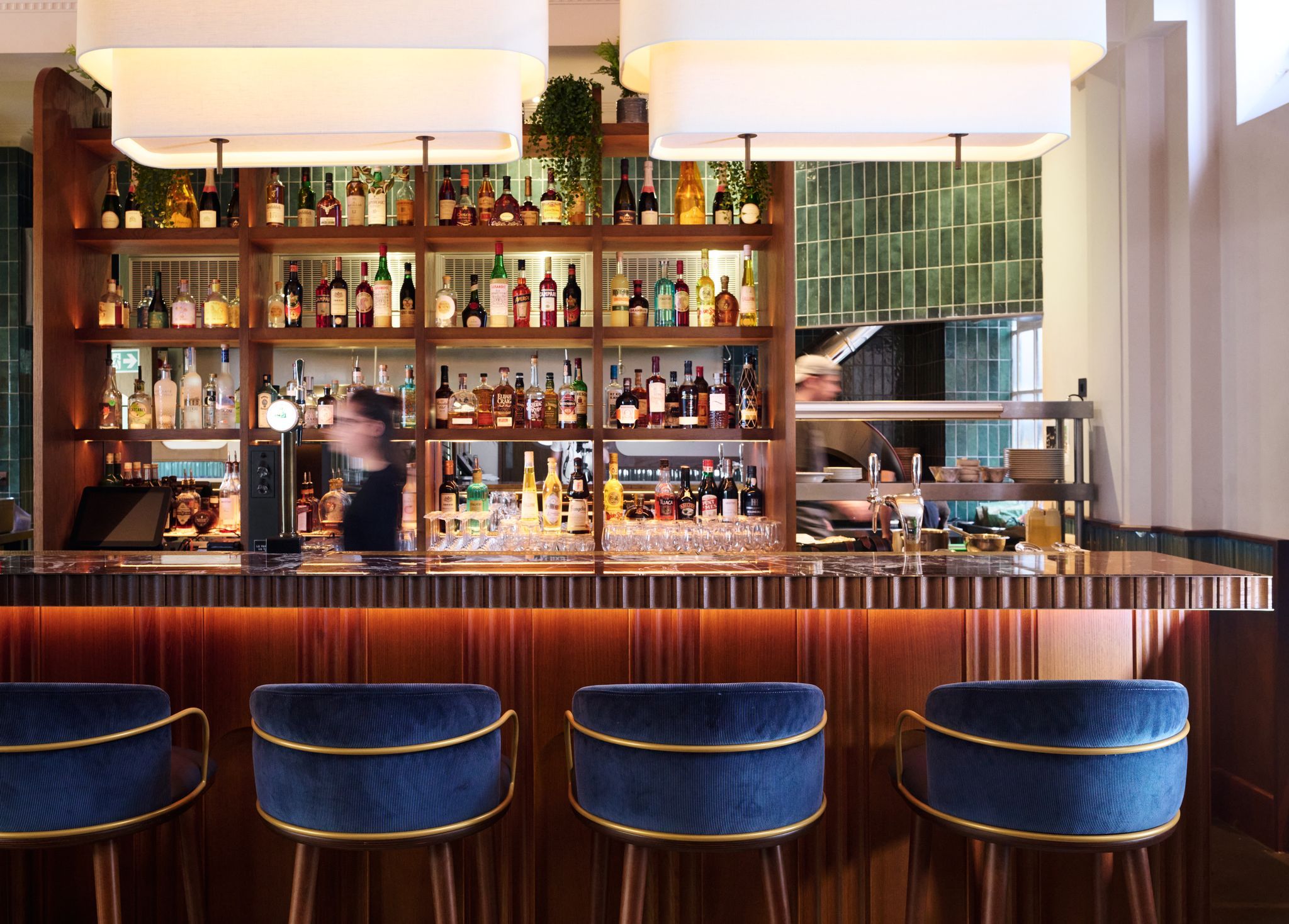 On our recent visit, we filled up on everything from Salt Baked Celeriac to some of the best Calamari we've ever tried; a Chicken Milanese with fennel to a giant ravioli, filled with pea, spinach and mascarpone with runny egg yolk that spills out onto the plate. It's heaven, and you deserve it. A top tip to drive you forward for the party ahead is their Café Negroni, which adds Café Borgetti to the gin and Campari favourite and is served in a simple glass with a perfectly square chunk of ice with an engraved 'T'. You can thank us later.
📍 20 – 22 Marlborough Place, Brighton, BN1 1UB
📞 01273 031595
Salt Room
Slap bang on Brighton seafront, and with direct views of the Pride Parade, The Salt Room's Terrace is the place for a brunch Brighton Pride Party. Kicking off at 10:30am on the Saturday, there's a special Pride drinks menu and Pride-related food, including delicious macarons, tuna tartare nachos and a Battered Cod Dog. All this is ramped up by uplifting DJ sets and drag entertainment. They're also donating £5 for every ticket sold to The Rainbow Fund. To find out more and book tickets, click here.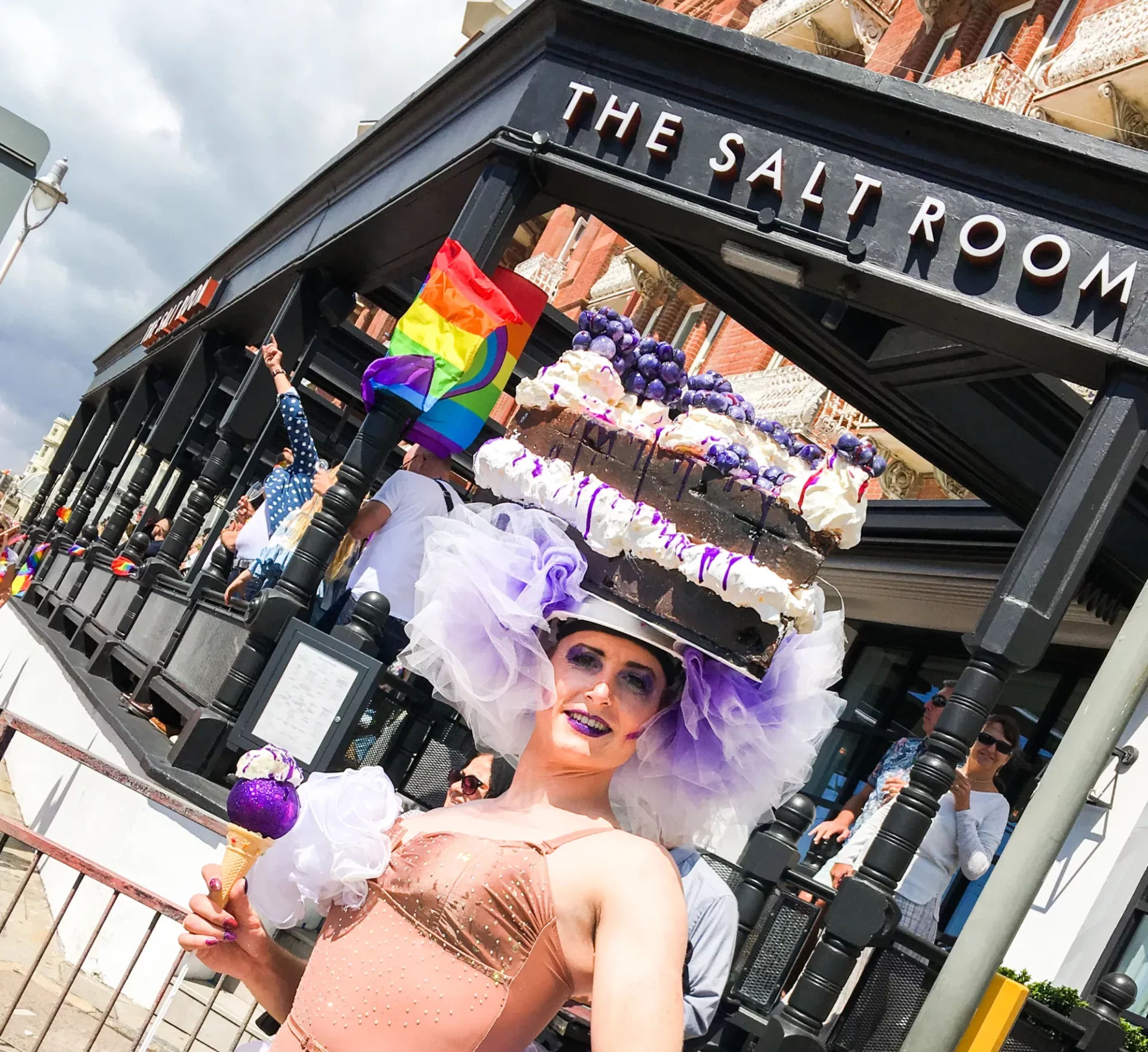 📍 106 King's Rd, Brighton, BN1 2FU
📞 01273 929488
MEATLiquor
Right on the Pride Parade route, MEATliquor is a great place for – you guessed it – meaty burgers, great cocktails and other boozy delights. The Brighton branch is a dark, cool and psychedelic experience, and the menu has burger options including 'Dead Hippie' and 'Dirty Chicken Cheese'. They are good, very good, and the enormous array of sauces to choose from enables you to stamp your tongue on what you love. Veggie and vegan options are available, too, of course. If you're brave enough, try their Ankle Twister cocktail, made with Wray and Nephew Overproof Rum, Skippers Rum, Aluna Coconut Rum, Jagermeister, Absinthe, Sherry, Colada Cordial, lime and a splash of tropical Red Bull. That'll kickstart a memorable Pride. Perhaps.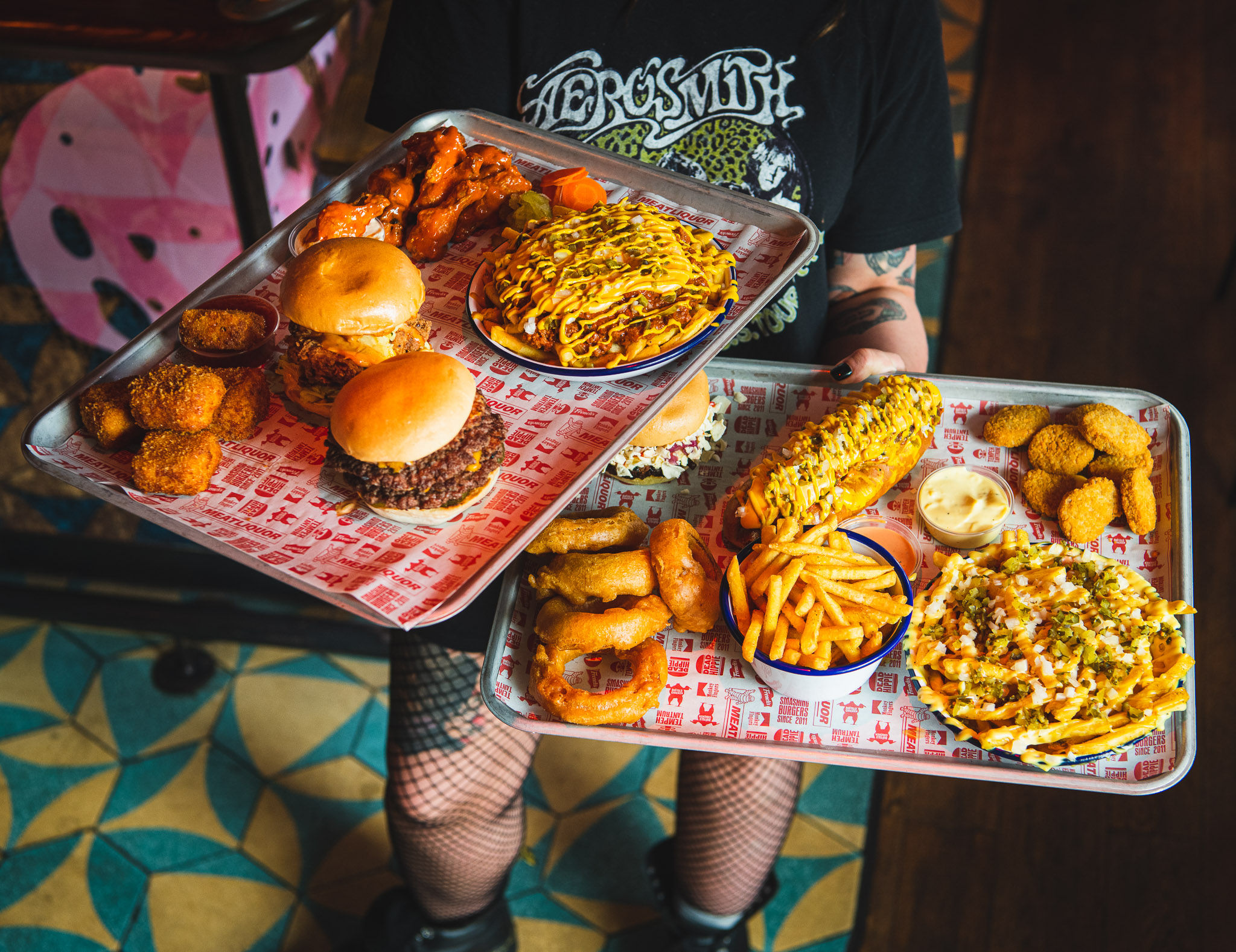 📍 22 – 23 York Place Brighton East Sussex BN1 4GU
📞 01273 603402
Bar Broadway
If you can sing the showtunes and adore treading the boards (or pretending to) then this musicals and cabaret-focused pub-bar is your 'On Broooooadway' spot. Refurbished inside and out, it's rip-roaringly good fun and, at Pride, this spills out onto Steine Street, where the team is fueling party-ready bellies with burger and drink deals, right at the entrance to the Village Street Party.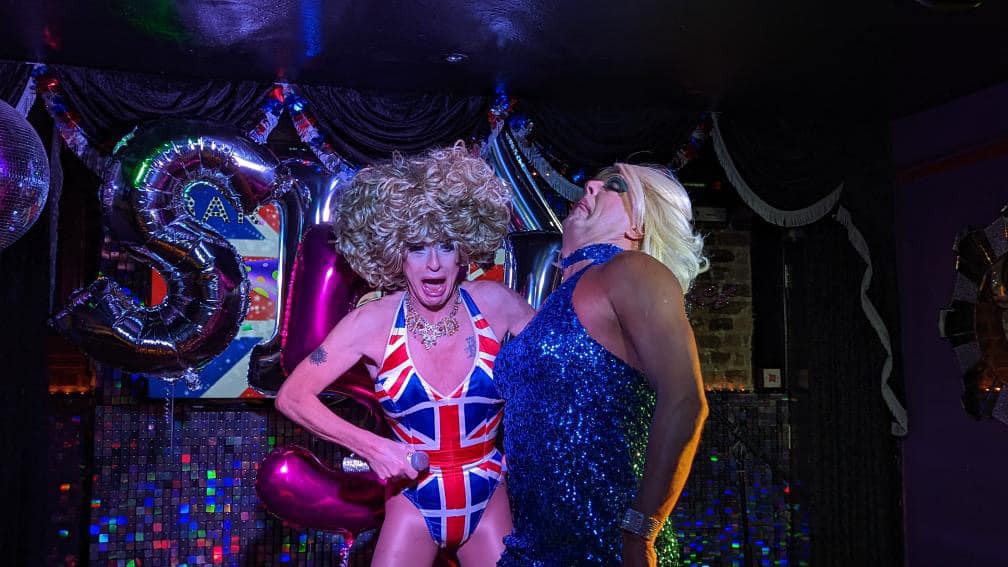 📍 10 Steine St, Kemptown, Brighton BN2 1TY
The Actors
Step onto the stage and bring out that drama queen! But do try not to be too annoying at this place, because it's a beautiful venue and deserves applause. Situated stage left of the Pride Parade route near the Old Steine, The Actors offers a free, separate street party. There are DJs, great drinks and delicious pizzas from famed Brighton institution, Pizzaface from 3:30pm on Pride Saturday. A plethora of vegan and veggie pizzas are available, including the popular Nduja Wanna – to complement more traditional meat and cheese options, with the Vesuvius hotting things up.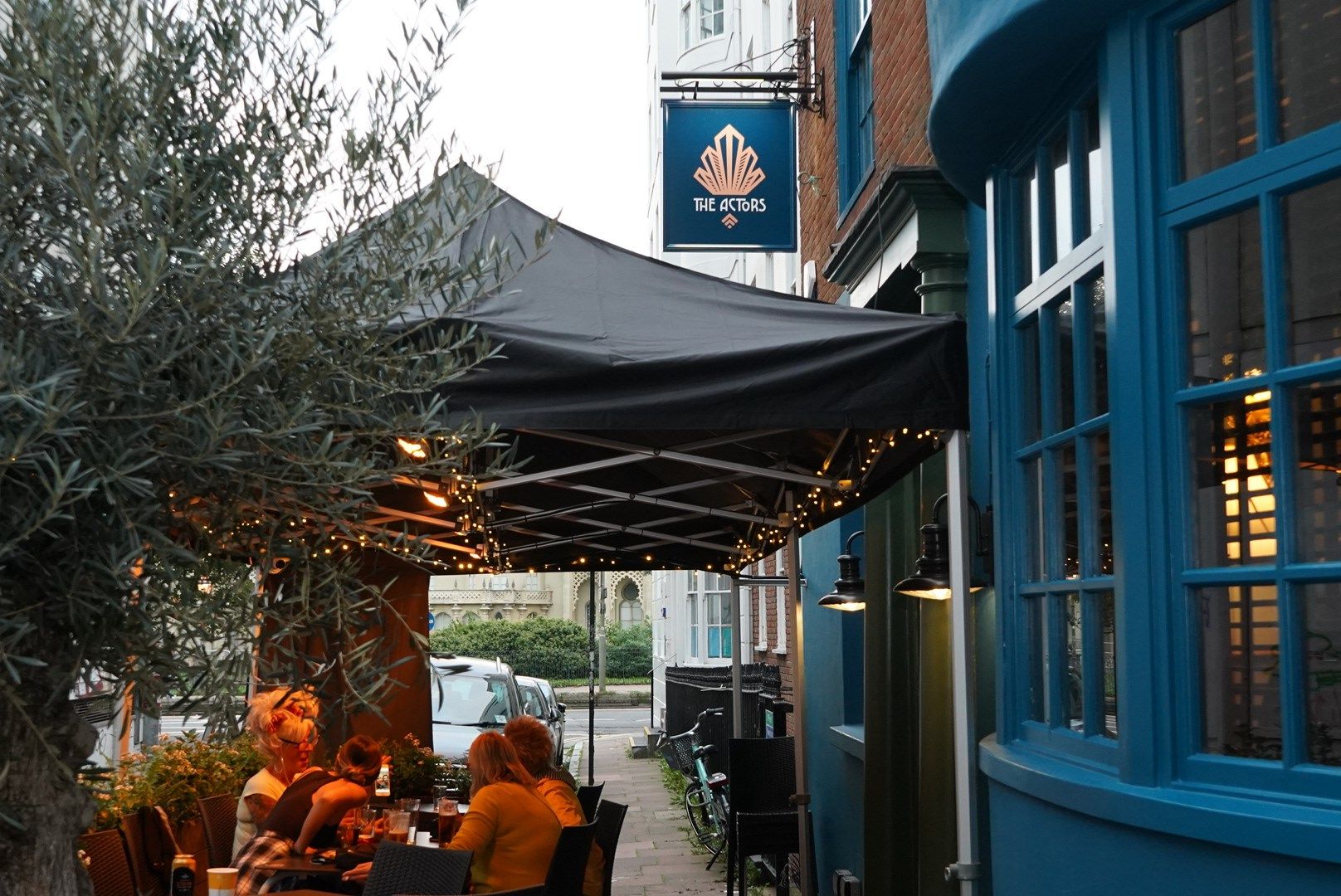 📍 4 Prince's St, Brighton, BN2 1RD
📞 01273 570028
Charlie's Grinder
Brand new to the city scene is Charlie's Grinder – a tongue-in-cheek reference to the popular gay dating app. It's a sober coffee shop, and creative space, predominantly pitched at gay men. Queer history pieces and artworks adorn the walls. On Pride Saturday, they'll have DJs and flavoured iced coffee, teas and goodies including camped-up cakes! Charlie's Grinder is located inside the Popstacular clothing shop.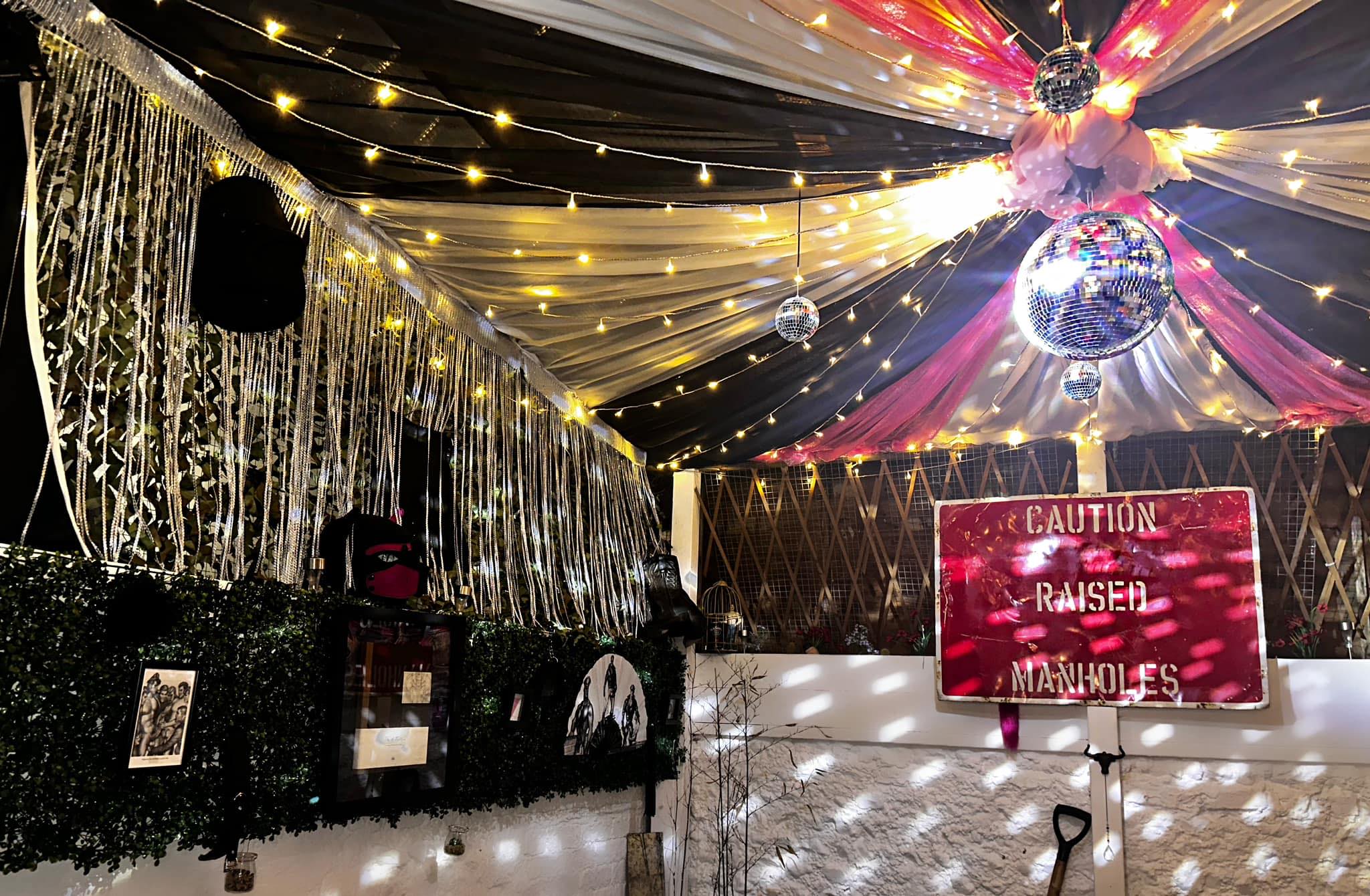 📍 Popstacular, 96 North Road, Brighton, BN1 1YE
💻 Instagram: @charliesgrinder