'A place I felt completely at home.'
When it comes to city centre locations, it's hard to beat House restaurant. Slap bang in the middle of everything in East Street, it's tucked away from the hustle and bustle yet just moments away from shops, the sea and the verdant tranquillity of the Pavilion Gardens, one of Brighton's prettiest green spaces.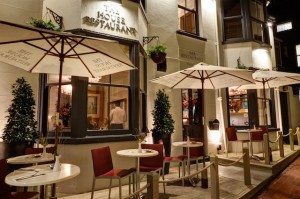 House is a curious place, imbued with a lot of olde worlde Brighton charm and family run as an independent bistro. The building is a converted double-fronted Victorian residence set over two floors with dining rooms that come off a central staircase. The place has been kept in its previous state as a residence, hence the name House.
The restaurant has the added advantage of having a lovely front terrace, which is a great mix of sun trap and shade, depending on your preference. Service is friendly but swift and there's a sense of the restaurant being a well-oiled machine, a place well versed in catering to locals and visitors alike. Reputation means a lot to the owners of House, who state this clearly on their website, and the reviews House receives suggest they are getting this right, time and again.
The food menu is broad ranging, and on a Sunday it's possible to have a traditional roast or something from the decent à la carte menu, which widens one's options considerably.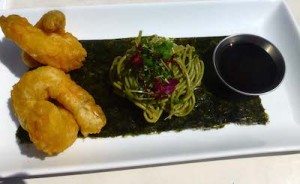 There are seven starters ranging in price from £5.50 to £7.95. Dishes are primarily British but with a few global influences thrown in for good measure. In addition to a House special starter of smoked salmon roulade and poached egg, there are shredded confit duck rolls with a sweet plum dip, as well as king prawns tempura on green tea noodles, sushi ginger, seaweed and toasted sesame seeds.
It was a gorgeous sunny day and my friend I chose a table outside in the middle of the terrace. She opted for the king prawns tempura for her starter, whereas I went for the pan fried wood pigeon breast with chicken liver parfait on garlic focaccia, toasted honey walnuts, waldorf salad and walnut dressing.
Both starters were excellent and had been beautifully presented.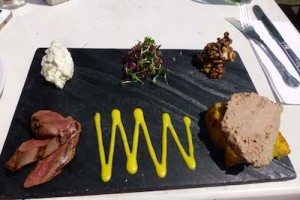 My friend loved her prawns. She said the batter was light and crisp, and the cool green tea noodles were perfect for a warm day, not too filling and with a fragrant piquancy from the ginger, seaweed and sesame seeds. The dish looked stunning, and came with a small bowl of soy dipping sauce, to help bring all the flavours together.
My wood pigeon breast was perfectly cooked and had a robust, earthy taste. Pigeon can be quite tough if overcooked, but this wasn't the case here. The taste was well matched with the chicken liver parfait, which had an equally bold flavour but was light and creamy and delicious spread liberally on the garlic focaccia. I would have preferred a tad more focaccia but in the end was glad I hadn't had more, as my appetite might have been ruined for the rest of the meal.
With such intense chicken and pigeon flavours, the deconstructed waldorf salad was an interesting, refreshing balance. There was a small pile of sweet toasted walnuts, a pile of creamy appley salad and a small heap of micro leaves. It all looked fantastic on the black slate tile on which it had been served, especially with the big yellow zigzag of mustard dressing.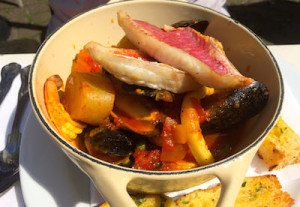 For our mains my friend and I made two very different choices, yet again. I was tempted to have one of the steaks, which House restaurant is reknown for, but as it was a Sunday I went for a traditional roast beef.
My friend, who eats fish but not meat, chose the "House Bouillabaisse" seafood stew, which comprises king prawns, mussels, squid, red mullet fillet and new potatoes in a tomato and saffron broth, served with garlic focaccia.
As with the starters we were served promptly and both dishes looked fantastic. My friend's bouillabaisse was in a big bowl, which looked very rustic and French, and it was jam-packed with seafood and a sizeable fillet of red mullet sitting on the top. She seemed to thoroughly enjoy the dish and even ate the garlic focaccia dipped into the saffron and tomato broth, which was pioneering given that she doesn't usually eat wheat.
My roast came served with goose fat potatoes, seasonal veggies and a large Yorkshire pudding.
The meat was divine.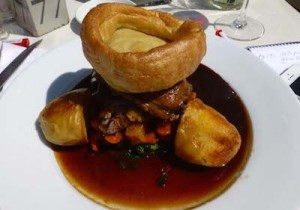 The charming manageress, who looked after us so well during the meal, had asked how I wanted the beef cooked and I'd requested medium – and that was exactly what I got. It was great to be asked my preference, as it's not often one can do that with a Sunday roast.
House restaurant is clearly a place that knows how to handle meat, as well as seafood, and this is a good testament to the skill in the kitchen.
After our main courses we decided to take some time for a breather. Neither of us had any urgent errands to run, so we whiled away a considerable amount of time chatting, sipping a glass of wine and enjoying the sunshine.
It was a very pleasant experience.
Once our starters and mains had had a little time to digest, we both made a beeline for the tropical fruit pavlova with coconut ice-cream Wow, what a dessert!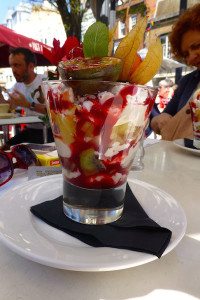 Fruity and creamy with moments of sharpness and then sweetness.
I felt transported back to childhood days of being given a towering knickerbocker glory and feeling as if all my Christmases had come at once.
The coconut ice cream really brought the 'tropical' taste into play and my friend and I both agreed it was a wonderful addition to the dish.
Three and a half hours after first sitting down at our table, we finally got to our feet to leave, reluctant even then to make a move.
House restaurant may be named after the building it occupies but for me the name has an extra meaning – it's a place I felt completely at home.
See the listing for The House Restaurant Brighton