Terre à Firma Food
Stepping into Terre à Terre feels like you're supporting a true Brighton establishment. It's been serving up innovative vegetarian food since before the Pavilion was built. OK, that isn't true, it was actually born way back in 1993, but it's been a stalwart of the city's fine restaurant scene for so long, that it almost feels like it. Its longevity is down to a series of musts and a smattering of over-and-above: the service is great, the atmosphere is warm and the food is tasty. But the team also goes that extra mile with excitingly beautiful creations that bring a plate to life and result in that lovely over-dinner 'wow'.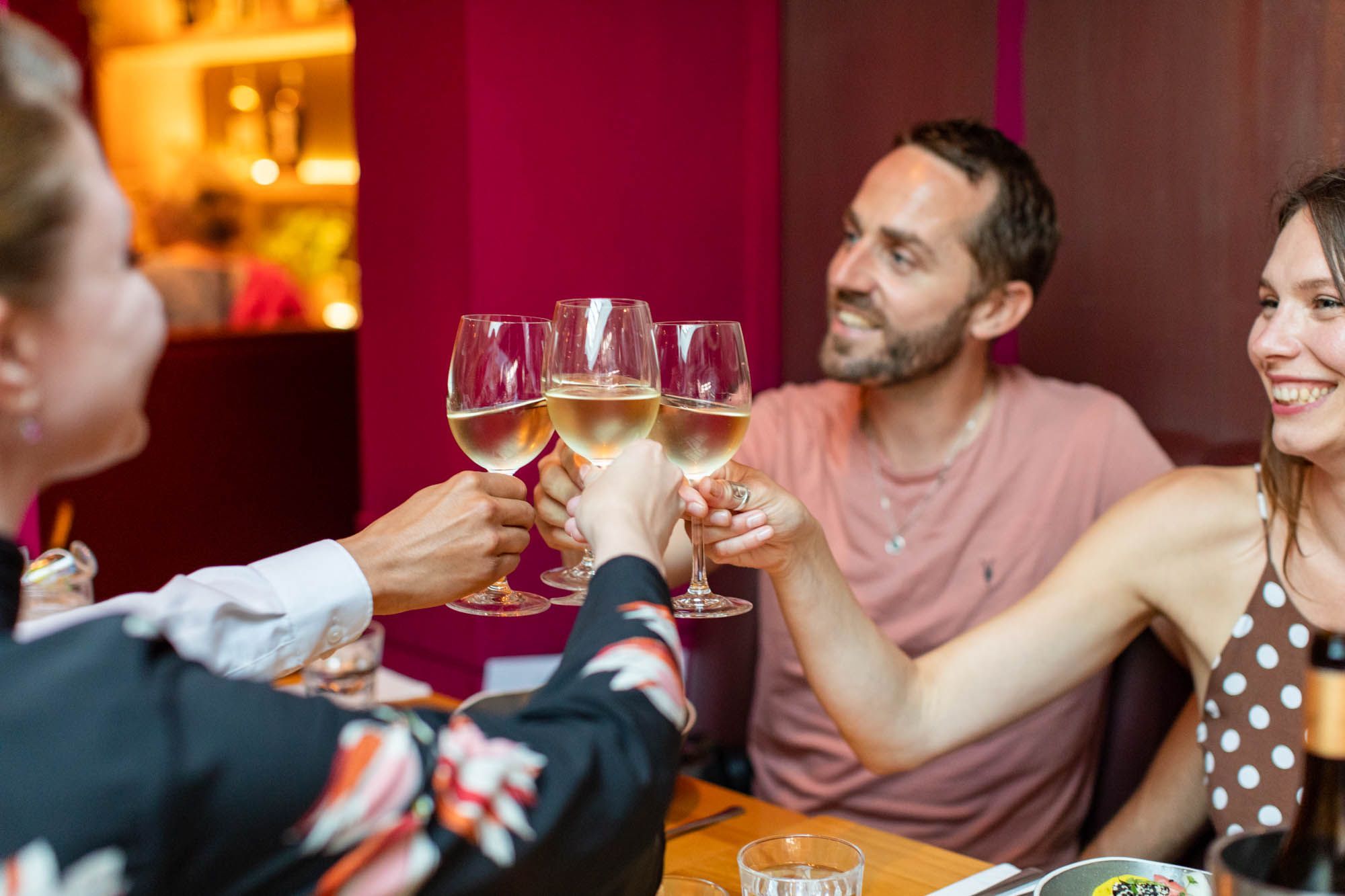 Terre à Terre is also currently serving up a selection of wallet-friendly offers, which might permit a treat as the cost of just about everything else skyrockets: Terre à Verre, which is a tapas and chips lunch-only deal available between noon and 6pm is £26 per person, including a carafe of wine. The non-alcoholic version is £22 per person (both options are only served in multiples of two). It's worth checking their homepage, which lists all of the current deals.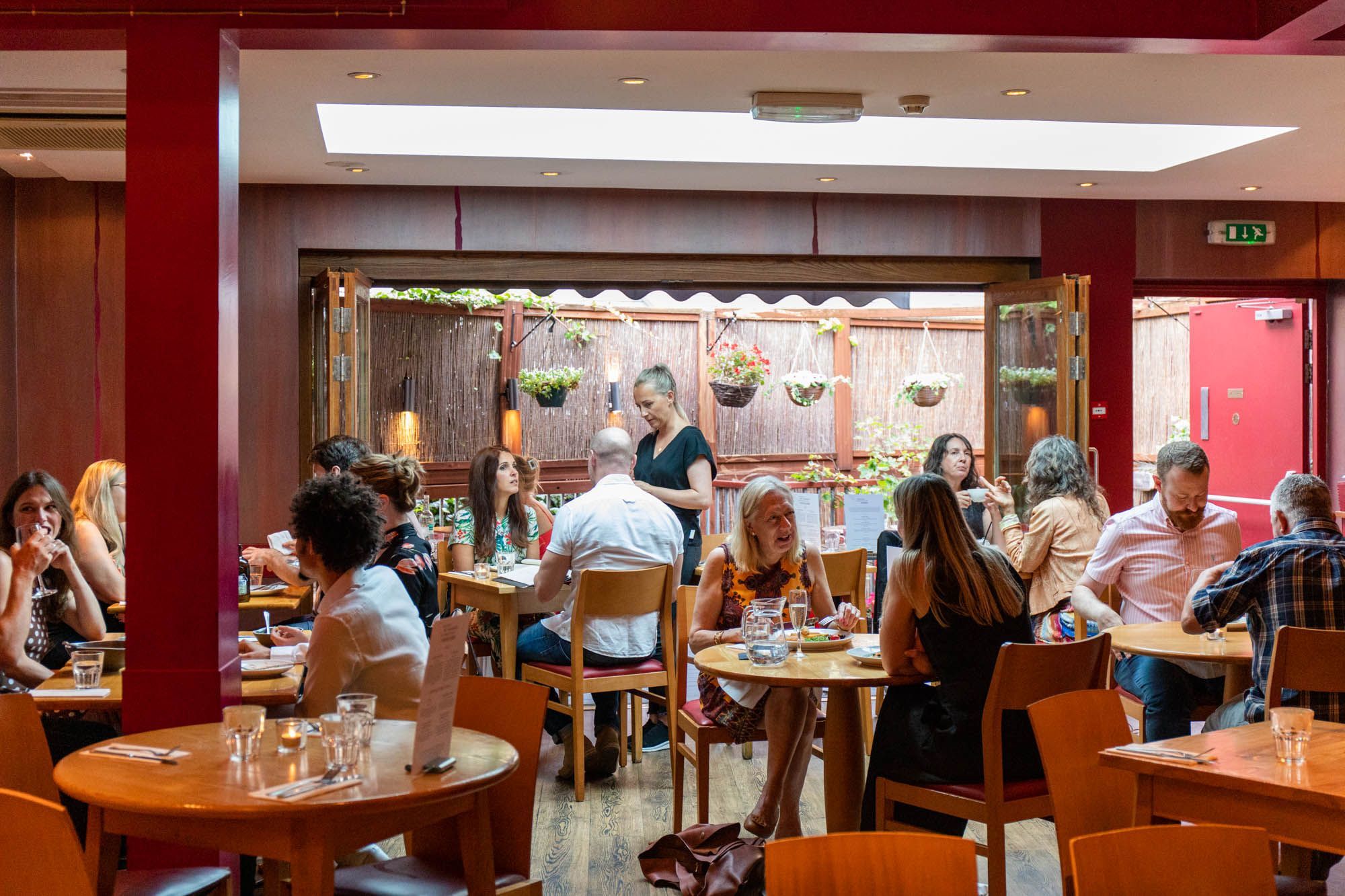 But back to the blog. Terre à Terre's burgundy walls and simple wooden seating serves up comfort and the shelves are stocked with wines, spirits and cookbooks. It's like sitting in a friend's fancy kitchen from which you want to steal décor and dish ideas. The outdoor rear terrace is compact but cute and something of a secret escape when it's warm. The food, however, is where Terre à Terre shines brightest.
A Star is Corn
Food quality is taken seriously, of course, but many of the dish names are tongue-in-cheek fun. The tapas array offers plates with brilliant names such as 'A Star in Corn' (deep fried corn cakes with a paprika spice bang) and 'KFC' (Korean fried cauliflower, rolled in tamari black vinegar molasses and sesame and about as far up the delicious scale you can get away from the American chain). It all adds to the friendly, welcoming vibe as if you're in on the in-joke.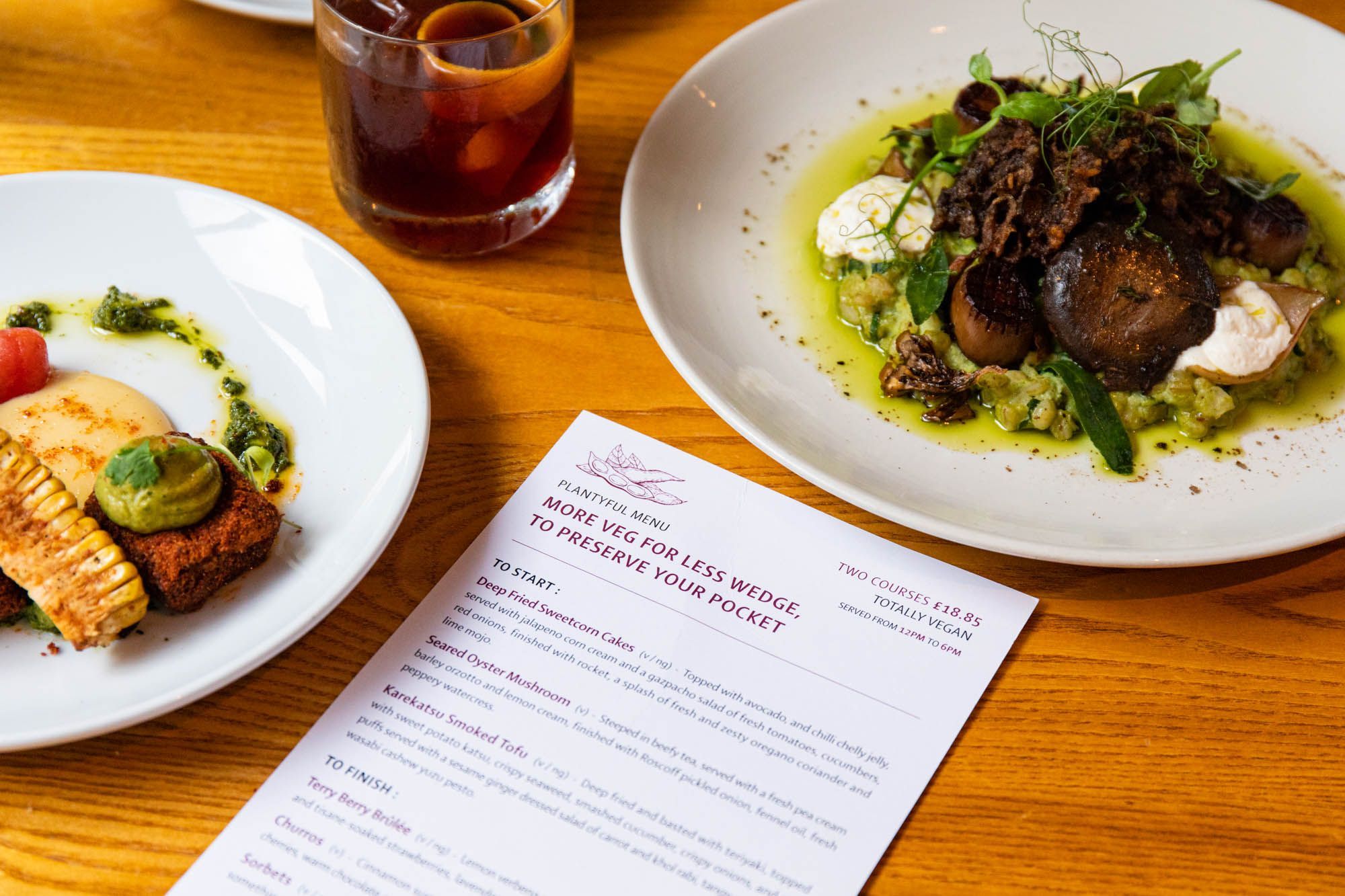 Star-ters
We gobbled up the appetisers with gusto, after an appetite-whetting munch on some wasabi-crusted cashews and cocktails (more on those in a minute). Topping our mouthwaterers was the Aubergine Dengaku (also available as a main) which is brilliantly presented as a rounded slab of succulent miso-marinated aubergine and slightly spicy-yet-sweet ginger tahini.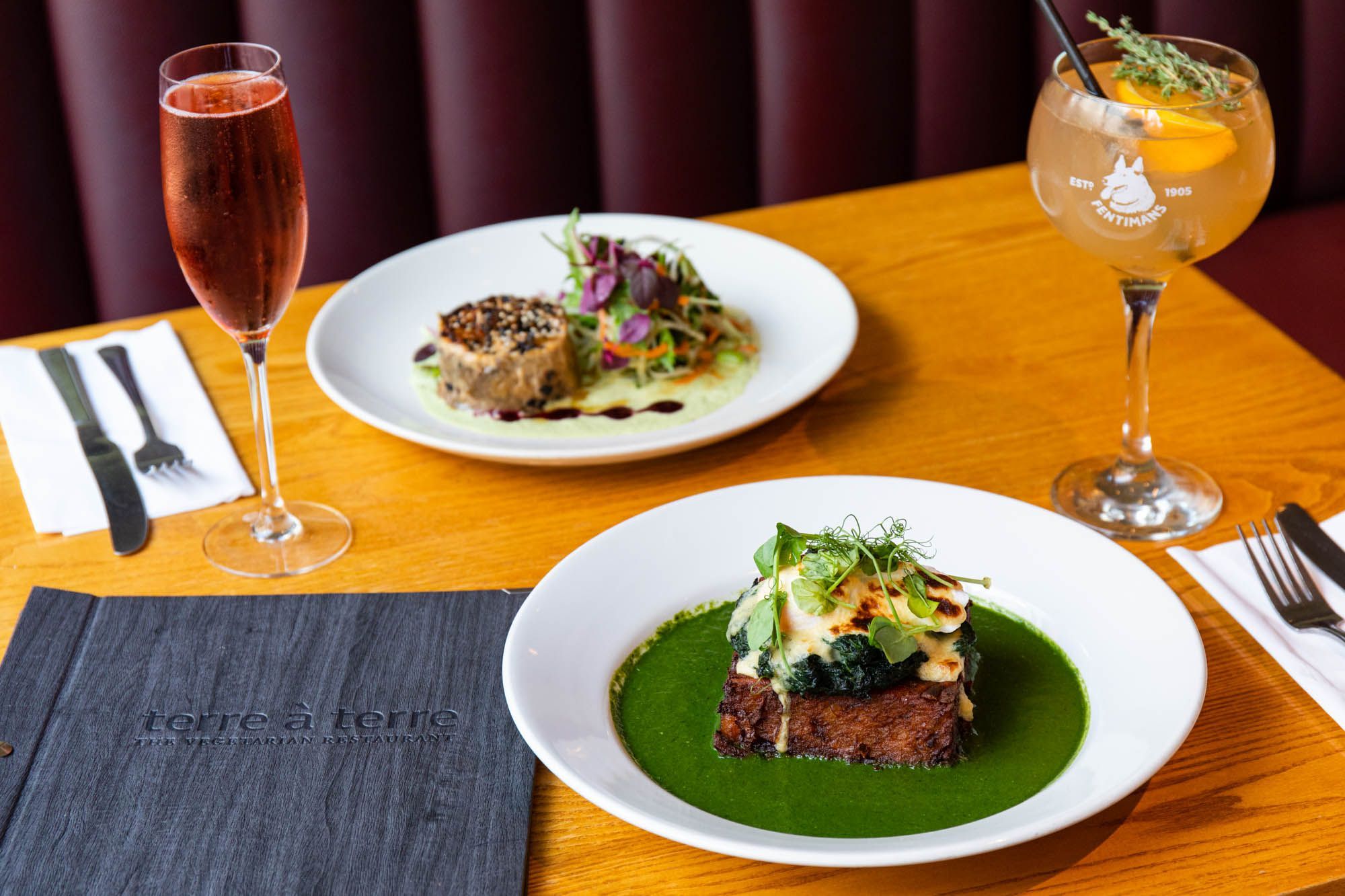 A hand-clasp of salad consisting of sesame ginger dressed carrot and kohlrabi props up a puffed rice wakame cracker shard, adding much-needed crunch to the gooey aubergine, and the whole shebang rests gently on a plate-sized smear of edamame, wasabi and yuzu pesto.
It's clear the chefs know how to complement textures and flavours and plate them playfully. But of course they do, this is Terre à Terre.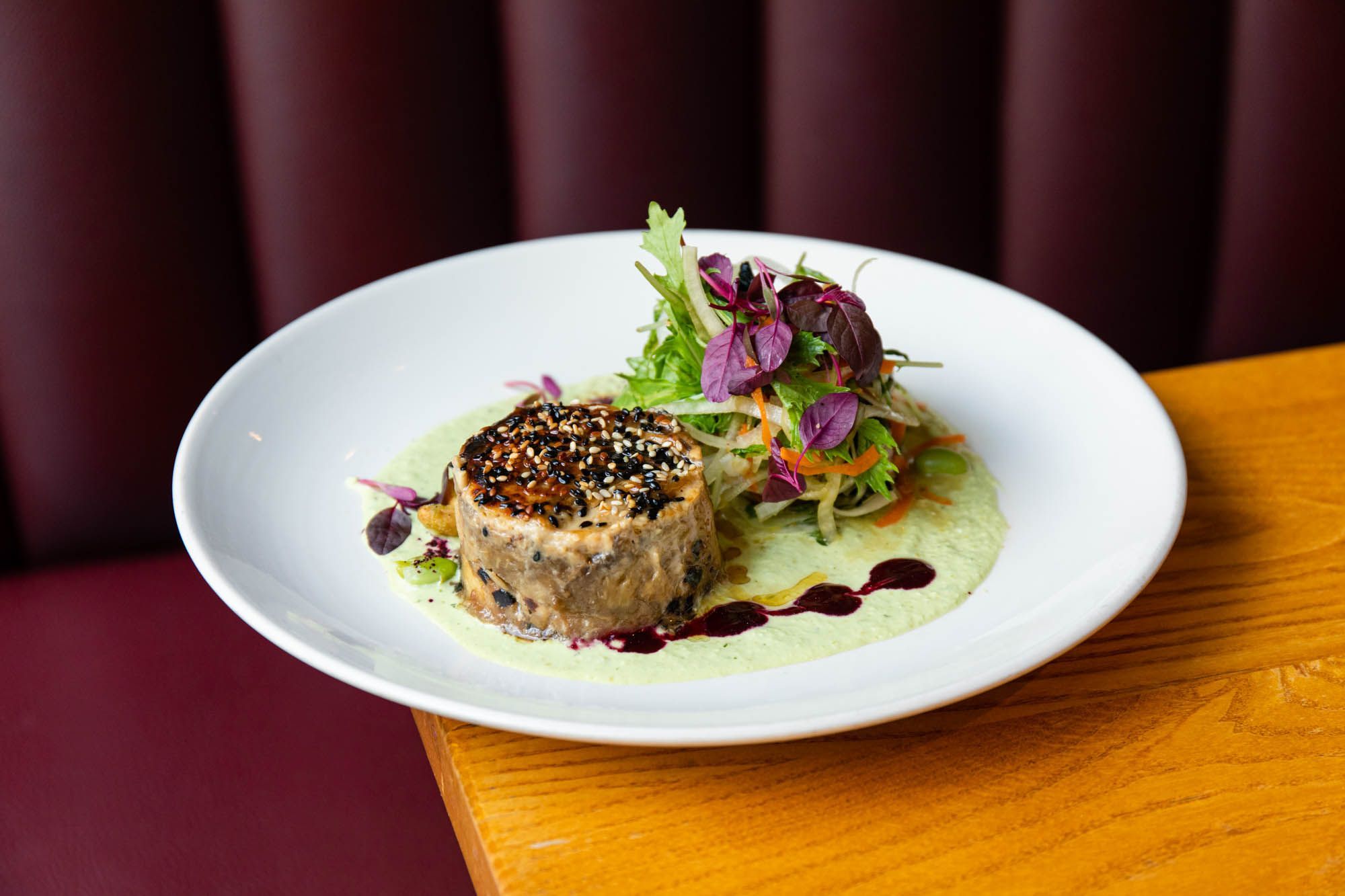 Staying Asian-inspired, our other starter of Hoisin Sesame Tofu was like a potpourri of colour, with generous cubes of tamari-soaked tofu Jenga-stacked with yellow pickled lotus root, ginger and daikon (think Asian radish). It's one of those 'looks too good to dismantle' until you dive in and destroy it to sample the tantalising sharpness of the pickled elements against the deep sweetness of the tofu. A joy.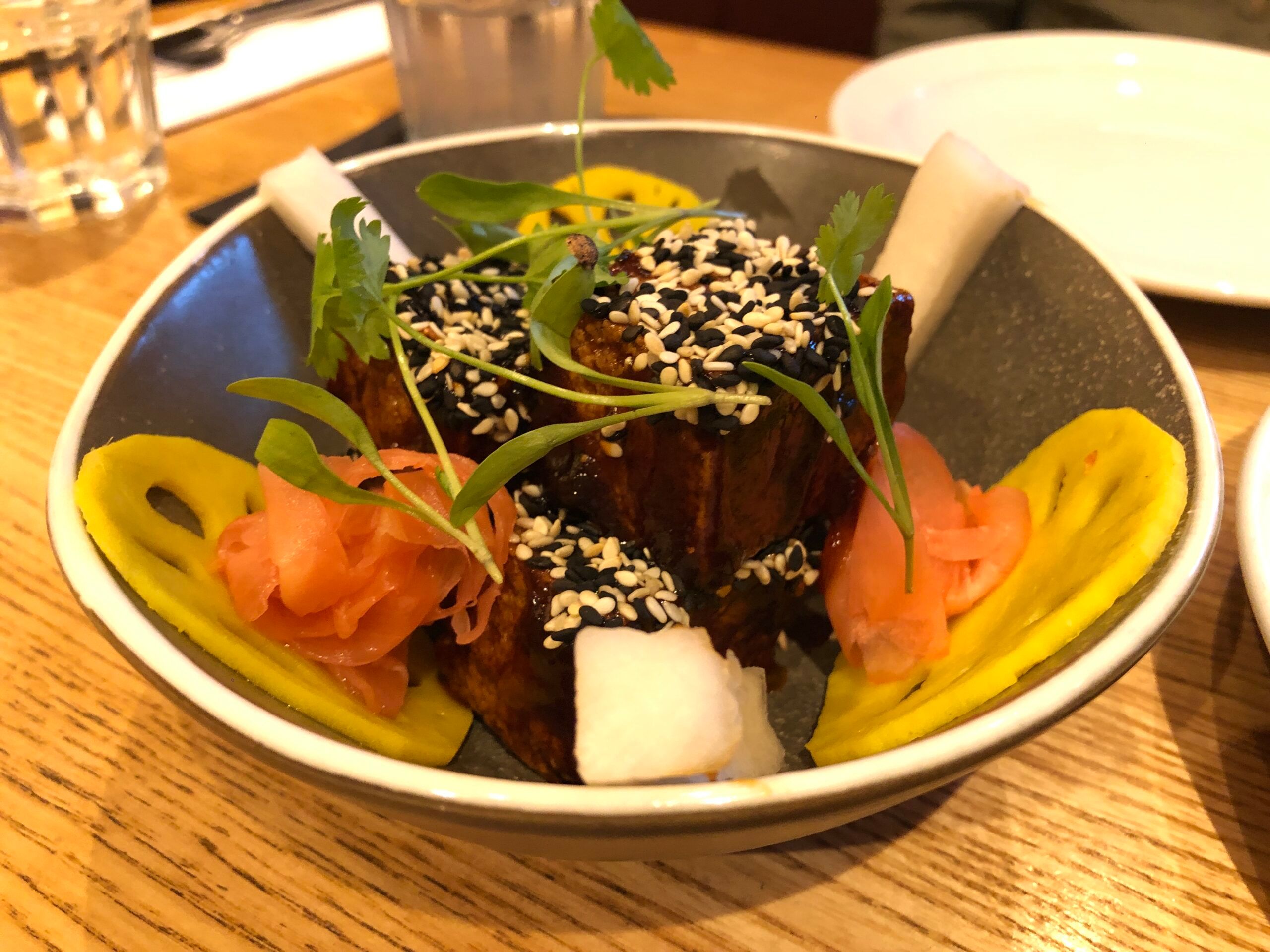 Bao Wow
We didn't even make that subheader up, for the first main dish we tried is indeed called the Bao Wow Glazed Stuffed Buns. Arriving in a traditional Asian bamboo steamer, the buns are stuffed full of Szechuan spring onion and ginger-braised halloumi, creating something of a Chinese sandwich that you can add relishes to, to taste. Alongside them is served kimchi cabbage, Lapsang Souchong pickled watermelon, and miso chilli sauce. Get dolloping and see what works for you. All of it did for us. (A vegan version is available.)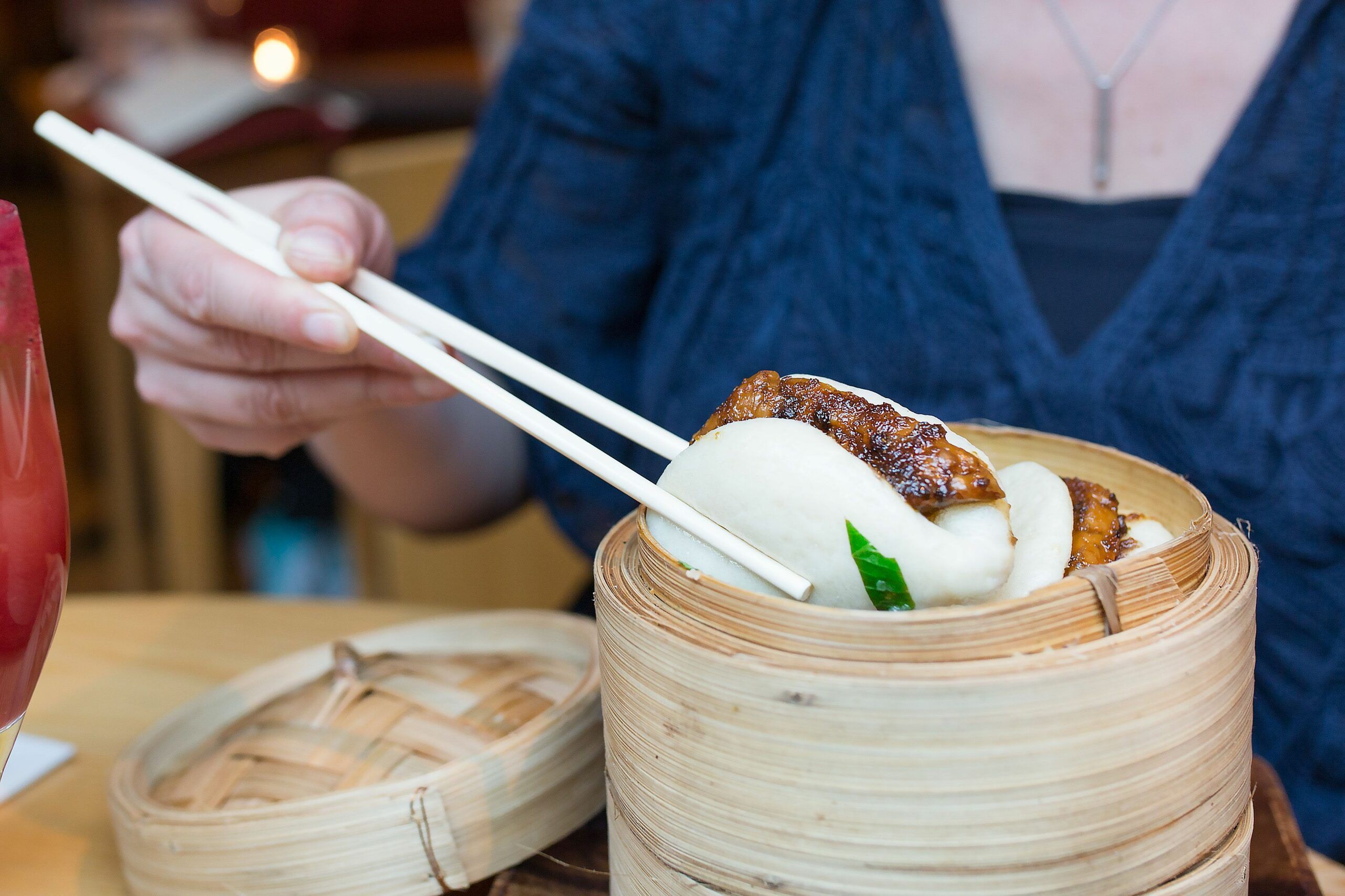 Stepping away from the Asia-inspired options, we also tried Rosti Revisited, called so because it's the Terre à Terre take on the classic, topped with sautéed buttered spinach, cream, garlic, parsley and nutmeg, and a soft poached egg with toasted mustard rarebit that oozes out over the base of fried potato for the finishing flavours. (Again, a vegan version is available.)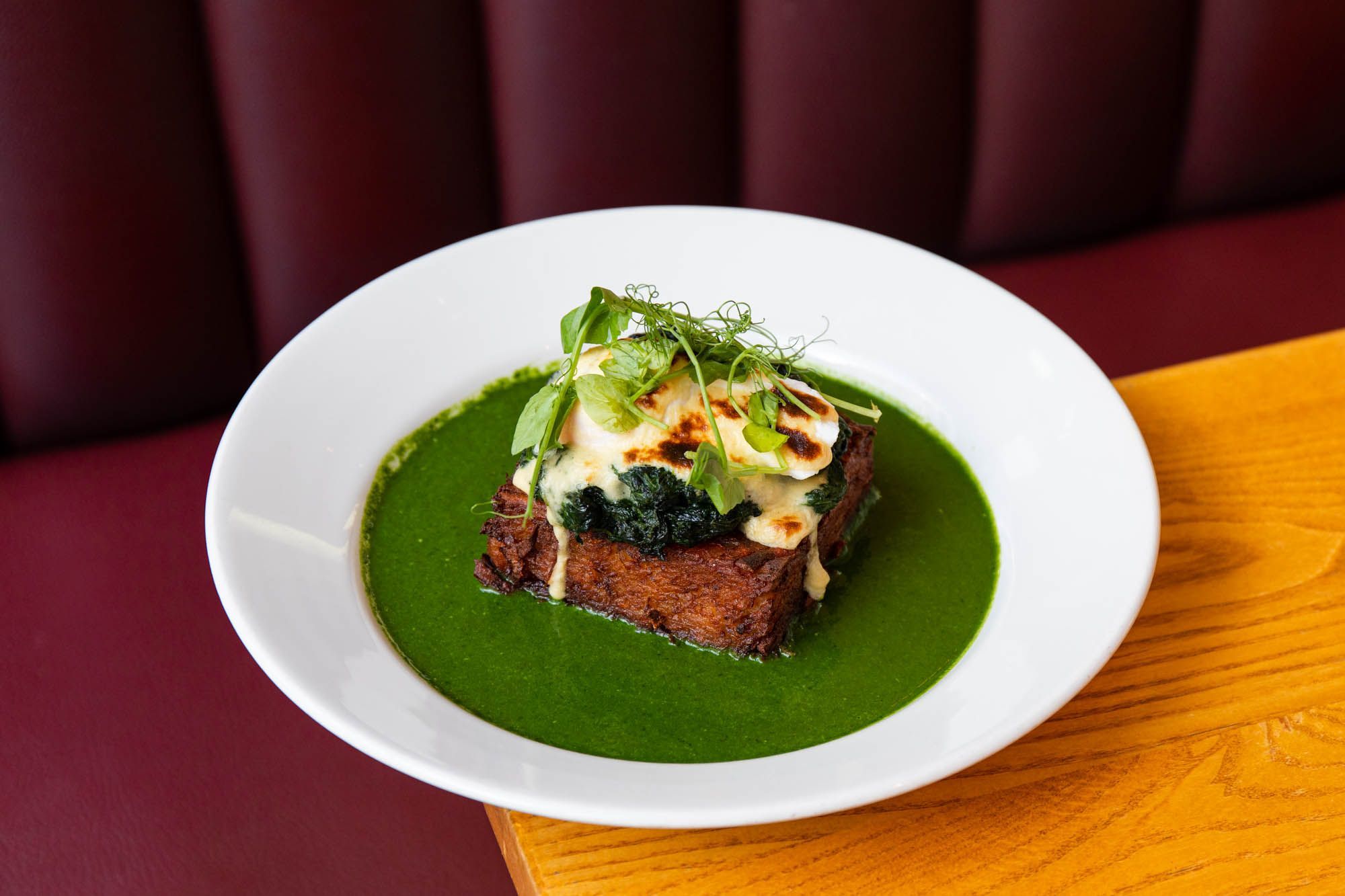 We promised earlier to talk cocktails, and the Terre à Terre team has mixology mastered. From herbal Negronis to Blood Orange and Hibiscus Cosmopolitans, the cocktails are fresh and sizzling with organic goodies that elevate them to the next level. A fabulous way to start a meal. And to end it, too.