On the last summery night of the season, my bestie Estee (Ester) and I decided it was time to try the Jo & Co evening menu. Known for their extraordinary brunches and lunches, we had high hopes for their dinner services, and we were not disappointed!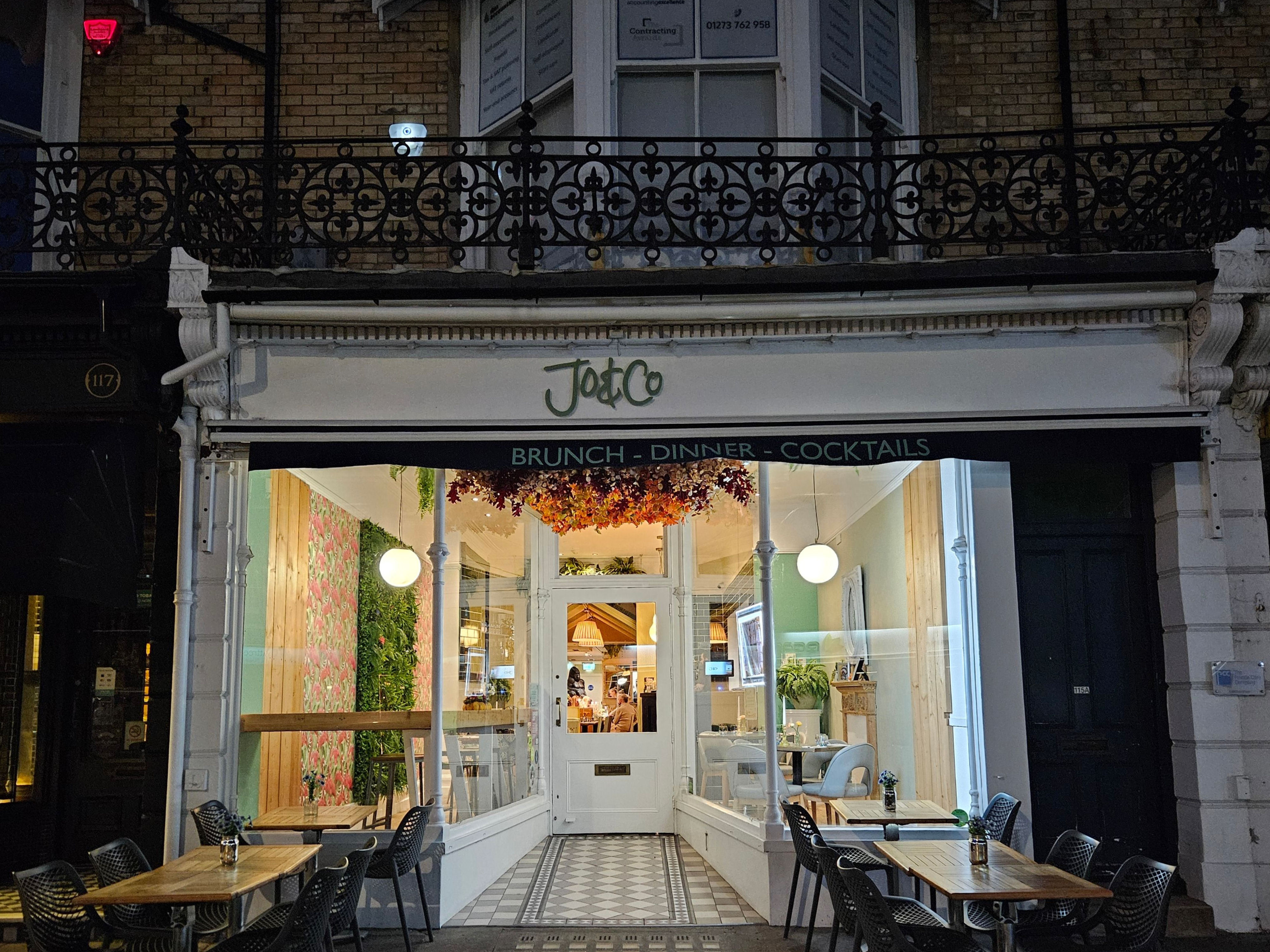 Sophisticated, Quirky and Colourful
From the moment you step inside Jo & Co you are whisked away to a joyous space. Expertly decorated, and full of flair, the restaurant is vibrant and contemporary with an art deco twist. Elaborate flamingo wallpaper, bedazzled parrots, floral ceiling arrangements and one stern but welcoming, full-sized gorilla add to the inviting and quirky atmosphere.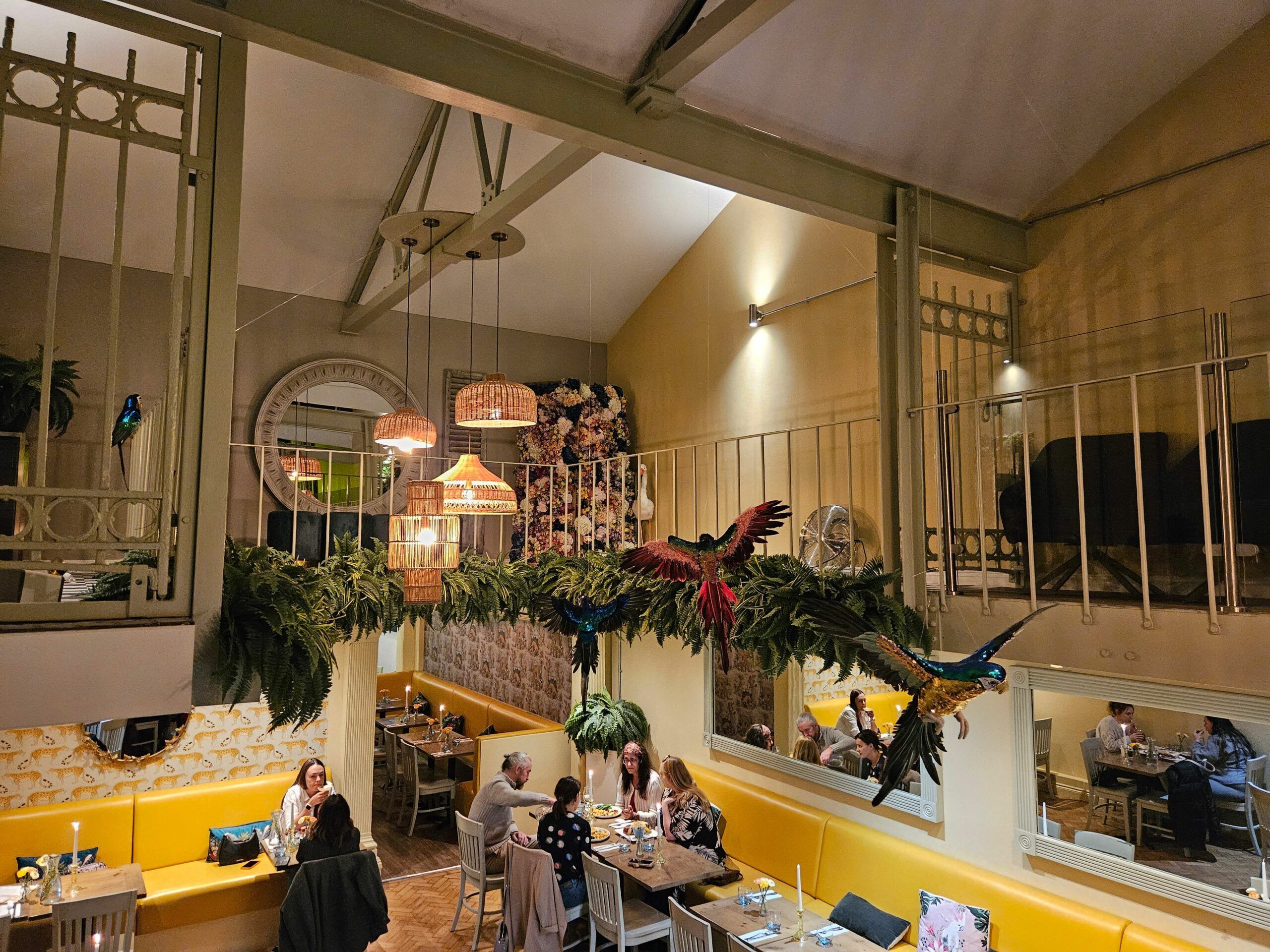 We were greeted by a smiling bartender and shown to our table by a super-friendly waitress. My bestie is purchasing her first house this month, and was feverishly taking down style notes as we were escorted into the dining room. After explaining the menu, and pointing out a few of her personal cocktail favourites, our waitress left us to settle in with some aromatic rosemary water.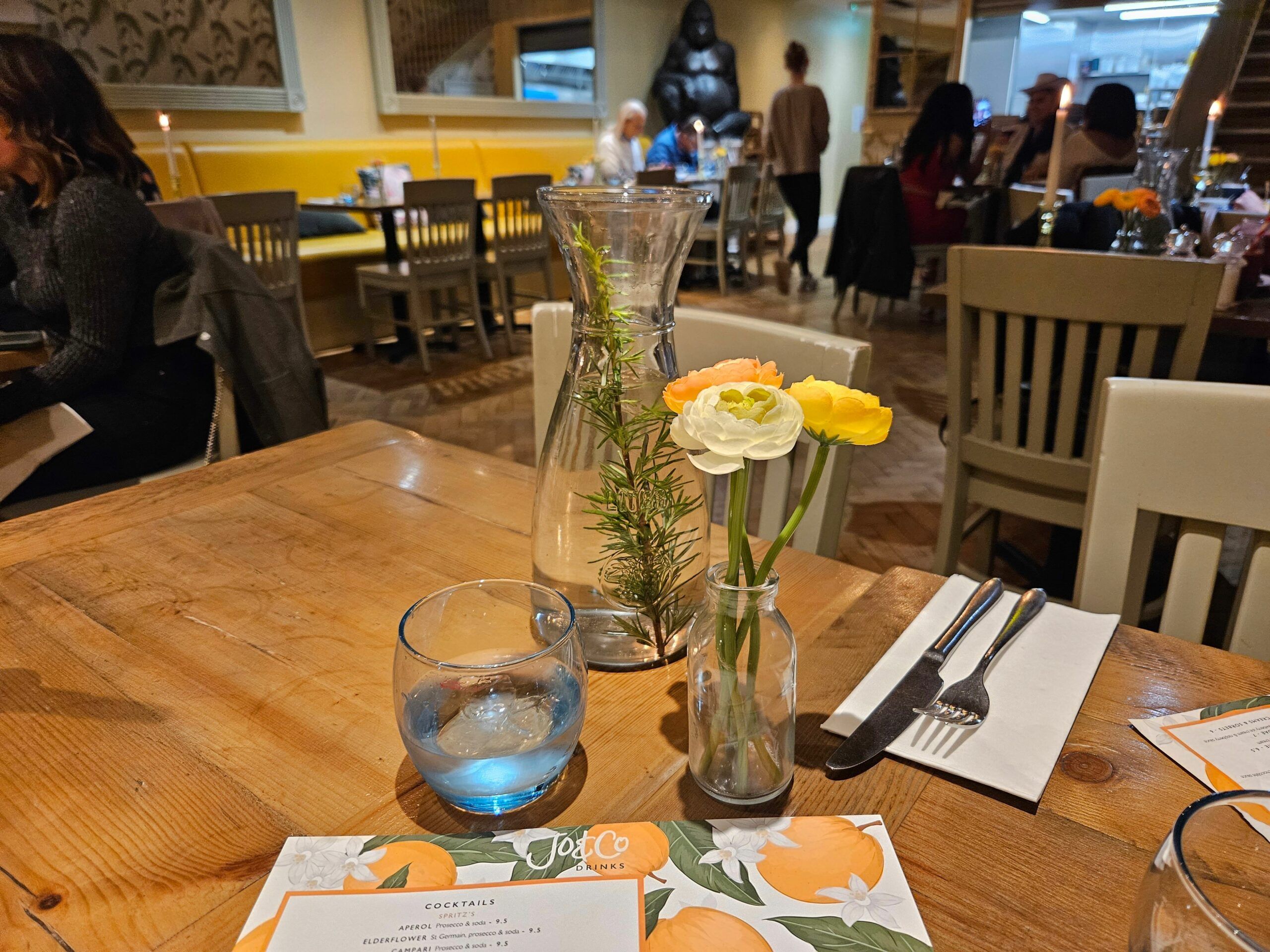 Estee is a vegetarian who doesn't drink, and she was over the moon with all the options available to her. There are plenty of sexy mocktails on offer and a menu filled with tasty starters and unique mains that suited her down to the ground.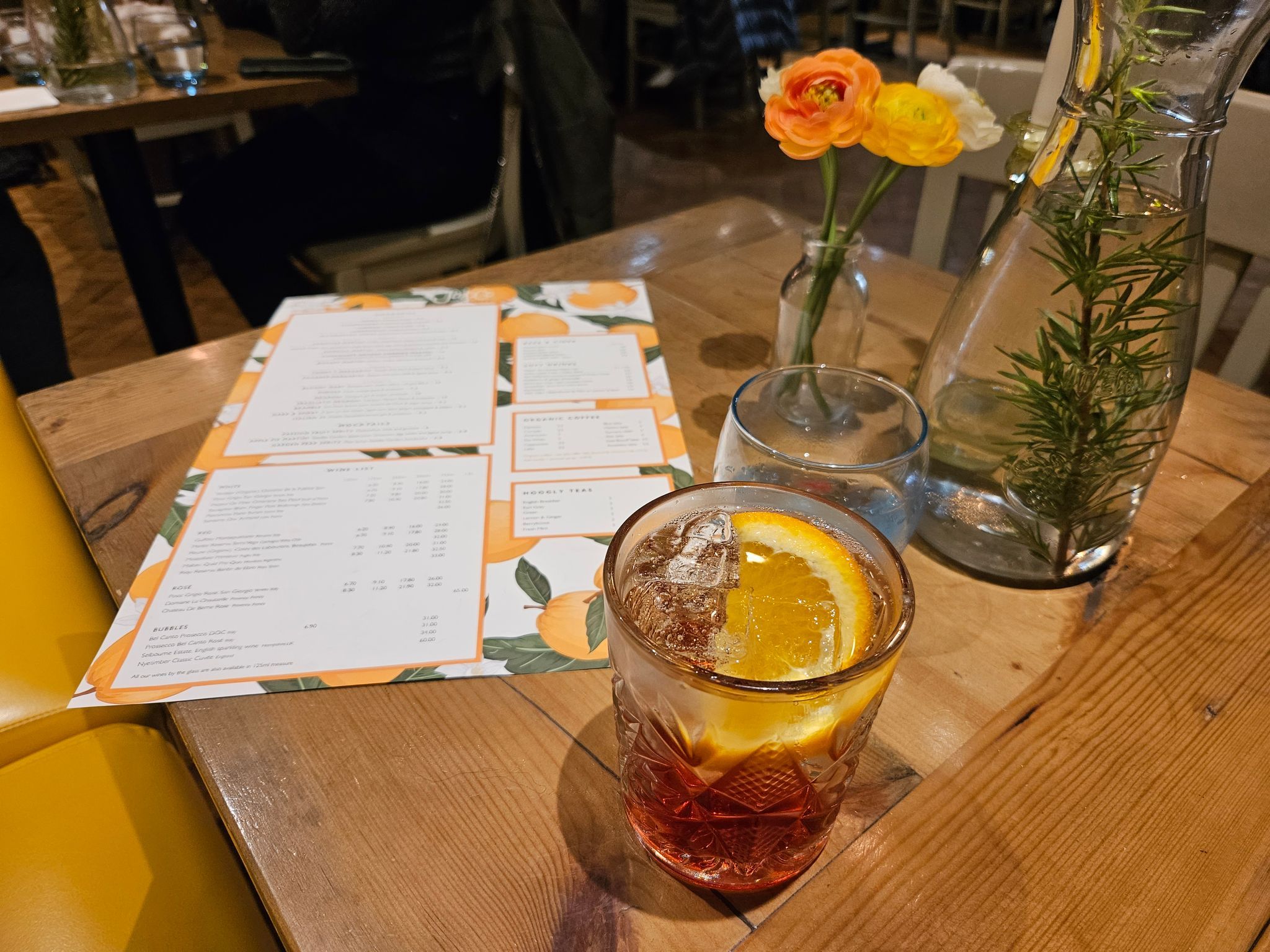 To start I ordered a Negroni Sbagliato…with prosecco in it. #iykyk #got. Expertly crafted and balanced, it went down an absolute treat. Estee ordered the Garden Pear Spritz Mocktail, which was gorgeous too; light, bright, full of pear flavour, with a satisfying zing of kombucha, which gave it a bit of complexity. Yum. 
Plenty for Veggies
When dining with vegetarians I always like to share veggie starters. It mixes things up a bit and it allows us to share the fun. For our first course we decided on the Whipped Feta and Marinated Tomato Bruschetta; creamy whipped feta generously spread on fresh sourdough toast, topped with zesty marinated cherry tomatoes and drizzled with a sweet balsamic glaze. Hello whipped feta, my new obsession!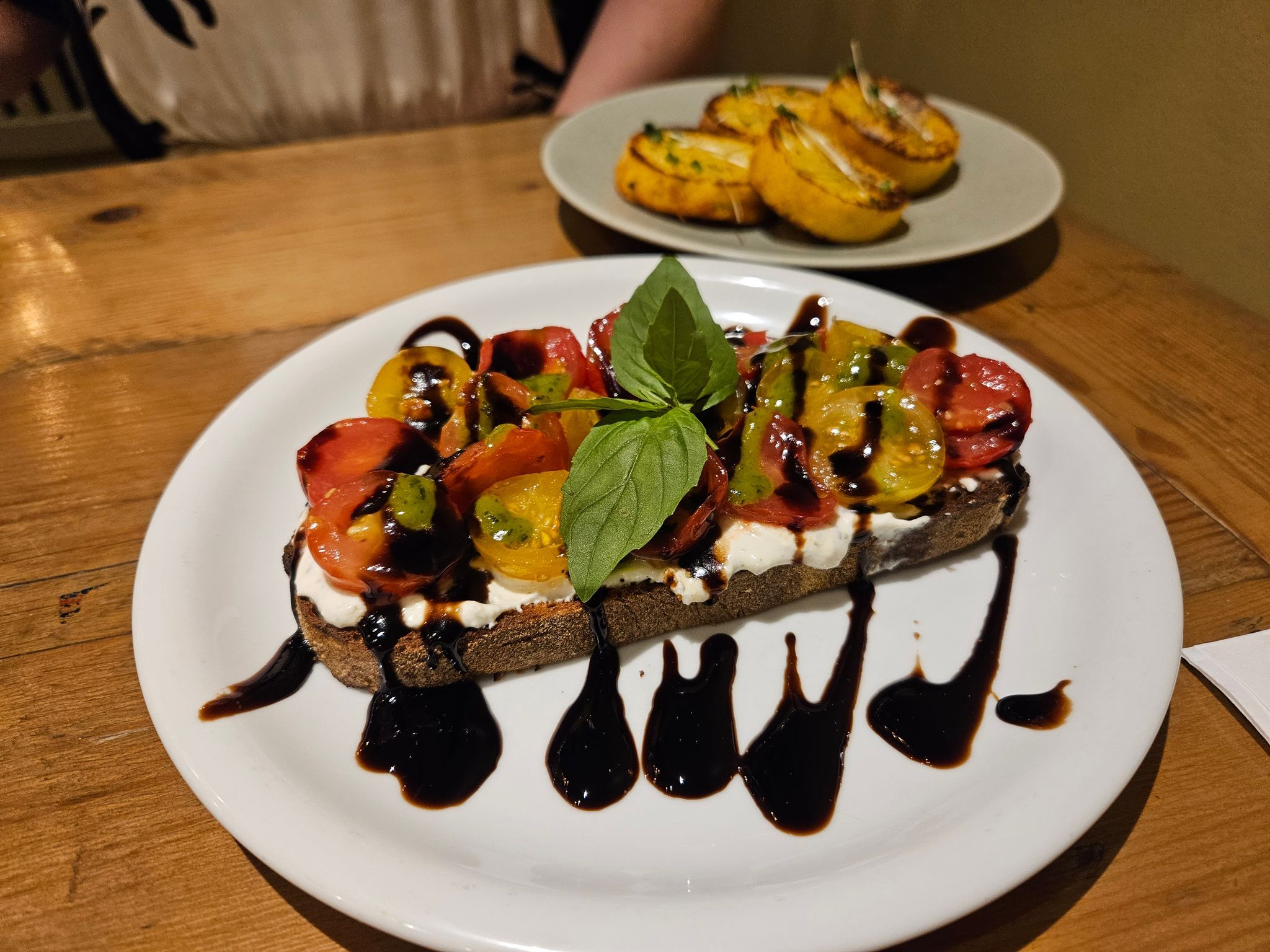 Next was the Jalapeno Cornbread with Smoked Butter and, as a Southern American, I can whole-heartedly say Jo & Co nailed it. Perfectly fluffy rounds of savoury cornbread with just a hint of char on the griddled edges, spread with aromatic smoked butter and topped with a sprinkle of micro-herbs and salt. My Mississippi Mammaw would be proud.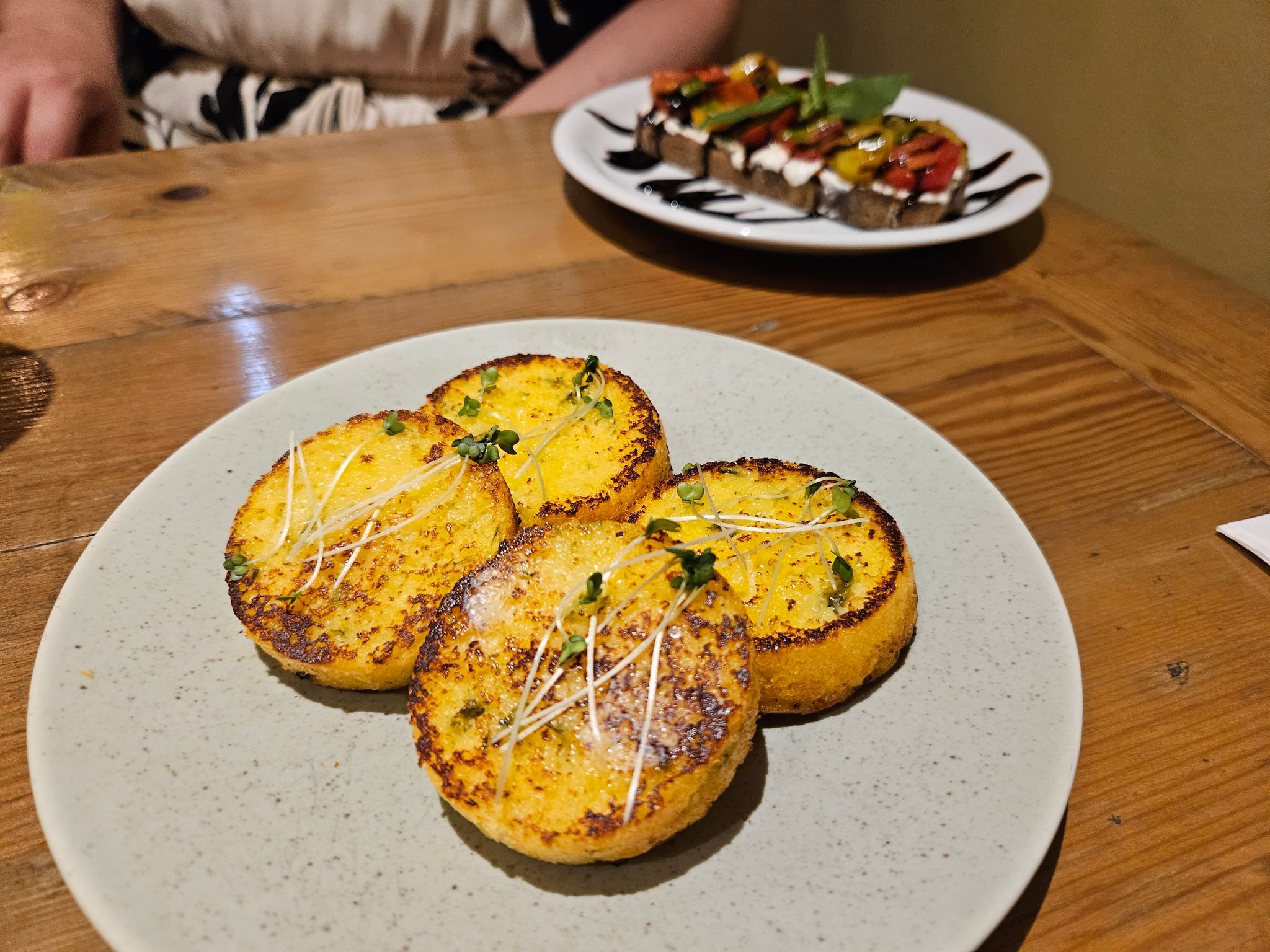 Welcoming and Open, Ideal for a Private Party
While we awaited our mains, we discussed how sophisticated and welcoming the restaurant feels with its high ceilings, great lighting, and just enough space to feel full, but not crowded. Upstairs they have a space that would be ideal for a private dining experience, and I would absolutely consider hiring out the whole venue for a larger party too. Hubs and I will celebrate our 10-year anniversary soon, and Jo & Co is now firmly on the list of possible venues.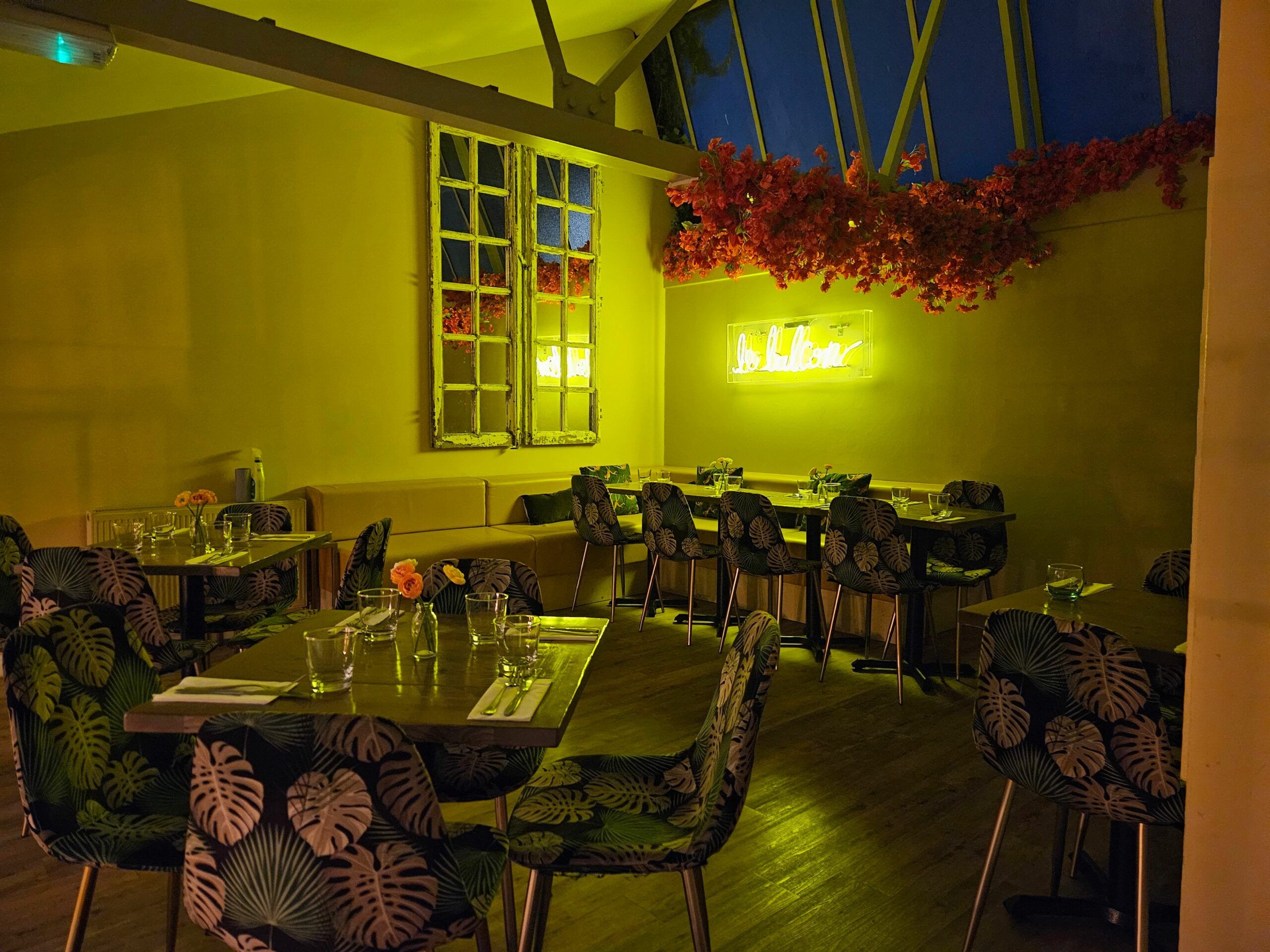 Elevated Wines Chosen by a True Connoisseur  
Not only do Jo & Co have an extensive cocktail list, but their wine list is filled with elevated choices that were clearly hand picked by a lover of excellent wine. I can never resist a French Picpoul, and ordered a glass of the Picpoul De Pinet Omeraine Sea Pearl. Floral, smooth and crisp, it's an ideal pairing for the sea bass I'd ordered. 
Hearty Mains Cooked to Perfection
The sea bass fillets were cooked to perfection. Flaky and delicate with just the right amount of crisp on the skin, they came topped with charred baby tomatoes and an herbaceous dressing. The fish was served with an ample portion of broccolini, sauteed courgette, and a side of deliciously crispy potatoes.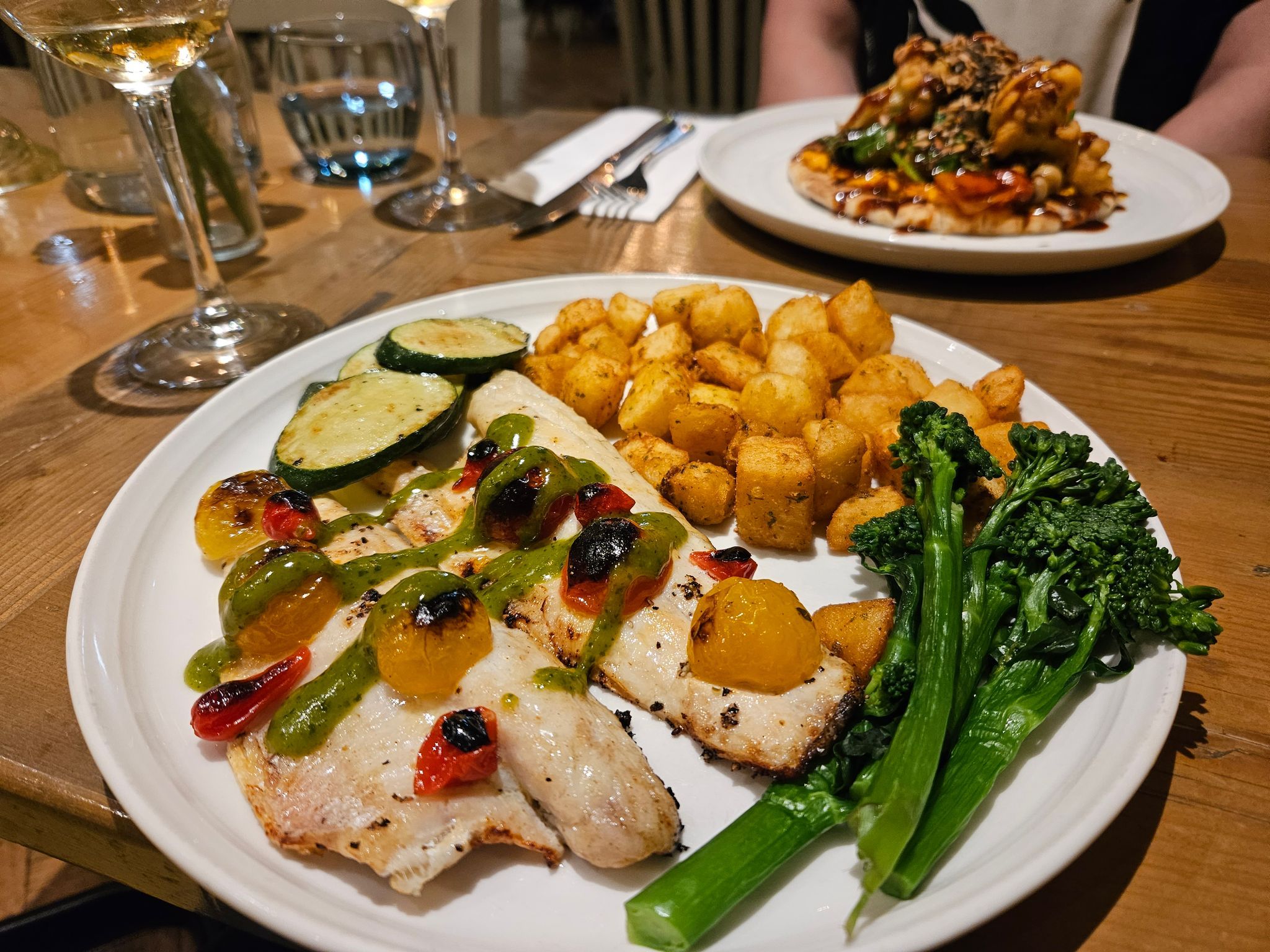 For her main, Ester ordered the vegetarian Crispy Spiced Cauliflower with Gochujang Sauce, a fusion of Korean and Greek flavours that was just fantastic. A hearty portion of golden cauliflower dusted with Greek spices and fried, comes served atop home-made Greek flatbread, a layer of tart red pesto, fresh spinach, sun blush tomato, sauteed mushrooms, crispy onions, a sprinkle of mixed seeds for added crunch, and drizzled with rich and spicy Gochujang. Ester confessed she would be back again, just for this dish, she enjoyed it so immensely.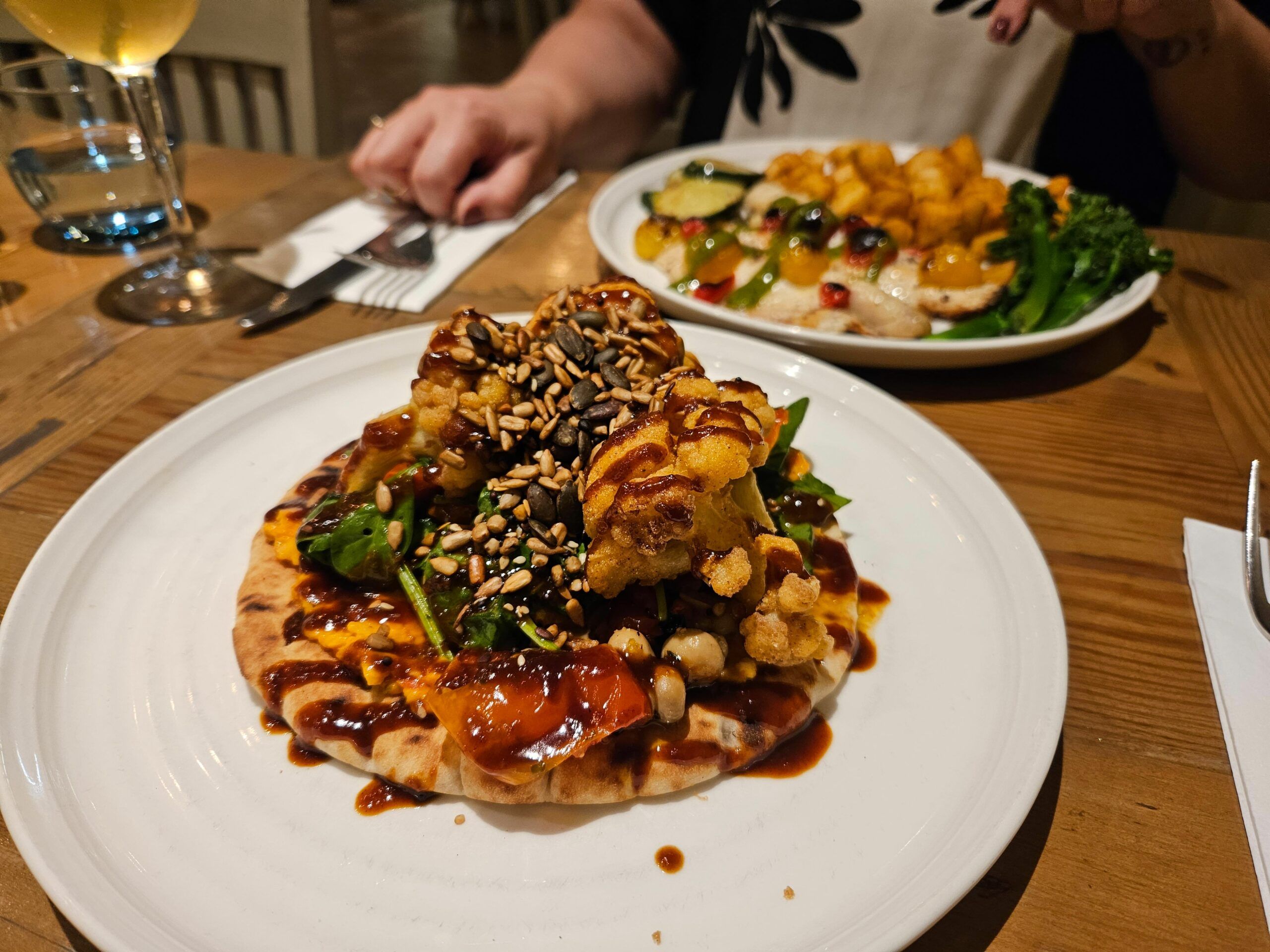 Cocktails Anyone?
Once our mains were cleared we thought it would be rude to not sample a few more of the Jo & Co cocktails. Ester chose the Passionfruit Spritz Mocktail, served with half a fresh passion fruit on top. It looked as good as it tasted.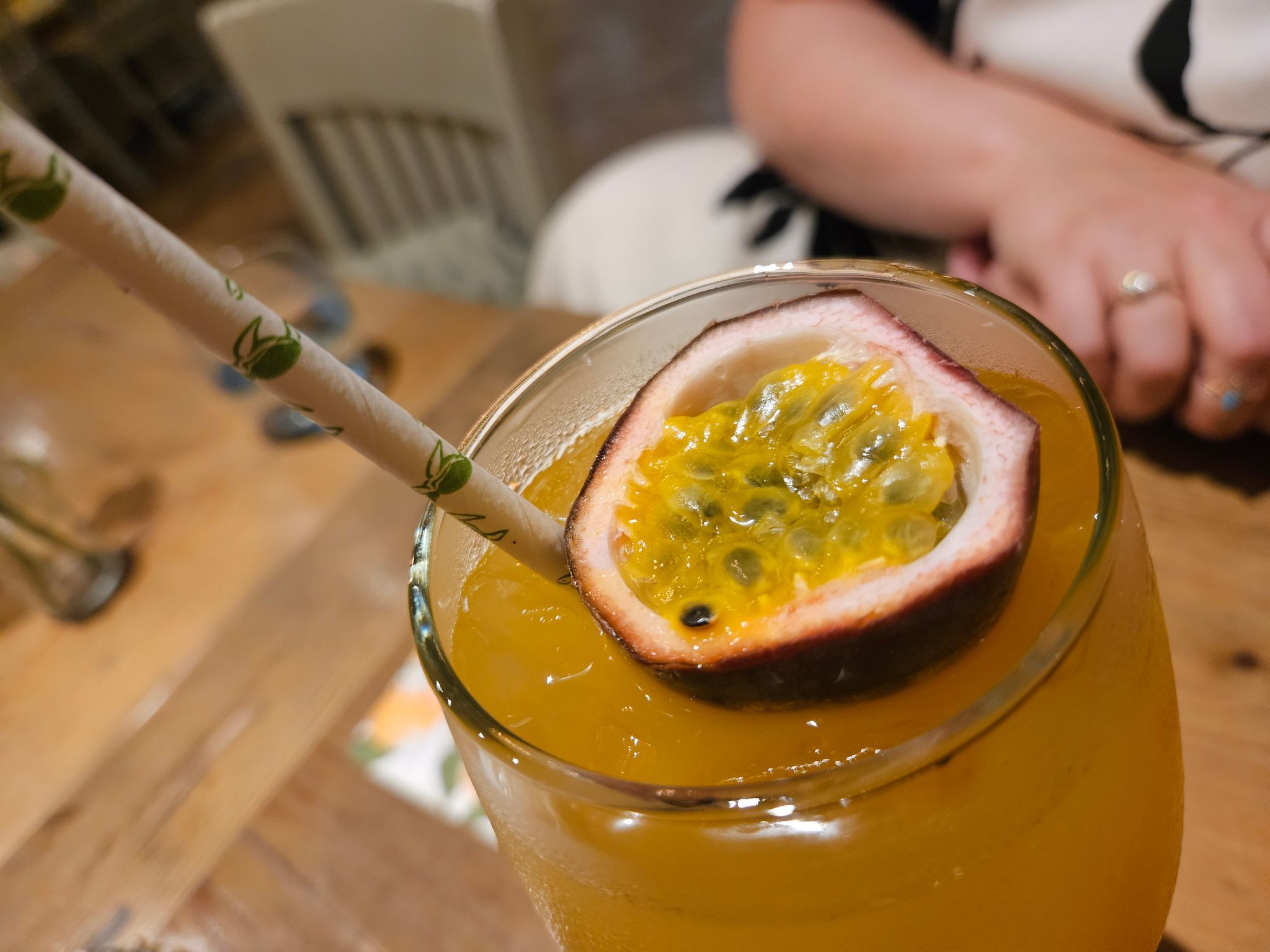 After a few decades of not speaking, I have a newfound relationship with tequila. Although still wary of our disastrous past, we have rekindled our love, and the Jo & Co Picante Margarita is *chef's kiss*. Frothy, well-shaken tequila, lime juice, chilli and agave syrup poured over a fresh-chilli-filled ice cube, and served with a salt and tajin rim…gurrrl. See what I mean – she is dangerous! So good in fact that I had a second, and had to be talked out of a third. Tequila you naughty thing!
Jo & Co know their way around a sweet treat let me tell you…
Thankfully for me (and my head the next day), our waitress brought over the dessert menu and we were enticed away from the cocktails. The Jo & Co dessert menu has something for absolutely everyone, and I could have happily ordered every single thing on it. After long contemplation, I settled on the subtly sweet crème brûlée topped with sliced almonds and fresh strawberries. I absolutely adore crème brûlée, the slightly bitter caramelised sugar with a creamy vanilla bean custard is just right for my palette.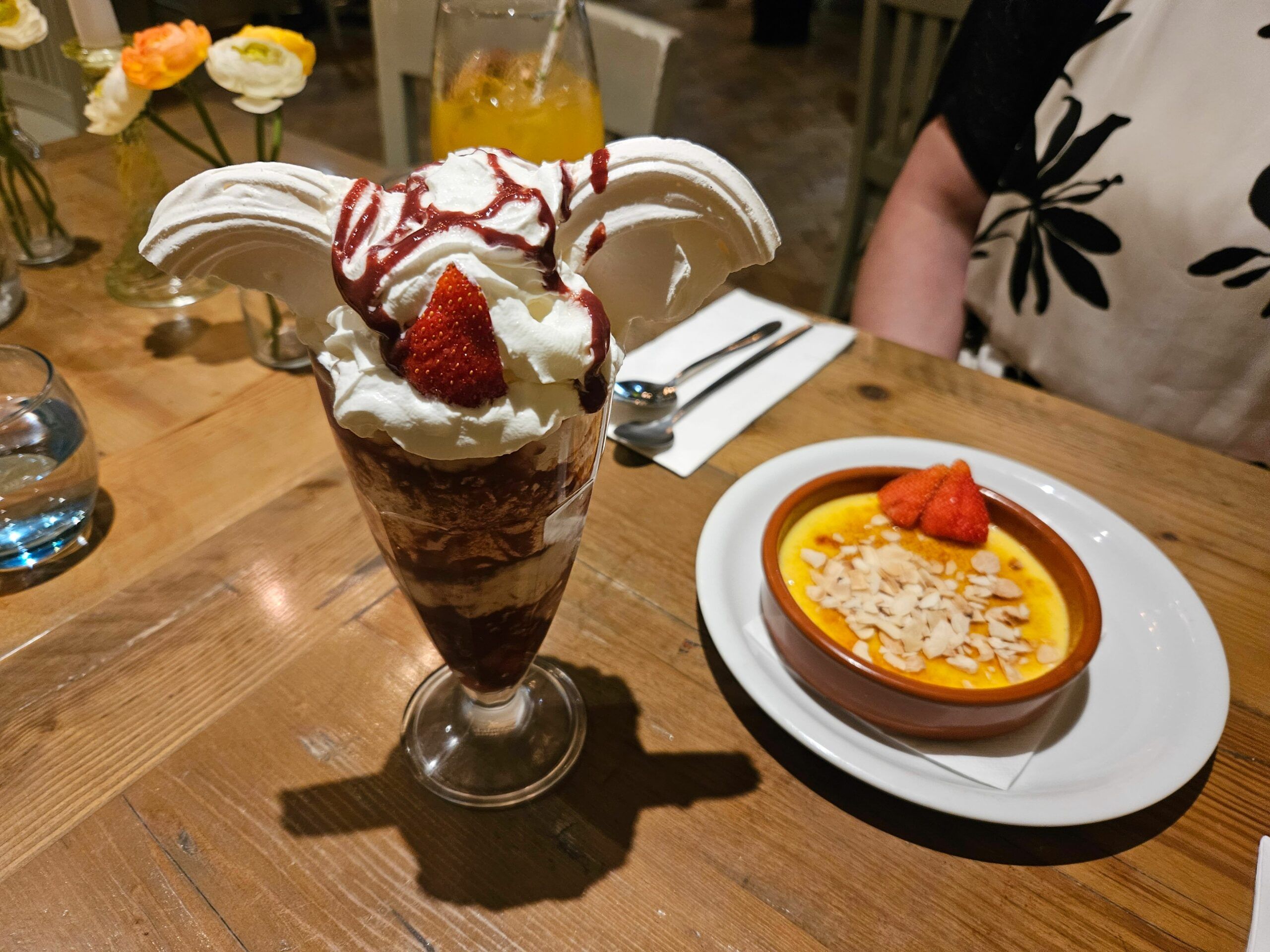 My sugar-loving friend Ester, on the other hand, adores the satisfying crunch of meringue clouds found in Eton Mess. Jo & Co's version is served in a sundae glass, and is a beautiful sight to behold. Piled high with fresh whipped cream, sliced strawberries, drizzled with raspberry sauce and filled with strawberry ice cream, it was everything she could have wished for, and more. Her face was like a kid on Christmas Day. 
To say we enjoyed our dinner is an understatement. Every dish, drink, and dessert was exactly what we had hoped for. The setting is welcoming and stylish without being overdone, and the team is one of the most professional and friendly in Hove. We will be back again very soon for cocktails and dinner, and I'll be in touch about private hire in the New Year! Thanks again Jo & Co, it was a genuine pleasure!