Seasonal Sussex cocktails at Gungho
GungHo bar isn't your average bar. Specialising in seasonal cocktails, many of their ingredients are harvested from the owner's allotment or foraged from the Sussex countryside. They also offer a great selection of craft beers, biodynamic wines and mocktails, as well as one-off seasonal creations like Elderflower 'Sham'pagne. This sounded right up my street, so I was delighted to be invited for a summer review. To help me work my way through their list of seasonal cocktails, I took along my sister-in-law Anna.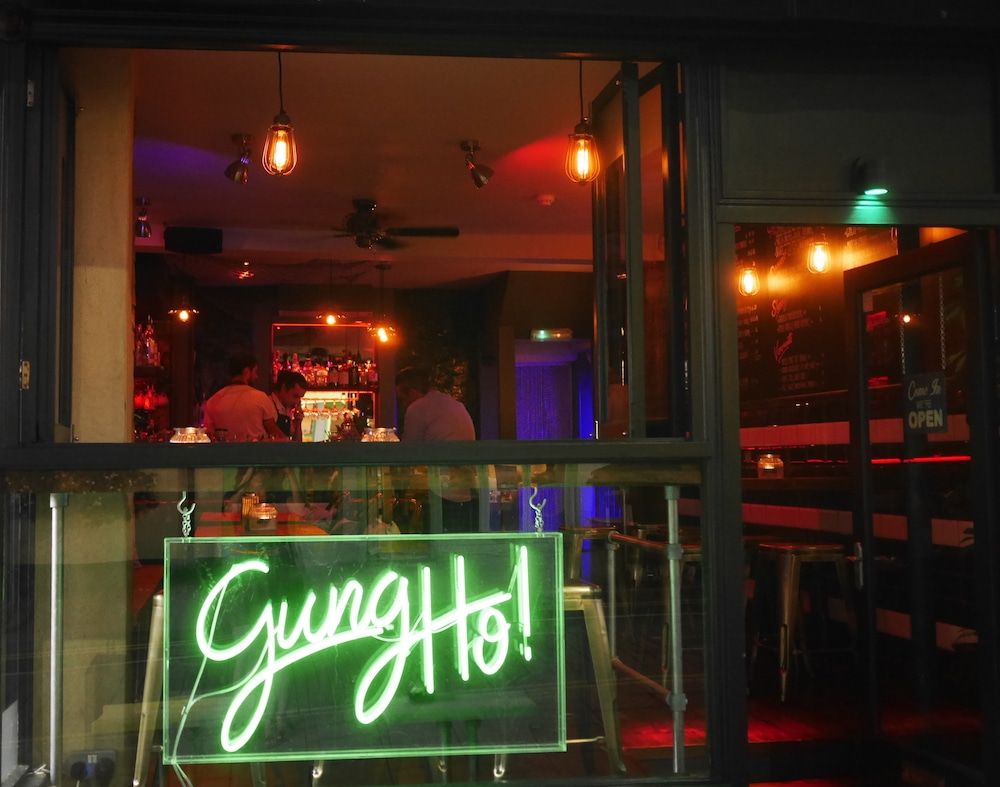 Preston Street setting
A sizzling August evening may not seem like the best time to tuck yourself away in a cocktail bar but, at GungHo, the open-fronted setting and outdoor seating mean you can sip your drinks in the sun, watch the world go by from a window seat, or cool-off beneath the colonial-style ceiling fan at the bar. In winter, I could imagine this as a speakeasy-style hideaway with its bare brick walls, low lighting and reclaimed-wood bar, which is laden with jars of juniper berries, oak bark, cardamom pods and more.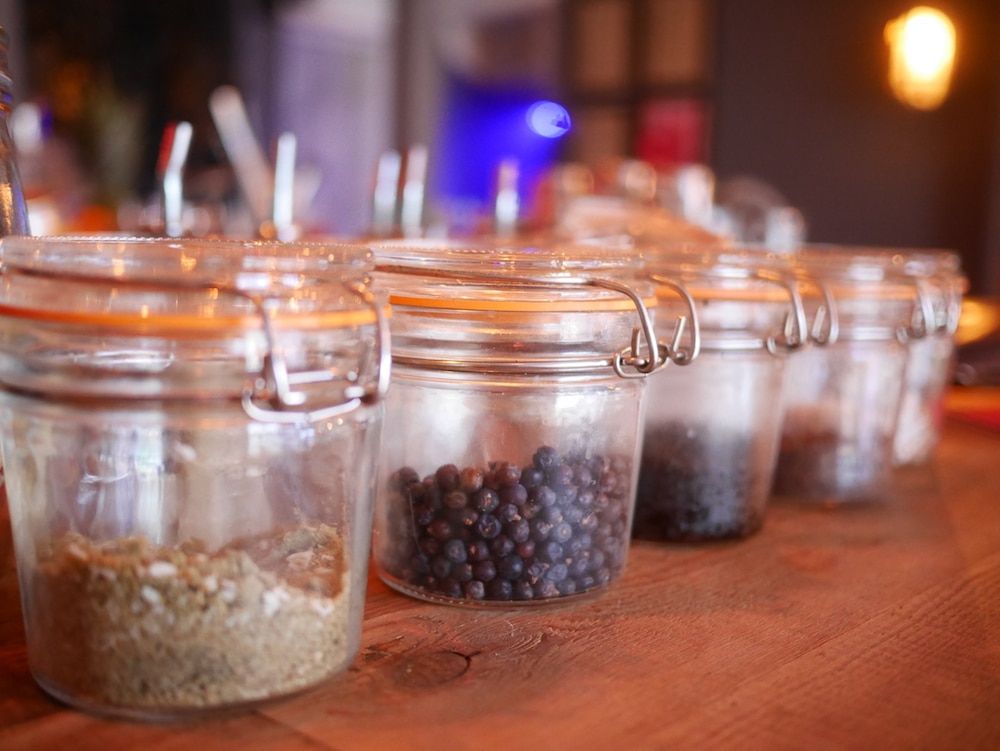 Zero waste
Gungho has a zero waste policy, which means that every bit of peel and pulp is used and re-used wherever possible. Coffee grounds, for example, are macerated with tequila to create their own coffee liquor. And their Zero Waste Punch is made from fruit off-cuts, bits of peel and anything else that would otherwise have gone to waste that week. When I visited, the weekly punch was a blend of apricots, redcurrants, lapsang souchong tea, citrus and vodka.
The punch is also part of a 'drink local eat local' offer: if you eat at a local Preston Street restaurant and show your bill at the bar, you get a free punch with your first cocktail.
Dane, our mixologist for the evening, served our punch with a nutmeg garnish and a huge shard of ice, which he cut with a knife from a block on the bar. "It tastes sweet-sour, like Tangtastic Haribo, or flying saucers," Anna said with wide eyes.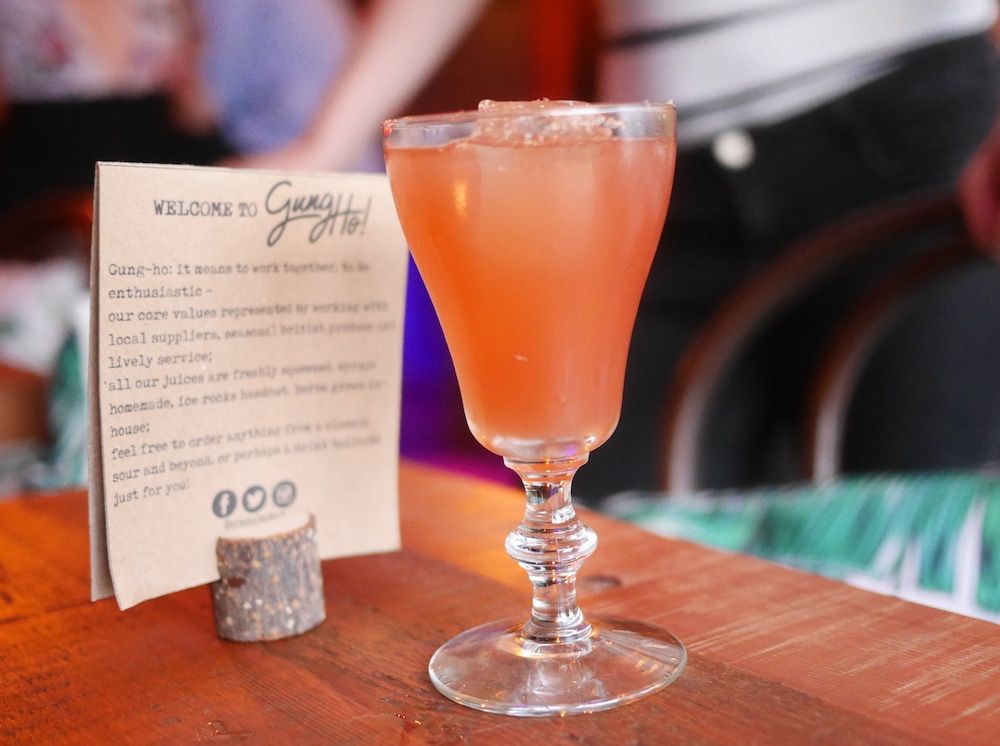 Strawberry
Moving on to the seasonal cocktail menu, Anna started with 'Strawberry' – a blend of Doorly's three-year-old rum, fresh lime, vanilla and strawberry-basil shrub. A shrub, Dale explained, is a sweetened vinegar syrup. Created in-house, this one was made with local strawberries, basil, cider vinegar and sauvignon blanc vinegar.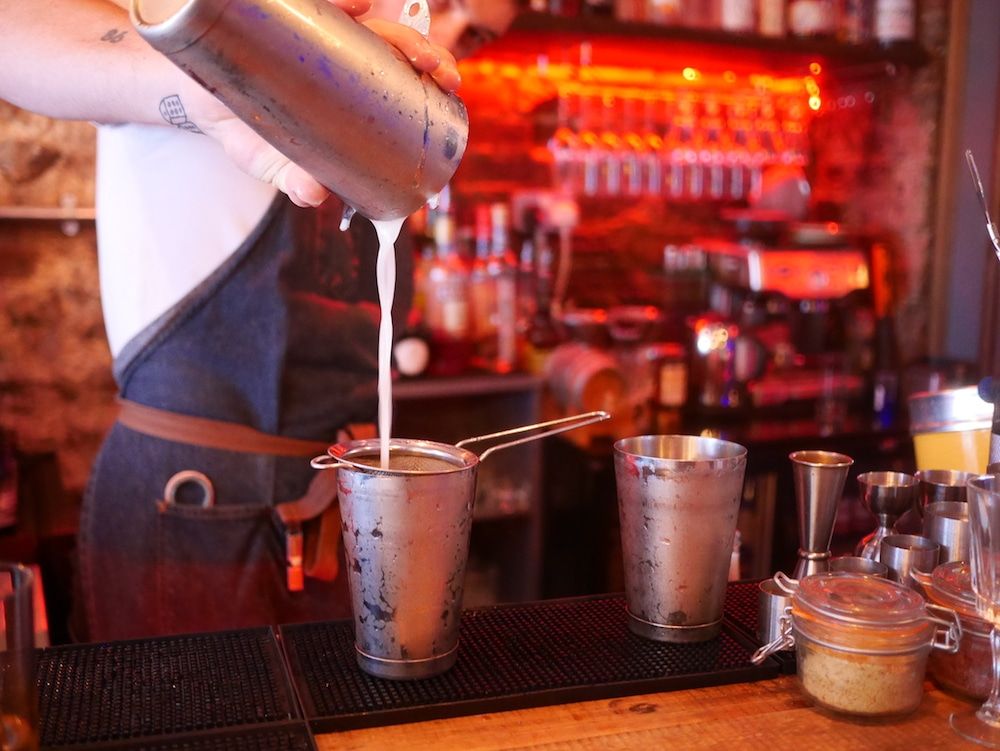 Shaken over ice and finished with a curl of lime peel, it had a blush colour rather than a vivid strawberry glow- these cocktails are all-natural, with no artificial colourings or unnecessary sweeteners. As I took a sip, I could taste the cidery tones of the shrub, the natural sweetness of the strawberry and the twang of lime. An excellent start.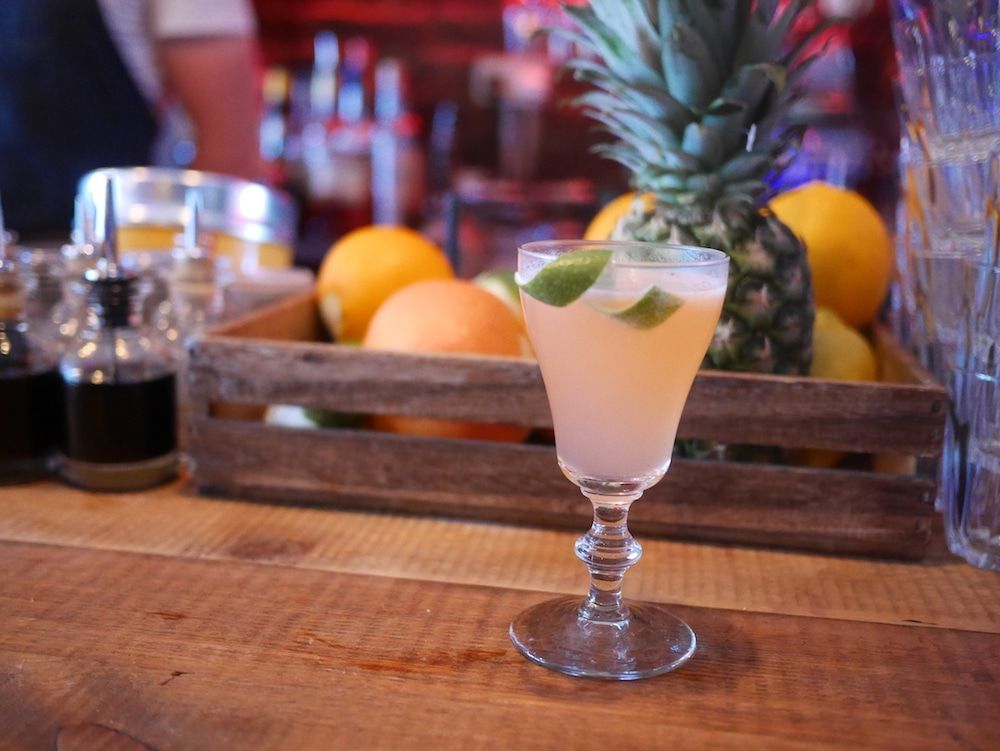 Tomato
I chose 'Tomato' as my first drink of the evening.
Inspired by a bloody Mary, Gungho's creation uses clear tomato consommé made from greenhouse tomatoes, rather than a carton of juice.
For alcohol, they use smoky Montelobos Mezcal (similar to tequila) and Manzanilla (sherry) stirred with agar consommé, celery, basil and secret spices.To serve, Dane sliced off a hunk of ice and finished my drink with a curl of lemon peel. Expertly balanced, I could detect every individual flavour, from the smoky mescal to the subtle celery, and it was far more refreshing than a bloody Mary.
Fennel and Apple
The Fennel and Apple' cocktail Anna tried next had a sharp, granny smith freshness and a distinct fennel flavour created with fennel fronds and apple pulp. Portobello Road Gin and Pastis formed the alcohol, and a dash of malic gave it a touch of tartness. "This one's my favourite," Anna beamed.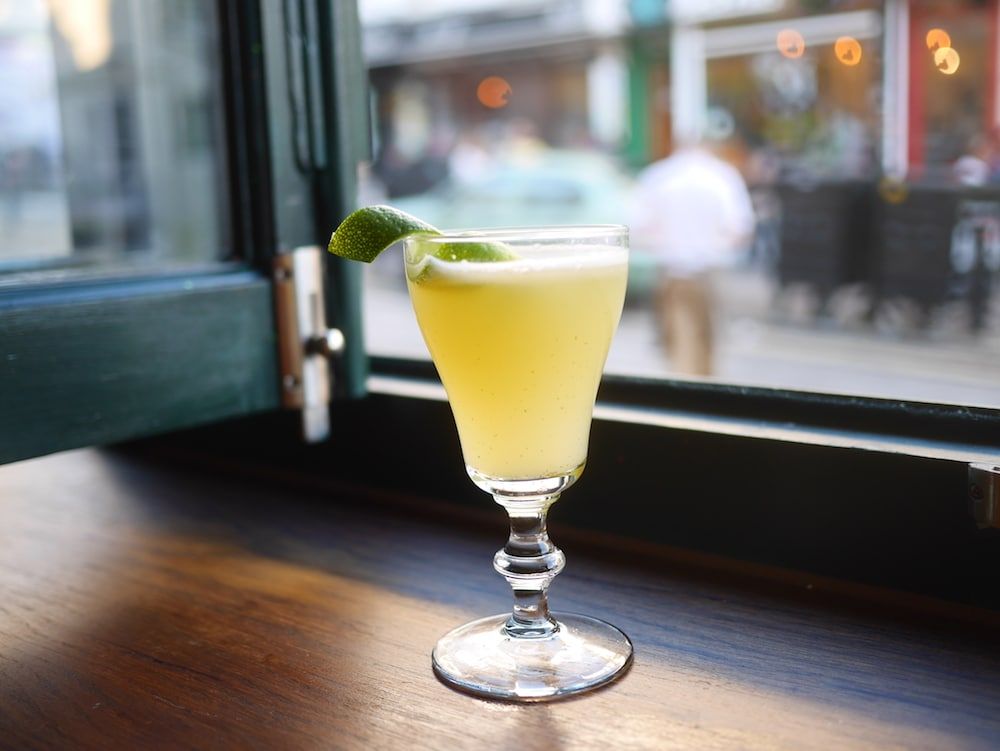 Gooseberry
My 'Gooseberry' cocktail was made with El Jimador Reposado tequila, fresh lemon, pickled pineapple and gooseberries. The pineapple flavours really came through, and it had a lovely foamy head, while the pickled pineapple garnish was soft and mellow.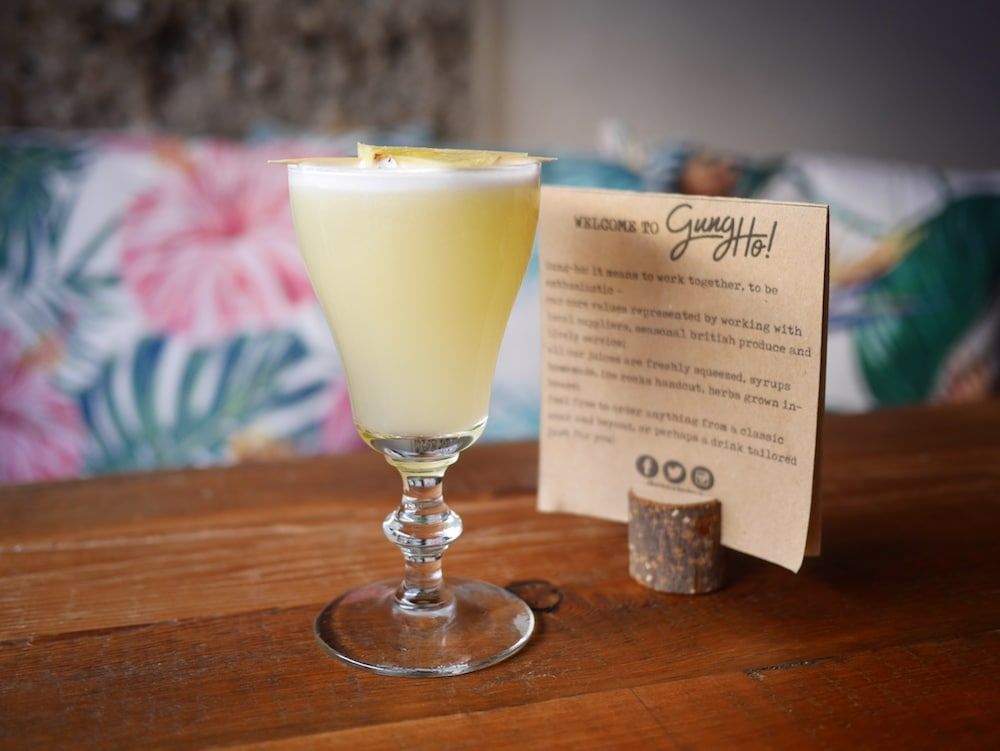 As we sipped our drinks, the bar filled with other drinkers who seemed to know the drill – this is obviously the sort of place that people keep coming back to.
While some stopped by for a G&T or a non-alcoholic fizz and a catch-up with Dane, others asked him to create classic cocktails or off-menu creations.
Rosehip
For our final drink, we tried 'Rosehip.' Made with foraged rosehips and Aviation Gin, it was blended with bee pollen, Lillet Blanc (white vermouth) and lemon, and finished with almond crumb. With a sweet-sour hit, it was a punchy option to finish on before we wobbled back home.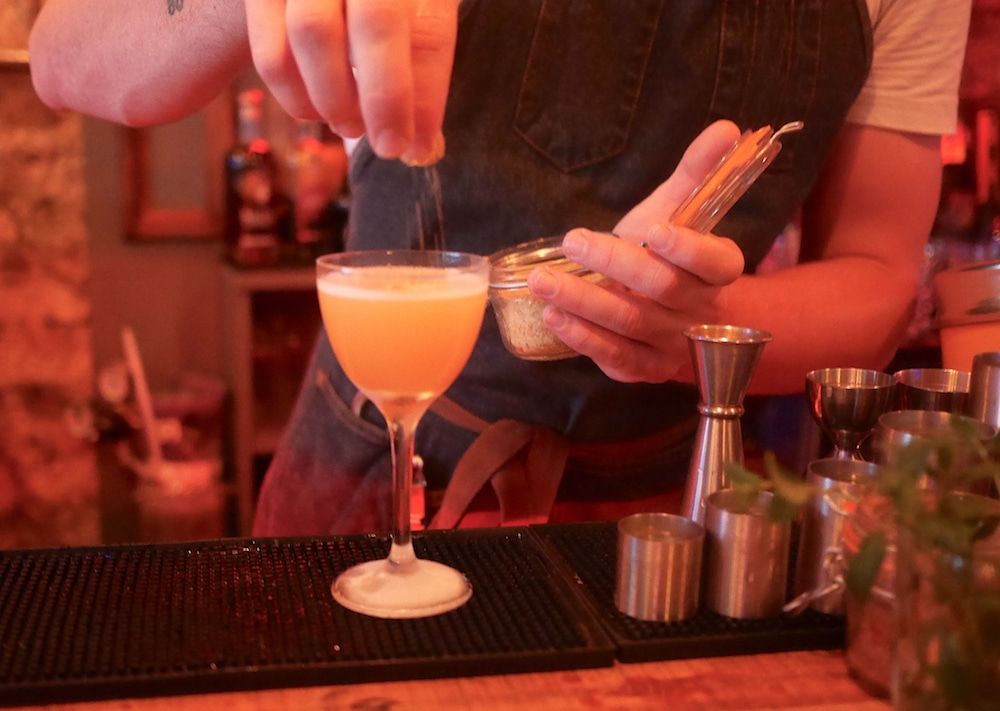 The healthy hedonist
After a full night of cocktail drinking, you'd think that a hangover would be inevitable but neither Anna or I had even a hint of a headache the following morning – there's got to be something said for all those fresh ingredients and home-blend shrubs. Whether you're a 'healthy hedonist' or a die-hard cocktail drinker on the forage for new flavours, Gungho bar should be next on your bar list.