As a Worthing local, I've been wanting to try The Cricketers for some time, so when it was recently refurbished and taken over by the Good Times group I was excited to be invited along to sample their new menu!
From the outside, The Cricketers has been refreshed and modernised with an extensive facelift which included the reinstatement of the original front entrance and the flowers and hanging baskets add a beautiful splash of colour.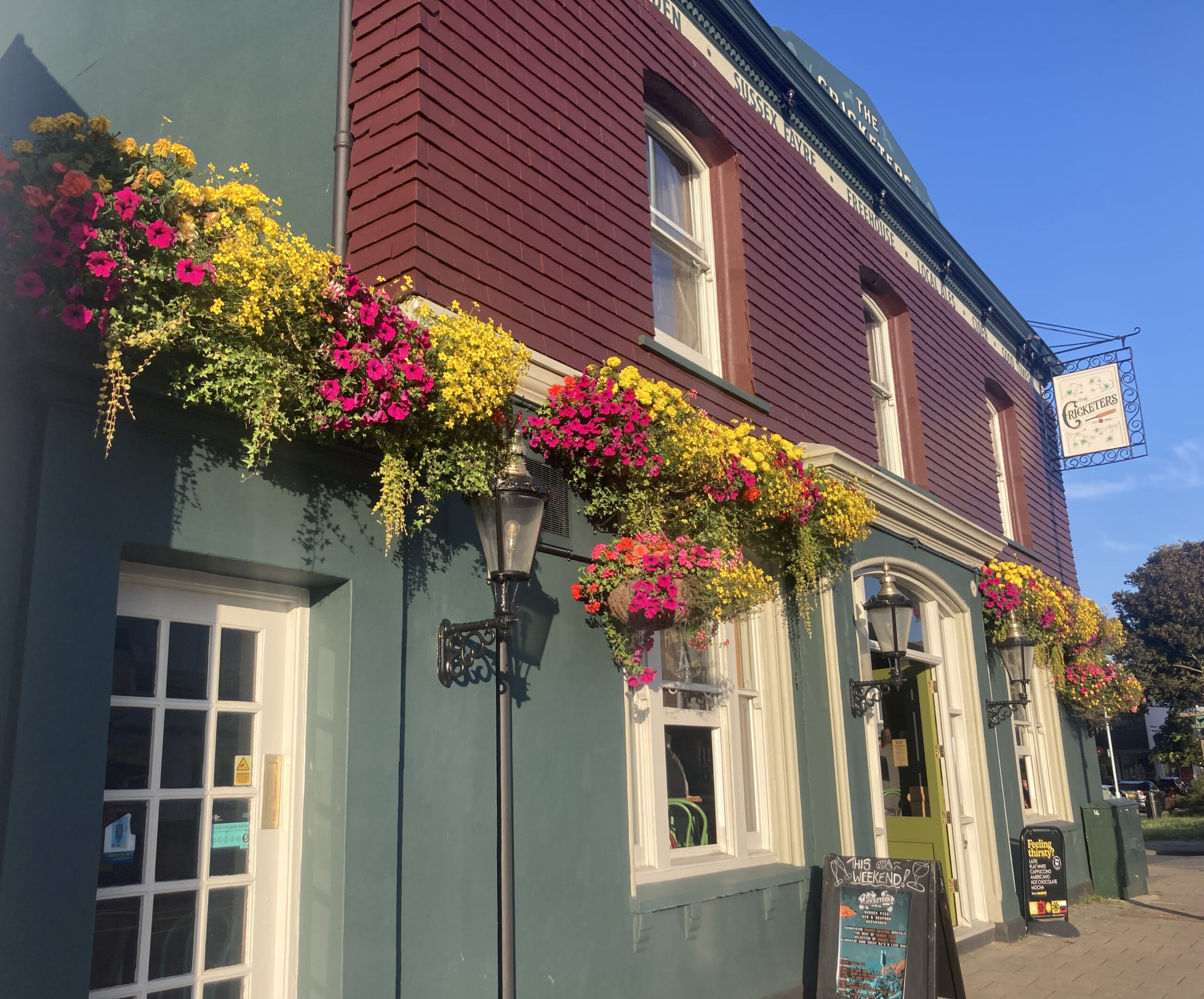 This pub on Broadwater high -street may not look big from the outside, but once entering we discovered that looks can be very deceiving! The Cricketers has a variety of dining areas, side rooms, cosy nooks and crannies and a great big beer garden. Let's just say, it is the definition of a "tardis" and we were so pleasantly surprised.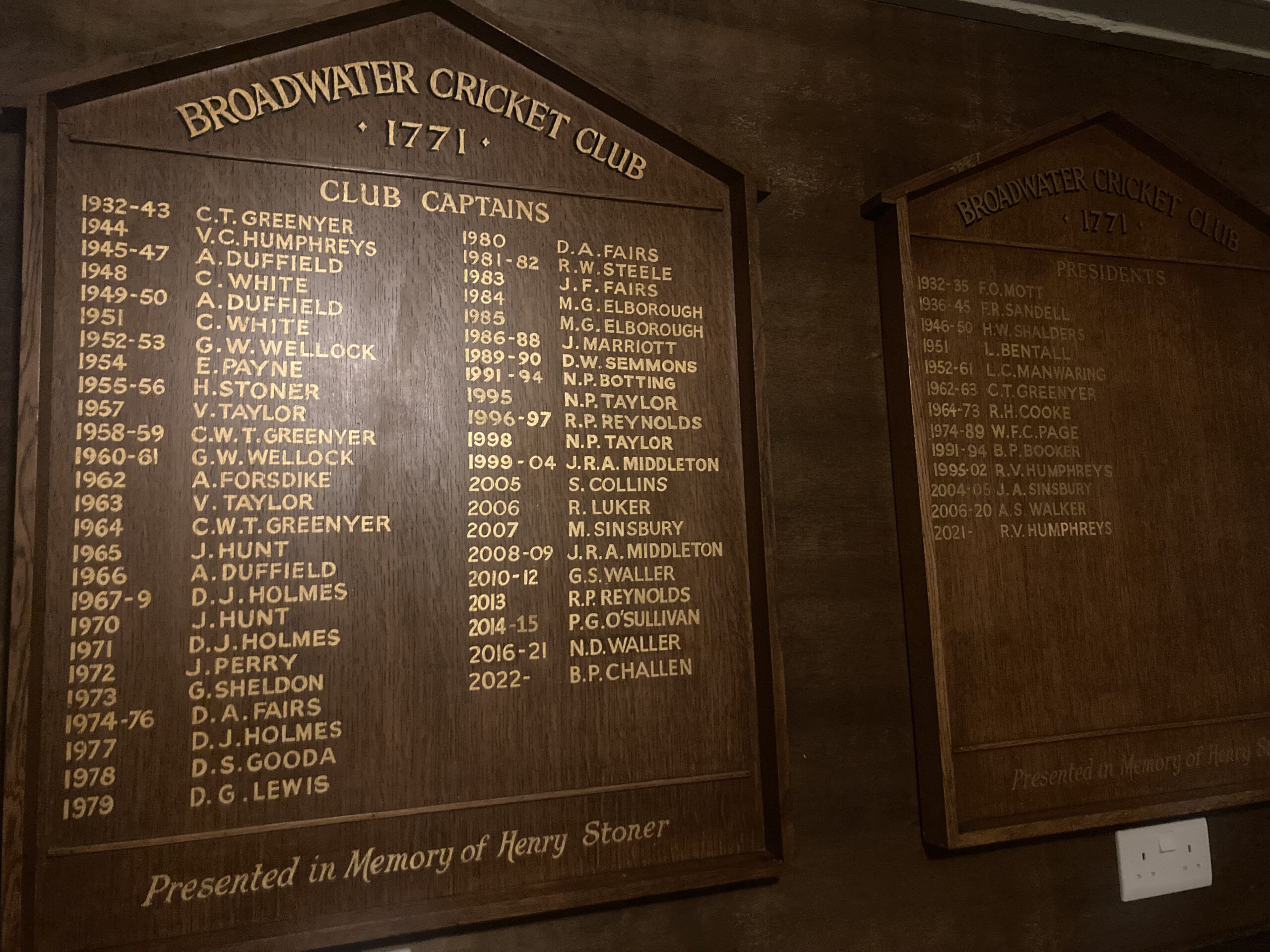 Décor wise, there is a lot to look at in here! From beautiful velvet lampshades above the bar, to a giant ceramic parrot – you won't get bored. I was particularly impressed by the original cricket match score board which shows the full list of team captains dating right back to 1932. It is nostalgic features like this that make me immediately warm to a pub and I can't help but think of everything those walls would have seen and heard over the years.
Raising a Glass: From Lager to Sparkling Wines
My partner and I ordered our first drink at the bar, where you'll find a great variety on offer including Good Times very own lager on tap. I was delighted to see that all of the wines (with the exception of Sparkling) are available by the glass and bottle and are reasonably priced, so there is an option for all budgets. They stock wines from Spain, Portugal, France, Italy, New Zealand, Argentina, and USA but also offer a fantastic range of local Sussex Sparkling wines from nearby vineyards such as Ridgeview and Artelium. To begin with, I always like to try the House White in any restaurant or pub I visit and I was not disappointed by the organic Spanish Verdejo.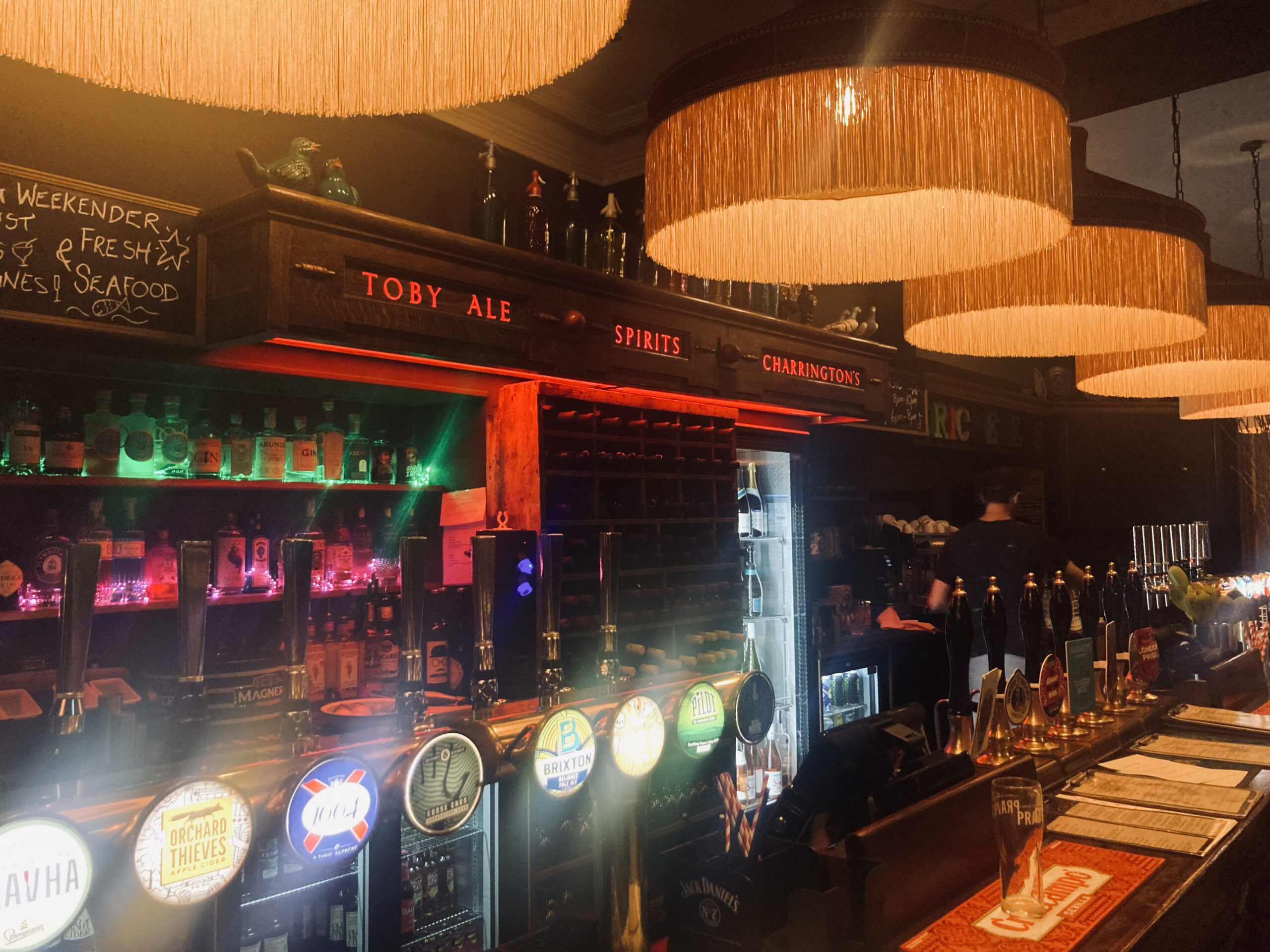 Also, it's hard not to notice the incredible crisp and nut selection on offer at this bar. Small touches like this really make a pub stand out for me, so top marks on all of the salty bar snacks! As it was a gloriously sunny evening we took our first drinks out to the beer garden, where we were handed the daily and specials menu.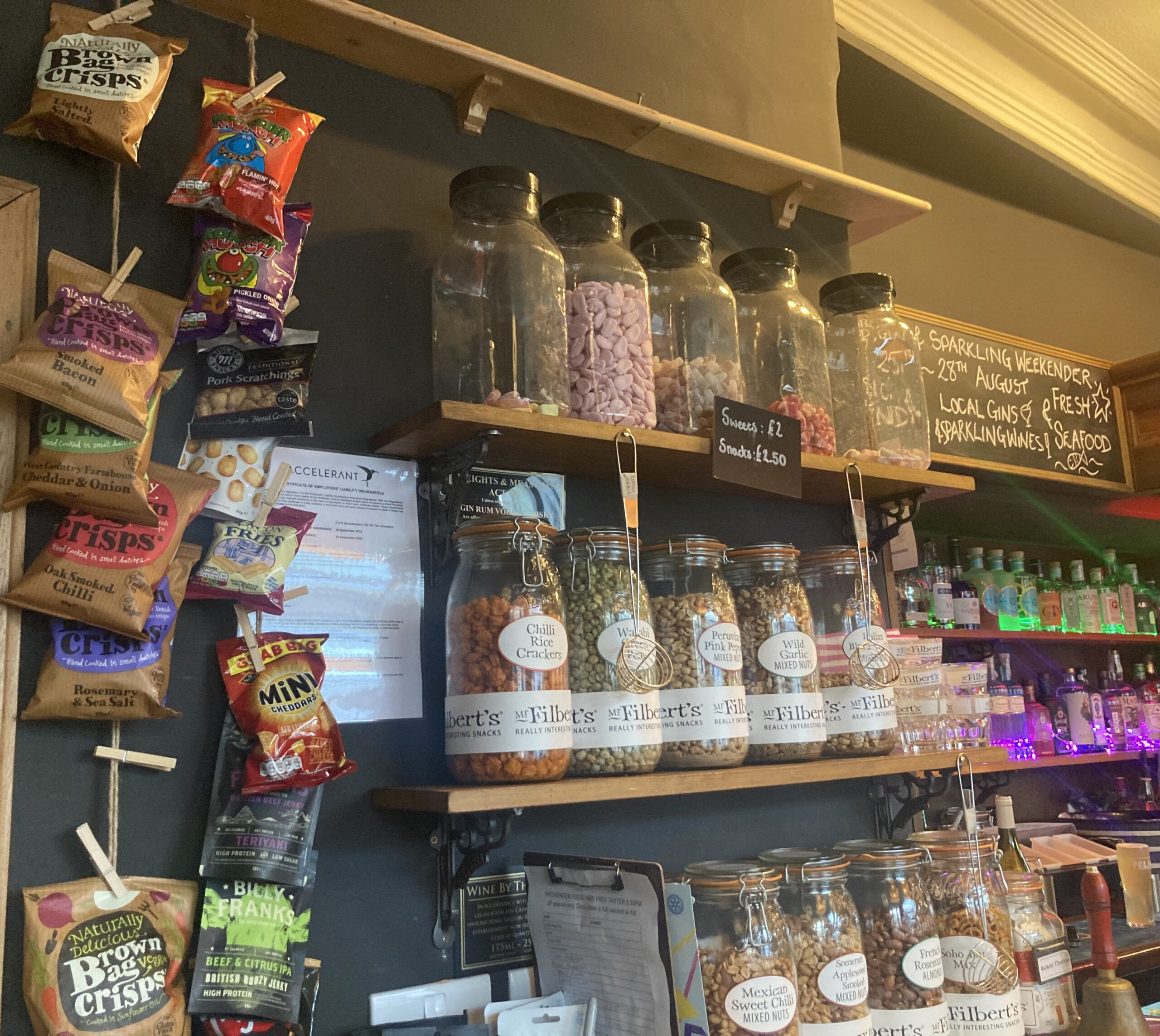 A culinary twist
In addition to the classic British pub fare on offer, there are also some really interesting dishes that stood out such as "Warm Blue Cheese Cheesecake, Apple andWalnut Salad, Aged Balsamic" and "Pork and Chorizo Scotch Egg, Paprika Mayo".
Vegetarians and vegans are also definitely catered for here. We spotted "Vegan Kofte Balls, Tzatziki, Rocket and Mint Oil" and "Green Pasta Primavera Linguine with Broad Bean, Courgette, Broccoli, Sundried Tomato, Vegan Parmesan, Pea Pesto Cream" and "Vegan Redefined Burger with Confit Garlic Mayo".
The menu also has a great selection of sharing options such as "Whole Camembert stuffed with Garlic and Rosemary, Crusty Bread, Onion Chutney and Pickles" or "Chips and Dips – triple cooked Chips with Guacamole, Chilli Jam, Pesto Aioli and Katsu Mayo" – these platters are perfect if you are dining in a group, or perhaps you are like us and always struggle to pick just one dish each from the menu!
To Share or Not to Share? Indulging in Platters
After much deliberation and both feeling like we wanted something fishy, we settled on the "Seafood Platter" which included Prawn Cocktail, Scampi, Whitebait, Fish Fingers, Bread, Butter, Dips, Pickles and the best Smoked Mackerel Pate I have ever tasted – my only criticism here would be that I could have eaten a hundred times more of the pate – luckily it is available as a starter too, so I already know exactly what I'm ordering the next time I visit!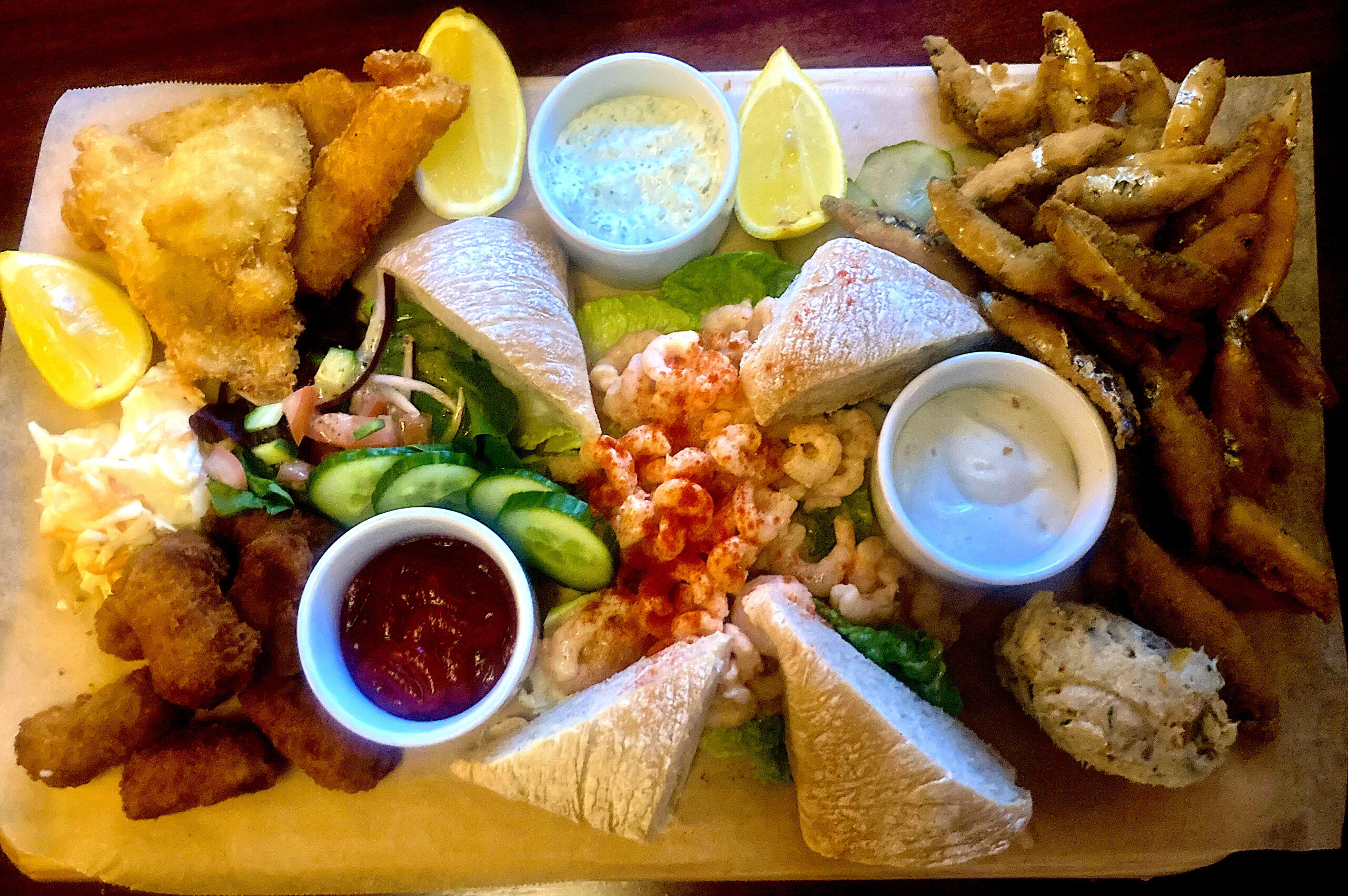 The platter had plenty of delicious flavour and didn't feel overly greasy or heavy. The Prawn Cocktail, Pickles and Mackerel Pate perfectly break up the fried Scampi, Fish Fingers and Whitebait and the portion of Rosemary and Sea Salt Fries that we ordered on the side were lovely, crispy and definitely helped to mop up the homemade Tartare Sauce and Spicy Ketchup that comes with the platter.
Sweets and Stories
We then enjoyed a little break whilst we pondered over the dessert menu and got chatting to the lovely General Manager Luke, who was so attentive and clearly a very passionate foodie. He helped to recommend a couple more drinks to try and even treated us to a sample of the Mr. Filberts nuts; the "Italian Black Truffle" flavour are fantastic!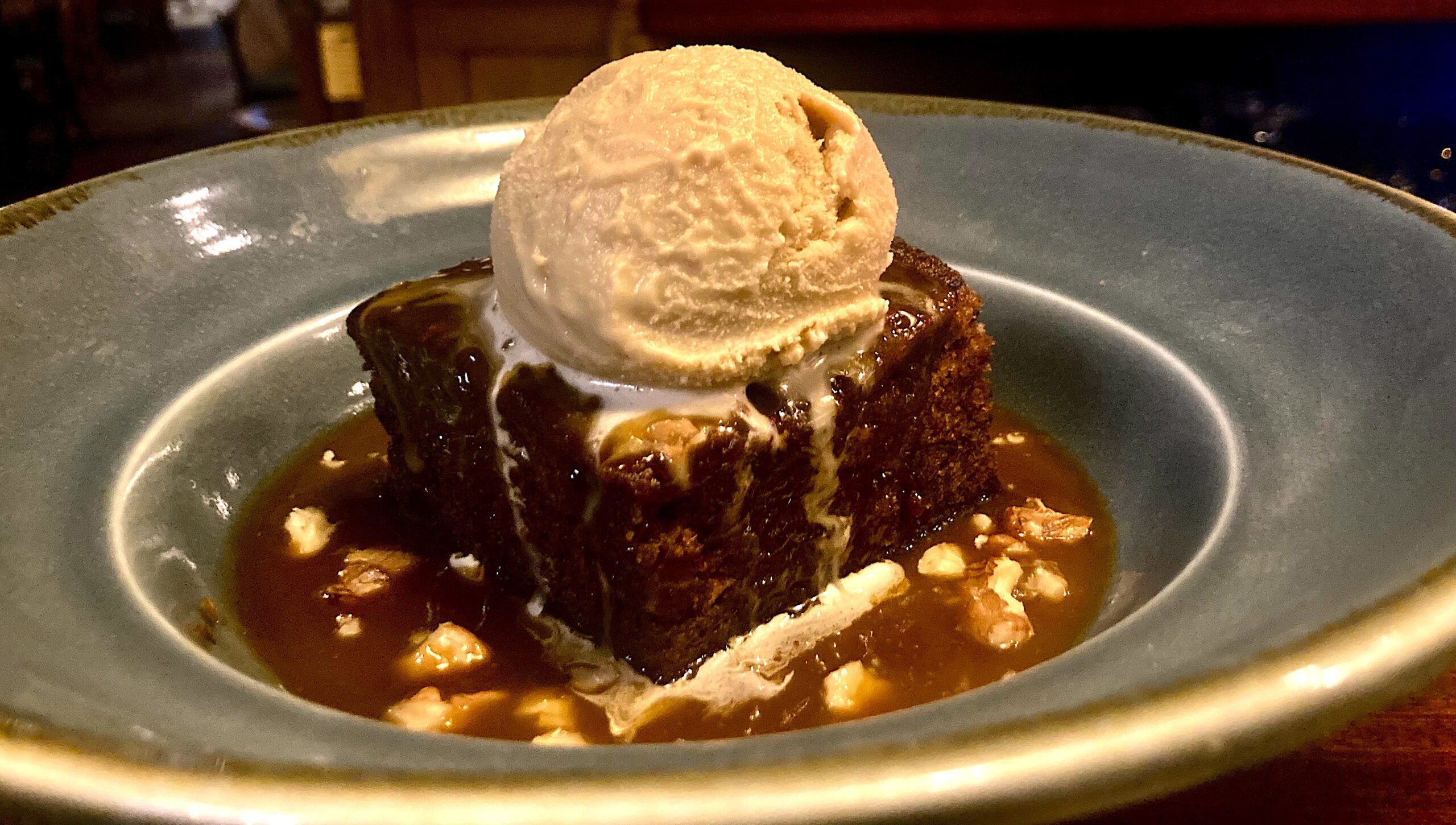 Once again, when it came to dessert, we couldn't make a quick decision so in the end settled on sharing "Sticky Toffee Pudding served with Miso Caramel Sauce, Guinness Ice Cream and Walnuts" and to break up the sweetness the "Cheeseboard with a selection of Local Cheeses, Crackers, Homemade Chutneys and Apple". The Sticky Toffee Pudding was absolutely divine and perfectly balanced – indulgent and moist but also light. The cheeseboard came with a variety of chutneys, which complimented the creamy blue, soft brie and vintage cheddar. We were so full that we even took some cheese away with us to enjoy at home.
Unveiling the Cricketers' Calendar
As our visit to The Cricketers came to an end, we were thrilled to hear that they often hold BBQs, Real Ale Festivals, Bank Holiday Events and a much loved Wednesday Pub Quiz which claims to be "probably the best organised, most fun, weekly quiz night you've ever been to" – who could say no to that?
There really is something for everyone here. I can't wait to return and try one of their Sunday Roasts (word on the street in Worthing is that this one is right up there with the best of the best). And I've already decided on my starter for every future visit – Smoked Mackerel Pate, you've stolen my heart!