Brighton Foodies Festival 2014, with top chefs.

Hove Lawns, May 3rd, 4th, 5th 2014
In May this year, one of the UK's most popular food and drink festivals, The Brighton Foodies Festival, will be returning to Brighton and Hove for the fourth consecutive year, in a grand celebration of food and drink.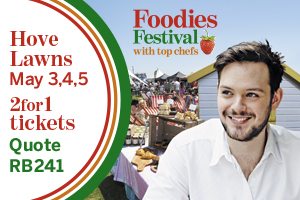 Back in May 2013, the Brighton Foodies Festival brought along food, drink, restaurants, sunshine, music and much more.
This year the Brighton Foodies Festival promises to provide the same again – but with an even greater selection of food, restaurants, local and artisan produce, cocktail competitions, live food shows and the eagerly awaited top celebrity chefs.
For more information on this years Brighton Foodies Festival, keep an eye on their website for updates as we get closer to the May 2014 date: www.foodiesfestival.com
Book your tickets for the Brighton Foodies Festival weekend just here and please QUOTE RB241 so you can get two tickets for the price of 1.

What to expect at Brighton Foodies Festival 2014?
2014 welcomes a quality selection of top chefs, including the Great British Bake Off  winner, John Whaite.
Steven Edwards, winner of Masterchef: The Professionals 2013 and current Head Chef at The Camellia at the local South Lodge Hotel in Horsham.
Double act Larkin Cen & Dale Williams, both Masterchef Finalists 2013, who have recently joined forces to stage pop-up dining experience Hokkei will also be attending.
Steven Edwards said: "I'm really excited to be taking part in the Foodies Festival in Brighton, not only because it's a premier event but also because it's a great opportunity to celebrate the local produce available from Sussex."
John Whaite is also excited about joining Foodies this year. He commented: "I'm really looking forward to kicking off a summer of food and drink with Foodies Festival in Brighton this May. It's a pleasure to have been asked to be part of such a great event and I can't wait to cook something special for the people of Brighton."
Look out for Brighton's very own Andrew Mckenzie from the Restaurant at Drakes who will be showcasing some of his signature dishes at the Chef's Theatre.
Here he will be explaining how home cooks can prepare the same restaurant quality delights at home.
What's NEW at the Brighton Foodies Festival 2014?
New attractions and events for 2014 include the mouth watering Chocolate, Bake and Preserves Theatre which will feature top pastry chefs, chocolatiers, bakers, sugarcraft experts and jam and preserve makers. Onlookers will be invited to get involved and lend a helping hand to top chefs including star of BBC's Great British Bake Off  John Whaite, Steampunk baker Emily Ladybird and Charlotte White of Restoration Cake.
A new Chocolate, Baking and Preserves Village will delight those visitors with a sweet tooth who can sample and take away products from chocolate and confectionary
makers, bakers and cake makers, as well as jam and preserve makers. The Village is a haven for those who enjoy home baking, with a selection of stalls selling baking essentials and the latest gadgets.
A brand new outdoor BBQ Arena will appeal to lovers of al fresco dining. A purpose built BBQ stage will feature hourly BBQ cooking demonstrations with BBQing experts giving top tips on how to get the most from cooking outdoors. Spectators will be invited to take part in BBQ challenges; meat-eating competitions and will even learn how to make a 'BBQ cake'!
A new Chilli Food Market will excite those with a love for spicy foods with a range of chilli growers and artisan producers of sauces, sweets and jams. For those who can handle the heat a Chilli Eating Challenge takes place at 5pm daily.
The new Real Ale and Cider Farm offers an area for visitors to chill out on hay bales and strike up a conversation with our beer and cider expert Melissa Cole and fellow beer lovers. There's a guitar behind the bar for those in the mood to get a sing-along started.
A new Feasting Tent at the heart of the festival becomes the social hub, where visitors will enjoy eating with chefs, friends and family at long banqueting tables.
Another exciting addition this year is the Vintage Tea Tent that will hold daily tea dances, alongside a Vintage Kitchen Market allowing visitors to pick up beautiful pieces to add to their own kitchens at home.
Our pop-up restaurants this year are particularly exciting, featuring Dermot O'Leary's Fishy Fishy. Also making an appearance is local favourite Riddle and Finns.
Watch this space as the plans for this years Brighton Foodies Festival are unveiled over the course of 2014.
If you are looking for the Brighton and Hove Food Festival, rather than the Foodies Festival then click here.